Texas church shooting: Donald Trump says massacre at church is 'not a gun situation'
Donald Trump has said the worst mass shooting in the modern history of Texas is not "a guns situation".
The US President spoke after a gunman walked into a church in a small town near San Antonio and opened fire, killing at least 26 people between the ages of five and 72.
The suspect — named as 26-year-old Devin Patrick Kelley — fled in his car after he was shot at by a local resident of Sutherland Springs. He was later found dead from apparent gunshot wounds in a
neighbouring
county, with a cache of weapons in his vehicle.
What we know about Texas gunman Devin Patrick Kelley
The massacre has sparked renewed calls for tighter gun control laws in the US. 
Asked at a press conference in Tokyo what policies he might support in response to the shooting,
Mr
Trump said preliminary reports suggested the gunman was "a very deranged individual, [with] a lot of problems."
"We have a lot of mental health problems in our country, as do other countries. But this isn't a guns situation," he said. "Fortunately somebody else had a gun that was shooting in the opposite direction."
"This is a mental health problem at the highest level," he added. "It's a very, very sad event."
Authorities have not yet determined Kelley's motive and have not broached the topic of the gunman's mental health.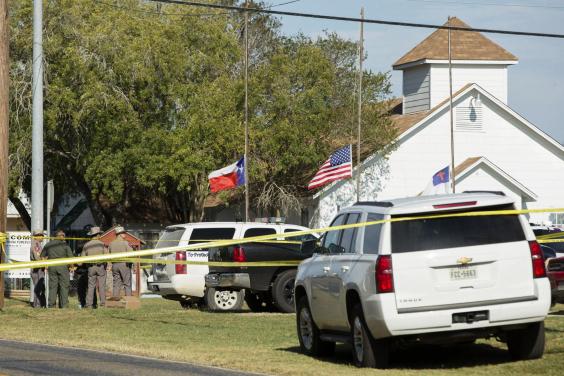 Law enforcement officials gather near the First Baptist Church in Sutherland Springs (Getty Images)
Republicans in Congress have long resisted calls from Democrats for tighter restrictions on firearms ownership. After Stephen Paddock killed 58 people in Las Vegas in the deadliest mass shooting in US history last month, White House press secretary Sarah Huckabee Sanders said it was "premature" to discuss gun policy.
The Sutherland Springs massacre again prompted impassioned calls for action from Democrat politicians, including Barack Obama.
The former President urged the US to "ask what concrete steps we can take to reduce the violence and weaponry in our midst".
Connecticut
senator
Chris Murphy said Republican lawmakers "need to think about whether the political support of the gun industry is worth the blood that flows endlessly onto the floors of American churches, elementary schools, movie theatres and city streets."
He added: "As long as our nation chooses to flood the country with dangerous weapons and consciously let those weapons fall into the hands of dangerous people, these killings will not abate."
 Source: independent
WordPress database error: [Got a packet bigger than 'max_allowed_packet' bytes]
UPDATE `dearBorn_options` SET `option_value` = 'a:75387:{i:0;s:35:\"fb_39ff7a636be37641a5bec2f355c19bc1\";i:1;s:35:\"fb_b4c2f2b0ea1042f797f78cc66010f332\";i:2;s:40:\"twitter_b4c2f2b0ea1042f797f78cc66010f332\";i:3;s:42:\"pinterest_b4c2f2b0ea1042f797f78cc66010f332\";i:4;s:41:\"linkedin_b4c2f2b0ea1042f797f78cc66010f332\";i:5;s:35:\"fb_044e32dea1899f57dd6722304cfe529b\";i:6;s:40:\"twitter_044e32dea1899f57dd6722304cfe529b\";i:7;s:42:\"pinterest_044e32dea1899f57dd6722304cfe529b\";i:8;s:41:\"linkedin_044e32dea1899f57dd6722304cfe529b\";i:9;s:35:\"fb_309e9a7343a69da6e69c005f94353ede\";i:10;s:40:\"twitter_309e9a7343a69da6e69c005f94353ede\";i:11;s:42:\"pinterest_309e9a7343a69da6e69c005f94353ede\";i:12;s:41:\"linkedin_309e9a7343a69da6e69c005f94353ede\";i:13;s:35:\"fb_c73470f05d1f9f837c654e9b4c8fd772\";i:14;s:40:\"twitter_c73470f05d1f9f837c654e9b4c8fd772\";i:15;s:42:\"pinterest_c73470f05d1f9f837c654e9b4c8fd772\";i:16;s:41:\"linkedin_c73470f05d1f9f837c654e9b4c8fd772\";i:17;s:35:\"fb_081f66bb7a05b8f8dcba086eacbeddd1\";i:18;s:40:\"twitter_081f66bb7a05b8f8dcba086eacbeddd1\";i:19;s:42:\"pinterest_081f66bb7a05b8f8dcba086eacbeddd1\";i:20;s:41:\"linkedin_081f66bb7a05b8f8dcba086eacbeddd1\";i:21;s:35:\"fb_ac99bbd4977043d3df3b631ea02f1931\";i:22;s:40:\"twitter_ac99bbd4977043d3df3b631ea02f1931\";i:23;s:42:\"pinterest_ac99bbd4977043d3df3b631ea02f1931\";i:24;s:41:\"linkedin_ac99bbd4977043d3df3b631ea02f1931\";i:25;s:35:\"fb_37017736e43fd79ddc7581fded9d5f87\";i:26;s:40:\"twitter_37017736e43fd79ddc7581fded9d5f87\";i:27;s:42:\"pinterest_37017736e43fd79ddc7581fded9d5f87\";i:28;s:35:\"fb_4b112a57a23cec86b751a16e26164416\";i:29;s:40:\"twitter_4b112a57a23cec86b751a16e26164416\";i:30;s:42:\"pinterest_4b112a57a23cec86b751a16e26164416\";i:31;s:35:\"fb_8f772c90aeec7e882649f6a510bc93c4\";i:32;s:40:\"twitter_8f772c90aeec7e882649f6a510bc93c4\";i:33;s:42:\"pinterest_8f772c90aeec7e882649f6a510bc93c4\";i:34;s:41:\"linkedin_8f772c90aeec7e882649f6a510bc93c4\";i:35;s:35:\"fb_98ac08d2e7f188cc02b19b55ec059e03\";i:36;s:40:\"twitter_98ac08d2e7f188cc02b19b55ec059e03\";i:37;s:42:\"pinterest_98ac08d2e7f188cc02b19b55ec059e03\";i:38;s:41:\"linkedin_98ac08d2e7f188cc02b19b55ec059e03\";i:39;s:35:\"fb_937698b8a9ce780138522b36bc80416e\";i:40;s:40:\"twitter_937698b8a9ce780138522b36bc80416e\";i:41;s:42:\"pinterest_937698b8a9ce780138522b36bc80416e\";i:42;s:41:\"linkedin_937698b8a9ce780138522b36bc80416e\";i:43;s:35:\"fb_72850f1e1551bc793f621e34be4ff874\";i:44;s:40:\"twitter_72850f1e1551bc793f621e34be4ff874\";i:45;s:42:\"pinterest_72850f1e1551bc793f621e34be4ff874\";i:46;s:41:\"linkedin_72850f1e1551bc793f621e34be4ff874\";i:47;s:35:\"fb_23f74d3ca1c6b6108c8847097bb76905\";i:48;s:40:\"twitter_23f74d3ca1c6b6108c8847097bb76905\";i:49;s:42:\"pinterest_23f74d3ca1c6b6108c8847097bb76905\";i:50;s:41:\"linkedin_23f74d3ca1c6b6108c8847097bb76905\";i:51;s:35:\"fb_4059506e4247c75b2f6aed0b76d76d45\";i:52;s:40:\"twitter_4059506e4247c75b2f6aed0b76d76d45\";i:53;s:42:\"pinterest_4059506e4247c75b2f6aed0b76d76d45\";i:54;s:41:\"linkedin_4059506e4247c75b2f6aed0b76d76d45\";i:55;s:35:\"fb_2b8e2f5f71c48125090052031b4f027b\";i:56;s:40:\"twitter_2b8e2f5f71c48125090052031b4f027b\";i:57;s:42:\"pinterest_2b8e2f5f71c48125090052031b4f027b\";i:58;s:41:\"linkedin_2b8e2f5f71c48125090052031b4f027b\";i:59;s:35:\"fb_86c26e910fa1b98ac850ae950957c433\";i:60;s:40:\"twitter_86c26e910fa1b98ac850ae950957c433\";i:61;s:42:\"pinterest_86c26e910fa1b98ac850ae950957c433\";i:62;s:41:\"linkedin_86c26e910fa1b98ac850ae950957c433\";i:63;s:35:\"fb_1efd20142e4ed1d6de8b0dee745d624d\";i:64;s:40:\"twitter_1efd20142e4ed1d6de8b0dee745d624d\";i:65;s:42:\"pinterest_1efd20142e4ed1d6de8b0dee745d624d\";i:66;s:41:\"linkedin_1efd20142e4ed1d6de8b0dee745d624d\";i:67;s:35:\"fb_fb1d7dce0e351acd2ed9458d4e4336d3\";i:68;s:40:\"twitter_fb1d7dce0e351acd2ed9458d4e4336d3\";i:69;s:42:\"pinterest_fb1d7dce0e351acd2ed9458d4e4336d3\";i:70;s:41:\"linkedin_fb1d7dce0e351acd2ed9458d4e4336d3\";i:71;s:35:\"fb_3c4a99bb39d2af0997505817d6f2ea97\";i:72;s:40:\"twitter_3c4a99bb39d2af0997505817d6f2ea97\";i:73;s:42:\"pinterest_3c4a99bb39d2af0997505817d6f2ea97\";i:74;s:41:\"linkedin_3c4a99bb39d2af0997505817d6f2ea97\";i:75;s:35:\"fb_be1136888fe58c515458ff30480db821\";i:76;s:40:\"twitter_be1136888fe58c515458ff30480db821\";i:77;s:42:\"pinterest_be1136888fe58c515458ff30480db821\";i:78;s:41:\"linkedin_be1136888fe58c515458ff30480db821\";i:79;s:35:\"fb_085909a05e1dd455c9861ddace1dd248\";i:80;s:40:\"twitter_085909a05e1dd455c9861ddace1dd248\";i:81;s:42:\"pinterest_085909a05e1dd455c9861ddace1dd248\";i:82;s:41:\"linkedin_085909a05e1dd455c9861ddace1dd248\";i:83;s:35:\"fb_35285c721fd170352191eaea9f5e113a\";i:84;s:40:\"twitter_35285c721fd170352191eaea9f5e113a\";i:85;s:42:\"pinterest_35285c721fd170352191eaea9f5e113a\";i:86;s:35:\"fb_e8f25fba2c4acc42e98bc9d4d94511f6\";i:87;s:40:\"twitter_e8f25fba2c4acc42e98bc9d4d94511f6\";i:88;s:42:\"pinterest_e8f25fba2c4acc42e98bc9d4d94511f6\";i:89;s:41:\"linkedin_e8f25fba2c4acc42e98bc9d4d94511f6\";i:90;s:35:\"fb_83d466c0b6c89c1afc9d2c15d2bbb083\";i:91;s:40:\"twitter_83d466c0b6c89c1afc9d2c15d2bbb083\";i:92;s:42:\"pinterest_83d466c0b6c89c1afc9d2c15d2bbb083\";i:93;s:41:\"linkedin_83d466c0b6c89c1afc9d2c15d2bbb083\";i:94;s:35:\"fb_1b97fe2b1b9b7450e430c4ec81df0cd4\";i:95;s:40:\"twitter_1b97fe2b1b9b7450e430c4ec81df0cd4\";i:96;s:42:\"pinterest_1b97fe2b1b9b7450e430c4ec81df0cd4\";i:97;s:41:\"linkedin_1b97fe2b1b9b7450e430c4ec81df0cd4\";i:98;s:35:\"fb_1dab4916cc94e01455387c47d162a2bf\";i:99;s:40:\"twitter_1dab4916cc94e01455387c47d162a2bf\";i:100;s:42:\"pinterest_1dab4916cc94e01455387c47d162a2bf\";i:101;s:41:\"linkedin_1dab4916cc94e01455387c47d162a2bf\";i:102;s:35:\"fb_8800eb15d88ace8d3167051352467321\";i:103;s:40:\"twitter_8800eb15d88ace8d3167051352467321\";i:104;s:42:\"pinterest_8800eb15d88ace8d3167051352467321\";i:105;s:41:\"linkedin_8800eb15d88ace8d3167051352467321\";i:106;s:35:\"fb_3d7b47b8072dd69a1b4d05473684030f\";i:107;s:40:\"twitter_3d7b47b8072dd69a1b4d05473684030f\";i:108;s:42:\"pinterest_3d7b47b8072dd69a1b4d05473684030f\";i:109;s:41:\"linkedin_3d7b47b8072dd69a1b4d05473684030f\";i:110;s:35:\"fb_0e09c0d3ef8f79fbcf0a6d966fe4120a\";i:111;s:40:\"twitter_0e09c0d3ef8f79fbcf0a6d966fe4120a\";i:112;s:42:\"pinterest_0e09c0d3ef8f79fbcf0a6d966fe4120a\";i:113;s:41:\"linkedin_0e09c0d3ef8f79fbcf0a6d966fe4120a\";i:114;s:35:\"fb_a029dfb84b048986b712919c5e5a0df2\";i:115;s:40:\"twitter_a029dfb84b048986b712919c5e5a0df2\";i:116;s:42:\"pinterest_a029dfb84b048986b712919c5e5a0df2\";i:117;s:41:\"linkedin_a029dfb84b048986b712919c5e5a0df2\";i:118;s:35:\"fb_b1e2646050b46f6b0fe0b0c584e6ba97\";i:119;s:40:\"twitter_b1e2646050b46f6b0fe0b0c584e6ba97\";i:120;s:42:\"pinterest_b1e2646050b46f6b0fe0b0c584e6ba97\";i:121;s:41:\"linkedin_b1e2646050b46f6b0fe0b0c584e6ba97\";i:122;s:35:\"fb_ec08e9ef10962bae3ea8c96f2825d01c\";i:123;s:40:\"twitter_ec08e9ef10962bae3ea8c96f2825d01c\";i:124;s:42:\"pinterest_ec08e9ef10962bae3ea8c96f2825d01c\";i:125;s:41:\"linkedin_ec08e9ef10962bae3ea8c96f2825d01c\";i:126;s:35:\"fb_fa7f7dae163450fe838bb7585c1c1357\";i:127;s:40:\"twitter_fa7f7dae163450fe838bb7585c1c1357\";i:128;s:42:\"pinterest_fa7f7dae163450fe838bb7585c1c1357\";i:129;s:41:\"linkedin_fa7f7dae163450fe838bb7585c1c1357\";i:130;s:35:\"fb_60d0460ef245a3de5530cd5c585d3350\";i:131;s:40:\"twitter_60d0460ef245a3de5530cd5c585d3350\";i:132;s:42:\"pinterest_60d0460ef245a3de5530cd5c585d3350\";i:133;s:41:\"linkedin_60d0460ef245a3de5530cd5c585d3350\";i:134;s:35:\"fb_0d5e6cd35712164b249512bf1192b1cb\";i:135;s:40:\"twitter_0d5e6cd35712164b249512bf1192b1cb\";i:136;s:42:\"pinterest_0d5e6cd35712164b249512bf1192b1cb\";i:137;s:41:\"linkedin_0d5e6cd35712164b249512bf1192b1cb\";i:138;s:35:\"fb_b39ffce900ec2681742b719bdf15b158\";i:139;s:40:\"twitter_b39ffce900ec2681742b719bdf15b158\";i:140;s:42:\"pinterest_b39ffce900ec2681742b719bdf15b158\";i:141;s:41:\"linkedin_b39ffce900ec2681742b719bdf15b158\";i:142;s:35:\"fb_d9ec9c25e748c97df352de18122e9b97\";i:143;s:40:\"twitter_d9ec9c25e748c97df352de18122e9b97\";i:144;s:42:\"pinterest_d9ec9c25e748c97df352de18122e9b97\";i:145;s:41:\"linkedin_d9ec9c25e748c97df352de18122e9b97\";i:146;s:35:\"fb_c34b0a6ac4f18569d52f884792a2c8b9\";i:147;s:35:\"fb_97814894237326e49d8a73b2cd45a720\";i:148;s:40:\"twitter_97814894237326e49d8a73b2cd45a720\";i:149;s:42:\"pinterest_97814894237326e49d8a73b2cd45a720\";i:150;s:41:\"linkedin_97814894237326e49d8a73b2cd45a720\";i:151;s:35:\"fb_467fe4402e804f44e8fd198aabed4648\";i:152;s:40:\"twitter_467fe4402e804f44e8fd198aabed4648\";i:153;s:42:\"pinterest_467fe4402e804f44e8fd198aabed4648\";i:154;s:41:\"linkedin_467fe4402e804f44e8fd198aabed4648\";i:155;s:35:\"fb_b506503c5a6e89dff925ab7c8b993b10\";i:156;s:40:\"twitter_b506503c5a6e89dff925ab7c8b993b10\";i:157;s:42:\"pinterest_b506503c5a6e89dff925ab7c8b993b10\";i:158;s:41:\"linkedin_b506503c5a6e89dff925ab7c8b993b10\";i:159;s:35:\"fb_9a413ff8953dd38960b9d413fcdcf757\";i:160;s:40:\"twitter_9a413ff8953dd38960b9d413fcdcf757\";i:161;s:42:\"pinterest_9a413ff8953dd38960b9d413fcdcf757\";i:162;s:41:\"linkedin_9a413ff8953dd38960b9d413fcdcf757\";i:163;s:35:\"fb_c642f7ec7370f7779aa79aae93af0027\";i:164;s:40:\"twitter_c642f7ec7370f7779aa79aae93af0027\";i:165;s:42:\"pinterest_c642f7ec7370f7779aa79aae93af0027\";i:166;s:41:\"linkedin_c642f7ec7370f7779aa79aae93af0027\";i:167;s:35:\"fb_6c3d632ca290595e3bc893f365b56c51\";i:168;s:40:\"twitter_6c3d632ca290595e3bc893f365b56c51\";i:169;s:42:\"pinterest_6c3d632ca290595e3bc893f365b56c51\";i:170;s:41:\"linkedin_6c3d632ca290595e3bc893f365b56c51\";i:171;s:35:\"fb_2d110f70f91d0cb6b0d266772ed5a575\";i:172;s:40:\"twitter_2d110f70f91d0cb6b0d266772ed5a575\";i:173;s:42:\"pinterest_2d110f70f91d0cb6b0d266772ed5a575\";i:174;s:41:\"linkedin_2d110f70f91d0cb6b0d266772ed5a575\";i:175;s:35:\"fb_d704d92d18a35da3e346cc8a5f2bdac6\";i:176;s:40:\"twitter_d704d92d18a35da3e346cc8a5f2bdac6\";i:177;s:42:\"pinterest_d704d92d18a35da3e346cc8a5f2bdac6\";i:178;s:41:\"linkedin_d704d92d18a35da3e346cc8a5f2bdac6\";i:179;s:35:\"fb_9ed0b9e9a116e80250caf13691daaa23\";i:180;s:40:\"twitter_9ed0b9e9a116e80250caf13691daaa23\";i:181;s:42:\"pinterest_9ed0b9e9a116e80250caf13691daaa23\";i:182;s:41:\"linkedin_9ed0b9e9a116e80250caf13691daaa23\";i:183;s:35:\"fb_4aa206af42fc34fe5ecefee0f2da335d\";i:184;s:40:\"twitter_4aa206af42fc34fe5ecefee0f2da335d\";i:185;s:42:\"pinterest_4aa206af42fc34fe5ecefee0f2da335d\";i:186;s:41:\"linkedin_4aa206af42fc34fe5ecefee0f2da335d\";i:187;s:35:\"fb_43cca061c985ebedef6121797f3aa32e\";i:188;s:40:\"twitter_43cca061c985ebedef6121797f3aa32e\";i:189;s:42:\"pinterest_43cca061c985ebedef6121797f3aa32e\";i:190;s:41:\"linkedin_43cca061c985ebedef6121797f3aa32e\";i:191;s:35:\"fb_e83341f761590f1c22d70a756ffebbfb\";i:192;s:40:\"twitter_e83341f761590f1c22d70a756ffebbfb\";i:193;s:42:\"pinterest_e83341f761590f1c22d70a756ffebbfb\";i:194;s:41:\"linkedin_e83341f761590f1c22d70a756ffebbfb\";i:195;s:35:\"fb_114d5daa454073f35d4bb0dd1a250dca\";i:196;s:40:\"twitter_114d5daa454073f35d4bb0dd1a250dca\";i:197;s:42:\"pinterest_114d5daa454073f35d4bb0dd1a250dca\";i:198;s:41:\"linkedin_114d5daa454073f35d4bb0dd1a250dca\";i:199;s:35:\"fb_69e1cfad44f37e5d698ee1bb44151a3a\";i:200;s:40:\"twitter_69e1cfad44f37e5d698ee1bb44151a3a\";i:201;s:42:\"pinterest_69e1cfad44f37e5d698ee1bb44151a3a\";i:202;s:41:\"linkedin_69e1cfad44f37e5d698ee1bb44151a3a\";i:203;s:35:\"fb_c27e6faa9d343baf491da65694e3d207\";i:204;s:40:\"twitter_c27e6faa9d343baf491da65694e3d207\";i:205;s:42:\"pinterest_c27e6faa9d343baf491da65694e3d207\";i:206;s:41:\"linkedin_c27e6faa9d343baf491da65694e3d207\";i:207;s:35:\"fb_2aeca6fdd384573b1199264b1dae67c6\";i:208;s:40:\"twitter_2aeca6fdd384573b1199264b1dae67c6\";i:209;s:42:\"pinterest_2aeca6fdd384573b1199264b1dae67c6\";i:210;s:41:\"linkedin_2aeca6fdd384573b1199264b1dae67c6\";i:211;s:35:\"fb_d1fda5b82f32a852a0739e5610bfda30\";i:212;s:40:\"twitter_d1fda5b82f32a852a0739e5610bfda30\";i:213;s:42:\"pinterest_d1fda5b82f32a852a0739e5610bfda30\";i:214;s:35:\"fb_56fa8860f680e8682f49dba889c4b773\";i:215;s:35:\"fb_1541926cadc81b3e1cccb76c7242a3e4\";i:216;s:40:\"twitter_1541926cadc81b3e1cccb76c7242a3e4\";i:217;s:42:\"pinterest_1541926cadc81b3e1cccb76c7242a3e4\";i:218;s:41:\"linkedin_1541926cadc81b3e1cccb76c7242a3e4\";i:219;s:35:\"fb_e14d0a20bea197251ee83334792ab6e3\";i:220;s:40:\"twitter_e14d0a20bea197251ee83334792ab6e3\";i:221;s:42:\"pinterest_e14d0a20bea197251ee83334792ab6e3\";i:222;s:41:\"linkedin_e14d0a20bea197251ee83334792ab6e3\";i:223;s:35:\"fb_420aecd1c4e05ec2fff0749f58f550ec\";i:224;s:40:\"twitter_420aecd1c4e05ec2fff0749f58f550ec\";i:225;s:42:\"pinterest_420aecd1c4e05ec2fff0749f58f550ec\";i:226;s:41:\"linkedin_420aecd1c4e05ec2fff0749f58f550ec\";i:227;s:35:\"fb_7baf1fe9dc6206216ec79298e2dc6c3a\";i:228;s:40:\"twitter_7baf1fe9dc6206216ec79298e2dc6c3a\";i:229;s:42:\"pinterest_7baf1fe9dc6206216ec79298e2dc6c3a\";i:230;s:41:\"linkedin_7baf1fe9dc6206216ec79298e2dc6c3a\";i:231;s:35:\"fb_4c92a5fabe5ee57478388029d37e7f13\";i:232;s:40:\"twitter_4c92a5fabe5ee57478388029d37e7f13\";i:233;s:42:\"pinterest_4c92a5fabe5ee57478388029d37e7f13\";i:234;s:41:\"linkedin_4c92a5fabe5ee57478388029d37e7f13\";i:235;s:35:\"fb_83001ba8c4cc04922740393fd4ba0415\";i:236;s:40:\"twitter_83001ba8c4cc04922740393fd4ba0415\";i:237;s:42:\"pinterest_83001ba8c4cc04922740393fd4ba0415\";i:238;s:41:\"linkedin_83001ba8c4cc04922740393fd4ba0415\";i:239;s:35:\"fb_8250069d09c4aadad2178b617bfe3e66\";i:240;s:40:\"twitter_8250069d09c4aadad2178b617bfe3e66\";i:241;s:42:\"pinterest_8250069d09c4aadad2178b617bfe3e66\";i:242;s:41:\"linkedin_8250069d09c4aadad2178b617bfe3e66\";i:243;s:35:\"fb_82dd8e1ef2d32ada8d8fb38e7a85ea85\";i:244;s:40:\"twitter_82dd8e1ef2d32ada8d8fb38e7a85ea85\";i:245;s:42:\"pinterest_82dd8e1ef2d32ada8d8fb38e7a85ea85\";i:246;s:41:\"linkedin_82dd8e1ef2d32ada8d8fb38e7a85ea85\";i:247;s:35:\"fb_221fc682e8e4677a86aafbf1fc8f7916\";i:248;s:40:\"twitter_221fc682e8e4677a86aafbf1fc8f7916\";i:249;s:42:\"pinterest_221fc682e8e4677a86aafbf1fc8f7916\";i:250;s:41:\"linkedin_221fc682e8e4677a86aafbf1fc8f7916\";i:251;s:35:\"fb_52bef39c4d28bd00d24d67709004229e\";i:252;s:40:\"twitter_52bef39c4d28bd00d24d67709004229e\";i:253;s:42:\"pinterest_52bef39c4d28bd00d24d67709004229e\";i:254;s:41:\"linkedin_52bef39c4d28bd00d24d67709004229e\";i:255;s:35:\"fb_6a456c375018c3e94e9fbea6e6f5d8f4\";i:256;s:40:\"twitter_6a456c375018c3e94e9fbea6e6f5d8f4\";i:257;s:42:\"pinterest_6a456c375018c3e94e9fbea6e6f5d8f4\";i:258;s:41:\"linkedin_6a456c375018c3e94e9fbea6e6f5d8f4\";i:259;s:35:\"fb_961f9d0b082b0dabd2c590303a038d9e\";i:260;s:40:\"twitter_961f9d0b082b0dabd2c590303a038d9e\";i:261;s:42:\"pinterest_961f9d0b082b0dabd2c590303a038d9e\";i:262;s:41:\"linkedin_961f9d0b082b0dabd2c590303a038d9e\";i:263;s:35:\"fb_7f007a9f797a8654a538432d82905a16\";i:264;s:40:\"twitter_7f007a9f797a8654a538432d82905a16\";i:265;s:42:\"pinterest_7f007a9f797a8654a538432d82905a16\";i:266;s:41:\"linkedin_7f007a9f797a8654a538432d82905a16\";i:267;s:35:\"fb_f2835cd5bc94221796a62041c467c681\";i:268;s:40:\"twitter_f2835cd5bc94221796a62041c467c681\";i:269;s:42:\"pinterest_f2835cd5bc94221796a62041c467c681\";i:270;s:41:\"linkedin_f2835cd5bc94221796a62041c467c681\";i:271;s:35:\"fb_a34edc0547265980dfe0ea78cc7675bf\";i:272;s:40:\"twitter_a34edc0547265980dfe0ea78cc7675bf\";i:273;s:42:\"pinterest_a34edc0547265980dfe0ea78cc7675bf\";i:274;s:41:\"linkedin_a34edc0547265980dfe0ea78cc7675bf\";i:275;s:35:\"fb_4952780de2dd88e4341fac053671c0cc\";i:276;s:40:\"twitter_4952780de2dd88e4341fac053671c0cc\";i:277;s:42:\"pinterest_4952780de2dd88e4341fac053671c0cc\";i:278;s:41:\"linkedin_4952780de2dd88e4341fac053671c0cc\";i:279;s:35:\"fb_3c498baee96a7e94c836ec43cf9c33b1\";i:280;s:40:\"twitter_3c498baee96a7e94c836ec43cf9c33b1\";i:281;s:42:\"pinterest_3c498baee96a7e94c836ec43cf9c33b1\";i:282;s:41:\"linkedin_3c498baee96a7e94c836ec43cf9c33b1\";i:283;s:35:\"fb_d57a067226a0572a188a446293984d08\";i:284;s:40:\"twitter_d57a067226a0572a188a446293984d08\";i:285;s:42:\"pinterest_d57a067226a0572a188a446293984d08\";i:286;s:41:\"linkedin_d57a067226a0572a188a446293984d08\";i:287;s:35:\"fb_1807b8eb1c9bda6f693193b2fb4ddcf5\";i:288;s:40:\"twitter_1807b8eb1c9bda6f693193b2fb4ddcf5\";i:289;s:42:\"pinterest_1807b8eb1c9bda6f693193b2fb4ddcf5\";i:290;s:41:\"linkedin_1807b8eb1c9bda6f693193b2fb4ddcf5\";i:291;s:35:\"fb_286cca58cb94bceaed13231120faba7a\";i:292;s:40:\"twitter_286cca58cb94bceaed13231120faba7a\";i:293;s:42:\"pinterest_286cca58cb94bceaed13231120faba7a\";i:294;s:41:\"linkedin_286cca58cb94bceaed13231120faba7a\";i:295;s:35:\"fb_d75ff14cf1a4d9c41c23556b1582807c\";i:296;s:40:\"twitter_d75ff14cf1a4d9c41c23556b1582807c\";i:297;s:42:\"pinterest_d75ff14cf1a4d9c41c23556b1582807c\";i:298;s:41:\"linkedin_d75ff14cf1a4d9c41c23556b1582807c\";i:299;s:35:\"fb_d46d0f6042049c84118667530dc96638\";i:300;s:40:\"twitter_d46d0f6042049c84118667530dc96638\";i:301;s:42:\"pinterest_d46d0f6042049c84118667530dc96638\";i:302;s:41:\"linkedin_d46d0f6042049c84118667530dc96638\";i:303;s:35:\"fb_b533a17c04762e2ad8b4af686ca9b764\";i:304;s:40:\"twitter_b533a17c04762e2ad8b4af686ca9b764\";i:305;s:42:\"pinterest_b533a17c04762e2ad8b4af686ca9b764\";i:306;s:41:\"linkedin_b533a17c04762e2ad8b4af686ca9b764\";i:307;s:35:\"fb_a8c019fb73605a41d31250f51531e8eb\";i:308;s:40:\"twitter_a8c019fb73605a41d31250f51531e8eb\";i:309;s:42:\"pinterest_a8c019fb73605a41d31250f51531e8eb\";i:310;s:41:\"linkedin_a8c019fb73605a41d31250f51531e8eb\";i:311;s:35:\"fb_38b693f18bcc981d446e527a6c4dd72a\";i:312;s:40:\"twitter_38b693f18bcc981d446e527a6c4dd72a\";i:313;s:42:\"pinterest_38b693f18bcc981d446e527a6c4dd72a\";i:314;s:41:\"linkedin_38b693f18bcc981d446e527a6c4dd72a\";i:315;s:35:\"fb_51867eab16a2d80c8e82a2902473fa04\";i:316;s:40:\"twitter_51867eab16a2d80c8e82a2902473fa04\";i:317;s:42:\"pinterest_51867eab16a2d80c8e82a2902473fa04\";i:318;s:41:\"linkedin_51867eab16a2d80c8e82a2902473fa04\";i:319;s:35:\"fb_7ac2b9ac9d39b8830ac37f4d1f51b38f\";i:320;s:40:\"twitter_7ac2b9ac9d39b8830ac37f4d1f51b38f\";i:321;s:42:\"pinterest_7ac2b9ac9d39b8830ac37f4d1f51b38f\";i:322;s:41:\"linkedin_7ac2b9ac9d39b8830ac37f4d1f51b38f\";i:323;s:35:\"fb_7e5d94a049a30f18786636fcb48ad4a6\";i:324;s:40:\"twitter_7e5d94a049a30f18786636fcb48ad4a6\";i:325;s:42:\"pinterest_7e5d94a049a30f18786636fcb48ad4a6\";i:326;s:41:\"linkedin_7e5d94a049a30f18786636fcb48ad4a6\";i:327;s:35:\"fb_48d0578c04c9d7329089e00f85284f91\";i:328;s:40:\"twitter_48d0578c04c9d7329089e00f85284f91\";i:329;s:42:\"pinterest_48d0578c04c9d7329089e00f85284f91\";i:330;s:41:\"linkedin_48d0578c04c9d7329089e00f85284f91\";i:331;s:35:\"fb_aa49afcece3f888d9604a4c8ead040de\";i:332;s:40:\"twitter_aa49afcece3f888d9604a4c8ead040de\";i:333;s:42:\"pinterest_aa49afcece3f888d9604a4c8ead040de\";i:334;s:41:\"linkedin_aa49afcece3f888d9604a4c8ead040de\";i:335;s:35:\"fb_e2bc26dcfd8adccfa5a6ee638826906d\";i:336;s:40:\"twitter_e2bc26dcfd8adccfa5a6ee638826906d\";i:337;s:42:\"pinterest_e2bc26dcfd8adccfa5a6ee638826906d\";i:338;s:41:\"linkedin_e2bc26dcfd8adccfa5a6ee638826906d\";i:339;s:35:\"fb_400680a10bf3059074bc814ddaf4f5af\";i:340;s:40:\"twitter_400680a10bf3059074bc814ddaf4f5af\";i:341;s:42:\"pinterest_400680a10bf3059074bc814ddaf4f5af\";i:342;s:41:\"linkedin_400680a10bf3059074bc814ddaf4f5af\";i:343;s:35:\"fb_54114e0ced7e09d97562d858d7772bdc\";i:344;s:40:\"twitter_54114e0ced7e09d97562d858d7772bdc\";i:345;s:42:\"pinterest_54114e0ced7e09d97562d858d7772bdc\";i:346;s:41:\"linkedin_54114e0ced7e09d97562d858d7772bdc\";i:347;s:35:\"fb_332f5479750e610d2437eec1da908f46\";i:348;s:40:\"twitter_332f5479750e610d2437eec1da908f46\";i:349;s:42:\"pinterest_332f5479750e610d2437eec1da908f46\";i:350;s:41:\"linkedin_332f5479750e610d2437eec1da908f46\";i:351;s:35:\"fb_c8a93ac97418a939a876f9bf55a69835\";i:352;s:40:\"twitter_c8a93ac97418a939a876f9bf55a69835\";i:353;s:42:\"pinterest_c8a93ac97418a939a876f9bf55a69835\";i:354;s:41:\"linkedin_c8a93ac97418a939a876f9bf55a69835\";i:355;s:35:\"fb_85903246614d2d925cce0568a7333d64\";i:356;s:40:\"twitter_85903246614d2d925cce0568a7333d64\";i:357;s:42:\"pinterest_85903246614d2d925cce0568a7333d64\";i:358;s:41:\"linkedin_85903246614d2d925cce0568a7333d64\";i:359;s:35:\"fb_d9cb2abb05713aa0d6bb8ea80d0363fd\";i:360;s:40:\"twitter_d9cb2abb05713aa0d6bb8ea80d0363fd\";i:361;s:42:\"pinterest_d9cb2abb05713aa0d6bb8ea80d0363fd\";i:362;s:41:\"linkedin_d9cb2abb05713aa0d6bb8ea80d0363fd\";i:363;s:35:\"fb_5e15f9c4722ca1ecae54181826cf2b06\";i:364;s:40:\"twitter_5e15f9c4722ca1ecae54181826cf2b06\";i:365;s:42:\"pinterest_5e15f9c4722ca1ecae54181826cf2b06\";i:366;s:41:\"linkedin_5e15f9c4722ca1ecae54181826cf2b06\";i:367;s:35:\"fb_244e4fcf3c521941cbc872ba2a3bb8e6\";i:368;s:40:\"twitter_244e4fcf3c521941cbc872ba2a3bb8e6\";i:369;s:42:\"pinterest_244e4fcf3c521941cbc872ba2a3bb8e6\";i:370;s:41:\"linkedin_244e4fcf3c521941cbc872ba2a3bb8e6\";i:371;s:35:\"fb_705b01f127422e31138f06b9dd76bc33\";i:372;s:40:\"twitter_705b01f127422e31138f06b9dd76bc33\";i:373;s:42:\"pinterest_705b01f127422e31138f06b9dd76bc33\";i:374;s:41:\"linkedin_705b01f127422e31138f06b9dd76bc33\";i:375;s:35:\"fb_e39213aa78a2e015c2100ad17a3a1e8b\";i:376;s:40:\"twitter_e39213aa78a2e015c2100ad17a3a1e8b\";i:377;s:42:\"pinterest_e39213aa78a2e015c2100ad17a3a1e8b\";i:378;s:41:\"linkedin_e39213aa78a2e015c2100ad17a3a1e8b\";i:379;s:35:\"fb_effbbb99133b6b4507237fcd5bf5147f\";i:380;s:40:\"twitter_effbbb99133b6b4507237fcd5bf5147f\";i:381;s:42:\"pinterest_effbbb99133b6b4507237fcd5bf5147f\";i:382;s:35:\"fb_4e631e8ee8ec825dcd91b6be8e3bab0f\";i:383;s:40:\"twitter_4e631e8ee8ec825dcd91b6be8e3bab0f\";i:384;s:42:\"pinterest_4e631e8ee8ec825dcd91b6be8e3bab0f\";i:385;s:41:\"linkedin_4e631e8ee8ec825dcd91b6be8e3bab0f\";i:386;s:35:\"fb_febc640384df6043a9c5d30862cdf1ac\";i:387;s:40:\"twitter_febc640384df6043a9c5d30862cdf1ac\";i:388;s:42:\"pinterest_febc640384df6043a9c5d30862cdf1ac\";i:389;s:41:\"linkedin_febc640384df6043a9c5d30862cdf1ac\";i:390;s:35:\"fb_af3a456d0a19ebf1ca50a92c8bc6db1a\";i:391;s:40:\"twitter_af3a456d0a19ebf1ca50a92c8bc6db1a\";i:392;s:42:\"pinterest_af3a456d0a19ebf1ca50a92c8bc6db1a\";i:393;s:41:\"linkedin_af3a456d0a19ebf1ca50a92c8bc6db1a\";i:394;s:35:\"fb_914645f88556af9fe2103710d2ac04cb\";i:395;s:40:\"twitter_914645f88556af9fe2103710d2ac04cb\";i:396;s:42:\"pinterest_914645f88556af9fe2103710d2ac04cb\";i:397;s:41:\"linkedin_914645f88556af9fe2103710d2ac04cb\";i:398;s:35:\"fb_e17f7cb8ae1ee91e46705c8980038684\";i:399;s:40:\"twitter_e17f7cb8ae1ee91e46705c8980038684\";i:400;s:42:\"pinterest_e17f7cb8ae1ee91e46705c8980038684\";i:401;s:41:\"linkedin_e17f7cb8ae1ee91e46705c8980038684\";i:402;s:35:\"fb_9f8bb531c758b71e50ff81474b75095f\";i:403;s:40:\"twitter_9f8bb531c758b71e50ff81474b75095f\";i:404;s:42:\"pinterest_9f8bb531c758b71e50ff81474b75095f\";i:405;s:41:\"linkedin_9f8bb531c758b71e50ff81474b75095f\";i:406;s:35:\"fb_22a6596fbd1e5b6fa72a38c6661606ee\";i:407;s:40:\"twitter_22a6596fbd1e5b6fa72a38c6661606ee\";i:408;s:42:\"pinterest_22a6596fbd1e5b6fa72a38c6661606ee\";i:409;s:41:\"linkedin_22a6596fbd1e5b6fa72a38c6661606ee\";i:410;s:35:\"fb_5f819293b3c14375e7cf438b19551fd5\";i:411;s:40:\"twitter_5f819293b3c14375e7cf438b19551fd5\";i:412;s:42:\"pinterest_5f819293b3c14375e7cf438b19551fd5\";i:413;s:41:\"linkedin_5f819293b3c14375e7cf438b19551fd5\";i:414;s:35:\"fb_b1845cb11a59bd993ea28d311e7d0082\";i:415;s:40:\"twitter_b1845cb11a59bd993ea28d311e7d0082\";i:416;s:42:\"pinterest_b1845cb11a59bd993ea28d311e7d0082\";i:417;s:35:\"fb_cdf547cfa22c111de19cc50e778f1edf\";i:418;s:40:\"twitter_cdf547cfa22c111de19cc50e778f1edf\";i:419;s:42:\"pinterest_cdf547cfa22c111de19cc50e778f1edf\";i:420;s:41:\"linkedin_cdf547cfa22c111de19cc50e778f1edf\";i:421;s:35:\"fb_b0bf60e89f7fdfb4afa5cbc686f53bcf\";i:422;s:40:\"twitter_b0bf60e89f7fdfb4afa5cbc686f53bcf\";i:423;s:42:\"pinterest_b0bf60e89f7fdfb4afa5cbc686f53bcf\";i:424;s:41:\"linkedin_b0bf60e89f7fdfb4afa5cbc686f53bcf\";i:425;s:35:\"fb_83f1faba6cdadfd90204c974a18f1662\";i:426;s:40:\"twitter_83f1faba6cdadfd90204c974a18f1662\";i:427;s:42:\"pinterest_83f1faba6cdadfd90204c974a18f1662\";i:428;s:41:\"linkedin_83f1faba6cdadfd90204c974a18f1662\";i:429;s:35:\"fb_65b53d2433d4d49fe255195050775f81\";i:430;s:40:\"twitter_65b53d2433d4d49fe255195050775f81\";i:431;s:42:\"pinterest_65b53d2433d4d49fe255195050775f81\";i:432;s:41:\"linkedin_65b53d2433d4d49fe255195050775f81\";i:433;s:35:\"fb_762f2ffc929d6eb76742eeb34bb0d86e\";i:434;s:40:\"twitter_762f2ffc929d6eb76742eeb34bb0d86e\";i:435;s:42:\"pinterest_762f2ffc929d6eb76742eeb34bb0d86e\";i:436;s:41:\"linkedin_762f2ffc929d6eb76742eeb34bb0d86e\";i:437;s:35:\"fb_5692fdbed6d8c638fd98d521166194de\";i:438;s:40:\"twitter_5692fdbed6d8c638fd98d521166194de\";i:439;s:42:\"pinterest_5692fdbed6d8c638fd98d521166194de\";i:440;s:41:\"linkedin_5692fdbed6d8c638fd98d521166194de\";i:441;s:35:\"fb_92a802beba87386150fdac82b5c3a45a\";i:442;s:40:\"twitter_92a802beba87386150fdac82b5c3a45a\";i:443;s:42:\"pinterest_92a802beba87386150fdac82b5c3a45a\";i:444;s:41:\"linkedin_92a802beba87386150fdac82b5c3a45a\";i:445;s:35:\"fb_a0dff06d8e8a0ae82815f366d6ec1ae0\";i:446;s:41:\"linkedin_a0dff06d8e8a0ae82815f366d6ec1ae0\";i:447;s:35:\"fb_9fb6eb657e37aed108a2de24993182a7\";i:448;s:40:\"twitter_9fb6eb657e37aed108a2de24993182a7\";i:449;s:42:\"pinterest_9fb6eb657e37aed108a2de24993182a7\";i:450;s:41:\"linkedin_9fb6eb657e37aed108a2de24993182a7\";i:451;s:35:\"fb_dc1399bde34ca87584240cbe012e7272\";i:452;s:40:\"twitter_dc1399bde34ca87584240cbe012e7272\";i:453;s:42:\"pinterest_dc1399bde34ca87584240cbe012e7272\";i:454;s:41:\"linkedin_dc1399bde34ca87584240cbe012e7272\";i:455;s:35:\"fb_84c238a6329008f67c5a9abc860781cd\";i:456;s:40:\"twitter_84c238a6329008f67c5a9abc860781cd\";i:457;s:42:\"pinterest_84c238a6329008f67c5a9abc860781cd\";i:458;s:41:\"linkedin_84c238a6329008f67c5a9abc860781cd\";i:459;s:35:\"fb_17ae13267137f8404b538a47ccd801d7\";i:460;s:40:\"twitter_17ae13267137f8404b538a47ccd801d7\";i:461;s:42:\"pinterest_17ae13267137f8404b538a47ccd801d7\";i:462;s:41:\"linkedin_17ae13267137f8404b538a47ccd801d7\";i:463;s:35:\"fb_1c658cb10b2a20888267200c5732ce32\";i:464;s:40:\"twitter_1c658cb10b2a20888267200c5732ce32\";i:465;s:42:\"pinterest_1c658cb10b2a20888267200c5732ce32\";i:466;s:41:\"linkedin_1c658cb10b2a20888267200c5732ce32\";i:467;s:35:\"fb_df7e5432d3dc1955327082ff9b57b025\";i:468;s:40:\"twitter_df7e5432d3dc1955327082ff9b57b025\";i:469;s:42:\"pinterest_df7e5432d3dc1955327082ff9b57b025\";i:470;s:41:\"linkedin_df7e5432d3dc1955327082ff9b57b025\";i:471;s:35:\"fb_720994c0d9fec14eab3868b794cb840e\";i:472;s:40:\"twitter_720994c0d9fec14eab3868b794cb840e\";i:473;s:42:\"pinterest_720994c0d9fec14eab3868b794cb840e\";i:474;s:41:\"linkedin_720994c0d9fec14eab3868b794cb840e\";i:475;s:35:\"fb_2dd0a07037dd450c7a4f9c667f92c4a3\";i:476;s:40:\"twitter_2dd0a07037dd450c7a4f9c667f92c4a3\";i:477;s:42:\"pinterest_2dd0a07037dd450c7a4f9c667f92c4a3\";i:478;s:41:\"linkedin_2dd0a07037dd450c7a4f9c667f92c4a3\";i:479;s:35:\"fb_25bc6cd9d8d8777e39a3cfc591228740\";i:480;s:40:\"twitter_25bc6cd9d8d8777e39a3cfc591228740\";i:481;s:42:\"pinterest_25bc6cd9d8d8777e39a3cfc591228740\";i:482;s:41:\"linkedin_25bc6cd9d8d8777e39a3cfc591228740\";i:483;s:35:\"fb_2f3421f6983c98059706be7b100c79e5\";i:484;s:40:\"twitter_2f3421f6983c98059706be7b100c79e5\";i:485;s:42:\"pinterest_2f3421f6983c98059706be7b100c79e5\";i:486;s:41:\"linkedin_2f3421f6983c98059706be7b100c79e5\";i:487;s:35:\"fb_452d82cb914efd884e0f017ff7990385\";i:488;s:40:\"twitter_452d82cb914efd884e0f017ff7990385\";i:489;s:42:\"pinterest_452d82cb914efd884e0f017ff7990385\";i:490;s:41:\"linkedin_452d82cb914efd884e0f017ff7990385\";i:491;s:35:\"fb_9e9384993130179e42d319a035f44f8e\";i:492;s:40:\"twitter_9e9384993130179e42d319a035f44f8e\";i:493;s:42:\"pinterest_9e9384993130179e42d319a035f44f8e\";i:494;s:41:\"linkedin_9e9384993130179e42d319a035f44f8e\";i:495;s:35:\"fb_5bab13aab75820646999357f929d941f\";i:496;s:35:\"fb_935e1907bbc9ed94bfd5c095c59b12d5\";i:497;s:40:\"twitter_935e1907bbc9ed94bfd5c095c59b12d5\";i:498;s:42:\"pinterest_935e1907bbc9ed94bfd5c095c59b12d5\";i:499;s:41:\"linkedin_935e1907bbc9ed94bfd5c095c59b12d5\";i:500;s:35:\"fb_b4e34ac2bfa928c0d69f3c0fc98c15a4\";i:501;s:40:\"twitter_b4e34ac2bfa928c0d69f3c0fc98c15a4\";i:502;s:42:\"pinterest_b4e34ac2bfa928c0d69f3c0fc98c15a4\";i:503;s:41:\"linkedin_b4e34ac2bfa928c0d69f3c0fc98c15a4\";i:504;s:35:\"fb_b1d02165bc45df319b2fe02b99c7ea37\";i:505;s:40:\"twitter_b1d02165bc45df319b2fe02b99c7ea37\";i:506;s:42:\"pinterest_b1d02165bc45df319b2fe02b99c7ea37\";i:507;s:41:\"linkedin_b1d02165bc45df319b2fe02b99c7ea37\";i:508;s:35:\"fb_2f43e16bc820d6064eb5636ebaf6d01f\";i:509;s:40:\"twitter_2f43e16bc820d6064eb5636ebaf6d01f\";i:510;s:42:\"pinterest_2f43e16bc820d6064eb5636ebaf6d01f\";i:511;s:41:\"linkedin_2f43e16bc820d6064eb5636ebaf6d01f\";i:512;s:35:\"fb_37b64c1e363d8a1e3996a03a484b2897\";i:513;s:40:\"twitter_37b64c1e363d8a1e3996a03a484b2897\";i:514;s:42:\"pinterest_37b64c1e363d8a1e3996a03a484b2897\";i:515;s:41:\"linkedin_37b64c1e363d8a1e3996a03a484b2897\";i:516;s:35:\"fb_13080f080fd6924f7efd5c9828899686\";i:517;s:40:\"twitter_13080f080fd6924f7efd5c9828899686\";i:518;s:42:\"pinterest_13080f080fd6924f7efd5c9828899686\";i:519;s:41:\"linkedin_13080f080fd6924f7efd5c9828899686\";i:520;s:35:\"fb_3b8319da61d44574d486928d67df00c8\";i:521;s:40:\"twitter_3b8319da61d44574d486928d67df00c8\";i:522;s:42:\"pinterest_3b8319da61d44574d486928d67df00c8\";i:523;s:41:\"linkedin_3b8319da61d44574d486928d67df00c8\";i:524;s:35:\"fb_5a824ec4b7673698baa93ff6c3c4ce0b\";i:525;s:40:\"twitter_5a824ec4b7673698baa93ff6c3c4ce0b\";i:526;s:42:\"pinterest_5a824ec4b7673698baa93ff6c3c4ce0b\";i:527;s:41:\"linkedin_5a824ec4b7673698baa93ff6c3c4ce0b\";i:528;s:35:\"fb_f0aa71dfc10025bb5502ce8e7f48732c\";i:529;s:40:\"twitter_f0aa71dfc10025bb5502ce8e7f48732c\";i:530;s:42:\"pinterest_f0aa71dfc10025bb5502ce8e7f48732c\";i:531;s:41:\"linkedin_f0aa71dfc10025bb5502ce8e7f48732c\";i:532;s:35:\"fb_b1de521aad9fa2068cfda2472c61c489\";i:533;s:40:\"twitter_b1de521aad9fa2068cfda2472c61c489\";i:534;s:42:\"pinterest_b1de521aad9fa2068cfda2472c61c489\";i:535;s:41:\"linkedin_b1de521aad9fa2068cfda2472c61c489\";i:536;s:35:\"fb_aa110c84494c5f9fbf116eca755ff61b\";i:537;s:40:\"twitter_aa110c84494c5f9fbf116eca755ff61b\";i:538;s:42:\"pinterest_aa110c84494c5f9fbf116eca755ff61b\";i:539;s:41:\"linkedin_aa110c84494c5f9fbf116eca755ff61b\";i:540;s:35:\"fb_918e2e764d5b939bfdcda599d7837489\";i:541;s:40:\"twitter_918e2e764d5b939bfdcda599d7837489\";i:542;s:42:\"pinterest_918e2e764d5b939bfdcda599d7837489\";i:543;s:41:\"linkedin_918e2e764d5b939bfdcda599d7837489\";i:544;s:35:\"fb_fdb8dcdbfb2a106834252f515791dcd5\";i:545;s:40:\"twitter_fdb8dcdbfb2a106834252f515791dcd5\";i:546;s:42:\"pinterest_fdb8dcdbfb2a106834252f515791dcd5\";i:547;s:41:\"linkedin_fdb8dcdbfb2a106834252f515791dcd5\";i:548;s:35:\"fb_0d0a355959b6d572528704800d866e24\";i:549;s:40:\"twitter_0d0a355959b6d572528704800d866e24\";i:550;s:42:\"pinterest_0d0a355959b6d572528704800d866e24\";i:551;s:41:\"linkedin_0d0a355959b6d572528704800d866e24\";i:552;s:35:\"fb_3f9300c9e1e50a0c3111f5af209fac66\";i:553;s:40:\"twitter_3f9300c9e1e50a0c3111f5af209fac66\";i:554;s:42:\"pinterest_3f9300c9e1e50a0c3111f5af209fac66\";i:555;s:41:\"linkedin_3f9300c9e1e50a0c3111f5af209fac66\";i:556;s:35:\"fb_5b59fd2ad0eeb031a05c8adcf17756d9\";i:557;s:40:\"twitter_5b59fd2ad0eeb031a05c8adcf17756d9\";i:558;s:42:\"pinterest_5b59fd2ad0eeb031a05c8adcf17756d9\";i:559;s:41:\"linkedin_5b59fd2ad0eeb031a05c8adcf17756d9\";i:560;s:35:\"fb_5f59dc87ee854c92a6981f0983f4e65f\";i:561;s:40:\"twitter_5f59dc87ee854c92a6981f0983f4e65f\";i:562;s:42:\"pinterest_5f59dc87ee854c92a6981f0983f4e65f\";i:563;s:41:\"linkedin_5f59dc87ee854c92a6981f0983f4e65f\";i:564;s:35:\"fb_4ad078036ac8c959eac7de16646f9f43\";i:565;s:40:\"twitter_4ad078036ac8c959eac7de16646f9f43\";i:566;s:42:\"pinterest_4ad078036ac8c959eac7de16646f9f43\";i:567;s:41:\"linkedin_4ad078036ac8c959eac7de16646f9f43\";i:568;s:35:\"fb_b7735f474dd1e211c4d71b09f6f937d0\";i:569;s:40:\"twitter_b7735f474dd1e211c4d71b09f6f937d0\";i:570;s:42:\"pinterest_b7735f474dd1e211c4d71b09f6f937d0\";i:571;s:41:\"linkedin_b7735f474dd1e211c4d71b09f6f937d0\";i:572;s:35:\"fb_8a24986cc3ec08e5cf65e550b0801d19\";i:573;s:40:\"twitter_8a24986cc3ec08e5cf65e550b0801d19\";i:574;s:42:\"pinterest_8a24986cc3ec08e5cf65e550b0801d19\";i:575;s:41:\"linkedin_8a24986cc3ec08e5cf65e550b0801d19\";i:576;s:35:\"fb_db0924e4bf7da1ae6128f1d0f14ee4d1\";i:577;s:40:\"twitter_db0924e4bf7da1ae6128f1d0f14ee4d1\";i:578;s:42:\"pinterest_db0924e4bf7da1ae6128f1d0f14ee4d1\";i:579;s:41:\"linkedin_db0924e4bf7da1ae6128f1d0f14ee4d1\";i:580;s:35:\"fb_c196aa9eba7e56fa89b16e930a6473f2\";i:581;s:40:\"twitter_c196aa9eba7e56fa89b16e930a6473f2\";i:582;s:42:\"pinterest_c196aa9eba7e56fa89b16e930a6473f2\";i:583;s:41:\"linkedin_c196aa9eba7e56fa89b16e930a6473f2\";i:584;s:35:\"fb_29740bb622d37d9ef913be3394846f6b\";i:585;s:40:\"twitter_29740bb622d37d9ef913be3394846f6b\";i:586;s:42:\"pinterest_29740bb622d37d9ef913be3394846f6b\";i:587;s:41:\"linkedin_29740bb622d37d9ef913be3394846f6b\";i:588;s:35:\"fb_a33dffba87597566846fe9b3409b851d\";i:589;s:40:\"twitter_a33dffba87597566846fe9b3409b851d\";i:590;s:42:\"pinterest_a33dffba87597566846fe9b3409b851d\";i:591;s:41:\"linkedin_a33dffba87597566846fe9b3409b851d\";i:592;s:35:\"fb_6abeec53b7105dd5f19b48bc4124e469\";i:593;s:40:\"twitter_6abeec53b7105dd5f19b48bc4124e469\";i:594;s:42:\"pinterest_6abeec53b7105dd5f19b48bc4124e469\";i:595;s:41:\"linkedin_6abeec53b7105dd5f19b48bc4124e469\";i:596;s:35:\"fb_4782442159b1942aac57f99eff81174e\";i:597;s:40:\"twitter_4782442159b1942aac57f99eff81174e\";i:598;s:42:\"pinterest_4782442159b1942aac57f99eff81174e\";i:599;s:41:\"linkedin_4782442159b1942aac57f99eff81174e\";i:600;s:35:\"fb_25007d68135caf94f7d5d1f7e183e15b\";i:601;s:40:\"twitter_25007d68135caf94f7d5d1f7e183e15b\";i:602;s:42:\"pinterest_25007d68135caf94f7d5d1f7e183e15b\";i:603;s:41:\"linkedin_25007d68135caf94f7d5d1f7e183e15b\";i:604;s:35:\"fb_1ec6f42315781fa2beaf183355a54357\";i:605;s:40:\"twitter_1ec6f42315781fa2beaf183355a54357\";i:606;s:42:\"pinterest_1ec6f42315781fa2beaf183355a54357\";i:607;s:41:\"linkedin_1ec6f42315781fa2beaf183355a54357\";i:608;s:35:\"fb_4f19ad5e57fd820212bad6376752b179\";i:609;s:40:\"twitter_4f19ad5e57fd820212bad6376752b179\";i:610;s:42:\"pinterest_4f19ad5e57fd820212bad6376752b179\";i:611;s:41:\"linkedin_4f19ad5e57fd820212bad6376752b179\";i:612;s:35:\"fb_14c89f39a8134d88b609e76aa60f3013\";i:613;s:40:\"twitter_14c89f39a8134d88b609e76aa60f3013\";i:614;s:42:\"pinterest_14c89f39a8134d88b609e76aa60f3013\";i:615;s:41:\"linkedin_14c89f39a8134d88b609e76aa60f3013\";i:616;s:35:\"fb_bc1709600b9cecfa54d07056102c0006\";i:617;s:40:\"twitter_bc1709600b9cecfa54d07056102c0006\";i:618;s:42:\"pinterest_bc1709600b9cecfa54d07056102c0006\";i:619;s:41:\"linkedin_bc1709600b9cecfa54d07056102c0006\";i:620;s:35:\"fb_e8472727eacfd592f786131889446b59\";i:621;s:40:\"twitter_e8472727eacfd592f786131889446b59\";i:622;s:42:\"pinterest_e8472727eacfd592f786131889446b59\";i:623;s:41:\"linkedin_e8472727eacfd592f786131889446b59\";i:624;s:35:\"fb_f14a0e956d90c852d94182e73f4db658\";i:625;s:40:\"twitter_f14a0e956d90c852d94182e73f4db658\";i:626;s:42:\"pinterest_f14a0e956d90c852d94182e73f4db658\";i:627;s:41:\"linkedin_f14a0e956d90c852d94182e73f4db658\";i:628;s:35:\"fb_a85d1afd8b038cc453bdd48baedf433d\";i:629;s:40:\"twitter_a85d1afd8b038cc453bdd48baedf433d\";i:630;s:42:\"pinterest_a85d1afd8b038cc453bdd48baedf433d\";i:631;s:41:\"linkedin_a85d1afd8b038cc453bdd48baedf433d\";i:632;s:35:\"fb_a3b8e48b53f121828cb9937218d100e3\";i:633;s:40:\"twitter_a3b8e48b53f121828cb9937218d100e3\";i:634;s:42:\"pinterest_a3b8e48b53f121828cb9937218d100e3\";i:635;s:41:\"linkedin_a3b8e48b53f121828cb9937218d100e3\";i:636;s:35:\"fb_34dbd1452f19e5d08bca4f29eb61e23e\";i:637;s:40:\"twitter_34dbd1452f19e5d08bca4f29eb61e23e\";i:638;s:42:\"pinterest_34dbd1452f19e5d08bca4f29eb61e23e\";i:639;s:41:\"linkedin_34dbd1452f19e5d08bca4f29eb61e23e\";i:640;s:35:\"fb_415ece6106173175d5d239f1ef11e962\";i:641;s:40:\"twitter_415ece6106173175d5d239f1ef11e962\";i:642;s:42:\"pinterest_415ece6106173175d5d239f1ef11e962\";i:643;s:41:\"linkedin_415ece6106173175d5d239f1ef11e962\";i:644;s:35:\"fb_b32dcccd7d299620792a9dc650576092\";i:645;s:40:\"twitter_b32dcccd7d299620792a9dc650576092\";i:646;s:42:\"pinterest_b32dcccd7d299620792a9dc650576092\";i:647;s:41:\"linkedin_b32dcccd7d299620792a9dc650576092\";i:648;s:35:\"fb_59027f21592a2fe9c23b3f92b6572ec9\";i:649;s:40:\"twitter_59027f21592a2fe9c23b3f92b6572ec9\";i:650;s:42:\"pinterest_59027f21592a2fe9c23b3f92b6572ec9\";i:651;s:41:\"linkedin_59027f21592a2fe9c23b3f92b6572ec9\";i:652;s:35:\"fb_38b8d134b1d5af7fe41688e94316a175\";i:653;s:40:\"twitter_38b8d134b1d5af7fe41688e94316a175\";i:654;s:42:\"pinterest_38b8d134b1d5af7fe41688e94316a175\";i:655;s:41:\"linkedin_38b8d134b1d5af7fe41688e94316a175\";i:656;s:35:\"fb_fa5c8e8bbdae6de993dbd151fcc57192\";i:657;s:40:\"twitter_fa5c8e8bbdae6de993dbd151fcc57192\";i:658;s:42:\"pinterest_fa5c8e8bbdae6de993dbd151fcc57192\";i:659;s:41:\"linkedin_fa5c8e8bbdae6de993dbd151fcc57192\";i:660;s:35:\"fb_aaa947fbc060897cea5257683f70578e\";i:661;s:40:\"twitter_aaa947fbc060897cea5257683f70578e\";i:662;s:42:\"pinterest_aaa947fbc060897cea5257683f70578e\";i:663;s:41:\"linkedin_aaa947fbc060897cea5257683f70578e\";i:664;s:35:\"fb_c96390c376e80663e0c853a896216aa9\";i:665;s:40:\"twitter_c96390c376e80663e0c853a896216aa9\";i:666;s:42:\"pinterest_c96390c376e80663e0c853a896216aa9\";i:667;s:41:\"linkedin_c96390c376e80663e0c853a896216aa9\";i:668;s:35:\"fb_c262b3bdb996bedc2ac8b76d38adfbe5\";i:669;s:40:\"twitter_c262b3bdb996bedc2ac8b76d38adfbe5\";i:670;s:42:\"pinterest_c262b3bdb996bedc2ac8b76d38adfbe5\";i:671;s:41:\"linkedin_c262b3bdb996bedc2ac8b76d38adfbe5\";i:672;s:35:\"fb_60439bb02a5181b6a9043daea35ed2f7\";i:673;s:40:\"twitter_60439bb02a5181b6a9043daea35ed2f7\";i:674;s:42:\"pinterest_60439bb02a5181b6a9043daea35ed2f7\";i:675;s:41:\"linkedin_60439bb02a5181b6a9043daea35ed2f7\";i:676;s:35:\"fb_bc9f158170d710c6eecad9ca04efa86d\";i:677;s:40:\"twitter_bc9f158170d710c6eecad9ca04efa86d\";i:678;s:42:\"pinterest_bc9f158170d710c6eecad9ca04efa86d\";i:679;s:41:\"linkedin_bc9f158170d710c6eecad9ca04efa86d\";i:680;s:35:\"fb_590038729313b388c30aca0a09a833c0\";i:681;s:40:\"twitter_590038729313b388c30aca0a09a833c0\";i:682;s:42:\"pinterest_590038729313b388c30aca0a09a833c0\";i:683;s:41:\"linkedin_590038729313b388c30aca0a09a833c0\";i:684;s:35:\"fb_7051f243dd1a6465a82ce0dc9670c4dc\";i:685;s:40:\"twitter_7051f243dd1a6465a82ce0dc9670c4dc\";i:686;s:42:\"pinterest_7051f243dd1a6465a82ce0dc9670c4dc\";i:687;s:41:\"linkedin_7051f243dd1a6465a82ce0dc9670c4dc\";i:688;s:35:\"fb_679b5f8481ff6233b80918b965afeb07\";i:689;s:40:\"twitter_679b5f8481ff6233b80918b965afeb07\";i:690;s:42:\"pinterest_679b5f8481ff6233b80918b965afeb07\";i:691;s:41:\"linkedin_679b5f8481ff6233b80918b965afeb07\";i:692;s:35:\"fb_aef6d4c838a2170f6c7270f8f12743d7\";i:693;s:40:\"twitter_aef6d4c838a2170f6c7270f8f12743d7\";i:694;s:42:\"pinterest_aef6d4c838a2170f6c7270f8f12743d7\";i:695;s:41:\"linkedin_aef6d4c838a2170f6c7270f8f12743d7\";i:696;s:35:\"fb_eb5530bfa1f646360d686d48cd5f63a0\";i:697;s:40:\"twitter_eb5530bfa1f646360d686d48cd5f63a0\";i:698;s:42:\"pinterest_eb5530bfa1f646360d686d48cd5f63a0\";i:699;s:41:\"linkedin_eb5530bfa1f646360d686d48cd5f63a0\";i:700;s:35:\"fb_2c211ff62456814360deb1d00c589c7b\";i:701;s:40:\"twitter_2c211ff62456814360deb1d00c589c7b\";i:702;s:42:\"pinterest_2c211ff62456814360deb1d00c589c7b\";i:703;s:41:\"linkedin_2c211ff62456814360deb1d00c589c7b\";i:704;s:35:\"fb_1c46f30d001fa2671bb105a49684925a\";i:705;s:40:\"twitter_1c46f30d001fa2671bb105a49684925a\";i:706;s:42:\"pinterest_1c46f30d001fa2671bb105a49684925a\";i:707;s:41:\"linkedin_1c46f30d001fa2671bb105a49684925a\";i:708;s:35:\"fb_a1e0083b47a4fd10f231d5f343c11dcc\";i:709;s:40:\"twitter_a1e0083b47a4fd10f231d5f343c11dcc\";i:710;s:42:\"pinterest_a1e0083b47a4fd10f231d5f343c11dcc\";i:711;s:41:\"linkedin_a1e0083b47a4fd10f231d5f343c11dcc\";i:712;s:35:\"fb_61bee327fb931fa40fe0c0a06df35da9\";i:713;s:35:\"fb_f7a235f31084ea104ba04a1d21117b07\";i:714;s:40:\"twitter_f7a235f31084ea104ba04a1d21117b07\";i:715;s:42:\"pinterest_f7a235f31084ea104ba04a1d21117b07\";i:716;s:41:\"linkedin_f7a235f31084ea104ba04a1d21117b07\";i:717;s:35:\"fb_06418a09abb6136dc273a0962367f8ad\";i:718;s:40:\"twitter_06418a09abb6136dc273a0962367f8ad\";i:719;s:42:\"pinterest_06418a09abb6136dc273a0962367f8ad\";i:720;s:41:\"linkedin_06418a09abb6136dc273a0962367f8ad\";i:721;s:35:\"fb_8cde50cc4aa7890d2f00815b715e919e\";i:722;s:40:\"twitter_8cde50cc4aa7890d2f00815b715e919e\";i:723;s:35:\"fb_1bfc68dd9ef1927c899307c33f8e347e\";i:724;s:40:\"twitter_1bfc68dd9ef1927c899307c33f8e347e\";i:725;s:42:\"pinterest_1bfc68dd9ef1927c899307c33f8e347e\";i:726;s:35:\"fb_5238446aebe2889cc84e309b1b76744e\";i:727;s:40:\"twitter_5238446aebe2889cc84e309b1b76744e\";i:728;s:42:\"pinterest_5238446aebe2889cc84e309b1b76744e\";i:729;s:41:\"linkedin_5238446aebe2889cc84e309b1b76744e\";i:730;s:35:\"fb_6b502a672d8c0fb0770e69ef707a1b15\";i:731;s:40:\"twitter_6b502a672d8c0fb0770e69ef707a1b15\";i:732;s:42:\"pinterest_6b502a672d8c0fb0770e69ef707a1b15\";i:733;s:41:\"linkedin_6b502a672d8c0fb0770e69ef707a1b15\";i:734;s:35:\"fb_4f4f5b11a61995faa6ca5849bd954ef1\";i:735;s:40:\"twitter_4f4f5b11a61995faa6ca5849bd954ef1\";i:736;s:42:\"pinterest_4f4f5b11a61995faa6ca5849bd954ef1\";i:737;s:41:\"linkedin_4f4f5b11a61995faa6ca5849bd954ef1\";i:738;s:35:\"fb_925078be722b3626953b57005cb5bbb7\";i:739;s:40:\"twitter_925078be722b3626953b57005cb5bbb7\";i:740;s:42:\"pinterest_925078be722b3626953b57005cb5bbb7\";i:741;s:41:\"linkedin_925078be722b3626953b57005cb5bbb7\";i:742;s:35:\"fb_1c62c7a4972373bc0aa0afb1ea158dd0\";i:743;s:40:\"twitter_1c62c7a4972373bc0aa0afb1ea158dd0\";i:744;s:42:\"pinterest_1c62c7a4972373bc0aa0afb1ea158dd0\";i:745;s:41:\"linkedin_1c62c7a4972373bc0aa0afb1ea158dd0\";i:746;s:35:\"fb_300fe381014e35325635ecbb7fcf0361\";i:747;s:40:\"twitter_300fe381014e35325635ecbb7fcf0361\";i:748;s:42:\"pinterest_300fe381014e35325635ecbb7fcf0361\";i:749;s:35:\"fb_f1c8d8bbca42529d5d428472c2b7b997\";i:750;s:40:\"twitter_f1c8d8bbca42529d5d428472c2b7b997\";i:751;s:42:\"pinterest_f1c8d8bbca42529d5d428472c2b7b997\";i:752;s:41:\"linkedin_f1c8d8bbca42529d5d428472c2b7b997\";i:753;s:35:\"fb_31d9aa2c01a4763d79c07fbf850dcf32\";i:754;s:40:\"twitter_31d9aa2c01a4763d79c07fbf850dcf32\";i:755;s:42:\"pinterest_31d9aa2c01a4763d79c07fbf850dcf32\";i:756;s:41:\"linkedin_31d9aa2c01a4763d79c07fbf850dcf32\";i:757;s:35:\"fb_3864bcc1d191b9c096495f20c1d544dd\";i:758;s:40:\"twitter_3864bcc1d191b9c096495f20c1d544dd\";i:759;s:42:\"pinterest_3864bcc1d191b9c096495f20c1d544dd\";i:760;s:41:\"linkedin_3864bcc1d191b9c096495f20c1d544dd\";i:761;s:35:\"fb_c4213cb99ae562fe10dc4c4e6a9ed4cc\";i:762;s:40:\"twitter_c4213cb99ae562fe10dc4c4e6a9ed4cc\";i:763;s:42:\"pinterest_c4213cb99ae562fe10dc4c4e6a9ed4cc\";i:764;s:41:\"linkedin_c4213cb99ae562fe10dc4c4e6a9ed4cc\";i:765;s:35:\"fb_fe071559836ec5fa0801a4688a5a0d86\";i:766;s:40:\"twitter_fe071559836ec5fa0801a4688a5a0d86\";i:767;s:42:\"pinterest_fe071559836ec5fa0801a4688a5a0d86\";i:768;s:41:\"linkedin_fe071559836ec5fa0801a4688a5a0d86\";i:769;s:35:\"fb_3b04f65809f062f77b01b23fb8e3c6fb\";i:770;s:40:\"twitter_3b04f65809f062f77b01b23fb8e3c6fb\";i:771;s:42:\"pinterest_3b04f65809f062f77b01b23fb8e3c6fb\";i:772;s:41:\"linkedin_3b04f65809f062f77b01b23fb8e3c6fb\";i:773;s:35:\"fb_3afcc860aafc846f0c80394d830978fe\";i:774;s:40:\"twitter_3afcc860aafc846f0c80394d830978fe\";i:775;s:42:\"pinterest_3afcc860aafc846f0c80394d830978fe\";i:776;s:41:\"linkedin_3afcc860aafc846f0c80394d830978fe\";i:777;s:35:\"fb_f7b49ca5ee2d7a7b0b05970bc1024138\";i:778;s:40:\"twitter_f7b49ca5ee2d7a7b0b05970bc1024138\";i:779;s:42:\"pinterest_f7b49ca5ee2d7a7b0b05970bc1024138\";i:780;s:41:\"linkedin_f7b49ca5ee2d7a7b0b05970bc1024138\";i:781;s:35:\"fb_8783123738348a7a7eed324f38da9a72\";i:782;s:40:\"twitter_8783123738348a7a7eed324f38da9a72\";i:783;s:42:\"pinterest_8783123738348a7a7eed324f38da9a72\";i:784;s:41:\"linkedin_8783123738348a7a7eed324f38da9a72\";i:785;s:35:\"fb_1b33908c3297be110fc5f1ed93f7b6f4\";i:786;s:40:\"twitter_1b33908c3297be110fc5f1ed93f7b6f4\";i:787;s:42:\"pinterest_1b33908c3297be110fc5f1ed93f7b6f4\";i:788;s:41:\"linkedin_1b33908c3297be110fc5f1ed93f7b6f4\";i:789;s:35:\"fb_5a8a7a17f8de67b57bd1fa22f8f06dee\";i:790;s:40:\"twitter_5a8a7a17f8de67b57bd1fa22f8f06dee\";i:791;s:42:\"pinterest_5a8a7a17f8de67b57bd1fa22f8f06dee\";i:792;s:41:\"linkedin_5a8a7a17f8de67b57bd1fa22f8f06dee\";i:793;s:35:\"fb_4a8c4732e53da54d107d005441410e38\";i:794;s:40:\"twitter_4a8c4732e53da54d107d005441410e38\";i:795;s:42:\"pinterest_4a8c4732e53da54d107d005441410e38\";i:796;s:41:\"linkedin_4a8c4732e53da54d107d005441410e38\";i:797;s:35:\"fb_c51073b467da609878fc5e9720cc8819\";i:798;s:40:\"twitter_c51073b467da609878fc5e9720cc8819\";i:799;s:42:\"pinterest_c51073b467da609878fc5e9720cc8819\";i:800;s:41:\"linkedin_c51073b467da609878fc5e9720cc8819\";i:801;s:35:\"fb_dad09db69ba9e5e0afba96c550afde7d\";i:802;s:40:\"twitter_dad09db69ba9e5e0afba96c550afde7d\";i:803;s:42:\"pinterest_dad09db69ba9e5e0afba96c550afde7d\";i:804;s:41:\"linkedin_dad09db69ba9e5e0afba96c550afde7d\";i:805;s:35:\"fb_52144609321aaabf53e8df02dad0b6bf\";i:806;s:40:\"twitter_52144609321aaabf53e8df02dad0b6bf\";i:807;s:42:\"pinterest_52144609321aaabf53e8df02dad0b6bf\";i:808;s:41:\"linkedin_52144609321aaabf53e8df02dad0b6bf\";i:809;s:35:\"fb_30d32af99ef38b4352835443a5cdeedf\";i:810;s:40:\"twitter_30d32af99ef38b4352835443a5cdeedf\";i:811;s:42:\"pinterest_30d32af99ef38b4352835443a5cdeedf\";i:812;s:41:\"linkedin_30d32af99ef38b4352835443a5cdeedf\";i:813;s:35:\"fb_85d5e94a9559d60f4c1310d0ee3e4b92\";i:814;s:40:\"twitter_85d5e94a9559d60f4c1310d0ee3e4b92\";i:815;s:42:\"pinterest_85d5e94a9559d60f4c1310d0ee3e4b92\";i:816;s:41:\"linkedin_85d5e94a9559d60f4c1310d0ee3e4b92\";i:817;s:35:\"fb_daff51f2535e9724c93c0fe1b1daef4e\";i:818;s:40:\"twitter_daff51f2535e9724c93c0fe1b1daef4e\";i:819;s:42:\"pinterest_daff51f2535e9724c93c0fe1b1daef4e\";i:820;s:41:\"linkedin_daff51f2535e9724c93c0fe1b1daef4e\";i:821;s:35:\"fb_5ff04376ed280f98a6c412c31691d17c\";i:822;s:40:\"twitter_5ff04376ed280f98a6c412c31691d17c\";i:823;s:42:\"pinterest_5ff04376ed280f98a6c412c31691d17c\";i:824;s:41:\"linkedin_5ff04376ed280f98a6c412c31691d17c\";i:825;s:35:\"fb_2346d415363d01041e14be6fd3ede2f8\";i:826;s:40:\"twitter_2346d415363d01041e14be6fd3ede2f8\";i:827;s:42:\"pinterest_2346d415363d01041e14be6fd3ede2f8\";i:828;s:41:\"linkedin_2346d415363d01041e14be6fd3ede2f8\";i:829;s:35:\"fb_b8535ee857bd46a228e747edc4af95de\";i:830;s:40:\"twitter_b8535ee857bd46a228e747edc4af95de\";i:831;s:42:\"pinterest_b8535ee857bd46a228e747edc4af95de\";i:832;s:41:\"linkedin_b8535ee857bd46a228e747edc4af95de\";i:833;s:35:\"fb_51ba004fbc46abba286c56a32c9fd940\";i:834;s:40:\"twitter_51ba004fbc46abba286c56a32c9fd940\";i:835;s:42:\"pinterest_51ba004fbc46abba286c56a32c9fd940\";i:836;s:41:\"linkedin_51ba004fbc46abba286c56a32c9fd940\";i:837;s:35:\"fb_f291bc1ccb42668870b667fd6d96e7da\";i:838;s:40:\"twitter_f291bc1ccb42668870b667fd6d96e7da\";i:839;s:42:\"pinterest_f291bc1ccb42668870b667fd6d96e7da\";i:840;s:41:\"linkedin_f291bc1ccb42668870b667fd6d96e7da\";i:841;s:35:\"fb_5810fbdb7c7af2c27aa8291da83880a3\";i:842;s:40:\"twitter_5810fbdb7c7af2c27aa8291da83880a3\";i:843;s:42:\"pinterest_5810fbdb7c7af2c27aa8291da83880a3\";i:844;s:35:\"fb_c45d57522a9c9eb518442a722c180535\";i:845;s:40:\"twitter_c45d57522a9c9eb518442a722c180535\";i:846;s:42:\"pinterest_c45d57522a9c9eb518442a722c180535\";i:847;s:35:\"fb_54ca074822f36695d198744573d33a55\";i:848;s:40:\"twitter_54ca074822f36695d198744573d33a55\";i:849;s:42:\"pinterest_54ca074822f36695d198744573d33a55\";i:850;s:41:\"linkedin_54ca074822f36695d198744573d33a55\";i:851;s:35:\"fb_8531888eaf5b0381f5b70ec2c1e38b6b\";i:852;s:40:\"twitter_8531888eaf5b0381f5b70ec2c1e38b6b\";i:853;s:42:\"pinterest_8531888eaf5b0381f5b70ec2c1e38b6b\";i:854;s:41:\"linkedin_8531888eaf5b0381f5b70ec2c1e38b6b\";i:855;s:35:\"fb_9a0b440ed76e79320b923c0922890e47\";i:856;s:40:\"twitter_9a0b440ed76e79320b923c0922890e47\";i:857;s:42:\"pinterest_9a0b440ed76e79320b923c0922890e47\";i:858;s:41:\"linkedin_9a0b440ed76e79320b923c0922890e47\";i:859;s:35:\"fb_8684a966de598e5a8fa129fb9552bcbe\";i:860;s:40:\"twitter_8684a966de598e5a8fa129fb9552bcbe\";i:861;s:42:\"pinterest_8684a966de598e5a8fa129fb9552bcbe\";i:862;s:41:\"linkedin_8684a966de598e5a8fa129fb9552bcbe\";i:863;s:35:\"fb_6be72f6979033e6da7dc70d49c3a505d\";i:864;s:40:\"twitter_6be72f6979033e6da7dc70d49c3a505d\";i:865;s:42:\"pinterest_6be72f6979033e6da7dc70d49c3a505d\";i:866;s:41:\"linkedin_6be72f6979033e6da7dc70d49c3a505d\";i:867;s:35:\"fb_6a0bedec6ed933ff43c222a48b8d7b8a\";i:868;s:40:\"twitter_6a0bedec6ed933ff43c222a48b8d7b8a\";i:869;s:42:\"pinterest_6a0bedec6ed933ff43c222a48b8d7b8a\";i:870;s:41:\"linkedin_6a0bedec6ed933ff43c222a48b8d7b8a\";i:871;s:35:\"fb_0b7802fdb5c3dfdca0acd45992ff5cb3\";i:872;s:40:\"twitter_0b7802fdb5c3dfdca0acd45992ff5cb3\";i:873;s:42:\"pinterest_0b7802fdb5c3dfdca0acd45992ff5cb3\";i:874;s:41:\"linkedin_0b7802fdb5c3dfdca0acd45992ff5cb3\";i:875;s:35:\"fb_47779545a1b2a5ee4499207f33a5a49b\";i:876;s:40:\"twitter_47779545a1b2a5ee4499207f33a5a49b\";i:877;s:42:\"pinterest_47779545a1b2a5ee4499207f33a5a49b\";i:878;s:41:\"linkedin_47779545a1b2a5ee4499207f33a5a49b\";i:879;s:35:\"fb_d7fe10b7d72fafb59eba1d9e656ddd00\";i:880;s:40:\"twitter_d7fe10b7d72fafb59eba1d9e656ddd00\";i:881;s:42:\"pinterest_d7fe10b7d72fafb59eba1d9e656ddd00\";i:882;s:41:\"linkedin_d7fe10b7d72fafb59eba1d9e656ddd00\";i:883;s:35:\"fb_24b29fe84ac6486fa2815e9782ec068a\";i:884;s:40:\"twitter_24b29fe84ac6486fa2815e9782ec068a\";i:885;s:42:\"pinterest_24b29fe84ac6486fa2815e9782ec068a\";i:886;s:41:\"linkedin_24b29fe84ac6486fa2815e9782ec068a\";i:887;s:35:\"fb_ec6913292a7122535a6d4b04a50b4cd3\";i:888;s:40:\"twitter_ec6913292a7122535a6d4b04a50b4cd3\";i:889;s:42:\"pinterest_ec6913292a7122535a6d4b04a50b4cd3\";i:890;s:41:\"linkedin_ec6913292a7122535a6d4b04a50b4cd3\";i:891;s:35:\"fb_2ef1c84f03d269eb3d489dc71492851b\";i:892;s:40:\"twitter_2ef1c84f03d269eb3d489dc71492851b\";i:893;s:42:\"pinterest_2ef1c84f03d269eb3d489dc71492851b\";i:894;s:41:\"linkedin_2ef1c84f03d269eb3d489dc71492851b\";i:895;s:35:\"fb_4e577923b9cd81b28906a69a09c3b667\";i:896;s:40:\"twitter_4e577923b9cd81b28906a69a09c3b667\";i:897;s:42:\"pinterest_4e577923b9cd81b28906a69a09c3b667\";i:898;s:41:\"linkedin_4e577923b9cd81b28906a69a09c3b667\";i:899;s:35:\"fb_17996aef573e77fc52fe47354c97c2ec\";i:900;s:40:\"twitter_17996aef573e77fc52fe47354c97c2ec\";i:901;s:42:\"pinterest_17996aef573e77fc52fe47354c97c2ec\";i:902;s:41:\"linkedin_17996aef573e77fc52fe47354c97c2ec\";i:903;s:35:\"fb_f5a0402f84bdb4c6042b5e5942b938a4\";i:904;s:40:\"twitter_f5a0402f84bdb4c6042b5e5942b938a4\";i:905;s:42:\"pinterest_f5a0402f84bdb4c6042b5e5942b938a4\";i:906;s:41:\"linkedin_f5a0402f84bdb4c6042b5e5942b938a4\";i:907;s:35:\"fb_a6f538f187e5d337c1242ef520a57d0e\";i:908;s:40:\"twitter_a6f538f187e5d337c1242ef520a57d0e\";i:909;s:42:\"pinterest_a6f538f187e5d337c1242ef520a57d0e\";i:910;s:41:\"linkedin_a6f538f187e5d337c1242ef520a57d0e\";i:911;s:35:\"fb_be1c5bc629f2d988f77b225f319bfdc8\";i:912;s:40:\"twitter_be1c5bc629f2d988f77b225f319bfdc8\";i:913;s:42:\"pinterest_be1c5bc629f2d988f77b225f319bfdc8\";i:914;s:41:\"linkedin_be1c5bc629f2d988f77b225f319bfdc8\";i:915;s:35:\"fb_1211168d4781104db4d91bc4a1c31904\";i:916;s:40:\"twitter_1211168d4781104db4d91bc4a1c31904\";i:917;s:42:\"pinterest_1211168d4781104db4d91bc4a1c31904\";i:918;s:41:\"linkedin_1211168d4781104db4d91bc4a1c31904\";i:919;s:35:\"fb_0711e3e9191df95c5373532a6461a0b0\";i:920;s:40:\"twitter_0711e3e9191df95c5373532a6461a0b0\";i:921;s:42:\"pinterest_0711e3e9191df95c5373532a6461a0b0\";i:922;s:41:\"linkedin_0711e3e9191df95c5373532a6461a0b0\";i:923;s:35:\"fb_4ccbe21a2221997496b6dce1e1e08380\";i:924;s:40:\"twitter_4ccbe21a2221997496b6dce1e1e08380\";i:925;s:42:\"pinterest_4ccbe21a2221997496b6dce1e1e08380\";i:926;s:41:\"linkedin_4ccbe21a2221997496b6dce1e1e08380\";i:927;s:35:\"fb_df4b8daff21e742c860e9b105c37c112\";i:928;s:40:\"twitter_df4b8daff21e742c860e9b105c37c112\";i:929;s:42:\"pinterest_df4b8daff21e742c860e9b105c37c112\";i:930;s:41:\"linkedin_df4b8daff21e742c860e9b105c37c112\";i:931;s:35:\"fb_b162a6a7ab7f863aecdc95d2efff7e5b\";i:932;s:40:\"twitter_b162a6a7ab7f863aecdc95d2efff7e5b\";i:933;s:42:\"pinterest_b162a6a7ab7f863aecdc95d2efff7e5b\";i:934;s:41:\"linkedin_b162a6a7ab7f863aecdc95d2efff7e5b\";i:935;s:35:\"fb_d129526cbc233bf9e744da8380c5d869\";i:936;s:40:\"twitter_d129526cbc233bf9e744da8380c5d869\";i:937;s:42:\"pinterest_d129526cbc233bf9e744da8380c5d869\";i:938;s:41:\"linkedin_d129526cbc233bf9e744da8380c5d869\";i:939;s:35:\"fb_692a741664f6e75d63c56cf9125f6556\";i:940;s:40:\"twitter_692a741664f6e75d63c56cf9125f6556\";i:941;s:42:\"pinterest_692a741664f6e75d63c56cf9125f6556\";i:942;s:41:\"linkedin_692a741664f6e75d63c56cf9125f6556\";i:943;s:35:\"fb_1c63d3646a7f5640ab7f51ce09b10186\";i:944;s:40:\"twitter_1c63d3646a7f5640ab7f51ce09b10186\";i:945;s:42:\"pinterest_1c63d3646a7f5640ab7f51ce09b10186\";i:946;s:41:\"linkedin_1c63d3646a7f5640ab7f51ce09b10186\";i:947;s:35:\"fb_ee363ba472565afe3b4e06215cb68950\";i:948;s:40:\"twitter_ee363ba472565afe3b4e06215cb68950\";i:949;s:42:\"pinterest_ee363ba472565afe3b4e06215cb68950\";i:950;s:41:\"linkedin_ee363ba472565afe3b4e06215cb68950\";i:951;s:35:\"fb_11f04832a6f20115858c327981bc1392\";i:952;s:40:\"twitter_11f04832a6f20115858c327981bc1392\";i:953;s:42:\"pinterest_11f04832a6f20115858c327981bc1392\";i:954;s:41:\"linkedin_11f04832a6f20115858c327981bc1392\";i:955;s:35:\"fb_aad73ecbdc8e7d9b472d969cbddfc238\";i:956;s:40:\"twitter_aad73ecbdc8e7d9b472d969cbddfc238\";i:957;s:42:\"pinterest_aad73ecbdc8e7d9b472d969cbddfc238\";i:958;s:41:\"linkedin_aad73ecbdc8e7d9b472d969cbddfc238\";i:959;s:35:\"fb_49316149505fd5eea242bf93bb43462a\";i:960;s:40:\"twitter_49316149505fd5eea242bf93bb43462a\";i:961;s:42:\"pinterest_49316149505fd5eea242bf93bb43462a\";i:962;s:41:\"linkedin_49316149505fd5eea242bf93bb43462a\";i:963;s:35:\"fb_cefeba81440ad52c12c54fb0b5bb56af\";i:964;s:40:\"twitter_cefeba81440ad52c12c54fb0b5bb56af\";i:965;s:42:\"pinterest_cefeba81440ad52c12c54fb0b5bb56af\";i:966;s:41:\"linkedin_cefeba81440ad52c12c54fb0b5bb56af\";i:967;s:35:\"fb_c20ce8af69976ef407f42b1043f19d9f\";i:968;s:40:\"twitter_c20ce8af69976ef407f42b1043f19d9f\";i:969;s:42:\"pinterest_c20ce8af69976ef407f42b1043f19d9f\";i:970;s:41:\"linkedin_c20ce8af69976ef407f42b1043f19d9f\";i:971;s:35:\"fb_c921bc0dfc79e34c2d03c7c02d179ddd\";i:972;s:40:\"twitter_c921bc0dfc79e34c2d03c7c02d179ddd\";i:973;s:42:\"pinterest_c921bc0dfc79e34c2d03c7c02d179ddd\";i:974;s:41:\"linkedin_c921bc0dfc79e34c2d03c7c02d179ddd\";i:975;s:35:\"fb_29b0f755dfc8833812ba4a4fdf4ebf36\";i:976;s:40:\"twitter_29b0f755dfc8833812ba4a4fdf4ebf36\";i:977;s:42:\"pinterest_29b0f755dfc8833812ba4a4fdf4ebf36\";i:978;s:41:\"linkedin_29b0f755dfc8833812ba4a4fdf4ebf36\";i:979;s:35:\"fb_0e07a53c6f60dd97f763edc8b2a406f4\";i:980;s:40:\"twitter_0e07a53c6f60dd97f763edc8b2a406f4\";i:981;s:42:\"pinterest_0e07a53c6f60dd97f763edc8b2a406f4\";i:982;s:41:\"linkedin_0e07a53c6f60dd97f763edc8b2a406f4\";i:983;s:35:\"fb_a57fba81f5fea569159126e23087d1e1\";i:984;s:40:\"twitter_a57fba81f5fea569159126e23087d1e1\";i:985;s:42:\"pinterest_a57fba81f5fea569159126e23087d1e1\";i:986;s:41:\"linkedin_a57fba81f5fea569159126e23087d1e1\";i:987;s:35:\"fb_ab8ad1a301071a6ddb85cea6ff9568be\";i:988;s:40:\"twitter_ab8ad1a301071a6ddb85cea6ff9568be\";i:989;s:42:\"pinterest_ab8ad1a301071a6ddb85cea6ff9568be\";i:990;s:41:\"linkedin_ab8ad1a301071a6ddb85cea6ff9568be\";i:991;s:35:\"fb_0caf2d9ce809c4438c325bf1e0df196b\";i:992;s:40:\"twitter_0caf2d9ce809c4438c325bf1e0df196b\";i:993;s:42:\"pinterest_0caf2d9ce809c4438c325bf1e0df196b\";i:994;s:41:\"linkedin_0caf2d9ce809c4438c325bf1e0df196b\";i:995;s:35:\"fb_aeac82d592711735194103f9a2db6d19\";i:996;s:40:\"twitter_aeac82d592711735194103f9a2db6d19\";i:997;s:42:\"pinterest_aeac82d592711735194103f9a2db6d19\";i:998;s:41:\"linkedin_aeac82d592711735194103f9a2db6d19\";i:999;s:35:\"fb_c688c7e70cb94319dd91b7a709faf71b\";i:1000;s:40:\"twitter_c688c7e70cb94319dd91b7a709faf71b\";i:1001;s:42:\"pinterest_c688c7e70cb94319dd91b7a709faf71b\";i:1002;s:41:\"linkedin_c688c7e70cb94319dd91b7a709faf71b\";i:1003;s:35:\"fb_e0f3ea7c4b026fcdca6611dc7ff81e2d\";i:1004;s:40:\"twitter_e0f3ea7c4b026fcdca6611dc7ff81e2d\";i:1005;s:42:\"pinterest_e0f3ea7c4b026fcdca6611dc7ff81e2d\";i:1006;s:41:\"linkedin_e0f3ea7c4b026fcdca6611dc7ff81e2d\";i:1007;s:35:\"fb_1cb16010d1127a65e92d7afa168d2153\";i:1008;s:40:\"twitter_1cb16010d1127a65e92d7afa168d2153\";i:1009;s:42:\"pinterest_1cb16010d1127a65e92d7afa168d2153\";i:1010;s:41:\"linkedin_1cb16010d1127a65e92d7afa168d2153\";i:1011;s:35:\"fb_b40497a6a187763515412a934e34d424\";i:1012;s:40:\"twitter_b40497a6a187763515412a934e34d424\";i:1013;s:42:\"pinterest_b40497a6a187763515412a934e34d424\";i:1014;s:41:\"linkedin_b40497a6a187763515412a934e34d424\";i:1015;s:35:\"fb_97921a90b554a7554359b0395c992db8\";i:1016;s:40:\"twitter_97921a90b554a7554359b0395c992db8\";i:1017;s:42:\"pinterest_97921a90b554a7554359b0395c992db8\";i:1018;s:41:\"linkedin_97921a90b554a7554359b0395c992db8\";i:1019;s:35:\"fb_6bb8e831ad25836da2c2c92ce373ab3f\";i:1020;s:40:\"twitter_6bb8e831ad25836da2c2c92ce373ab3f\";i:1021;s:42:\"pinterest_6bb8e831ad25836da2c2c92ce373ab3f\";i:1022;s:41:\"linkedin_6bb8e831ad25836da2c2c92ce373ab3f\";i:1023;s:35:\"fb_b1b83b7355b6dcf3503955f7a7468a3e\";i:1024;s:40:\"twitter_b1b83b7355b6dcf3503955f7a7468a3e\";i:1025;s:42:\"pinterest_b1b83b7355b6dcf3503955f7a7468a3e\";i:1026;s:41:\"linkedin_b1b83b7355b6dcf3503955f7a7468a3e\";i:1027;s:35:\"fb_0642a8026ecb8b656287cf57dc0a4eb9\";i:1028;s:40:\"twitter_0642a8026ecb8b656287cf57dc0a4eb9\";i:1029;s:42:\"pinterest_0642a8026ecb8b656287cf57dc0a4eb9\";i:1030;s:41:\"linkedin_0642a8026ecb8b656287cf57dc0a4eb9\";i:1031;s:35:\"fb_9de8f5dc6d740aeb80ad6f12e6e6bdbb\";i:1032;s:40:\"twitter_9de8f5dc6d740aeb80ad6f12e6e6bdbb\";i:1033;s:42:\"pinterest_9de8f5dc6d740aeb80ad6f12e6e6bdbb\";i:1034;s:41:\"linkedin_9de8f5dc6d740aeb80ad6f12e6e6bdbb\";i:1035;s:35:\"fb_8ee0e85fa6abd767978fe5f27a54a331\";i:1036;s:40:\"twitter_8ee0e85fa6abd767978fe5f27a54a331\";i:1037;s:42:\"pinterest_8ee0e85fa6abd767978fe5f27a54a331\";i:1038;s:41:\"linkedin_8ee0e85fa6abd767978fe5f27a54a331\";i:1039;s:35:\"fb_5234fa93df2a3b6942fea64d53aa649c\";i:1040;s:40:\"twitter_5234fa93df2a3b6942fea64d53aa649c\";i:1041;s:42:\"pinterest_5234fa93df2a3b6942fea64d53aa649c\";i:1042;s:41:\"linkedin_5234fa93df2a3b6942fea64d53aa649c\";i:1043;s:35:\"fb_7d0e9163cc663539ef4d02e08fcbed30\";i:1044;s:40:\"twitter_7d0e9163cc663539ef4d02e08fcbed30\";i:1045;s:42:\"pinterest_7d0e9163cc663539ef4d02e08fcbed30\";i:1046;s:41:\"linkedin_7d0e9163cc663539ef4d02e08fcbed30\";i:1047;s:35:\"fb_4998ed2534f3cff3726f4902bbeae723\";i:1048;s:40:\"twitter_4998ed2534f3cff3726f4902bbeae723\";i:1049;s:42:\"pinterest_4998ed2534f3cff3726f4902bbeae723\";i:1050;s:41:\"linkedin_4998ed2534f3cff3726f4902bbeae723\";i:1051;s:35:\"fb_be72c3e890a48e9e8a0c0cb9bdf958b2\";i:1052;s:40:\"twitter_be72c3e890a48e9e8a0c0cb9bdf958b2\";i:1053;s:42:\"pinterest_be72c3e890a48e9e8a0c0cb9bdf958b2\";i:1054;s:41:\"linkedin_be72c3e890a48e9e8a0c0cb9bdf958b2\";i:1055;s:35:\"fb_3fe51ed29c81f23dab5189b59bf460fc\";i:1056;s:40:\"twitter_3fe51ed29c81f23dab5189b59bf460fc\";i:1057;s:42:\"pinterest_3fe51ed29c81f23dab5189b59bf460fc\";i:1058;s:41:\"linkedin_3fe51ed29c81f23dab5189b59bf460fc\";i:1059;s:35:\"fb_94eba3ac5db2d58cc797acd28452a453\";i:1060;s:40:\"twitter_94eba3ac5db2d58cc797acd28452a453\";i:1061;s:42:\"pinterest_94eba3ac5db2d58cc797acd28452a453\";i:1062;s:41:\"linkedin_94eba3ac5db2d58cc797acd28452a453\";i:1063;s:35:\"fb_e78bfac4cd9f30d816cc320fbeb1089e\";i:1064;s:40:\"twitter_e78bfac4cd9f30d816cc320fbeb1089e\";i:1065;s:42:\"pinterest_e78bfac4cd9f30d816cc320fbeb1089e\";i:1066;s:41:\"linkedin_e78bfac4cd9f30d816cc320fbeb1089e\";i:1067;s:35:\"fb_ac398900aca330d5f7e8f940cc084a50\";i:1068;s:40:\"twitter_ac398900aca330d5f7e8f940cc084a50\";i:1069;s:42:\"pinterest_ac398900aca330d5f7e8f940cc084a50\";i:1070;s:41:\"linkedin_ac398900aca330d5f7e8f940cc084a50\";i:1071;s:35:\"fb_e1bd7d08ee1d395ca453aedde29142e3\";i:1072;s:40:\"twitter_e1bd7d08ee1d395ca453aedde29142e3\";i:1073;s:42:\"pinterest_e1bd7d08ee1d395ca453aedde29142e3\";i:1074;s:41:\"linkedin_e1bd7d08ee1d395ca453aedde29142e3\";i:1075;s:35:\"fb_98037934eac12845fe098dabf37ca718\";i:1076;s:40:\"twitter_98037934eac12845fe098dabf37ca718\";i:1077;s:42:\"pinterest_98037934eac12845fe098dabf37ca718\";i:1078;s:41:\"linkedin_98037934eac12845fe098dabf37ca718\";i:1079;s:35:\"fb_a4a5b88649c251ce41f3c7bb0c15009c\";i:1080;s:40:\"twitter_a4a5b88649c251ce41f3c7bb0c15009c\";i:1081;s:42:\"pinterest_a4a5b88649c251ce41f3c7bb0c15009c\";i:1082;s:41:\"linkedin_a4a5b88649c251ce41f3c7bb0c15009c\";i:1083;s:35:\"fb_d4f23105c054b102f3ec4e457a3aeef3\";i:1084;s:40:\"twitter_d4f23105c054b102f3ec4e457a3aeef3\";i:1085;s:42:\"pinterest_d4f23105c054b102f3ec4e457a3aeef3\";i:1086;s:41:\"linkedin_d4f23105c054b102f3ec4e457a3aeef3\";i:1087;s:35:\"fb_b162ef371fb36d6cf3df154ddcdabd27\";i:1088;s:40:\"twitter_b162ef371fb36d6cf3df154ddcdabd27\";i:1089;s:42:\"pinterest_b162ef371fb36d6cf3df154ddcdabd27\";i:1090;s:41:\"linkedin_b162ef371fb36d6cf3df154ddcdabd27\";i:1091;s:35:\"fb_dddbe2f033479e6cfcffe79f493b36d7\";i:1092;s:40:\"twitter_dddbe2f033479e6cfcffe79f493b36d7\";i:1093;s:42:\"pinterest_dddbe2f033479e6cfcffe79f493b36d7\";i:1094;s:41:\"linkedin_dddbe2f033479e6cfcffe79f493b36d7\";i:1095;s:35:\"fb_b9a50d82ece641efe2c2dde103c1a3b5\";i:1096;s:40:\"twitter_b9a50d82ece641efe2c2dde103c1a3b5\";i:1097;s:42:\"pinterest_b9a50d82ece641efe2c2dde103c1a3b5\";i:1098;s:41:\"linkedin_b9a50d82ece641efe2c2dde103c1a3b5\";i:1099;s:35:\"fb_4c00ad41d4c88dd2b6562239e8688968\";i:1100;s:40:\"twitter_4c00ad41d4c88dd2b6562239e8688968\";i:1101;s:42:\"pinterest_4c00ad41d4c88dd2b6562239e8688968\";i:1102;s:41:\"linkedin_4c00ad41d4c88dd2b6562239e8688968\";i:1103;s:35:\"fb_17a48b8732a9b26048f652ddd5768ee5\";i:1104;s:40:\"twitter_17a48b8732a9b26048f652ddd5768ee5\";i:1105;s:42:\"pinterest_17a48b8732a9b26048f652ddd5768ee5\";i:1106;s:41:\"linkedin_17a48b8732a9b26048f652ddd5768ee5\";i:1107;s:35:\"fb_8398152881a716119cf37873d8997474\";i:1108;s:40:\"twitter_8398152881a716119cf37873d8997474\";i:1109;s:42:\"pinterest_8398152881a716119cf37873d8997474\";i:1110;s:41:\"linkedin_8398152881a716119cf37873d8997474\";i:1111;s:35:\"fb_efdcbfd63f94b3667a6cd3c65d3e6173\";i:1112;s:40:\"twitter_efdcbfd63f94b3667a6cd3c65d3e6173\";i:1113;s:42:\"pinterest_efdcbfd63f94b3667a6cd3c65d3e6173\";i:1114;s:41:\"linkedin_efdcbfd63f94b3667a6cd3c65d3e6173\";i:1115;s:35:\"fb_585b2e64b8cc18c131787880cb4c4eca\";i:1116;s:40:\"twitter_585b2e64b8cc18c131787880cb4c4eca\";i:1117;s:42:\"pinterest_585b2e64b8cc18c131787880cb4c4eca\";i:1118;s:41:\"linkedin_585b2e64b8cc18c131787880cb4c4eca\";i:1119;s:35:\"fb_696a2f4283d9b16c5da6e903db9206cd\";i:1120;s:40:\"twitter_696a2f4283d9b16c5da6e903db9206cd\";i:1121;s:42:\"pinterest_696a2f4283d9b16c5da6e903db9206cd\";i:1122;s:41:\"linkedin_696a2f4283d9b16c5da6e903db9206cd\";i:1123;s:35:\"fb_6a399133550c60aa107c8a939020c1dc\";i:1124;s:40:\"twitter_6a399133550c60aa107c8a939020c1dc\";i:1125;s:42:\"pinterest_6a399133550c60aa107c8a939020c1dc\";i:1126;s:41:\"linkedin_6a399133550c60aa107c8a939020c1dc\";i:1127;s:35:\"fb_d22a4d81f0c76eefc49982bed56a2247\";i:1128;s:40:\"twitter_d22a4d81f0c76eefc49982bed56a2247\";i:1129;s:42:\"pinterest_d22a4d81f0c76eefc49982bed56a2247\";i:1130;s:41:\"linkedin_d22a4d81f0c76eefc49982bed56a2247\";i:1131;s:35:\"fb_baf3217d9c4eeb262b73177fe1dbf6bc\";i:1132;s:40:\"twitter_baf3217d9c4eeb262b73177fe1dbf6bc\";i:1133;s:42:\"pinterest_baf3217d9c4eeb262b73177fe1dbf6bc\";i:1134;s:41:\"linkedin_baf3217d9c4eeb262b73177fe1dbf6bc\";i:1135;s:35:\"fb_db02a48c3f9da2f7307f8bd72a5609f8\";i:1136;s:40:\"twitter_db02a48c3f9da2f7307f8bd72a5609f8\";i:1137;s:42:\"pinterest_db02a48c3f9da2f7307f8bd72a5609f8\";i:1138;s:41:\"linkedin_db02a48c3f9da2f7307f8bd72a5609f8\";i:1139;s:35:\"fb_bf977f2a662e3f01bf3dac7d69b30851\";i:1140;s:40:\"twitter_bf977f2a662e3f01bf3dac7d69b30851\";i:1141;s:42:\"pinterest_bf977f2a662e3f01bf3dac7d69b30851\";i:1142;s:41:\"linkedin_bf977f2a662e3f01bf3dac7d69b30851\";i:1143;s:35:\"fb_c2d1a73f77f5569dcda5e3d79e083589\";i:1144;s:40:\"twitter_c2d1a73f77f5569dcda5e3d79e083589\";i:1145;s:42:\"pinterest_c2d1a73f77f5569dcda5e3d79e083589\";i:1146;s:41:\"linkedin_c2d1a73f77f5569dcda5e3d79e083589\";i:1147;s:35:\"fb_7f2e55d66253e8bccb5411c807891411\";i:1148;s:40:\"twitter_7f2e55d66253e8bccb5411c807891411\";i:1149;s:42:\"pinterest_7f2e55d66253e8bccb5411c807891411\";i:1150;s:41:\"linkedin_7f2e55d66253e8bccb5411c807891411\";i:1151;s:35:\"fb_67f12c610e33b3cca935e1ecd8a9809c\";i:1152;s:40:\"twitter_67f12c610e33b3cca935e1ecd8a9809c\";i:1153;s:42:\"pinterest_67f12c610e33b3cca935e1ecd8a9809c\";i:1154;s:41:\"linkedin_67f12c610e33b3cca935e1ecd8a9809c\";i:1155;s:35:\"fb_1c4490a9d1bb1ffa25a55a4ddac20656\";i:1156;s:40:\"twitter_1c4490a9d1bb1ffa25a55a4ddac20656\";i:1157;s:42:\"pinterest_1c4490a9d1bb1ffa25a55a4ddac20656\";i:1158;s:41:\"linkedin_1c4490a9d1bb1ffa25a55a4ddac20656\";i:1159;s:35:\"fb_124aa059ba6626528b8b314ecb6aa8c7\";i:1160;s:40:\"twitter_124aa059ba6626528b8b314ecb6aa8c7\";i:1161;s:42:\"pinterest_124aa059ba6626528b8b314ecb6aa8c7\";i:1162;s:41:\"linkedin_124aa059ba6626528b8b314ecb6aa8c7\";i:1163;s:35:\"fb_0406891a9635ca2c384ae7de115f9984\";i:1164;s:40:\"twitter_0406891a9635ca2c384ae7de115f9984\";i:1165;s:42:\"pinterest_0406891a9635ca2c384ae7de115f9984\";i:1166;s:41:\"linkedin_0406891a9635ca2c384ae7de115f9984\";i:1167;s:35:\"fb_ed4586310a543bd1b906cca665110ca0\";i:1168;s:40:\"twitter_ed4586310a543bd1b906cca665110ca0\";i:1169;s:42:\"pinterest_ed4586310a543bd1b906cca665110ca0\";i:1170;s:41:\"linkedin_ed4586310a543bd1b906cca665110ca0\";i:1171;s:35:\"fb_1d9a5f93baf6bcc6d7423cc265c48a53\";i:1172;s:40:\"twitter_1d9a5f93baf6bcc6d7423cc265c48a53\";i:1173;s:42:\"pinterest_1d9a5f93baf6bcc6d7423cc265c48a53\";i:1174;s:41:\"linkedin_1d9a5f93baf6bcc6d7423cc265c48a53\";i:1175;s:35:\"fb_0c6e85bb93e5d01e3f865f7b1992a526\";i:1176;s:40:\"twitter_0c6e85bb93e5d01e3f865f7b1992a526\";i:1177;s:42:\"pinterest_0c6e85bb93e5d01e3f865f7b1992a526\";i:1178;s:41:\"linkedin_0c6e85bb93e5d01e3f865f7b1992a526\";i:1179;s:35:\"fb_bd5500a8e66203fa900c18765d1089ab\";i:1180;s:40:\"twitter_bd5500a8e66203fa900c18765d1089ab\";i:1181;s:42:\"pinterest_bd5500a8e66203fa900c18765d1089ab\";i:1182;s:41:\"linkedin_bd5500a8e66203fa900c18765d1089ab\";i:1183;s:35:\"fb_d58d273541ec12106b4f5b1896e565ed\";i:1184;s:40:\"twitter_d58d273541ec12106b4f5b1896e565ed\";i:1185;s:42:\"pinterest_d58d273541ec12106b4f5b1896e565ed\";i:1186;s:41:\"linkedin_d58d273541ec12106b4f5b1896e565ed\";i:1187;s:35:\"fb_813aab6ae68148bc981791f9482a81f6\";i:1188;s:40:\"twitter_813aab6ae68148bc981791f9482a81f6\";i:1189;s:42:\"pinterest_813aab6ae68148bc981791f9482a81f6\";i:1190;s:41:\"linkedin_813aab6ae68148bc981791f9482a81f6\";i:1191;s:35:\"fb_475be93b0499dfcecb3877c6bc9ed180\";i:1192;s:40:\"twitter_475be93b0499dfcecb3877c6bc9ed180\";i:1193;s:42:\"pinterest_475be93b0499dfcecb3877c6bc9ed180\";i:1194;s:41:\"linkedin_475be93b0499dfcecb3877c6bc9ed180\";i:1195;s:35:\"fb_4df1033b71521ddc7002d8a5d5296e9b\";i:1196;s:40:\"twitter_4df1033b71521ddc7002d8a5d5296e9b\";i:1197;s:42:\"pinterest_4df1033b71521ddc7002d8a5d5296e9b\";i:1198;s:41:\"linkedin_4df1033b71521ddc7002d8a5d5296e9b\";i:1199;s:35:\"fb_4ce192fee5981e27905463ec1dfa94a4\";i:1200;s:40:\"twitter_4ce192fee5981e27905463ec1dfa94a4\";i:1201;s:42:\"pinterest_4ce192fee5981e27905463ec1dfa94a4\";i:1202;s:41:\"linkedin_4ce192fee5981e27905463ec1dfa94a4\";i:1203;s:35:\"fb_1fdf4b71b60c2a39946f04a38dad0342\";i:1204;s:40:\"twitter_1fdf4b71b60c2a39946f04a38dad0342\";i:1205;s:42:\"pinterest_1fdf4b71b60c2a39946f04a38dad0342\";i:1206;s:41:\"linkedin_1fdf4b71b60c2a39946f04a38dad0342\";i:1207;s:35:\"fb_ac5828af01aa191fa2697626900446f5\";i:1208;s:40:\"twitter_ac5828af01aa191fa2697626900446f5\";i:1209;s:42:\"pinterest_ac5828af01aa191fa2697626900446f5\";i:1210;s:41:\"linkedin_ac5828af01aa191fa2697626900446f5\";i:1211;s:35:\"fb_c35362f7a941f9b6533cf76aab2c6135\";i:1212;s:40:\"twitter_c35362f7a941f9b6533cf76aab2c6135\";i:1213;s:42:\"pinterest_c35362f7a941f9b6533cf76aab2c6135\";i:1214;s:41:\"linkedin_c35362f7a941f9b6533cf76aab2c6135\";i:1215;s:35:\"fb_9aac23a3516caa1ab2c1cdf321a1c20b\";i:1216;s:40:\"twitter_9aac23a3516caa1ab2c1cdf321a1c20b\";i:1217;s:42:\"pinterest_9aac23a3516caa1ab2c1cdf321a1c20b\";i:1218;s:41:\"linkedin_9aac23a3516caa1ab2c1cdf321a1c20b\";i:1219;s:35:\"fb_cd505f44f1dec5333c0a5a36c3c2f4e5\";i:1220;s:40:\"twitter_cd505f44f1dec5333c0a5a36c3c2f4e5\";i:1221;s:42:\"pinterest_cd505f44f1dec5333c0a5a36c3c2f4e5\";i:1222;s:41:\"linkedin_cd505f44f1dec5333c0a5a36c3c2f4e5\";i:1223;s:35:\"fb_039d3401b8df812a1b2457adcb25e5dc\";i:1224;s:40:\"twitter_039d3401b8df812a1b2457adcb25e5dc\";i:1225;s:42:\"pinterest_039d3401b8df812a1b2457adcb25e5dc\";i:1226;s:41:\"linkedin_039d3401b8df812a1b2457adcb25e5dc\";i:1227;s:35:\"fb_6e9af0a8ed4d0e44a2d372bf0c59dae1\";i:1228;s:40:\"twitter_6e9af0a8ed4d0e44a2d372bf0c59dae1\";i:1229;s:42:\"pinterest_6e9af0a8ed4d0e44a2d372bf0c59dae1\";i:1230;s:41:\"linkedin_6e9af0a8ed4d0e44a2d372bf0c59dae1\";i:1231;s:35:\"fb_d97a98a987728ce4866a7881e9364ced\";i:1232;s:40:\"twitter_d97a98a987728ce4866a7881e9364ced\";i:1233;s:42:\"pinterest_d97a98a987728ce4866a7881e9364ced\";i:1234;s:35:\"fb_7d631a9a9da9d3de29afb43190cb9eda\";i:1235;s:40:\"twitter_7d631a9a9da9d3de29afb43190cb9eda\";i:1236;s:42:\"pinterest_7d631a9a9da9d3de29afb43190cb9eda\";i:1237;s:41:\"linkedin_7d631a9a9da9d3de29afb43190cb9eda\";i:1238;s:35:\"fb_1d37c28c41568787ccd6c57a7f886da9\";i:1239;s:40:\"twitter_1d37c28c41568787ccd6c57a7f886da9\";i:1240;s:42:\"pinterest_1d37c28c41568787ccd6c57a7f886da9\";i:1241;s:41:\"linkedin_1d37c28c41568787ccd6c57a7f886da9\";i:1242;s:35:\"fb_a3983bc88b373b0b5e25ad1f869eebb4\";i:1243;s:40:\"twitter_a3983bc88b373b0b5e25ad1f869eebb4\";i:1244;s:42:\"pinterest_a3983bc88b373b0b5e25ad1f869eebb4\";i:1245;s:41:\"linkedin_a3983bc88b373b0b5e25ad1f869eebb4\";i:1246;s:35:\"fb_865e6d6388bb2638947c09fbec339ed0\";i:1247;s:40:\"twitter_865e6d6388bb2638947c09fbec339ed0\";i:1248;s:42:\"pinterest_865e6d6388bb2638947c09fbec339ed0\";i:1249;s:41:\"linkedin_865e6d6388bb2638947c09fbec339ed0\";i:1250;s:35:\"fb_183a52484bed6ff23edda30b93ab6155\";i:1251;s:40:\"twitter_183a52484bed6ff23edda30b93ab6155\";i:1252;s:42:\"pinterest_183a52484bed6ff23edda30b93ab6155\";i:1253;s:41:\"linkedin_183a52484bed6ff23edda30b93ab6155\";i:1254;s:35:\"fb_5ebfe8a7673ce15a433e257b040d0a48\";i:1255;s:40:\"twitter_5ebfe8a7673ce15a433e257b040d0a48\";i:1256;s:42:\"pinterest_5ebfe8a7673ce15a433e257b040d0a48\";i:1257;s:41:\"linkedin_5ebfe8a7673ce15a433e257b040d0a48\";i:1258;s:35:\"fb_53739555216b06d25816159f4f6597bb\";i:1259;s:40:\"twitter_53739555216b06d25816159f4f6597bb\";i:1260;s:42:\"pinterest_53739555216b06d25816159f4f6597bb\";i:1261;s:41:\"linkedin_53739555216b06d25816159f4f6597bb\";i:1262;s:35:\"fb_2aff40505eb0597b902a63277343481d\";i:1263;s:40:\"twitter_2aff40505eb0597b902a63277343481d\";i:1264;s:42:\"pinterest_2aff40505eb0597b902a63277343481d\";i:1265;s:41:\"linkedin_2aff40505eb0597b902a63277343481d\";i:1266;s:35:\"fb_e44f04ba1c056320bc83e854b54b9590\";i:1267;s:40:\"twitter_e44f04ba1c056320bc83e854b54b9590\";i:1268;s:42:\"pinterest_e44f04ba1c056320bc83e854b54b9590\";i:1269;s:41:\"linkedin_e44f04ba1c056320bc83e854b54b9590\";i:1270;s:35:\"fb_511df67ca0fa24c9ae68d7d1318bd9c8\";i:1271;s:40:\"twitter_511df67ca0fa24c9ae68d7d1318bd9c8\";i:1272;s:42:\"pinterest_511df67ca0fa24c9ae68d7d1318bd9c8\";i:1273;s:41:\"linkedin_511df67ca0fa24c9ae68d7d1318bd9c8\";i:1274;s:35:\"fb_6c8b98ebdbed22c087ab56a12c60e927\";i:1275;s:40:\"twitter_6c8b98ebdbed22c087ab56a12c60e927\";i:1276;s:42:\"pinterest_6c8b98ebdbed22c087ab56a12c60e927\";i:1277;s:41:\"linkedin_6c8b98ebdbed22c087ab56a12c60e927\";i:1278;s:35:\"fb_1a55ad46a72a71f321fd29239479915a\";i:1279;s:40:\"twitter_1a55ad46a72a71f321fd29239479915a\";i:1280;s:42:\"pinterest_1a55ad46a72a71f321fd29239479915a\";i:1281;s:41:\"linkedin_1a55ad46a72a71f321fd29239479915a\";i:1282;s:35:\"fb_9e6efb8724af30c81a5de9b5b5e62bec\";i:1283;s:40:\"twitter_9e6efb8724af30c81a5de9b5b5e62bec\";i:1284;s:42:\"pinterest_9e6efb8724af30c81a5de9b5b5e62bec\";i:1285;s:41:\"linkedin_9e6efb8724af30c81a5de9b5b5e62bec\";i:1286;s:35:\"fb_2e9eec84476a688634b65ba6322d71a3\";i:1287;s:40:\"twitter_2e9eec84476a688634b65ba6322d71a3\";i:1288;s:42:\"pinterest_2e9eec84476a688634b65ba6322d71a3\";i:1289;s:41:\"linkedin_2e9eec84476a688634b65ba6322d71a3\";i:1290;s:35:\"fb_2d1a174392e48461ba89e0855d5187ad\";i:1291;s:40:\"twitter_2d1a174392e48461ba89e0855d5187ad\";i:1292;s:42:\"pinterest_2d1a174392e48461ba89e0855d5187ad\";i:1293;s:41:\"linkedin_2d1a174392e48461ba89e0855d5187ad\";i:1294;s:35:\"fb_22a20f24b4c55cbd3de6da007997f5e8\";i:1295;s:40:\"twitter_22a20f24b4c55cbd3de6da007997f5e8\";i:1296;s:42:\"pinterest_22a20f24b4c55cbd3de6da007997f5e8\";i:1297;s:41:\"linkedin_22a20f24b4c55cbd3de6da007997f5e8\";i:1298;s:35:\"fb_18d6bb9c59070392914c0788006bdd07\";i:1299;s:40:\"twitter_18d6bb9c59070392914c0788006bdd07\";i:1300;s:42:\"pinterest_18d6bb9c59070392914c0788006bdd07\";i:1301;s:41:\"linkedin_18d6bb9c59070392914c0788006bdd07\";i:1302;s:35:\"fb_59a1451d8b22571a259609ed21bfb195\";i:1303;s:40:\"twitter_59a1451d8b22571a259609ed21bfb195\";i:1304;s:42:\"pinterest_59a1451d8b22571a259609ed21bfb195\";i:1305;s:35:\"fb_56d1d906ff73be75b5e2db6392dc68b2\";i:1306;s:40:\"twitter_56d1d906ff73be75b5e2db6392dc68b2\";i:1307;s:42:\"pinterest_56d1d906ff73be75b5e2db6392dc68b2\";i:1308;s:41:\"linkedin_56d1d906ff73be75b5e2db6392dc68b2\";i:1309;s:35:\"fb_ad3e7701e101fc9ed5677684a48702fa\";i:1310;s:40:\"twitter_ad3e7701e101fc9ed5677684a48702fa\";i:1311;s:42:\"pinterest_ad3e7701e101fc9ed5677684a48702fa\";i:1312;s:41:\"linkedin_ad3e7701e101fc9ed5677684a48702fa\";i:1313;s:35:\"fb_7d2b3ffe059bf23f9bada678dcab3c5b\";i:1314;s:40:\"twitter_7d2b3ffe059bf23f9bada678dcab3c5b\";i:1315;s:42:\"pinterest_7d2b3ffe059bf23f9bada678dcab3c5b\";i:1316;s:41:\"linkedin_7d2b3ffe059bf23f9bada678dcab3c5b\";i:1317;s:35:\"fb_51d3fafee2529c03a33bd0856863ae08\";i:1318;s:40:\"twitter_51d3fafee2529c03a33bd0856863ae08\";i:1319;s:42:\"pinterest_51d3fafee2529c03a33bd0856863ae08\";i:1320;s:41:\"linkedin_51d3fafee2529c03a33bd0856863ae08\";i:1321;s:35:\"fb_e91a7960c150f3dc6b612a2809dcc7e2\";i:1322;s:40:\"twitter_e91a7960c150f3dc6b612a2809dcc7e2\";i:1323;s:42:\"pinterest_e91a7960c150f3dc6b612a2809dcc7e2\";i:1324;s:41:\"linkedin_e91a7960c150f3dc6b612a2809dcc7e2\";i:1325;s:35:\"fb_4cdac170510830c990cf1e2e60beed4e\";i:1326;s:40:\"twitter_4cdac170510830c990cf1e2e60beed4e\";i:1327;s:42:\"pinterest_4cdac170510830c990cf1e2e60beed4e\";i:1328;s:41:\"linkedin_4cdac170510830c990cf1e2e60beed4e\";i:1329;s:35:\"fb_a8b090d4b98d899a6e03bd6b9715ccaf\";i:1330;s:40:\"twitter_a8b090d4b98d899a6e03bd6b9715ccaf\";i:1331;s:42:\"pinterest_a8b090d4b98d899a6e03bd6b9715ccaf\";i:1332;s:41:\"linkedin_a8b090d4b98d899a6e03bd6b9715ccaf\";i:1333;s:35:\"fb_db166b4b99925055b7393cff77d3e08f\";i:1334;s:40:\"twitter_db166b4b99925055b7393cff77d3e08f\";i:1335;s:42:\"pinterest_db166b4b99925055b7393cff77d3e08f\";i:1336;s:35:\"fb_66b8e5bfe8445b5e268b156144d58796\";i:1337;s:40:\"twitter_66b8e5bfe8445b5e268b156144d58796\";i:1338;s:42:\"pinterest_66b8e5bfe8445b5e268b156144d58796\";i:1339;s:41:\"linkedin_66b8e5bfe8445b5e268b156144d58796\";i:1340;s:35:\"fb_10d11da77b25592d61cf5a18400fa4d9\";i:1341;s:40:\"twitter_10d11da77b25592d61cf5a18400fa4d9\";i:1342;s:42:\"pinterest_10d11da77b25592d61cf5a18400fa4d9\";i:1343;s:41:\"linkedin_10d11da77b25592d61cf5a18400fa4d9\";i:1344;s:35:\"fb_7c2788da6a235b9221309058aedb2aa4\";i:1345;s:40:\"twitter_7c2788da6a235b9221309058aedb2aa4\";i:1346;s:42:\"pinterest_7c2788da6a235b9221309058aedb2aa4\";i:1347;s:41:\"linkedin_7c2788da6a235b9221309058aedb2aa4\";i:1348;s:35:\"fb_b8291bdd40cd00b1a8593aa88d644ccd\";i:1349;s:40:\"twitter_b8291bdd40cd00b1a8593aa88d644ccd\";i:1350;s:42:\"pinterest_b8291bdd40cd00b1a8593aa88d644ccd\";i:1351;s:41:\"linkedin_b8291bdd40cd00b1a8593aa88d644ccd\";i:1352;s:35:\"fb_1ff228df6a812734a3f49bcf562522fb\";i:1353;s:40:\"twitter_1ff228df6a812734a3f49bcf562522fb\";i:1354;s:42:\"pinterest_1ff228df6a812734a3f49bcf562522fb\";i:1355;s:41:\"linkedin_1ff228df6a812734a3f49bcf562522fb\";i:1356;s:35:\"fb_d2b492b647a622596b3e636464dd6fec\";i:1357;s:40:\"twitter_d2b492b647a622596b3e636464dd6fec\";i:1358;s:42:\"pinterest_d2b492b647a622596b3e636464dd6fec\";i:1359;s:41:\"linkedin_d2b492b647a622596b3e636464dd6fec\";i:1360;s:35:\"fb_dda5791f0de5a325797ad8872fe43c5b\";i:1361;s:40:\"twitter_dda5791f0de5a325797ad8872fe43c5b\";i:1362;s:42:\"pinterest_dda5791f0de5a325797ad8872fe43c5b\";i:1363;s:41:\"linkedin_dda5791f0de5a325797ad8872fe43c5b\";i:1364;s:35:\"fb_a0b90cafe714064998918d2cfab57a1f\";i:1365;s:40:\"twitter_a0b90cafe714064998918d2cfab57a1f\";i:1366;s:42:\"pinterest_a0b90cafe714064998918d2cfab57a1f\";i:1367;s:41:\"linkedin_a0b90cafe714064998918d2cfab57a1f\";i:1368;s:35:\"fb_b1c69493c9578755c039aba2975251bb\";i:1369;s:40:\"twitter_b1c69493c9578755c039aba2975251bb\";i:1370;s:42:\"pinterest_b1c69493c9578755c039aba2975251bb\";i:1371;s:41:\"linkedin_b1c69493c9578755c039aba2975251bb\";i:1372;s:35:\"fb_0a12af4824ee0da4b73df180605833bb\";i:1373;s:40:\"twitter_0a12af4824ee0da4b73df180605833bb\";i:1374;s:42:\"pinterest_0a12af4824ee0da4b73df180605833bb\";i:1375;s:41:\"linkedin_0a12af4824ee0da4b73df180605833bb\";i:1376;s:35:\"fb_a46acce8829622d10781fa4cd87614a0\";i:1377;s:40:\"twitter_a46acce8829622d10781fa4cd87614a0\";i:1378;s:42:\"pinterest_a46acce8829622d10781fa4cd87614a0\";i:1379;s:41:\"linkedin_a46acce8829622d10781fa4cd87614a0\";i:1380;s:35:\"fb_75af13f2f0512c74786748118bebb0d6\";i:1381;s:40:\"twitter_75af13f2f0512c74786748118bebb0d6\";i:1382;s:42:\"pinterest_75af13f2f0512c74786748118bebb0d6\";i:1383;s:41:\"linkedin_75af13f2f0512c74786748118bebb0d6\";i:1384;s:35:\"fb_ca7a979bb9906e7a443dc178b61dbab5\";i:1385;s:40:\"twitter_ca7a979bb9906e7a443dc178b61dbab5\";i:1386;s:42:\"pinterest_ca7a979bb9906e7a443dc178b61dbab5\";i:1387;s:41:\"linkedin_ca7a979bb9906e7a443dc178b61dbab5\";i:1388;s:35:\"fb_1b984b4a74eadfea23f0d45172e46111\";i:1389;s:40:\"twitter_1b984b4a74eadfea23f0d45172e46111\";i:1390;s:42:\"pinterest_1b984b4a74eadfea23f0d45172e46111\";i:1391;s:41:\"linkedin_1b984b4a74eadfea23f0d45172e46111\";i:1392;s:35:\"fb_080eb56bbc7e9d5bef71c274e52886ff\";i:1393;s:40:\"twitter_080eb56bbc7e9d5bef71c274e52886ff\";i:1394;s:42:\"pinterest_080eb56bbc7e9d5bef71c274e52886ff\";i:1395;s:41:\"linkedin_080eb56bbc7e9d5bef71c274e52886ff\";i:1396;s:35:\"fb_0bdf2efeaad7dae385cabfa7e17aa729\";i:1397;s:40:\"twitter_0bdf2efeaad7dae385cabfa7e17aa729\";i:1398;s:42:\"pinterest_0bdf2efeaad7dae385cabfa7e17aa729\";i:1399;s:41:\"linkedin_0bdf2efeaad7dae385cabfa7e17aa729\";i:1400;s:35:\"fb_9577a1529cf6e7d4a3cf8594f610154d\";i:1401;s:40:\"twitter_9577a1529cf6e7d4a3cf8594f610154d\";i:1402;s:42:\"pinterest_9577a1529cf6e7d4a3cf8594f610154d\";i:1403;s:41:\"linkedin_9577a1529cf6e7d4a3cf8594f610154d\";i:1404;s:35:\"fb_431ca579b0426dfed6a342d5424ca2bb\";i:1405;s:40:\"twitter_431ca579b0426dfed6a342d5424ca2bb\";i:1406;s:42:\"pinterest_431ca579b0426dfed6a342d5424ca2bb\";i:1407;s:41:\"linkedin_431ca579b0426dfed6a342d5424ca2bb\";i:1408;s:35:\"fb_d93b22ec69a4dd0c8414c3d48eec8b9c\";i:1409;s:40:\"twitter_d93b22ec69a4dd0c8414c3d48eec8b9c\";i:1410;s:42:\"pinterest_d93b22ec69a4dd0c8414c3d48eec8b9c\";i:1411;s:41:\"linkedin_d93b22ec69a4dd0c8414c3d48eec8b9c\";i:1412;s:35:\"fb_5c3c258447714413ba189365989fd408\";i:1413;s:40:\"twitter_5c3c258447714413ba189365989fd408\";i:1414;s:42:\"pinterest_5c3c258447714413ba189365989fd408\";i:1415;s:41:\"linkedin_5c3c258447714413ba189365989fd408\";i:1416;s:35:\"fb_0a432f394344d7f548d9d6f42602e45d\";i:1417;s:40:\"twitter_0a432f394344d7f548d9d6f42602e45d\";i:1418;s:42:\"pinterest_0a432f394344d7f548d9d6f42602e45d\";i:1419;s:41:\"linkedin_0a432f394344d7f548d9d6f42602e45d\";i:1420;s:35:\"fb_86ca84e1a540bdd22055e956724519f8\";i:1421;s:40:\"twitter_86ca84e1a540bdd22055e956724519f8\";i:1422;s:42:\"pinterest_86ca84e1a540bdd22055e956724519f8\";i:1423;s:41:\"linkedin_86ca84e1a540bdd22055e956724519f8\";i:1424;s:35:\"fb_9c4314d72bb7ce9a164181f4d975f1a2\";i:1425;s:40:\"twitter_9c4314d72bb7ce9a164181f4d975f1a2\";i:1426;s:42:\"pinterest_9c4314d72bb7ce9a164181f4d975f1a2\";i:1427;s:41:\"linkedin_9c4314d72bb7ce9a164181f4d975f1a2\";i:1428;s:35:\"fb_626563ff226be414a3ff0511980030a7\";i:1429;s:40:\"twitter_626563ff226be414a3ff0511980030a7\";i:1430;s:42:\"pinterest_626563ff226be414a3ff0511980030a7\";i:1431;s:41:\"linkedin_626563ff226be414a3ff0511980030a7\";i:1432;s:35:\"fb_32eafd6d24a44087f13bbf33f64da033\";i:1433;s:40:\"twitter_32eafd6d24a44087f13bbf33f64da033\";i:1434;s:42:\"pinterest_32eafd6d24a44087f13bbf33f64da033\";i:1435;s:41:\"linkedin_32eafd6d24a44087f13bbf33f64da033\";i:1436;s:35:\"fb_b3194b975d5cf61cd4ea2f814e012a2d\";i:1437;s:40:\"twitter_b3194b975d5cf61cd4ea2f814e012a2d\";i:1438;s:42:\"pinterest_b3194b975d5cf61cd4ea2f814e012a2d\";i:1439;s:41:\"linkedin_b3194b975d5cf61cd4ea2f814e012a2d\";i:1440;s:35:\"fb_07f17869650cbbb1de3b7c7f3c64cebc\";i:1441;s:41:\"linkedin_07f17869650cbbb1de3b7c7f3c64cebc\";i:1442;s:35:\"fb_f78553574e5005d429e07055ce20560c\";i:1443;s:40:\"twitter_f78553574e5005d429e07055ce20560c\";i:1444;s:42:\"pinterest_f78553574e5005d429e07055ce20560c\";i:1445;s:41:\"linkedin_f78553574e5005d429e07055ce20560c\";i:1446;s:35:\"fb_0f9616ec17c92e58df36de29b5de67ae\";i:1447;s:40:\"twitter_0f9616ec17c92e58df36de29b5de67ae\";i:1448;s:42:\"pinterest_0f9616ec17c92e58df36de29b5de67ae\";i:1449;s:41:\"linkedin_0f9616ec17c92e58df36de29b5de67ae\";i:1450;s:35:\"fb_9d395d7d970b47f5ea5d0bb0140615a7\";i:1451;s:40:\"twitter_9d395d7d970b47f5ea5d0bb0140615a7\";i:1452;s:42:\"pinterest_9d395d7d970b47f5ea5d0bb0140615a7\";i:1453;s:41:\"linkedin_9d395d7d970b47f5ea5d0bb0140615a7\";i:1454;s:35:\"fb_f2a9cdd4860a2f6fe52b8201c749413a\";i:1455;s:40:\"twitter_f2a9cdd4860a2f6fe52b8201c749413a\";i:1456;s:42:\"pinterest_f2a9cdd4860a2f6fe52b8201c749413a\";i:1457;s:41:\"linkedin_f2a9cdd4860a2f6fe52b8201c749413a\";i:1458;s:35:\"fb_b30b49852651aeafa9ded88f3fa96062\";i:1459;s:40:\"twitter_b30b49852651aeafa9ded88f3fa96062\";i:1460;s:42:\"pinterest_b30b49852651aeafa9ded88f3fa96062\";i:1461;s:41:\"linkedin_b30b49852651aeafa9ded88f3fa96062\";i:1462;s:35:\"fb_efa57baed13acbfea57edecd941c0c17\";i:1463;s:40:\"twitter_efa57baed13acbfea57edecd941c0c17\";i:1464;s:42:\"pinterest_efa57baed13acbfea57edecd941c0c17\";i:1465;s:41:\"linkedin_efa57baed13acbfea57edecd941c0c17\";i:1466;s:35:\"fb_dcfaabbf1105dda25ff682cc18fb626d\";i:1467;s:40:\"twitter_dcfaabbf1105dda25ff682cc18fb626d\";i:1468;s:42:\"pinterest_dcfaabbf1105dda25ff682cc18fb626d\";i:1469;s:41:\"linkedin_dcfaabbf1105dda25ff682cc18fb626d\";i:1470;s:35:\"fb_f680c35eeff46e9fec374e71d732625e\";i:1471;s:40:\"twitter_f680c35eeff46e9fec374e71d732625e\";i:1472;s:42:\"pinterest_f680c35eeff46e9fec374e71d732625e\";i:1473;s:41:\"linkedin_f680c35eeff46e9fec374e71d732625e\";i:1474;s:35:\"fb_b610e8fb29521948e583ed470f5ed0a7\";i:1475;s:40:\"twitter_b610e8fb29521948e583ed470f5ed0a7\";i:1476;s:42:\"pinterest_b610e8fb29521948e583ed470f5ed0a7\";i:1477;s:41:\"linkedin_b610e8fb29521948e583ed470f5ed0a7\";i:1478;s:35:\"fb_40e012183b72424623a8d56eebc77282\";i:1479;s:40:\"twitter_40e012183b72424623a8d56eebc77282\";i:1480;s:42:\"pinterest_40e012183b72424623a8d56eebc77282\";i:1481;s:41:\"linkedin_40e012183b72424623a8d56eebc77282\";i:1482;s:35:\"fb_220c4bdb2dfd152344441eaa76ee5722\";i:1483;s:40:\"twitter_220c4bdb2dfd152344441eaa76ee5722\";i:1484;s:42:\"pinterest_220c4bdb2dfd152344441eaa76ee5722\";i:1485;s:41:\"linkedin_220c4bdb2dfd152344441eaa76ee5722\";i:1486;s:35:\"fb_e95291993e9cd40866da748a7189e610\";i:1487;s:40:\"twitter_e95291993e9cd40866da748a7189e610\";i:1488;s:42:\"pinterest_e95291993e9cd40866da748a7189e610\";i:1489;s:41:\"linkedin_e95291993e9cd40866da748a7189e610\";i:1490;s:35:\"fb_67a8e206bab20142bfd1a3ea2f104fd4\";i:1491;s:40:\"twitter_67a8e206bab20142bfd1a3ea2f104fd4\";i:1492;s:42:\"pinterest_67a8e206bab20142bfd1a3ea2f104fd4\";i:1493;s:41:\"linkedin_67a8e206bab20142bfd1a3ea2f104fd4\";i:1494;s:35:\"fb_45c3d89c555b06872da6a257ccb93d7a\";i:1495;s:40:\"twitter_45c3d89c555b06872da6a257ccb93d7a\";i:1496;s:42:\"pinterest_45c3d89c555b06872da6a257ccb93d7a\";i:1497;s:41:\"linkedin_45c3d89c555b06872da6a257ccb93d7a\";i:1498;s:35:\"fb_b17172c766da71114010862fa42d6dc3\";i:1499;s:40:\"twitter_b17172c766da71114010862fa42d6dc3\";i:1500;s:42:\"pinterest_b17172c766da71114010862fa42d6dc3\";i:1501;s:41:\"linkedin_b17172c766da71114010862fa42d6dc3\";i:1502;s:35:\"fb_ecb872ac31b6310758295097bc39f28a\";i:1503;s:40:\"twitter_ecb872ac31b6310758295097bc39f28a\";i:1504;s:42:\"pinterest_ecb872ac31b6310758295097bc39f28a\";i:1505;s:41:\"linkedin_ecb872ac31b6310758295097bc39f28a\";i:1506;s:35:\"fb_93512adc8b503e5bc1e5dc26104c2b47\";i:1507;s:40:\"twitter_93512adc8b503e5bc1e5dc26104c2b47\";i:1508;s:42:\"pinterest_93512adc8b503e5bc1e5dc26104c2b47\";i:1509;s:41:\"linkedin_93512adc8b503e5bc1e5dc26104c2b47\";i:1510;s:35:\"fb_781718669fa605719e341ad4c885d0b8\";i:1511;s:40:\"twitter_781718669fa605719e341ad4c885d0b8\";i:1512;s:42:\"pinterest_781718669fa605719e341ad4c885d0b8\";i:1513;s:41:\"linkedin_781718669fa605719e341ad4c885d0b8\";i:1514;s:35:\"fb_a04c2904684c51e2cafbdf2df0b4dfca\";i:1515;s:40:\"twitter_a04c2904684c51e2cafbdf2df0b4dfca\";i:1516;s:42:\"pinterest_a04c2904684c51e2cafbdf2df0b4dfca\";i:1517;s:41:\"linkedin_a04c2904684c51e2cafbdf2df0b4dfca\";i:1518;s:35:\"fb_92f2e42c290d3bbdfd8b345686999cde\";i:1519;s:40:\"twitter_92f2e42c290d3bbdfd8b345686999cde\";i:1520;s:42:\"pinterest_92f2e42c290d3bbdfd8b345686999cde\";i:1521;s:41:\"linkedin_92f2e42c290d3bbdfd8b345686999cde\";i:1522;s:35:\"fb_e278f75ec236757d04fafdad08d6801c\";i:1523;s:40:\"twitter_e278f75ec236757d04fafdad08d6801c\";i:1524;s:42:\"pinterest_e278f75ec236757d04fafdad08d6801c\";i:1525;s:41:\"linkedin_e278f75ec236757d04fafdad08d6801c\";i:1526;s:35:\"fb_fc2273143c3de103299b0352cdbb9f8a\";i:1527;s:40:\"twitter_fc2273143c3de103299b0352cdbb9f8a\";i:1528;s:42:\"pinterest_fc2273143c3de103299b0352cdbb9f8a\";i:1529;s:41:\"linkedin_fc2273143c3de103299b0352cdbb9f8a\";i:1530;s:35:\"fb_29fba3d530ac7b8f6bbae5b111ad1d08\";i:1531;s:40:\"twitter_29fba3d530ac7b8f6bbae5b111ad1d08\";i:1532;s:42:\"pinterest_29fba3d530ac7b8f6bbae5b111ad1d08\";i:1533;s:41:\"linkedin_29fba3d530ac7b8f6bbae5b111ad1d08\";i:1534;s:35:\"fb_67a3ae742359e98af17d0399236240d2\";i:1535;s:40:\"twitter_67a3ae742359e98af17d0399236240d2\";i:1536;s:42:\"pinterest_67a3ae742359e98af17d0399236240d2\";i:1537;s:41:\"linkedin_67a3ae742359e98af17d0399236240d2\";i:1538;s:35:\"fb_892c0e37ad584bf03a8a081b92dc237c\";i:1539;s:40:\"twitter_892c0e37ad584bf03a8a081b92dc237c\";i:1540;s:42:\"pinterest_892c0e37ad584bf03a8a081b92dc237c\";i:1541;s:41:\"linkedin_892c0e37ad584bf03a8a081b92dc237c\";i:1542;s:35:\"fb_66fb8773d5ef708282509b1abd3d21d1\";i:1543;s:40:\"twitter_66fb8773d5ef708282509b1abd3d21d1\";i:1544;s:42:\"pinterest_66fb8773d5ef708282509b1abd3d21d1\";i:1545;s:41:\"linkedin_66fb8773d5ef708282509b1abd3d21d1\";i:1546;s:35:\"fb_a2273e2c3732cea50ae7a2182fa9687b\";i:1547;s:40:\"twitter_a2273e2c3732cea50ae7a2182fa9687b\";i:1548;s:42:\"pinterest_a2273e2c3732cea50ae7a2182fa9687b\";i:1549;s:41:\"linkedin_a2273e2c3732cea50ae7a2182fa9687b\";i:1550;s:35:\"fb_9e80a735dd6d633b62160ab816b5945e\";i:1551;s:40:\"twitter_9e80a735dd6d633b62160ab816b5945e\";i:1552;s:42:\"pinterest_9e80a735dd6d633b62160ab816b5945e\";i:1553;s:41:\"linkedin_9e80a735dd6d633b62160ab816b5945e\";i:1554;s:35:\"fb_3371b1035a8db2204704a39c616c91f1\";i:1555;s:40:\"twitter_3371b1035a8db2204704a39c616c91f1\";i:1556;s:42:\"pinterest_3371b1035a8db2204704a39c616c91f1\";i:1557;s:41:\"linkedin_3371b1035a8db2204704a39c616c91f1\";i:1558;s:35:\"fb_1972e36045ea0d082725a8edf22a5e06\";i:1559;s:40:\"twitter_1972e36045ea0d082725a8edf22a5e06\";i:1560;s:42:\"pinterest_1972e36045ea0d082725a8edf22a5e06\";i:1561;s:41:\"linkedin_1972e36045ea0d082725a8edf22a5e06\";i:1562;s:35:\"fb_bcb3d421d481a7c20dce1795489756dc\";i:1563;s:40:\"twitter_bcb3d421d481a7c20dce1795489756dc\";i:1564;s:42:\"pinterest_bcb3d421d481a7c20dce1795489756dc\";i:1565;s:41:\"linkedin_bcb3d421d481a7c20dce1795489756dc\";i:1566;s:35:\"fb_30463391802a961a35e377ffd3424e89\";i:1567;s:40:\"twitter_30463391802a961a35e377ffd3424e89\";i:1568;s:42:\"pinterest_30463391802a961a35e377ffd3424e89\";i:1569;s:41:\"linkedin_30463391802a961a35e377ffd3424e89\";i:1570;s:35:\"fb_4a061f1932a32e3678f6bf76605adcf3\";i:1571;s:40:\"twitter_4a061f1932a32e3678f6bf76605adcf3\";i:1572;s:42:\"pinterest_4a061f1932a32e3678f6bf76605adcf3\";i:1573;s:41:\"linkedin_4a061f1932a32e3678f6bf76605adcf3\";i:1574;s:35:\"fb_3993192669efae4e72160e4de3ae7b36\";i:1575;s:40:\"twitter_3993192669efae4e72160e4de3ae7b36\";i:1576;s:42:\"pinterest_3993192669efae4e72160e4de3ae7b36\";i:1577;s:41:\"linkedin_3993192669efae4e72160e4de3ae7b36\";i:1578;s:35:\"fb_5f3348fa9011e6da52bc2ccfacd3bdbc\";i:1579;s:40:\"twitter_5f3348fa9011e6da52bc2ccfacd3bdbc\";i:1580;s:42:\"pinterest_5f3348fa9011e6da52bc2ccfacd3bdbc\";i:1581;s:41:\"linkedin_5f3348fa9011e6da52bc2ccfacd3bdbc\";i:1582;s:35:\"fb_6eac56bdf3beb306ea2c71cd2a0f011f\";i:1583;s:40:\"twitter_6eac56bdf3beb306ea2c71cd2a0f011f\";i:1584;s:42:\"pinterest_6eac56bdf3beb306ea2c71cd2a0f011f\";i:1585;s:41:\"linkedin_6eac56bdf3beb306ea2c71cd2a0f011f\";i:1586;s:35:\"fb_25b34dfa6220a4cc230f10e8bddd3d5a\";i:1587;s:40:\"twitter_25b34dfa6220a4cc230f10e8bddd3d5a\";i:1588;s:42:\"pinterest_25b34dfa6220a4cc230f10e8bddd3d5a\";i:1589;s:41:\"linkedin_25b34dfa6220a4cc230f10e8bddd3d5a\";i:1590;s:35:\"fb_ee045c9476ac638a9e8d7ecdde65a170\";i:1591;s:40:\"twitter_ee045c9476ac638a9e8d7ecdde65a170\";i:1592;s:42:\"pinterest_ee045c9476ac638a9e8d7ecdde65a170\";i:1593;s:41:\"linkedin_ee045c9476ac638a9e8d7ecdde65a170\";i:1594;s:35:\"fb_42caac287da1fbb10e0d7c258288b5e8\";i:1595;s:40:\"twitter_42caac287da1fbb10e0d7c258288b5e8\";i:1596;s:42:\"pinterest_42caac287da1fbb10e0d7c258288b5e8\";i:1597;s:41:\"linkedin_42caac287da1fbb10e0d7c258288b5e8\";i:1598;s:35:\"fb_2b675d71d38ae1e6bec9fd8efac50fef\";i:1599;s:40:\"twitter_2b675d71d38ae1e6bec9fd8efac50fef\";i:1600;s:42:\"pinterest_2b675d71d38ae1e6bec9fd8efac50fef\";i:1601;s:41:\"linkedin_2b675d71d38ae1e6bec9fd8efac50fef\";i:1602;s:35:\"fb_925a8824e49ad0d2425b618b1c260e64\";i:1603;s:40:\"twitter_925a8824e49ad0d2425b618b1c260e64\";i:1604;s:42:\"pinterest_925a8824e49ad0d2425b618b1c260e64\";i:1605;s:41:\"linkedin_925a8824e49ad0d2425b618b1c260e64\";i:1606;s:35:\"fb_1d05f5dbfe11e4dadf7873e205ca4d9b\";i:1607;s:40:\"twitter_1d05f5dbfe11e4dadf7873e205ca4d9b\";i:1608;s:42:\"pinterest_1d05f5dbfe11e4dadf7873e205ca4d9b\";i:1609;s:41:\"linkedin_1d05f5dbfe11e4dadf7873e205ca4d9b\";i:1610;s:35:\"fb_171ed417dcaee1c6774faedbb87aaa1a\";i:1611;s:40:\"twitter_171ed417dcaee1c6774faedbb87aaa1a\";i:1612;s:42:\"pinterest_171ed417dcaee1c6774faedbb87aaa1a\";i:1613;s:41:\"linkedin_171ed417dcaee1c6774faedbb87aaa1a\";i:1614;s:35:\"fb_b497f354f8aff12ef14585986b480d3c\";i:1615;s:40:\"twitter_b497f354f8aff12ef14585986b480d3c\";i:1616;s:42:\"pinterest_b497f354f8aff12ef14585986b480d3c\";i:1617;s:41:\"linkedin_b497f354f8aff12ef14585986b480d3c\";i:1618;s:35:\"fb_5ecda1ddf6255f72aef212126f76fb11\";i:1619;s:40:\"twitter_5ecda1ddf6255f72aef212126f76fb11\";i:1620;s:42:\"pinterest_5ecda1ddf6255f72aef212126f76fb11\";i:1621;s:41:\"linkedin_5ecda1ddf6255f72aef212126f76fb11\";i:1622;s:35:\"fb_ec8a9029fe627ebbaca46b082e66458d\";i:1623;s:40:\"twitter_ec8a9029fe627ebbaca46b082e66458d\";i:1624;s:42:\"pinterest_ec8a9029fe627ebbaca46b082e66458d\";i:1625;s:41:\"linkedin_ec8a9029fe627ebbaca46b082e66458d\";i:1626;s:35:\"fb_66bb3ce58ef88d1a42bd2b88dc7928e6\";i:1627;s:40:\"twitter_66bb3ce58ef88d1a42bd2b88dc7928e6\";i:1628;s:42:\"pinterest_66bb3ce58ef88d1a42bd2b88dc7928e6\";i:1629;s:41:\"linkedin_66bb3ce58ef88d1a42bd2b88dc7928e6\";i:1630;s:35:\"fb_6a5110691303db6a09bc2b889f23033e\";i:1631;s:40:\"twitter_6a5110691303db6a09bc2b889f23033e\";i:1632;s:42:\"pinterest_6a5110691303db6a09bc2b889f23033e\";i:1633;s:41:\"linkedin_6a5110691303db6a09bc2b889f23033e\";i:1634;s:35:\"fb_417d9b77ac9ab6262d708ae3ddafded6\";i:1635;s:40:\"twitter_417d9b77ac9ab6262d708ae3ddafded6\";i:1636;s:42:\"pinterest_417d9b77ac9ab6262d708ae3ddafded6\";i:1637;s:41:\"linkedin_417d9b77ac9ab6262d708ae3ddafded6\";i:1638;s:35:\"fb_bf0e176d863a7ed81b10ae08748ac662\";i:1639;s:40:\"twitter_bf0e176d863a7ed81b10ae08748ac662\";i:1640;s:42:\"pinterest_bf0e176d863a7ed81b10ae08748ac662\";i:1641;s:41:\"linkedin_bf0e176d863a7ed81b10ae08748ac662\";i:1642;s:35:\"fb_ea67eb5a100972d07a58676ebdb045b9\";i:1643;s:40:\"twitter_ea67eb5a100972d07a58676ebdb045b9\";i:1644;s:42:\"pinterest_ea67eb5a100972d07a58676ebdb045b9\";i:1645;s:41:\"linkedin_ea67eb5a100972d07a58676ebdb045b9\";i:1646;s:35:\"fb_8d458d0cf72f8181d5192acebf1b0da2\";i:1647;s:40:\"twitter_8d458d0cf72f8181d5192acebf1b0da2\";i:1648;s:42:\"pinterest_8d458d0cf72f8181d5192acebf1b0da2\";i:1649;s:41:\"linkedin_8d458d0cf72f8181d5192acebf1b0da2\";i:1650;s:35:\"fb_31b4d9da145212295bbce463f0f99943\";i:1651;s:40:\"twitter_31b4d9da145212295bbce463f0f99943\";i:1652;s:42:\"pinterest_31b4d9da145212295bbce463f0f99943\";i:1653;s:41:\"linkedin_31b4d9da145212295bbce463f0f99943\";i:1654;s:35:\"fb_853e5260f10d0ac5609f763a92f69fbe\";i:1655;s:40:\"twitter_853e5260f10d0ac5609f763a92f69fbe\";i:1656;s:42:\"pinterest_853e5260f10d0ac5609f763a92f69fbe\";i:1657;s:41:\"linkedin_853e5260f10d0ac5609f763a92f69fbe\";i:1658;s:35:\"fb_f75b89948ef741090a588076f4a60402\";i:1659;s:40:\"twitter_f75b89948ef741090a588076f4a60402\";i:1660;s:42:\"pinterest_f75b89948ef741090a588076f4a60402\";i:1661;s:41:\"linkedin_f75b89948ef741090a588076f4a60402\";i:1662;s:35:\"fb_472975ab2e548a34d9845824b58a7214\";i:1663;s:40:\"twitter_472975ab2e548a34d9845824b58a7214\";i:1664;s:42:\"pinterest_472975ab2e548a34d9845824b58a7214\";i:1665;s:41:\"linkedin_472975ab2e548a34d9845824b58a7214\";i:1666;s:35:\"fb_f47e261038ca2cb366d522d6eca7cae5\";i:1667;s:40:\"twitter_f47e261038ca2cb366d522d6eca7cae5\";i:1668;s:42:\"pinterest_f47e261038ca2cb366d522d6eca7cae5\";i:1669;s:41:\"linkedin_f47e261038ca2cb366d522d6eca7cae5\";i:1670;s:35:\"fb_e3bc6d065835ee5a806fc8c9f94c80ed\";i:1671;s:40:\"twitter_e3bc6d065835ee5a806fc8c9f94c80ed\";i:1672;s:42:\"pinterest_e3bc6d065835ee5a806fc8c9f94c80ed\";i:1673;s:41:\"linkedin_e3bc6d065835ee5a806fc8c9f94c80ed\";i:1674;s:35:\"fb_8e5f645cf7e07f943cd12891b49e96ff\";i:1675;s:40:\"twitter_8e5f645cf7e07f943cd12891b49e96ff\";i:1676;s:42:\"pinterest_8e5f645cf7e07f943cd12891b49e96ff\";i:1677;s:41:\"linkedin_8e5f645cf7e07f943cd12891b49e96ff\";i:1678;s:35:\"fb_87e5ad96d8df2a9ca9e20eb040146690\";i:1679;s:40:\"twitter_87e5ad96d8df2a9ca9e20eb040146690\";i:1680;s:42:\"pinterest_87e5ad96d8df2a9ca9e20eb040146690\";i:1681;s:41:\"linkedin_87e5ad96d8df2a9ca9e20eb040146690\";i:1682;s:35:\"fb_cf78088e772e7fb1d5197f543f9ef7b8\";i:1683;s:40:\"twitter_cf78088e772e7fb1d5197f543f9ef7b8\";i:1684;s:42:\"pinterest_cf78088e772e7fb1d5197f543f9ef7b8\";i:1685;s:41:\"linkedin_cf78088e772e7fb1d5197f543f9ef7b8\";i:1686;s:35:\"fb_14a62af89d5b32e6fb6f7d6e4a681561\";i:1687;s:40:\"twitter_14a62af89d5b32e6fb6f7d6e4a681561\";i:1688;s:42:\"pinterest_14a62af89d5b32e6fb6f7d6e4a681561\";i:1689;s:41:\"linkedin_14a62af89d5b32e6fb6f7d6e4a681561\";i:1690;s:35:\"fb_7c298fc1b8d6ccc49739a5988995c51c\";i:1691;s:40:\"twitter_7c298fc1b8d6ccc49739a5988995c51c\";i:1692;s:42:\"pinterest_7c298fc1b8d6ccc49739a5988995c51c\";i:1693;s:41:\"linkedin_7c298fc1b8d6ccc49739a5988995c51c\";i:1694;s:35:\"fb_c8f632ee4ff09764d565f8832742b3d9\";i:1695;s:40:\"twitter_c8f632ee4ff09764d565f8832742b3d9\";i:1696;s:42:\"pinterest_c8f632ee4ff09764d565f8832742b3d9\";i:1697;s:41:\"linkedin_c8f632ee4ff09764d565f8832742b3d9\";i:1698;s:35:\"fb_295f144dbbc426bc0b39516c278e4901\";i:1699;s:40:\"twitter_295f144dbbc426bc0b39516c278e4901\";i:1700;s:42:\"pinterest_295f144dbbc426bc0b39516c278e4901\";i:1701;s:41:\"linkedin_295f144dbbc426bc0b39516c278e4901\";i:1702;s:35:\"fb_c0ac6b96c63cf8044e68a00239f4c806\";i:1703;s:40:\"twitter_c0ac6b96c63cf8044e68a00239f4c806\";i:1704;s:42:\"pinterest_c0ac6b96c63cf8044e68a00239f4c806\";i:1705;s:41:\"linkedin_c0ac6b96c63cf8044e68a00239f4c806\";i:1706;s:35:\"fb_06699edfb6a17287a7ff4ac8ee99ed00\";i:1707;s:40:\"twitter_06699edfb6a17287a7ff4ac8ee99ed00\";i:1708;s:42:\"pinterest_06699edfb6a17287a7ff4ac8ee99ed00\";i:1709;s:41:\"linkedin_06699edfb6a17287a7ff4ac8ee99ed00\";i:1710;s:35:\"fb_e9c7966c3a2959937d53a3262ceb4e8b\";i:1711;s:40:\"twitter_e9c7966c3a2959937d53a3262ceb4e8b\";i:1712;s:42:\"pinterest_e9c7966c3a2959937d53a3262ceb4e8b\";i:1713;s:41:\"linkedin_e9c7966c3a2959937d53a3262ceb4e8b\";i:1714;s:35:\"fb_339decab51ec3bb5ddc8d1e846e13bfe\";i:1715;s:40:\"twitter_339decab51ec3bb5ddc8d1e846e13bfe\";i:1716;s:42:\"pinterest_339decab51ec3bb5ddc8d1e846e13bfe\";i:1717;s:41:\"linkedin_339decab51ec3bb5ddc8d1e846e13bfe\";i:1718;s:35:\"fb_841efca5ea0d93dca3d12d7da433375b\";i:1719;s:40:\"twitter_841efca5ea0d93dca3d12d7da433375b\";i:1720;s:42:\"pinterest_841efca5ea0d93dca3d12d7da433375b\";i:1721;s:41:\"linkedin_841efca5ea0d93dca3d12d7da433375b\";i:1722;s:35:\"fb_8461d908efa378ec54153403c35bcbb0\";i:1723;s:40:\"twitter_8461d908efa378ec54153403c35bcbb0\";i:1724;s:42:\"pinterest_8461d908efa378ec54153403c35bcbb0\";i:1725;s:41:\"linkedin_8461d908efa378ec54153403c35bcbb0\";i:1726;s:35:\"fb_04be2c979a979524ffb43ee5fea6c6fa\";i:1727;s:40:\"twitter_04be2c979a979524ffb43ee5fea6c6fa\";i:1728;s:42:\"pinterest_04be2c979a979524ffb43ee5fea6c6fa\";i:1729;s:41:\"linkedin_04be2c979a979524ffb43ee5fea6c6fa\";i:1730;s:35:\"fb_66e3e396f2e480aa506594b16641ca20\";i:1731;s:41:\"linkedin_66e3e396f2e480aa506594b16641ca20\";i:1732;s:35:\"fb_ca16f583c0778dd5b280892ae86318f1\";i:1733;s:40:\"twitter_ca16f583c0778dd5b280892ae86318f1\";i:1734;s:42:\"pinterest_ca16f583c0778dd5b280892ae86318f1\";i:1735;s:41:\"linkedin_ca16f583c0778dd5b280892ae86318f1\";i:1736;s:35:\"fb_923adc4c2eccf2ad1e216e8fd8e10859\";i:1737;s:40:\"twitter_923adc4c2eccf2ad1e216e8fd8e10859\";i:1738;s:42:\"pinterest_923adc4c2eccf2ad1e216e8fd8e10859\";i:1739;s:41:\"linkedin_923adc4c2eccf2ad1e216e8fd8e10859\";i:1740;s:35:\"fb_33e14e6ff79671aea2e11a0d23795563\";i:1741;s:40:\"twitter_33e14e6ff79671aea2e11a0d23795563\";i:1742;s:42:\"pinterest_33e14e6ff79671aea2e11a0d23795563\";i:1743;s:41:\"linkedin_33e14e6ff79671aea2e11a0d23795563\";i:1744;s:35:\"fb_7774ea72e99b70f8ffeabc9e92c2d053\";i:1745;s:40:\"twitter_7774ea72e99b70f8ffeabc9e92c2d053\";i:1746;s:42:\"pinterest_7774ea72e99b70f8ffeabc9e92c2d053\";i:1747;s:41:\"linkedin_7774ea72e99b70f8ffeabc9e92c2d053\";i:1748;s:35:\"fb_6b3527e2e65bfeba546b1392f378686b\";i:1749;s:40:\"twitter_6b3527e2e65bfeba546b1392f378686b\";i:1750;s:42:\"pinterest_6b3527e2e65bfeba546b1392f378686b\";i:1751;s:41:\"linkedin_6b3527e2e65bfeba546b1392f378686b\";i:1752;s:35:\"fb_30a132f7fdece92cef3299947e8fa14d\";i:1753;s:40:\"twitter_30a132f7fdece92cef3299947e8fa14d\";i:1754;s:42:\"pinterest_30a132f7fdece92cef3299947e8fa14d\";i:1755;s:41:\"linkedin_30a132f7fdece92cef3299947e8fa14d\";i:1756;s:35:\"fb_5161a6412de8d39fdffdca793b0bc597\";i:1757;s:40:\"twitter_5161a6412de8d39fdffdca793b0bc597\";i:1758;s:42:\"pinterest_5161a6412de8d39fdffdca793b0bc597\";i:1759;s:41:\"linkedin_5161a6412de8d39fdffdca793b0bc597\";i:1760;s:35:\"fb_bac09011625d20f7e5a3eec25a84ac6f\";i:1761;s:40:\"twitter_bac09011625d20f7e5a3eec25a84ac6f\";i:1762;s:42:\"pinterest_bac09011625d20f7e5a3eec25a84ac6f\";i:1763;s:41:\"linkedin_bac09011625d20f7e5a3eec25a84ac6f\";i:1764;s:35:\"fb_777c0086932d2fbef44ed2e09eafdcfd\";i:1765;s:40:\"twitter_777c0086932d2fbef44ed2e09eafdcfd\";i:1766;s:42:\"pinterest_777c0086932d2fbef44ed2e09eafdcfd\";i:1767;s:41:\"linkedin_777c0086932d2fbef44ed2e09eafdcfd\";i:1768;s:35:\"fb_11743c15dc9560584a4890514fc78761\";i:1769;s:40:\"twitter_11743c15dc9560584a4890514fc78761\";i:1770;s:42:\"pinterest_11743c15dc9560584a4890514fc78761\";i:1771;s:41:\"linkedin_11743c15dc9560584a4890514fc78761\";i:1772;s:35:\"fb_547875a6272a8c88c05c44d078891fae\";i:1773;s:40:\"twitter_547875a6272a8c88c05c44d078891fae\";i:1774;s:42:\"pinterest_547875a6272a8c88c05c44d078891fae\";i:1775;s:41:\"linkedin_547875a6272a8c88c05c44d078891fae\";i:1776;s:35:\"fb_c1da983e7e3067bec3526896fb512240\";i:1777;s:40:\"twitter_c1da983e7e3067bec3526896fb512240\";i:1778;s:42:\"pinterest_c1da983e7e3067bec3526896fb512240\";i:1779;s:41:\"linkedin_c1da983e7e3067bec3526896fb512240\";i:1780;s:35:\"fb_4aadce8f60e3030699d20c7fdec041a7\";i:1781;s:40:\"twitter_4aadce8f60e3030699d20c7fdec041a7\";i:1782;s:42:\"pinterest_4aadce8f60e3030699d20c7fdec041a7\";i:1783;s:41:\"linkedin_4aadce8f60e3030699d20c7fdec041a7\";i:1784;s:35:\"fb_27fc60b719626ac6bf99f0db98f6855f\";i:1785;s:40:\"twitter_27fc60b719626ac6bf99f0db98f6855f\";i:1786;s:42:\"pinterest_27fc60b719626ac6bf99f0db98f6855f\";i:1787;s:41:\"linkedin_27fc60b719626ac6bf99f0db98f6855f\";i:1788;s:35:\"fb_2ec2161a4217ae0f31e005ddf458281e\";i:1789;s:40:\"twitter_2ec2161a4217ae0f31e005ddf458281e\";i:1790;s:42:\"pinterest_2ec2161a4217ae0f31e005ddf458281e\";i:1791;s:41:\"linkedin_2ec2161a4217ae0f31e005ddf458281e\";i:1792;s:35:\"fb_48f9afd8ebf2f0286ea54ae38640ca0f\";i:1793;s:40:\"twitter_48f9afd8ebf2f0286ea54ae38640ca0f\";i:1794;s:42:\"pinterest_48f9afd8ebf2f0286ea54ae38640ca0f\";i:1795;s:41:\"linkedin_48f9afd8ebf2f0286ea54ae38640ca0f\";i:1796;s:35:\"fb_8cf1830f5dad1c4f156e8b487d970db0\";i:1797;s:40:\"twitter_8cf1830f5dad1c4f156e8b487d970db0\";i:1798;s:42:\"pinterest_8cf1830f5dad1c4f156e8b487d970db0\";i:1799;s:41:\"linkedin_8cf1830f5dad1c4f156e8b487d970db0\";i:1800;s:35:\"fb_20ad8d9d4f8254fb5a2508ba65778d86\";i:1801;s:40:\"twitter_20ad8d9d4f8254fb5a2508ba65778d86\";i:1802;s:42:\"pinterest_20ad8d9d4f8254fb5a2508ba65778d86\";i:1803;s:41:\"linkedin_20ad8d9d4f8254fb5a2508ba65778d86\";i:1804;s:35:\"fb_297e96d80bbb9b7ec508da0094095030\";i:1805;s:40:\"twitter_297e96d80bbb9b7ec508da0094095030\";i:1806;s:42:\"pinterest_297e96d80bbb9b7ec508da0094095030\";i:1807;s:41:\"linkedin_297e96d80bbb9b7ec508da0094095030\";i:1808;s:35:\"fb_d401ae99d4766af388ace864e5e008e2\";i:1809;s:40:\"twitter_d401ae99d4766af388ace864e5e008e2\";i:1810;s:42:\"pinterest_d401ae99d4766af388ace864e5e008e2\";i:1811;s:41:\"linkedin_d401ae99d4766af388ace864e5e008e2\";i:1812;s:35:\"fb_8ee11cc5b1a7fcfb0487573fb8e51969\";i:1813;s:40:\"twitter_8ee11cc5b1a7fcfb0487573fb8e51969\";i:1814;s:42:\"pinterest_8ee11cc5b1a7fcfb0487573fb8e51969\";i:1815;s:41:\"linkedin_8ee11cc5b1a7fcfb0487573fb8e51969\";i:1816;s:35:\"fb_d5ac4c16d96647aa0e81d9a702e50d89\";i:1817;s:40:\"twitter_d5ac4c16d96647aa0e81d9a702e50d89\";i:1818;s:42:\"pinterest_d5ac4c16d96647aa0e81d9a702e50d89\";i:1819;s:41:\"linkedin_d5ac4c16d96647aa0e81d9a702e50d89\";i:1820;s:35:\"fb_781812561f3c99ecfddf1b58133646de\";i:1821;s:40:\"twitter_781812561f3c99ecfddf1b58133646de\";i:1822;s:42:\"pinterest_781812561f3c99ecfddf1b58133646de\";i:1823;s:41:\"linkedin_781812561f3c99ecfddf1b58133646de\";i:1824;s:35:\"fb_675ce5fbc7a5010b18df5a063df897c9\";i:1825;s:40:\"twitter_675ce5fbc7a5010b18df5a063df897c9\";i:1826;s:42:\"pinterest_675ce5fbc7a5010b18df5a063df897c9\";i:1827;s:41:\"linkedin_675ce5fbc7a5010b18df5a063df897c9\";i:1828;s:35:\"fb_c010adb45065e9813f211fed1a7c97cd\";i:1829;s:40:\"twitter_c010adb45065e9813f211fed1a7c97cd\";i:1830;s:42:\"pinterest_c010adb45065e9813f211fed1a7c97cd\";i:1831;s:41:\"linkedin_c010adb45065e9813f211fed1a7c97cd\";i:1832;s:35:\"fb_534baef15a5cc0c1b2c7293ca0686a53\";i:1833;s:40:\"twitter_534baef15a5cc0c1b2c7293ca0686a53\";i:1834;s:42:\"pinterest_534baef15a5cc0c1b2c7293ca0686a53\";i:1835;s:41:\"linkedin_534baef15a5cc0c1b2c7293ca0686a53\";i:1836;s:35:\"fb_ece127e0182744ed517a70faedde4bf9\";i:1837;s:40:\"twitter_ece127e0182744ed517a70faedde4bf9\";i:1838;s:42:\"pinterest_ece127e0182744ed517a70faedde4bf9\";i:1839;s:41:\"linkedin_ece127e0182744ed517a70faedde4bf9\";i:1840;s:35:\"fb_066f8820f995e5d5022bc1ad776ab5cc\";i:1841;s:40:\"twitter_066f8820f995e5d5022bc1ad776ab5cc\";i:1842;s:42:\"pinterest_066f8820f995e5d5022bc1ad776ab5cc\";i:1843;s:41:\"linkedin_066f8820f995e5d5022bc1ad776ab5cc\";i:1844;s:35:\"fb_bfab6185506e2882a1003d029fa831cb\";i:1845;s:40:\"twitter_bfab6185506e2882a1003d029fa831cb\";i:1846;s:42:\"pinterest_bfab6185506e2882a1003d029fa831cb\";i:1847;s:35:\"fb_d811096023e8cbc0cb8071ba4b791ad3\";i:1848;s:40:\"twitter_d811096023e8cbc0cb8071ba4b791ad3\";i:1849;s:42:\"pinterest_d811096023e8cbc0cb8071ba4b791ad3\";i:1850;s:41:\"linkedin_d811096023e8cbc0cb8071ba4b791ad3\";i:1851;s:35:\"fb_1f6de75817538c2775999c650e533f76\";i:1852;s:40:\"twitter_1f6de75817538c2775999c650e533f76\";i:1853;s:42:\"pinterest_1f6de75817538c2775999c650e533f76\";i:1854;s:41:\"linkedin_1f6de75817538c2775999c650e533f76\";i:1855;s:35:\"fb_3c0d0a045de2301e679dc31ef7b65a3b\";i:1856;s:40:\"twitter_3c0d0a045de2301e679dc31ef7b65a3b\";i:1857;s:42:\"pinterest_3c0d0a045de2301e679dc31ef7b65a3b\";i:1858;s:41:\"linkedin_3c0d0a045de2301e679dc31ef7b65a3b\";i:1859;s:35:\"fb_79e1f268d52e0705b3db9357b9da94ce\";i:1860;s:40:\"twitter_79e1f268d52e0705b3db9357b9da94ce\";i:1861;s:42:\"pinterest_79e1f268d52e0705b3db9357b9da94ce\";i:1862;s:41:\"linkedin_79e1f268d52e0705b3db9357b9da94ce\";i:1863;s:35:\"fb_05e2fb0b52c248e889716f4392245210\";i:1864;s:40:\"twitter_05e2fb0b52c248e889716f4392245210\";i:1865;s:42:\"pinterest_05e2fb0b52c248e889716f4392245210\";i:1866;s:41:\"linkedin_05e2fb0b52c248e889716f4392245210\";i:1867;s:35:\"fb_e5fd7186112a8463ff98e794a6432ac0\";i:1868;s:40:\"twitter_e5fd7186112a8463ff98e794a6432ac0\";i:1869;s:42:\"pinterest_e5fd7186112a8463ff98e794a6432ac0\";i:1870;s:41:\"linkedin_e5fd7186112a8463ff98e794a6432ac0\";i:1871;s:35:\"fb_892d95adb954dcb1eae5e8a25f7d97aa\";i:1872;s:40:\"twitter_892d95adb954dcb1eae5e8a25f7d97aa\";i:1873;s:42:\"pinterest_892d95adb954dcb1eae5e8a25f7d97aa\";i:1874;s:41:\"linkedin_892d95adb954dcb1eae5e8a25f7d97aa\";i:1875;s:35:\"fb_39126de7fc94876f17e6251111244ee0\";i:1876;s:40:\"twitter_39126de7fc94876f17e6251111244ee0\";i:1877;s:42:\"pinterest_39126de7fc94876f17e6251111244ee0\";i:1878;s:41:\"linkedin_39126de7fc94876f17e6251111244ee0\";i:1879;s:35:\"fb_50d8dd4617ae79ae5295fab458fc2366\";i:1880;s:40:\"twitter_50d8dd4617ae79ae5295fab458fc2366\";i:1881;s:42:\"pinterest_50d8dd4617ae79ae5295fab458fc2366\";i:1882;s:41:\"linkedin_50d8dd4617ae79ae5295fab458fc2366\";i:1883;s:35:\"fb_d5c242848c13564c2fa88c1a387d6621\";i:1884;s:40:\"twitter_d5c242848c13564c2fa88c1a387d6621\";i:1885;s:42:\"pinterest_d5c242848c13564c2fa88c1a387d6621\";i:1886;s:41:\"linkedin_d5c242848c13564c2fa88c1a387d6621\";i:1887;s:35:\"fb_99f1a0644c6f637251a98f1462a675b8\";i:1888;s:40:\"twitter_99f1a0644c6f637251a98f1462a675b8\";i:1889;s:42:\"pinterest_99f1a0644c6f637251a98f1462a675b8\";i:1890;s:41:\"linkedin_99f1a0644c6f637251a98f1462a675b8\";i:1891;s:35:\"fb_88fa73b7a0b54f0c69fba85334e6e257\";i:1892;s:40:\"twitter_88fa73b7a0b54f0c69fba85334e6e257\";i:1893;s:42:\"pinterest_88fa73b7a0b54f0c69fba85334e6e257\";i:1894;s:41:\"linkedin_88fa73b7a0b54f0c69fba85334e6e257\";i:1895;s:35:\"fb_3d20b623323850116e566cc6d477d226\";i:1896;s:40:\"twitter_3d20b623323850116e566cc6d477d226\";i:1897;s:42:\"pinterest_3d20b623323850116e566cc6d477d226\";i:1898;s:41:\"linkedin_3d20b623323850116e566cc6d477d226\";i:1899;s:35:\"fb_3a6df802cb120e8e3f3bd9fc3d268460\";i:1900;s:40:\"twitter_3a6df802cb120e8e3f3bd9fc3d268460\";i:1901;s:42:\"pinterest_3a6df802cb120e8e3f3bd9fc3d268460\";i:1902;s:41:\"linkedin_3a6df802cb120e8e3f3bd9fc3d268460\";i:1903;s:35:\"fb_c8cdb7f9fcae75ab8f988f7df4d63a11\";i:1904;s:40:\"twitter_c8cdb7f9fcae75ab8f988f7df4d63a11\";i:1905;s:42:\"pinterest_c8cdb7f9fcae75ab8f988f7df4d63a11\";i:1906;s:41:\"linkedin_c8cdb7f9fcae75ab8f988f7df4d63a11\";i:1907;s:35:\"fb_4caf5d94042773bb8472320b0a112b1c\";i:1908;s:40:\"twitter_4caf5d94042773bb8472320b0a112b1c\";i:1909;s:42:\"pinterest_4caf5d94042773bb8472320b0a112b1c\";i:1910;s:41:\"linkedin_4caf5d94042773bb8472320b0a112b1c\";i:1911;s:35:\"fb_669c94485f63d0181308eaf491f2b4f7\";i:1912;s:40:\"twitter_669c94485f63d0181308eaf491f2b4f7\";i:1913;s:42:\"pinterest_669c94485f63d0181308eaf491f2b4f7\";i:1914;s:41:\"linkedin_669c94485f63d0181308eaf491f2b4f7\";i:1915;s:35:\"fb_dce80eff1c6d1b95a15f2e304f43f97c\";i:1916;s:40:\"twitter_dce80eff1c6d1b95a15f2e304f43f97c\";i:1917;s:42:\"pinterest_dce80eff1c6d1b95a15f2e304f43f97c\";i:1918;s:41:\"linkedin_dce80eff1c6d1b95a15f2e304f43f97c\";i:1919;s:35:\"fb_94badbc26c2452c5aafe3c55d66bab96\";i:1920;s:40:\"twitter_94badbc26c2452c5aafe3c55d66bab96\";i:1921;s:42:\"pinterest_94badbc26c2452c5aafe3c55d66bab96\";i:1922;s:41:\"linkedin_94badbc26c2452c5aafe3c55d66bab96\";i:1923;s:35:\"fb_147f86857cacb96bac1ca226f4f40276\";i:1924;s:40:\"twitter_147f86857cacb96bac1ca226f4f40276\";i:1925;s:42:\"pinterest_147f86857cacb96bac1ca226f4f40276\";i:1926;s:41:\"linkedin_147f86857cacb96bac1ca226f4f40276\";i:1927;s:35:\"fb_ef891a16981f4a6927f618fedf409603\";i:1928;s:40:\"twitter_ef891a16981f4a6927f618fedf409603\";i:1929;s:42:\"pinterest_ef891a16981f4a6927f618fedf409603\";i:1930;s:41:\"linkedin_ef891a16981f4a6927f618fedf409603\";i:1931;s:35:\"fb_3facee9c02e170be8463b28db152294f\";i:1932;s:40:\"twitter_3facee9c02e170be8463b28db152294f\";i:1933;s:42:\"pinterest_3facee9c02e170be8463b28db152294f\";i:1934;s:41:\"linkedin_3facee9c02e170be8463b28db152294f\";i:1935;s:35:\"fb_230c9cebfab32a7145876e5ad78d3206\";i:1936;s:40:\"twitter_230c9cebfab32a7145876e5ad78d3206\";i:1937;s:42:\"pinterest_230c9cebfab32a7145876e5ad78d3206\";i:1938;s:41:\"linkedin_230c9cebfab32a7145876e5ad78d3206\";i:1939;s:35:\"fb_101dc8718462812393d0822e1ca8d1a7\";i:1940;s:40:\"twitter_101dc8718462812393d0822e1ca8d1a7\";i:1941;s:42:\"pinterest_101dc8718462812393d0822e1ca8d1a7\";i:1942;s:41:\"linkedin_101dc8718462812393d0822e1ca8d1a7\";i:1943;s:35:\"fb_e1c87fe8038332530f392f81a5978e50\";i:1944;s:40:\"twitter_e1c87fe8038332530f392f81a5978e50\";i:1945;s:42:\"pinterest_e1c87fe8038332530f392f81a5978e50\";i:1946;s:41:\"linkedin_e1c87fe8038332530f392f81a5978e50\";i:1947;s:35:\"fb_eaed3ba829da4103259d073a90c292c4\";i:1948;s:40:\"twitter_eaed3ba829da4103259d073a90c292c4\";i:1949;s:42:\"pinterest_eaed3ba829da4103259d073a90c292c4\";i:1950;s:41:\"linkedin_eaed3ba829da4103259d073a90c292c4\";i:1951;s:35:\"fb_e1278a6c1aa8e426294f08c9cff262af\";i:1952;s:40:\"twitter_e1278a6c1aa8e426294f08c9cff262af\";i:1953;s:42:\"pinterest_e1278a6c1aa8e426294f08c9cff262af\";i:1954;s:41:\"linkedin_e1278a6c1aa8e426294f08c9cff262af\";i:1955;s:35:\"fb_094cf53eb3fde60549940b1259ffd066\";i:1956;s:40:\"twitter_094cf53eb3fde60549940b1259ffd066\";i:1957;s:42:\"pinterest_094cf53eb3fde60549940b1259ffd066\";i:1958;s:41:\"linkedin_094cf53eb3fde60549940b1259ffd066\";i:1959;s:35:\"fb_325312c76632fb7a45824e01e9757c2f\";i:1960;s:40:\"twitter_325312c76632fb7a45824e01e9757c2f\";i:1961;s:42:\"pinterest_325312c76632fb7a45824e01e9757c2f\";i:1962;s:41:\"linkedin_325312c76632fb7a45824e01e9757c2f\";i:1963;s:35:\"fb_888b49228f2b7b7d76dcb60c3f48c8fb\";i:1964;s:40:\"twitter_888b49228f2b7b7d76dcb60c3f48c8fb\";i:1965;s:42:\"pinterest_888b49228f2b7b7d76dcb60c3f48c8fb\";i:1966;s:41:\"linkedin_888b49228f2b7b7d76dcb60c3f48c8fb\";i:1967;s:35:\"fb_a3f6dd02f9f893a1325f266e3a830520\";i:1968;s:40:\"twitter_a3f6dd02f9f893a1325f266e3a830520\";i:1969;s:42:\"pinterest_a3f6dd02f9f893a1325f266e3a830520\";i:1970;s:41:\"linkedin_a3f6dd02f9f893a1325f266e3a830520\";i:1971;s:35:\"fb_b2cd742f40298eb51ba9579fdbbf460c\";i:1972;s:40:\"twitter_b2cd742f40298eb51ba9579fdbbf460c\";i:1973;s:42:\"pinterest_b2cd742f40298eb51ba9579fdbbf460c\";i:1974;s:41:\"linkedin_b2cd742f40298eb51ba9579fdbbf460c\";i:1975;s:35:\"fb_3c77dff3c0b10a27802caed655aea32f\";i:1976;s:40:\"twitter_3c77dff3c0b10a27802caed655aea32f\";i:1977;s:42:\"pinterest_3c77dff3c0b10a27802caed655aea32f\";i:1978;s:41:\"linkedin_3c77dff3c0b10a27802caed655aea32f\";i:1979;s:35:\"fb_d3b8a76a93cd226c97ffb16115bb6659\";i:1980;s:40:\"twitter_d3b8a76a93cd226c97ffb16115bb6659\";i:1981;s:42:\"pinterest_d3b8a76a93cd226c97ffb16115bb6659\";i:1982;s:41:\"linkedin_d3b8a76a93cd226c97ffb16115bb6659\";i:1983;s:35:\"fb_f89450a4a366e6f5231eff2af7280804\";i:1984;s:40:\"twitter_f89450a4a366e6f5231eff2af7280804\";i:1985;s:42:\"pinterest_f89450a4a366e6f5231eff2af7280804\";i:1986;s:41:\"linkedin_f89450a4a366e6f5231eff2af7280804\";i:1987;s:35:\"fb_f0f6e66f4912f5481f0bdb7093fb9ebc\";i:1988;s:40:\"twitter_f0f6e66f4912f5481f0bdb7093fb9ebc\";i:1989;s:42:\"pinterest_f0f6e66f4912f5481f0bdb7093fb9ebc\";i:1990;s:41:\"linkedin_f0f6e66f4912f5481f0bdb7093fb9ebc\";i:1991;s:35:\"fb_aa2640ab0a7d8cf1d397daeceadff0e3\";i:1992;s:40:\"twitter_aa2640ab0a7d8cf1d397daeceadff0e3\";i:1993;s:42:\"pinterest_aa2640ab0a7d8cf1d397daeceadff0e3\";i:1994;s:41:\"linkedin_aa2640ab0a7d8cf1d397daeceadff0e3\";i:1995;s:35:\"fb_121e8edd193ea566b07bd448764da52a\";i:1996;s:40:\"twitter_121e8edd193ea566b07bd448764da52a\";i:1997;s:42:\"pinterest_121e8edd193ea566b07bd448764da52a\";i:1998;s:41:\"linkedin_121e8edd193ea566b07bd448764da52a\";i:1999;s:35:\"fb_9f5518c6aff1e0aab70f403dfafcc130\";i:2000;s:40:\"twitter_9f5518c6aff1e0aab70f403dfafcc130\";i:2001;s:42:\"pinterest_9f5518c6aff1e0aab70f403dfafcc130\";i:2002;s:41:\"linkedin_9f5518c6aff1e0aab70f403dfafcc130\";i:2003;s:35:\"fb_0fa12130c5dea78b7ba6c002d75ae7fe\";i:2004;s:40:\"twitter_0fa12130c5dea78b7ba6c002d75ae7fe\";i:2005;s:42:\"pinterest_0fa12130c5dea78b7ba6c002d75ae7fe\";i:2006;s:41:\"linkedin_0fa12130c5dea78b7ba6c002d75ae7fe\";i:2007;s:35:\"fb_f2bd1d101a14233be0c86e004a26e6a2\";i:2008;s:40:\"twitter_f2bd1d101a14233be0c86e004a26e6a2\";i:2009;s:42:\"pinterest_f2bd1d101a14233be0c86e004a26e6a2\";i:2010;s:41:\"linkedin_f2bd1d101a14233be0c86e004a26e6a2\";i:2011;s:35:\"fb_e390b8baff15b20fc1d56bf1339335fb\";i:2012;s:40:\"twitter_e390b8baff15b20fc1d56bf1339335fb\";i:2013;s:42:\"pinterest_e390b8baff15b20fc1d56bf1339335fb\";i:2014;s:41:\"linkedin_e390b8baff15b20fc1d56bf1339335fb\";i:2015;s:35:\"fb_d1c66e5c59d05581be3ead1402dff369\";i:2016;s:40:\"twitter_d1c66e5c59d05581be3ead1402dff369\";i:2017;s:42:\"pinterest_d1c66e5c59d05581be3ead1402dff369\";i:2018;s:41:\"linkedin_d1c66e5c59d05581be3ead1402dff369\";i:2019;s:35:\"fb_a09dd285acdb053b4ec0ce49a107ce0a\";i:2020;s:40:\"twitter_a09dd285acdb053b4ec0ce49a107ce0a\";i:2021;s:42:\"pinterest_a09dd285acdb053b4ec0ce49a107ce0a\";i:2022;s:41:\"linkedin_a09dd285acdb053b4ec0ce49a107ce0a\";i:2023;s:35:\"fb_0f38a10ffc20cd862578b8a2a13ccbec\";i:2024;s:40:\"twitter_0f38a10ffc20cd862578b8a2a13ccbec\";i:2025;s:42:\"pinterest_0f38a10ffc20cd862578b8a2a13ccbec\";i:2026;s:41:\"linkedin_0f38a10ffc20cd862578b8a2a13ccbec\";i:2027;s:35:\"fb_69bad06ff8891a3a551c699d6dd54496\";i:2028;s:40:\"twitter_69bad06ff8891a3a551c699d6dd54496\";i:2029;s:42:\"pinterest_69bad06ff8891a3a551c699d6dd54496\";i:2030;s:41:\"linkedin_69bad06ff8891a3a551c699d6dd54496\";i:2031;s:35:\"fb_c3211bcd4ae9add0fb1c4adaf0206471\";i:2032;s:40:\"twitter_c3211bcd4ae9add0fb1c4adaf0206471\";i:2033;s:42:\"pinterest_c3211bcd4ae9add0fb1c4adaf0206471\";i:2034;s:41:\"linkedin_c3211bcd4ae9add0fb1c4adaf0206471\";i:2035;s:35:\"fb_bb714b649523d3120ce6ca9325c50c54\";i:2036;s:40:\"twitter_bb714b649523d3120ce6ca9325c50c54\";i:2037;s:42:\"pinterest_bb714b649523d3120ce6ca9325c50c54\";i:2038;s:41:\"linkedin_bb714b649523d3120ce6ca9325c50c54\";i:2039;s:35:\"fb_0ba0dd09c580b41e7013cf8bdaf09064\";i:2040;s:40:\"twitter_0ba0dd09c580b41e7013cf8bdaf09064\";i:2041;s:42:\"pinterest_0ba0dd09c580b41e7013cf8bdaf09064\";i:2042;s:41:\"linkedin_0ba0dd09c580b41e7013cf8bdaf09064\";i:2043;s:35:\"fb_7c661e3885d46e2a9f7d4a15519aca29\";i:2044;s:40:\"twitter_7c661e3885d46e2a9f7d4a15519aca29\";i:2045;s:42:\"pinterest_7c661e3885d46e2a9f7d4a15519aca29\";i:2046;s:35:\"fb_64fdbb092ff102bdfe6630344493133c\";i:2047;s:40:\"twitter_64fdbb092ff102bdfe6630344493133c\";i:2048;s:42:\"pinterest_64fdbb092ff102bdfe6630344493133c\";i:2049;s:41:\"linkedin_64fdbb092ff102bdfe6630344493133c\";i:2050;s:35:\"fb_617d7fd0ce0e9f0b5ba983fe25aa9bf4\";i:2051;s:40:\"twitter_617d7fd0ce0e9f0b5ba983fe25aa9bf4\";i:2052;s:42:\"pinterest_617d7fd0ce0e9f0b5ba983fe25aa9bf4\";i:2053;s:41:\"linkedin_617d7fd0ce0e9f0b5ba983fe25aa9bf4\";i:2054;s:35:\"fb_4c63c5afcd6c665ea28c88f192c00ac6\";i:2055;s:40:\"twitter_4c63c5afcd6c665ea28c88f192c00ac6\";i:2056;s:42:\"pinterest_4c63c5afcd6c665ea28c88f192c00ac6\";i:2057;s:41:\"linkedin_4c63c5afcd6c665ea28c88f192c00ac6\";i:2058;s:35:\"fb_fbe57a97175c3e21f63d4efe935bd0e4\";i:2059;s:40:\"twitter_fbe57a97175c3e21f63d4efe935bd0e4\";i:2060;s:42:\"pinterest_fbe57a97175c3e21f63d4efe935bd0e4\";i:2061;s:41:\"linkedin_fbe57a97175c3e21f63d4efe935bd0e4\";i:2062;s:35:\"fb_c31d3c24d2d99b380564d1ffc13a1e86\";i:2063;s:40:\"twitter_c31d3c24d2d99b380564d1ffc13a1e86\";i:2064;s:42:\"pinterest_c31d3c24d2d99b380564d1ffc13a1e86\";i:2065;s:41:\"linkedin_c31d3c24d2d99b380564d1ffc13a1e86\";i:2066;s:35:\"fb_75de61f46f1cf93a49fe50056c07b377\";i:2067;s:40:\"twitter_75de61f46f1cf93a49fe50056c07b377\";i:2068;s:42:\"pinterest_75de61f46f1cf93a49fe50056c07b377\";i:2069;s:41:\"linkedin_75de61f46f1cf93a49fe50056c07b377\";i:2070;s:35:\"fb_0b6fd3e12d06ae7b20d4f8faa9db603f\";i:2071;s:40:\"twitter_0b6fd3e12d06ae7b20d4f8faa9db603f\";i:2072;s:42:\"pinterest_0b6fd3e12d06ae7b20d4f8faa9db603f\";i:2073;s:41:\"linkedin_0b6fd3e12d06ae7b20d4f8faa9db603f\";i:2074;s:35:\"fb_39ebef0b9c567da0eaf90b726a104c4e\";i:2075;s:40:\"twitter_39ebef0b9c567da0eaf90b726a104c4e\";i:2076;s:42:\"pinterest_39ebef0b9c567da0eaf90b726a104c4e\";i:2077;s:41:\"linkedin_39ebef0b9c567da0eaf90b726a104c4e\";i:2078;s:35:\"fb_b467a6f1e7ad9ef42f0a8c436bd1ba9b\";i:2079;s:40:\"twitter_b467a6f1e7ad9ef42f0a8c436bd1ba9b\";i:2080;s:42:\"pinterest_b467a6f1e7ad9ef42f0a8c436bd1ba9b\";i:2081;s:41:\"linkedin_b467a6f1e7ad9ef42f0a8c436bd1ba9b\";i:2082;s:35:\"fb_85c6ba169dd6766ee14c63a6dbc59119\";i:2083;s:40:\"twitter_85c6ba169dd6766ee14c63a6dbc59119\";i:2084;s:42:\"pinterest_85c6ba169dd6766ee14c63a6dbc59119\";i:2085;s:41:\"linkedin_85c6ba169dd6766ee14c63a6dbc59119\";i:2086;s:35:\"fb_94500fd3167fec402e02b64534d837a6\";i:2087;s:40:\"twitter_94500fd3167fec402e02b64534d837a6\";i:2088;s:42:\"pinterest_94500fd3167fec402e02b64534d837a6\";i:2089;s:41:\"linkedin_94500fd3167fec402e02b64534d837a6\";i:2090;s:35:\"fb_42a42d0b601e9f96db4a649ad08f7720\";i:2091;s:40:\"twitter_42a42d0b601e9f96db4a649ad08f7720\";i:2092;s:42:\"pinterest_42a42d0b601e9f96db4a649ad08f7720\";i:2093;s:41:\"linkedin_42a42d0b601e9f96db4a649ad08f7720\";i:2094;s:35:\"fb_e410d17966114c7369adc9e30ff81c1e\";i:2095;s:40:\"twitter_e410d17966114c7369adc9e30ff81c1e\";i:2096;s:42:\"pinterest_e410d17966114c7369adc9e30ff81c1e\";i:2097;s:41:\"linkedin_e410d17966114c7369adc9e30ff81c1e\";i:2098;s:35:\"fb_dc68e41ffe40b63aecfb391b1b966549\";i:2099;s:40:\"twitter_dc68e41ffe40b63aecfb391b1b966549\";i:2100;s:42:\"pinterest_dc68e41ffe40b63aecfb391b1b966549\";i:2101;s:41:\"linkedin_dc68e41ffe40b63aecfb391b1b966549\";i:2102;s:35:\"fb_978dcbac24b172ec448c3fb5cf60f3bd\";i:2103;s:40:\"twitter_978dcbac24b172ec448c3fb5cf60f3bd\";i:2104;s:42:\"pinterest_978dcbac24b172ec448c3fb5cf60f3bd\";i:2105;s:41:\"linkedin_978dcbac24b172ec448c3fb5cf60f3bd\";i:2106;s:35:\"fb_f30ed3f604f44ed335f4d815800e74c7\";i:2107;s:40:\"twitter_f30ed3f604f44ed335f4d815800e74c7\";i:2108;s:35:\"fb_d63dd6e82db3152f311a819bd1ce58a3\";i:2109;s:40:\"twitter_d63dd6e82db3152f311a819bd1ce58a3\";i:2110;s:42:\"pinterest_d63dd6e82db3152f311a819bd1ce58a3\";i:2111;s:41:\"linkedin_d63dd6e82db3152f311a819bd1ce58a3\";i:2112;s:35:\"fb_8078e6e9ce0b0ee34fc5ed60be72629b\";i:2113;s:40:\"twitter_8078e6e9ce0b0ee34fc5ed60be72629b\";i:2114;s:42:\"pinterest_8078e6e9ce0b0ee34fc5ed60be72629b\";i:2115;s:41:\"linkedin_8078e6e9ce0b0ee34fc5ed60be72629b\";i:2116;s:35:\"fb_f2f611e793d6261dc3e79dd43a62075c\";i:2117;s:40:\"twitter_f2f611e793d6261dc3e79dd43a62075c\";i:2118;s:42:\"pinterest_f2f611e793d6261dc3e79dd43a62075c\";i:2119;s:41:\"linkedin_f2f611e793d6261dc3e79dd43a62075c\";i:2120;s:35:\"fb_192a29b24ae248c6e54db9734135ef2e\";i:2121;s:40:\"twitter_192a29b24ae248c6e54db9734135ef2e\";i:2122;s:42:\"pinterest_192a29b24ae248c6e54db9734135ef2e\";i:2123;s:41:\"linkedin_192a29b24ae248c6e54db9734135ef2e\";i:2124;s:35:\"fb_38c56c9ae2d883910bf172b8bad0cc30\";i:2125;s:40:\"twitter_38c56c9ae2d883910bf172b8bad0cc30\";i:2126;s:42:\"pinterest_38c56c9ae2d883910bf172b8bad0cc30\";i:2127;s:41:\"linkedin_38c56c9ae2d883910bf172b8bad0cc30\";i:2128;s:35:\"fb_1b6ef5b5878d51fd8c69e1a030482673\";i:2129;s:40:\"twitter_1b6ef5b5878d51fd8c69e1a030482673\";i:2130;s:42:\"pinterest_1b6ef5b5878d51fd8c69e1a030482673\";i:2131;s:41:\"linkedin_1b6ef5b5878d51fd8c69e1a030482673\";i:2132;s:35:\"fb_19f2f66b29e45c92765d820131de4f3e\";i:2133;s:40:\"twitter_19f2f66b29e45c92765d820131de4f3e\";i:2134;s:42:\"pinterest_19f2f66b29e45c92765d820131de4f3e\";i:2135;s:41:\"linkedin_19f2f66b29e45c92765d820131de4f3e\";i:2136;s:35:\"fb_1689bf57c794b6136db8c902f3965d58\";i:2137;s:40:\"twitter_1689bf57c794b6136db8c902f3965d58\";i:2138;s:42:\"pinterest_1689bf57c794b6136db8c902f3965d58\";i:2139;s:41:\"linkedin_1689bf57c794b6136db8c902f3965d58\";i:2140;s:35:\"fb_e08b656bed5d8d3d0b1f791d7da50d38\";i:2141;s:40:\"twitter_e08b656bed5d8d3d0b1f791d7da50d38\";i:2142;s:42:\"pinterest_e08b656bed5d8d3d0b1f791d7da50d38\";i:2143;s:41:\"linkedin_e08b656bed5d8d3d0b1f791d7da50d38\";i:2144;s:35:\"fb_00aeed2d21c1813b6e8e5f0a4fd9ccb0\";i:2145;s:40:\"twitter_00aeed2d21c1813b6e8e5f0a4fd9ccb0\";i:2146;s:42:\"pinterest_00aeed2d21c1813b6e8e5f0a4fd9ccb0\";i:2147;s:41:\"linkedin_00aeed2d21c1813b6e8e5f0a4fd9ccb0\";i:2148;s:35:\"fb_a1ea9df9d21d3ca48a71903318f9883d\";i:2149;s:40:\"twitter_a1ea9df9d21d3ca48a71903318f9883d\";i:2150;s:42:\"pinterest_a1ea9df9d21d3ca48a71903318f9883d\";i:2151;s:41:\"linkedin_a1ea9df9d21d3ca48a71903318f9883d\";i:2152;s:35:\"fb_e8664976478fd2c780b81b4e2623bebc\";i:2153;s:40:\"twitter_e8664976478fd2c780b81b4e2623bebc\";i:2154;s:42:\"pinterest_e8664976478fd2c780b81b4e2623bebc\";i:2155;s:41:\"linkedin_e8664976478fd2c780b81b4e2623bebc\";i:2156;s:35:\"fb_6eff74446b80ca0948356d138d27a3e1\";i:2157;s:40:\"twitter_6eff74446b80ca0948356d138d27a3e1\";i:2158;s:42:\"pinterest_6eff74446b80ca0948356d138d27a3e1\";i:2159;s:41:\"linkedin_6eff74446b80ca0948356d138d27a3e1\";i:2160;s:35:\"fb_eba2cfa592bc8412fad0326b014013d3\";i:2161;s:40:\"twitter_eba2cfa592bc8412fad0326b014013d3\";i:2162;s:42:\"pinterest_eba2cfa592bc8412fad0326b014013d3\";i:2163;s:41:\"linkedin_eba2cfa592bc8412fad0326b014013d3\";i:2164;s:35:\"fb_8831974a0fac3ad9ee4ad8fefb222419\";i:2165;s:40:\"twitter_8831974a0fac3ad9ee4ad8fefb222419\";i:2166;s:42:\"pinterest_8831974a0fac3ad9ee4ad8fefb222419\";i:2167;s:41:\"linkedin_8831974a0fac3ad9ee4ad8fefb222419\";i:2168;s:35:\"fb_105ac8af09fb7e0b8c8f85caf3ea5b80\";i:2169;s:40:\"twitter_105ac8af09fb7e0b8c8f85caf3ea5b80\";i:2170;s:42:\"pinterest_105ac8af09fb7e0b8c8f85caf3ea5b80\";i:2171;s:41:\"linkedin_105ac8af09fb7e0b8c8f85caf3ea5b80\";i:2172;s:35:\"fb_155ba065b8a968ea2c3dd4c4b0872863\";i:2173;s:40:\"twitter_155ba065b8a968ea2c3dd4c4b0872863\";i:2174;s:42:\"pinterest_155ba065b8a968ea2c3dd4c4b0872863\";i:2175;s:41:\"linkedin_155ba065b8a968ea2c3dd4c4b0872863\";i:2176;s:35:\"fb_ee8eb9e5bfb444379db5cc67549ae18f\";i:2177;s:40:\"twitter_ee8eb9e5bfb444379db5cc67549ae18f\";i:2178;s:42:\"pinterest_ee8eb9e5bfb444379db5cc67549ae18f\";i:2179;s:41:\"linkedin_ee8eb9e5bfb444379db5cc67549ae18f\";i:2180;s:35:\"fb_7d67a19aa684489cc5a96d03509cfe32\";i:2181;s:40:\"twitter_7d67a19aa684489cc5a96d03509cfe32\";i:2182;s:42:\"pinterest_7d67a19aa684489cc5a96d03509cfe32\";i:2183;s:41:\"linkedin_7d67a19aa684489cc5a96d03509cfe32\";i:2184;s:35:\"fb_d9b4f53fbdaed60dcb4db2b28312b92f\";i:2185;s:40:\"twitter_d9b4f53fbdaed60dcb4db2b28312b92f\";i:2186;s:42:\"pinterest_d9b4f53fbdaed60dcb4db2b28312b92f\";i:2187;s:41:\"linkedin_d9b4f53fbdaed60dcb4db2b28312b92f\";i:2188;s:35:\"fb_f015f2101dbb60dc853a074891d82ddf\";i:2189;s:40:\"twitter_f015f2101dbb60dc853a074891d82ddf\";i:2190;s:42:\"pinterest_f015f2101dbb60dc853a074891d82ddf\";i:2191;s:41:\"linkedin_f015f2101dbb60dc853a074891d82ddf\";i:2192;s:35:\"fb_f8b27dd2af47ca58b6d3ca2198e14705\";i:2193;s:40:\"twitter_f8b27dd2af47ca58b6d3ca2198e14705\";i:2194;s:42:\"pinterest_f8b27dd2af47ca58b6d3ca2198e14705\";i:2195;s:41:\"linkedin_f8b27dd2af47ca58b6d3ca2198e14705\";i:2196;s:35:\"fb_9ca371dafe02b8eb04f436ecaf8f009d\";i:2197;s:40:\"twitter_9ca371dafe02b8eb04f436ecaf8f009d\";i:2198;s:42:\"pinterest_9ca371dafe02b8eb04f436ecaf8f009d\";i:2199;s:41:\"linkedin_9ca371dafe02b8eb04f436ecaf8f009d\";i:2200;s:35:\"fb_1a5bd1ee1c2100f87cdc9e168359d571\";i:2201;s:40:\"twitter_1a5bd1ee1c2100f87cdc9e168359d571\";i:2202;s:42:\"pinterest_1a5bd1ee1c2100f87cdc9e168359d571\";i:2203;s:41:\"linkedin_1a5bd1ee1c2100f87cdc9e168359d571\";i:2204;s:35:\"fb_cf6e1b68eab5bb4bc0d1c959222f9ad6\";i:2205;s:40:\"twitter_cf6e1b68eab5bb4bc0d1c959222f9ad6\";i:2206;s:42:\"pinterest_cf6e1b68eab5bb4bc0d1c959222f9ad6\";i:2207;s:41:\"linkedin_cf6e1b68eab5bb4bc0d1c959222f9ad6\";i:2208;s:35:\"fb_eb3aad7342dc1b6855a27e0907d10495\";i:2209;s:40:\"twitter_eb3aad7342dc1b6855a27e0907d10495\";i:2210;s:42:\"pinterest_eb3aad7342dc1b6855a27e0907d10495\";i:2211;s:41:\"linkedin_eb3aad7342dc1b6855a27e0907d10495\";i:2212;s:35:\"fb_7cff7e653ba5cefb984df8ba999fd539\";i:2213;s:40:\"twitter_7cff7e653ba5cefb984df8ba999fd539\";i:2214;s:42:\"pinterest_7cff7e653ba5cefb984df8ba999fd539\";i:2215;s:41:\"linkedin_7cff7e653ba5cefb984df8ba999fd539\";i:2216;s:35:\"fb_76a8ff52360cb185cabd2ef71fe91ccf\";i:2217;s:40:\"twitter_76a8ff52360cb185cabd2ef71fe91ccf\";i:2218;s:42:\"pinterest_76a8ff52360cb185cabd2ef71fe91ccf\";i:2219;s:41:\"linkedin_76a8ff52360cb185cabd2ef71fe91ccf\";i:2220;s:35:\"fb_4219078b088b526b01bc89074b3d7946\";i:2221;s:40:\"twitter_4219078b088b526b01bc89074b3d7946\";i:2222;s:42:\"pinterest_4219078b088b526b01bc89074b3d7946\";i:2223;s:41:\"linkedin_4219078b088b526b01bc89074b3d7946\";i:2224;s:35:\"fb_97d0d36a67f6e1311c2c659eea365c18\";i:2225;s:40:\"twitter_97d0d36a67f6e1311c2c659eea365c18\";i:2226;s:42:\"pinterest_97d0d36a67f6e1311c2c659eea365c18\";i:2227;s:41:\"linkedin_97d0d36a67f6e1311c2c659eea365c18\";i:2228;s:35:\"fb_1d465626020e5edea081e12b88d28d5c\";i:2229;s:40:\"twitter_1d465626020e5edea081e12b88d28d5c\";i:2230;s:42:\"pinterest_1d465626020e5edea081e12b88d28d5c\";i:2231;s:41:\"linkedin_1d465626020e5edea081e12b88d28d5c\";i:2232;s:35:\"fb_9b5d18bfd397591e8a0422388820bec6\";i:2233;s:40:\"twitter_9b5d18bfd397591e8a0422388820bec6\";i:2234;s:42:\"pinterest_9b5d18bfd397591e8a0422388820bec6\";i:2235;s:41:\"linkedin_9b5d18bfd397591e8a0422388820bec6\";i:2236;s:35:\"fb_db233246e94c8a833fdf5e5bfd75d709\";i:2237;s:35:\"fb_0e2053ee3fc69847176dfdd53e9dce2a\";i:2238;s:40:\"twitter_0e2053ee3fc69847176dfdd53e9dce2a\";i:2239;s:42:\"pinterest_0e2053ee3fc69847176dfdd53e9dce2a\";i:2240;s:41:\"linkedin_0e2053ee3fc69847176dfdd53e9dce2a\";i:2241;s:35:\"fb_cb2b17ac840b53b5a1cf8b32d1559a63\";i:2242;s:40:\"twitter_cb2b17ac840b53b5a1cf8b32d1559a63\";i:2243;s:42:\"pinterest_cb2b17ac840b53b5a1cf8b32d1559a63\";i:2244;s:41:\"linkedin_cb2b17ac840b53b5a1cf8b32d1559a63\";i:2245;s:35:\"fb_b5a36a9a8a5bd97bce8baee9392f719f\";i:2246;s:40:\"twitter_b5a36a9a8a5bd97bce8baee9392f719f\";i:2247;s:42:\"pinterest_b5a36a9a8a5bd97bce8baee9392f719f\";i:2248;s:41:\"linkedin_b5a36a9a8a5bd97bce8baee9392f719f\";i:2249;s:35:\"fb_3e3f33582efc27a698473562a761d921\";i:2250;s:40:\"twitter_3e3f33582efc27a698473562a761d921\";i:2251;s:42:\"pinterest_3e3f33582efc27a698473562a761d921\";i:2252;s:41:\"linkedin_3e3f33582efc27a698473562a761d921\";i:2253;s:35:\"fb_daad794731266b5ab4d810884cbbd651\";i:2254;s:40:\"twitter_daad794731266b5ab4d810884cbbd651\";i:2255;s:42:\"pinterest_daad794731266b5ab4d810884cbbd651\";i:2256;s:41:\"linkedin_daad794731266b5ab4d810884cbbd651\";i:2257;s:35:\"fb_b0df48478d1427bb10fd2f13b24e67de\";i:2258;s:40:\"twitter_b0df48478d1427bb10fd2f13b24e67de\";i:2259;s:42:\"pinterest_b0df48478d1427bb10fd2f13b24e67de\";i:2260;s:41:\"linkedin_b0df48478d1427bb10fd2f13b24e67de\";i:2261;s:35:\"fb_da5454f42e234584dfdbefb5634bc701\";i:2262;s:40:\"twitter_da5454f42e234584dfdbefb5634bc701\";i:2263;s:42:\"pinterest_da5454f42e234584dfdbefb5634bc701\";i:2264;s:41:\"linkedin_da5454f42e234584dfdbefb5634bc701\";i:2265;s:35:\"fb_cf74084b114dfbbe6c194a7b0a8a0aae\";i:2266;s:40:\"twitter_cf74084b114dfbbe6c194a7b0a8a0aae\";i:2267;s:42:\"pinterest_cf74084b114dfbbe6c194a7b0a8a0aae\";i:2268;s:41:\"linkedin_cf74084b114dfbbe6c194a7b0a8a0aae\";i:2269;s:35:\"fb_d3ede4e36ee93e5ef9a66902ef3c6f55\";i:2270;s:40:\"twitter_d3ede4e36ee93e5ef9a66902ef3c6f55\";i:2271;s:42:\"pinterest_d3ede4e36ee93e5ef9a66902ef3c6f55\";i:2272;s:41:\"linkedin_d3ede4e36ee93e5ef9a66902ef3c6f55\";i:2273;s:35:\"fb_2c4f9aeaf3b43855bdbaaccaa98921b0\";i:2274;s:40:\"twitter_2c4f9aeaf3b43855bdbaaccaa98921b0\";i:2275;s:42:\"pinterest_2c4f9aeaf3b43855bdbaaccaa98921b0\";i:2276;s:41:\"linkedin_2c4f9aeaf3b43855bdbaaccaa98921b0\";i:2277;s:35:\"fb_fafea1983b4030b298e0b8468349060b\";i:2278;s:40:\"twitter_fafea1983b4030b298e0b8468349060b\";i:2279;s:42:\"pinterest_fafea1983b4030b298e0b8468349060b\";i:2280;s:41:\"linkedin_fafea1983b4030b298e0b8468349060b\";i:2281;s:35:\"fb_4f52a324ebe11cf3bd3f3477186f89c1\";i:2282;s:40:\"twitter_4f52a324ebe11cf3bd3f3477186f89c1\";i:2283;s:42:\"pinterest_4f52a324ebe11cf3bd3f3477186f89c1\";i:2284;s:41:\"linkedin_4f52a324ebe11cf3bd3f3477186f89c1\";i:2285;s:35:\"fb_46e653af4a8b056e90f64f98c3d48b20\";i:2286;s:40:\"twitter_46e653af4a8b056e90f64f98c3d48b20\";i:2287;s:42:\"pinterest_46e653af4a8b056e90f64f98c3d48b20\";i:2288;s:41:\"linkedin_46e653af4a8b056e90f64f98c3d48b20\";i:2289;s:35:\"fb_c9fb2b82e26f85f4662ca590bf8ebbc8\";i:2290;s:40:\"twitter_c9fb2b82e26f85f4662ca590bf8ebbc8\";i:2291;s:42:\"pinterest_c9fb2b82e26f85f4662ca590bf8ebbc8\";i:2292;s:41:\"linkedin_c9fb2b82e26f85f4662ca590bf8ebbc8\";i:2293;s:35:\"fb_2240fe23ad78c63c5460bcd3c5a074ec\";i:2294;s:40:\"twitter_2240fe23ad78c63c5460bcd3c5a074ec\";i:2295;s:42:\"pinterest_2240fe23ad78c63c5460bcd3c5a074ec\";i:2296;s:41:\"linkedin_2240fe23ad78c63c5460bcd3c5a074ec\";i:2297;s:35:\"fb_251ac3a52002af743d1ada7638284775\";i:2298;s:40:\"twitter_251ac3a52002af743d1ada7638284775\";i:2299;s:42:\"pinterest_251ac3a52002af743d1ada7638284775\";i:2300;s:41:\"linkedin_251ac3a52002af743d1ada7638284775\";i:2301;s:35:\"fb_231db2d3e4ba5d9cde1ef0c912b58375\";i:2302;s:40:\"twitter_231db2d3e4ba5d9cde1ef0c912b58375\";i:2303;s:42:\"pinterest_231db2d3e4ba5d9cde1ef0c912b58375\";i:2304;s:41:\"linkedin_231db2d3e4ba5d9cde1ef0c912b58375\";i:2305;s:35:\"fb_98adfdefdf9147f17162ea7953521b05\";i:2306;s:40:\"twitter_98adfdefdf9147f17162ea7953521b05\";i:2307;s:42:\"pinterest_98adfdefdf9147f17162ea7953521b05\";i:2308;s:41:\"linkedin_98adfdefdf9147f17162ea7953521b05\";i:2309;s:35:\"fb_d00dbc196df111d73b1700e9bf2a5210\";i:2310;s:40:\"twitter_d00dbc196df111d73b1700e9bf2a5210\";i:2311;s:42:\"pinterest_d00dbc196df111d73b1700e9bf2a5210\";i:2312;s:41:\"linkedin_d00dbc196df111d73b1700e9bf2a5210\";i:2313;s:35:\"fb_7b91b94a479ffc450e12509164b3d4f6\";i:2314;s:40:\"twitter_7b91b94a479ffc450e12509164b3d4f6\";i:2315;s:42:\"pinterest_7b91b94a479ffc450e12509164b3d4f6\";i:2316;s:41:\"linkedin_7b91b94a479ffc450e12509164b3d4f6\";i:2317;s:35:\"fb_a8038e1440cf8f742af9632311d6d614\";i:2318;s:40:\"twitter_a8038e1440cf8f742af9632311d6d614\";i:2319;s:42:\"pinterest_a8038e1440cf8f742af9632311d6d614\";i:2320;s:41:\"linkedin_a8038e1440cf8f742af9632311d6d614\";i:2321;s:35:\"fb_64b7b27c1282af511dcb72cc17be66d5\";i:2322;s:40:\"twitter_64b7b27c1282af511dcb72cc17be66d5\";i:2323;s:42:\"pinterest_64b7b27c1282af511dcb72cc17be66d5\";i:2324;s:41:\"linkedin_64b7b27c1282af511dcb72cc17be66d5\";i:2325;s:35:\"fb_b16bca7f8b15595339454b9b7fead5a6\";i:2326;s:40:\"twitter_b16bca7f8b15595339454b9b7fead5a6\";i:2327;s:42:\"pinterest_b16bca7f8b15595339454b9b7fead5a6\";i:2328;s:41:\"linkedin_b16bca7f8b15595339454b9b7fead5a6\";i:2329;s:35:\"fb_d4003024d5677f585be10807aba75c37\";i:2330;s:40:\"twitter_d4003024d5677f585be10807aba75c37\";i:2331;s:42:\"pinterest_d4003024d5677f585be10807aba75c37\";i:2332;s:41:\"linkedin_d4003024d5677f585be10807aba75c37\";i:2333;s:35:\"fb_535b437ebe00bb022aea4e5ab17c8c2e\";i:2334;s:40:\"twitter_535b437ebe00bb022aea4e5ab17c8c2e\";i:2335;s:42:\"pinterest_535b437ebe00bb022aea4e5ab17c8c2e\";i:2336;s:41:\"linkedin_535b437ebe00bb022aea4e5ab17c8c2e\";i:2337;s:35:\"fb_4304cd2f94b3a2264dec22245599c1e4\";i:2338;s:40:\"twitter_4304cd2f94b3a2264dec22245599c1e4\";i:2339;s:42:\"pinterest_4304cd2f94b3a2264dec22245599c1e4\";i:2340;s:41:\"linkedin_4304cd2f94b3a2264dec22245599c1e4\";i:2341;s:35:\"fb_6b83fb78ae0f306f5c145b2230807e15\";i:2342;s:40:\"twitter_6b83fb78ae0f306f5c145b2230807e15\";i:2343;s:42:\"pinterest_6b83fb78ae0f306f5c145b2230807e15\";i:2344;s:41:\"linkedin_6b83fb78ae0f306f5c145b2230807e15\";i:2345;s:35:\"fb_20e0b6a929ad2c4e3e9e16c5dd6dd643\";i:2346;s:40:\"twitter_20e0b6a929ad2c4e3e9e16c5dd6dd643\";i:2347;s:42:\"pinterest_20e0b6a929ad2c4e3e9e16c5dd6dd643\";i:2348;s:41:\"linkedin_20e0b6a929ad2c4e3e9e16c5dd6dd643\";i:2349;s:35:\"fb_0285f527a3161ecb22b135b677a9b5e3\";i:2350;s:40:\"twitter_0285f527a3161ecb22b135b677a9b5e3\";i:2351;s:42:\"pinterest_0285f527a3161ecb22b135b677a9b5e3\";i:2352;s:41:\"linkedin_0285f527a3161ecb22b135b677a9b5e3\";i:2353;s:35:\"fb_24892b3e7f9d82fbedcae6f64a568103\";i:2354;s:40:\"twitter_24892b3e7f9d82fbedcae6f64a568103\";i:2355;s:42:\"pinterest_24892b3e7f9d82fbedcae6f64a568103\";i:2356;s:41:\"linkedin_24892b3e7f9d82fbedcae6f64a568103\";i:2357;s:35:\"fb_735ee12d565fa5d4a05a284b3e6c34f6\";i:2358;s:40:\"twitter_735ee12d565fa5d4a05a284b3e6c34f6\";i:2359;s:42:\"pinterest_735ee12d565fa5d4a05a284b3e6c34f6\";i:2360;s:41:\"linkedin_735ee12d565fa5d4a05a284b3e6c34f6\";i:2361;s:35:\"fb_29d7b922dfd72a298fd6356836e2b527\";i:2362;s:40:\"twitter_29d7b922dfd72a298fd6356836e2b527\";i:2363;s:42:\"pinterest_29d7b922dfd72a298fd6356836e2b527\";i:2364;s:41:\"linkedin_29d7b922dfd72a298fd6356836e2b527\";i:2365;s:35:\"fb_51cf540a7f334849a89eb2e1a2bfd33f\";i:2366;s:40:\"twitter_51cf540a7f334849a89eb2e1a2bfd33f\";i:2367;s:42:\"pinterest_51cf540a7f334849a89eb2e1a2bfd33f\";i:2368;s:41:\"linkedin_51cf540a7f334849a89eb2e1a2bfd33f\";i:2369;s:35:\"fb_893edbe4dc8645d3fe1ae8f6b78634db\";i:2370;s:40:\"twitter_893edbe4dc8645d3fe1ae8f6b78634db\";i:2371;s:42:\"pinterest_893edbe4dc8645d3fe1ae8f6b78634db\";i:2372;s:41:\"linkedin_893edbe4dc8645d3fe1ae8f6b78634db\";i:2373;s:35:\"fb_ca4994dc5b604c0742f7aba487d81c8e\";i:2374;s:40:\"twitter_ca4994dc5b604c0742f7aba487d81c8e\";i:2375;s:42:\"pinterest_ca4994dc5b604c0742f7aba487d81c8e\";i:2376;s:41:\"linkedin_ca4994dc5b604c0742f7aba487d81c8e\";i:2377;s:35:\"fb_09a97cd52f29d1c681b84f5357f3c7b9\";i:2378;s:40:\"twitter_09a97cd52f29d1c681b84f5357f3c7b9\";i:2379;s:42:\"pinterest_09a97cd52f29d1c681b84f5357f3c7b9\";i:2380;s:41:\"linkedin_09a97cd52f29d1c681b84f5357f3c7b9\";i:2381;s:35:\"fb_2852e225b7c8a8f54ef47f607eade507\";i:2382;s:40:\"twitter_2852e225b7c8a8f54ef47f607eade507\";i:2383;s:42:\"pinterest_2852e225b7c8a8f54ef47f607eade507\";i:2384;s:41:\"linkedin_2852e225b7c8a8f54ef47f607eade507\";i:2385;s:35:\"fb_2034f4def1baa56f344f26d789323951\";i:2386;s:40:\"twitter_2034f4def1baa56f344f26d789323951\";i:2387;s:42:\"pinterest_2034f4def1baa56f344f26d789323951\";i:2388;s:41:\"linkedin_2034f4def1baa56f344f26d789323951\";i:2389;s:35:\"fb_1233bcbe8e42946c61b19624643681e1\";i:2390;s:35:\"fb_47d9c73151487089619a12d2af3d65b8\";i:2391;s:40:\"twitter_47d9c73151487089619a12d2af3d65b8\";i:2392;s:42:\"pinterest_47d9c73151487089619a12d2af3d65b8\";i:2393;s:41:\"linkedin_47d9c73151487089619a12d2af3d65b8\";i:2394;s:35:\"fb_d8d64955d50a1f4b67c152a7a495e35e\";i:2395;s:40:\"twitter_d8d64955d50a1f4b67c152a7a495e35e\";i:2396;s:42:\"pinterest_d8d64955d50a1f4b67c152a7a495e35e\";i:2397;s:41:\"linkedin_d8d64955d50a1f4b67c152a7a495e35e\";i:2398;s:35:\"fb_d51570cf43e4cc3194bd870bd69d2222\";i:2399;s:40:\"twitter_d51570cf43e4cc3194bd870bd69d2222\";i:2400;s:42:\"pinterest_d51570cf43e4cc3194bd870bd69d2222\";i:2401;s:41:\"linkedin_d51570cf43e4cc3194bd870bd69d2222\";i:2402;s:35:\"fb_f156a961c3730ebd6f0136b74e971266\";i:2403;s:40:\"twitter_f156a961c3730ebd6f0136b74e971266\";i:2404;s:42:\"pinterest_f156a961c3730ebd6f0136b74e971266\";i:2405;s:41:\"linkedin_f156a961c3730ebd6f0136b74e971266\";i:2406;s:35:\"fb_d9e942dc0efdd65ade0203c14cb37b10\";i:2407;s:40:\"twitter_d9e942dc0efdd65ade0203c14cb37b10\";i:2408;s:42:\"pinterest_d9e942dc0efdd65ade0203c14cb37b10\";i:2409;s:41:\"linkedin_d9e942dc0efdd65ade0203c14cb37b10\";i:2410;s:35:\"fb_c0fe1b1ac326941117f683e0b22a5c60\";i:2411;s:40:\"twitter_c0fe1b1ac326941117f683e0b22a5c60\";i:2412;s:42:\"pinterest_c0fe1b1ac326941117f683e0b22a5c60\";i:2413;s:41:\"linkedin_c0fe1b1ac326941117f683e0b22a5c60\";i:2414;s:35:\"fb_ab2311913e7385785d410a78bd88f4b0\";i:2415;s:40:\"twitter_ab2311913e7385785d410a78bd88f4b0\";i:2416;s:42:\"pinterest_ab2311913e7385785d410a78bd88f4b0\";i:2417;s:35:\"fb_5fae82d83dc413572a2c1fa2dfc5ae5a\";i:2418;s:40:\"twitter_5fae82d83dc413572a2c1fa2dfc5ae5a\";i:2419;s:42:\"pinterest_5fae82d83dc413572a2c1fa2dfc5ae5a\";i:2420;s:41:\"linkedin_5fae82d83dc413572a2c1fa2dfc5ae5a\";i:2421;s:35:\"fb_ba4454185268b054d984f1a6a294eb7a\";i:2422;s:40:\"twitter_ba4454185268b054d984f1a6a294eb7a\";i:2423;s:42:\"pinterest_ba4454185268b054d984f1a6a294eb7a\";i:2424;s:35:\"fb_0a9c0b1b15410494557ea0eef775963c\";i:2425;s:40:\"twitter_0a9c0b1b15410494557ea0eef775963c\";i:2426;s:42:\"pinterest_0a9c0b1b15410494557ea0eef775963c\";i:2427;s:41:\"linkedin_0a9c0b1b15410494557ea0eef775963c\";i:2428;s:35:\"fb_9475986dbb0d07663250f78e5fab3125\";i:2429;s:40:\"twitter_9475986dbb0d07663250f78e5fab3125\";i:2430;s:42:\"pinterest_9475986dbb0d07663250f78e5fab3125\";i:2431;s:41:\"linkedin_9475986dbb0d07663250f78e5fab3125\";i:2432;s:35:\"fb_904a8fee4d64e08f13cede46ec9a5ce4\";i:2433;s:40:\"twitter_904a8fee4d64e08f13cede46ec9a5ce4\";i:2434;s:42:\"pinterest_904a8fee4d64e08f13cede46ec9a5ce4\";i:2435;s:41:\"linkedin_904a8fee4d64e08f13cede46ec9a5ce4\";i:2436;s:35:\"fb_8e874abd44bcb4998819937c3ad97b49\";i:2437;s:40:\"twitter_8e874abd44bcb4998819937c3ad97b49\";i:2438;s:42:\"pinterest_8e874abd44bcb4998819937c3ad97b49\";i:2439;s:41:\"linkedin_8e874abd44bcb4998819937c3ad97b49\";i:2440;s:35:\"fb_b631b23607fee4ac088404557035dd2e\";i:2441;s:40:\"twitter_b631b23607fee4ac088404557035dd2e\";i:2442;s:42:\"pinterest_b631b23607fee4ac088404557035dd2e\";i:2443;s:41:\"linkedin_b631b23607fee4ac088404557035dd2e\";i:2444;s:35:\"fb_57c95a851070fc915d5c27f5c420fd49\";i:2445;s:40:\"twitter_57c95a851070fc915d5c27f5c420fd49\";i:2446;s:42:\"pinterest_57c95a851070fc915d5c27f5c420fd49\";i:2447;s:41:\"linkedin_57c95a851070fc915d5c27f5c420fd49\";i:2448;s:35:\"fb_b3cd02e945dfdfd93977de92e6eddfbc\";i:2449;s:40:\"twitter_b3cd02e945dfdfd93977de92e6eddfbc\";i:2450;s:42:\"pinterest_b3cd02e945dfdfd93977de92e6eddfbc\";i:2451;s:41:\"linkedin_b3cd02e945dfdfd93977de92e6eddfbc\";i:2452;s:35:\"fb_b7561a5d0a731178524984e07cd4c125\";i:2453;s:40:\"twitter_b7561a5d0a731178524984e07cd4c125\";i:2454;s:42:\"pinterest_b7561a5d0a731178524984e07cd4c125\";i:2455;s:41:\"linkedin_b7561a5d0a731178524984e07cd4c125\";i:2456;s:35:\"fb_f86bedb2cf95592e0f6199d15f98771e\";i:2457;s:40:\"twitter_f86bedb2cf95592e0f6199d15f98771e\";i:2458;s:42:\"pinterest_f86bedb2cf95592e0f6199d15f98771e\";i:2459;s:41:\"linkedin_f86bedb2cf95592e0f6199d15f98771e\";i:2460;s:35:\"fb_29415191911c143dc6db5a03721331ea\";i:2461;s:40:\"twitter_29415191911c143dc6db5a03721331ea\";i:2462;s:42:\"pinterest_29415191911c143dc6db5a03721331ea\";i:2463;s:41:\"linkedin_29415191911c143dc6db5a03721331ea\";i:2464;s:35:\"fb_683c8d6d9042a8d83ff680ae52998324\";i:2465;s:40:\"twitter_683c8d6d9042a8d83ff680ae52998324\";i:2466;s:42:\"pinterest_683c8d6d9042a8d83ff680ae52998324\";i:2467;s:41:\"linkedin_683c8d6d9042a8d83ff680ae52998324\";i:2468;s:35:\"fb_1a172c502db0def2c810996e47914647\";i:2469;s:40:\"twitter_1a172c502db0def2c810996e47914647\";i:2470;s:42:\"pinterest_1a172c502db0def2c810996e47914647\";i:2471;s:41:\"linkedin_1a172c502db0def2c810996e47914647\";i:2472;s:35:\"fb_525be64484b51ac0a68f73ec5914e24c\";i:2473;s:40:\"twitter_525be64484b51ac0a68f73ec5914e24c\";i:2474;s:42:\"pinterest_525be64484b51ac0a68f73ec5914e24c\";i:2475;s:41:\"linkedin_525be64484b51ac0a68f73ec5914e24c\";i:2476;s:35:\"fb_1f56c0cbffdb734a26b6dc823f1aaf46\";i:2477;s:40:\"twitter_1f56c0cbffdb734a26b6dc823f1aaf46\";i:2478;s:42:\"pinterest_1f56c0cbffdb734a26b6dc823f1aaf46\";i:2479;s:41:\"linkedin_1f56c0cbffdb734a26b6dc823f1aaf46\";i:2480;s:35:\"fb_0aabeaa25e8a501330cdd218a148d3a9\";i:2481;s:40:\"twitter_0aabeaa25e8a501330cdd218a148d3a9\";i:2482;s:42:\"pinterest_0aabeaa25e8a501330cdd218a148d3a9\";i:2483;s:41:\"linkedin_0aabeaa25e8a501330cdd218a148d3a9\";i:2484;s:35:\"fb_2de792e05eaf872975a2e48907dec247\";i:2485;s:40:\"twitter_2de792e05eaf872975a2e48907dec247\";i:2486;s:42:\"pinterest_2de792e05eaf872975a2e48907dec247\";i:2487;s:41:\"linkedin_2de792e05eaf872975a2e48907dec247\";i:2488;s:35:\"fb_d10d5747443290af0a46b4a0f78411e4\";i:2489;s:40:\"twitter_d10d5747443290af0a46b4a0f78411e4\";i:2490;s:42:\"pinterest_d10d5747443290af0a46b4a0f78411e4\";i:2491;s:41:\"linkedin_d10d5747443290af0a46b4a0f78411e4\";i:2492;s:35:\"fb_3735879b5e959bf97c171ea14752f045\";i:2493;s:40:\"twitter_3735879b5e959bf97c171ea14752f045\";i:2494;s:42:\"pinterest_3735879b5e959bf97c171ea14752f045\";i:2495;s:41:\"linkedin_3735879b5e959bf97c171ea14752f045\";i:2496;s:35:\"fb_563634dab73b28e05918150b15b73685\";i:2497;s:40:\"twitter_563634dab73b28e05918150b15b73685\";i:2498;s:42:\"pinterest_563634dab73b28e05918150b15b73685\";i:2499;s:41:\"linkedin_563634dab73b28e05918150b15b73685\";i:2500;s:35:\"fb_e4015948d2f2b74c80281a6cb774fe51\";i:2501;s:40:\"twitter_e4015948d2f2b74c80281a6cb774fe51\";i:2502;s:42:\"pinterest_e4015948d2f2b74c80281a6cb774fe51\";i:2503;s:41:\"linkedin_e4015948d2f2b74c80281a6cb774fe51\";i:2504;s:35:\"fb_e9d1cd22a2ee7539ab131de020ddf4e8\";i:2505;s:40:\"twitter_e9d1cd22a2ee7539ab131de020ddf4e8\";i:2506;s:42:\"pinterest_e9d1cd22a2ee7539ab131de020ddf4e8\";i:2507;s:41:\"linkedin_e9d1cd22a2ee7539ab131de020ddf4e8\";i:2508;s:35:\"fb_0c99d673b09d11525491b947d8dd4f1a\";i:2509;s:40:\"twitter_0c99d673b09d11525491b947d8dd4f1a\";i:2510;s:42:\"pinterest_0c99d673b09d11525491b947d8dd4f1a\";i:2511;s:41:\"linkedin_0c99d673b09d11525491b947d8dd4f1a\";i:2512;s:35:\"fb_b7b759049c29512ac2c69ceba8eef3c3\";i:2513;s:40:\"twitter_b7b759049c29512ac2c69ceba8eef3c3\";i:2514;s:42:\"pinterest_b7b759049c29512ac2c69ceba8eef3c3\";i:2515;s:41:\"linkedin_b7b759049c29512ac2c69ceba8eef3c3\";i:2516;s:35:\"fb_7939d02b2c6f7bc0e10eadde7f2f68fd\";i:2517;s:40:\"twitter_7939d02b2c6f7bc0e10eadde7f2f68fd\";i:2518;s:42:\"pinterest_7939d02b2c6f7bc0e10eadde7f2f68fd\";i:2519;s:41:\"linkedin_7939d02b2c6f7bc0e10eadde7f2f68fd\";i:2520;s:35:\"fb_b54295f38417f82714a2c52769491fc7\";i:2521;s:40:\"twitter_b54295f38417f82714a2c52769491fc7\";i:2522;s:42:\"pinterest_b54295f38417f82714a2c52769491fc7\";i:2523;s:41:\"linkedin_b54295f38417f82714a2c52769491fc7\";i:2524;s:35:\"fb_7357791d2805f8187a106e3faf152ed5\";i:2525;s:40:\"twitter_7357791d2805f8187a106e3faf152ed5\";i:2526;s:42:\"pinterest_7357791d2805f8187a106e3faf152ed5\";i:2527;s:41:\"linkedin_7357791d2805f8187a106e3faf152ed5\";i:2528;s:35:\"fb_4aceafd272126b55472d710c51d2dc1b\";i:2529;s:40:\"twitter_4aceafd272126b55472d710c51d2dc1b\";i:2530;s:42:\"pinterest_4aceafd272126b55472d710c51d2dc1b\";i:2531;s:41:\"linkedin_4aceafd272126b55472d710c51d2dc1b\";i:2532;s:35:\"fb_e3f37005f0377e53f0640999e1479e72\";i:2533;s:40:\"twitter_e3f37005f0377e53f0640999e1479e72\";i:2534;s:42:\"pinterest_e3f37005f0377e53f0640999e1479e72\";i:2535;s:41:\"linkedin_e3f37005f0377e53f0640999e1479e72\";i:2536;s:35:\"fb_e50bd23e5c746dfae38232e3e0827e6d\";i:2537;s:40:\"twitter_e50bd23e5c746dfae38232e3e0827e6d\";i:2538;s:42:\"pinterest_e50bd23e5c746dfae38232e3e0827e6d\";i:2539;s:41:\"linkedin_e50bd23e5c746dfae38232e3e0827e6d\";i:2540;s:35:\"fb_ea2306ae4dccca86d29191e094ee19ec\";i:2541;s:40:\"twitter_ea2306ae4dccca86d29191e094ee19ec\";i:2542;s:42:\"pinterest_ea2306ae4dccca86d29191e094ee19ec\";i:2543;s:41:\"linkedin_ea2306ae4dccca86d29191e094ee19ec\";i:2544;s:35:\"fb_60aec0971f95830bc01b5c8e59cc1ab9\";i:2545;s:40:\"twitter_60aec0971f95830bc01b5c8e59cc1ab9\";i:2546;s:42:\"pinterest_60aec0971f95830bc01b5c8e59cc1ab9\";i:2547;s:41:\"linkedin_60aec0971f95830bc01b5c8e59cc1ab9\";i:2548;s:35:\"fb_dafb9a1454f120112a3280408d15e2a0\";i:2549;s:40:\"twitter_dafb9a1454f120112a3280408d15e2a0\";i:2550;s:42:\"pinterest_dafb9a1454f120112a3280408d15e2a0\";i:2551;s:41:\"linkedin_dafb9a1454f120112a3280408d15e2a0\";i:2552;s:35:\"fb_1fd96a76575aa1b5b71f1a10633908b2\";i:2553;s:40:\"twitter_1fd96a76575aa1b5b71f1a10633908b2\";i:2554;s:42:\"pinterest_1fd96a76575aa1b5b71f1a10633908b2\";i:2555;s:41:\"linkedin_1fd96a76575aa1b5b71f1a10633908b2\";i:2556;s:35:\"fb_012e904c1ce6b40062e424d433fa177b\";i:2557;s:40:\"twitter_012e904c1ce6b40062e424d433fa177b\";i:2558;s:42:\"pinterest_012e904c1ce6b40062e424d433fa177b\";i:2559;s:41:\"linkedin_012e904c1ce6b40062e424d433fa177b\";i:2560;s:35:\"fb_ff02d040995df73e1f9baf68e26018ce\";i:2561;s:40:\"twitter_ff02d040995df73e1f9baf68e26018ce\";i:2562;s:42:\"pinterest_ff02d040995df73e1f9baf68e26018ce\";i:2563;s:41:\"linkedin_ff02d040995df73e1f9baf68e26018ce\";i:2564;s:35:\"fb_f5744e9c26ac7bb2bd082e6c57b30cc1\";i:2565;s:40:\"twitter_f5744e9c26ac7bb2bd082e6c57b30cc1\";i:2566;s:42:\"pinterest_f5744e9c26ac7bb2bd082e6c57b30cc1\";i:2567;s:41:\"linkedin_f5744e9c26ac7bb2bd082e6c57b30cc1\";i:2568;s:35:\"fb_eaf605940497daef12f72a9d083cdce7\";i:2569;s:40:\"twitter_eaf605940497daef12f72a9d083cdce7\";i:2570;s:42:\"pinterest_eaf605940497daef12f72a9d083cdce7\";i:2571;s:41:\"linkedin_eaf605940497daef12f72a9d083cdce7\";i:2572;s:35:\"fb_4ad90ef7a76f71f0a6cd15765ebbf75d\";i:2573;s:40:\"twitter_4ad90ef7a76f71f0a6cd15765ebbf75d\";i:2574;s:42:\"pinterest_4ad90ef7a76f71f0a6cd15765ebbf75d\";i:2575;s:41:\"linkedin_4ad90ef7a76f71f0a6cd15765ebbf75d\";i:2576;s:35:\"fb_78babf762b2e3cd0e61142444a4b6723\";i:2577;s:40:\"twitter_78babf762b2e3cd0e61142444a4b6723\";i:2578;s:42:\"pinterest_78babf762b2e3cd0e61142444a4b6723\";i:2579;s:41:\"linkedin_78babf762b2e3cd0e61142444a4b6723\";i:2580;s:35:\"fb_e5e3517b7eb422da3601a99136aec7a8\";i:2581;s:40:\"twitter_e5e3517b7eb422da3601a99136aec7a8\";i:2582;s:42:\"pinterest_e5e3517b7eb422da3601a99136aec7a8\";i:2583;s:41:\"linkedin_e5e3517b7eb422da3601a99136aec7a8\";i:2584;s:35:\"fb_baea83e292a50908c180f4fff98f68ed\";i:2585;s:40:\"twitter_baea83e292a50908c180f4fff98f68ed\";i:2586;s:42:\"pinterest_baea83e292a50908c180f4fff98f68ed\";i:2587;s:41:\"linkedin_baea83e292a50908c180f4fff98f68ed\";i:2588;s:35:\"fb_491493aced89611c39ecb373cfa10d8b\";i:2589;s:40:\"twitter_491493aced89611c39ecb373cfa10d8b\";i:2590;s:42:\"pinterest_491493aced89611c39ecb373cfa10d8b\";i:2591;s:41:\"linkedin_491493aced89611c39ecb373cfa10d8b\";i:2592;s:35:\"fb_def0352f845332c4627bb130a93f9603\";i:2593;s:40:\"twitter_def0352f845332c4627bb130a93f9603\";i:2594;s:42:\"pinterest_def0352f845332c4627bb130a93f9603\";i:2595;s:41:\"linkedin_def0352f845332c4627bb130a93f9603\";i:2596;s:35:\"fb_4b83d91ba7f8a3eaab01f1ff9a9cb9a6\";i:2597;s:40:\"twitter_4b83d91ba7f8a3eaab01f1ff9a9cb9a6\";i:2598;s:42:\"pinterest_4b83d91ba7f8a3eaab01f1ff9a9cb9a6\";i:2599;s:41:\"linkedin_4b83d91ba7f8a3eaab01f1ff9a9cb9a6\";i:2600;s:35:\"fb_4b3a2776d02c1de1edb8e1bbe33c63d1\";i:2601;s:40:\"twitter_4b3a2776d02c1de1edb8e1bbe33c63d1\";i:2602;s:42:\"pinterest_4b3a2776d02c1de1edb8e1bbe33c63d1\";i:2603;s:41:\"linkedin_4b3a2776d02c1de1edb8e1bbe33c63d1\";i:2604;s:35:\"fb_f60f2ff9f5f5eef842efcbcf3404eed0\";i:2605;s:40:\"twitter_f60f2ff9f5f5eef842efcbcf3404eed0\";i:2606;s:42:\"pinterest_f60f2ff9f5f5eef842efcbcf3404eed0\";i:2607;s:41:\"linkedin_f60f2ff9f5f5eef842efcbcf3404eed0\";i:2608;s:35:\"fb_4eb8a048fdc71006ae952cda9d0234af\";i:2609;s:40:\"twitter_4eb8a048fdc71006ae952cda9d0234af\";i:2610;s:42:\"pinterest_4eb8a048fdc71006ae952cda9d0234af\";i:2611;s:41:\"linkedin_4eb8a048fdc71006ae952cda9d0234af\";i:2612;s:35:\"fb_06f925ac43241d6821e4b09c8f42ad7e\";i:2613;s:40:\"twitter_06f925ac43241d6821e4b09c8f42ad7e\";i:2614;s:42:\"pinterest_06f925ac43241d6821e4b09c8f42ad7e\";i:2615;s:41:\"linkedin_06f925ac43241d6821e4b09c8f42ad7e\";i:2616;s:35:\"fb_624f28faa4a49f07feda632edb7dfe16\";i:2617;s:40:\"twitter_624f28faa4a49f07feda632edb7dfe16\";i:2618;s:42:\"pinterest_624f28faa4a49f07feda632edb7dfe16\";i:2619;s:41:\"linkedin_624f28faa4a49f07feda632edb7dfe16\";i:2620;s:35:\"fb_296051d59062bdc3948bae3171a0029f\";i:2621;s:40:\"twitter_296051d59062bdc3948bae3171a0029f\";i:2622;s:42:\"pinterest_296051d59062bdc3948bae3171a0029f\";i:2623;s:41:\"linkedin_296051d59062bdc3948bae3171a0029f\";i:2624;s:35:\"fb_efa3114b4fa2a3ae7e3b5e8594dcec48\";i:2625;s:40:\"twitter_efa3114b4fa2a3ae7e3b5e8594dcec48\";i:2626;s:42:\"pinterest_efa3114b4fa2a3ae7e3b5e8594dcec48\";i:2627;s:41:\"linkedin_efa3114b4fa2a3ae7e3b5e8594dcec48\";i:2628;s:35:\"fb_deeba947f1c4efd9588a4d37f4e3b523\";i:2629;s:40:\"twitter_deeba947f1c4efd9588a4d37f4e3b523\";i:2630;s:42:\"pinterest_deeba947f1c4efd9588a4d37f4e3b523\";i:2631;s:41:\"linkedin_deeba947f1c4efd9588a4d37f4e3b523\";i:2632;s:35:\"fb_cd05fa18c5db1b3ae43f33db3befb6c6\";i:2633;s:40:\"twitter_cd05fa18c5db1b3ae43f33db3befb6c6\";i:2634;s:42:\"pinterest_cd05fa18c5db1b3ae43f33db3befb6c6\";i:2635;s:41:\"linkedin_cd05fa18c5db1b3ae43f33db3befb6c6\";i:2636;s:35:\"fb_357bc01d59c318d72361fced0e56600c\";i:2637;s:40:\"twitter_357bc01d59c318d72361fced0e56600c\";i:2638;s:42:\"pinterest_357bc01d59c318d72361fced0e56600c\";i:2639;s:41:\"linkedin_357bc01d59c318d72361fced0e56600c\";i:2640;s:35:\"fb_5a1f17c769f1f7ef869e5a07c0df6b71\";i:2641;s:40:\"twitter_5a1f17c769f1f7ef869e5a07c0df6b71\";i:2642;s:42:\"pinterest_5a1f17c769f1f7ef869e5a07c0df6b71\";i:2643;s:41:\"linkedin_5a1f17c769f1f7ef869e5a07c0df6b71\";i:2644;s:35:\"fb_bbceadb2369e2aee50f4cc5b697a0b71\";i:2645;s:40:\"twitter_bbceadb2369e2aee50f4cc5b697a0b71\";i:2646;s:42:\"pinterest_bbceadb2369e2aee50f4cc5b697a0b71\";i:2647;s:41:\"linkedin_bbceadb2369e2aee50f4cc5b697a0b71\";i:2648;s:35:\"fb_b1249e3147cb06b04b130612cedfaf9d\";i:2649;s:40:\"twitter_b1249e3147cb06b04b130612cedfaf9d\";i:2650;s:42:\"pinterest_b1249e3147cb06b04b130612cedfaf9d\";i:2651;s:41:\"linkedin_b1249e3147cb06b04b130612cedfaf9d\";i:2652;s:35:\"fb_a348f98ddde0b429fa6d5d14acb615dc\";i:2653;s:40:\"twitter_a348f98ddde0b429fa6d5d14acb615dc\";i:2654;s:42:\"pinterest_a348f98ddde0b429fa6d5d14acb615dc\";i:2655;s:41:\"linkedin_a348f98ddde0b429fa6d5d14acb615dc\";i:2656;s:35:\"fb_5e532711a21e829cb41c44986636e975\";i:2657;s:40:\"twitter_5e532711a21e829cb41c44986636e975\";i:2658;s:42:\"pinterest_5e532711a21e829cb41c44986636e975\";i:2659;s:41:\"linkedin_5e532711a21e829cb41c44986636e975\";i:2660;s:35:\"fb_3200dc6f992068232b7e25d20292416e\";i:2661;s:40:\"twitter_3200dc6f992068232b7e25d20292416e\";i:2662;s:42:\"pinterest_3200dc6f992068232b7e25d20292416e\";i:2663;s:41:\"linkedin_3200dc6f992068232b7e25d20292416e\";i:2664;s:35:\"fb_11ab572306ca3287b53236c175431278\";i:2665;s:40:\"twitter_11ab572306ca3287b53236c175431278\";i:2666;s:42:\"pinterest_11ab572306ca3287b53236c175431278\";i:2667;s:41:\"linkedin_11ab572306ca3287b53236c175431278\";i:2668;s:35:\"fb_2c0ddfa083f500336bb1290fb72ffb98\";i:2669;s:40:\"twitter_2c0ddfa083f500336bb1290fb72ffb98\";i:2670;s:42:\"pinterest_2c0ddfa083f500336bb1290fb72ffb98\";i:2671;s:41:\"linkedin_2c0ddfa083f500336bb1290fb72ffb98\";i:2672;s:35:\"fb_b739eed0771bdced163db838ec2e7418\";i:2673;s:40:\"twitter_b739eed0771bdced163db838ec2e7418\";i:2674;s:42:\"pinterest_b739eed0771bdced163db838ec2e7418\";i:2675;s:35:\"fb_fe8beab3392cbd74b7e41cc7224d8f3a\";i:2676;s:40:\"twitter_fe8beab3392cbd74b7e41cc7224d8f3a\";i:2677;s:42:\"pinterest_fe8beab3392cbd74b7e41cc7224d8f3a\";i:2678;s:41:\"linkedin_fe8beab3392cbd74b7e41cc7224d8f3a\";i:2679;s:35:\"fb_37935902b619f4083ecdf73abd20ef37\";i:2680;s:40:\"twitter_37935902b619f4083ecdf73abd20ef37\";i:2681;s:42:\"pinterest_37935902b619f4083ecdf73abd20ef37\";i:2682;s:41:\"linkedin_37935902b619f4083ecdf73abd20ef37\";i:2683;s:35:\"fb_ce3b3c5cccf7a8f6c3fad8467e392af5\";i:2684;s:40:\"twitter_ce3b3c5cccf7a8f6c3fad8467e392af5\";i:2685;s:42:\"pinterest_ce3b3c5cccf7a8f6c3fad8467e392af5\";i:2686;s:41:\"linkedin_ce3b3c5cccf7a8f6c3fad8467e392af5\";i:2687;s:35:\"fb_9d483358bea92e27e90ff39dadc8b6b5\";i:2688;s:40:\"twitter_9d483358bea92e27e90ff39dadc8b6b5\";i:2689;s:42:\"pinterest_9d483358bea92e27e90ff39dadc8b6b5\";i:2690;s:41:\"linkedin_9d483358bea92e27e90ff39dadc8b6b5\";i:2691;s:35:\"fb_3c223dcb0fdf13574ab3c8e2d2730b9b\";i:2692;s:40:\"twitter_3c223dcb0fdf13574ab3c8e2d2730b9b\";i:2693;s:42:\"pinterest_3c223dcb0fdf13574ab3c8e2d2730b9b\";i:2694;s:41:\"linkedin_3c223dcb0fdf13574ab3c8e2d2730b9b\";i:2695;s:35:\"fb_67d8311c85c59d6bfbd74b09e8dc6ea9\";i:2696;s:40:\"twitter_67d8311c85c59d6bfbd74b09e8dc6ea9\";i:2697;s:42:\"pinterest_67d8311c85c59d6bfbd74b09e8dc6ea9\";i:2698;s:41:\"linkedin_67d8311c85c59d6bfbd74b09e8dc6ea9\";i:2699;s:35:\"fb_da302f7730bc947def7888234459c616\";i:2700;s:40:\"twitter_da302f7730bc947def7888234459c616\";i:2701;s:42:\"pinterest_da302f7730bc947def7888234459c616\";i:2702;s:41:\"linkedin_da302f7730bc947def7888234459c616\";i:2703;s:35:\"fb_45a01c47d1ce37dc394e83ebda853935\";i:2704;s:40:\"twitter_45a01c47d1ce37dc394e83ebda853935\";i:2705;s:42:\"pinterest_45a01c47d1ce37dc394e83ebda853935\";i:2706;s:41:\"linkedin_45a01c47d1ce37dc394e83ebda853935\";i:2707;s:35:\"fb_aa3c3e5bbb1ec48cd81cfff9549d2b04\";i:2708;s:40:\"twitter_aa3c3e5bbb1ec48cd81cfff9549d2b04\";i:2709;s:42:\"pinterest_aa3c3e5bbb1ec48cd81cfff9549d2b04\";i:2710;s:41:\"linkedin_aa3c3e5bbb1ec48cd81cfff9549d2b04\";i:2711;s:35:\"fb_496ff228f7d7f4e085be7f642a57e773\";i:2712;s:40:\"twitter_496ff228f7d7f4e085be7f642a57e773\";i:2713;s:42:\"pinterest_496ff228f7d7f4e085be7f642a57e773\";i:2714;s:41:\"linkedin_496ff228f7d7f4e085be7f642a57e773\";i:2715;s:35:\"fb_e2556ceec274995a558dd34c7f1d236d\";i:2716;s:40:\"twitter_e2556ceec274995a558dd34c7f1d236d\";i:2717;s:42:\"pinterest_e2556ceec274995a558dd34c7f1d236d\";i:2718;s:41:\"linkedin_e2556ceec274995a558dd34c7f1d236d\";i:2719;s:35:\"fb_a93913bf34f9ccecf93ac45297ea0044\";i:2720;s:40:\"twitter_a93913bf34f9ccecf93ac45297ea0044\";i:2721;s:42:\"pinterest_a93913bf34f9ccecf93ac45297ea0044\";i:2722;s:41:\"linkedin_a93913bf34f9ccecf93ac45297ea0044\";i:2723;s:35:\"fb_fd09e91f851d409377e02992f5aa836d\";i:2724;s:40:\"twitter_fd09e91f851d409377e02992f5aa836d\";i:2725;s:42:\"pinterest_fd09e91f851d409377e02992f5aa836d\";i:2726;s:41:\"linkedin_fd09e91f851d409377e02992f5aa836d\";i:2727;s:35:\"fb_41762b145dfba8fee8ca01b46618ffea\";i:2728;s:40:\"twitter_41762b145dfba8fee8ca01b46618ffea\";i:2729;s:42:\"pinterest_41762b145dfba8fee8ca01b46618ffea\";i:2730;s:41:\"linkedin_41762b145dfba8fee8ca01b46618ffea\";i:2731;s:35:\"fb_6e5be460168e750930f438225353e01c\";i:2732;s:40:\"twitter_6e5be460168e750930f438225353e01c\";i:2733;s:42:\"pinterest_6e5be460168e750930f438225353e01c\";i:2734;s:41:\"linkedin_6e5be460168e750930f438225353e01c\";i:2735;s:35:\"fb_901734cc4b8c810fca9e8f0c2d9409fb\";i:2736;s:40:\"twitter_901734cc4b8c810fca9e8f0c2d9409fb\";i:2737;s:42:\"pinterest_901734cc4b8c810fca9e8f0c2d9409fb\";i:2738;s:41:\"linkedin_901734cc4b8c810fca9e8f0c2d9409fb\";i:2739;s:35:\"fb_705b0ab41ceb44d1827b48628e788d91\";i:2740;s:40:\"twitter_705b0ab41ceb44d1827b48628e788d91\";i:2741;s:42:\"pinterest_705b0ab41ceb44d1827b48628e788d91\";i:2742;s:41:\"linkedin_705b0ab41ceb44d1827b48628e788d91\";i:2743;s:35:\"fb_7bf6d502bee2c7ef01e3a6e03743166c\";i:2744;s:40:\"twitter_7bf6d502bee2c7ef01e3a6e03743166c\";i:2745;s:42:\"pinterest_7bf6d502bee2c7ef01e3a6e03743166c\";i:2746;s:41:\"linkedin_7bf6d502bee2c7ef01e3a6e03743166c\";i:2747;s:35:\"fb_7eff64e3f95bc0e86782a153d6fbf293\";i:2748;s:40:\"twitter_7eff64e3f95bc0e86782a153d6fbf293\";i:2749;s:42:\"pinterest_7eff64e3f95bc0e86782a153d6fbf293\";i:2750;s:41:\"linkedin_7eff64e3f95bc0e86782a153d6fbf293\";i:2751;s:35:\"fb_e9a12ef61cf428249b346e303c10cffb\";i:2752;s:40:\"twitter_e9a12ef61cf428249b346e303c10cffb\";i:2753;s:42:\"pinterest_e9a12ef61cf428249b346e303c10cffb\";i:2754;s:41:\"linkedin_e9a12ef61cf428249b346e303c10cffb\";i:2755;s:35:\"fb_ad8090aca104e590790bd245e7bc67ce\";i:2756;s:40:\"twitter_ad8090aca104e590790bd245e7bc67ce\";i:2757;s:42:\"pinterest_ad8090aca104e590790bd245e7bc67ce\";i:2758;s:41:\"linkedin_ad8090aca104e590790bd245e7bc67ce\";i:2759;s:35:\"fb_508e3b71fd815b40074c2d932599a60a\";i:2760;s:40:\"twitter_508e3b71fd815b40074c2d932599a60a\";i:2761;s:42:\"pinterest_508e3b71fd815b40074c2d932599a60a\";i:2762;s:41:\"linkedin_508e3b71fd815b40074c2d932599a60a\";i:2763;s:35:\"fb_65fd89bd588627d0a46b50da1b7a3797\";i:2764;s:40:\"twitter_65fd89bd588627d0a46b50da1b7a3797\";i:2765;s:42:\"pinterest_65fd89bd588627d0a46b50da1b7a3797\";i:2766;s:41:\"linkedin_65fd89bd588627d0a46b50da1b7a3797\";i:2767;s:35:\"fb_f89a623da92edc73cfbbc7a0ea21b6f8\";i:2768;s:40:\"twitter_f89a623da92edc73cfbbc7a0ea21b6f8\";i:2769;s:42:\"pinterest_f89a623da92edc73cfbbc7a0ea21b6f8\";i:2770;s:41:\"linkedin_f89a623da92edc73cfbbc7a0ea21b6f8\";i:2771;s:35:\"fb_ecb21f36f7f5ec25480ee2135e95161c\";i:2772;s:40:\"twitter_ecb21f36f7f5ec25480ee2135e95161c\";i:2773;s:42:\"pinterest_ecb21f36f7f5ec25480ee2135e95161c\";i:2774;s:41:\"linkedin_ecb21f36f7f5ec25480ee2135e95161c\";i:2775;s:35:\"fb_6f5b27881d336f3e567dc33209ba8b9b\";i:2776;s:40:\"twitter_6f5b27881d336f3e567dc33209ba8b9b\";i:2777;s:42:\"pinterest_6f5b27881d336f3e567dc33209ba8b9b\";i:2778;s:41:\"linkedin_6f5b27881d336f3e567dc33209ba8b9b\";i:2779;s:35:\"fb_6ce6f48f857581a719ebd6d7d117d142\";i:2780;s:40:\"twitter_6ce6f48f857581a719ebd6d7d117d142\";i:2781;s:42:\"pinterest_6ce6f48f857581a719ebd6d7d117d142\";i:2782;s:41:\"linkedin_6ce6f48f857581a719ebd6d7d117d142\";i:2783;s:35:\"fb_51f474f8f6b660b684463e96cff7e42d\";i:2784;s:40:\"twitter_51f474f8f6b660b684463e96cff7e42d\";i:2785;s:42:\"pinterest_51f474f8f6b660b684463e96cff7e42d\";i:2786;s:41:\"linkedin_51f474f8f6b660b684463e96cff7e42d\";i:2787;s:35:\"fb_1914bd7d8e997fe33ea26ff34e75cae7\";i:2788;s:40:\"twitter_1914bd7d8e997fe33ea26ff34e75cae7\";i:2789;s:42:\"pinterest_1914bd7d8e997fe33ea26ff34e75cae7\";i:2790;s:41:\"linkedin_1914bd7d8e997fe33ea26ff34e75cae7\";i:2791;s:35:\"fb_f26f3507b29bb9d344358b3e5fb35001\";i:2792;s:40:\"twitter_f26f3507b29bb9d344358b3e5fb35001\";i:2793;s:42:\"pinterest_f26f3507b29bb9d344358b3e5fb35001\";i:2794;s:41:\"linkedin_f26f3507b29bb9d344358b3e5fb35001\";i:2795;s:35:\"fb_6b881c831d693c7d266b1ce3321c467f\";i:2796;s:40:\"twitter_6b881c831d693c7d266b1ce3321c467f\";i:2797;s:42:\"pinterest_6b881c831d693c7d266b1ce3321c467f\";i:2798;s:41:\"linkedin_6b881c831d693c7d266b1ce3321c467f\";i:2799;s:35:\"fb_0dc8ac27d7e0b152be770f90785122c6\";i:2800;s:40:\"twitter_0dc8ac27d7e0b152be770f90785122c6\";i:2801;s:42:\"pinterest_0dc8ac27d7e0b152be770f90785122c6\";i:2802;s:41:\"linkedin_0dc8ac27d7e0b152be770f90785122c6\";i:2803;s:35:\"fb_09cab78a2c9b4d5f3dc30eab02053143\";i:2804;s:40:\"twitter_09cab78a2c9b4d5f3dc30eab02053143\";i:2805;s:42:\"pinterest_09cab78a2c9b4d5f3dc30eab02053143\";i:2806;s:41:\"linkedin_09cab78a2c9b4d5f3dc30eab02053143\";i:2807;s:35:\"fb_8e41ba39f84936b9d8a89ddf0661def3\";i:2808;s:40:\"twitter_8e41ba39f84936b9d8a89ddf0661def3\";i:2809;s:42:\"pinterest_8e41ba39f84936b9d8a89ddf0661def3\";i:2810;s:41:\"linkedin_8e41ba39f84936b9d8a89ddf0661def3\";i:2811;s:35:\"fb_b81e18b4bc08a436e9fef664935d87b5\";i:2812;s:40:\"twitter_b81e18b4bc08a436e9fef664935d87b5\";i:2813;s:42:\"pinterest_b81e18b4bc08a436e9fef664935d87b5\";i:2814;s:41:\"linkedin_b81e18b4bc08a436e9fef664935d87b5\";i:2815;s:35:\"fb_1a7957c17a9c501a9176aa783b79e383\";i:2816;s:40:\"twitter_1a7957c17a9c501a9176aa783b79e383\";i:2817;s:42:\"pinterest_1a7957c17a9c501a9176aa783b79e383\";i:2818;s:41:\"linkedin_1a7957c17a9c501a9176aa783b79e383\";i:2819;s:35:\"fb_af88fbbff16f3c8f1b1a586ef926e12e\";i:2820;s:40:\"twitter_af88fbbff16f3c8f1b1a586ef926e12e\";i:2821;s:42:\"pinterest_af88fbbff16f3c8f1b1a586ef926e12e\";i:2822;s:41:\"linkedin_af88fbbff16f3c8f1b1a586ef926e12e\";i:2823;s:35:\"fb_d469f05d33f0f7b302338b51e187a393\";i:2824;s:40:\"twitter_d469f05d33f0f7b302338b51e187a393\";i:2825;s:42:\"pinterest_d469f05d33f0f7b302338b51e187a393\";i:2826;s:41:\"linkedin_d469f05d33f0f7b302338b51e187a393\";i:2827;s:35:\"fb_8f2daa93523fdd2c6a0e877aa599fe7f\";i:2828;s:40:\"twitter_8f2daa93523fdd2c6a0e877aa599fe7f\";i:2829;s:42:\"pinterest_8f2daa93523fdd2c6a0e877aa599fe7f\";i:2830;s:41:\"linkedin_8f2daa93523fdd2c6a0e877aa599fe7f\";i:2831;s:35:\"fb_e70e91a6e3aa07b330afabe21794a95b\";i:2832;s:40:\"twitter_e70e91a6e3aa07b330afabe21794a95b\";i:2833;s:42:\"pinterest_e70e91a6e3aa07b330afabe21794a95b\";i:2834;s:41:\"linkedin_e70e91a6e3aa07b330afabe21794a95b\";i:2835;s:35:\"fb_addf9a428cd76a2c09f409b3c5ce860d\";i:2836;s:40:\"twitter_addf9a428cd76a2c09f409b3c5ce860d\";i:2837;s:42:\"pinterest_addf9a428cd76a2c09f409b3c5ce860d\";i:2838;s:41:\"linkedin_addf9a428cd76a2c09f409b3c5ce860d\";i:2839;s:35:\"fb_76e54c3d3d70dfdeb71b87b9a8f57784\";i:2840;s:40:\"twitter_76e54c3d3d70dfdeb71b87b9a8f57784\";i:2841;s:42:\"pinterest_76e54c3d3d70dfdeb71b87b9a8f57784\";i:2842;s:41:\"linkedin_76e54c3d3d70dfdeb71b87b9a8f57784\";i:2843;s:35:\"fb_ca0acc8eb5e6f8ae2b9d99e12d1246d9\";i:2844;s:40:\"twitter_ca0acc8eb5e6f8ae2b9d99e12d1246d9\";i:2845;s:42:\"pinterest_ca0acc8eb5e6f8ae2b9d99e12d1246d9\";i:2846;s:41:\"linkedin_ca0acc8eb5e6f8ae2b9d99e12d1246d9\";i:2847;s:35:\"fb_ad669fd2f2527fb2bcc92691977e9fb7\";i:2848;s:40:\"twitter_ad669fd2f2527fb2bcc92691977e9fb7\";i:2849;s:42:\"pinterest_ad669fd2f2527fb2bcc92691977e9fb7\";i:2850;s:41:\"linkedin_ad669fd2f2527fb2bcc92691977e9fb7\";i:2851;s:35:\"fb_751164590a584e258a6d08289a12215c\";i:2852;s:40:\"twitter_751164590a584e258a6d08289a12215c\";i:2853;s:42:\"pinterest_751164590a584e258a6d08289a12215c\";i:2854;s:41:\"linkedin_751164590a584e258a6d08289a12215c\";i:2855;s:35:\"fb_9c182f027c321c25c4135a5f66b802c7\";i:2856;s:40:\"twitter_9c182f027c321c25c4135a5f66b802c7\";i:2857;s:42:\"pinterest_9c182f027c321c25c4135a5f66b802c7\";i:2858;s:35:\"fb_20dbd32e6a522a2278c6d000b42f0371\";i:2859;s:40:\"twitter_20dbd32e6a522a2278c6d000b42f0371\";i:2860;s:42:\"pinterest_20dbd32e6a522a2278c6d000b42f0371\";i:2861;s:41:\"linkedin_20dbd32e6a522a2278c6d000b42f0371\";i:2862;s:35:\"fb_5c39e49550cb91de7cfb8442a966dbda\";i:2863;s:40:\"twitter_5c39e49550cb91de7cfb8442a966dbda\";i:2864;s:42:\"pinterest_5c39e49550cb91de7cfb8442a966dbda\";i:2865;s:41:\"linkedin_5c39e49550cb91de7cfb8442a966dbda\";i:2866;s:35:\"fb_c69ca448e3ecd416cfc6c5b99a0ccf1b\";i:2867;s:40:\"twitter_c69ca448e3ecd416cfc6c5b99a0ccf1b\";i:2868;s:42:\"pinterest_c69ca448e3ecd416cfc6c5b99a0ccf1b\";i:2869;s:41:\"linkedin_c69ca448e3ecd416cfc6c5b99a0ccf1b\";i:2870;s:35:\"fb_3aa68538125dd42523ffe17165f76235\";i:2871;s:40:\"twitter_3aa68538125dd42523ffe17165f76235\";i:2872;s:42:\"pinterest_3aa68538125dd42523ffe17165f76235\";i:2873;s:35:\"fb_c5409b5304352ba2b5d072bd2bda350b\";i:2874;s:40:\"twitter_c5409b5304352ba2b5d072bd2bda350b\";i:2875;s:42:\"pinterest_c5409b5304352ba2b5d072bd2bda350b\";i:2876;s:41:\"linkedin_c5409b5304352ba2b5d072bd2bda350b\";i:2877;s:35:\"fb_e47e72ab97316d332af3dd22782ca851\";i:2878;s:40:\"twitter_e47e72ab97316d332af3dd22782ca851\";i:2879;s:42:\"pinterest_e47e72ab97316d332af3dd22782ca851\";i:2880;s:41:\"linkedin_e47e72ab97316d332af3dd22782ca851\";i:2881;s:35:\"fb_4c3497b24df4d01460d9bc36eac05dcb\";i:2882;s:40:\"twitter_4c3497b24df4d01460d9bc36eac05dcb\";i:2883;s:42:\"pinterest_4c3497b24df4d01460d9bc36eac05dcb\";i:2884;s:41:\"linkedin_4c3497b24df4d01460d9bc36eac05dcb\";i:2885;s:35:\"fb_f3fd5461575a67b007f7396acb9ea80d\";i:2886;s:40:\"twitter_f3fd5461575a67b007f7396acb9ea80d\";i:2887;s:42:\"pinterest_f3fd5461575a67b007f7396acb9ea80d\";i:2888;s:41:\"linkedin_f3fd5461575a67b007f7396acb9ea80d\";i:2889;s:35:\"fb_a3d3f82c427bc60582b681e64cb3194f\";i:2890;s:40:\"twitter_a3d3f82c427bc60582b681e64cb3194f\";i:2891;s:42:\"pinterest_a3d3f82c427bc60582b681e64cb3194f\";i:2892;s:41:\"linkedin_a3d3f82c427bc60582b681e64cb3194f\";i:2893;s:35:\"fb_34d948b43bbc28a0cedba0909aab45fb\";i:2894;s:40:\"twitter_34d948b43bbc28a0cedba0909aab45fb\";i:2895;s:42:\"pinterest_34d948b43bbc28a0cedba0909aab45fb\";i:2896;s:41:\"linkedin_34d948b43bbc28a0cedba0909aab45fb\";i:2897;s:35:\"fb_f0e1bc3bba0a82d819b228d99bb18760\";i:2898;s:40:\"twitter_f0e1bc3bba0a82d819b228d99bb18760\";i:2899;s:42:\"pinterest_f0e1bc3bba0a82d819b228d99bb18760\";i:2900;s:41:\"linkedin_f0e1bc3bba0a82d819b228d99bb18760\";i:2901;s:35:\"fb_385228939abff36f8f157658d7c45b0e\";i:2902;s:40:\"twitter_385228939abff36f8f157658d7c45b0e\";i:2903;s:42:\"pinterest_385228939abff36f8f157658d7c45b0e\";i:2904;s:41:\"linkedin_385228939abff36f8f157658d7c45b0e\";i:2905;s:35:\"fb_597183539f946cd7178edce3efcf36c5\";i:2906;s:40:\"twitter_597183539f946cd7178edce3efcf36c5\";i:2907;s:42:\"pinterest_597183539f946cd7178edce3efcf36c5\";i:2908;s:41:\"linkedin_597183539f946cd7178edce3efcf36c5\";i:2909;s:35:\"fb_e6dd1ce414f3d587a3f95e207d07b044\";i:2910;s:40:\"twitter_e6dd1ce414f3d587a3f95e207d07b044\";i:2911;s:42:\"pinterest_e6dd1ce414f3d587a3f95e207d07b044\";i:2912;s:41:\"linkedin_e6dd1ce414f3d587a3f95e207d07b044\";i:2913;s:35:\"fb_4c3ee78c44f1315f51ba5fbad97fc53b\";i:2914;s:40:\"twitter_4c3ee78c44f1315f51ba5fbad97fc53b\";i:2915;s:42:\"pinterest_4c3ee78c44f1315f51ba5fbad97fc53b\";i:2916;s:41:\"linkedin_4c3ee78c44f1315f51ba5fbad97fc53b\";i:2917;s:35:\"fb_7528b1e5b63e259d540f6b1894db9df2\";i:2918;s:40:\"twitter_7528b1e5b63e259d540f6b1894db9df2\";i:2919;s:42:\"pinterest_7528b1e5b63e259d540f6b1894db9df2\";i:2920;s:41:\"linkedin_7528b1e5b63e259d540f6b1894db9df2\";i:2921;s:35:\"fb_75fa3ff6723e1cef725436f21e2f311d\";i:2922;s:40:\"twitter_75fa3ff6723e1cef725436f21e2f311d\";i:2923;s:42:\"pinterest_75fa3ff6723e1cef725436f21e2f311d\";i:2924;s:41:\"linkedin_75fa3ff6723e1cef725436f21e2f311d\";i:2925;s:35:\"fb_39746fd141e71fb5cf81c9f9cd3de7e5\";i:2926;s:40:\"twitter_39746fd141e71fb5cf81c9f9cd3de7e5\";i:2927;s:42:\"pinterest_39746fd141e71fb5cf81c9f9cd3de7e5\";i:2928;s:41:\"linkedin_39746fd141e71fb5cf81c9f9cd3de7e5\";i:2929;s:35:\"fb_385d11590807136b6cf82eebf03e7e07\";i:2930;s:40:\"twitter_385d11590807136b6cf82eebf03e7e07\";i:2931;s:42:\"pinterest_385d11590807136b6cf82eebf03e7e07\";i:2932;s:41:\"linkedin_385d11590807136b6cf82eebf03e7e07\";i:2933;s:35:\"fb_752839f8fa526686276bf2c5892395d1\";i:2934;s:40:\"twitter_752839f8fa526686276bf2c5892395d1\";i:2935;s:42:\"pinterest_752839f8fa526686276bf2c5892395d1\";i:2936;s:41:\"linkedin_752839f8fa526686276bf2c5892395d1\";i:2937;s:35:\"fb_732b4f4a7ce23f94d38ffcecbd80b47f\";i:2938;s:40:\"twitter_732b4f4a7ce23f94d38ffcecbd80b47f\";i:2939;s:42:\"pinterest_732b4f4a7ce23f94d38ffcecbd80b47f\";i:2940;s:41:\"linkedin_732b4f4a7ce23f94d38ffcecbd80b47f\";i:2941;s:35:\"fb_b9c0a8aa47551baba667424c9ca260e2\";i:2942;s:40:\"twitter_b9c0a8aa47551baba667424c9ca260e2\";i:2943;s:42:\"pinterest_b9c0a8aa47551baba667424c9ca260e2\";i:2944;s:41:\"linkedin_b9c0a8aa47551baba667424c9ca260e2\";i:2945;s:35:\"fb_58263c58a75a2ee47fbaf1cf6e293835\";i:2946;s:40:\"twitter_58263c58a75a2ee47fbaf1cf6e293835\";i:2947;s:42:\"pinterest_58263c58a75a2ee47fbaf1cf6e293835\";i:2948;s:41:\"linkedin_58263c58a75a2ee47fbaf1cf6e293835\";i:2949;s:35:\"fb_c6458bbb9055b02254409237ed0e3dde\";i:2950;s:40:\"twitter_c6458bbb9055b02254409237ed0e3dde\";i:2951;s:42:\"pinterest_c6458bbb9055b02254409237ed0e3dde\";i:2952;s:41:\"linkedin_c6458bbb9055b02254409237ed0e3dde\";i:2953;s:35:\"fb_e241d78dff66a1bc1e7fd40e5f4ea2d0\";i:2954;s:40:\"twitter_e241d78dff66a1bc1e7fd40e5f4ea2d0\";i:2955;s:42:\"pinterest_e241d78dff66a1bc1e7fd40e5f4ea2d0\";i:2956;s:41:\"linkedin_e241d78dff66a1bc1e7fd40e5f4ea2d0\";i:2957;s:35:\"fb_a0cdb4ee56a5d1be0f5fc80537a92dd0\";i:2958;s:40:\"twitter_a0cdb4ee56a5d1be0f5fc80537a92dd0\";i:2959;s:42:\"pinterest_a0cdb4ee56a5d1be0f5fc80537a92dd0\";i:2960;s:41:\"linkedin_a0cdb4ee56a5d1be0f5fc80537a92dd0\";i:2961;s:35:\"fb_56427fdf4e59630710788f3fba437905\";i:2962;s:40:\"twitter_56427fdf4e59630710788f3fba437905\";i:2963;s:42:\"pinterest_56427fdf4e59630710788f3fba437905\";i:2964;s:35:\"fb_a252e8048d5ed6db2552b46e71e01081\";i:2965;s:40:\"twitter_a252e8048d5ed6db2552b46e71e01081\";i:2966;s:42:\"pinterest_a252e8048d5ed6db2552b46e71e01081\";i:2967;s:41:\"linkedin_a252e8048d5ed6db2552b46e71e01081\";i:2968;s:35:\"fb_480f5c07c2be556ee44193629635b7ca\";i:2969;s:40:\"twitter_480f5c07c2be556ee44193629635b7ca\";i:2970;s:42:\"pinterest_480f5c07c2be556ee44193629635b7ca\";i:2971;s:41:\"linkedin_480f5c07c2be556ee44193629635b7ca\";i:2972;s:35:\"fb_12e55fa3b952033afe6181fe7231d05f\";i:2973;s:40:\"twitter_12e55fa3b952033afe6181fe7231d05f\";i:2974;s:42:\"pinterest_12e55fa3b952033afe6181fe7231d05f\";i:2975;s:41:\"linkedin_12e55fa3b952033afe6181fe7231d05f\";i:2976;s:35:\"fb_3d6e2290681e84773190489d856486bd\";i:2977;s:40:\"twitter_3d6e2290681e84773190489d856486bd\";i:2978;s:42:\"pinterest_3d6e2290681e84773190489d856486bd\";i:2979;s:41:\"linkedin_3d6e2290681e84773190489d856486bd\";i:2980;s:35:\"fb_9425ae23074948d8d65dd0081b06ff6d\";i:2981;s:40:\"twitter_9425ae23074948d8d65dd0081b06ff6d\";i:2982;s:42:\"pinterest_9425ae23074948d8d65dd0081b06ff6d\";i:2983;s:41:\"linkedin_9425ae23074948d8d65dd0081b06ff6d\";i:2984;s:35:\"fb_f12bb40d3cadadee2ead9cef66058f04\";i:2985;s:40:\"twitter_f12bb40d3cadadee2ead9cef66058f04\";i:2986;s:42:\"pinterest_f12bb40d3cadadee2ead9cef66058f04\";i:2987;s:41:\"linkedin_f12bb40d3cadadee2ead9cef66058f04\";i:2988;s:35:\"fb_666646cb449c3eb5d7147497d100287d\";i:2989;s:40:\"twitter_666646cb449c3eb5d7147497d100287d\";i:2990;s:42:\"pinterest_666646cb449c3eb5d7147497d100287d\";i:2991;s:41:\"linkedin_666646cb449c3eb5d7147497d100287d\";i:2992;s:35:\"fb_215b8288f8c6a0c41865207b5a8de262\";i:2993;s:40:\"twitter_215b8288f8c6a0c41865207b5a8de262\";i:2994;s:42:\"pinterest_215b8288f8c6a0c41865207b5a8de262\";i:2995;s:41:\"linkedin_215b8288f8c6a0c41865207b5a8de262\";i:2996;s:35:\"fb_d5fb243cb76d26d700c1283c28c8f8be\";i:2997;s:40:\"twitter_d5fb243cb76d26d700c1283c28c8f8be\";i:2998;s:42:\"pinterest_d5fb243cb76d26d700c1283c28c8f8be\";i:2999;s:41:\"linkedin_d5fb243cb76d26d700c1283c28c8f8be\";i:3000;s:35:\"fb_58d7f561d90488c79ab84d2b9ff337f7\";i:3001;s:40:\"twitter_58d7f561d90488c79ab84d2b9ff337f7\";i:3002;s:42:\"pinterest_58d7f561d90488c79ab84d2b9ff337f7\";i:3003;s:35:\"fb_a8f17f4b13be7f5be04ae84638336487\";i:3004;s:40:\"twitter_a8f17f4b13be7f5be04ae84638336487\";i:3005;s:42:\"pinterest_a8f17f4b13be7f5be04ae84638336487\";i:3006;s:41:\"linkedin_a8f17f4b13be7f5be04ae84638336487\";i:3007;s:35:\"fb_1779415917ae4fd997a34b47dde82b4e\";i:3008;s:40:\"twitter_1779415917ae4fd997a34b47dde82b4e\";i:3009;s:42:\"pinterest_1779415917ae4fd997a34b47dde82b4e\";i:3010;s:41:\"linkedin_1779415917ae4fd997a34b47dde82b4e\";i:3011;s:35:\"fb_ce5f48e0d9f43781e79ec7e355686d0f\";i:3012;s:40:\"twitter_ce5f48e0d9f43781e79ec7e355686d0f\";i:3013;s:42:\"pinterest_ce5f48e0d9f43781e79ec7e355686d0f\";i:3014;s:41:\"linkedin_ce5f48e0d9f43781e79ec7e355686d0f\";i:3015;s:35:\"fb_6c10f9b6bbe52e56fd58f3a84236c3e6\";i:3016;s:40:\"twitter_6c10f9b6bbe52e56fd58f3a84236c3e6\";i:3017;s:42:\"pinterest_6c10f9b6bbe52e56fd58f3a84236c3e6\";i:3018;s:41:\"linkedin_6c10f9b6bbe52e56fd58f3a84236c3e6\";i:3019;s:35:\"fb_dca7ca7e4c890b46af8cc5f8c4d3064e\";i:3020;s:40:\"twitter_dca7ca7e4c890b46af8cc5f8c4d3064e\";i:3021;s:42:\"pinterest_dca7ca7e4c890b46af8cc5f8c4d3064e\";i:3022;s:41:\"linkedin_dca7ca7e4c890b46af8cc5f8c4d3064e\";i:3023;s:35:\"fb_6b3e31b14fa930232158682a493b5f34\";i:3024;s:40:\"twitter_6b3e31b14fa930232158682a493b5f34\";i:3025;s:42:\"pinterest_6b3e31b14fa930232158682a493b5f34\";i:3026;s:41:\"linkedin_6b3e31b14fa930232158682a493b5f34\";i:3027;s:35:\"fb_26d902b617d20af412f3b86e0106c425\";i:3028;s:40:\"twitter_26d902b617d20af412f3b86e0106c425\";i:3029;s:42:\"pinterest_26d902b617d20af412f3b86e0106c425\";i:3030;s:41:\"linkedin_26d902b617d20af412f3b86e0106c425\";i:3031;s:35:\"fb_e56f8b7d4b5693387c684ec23de88f31\";i:3032;s:40:\"twitter_e56f8b7d4b5693387c684ec23de88f31\";i:3033;s:42:\"pinterest_e56f8b7d4b5693387c684ec23de88f31\";i:3034;s:41:\"linkedin_e56f8b7d4b5693387c684ec23de88f31\";i:3035;s:35:\"fb_0104349f9a43971886b6bda8f93ff586\";i:3036;s:40:\"twitter_0104349f9a43971886b6bda8f93ff586\";i:3037;s:42:\"pinterest_0104349f9a43971886b6bda8f93ff586\";i:3038;s:41:\"linkedin_0104349f9a43971886b6bda8f93ff586\";i:3039;s:35:\"fb_36f2e888b5cf720c67f20349089417da\";i:3040;s:40:\"twitter_36f2e888b5cf720c67f20349089417da\";i:3041;s:42:\"pinterest_36f2e888b5cf720c67f20349089417da\";i:3042;s:35:\"fb_b73c0207e8c2ef5a99d31fc98b6d9365\";i:3043;s:40:\"twitter_b73c0207e8c2ef5a99d31fc98b6d9365\";i:3044;s:42:\"pinterest_b73c0207e8c2ef5a99d31fc98b6d9365\";i:3045;s:41:\"linkedin_b73c0207e8c2ef5a99d31fc98b6d9365\";i:3046;s:35:\"fb_ccf6a24c7ac717b2dd21aec1736642ca\";i:3047;s:40:\"twitter_ccf6a24c7ac717b2dd21aec1736642ca\";i:3048;s:42:\"pinterest_ccf6a24c7ac717b2dd21aec1736642ca\";i:3049;s:41:\"linkedin_ccf6a24c7ac717b2dd21aec1736642ca\";i:3050;s:35:\"fb_c3df3f2baae14b26ae710593d5ba0cc0\";i:3051;s:40:\"twitter_c3df3f2baae14b26ae710593d5ba0cc0\";i:3052;s:42:\"pinterest_c3df3f2baae14b26ae710593d5ba0cc0\";i:3053;s:41:\"linkedin_c3df3f2baae14b26ae710593d5ba0cc0\";i:3054;s:35:\"fb_b4d9939bac64ec22aa6585a475cc3465\";i:3055;s:40:\"twitter_b4d9939bac64ec22aa6585a475cc3465\";i:3056;s:42:\"pinterest_b4d9939bac64ec22aa6585a475cc3465\";i:3057;s:41:\"linkedin_b4d9939bac64ec22aa6585a475cc3465\";i:3058;s:35:\"fb_6a6f1551c0bc8bf8889ca2d902d470cf\";i:3059;s:40:\"twitter_6a6f1551c0bc8bf8889ca2d902d470cf\";i:3060;s:42:\"pinterest_6a6f1551c0bc8bf8889ca2d902d470cf\";i:3061;s:41:\"linkedin_6a6f1551c0bc8bf8889ca2d902d470cf\";i:3062;s:35:\"fb_f048b60c4418954b250efd746b2eda35\";i:3063;s:40:\"twitter_f048b60c4418954b250efd746b2eda35\";i:3064;s:42:\"pinterest_f048b60c4418954b250efd746b2eda35\";i:3065;s:41:\"linkedin_f048b60c4418954b250efd746b2eda35\";i:3066;s:35:\"fb_587ff7ae6a329e002860eb5d136fb373\";i:3067;s:40:\"twitter_587ff7ae6a329e002860eb5d136fb373\";i:3068;s:42:\"pinterest_587ff7ae6a329e002860eb5d136fb373\";i:3069;s:41:\"linkedin_587ff7ae6a329e002860eb5d136fb373\";i:3070;s:35:\"fb_507e0c35e31d0c02e09a6ba44856ef2f\";i:3071;s:40:\"twitter_507e0c35e31d0c02e09a6ba44856ef2f\";i:3072;s:42:\"pinterest_507e0c35e31d0c02e09a6ba44856ef2f\";i:3073;s:41:\"linkedin_507e0c35e31d0c02e09a6ba44856ef2f\";i:3074;s:35:\"fb_701ee0c2f52fe5663d2cb4e13912246a\";i:3075;s:40:\"twitter_701ee0c2f52fe5663d2cb4e13912246a\";i:3076;s:42:\"pinterest_701ee0c2f52fe5663d2cb4e13912246a\";i:3077;s:41:\"linkedin_701ee0c2f52fe5663d2cb4e13912246a\";i:3078;s:35:\"fb_9b88c3626cfea8dd2698a0e3cb9ca801\";i:3079;s:40:\"twitter_9b88c3626cfea8dd2698a0e3cb9ca801\";i:3080;s:42:\"pinterest_9b88c3626cfea8dd2698a0e3cb9ca801\";i:3081;s:41:\"linkedin_9b88c3626cfea8dd2698a0e3cb9ca801\";i:3082;s:35:\"fb_7f39086d26ee052a5ec8456ce4264ea1\";i:3083;s:40:\"twitter_7f39086d26ee052a5ec8456ce4264ea1\";i:3084;s:42:\"pinterest_7f39086d26ee052a5ec8456ce4264ea1\";i:3085;s:41:\"linkedin_7f39086d26ee052a5ec8456ce4264ea1\";i:3086;s:35:\"fb_03de11a2bc0f895919e128b279f6e0a6\";i:3087;s:40:\"twitter_03de11a2bc0f895919e128b279f6e0a6\";i:3088;s:42:\"pinterest_03de11a2bc0f895919e128b279f6e0a6\";i:3089;s:41:\"linkedin_03de11a2bc0f895919e128b279f6e0a6\";i:3090;s:35:\"fb_f17c653c0884b9fcb7af495430352c75\";i:3091;s:40:\"twitter_f17c653c0884b9fcb7af495430352c75\";i:3092;s:42:\"pinterest_f17c653c0884b9fcb7af495430352c75\";i:3093;s:41:\"linkedin_f17c653c0884b9fcb7af495430352c75\";i:3094;s:35:\"fb_7e2f07c82c82da5ee837f12e49ee6a04\";i:3095;s:40:\"twitter_7e2f07c82c82da5ee837f12e49ee6a04\";i:3096;s:42:\"pinterest_7e2f07c82c82da5ee837f12e49ee6a04\";i:3097;s:41:\"linkedin_7e2f07c82c82da5ee837f12e49ee6a04\";i:3098;s:35:\"fb_b999b424b0e9a705642fd9184ac86db8\";i:3099;s:40:\"twitter_b999b424b0e9a705642fd9184ac86db8\";i:3100;s:42:\"pinterest_b999b424b0e9a705642fd9184ac86db8\";i:3101;s:41:\"linkedin_b999b424b0e9a705642fd9184ac86db8\";i:3102;s:35:\"fb_b20cc13a38749c190c36748cce68badf\";i:3103;s:40:\"twitter_b20cc13a38749c190c36748cce68badf\";i:3104;s:42:\"pinterest_b20cc13a38749c190c36748cce68badf\";i:3105;s:41:\"linkedin_b20cc13a38749c190c36748cce68badf\";i:3106;s:35:\"fb_2f0c70f442deb0ecbfe66640e38671d9\";i:3107;s:40:\"twitter_2f0c70f442deb0ecbfe66640e38671d9\";i:3108;s:42:\"pinterest_2f0c70f442deb0ecbfe66640e38671d9\";i:3109;s:41:\"linkedin_2f0c70f442deb0ecbfe66640e38671d9\";i:3110;s:35:\"fb_71c310a1468d529091725ed59d627461\";i:3111;s:40:\"twitter_71c310a1468d529091725ed59d627461\";i:3112;s:42:\"pinterest_71c310a1468d529091725ed59d627461\";i:3113;s:41:\"linkedin_71c310a1468d529091725ed59d627461\";i:3114;s:35:\"fb_e9bf199cc9c1d48e2636e4467db67db8\";i:3115;s:40:\"twitter_e9bf199cc9c1d48e2636e4467db67db8\";i:3116;s:42:\"pinterest_e9bf199cc9c1d48e2636e4467db67db8\";i:3117;s:41:\"linkedin_e9bf199cc9c1d48e2636e4467db67db8\";i:3118;s:35:\"fb_99ca99bc5c4fcab769e3183e49f85736\";i:3119;s:40:\"twitter_99ca99bc5c4fcab769e3183e49f85736\";i:3120;s:42:\"pinterest_99ca99bc5c4fcab769e3183e49f85736\";i:3121;s:41:\"linkedin_99ca99bc5c4fcab769e3183e49f85736\";i:3122;s:35:\"fb_9cda28ff7ab3618cb35acd8818339fa4\";i:3123;s:40:\"twitter_9cda28ff7ab3618cb35acd8818339fa4\";i:3124;s:42:\"pinterest_9cda28ff7ab3618cb35acd8818339fa4\";i:3125;s:41:\"linkedin_9cda28ff7ab3618cb35acd8818339fa4\";i:3126;s:35:\"fb_3e3a6f58149922713c2801ee08297ba5\";i:3127;s:40:\"twitter_3e3a6f58149922713c2801ee08297ba5\";i:3128;s:42:\"pinterest_3e3a6f58149922713c2801ee08297ba5\";i:3129;s:41:\"linkedin_3e3a6f58149922713c2801ee08297ba5\";i:3130;s:35:\"fb_f3a42794fb6bc3718ee70cee2a6cf574\";i:3131;s:40:\"twitter_f3a42794fb6bc3718ee70cee2a6cf574\";i:3132;s:42:\"pinterest_f3a42794fb6bc3718ee70cee2a6cf574\";i:3133;s:41:\"linkedin_f3a42794fb6bc3718ee70cee2a6cf574\";i:3134;s:35:\"fb_eeeb6e268ba06a78d645c519da13bdd5\";i:3135;s:40:\"twitter_eeeb6e268ba06a78d645c519da13bdd5\";i:3136;s:42:\"pinterest_eeeb6e268ba06a78d645c519da13bdd5\";i:3137;s:41:\"linkedin_eeeb6e268ba06a78d645c519da13bdd5\";i:3138;s:35:\"fb_3e85cb138646377d513114185bf35172\";i:3139;s:40:\"twitter_3e85cb138646377d513114185bf35172\";i:3140;s:42:\"pinterest_3e85cb138646377d513114185bf35172\";i:3141;s:41:\"linkedin_3e85cb138646377d513114185bf35172\";i:3142;s:35:\"fb_b72b66ab2d193e54a677c49e7781a833\";i:3143;s:40:\"twitter_b72b66ab2d193e54a677c49e7781a833\";i:3144;s:42:\"pinterest_b72b66ab2d193e54a677c49e7781a833\";i:3145;s:41:\"linkedin_b72b66ab2d193e54a677c49e7781a833\";i:3146;s:35:\"fb_aa452e9b9dbd70454c5be69dec59e48e\";i:3147;s:40:\"twitter_aa452e9b9dbd70454c5be69dec59e48e\";i:3148;s:42:\"pinterest_aa452e9b9dbd70454c5be69dec59e48e\";i:3149;s:41:\"linkedin_aa452e9b9dbd70454c5be69dec59e48e\";i:3150;s:35:\"fb_064d727cf97175214a50555e0ba85cdd\";i:3151;s:40:\"twitter_064d727cf97175214a50555e0ba85cdd\";i:3152;s:42:\"pinterest_064d727cf97175214a50555e0ba85cdd\";i:3153;s:41:\"linkedin_064d727cf97175214a50555e0ba85cdd\";i:3154;s:35:\"fb_8694a8898f306cf2f719d09b09128152\";i:3155;s:40:\"twitter_8694a8898f306cf2f719d09b09128152\";i:3156;s:42:\"pinterest_8694a8898f306cf2f719d09b09128152\";i:3157;s:41:\"linkedin_8694a8898f306cf2f719d09b09128152\";i:3158;s:35:\"fb_c679c2350d03a533562b00380669a75c\";i:3159;s:40:\"twitter_c679c2350d03a533562b00380669a75c\";i:3160;s:42:\"pinterest_c679c2350d03a533562b00380669a75c\";i:3161;s:41:\"linkedin_c679c2350d03a533562b00380669a75c\";i:3162;s:35:\"fb_e4443e6457b67af8b73a5f2f1677e0a3\";i:3163;s:40:\"twitter_e4443e6457b67af8b73a5f2f1677e0a3\";i:3164;s:42:\"pinterest_e4443e6457b67af8b73a5f2f1677e0a3\";i:3165;s:41:\"linkedin_e4443e6457b67af8b73a5f2f1677e0a3\";i:3166;s:35:\"fb_61041ef165c02a166a0aa5efbda5796c\";i:3167;s:40:\"twitter_61041ef165c02a166a0aa5efbda5796c\";i:3168;s:42:\"pinterest_61041ef165c02a166a0aa5efbda5796c\";i:3169;s:41:\"linkedin_61041ef165c02a166a0aa5efbda5796c\";i:3170;s:35:\"fb_d7db9cf07f75e29a62a337664b66f41e\";i:3171;s:40:\"twitter_d7db9cf07f75e29a62a337664b66f41e\";i:3172;s:42:\"pinterest_d7db9cf07f75e29a62a337664b66f41e\";i:3173;s:41:\"linkedin_d7db9cf07f75e29a62a337664b66f41e\";i:3174;s:35:\"fb_464b8f29126e8c86ee84cde52a19169f\";i:3175;s:40:\"twitter_464b8f29126e8c86ee84cde52a19169f\";i:3176;s:42:\"pinterest_464b8f29126e8c86ee84cde52a19169f\";i:3177;s:41:\"linkedin_464b8f29126e8c86ee84cde52a19169f\";i:3178;s:35:\"fb_91bbcf4bae9da10a46f59d9ee40be37a\";i:3179;s:40:\"twitter_91bbcf4bae9da10a46f59d9ee40be37a\";i:3180;s:42:\"pinterest_91bbcf4bae9da10a46f59d9ee40be37a\";i:3181;s:41:\"linkedin_91bbcf4bae9da10a46f59d9ee40be37a\";i:3182;s:35:\"fb_c46824c7d1fce6d1b4eb957117e3ed85\";i:3183;s:40:\"twitter_c46824c7d1fce6d1b4eb957117e3ed85\";i:3184;s:42:\"pinterest_c46824c7d1fce6d1b4eb957117e3ed85\";i:3185;s:41:\"linkedin_c46824c7d1fce6d1b4eb957117e3ed85\";i:3186;s:35:\"fb_9a4a5b04c750e8e0c1e4021a19fa594e\";i:3187;s:40:\"twitter_9a4a5b04c750e8e0c1e4021a19fa594e\";i:3188;s:42:\"pinterest_9a4a5b04c750e8e0c1e4021a19fa594e\";i:3189;s:41:\"linkedin_9a4a5b04c750e8e0c1e4021a19fa594e\";i:3190;s:35:\"fb_f755b5702af3d96723659a843e33d19c\";i:3191;s:40:\"twitter_f755b5702af3d96723659a843e33d19c\";i:3192;s:42:\"pinterest_f755b5702af3d96723659a843e33d19c\";i:3193;s:41:\"linkedin_f755b5702af3d96723659a843e33d19c\";i:3194;s:35:\"fb_c465b72d01468a7d0d80523135eae1ae\";i:3195;s:40:\"twitter_c465b72d01468a7d0d80523135eae1ae\";i:3196;s:42:\"pinterest_c465b72d01468a7d0d80523135eae1ae\";i:3197;s:41:\"linkedin_c465b72d01468a7d0d80523135eae1ae\";i:3198;s:35:\"fb_781d8bd74db7687169589a3ffe186603\";i:3199;s:40:\"twitter_781d8bd74db7687169589a3ffe186603\";i:3200;s:42:\"pinterest_781d8bd74db7687169589a3ffe186603\";i:3201;s:41:\"linkedin_781d8bd74db7687169589a3ffe186603\";i:3202;s:35:\"fb_9d4a22d23b3ac02f02541b64058f2dae\";i:3203;s:40:\"twitter_9d4a22d23b3ac02f02541b64058f2dae\";i:3204;s:42:\"pinterest_9d4a22d23b3ac02f02541b64058f2dae\";i:3205;s:41:\"linkedin_9d4a22d23b3ac02f02541b64058f2dae\";i:3206;s:35:\"fb_9b2d88a89ca491da28da67b8d78e088d\";i:3207;s:40:\"twitter_9b2d88a89ca491da28da67b8d78e088d\";i:3208;s:42:\"pinterest_9b2d88a89ca491da28da67b8d78e088d\";i:3209;s:41:\"linkedin_9b2d88a89ca491da28da67b8d78e088d\";i:3210;s:35:\"fb_fdec62054c5ede33de999c1d828622eb\";i:3211;s:40:\"twitter_fdec62054c5ede33de999c1d828622eb\";i:3212;s:42:\"pinterest_fdec62054c5ede33de999c1d828622eb\";i:3213;s:41:\"linkedin_fdec62054c5ede33de999c1d828622eb\";i:3214;s:35:\"fb_de24272eecb6ba59a7c6788f233c5e20\";i:3215;s:40:\"twitter_de24272eecb6ba59a7c6788f233c5e20\";i:3216;s:42:\"pinterest_de24272eecb6ba59a7c6788f233c5e20\";i:3217;s:41:\"linkedin_de24272eecb6ba59a7c6788f233c5e20\";i:3218;s:35:\"fb_717bd5112d46e0a5c9eb9d66448a4c4f\";i:3219;s:40:\"twitter_717bd5112d46e0a5c9eb9d66448a4c4f\";i:3220;s:42:\"pinterest_717bd5112d46e0a5c9eb9d66448a4c4f\";i:3221;s:41:\"linkedin_717bd5112d46e0a5c9eb9d66448a4c4f\";i:3222;s:35:\"fb_e76d56037f2732c7e7175980b3c6a012\";i:3223;s:40:\"twitter_e76d56037f2732c7e7175980b3c6a012\";i:3224;s:42:\"pinterest_e76d56037f2732c7e7175980b3c6a012\";i:3225;s:41:\"linkedin_e76d56037f2732c7e7175980b3c6a012\";i:3226;s:35:\"fb_b36785c70e7e3af5206abd2a32bcb44a\";i:3227;s:40:\"twitter_b36785c70e7e3af5206abd2a32bcb44a\";i:3228;s:42:\"pinterest_b36785c70e7e3af5206abd2a32bcb44a\";i:3229;s:41:\"linkedin_b36785c70e7e3af5206abd2a32bcb44a\";i:3230;s:35:\"fb_351e3343bd245774cee18dbe2c1179f0\";i:3231;s:40:\"twitter_351e3343bd245774cee18dbe2c1179f0\";i:3232;s:42:\"pinterest_351e3343bd245774cee18dbe2c1179f0\";i:3233;s:41:\"linkedin_351e3343bd245774cee18dbe2c1179f0\";i:3234;s:35:\"fb_0fc5ba54f0316617644d8dc822b7410c\";i:3235;s:40:\"twitter_0fc5ba54f0316617644d8dc822b7410c\";i:3236;s:42:\"pinterest_0fc5ba54f0316617644d8dc822b7410c\";i:3237;s:41:\"linkedin_0fc5ba54f0316617644d8dc822b7410c\";i:3238;s:35:\"fb_6f771dc3c1a40abad0953db33e87142f\";i:3239;s:40:\"twitter_6f771dc3c1a40abad0953db33e87142f\";i:3240;s:42:\"pinterest_6f771dc3c1a40abad0953db33e87142f\";i:3241;s:41:\"linkedin_6f771dc3c1a40abad0953db33e87142f\";i:3242;s:35:\"fb_9e25d01c84c82f952f5644c84c6d04f8\";i:3243;s:40:\"twitter_9e25d01c84c82f952f5644c84c6d04f8\";i:3244;s:42:\"pinterest_9e25d01c84c82f952f5644c84c6d04f8\";i:3245;s:41:\"linkedin_9e25d01c84c82f952f5644c84c6d04f8\";i:3246;s:35:\"fb_4f98d193cce4f421ae6e675717cd44f9\";i:3247;s:40:\"twitter_4f98d193cce4f421ae6e675717cd44f9\";i:3248;s:42:\"pinterest_4f98d193cce4f421ae6e675717cd44f9\";i:3249;s:41:\"linkedin_4f98d193cce4f421ae6e675717cd44f9\";i:3250;s:35:\"fb_cd5f55625ec2b27f9d775160d32e1079\";i:3251;s:40:\"twitter_cd5f55625ec2b27f9d775160d32e1079\";i:3252;s:42:\"pinterest_cd5f55625ec2b27f9d775160d32e1079\";i:3253;s:41:\"linkedin_cd5f55625ec2b27f9d775160d32e1079\";i:3254;s:35:\"fb_53ade2ceda6ab612baa4972c6ff1941a\";i:3255;s:40:\"twitter_53ade2ceda6ab612baa4972c6ff1941a\";i:3256;s:42:\"pinterest_53ade2ceda6ab612baa4972c6ff1941a\";i:3257;s:41:\"linkedin_53ade2ceda6ab612baa4972c6ff1941a\";i:3258;s:35:\"fb_81f5924e1e16944708edba5a7c062b4f\";i:3259;s:40:\"twitter_81f5924e1e16944708edba5a7c062b4f\";i:3260;s:42:\"pinterest_81f5924e1e16944708edba5a7c062b4f\";i:3261;s:41:\"linkedin_81f5924e1e16944708edba5a7c062b4f\";i:3262;s:35:\"fb_1fd6a8c232a994f9e594ba70248d0288\";i:3263;s:40:\"twitter_1fd6a8c232a994f9e594ba70248d0288\";i:3264;s:42:\"pinterest_1fd6a8c232a994f9e594ba70248d0288\";i:3265;s:41:\"linkedin_1fd6a8c232a994f9e594ba70248d0288\";i:3266;s:35:\"fb_4447854d7afec5d9ae18704f8852dd17\";i:3267;s:40:\"twitter_4447854d7afec5d9ae18704f8852dd17\";i:3268;s:42:\"pinterest_4447854d7afec5d9ae18704f8852dd17\";i:3269;s:41:\"linkedin_4447854d7afec5d9ae18704f8852dd17\";i:3270;s:35:\"fb_965cb6f077cb06c0d0e5ccad9b5b81a7\";i:3271;s:40:\"twitter_965cb6f077cb06c0d0e5ccad9b5b81a7\";i:3272;s:42:\"pinterest_965cb6f077cb06c0d0e5ccad9b5b81a7\";i:3273;s:41:\"linkedin_965cb6f077cb06c0d0e5ccad9b5b81a7\";i:3274;s:35:\"fb_b3a9c1ce2b9103ac6daf37472b238dce\";i:3275;s:40:\"twitter_b3a9c1ce2b9103ac6daf37472b238dce\";i:3276;s:42:\"pinterest_b3a9c1ce2b9103ac6daf37472b238dce\";i:3277;s:41:\"linkedin_b3a9c1ce2b9103ac6daf37472b238dce\";i:3278;s:35:\"fb_e7ec6a8945af182218e573b85a0ddae4\";i:3279;s:40:\"twitter_e7ec6a8945af182218e573b85a0ddae4\";i:3280;s:42:\"pinterest_e7ec6a8945af182218e573b85a0ddae4\";i:3281;s:41:\"linkedin_e7ec6a8945af182218e573b85a0ddae4\";i:3282;s:35:\"fb_0596707189826b2574657715185b0af7\";i:3283;s:40:\"twitter_0596707189826b2574657715185b0af7\";i:3284;s:42:\"pinterest_0596707189826b2574657715185b0af7\";i:3285;s:41:\"linkedin_0596707189826b2574657715185b0af7\";i:3286;s:35:\"fb_02c737221fff64154834f5c940928538\";i:3287;s:35:\"fb_535ddd2ccfcd84a416de9f116156eff5\";i:3288;s:40:\"twitter_535ddd2ccfcd84a416de9f116156eff5\";i:3289;s:42:\"pinterest_535ddd2ccfcd84a416de9f116156eff5\";i:3290;s:41:\"linkedin_535ddd2ccfcd84a416de9f116156eff5\";i:3291;s:35:\"fb_795501de2b0b92e9c1a4af8fb14e4fdf\";i:3292;s:40:\"twitter_795501de2b0b92e9c1a4af8fb14e4fdf\";i:3293;s:42:\"pinterest_795501de2b0b92e9c1a4af8fb14e4fdf\";i:3294;s:41:\"linkedin_795501de2b0b92e9c1a4af8fb14e4fdf\";i:3295;s:35:\"fb_df1064ea97db8001b738612252d29ee5\";i:3296;s:40:\"twitter_df1064ea97db8001b738612252d29ee5\";i:3297;s:42:\"pinterest_df1064ea97db8001b738612252d29ee5\";i:3298;s:35:\"fb_6b21c837f80e266d01b809f89bf47d98\";i:3299;s:40:\"twitter_6b21c837f80e266d01b809f89bf47d98\";i:3300;s:42:\"pinterest_6b21c837f80e266d01b809f89bf47d98\";i:3301;s:41:\"linkedin_6b21c837f80e266d01b809f89bf47d98\";i:3302;s:35:\"fb_46e6131bd00e2403f6caf3069f3510e1\";i:3303;s:40:\"twitter_46e6131bd00e2403f6caf3069f3510e1\";i:3304;s:42:\"pinterest_46e6131bd00e2403f6caf3069f3510e1\";i:3305;s:35:\"fb_dc0dd74c39b72cde69a9dd047751a6c8\";i:3306;s:40:\"twitter_dc0dd74c39b72cde69a9dd047751a6c8\";i:3307;s:42:\"pinterest_dc0dd74c39b72cde69a9dd047751a6c8\";i:3308;s:41:\"linkedin_dc0dd74c39b72cde69a9dd047751a6c8\";i:3309;s:35:\"fb_2477b696f9ad78f767a77096b0147631\";i:3310;s:40:\"twitter_2477b696f9ad78f767a77096b0147631\";i:3311;s:35:\"fb_8c0eeeeb8fa9023f23c1ca9f25305968\";i:3312;s:40:\"twitter_8c0eeeeb8fa9023f23c1ca9f25305968\";i:3313;s:42:\"pinterest_8c0eeeeb8fa9023f23c1ca9f25305968\";i:3314;s:41:\"linkedin_8c0eeeeb8fa9023f23c1ca9f25305968\";i:3315;s:35:\"fb_cb636f83414718e41e9defa0b7ab4e37\";i:3316;s:40:\"twitter_cb636f83414718e41e9defa0b7ab4e37\";i:3317;s:42:\"pinterest_cb636f83414718e41e9defa0b7ab4e37\";i:3318;s:41:\"linkedin_cb636f83414718e41e9defa0b7ab4e37\";i:3319;s:35:\"fb_b668b8fda93d450bc1f96f82bc204929\";i:3320;s:40:\"twitter_b668b8fda93d450bc1f96f82bc204929\";i:3321;s:42:\"pinterest_b668b8fda93d450bc1f96f82bc204929\";i:3322;s:41:\"linkedin_b668b8fda93d450bc1f96f82bc204929\";i:3323;s:35:\"fb_5f9b7ee3a9ff941c96fcb334d21978cb\";i:3324;s:40:\"twitter_5f9b7ee3a9ff941c96fcb334d21978cb\";i:3325;s:42:\"pinterest_5f9b7ee3a9ff941c96fcb334d21978cb\";i:3326;s:41:\"linkedin_5f9b7ee3a9ff941c96fcb334d21978cb\";i:3327;s:35:\"fb_b4d8b7f2acc6da0addc4b94f02b36a5c\";i:3328;s:40:\"twitter_b4d8b7f2acc6da0addc4b94f02b36a5c\";i:3329;s:42:\"pinterest_b4d8b7f2acc6da0addc4b94f02b36a5c\";i:3330;s:41:\"linkedin_b4d8b7f2acc6da0addc4b94f02b36a5c\";i:3331;s:35:\"fb_138ac2f6676602ab5ad9f480a5e015fa\";i:3332;s:40:\"twitter_138ac2f6676602ab5ad9f480a5e015fa\";i:3333;s:42:\"pinterest_138ac2f6676602ab5ad9f480a5e015fa\";i:3334;s:41:\"linkedin_138ac2f6676602ab5ad9f480a5e015fa\";i:3335;s:35:\"fb_4d5b65f4f30b3eb765db841f4c130a23\";i:3336;s:40:\"twitter_4d5b65f4f30b3eb765db841f4c130a23\";i:3337;s:42:\"pinterest_4d5b65f4f30b3eb765db841f4c130a23\";i:3338;s:41:\"linkedin_4d5b65f4f30b3eb765db841f4c130a23\";i:3339;s:35:\"fb_607aaf279bbe9ac92f96bd7fcdf9bb67\";i:3340;s:40:\"twitter_607aaf279bbe9ac92f96bd7fcdf9bb67\";i:3341;s:42:\"pinterest_607aaf279bbe9ac92f96bd7fcdf9bb67\";i:3342;s:41:\"linkedin_607aaf279bbe9ac92f96bd7fcdf9bb67\";i:3343;s:35:\"fb_d88f8379fe9039f17d70518374c87ba6\";i:3344;s:40:\"twitter_d88f8379fe9039f17d70518374c87ba6\";i:3345;s:42:\"pinterest_d88f8379fe9039f17d70518374c87ba6\";i:3346;s:41:\"linkedin_d88f8379fe9039f17d70518374c87ba6\";i:3347;s:35:\"fb_f7c961d9a08e91447aa5284b3e9c390a\";i:3348;s:40:\"twitter_f7c961d9a08e91447aa5284b3e9c390a\";i:3349;s:42:\"pinterest_f7c961d9a08e91447aa5284b3e9c390a\";i:3350;s:41:\"linkedin_f7c961d9a08e91447aa5284b3e9c390a\";i:3351;s:35:\"fb_ae728e3e1a39b86ebb31f74a30190bba\";i:3352;s:40:\"twitter_ae728e3e1a39b86ebb31f74a30190bba\";i:3353;s:42:\"pinterest_ae728e3e1a39b86ebb31f74a30190bba\";i:3354;s:41:\"linkedin_ae728e3e1a39b86ebb31f74a30190bba\";i:3355;s:35:\"fb_e1ddd82df59e92e7dd77ff8978a313ba\";i:3356;s:40:\"twitter_e1ddd82df59e92e7dd77ff8978a313ba\";i:3357;s:42:\"pinterest_e1ddd82df59e92e7dd77ff8978a313ba\";i:3358;s:41:\"linkedin_e1ddd82df59e92e7dd77ff8978a313ba\";i:3359;s:35:\"fb_9a75ed89710be2435d571afbcd03bda5\";i:3360;s:40:\"twitter_9a75ed89710be2435d571afbcd03bda5\";i:3361;s:42:\"pinterest_9a75ed89710be2435d571afbcd03bda5\";i:3362;s:41:\"linkedin_9a75ed89710be2435d571afbcd03bda5\";i:3363;s:35:\"fb_346cb073266800afcd07715646ed62c0\";i:3364;s:40:\"twitter_346cb073266800afcd07715646ed62c0\";i:3365;s:42:\"pinterest_346cb073266800afcd07715646ed62c0\";i:3366;s:41:\"linkedin_346cb073266800afcd07715646ed62c0\";i:3367;s:35:\"fb_d79cc4b64e5ade525742d3a30bb1e3c8\";i:3368;s:40:\"twitter_d79cc4b64e5ade525742d3a30bb1e3c8\";i:3369;s:42:\"pinterest_d79cc4b64e5ade525742d3a30bb1e3c8\";i:3370;s:41:\"linkedin_d79cc4b64e5ade525742d3a30bb1e3c8\";i:3371;s:35:\"fb_a02e644c95e76a942a78a69bf093e8d7\";i:3372;s:40:\"twitter_a02e644c95e76a942a78a69bf093e8d7\";i:3373;s:42:\"pinterest_a02e644c95e76a942a78a69bf093e8d7\";i:3374;s:41:\"linkedin_a02e644c95e76a942a78a69bf093e8d7\";i:3375;s:35:\"fb_0c2547f2d948ba0e38a2314ba64e0000\";i:3376;s:40:\"twitter_0c2547f2d948ba0e38a2314ba64e0000\";i:3377;s:42:\"pinterest_0c2547f2d948ba0e38a2314ba64e0000\";i:3378;s:41:\"linkedin_0c2547f2d948ba0e38a2314ba64e0000\";i:3379;s:35:\"fb_9c48e0346839111475889539c24523df\";i:3380;s:40:\"twitter_9c48e0346839111475889539c24523df\";i:3381;s:42:\"pinterest_9c48e0346839111475889539c24523df\";i:3382;s:41:\"linkedin_9c48e0346839111475889539c24523df\";i:3383;s:35:\"fb_486b3316c2d6bb1d26be625d6954923d\";i:3384;s:40:\"twitter_486b3316c2d6bb1d26be625d6954923d\";i:3385;s:42:\"pinterest_486b3316c2d6bb1d26be625d6954923d\";i:3386;s:41:\"linkedin_486b3316c2d6bb1d26be625d6954923d\";i:3387;s:35:\"fb_00a0cbbf577f29e3a61d36b5280980fe\";i:3388;s:40:\"twitter_00a0cbbf577f29e3a61d36b5280980fe\";i:3389;s:42:\"pinterest_00a0cbbf577f29e3a61d36b5280980fe\";i:3390;s:41:\"linkedin_00a0cbbf577f29e3a61d36b5280980fe\";i:3391;s:35:\"fb_35ce2360ce8f18927fa4568a4b6e66b8\";i:3392;s:40:\"twitter_35ce2360ce8f18927fa4568a4b6e66b8\";i:3393;s:42:\"pinterest_35ce2360ce8f18927fa4568a4b6e66b8\";i:3394;s:41:\"linkedin_35ce2360ce8f18927fa4568a4b6e66b8\";i:3395;s:35:\"fb_df52928b6250e9f4c43be962e4eff91d\";i:3396;s:40:\"twitter_df52928b6250e9f4c43be962e4eff91d\";i:3397;s:42:\"pinterest_df52928b6250e9f4c43be962e4eff91d\";i:3398;s:41:\"linkedin_df52928b6250e9f4c43be962e4eff91d\";i:3399;s:35:\"fb_424434e38b1d4cf547236ed5d9e277ff\";i:3400;s:40:\"twitter_424434e38b1d4cf547236ed5d9e277ff\";i:3401;s:42:\"pinterest_424434e38b1d4cf547236ed5d9e277ff\";i:3402;s:41:\"linkedin_424434e38b1d4cf547236ed5d9e277ff\";i:3403;s:35:\"fb_eae65e380b2807defe0c93c70e235b9e\";i:3404;s:40:\"twitter_eae65e380b2807defe0c93c70e235b9e\";i:3405;s:42:\"pinterest_eae65e380b2807defe0c93c70e235b9e\";i:3406;s:41:\"linkedin_eae65e380b2807defe0c93c70e235b9e\";i:3407;s:35:\"fb_4baf14d92f6afb74d65c6c6b9f5307d5\";i:3408;s:40:\"twitter_4baf14d92f6afb74d65c6c6b9f5307d5\";i:3409;s:42:\"pinterest_4baf14d92f6afb74d65c6c6b9f5307d5\";i:3410;s:41:\"linkedin_4baf14d92f6afb74d65c6c6b9f5307d5\";i:3411;s:35:\"fb_96eb84ccc8d7234a498a53d9992ad8be\";i:3412;s:40:\"twitter_96eb84ccc8d7234a498a53d9992ad8be\";i:3413;s:42:\"pinterest_96eb84ccc8d7234a498a53d9992ad8be\";i:3414;s:41:\"linkedin_96eb84ccc8d7234a498a53d9992ad8be\";i:3415;s:35:\"fb_96c4c8bd2b9701fa4c3d15fdd33ccf3c\";i:3416;s:40:\"twitter_96c4c8bd2b9701fa4c3d15fdd33ccf3c\";i:3417;s:42:\"pinterest_96c4c8bd2b9701fa4c3d15fdd33ccf3c\";i:3418;s:41:\"linkedin_96c4c8bd2b9701fa4c3d15fdd33ccf3c\";i:3419;s:35:\"fb_97a0bb4d1469665a6f1ff00b1f6814e9\";i:3420;s:40:\"twitter_97a0bb4d1469665a6f1ff00b1f6814e9\";i:3421;s:42:\"pinterest_97a0bb4d1469665a6f1ff00b1f6814e9\";i:3422;s:41:\"linkedin_97a0bb4d1469665a6f1ff00b1f6814e9\";i:3423;s:35:\"fb_b320202ed557e22a571c91ed872ff0e8\";i:3424;s:40:\"twitter_b320202ed557e22a571c91ed872ff0e8\";i:3425;s:42:\"pinterest_b320202ed557e22a571c91ed872ff0e8\";i:3426;s:41:\"linkedin_b320202ed557e22a571c91ed872ff0e8\";i:3427;s:35:\"fb_e4329aa74550b9ac12e84a6df01fd35f\";i:3428;s:40:\"twitter_e4329aa74550b9ac12e84a6df01fd35f\";i:3429;s:42:\"pinterest_e4329aa74550b9ac12e84a6df01fd35f\";i:3430;s:41:\"linkedin_e4329aa74550b9ac12e84a6df01fd35f\";i:3431;s:35:\"fb_2268cc1e01f9f75dc75102b2bcdbff8e\";i:3432;s:40:\"twitter_2268cc1e01f9f75dc75102b2bcdbff8e\";i:3433;s:42:\"pinterest_2268cc1e01f9f75dc75102b2bcdbff8e\";i:3434;s:41:\"linkedin_2268cc1e01f9f75dc75102b2bcdbff8e\";i:3435;s:35:\"fb_69388998394696edcef54ee5c5455600\";i:3436;s:40:\"twitter_69388998394696edcef54ee5c5455600\";i:3437;s:42:\"pinterest_69388998394696edcef54ee5c5455600\";i:3438;s:41:\"linkedin_69388998394696edcef54ee5c5455600\";i:3439;s:35:\"fb_030cdcfd182039caceae860d379807fe\";i:3440;s:40:\"twitter_030cdcfd182039caceae860d379807fe\";i:3441;s:42:\"pinterest_030cdcfd182039caceae860d379807fe\";i:3442;s:41:\"linkedin_030cdcfd182039caceae860d379807fe\";i:3443;s:35:\"fb_ab566de6726859c9f63b360479223715\";i:3444;s:40:\"twitter_ab566de6726859c9f63b360479223715\";i:3445;s:42:\"pinterest_ab566de6726859c9f63b360479223715\";i:3446;s:41:\"linkedin_ab566de6726859c9f63b360479223715\";i:3447;s:35:\"fb_dc6988a62bef9059d262c493fcab4ac9\";i:3448;s:40:\"twitter_dc6988a62bef9059d262c493fcab4ac9\";i:3449;s:42:\"pinterest_dc6988a62bef9059d262c493fcab4ac9\";i:3450;s:41:\"linkedin_dc6988a62bef9059d262c493fcab4ac9\";i:3451;s:35:\"fb_0359565aa33c16cd528d360e3bd915c4\";i:3452;s:40:\"twitter_0359565aa33c16cd528d360e3bd915c4\";i:3453;s:42:\"pinterest_0359565aa33c16cd528d360e3bd915c4\";i:3454;s:41:\"linkedin_0359565aa33c16cd528d360e3bd915c4\";i:3455;s:35:\"fb_8bdf562e8f9474cec64d97e0e6a3d0d5\";i:3456;s:40:\"twitter_8bdf562e8f9474cec64d97e0e6a3d0d5\";i:3457;s:42:\"pinterest_8bdf562e8f9474cec64d97e0e6a3d0d5\";i:3458;s:41:\"linkedin_8bdf562e8f9474cec64d97e0e6a3d0d5\";i:3459;s:35:\"fb_2e893fdddd370e837f8100fa9e920fef\";i:3460;s:40:\"twitter_2e893fdddd370e837f8100fa9e920fef\";i:3461;s:42:\"pinterest_2e893fdddd370e837f8100fa9e920fef\";i:3462;s:41:\"linkedin_2e893fdddd370e837f8100fa9e920fef\";i:3463;s:35:\"fb_ec7f44bb2496af885efadee220a36026\";i:3464;s:40:\"twitter_ec7f44bb2496af885efadee220a36026\";i:3465;s:42:\"pinterest_ec7f44bb2496af885efadee220a36026\";i:3466;s:41:\"linkedin_ec7f44bb2496af885efadee220a36026\";i:3467;s:35:\"fb_d3aae49a756c889224e2bf2fc1d21e07\";i:3468;s:40:\"twitter_d3aae49a756c889224e2bf2fc1d21e07\";i:3469;s:42:\"pinterest_d3aae49a756c889224e2bf2fc1d21e07\";i:3470;s:41:\"linkedin_d3aae49a756c889224e2bf2fc1d21e07\";i:3471;s:35:\"fb_117b228c6bee47662c81c3edcd2800be\";i:3472;s:40:\"twitter_117b228c6bee47662c81c3edcd2800be\";i:3473;s:42:\"pinterest_117b228c6bee47662c81c3edcd2800be\";i:3474;s:41:\"linkedin_117b228c6bee47662c81c3edcd2800be\";i:3475;s:35:\"fb_c0cc95501e96073847da506b6c548e9e\";i:3476;s:40:\"twitter_c0cc95501e96073847da506b6c548e9e\";i:3477;s:42:\"pinterest_c0cc95501e96073847da506b6c548e9e\";i:3478;s:41:\"linkedin_c0cc95501e96073847da506b6c548e9e\";i:3479;s:35:\"fb_65d3612bb5162340c16d71f3bca327d0\";i:3480;s:40:\"twitter_65d3612bb5162340c16d71f3bca327d0\";i:3481;s:42:\"pinterest_65d3612bb5162340c16d71f3bca327d0\";i:3482;s:41:\"linkedin_65d3612bb5162340c16d71f3bca327d0\";i:3483;s:35:\"fb_6030a968e7bd8e384ea694592d5a4f42\";i:3484;s:40:\"twitter_6030a968e7bd8e384ea694592d5a4f42\";i:3485;s:42:\"pinterest_6030a968e7bd8e384ea694592d5a4f42\";i:3486;s:41:\"linkedin_6030a968e7bd8e384ea694592d5a4f42\";i:3487;s:35:\"fb_90d3072ebc2f0a9caa2704484376b494\";i:3488;s:40:\"twitter_90d3072ebc2f0a9caa2704484376b494\";i:3489;s:42:\"pinterest_90d3072ebc2f0a9caa2704484376b494\";i:3490;s:41:\"linkedin_90d3072ebc2f0a9caa2704484376b494\";i:3491;s:35:\"fb_d6288f3ef3ec58ca219cb83e9bad1c80\";i:3492;s:40:\"twitter_d6288f3ef3ec58ca219cb83e9bad1c80\";i:3493;s:42:\"pinterest_d6288f3ef3ec58ca219cb83e9bad1c80\";i:3494;s:41:\"linkedin_d6288f3ef3ec58ca219cb83e9bad1c80\";i:3495;s:35:\"fb_008ba4a613c3cc46a290808f1a2dfe9c\";i:3496;s:40:\"twitter_008ba4a613c3cc46a290808f1a2dfe9c\";i:3497;s:42:\"pinterest_008ba4a613c3cc46a290808f1a2dfe9c\";i:3498;s:41:\"linkedin_008ba4a613c3cc46a290808f1a2dfe9c\";i:3499;s:35:\"fb_e5e3afff384121cfeef88d5b672af829\";i:3500;s:40:\"twitter_e5e3afff384121cfeef88d5b672af829\";i:3501;s:42:\"pinterest_e5e3afff384121cfeef88d5b672af829\";i:3502;s:41:\"linkedin_e5e3afff384121cfeef88d5b672af829\";i:3503;s:35:\"fb_728bc86f55e90ad75f1975b89f67a272\";i:3504;s:40:\"twitter_728bc86f55e90ad75f1975b89f67a272\";i:3505;s:42:\"pinterest_728bc86f55e90ad75f1975b89f67a272\";i:3506;s:41:\"linkedin_728bc86f55e90ad75f1975b89f67a272\";i:3507;s:35:\"fb_9de092bf2076d96930a602e13e0607e6\";i:3508;s:40:\"twitter_9de092bf2076d96930a602e13e0607e6\";i:3509;s:42:\"pinterest_9de092bf2076d96930a602e13e0607e6\";i:3510;s:41:\"linkedin_9de092bf2076d96930a602e13e0607e6\";i:3511;s:35:\"fb_c5934f2bc90525637dc8b12585149fe3\";i:3512;s:40:\"twitter_c5934f2bc90525637dc8b12585149fe3\";i:3513;s:42:\"pinterest_c5934f2bc90525637dc8b12585149fe3\";i:3514;s:41:\"linkedin_c5934f2bc90525637dc8b12585149fe3\";i:3515;s:35:\"fb_b8b5887542a35230890249e76fe3ff20\";i:3516;s:40:\"twitter_b8b5887542a35230890249e76fe3ff20\";i:3517;s:42:\"pinterest_b8b5887542a35230890249e76fe3ff20\";i:3518;s:41:\"linkedin_b8b5887542a35230890249e76fe3ff20\";i:3519;s:35:\"fb_53aed93df9cea6ad969a304fd1bcb1bb\";i:3520;s:40:\"twitter_53aed93df9cea6ad969a304fd1bcb1bb\";i:3521;s:42:\"pinterest_53aed93df9cea6ad969a304fd1bcb1bb\";i:3522;s:41:\"linkedin_53aed93df9cea6ad969a304fd1bcb1bb\";i:3523;s:35:\"fb_249cbcff866a1b122951a700c44bd8e1\";i:3524;s:40:\"twitter_249cbcff866a1b122951a700c44bd8e1\";i:3525;s:42:\"pinterest_249cbcff866a1b122951a700c44bd8e1\";i:3526;s:41:\"linkedin_249cbcff866a1b122951a700c44bd8e1\";i:3527;s:35:\"fb_98a1f029acc6e8f271dbedc4f05f988d\";i:3528;s:40:\"twitter_98a1f029acc6e8f271dbedc4f05f988d\";i:3529;s:42:\"pinterest_98a1f029acc6e8f271dbedc4f05f988d\";i:3530;s:41:\"linkedin_98a1f029acc6e8f271dbedc4f05f988d\";i:3531;s:35:\"fb_b6afbb4bde9e74990c62e4b357ad8417\";i:3532;s:40:\"twitter_b6afbb4bde9e74990c62e4b357ad8417\";i:3533;s:42:\"pinterest_b6afbb4bde9e74990c62e4b357ad8417\";i:3534;s:41:\"linkedin_b6afbb4bde9e74990c62e4b357ad8417\";i:3535;s:35:\"fb_4cbac5da389377e2c737649171115859\";i:3536;s:40:\"twitter_4cbac5da389377e2c737649171115859\";i:3537;s:42:\"pinterest_4cbac5da389377e2c737649171115859\";i:3538;s:41:\"linkedin_4cbac5da389377e2c737649171115859\";i:3539;s:35:\"fb_53634f14a47557ac1330c2c18d91cb8b\";i:3540;s:40:\"twitter_53634f14a47557ac1330c2c18d91cb8b\";i:3541;s:42:\"pinterest_53634f14a47557ac1330c2c18d91cb8b\";i:3542;s:41:\"linkedin_53634f14a47557ac1330c2c18d91cb8b\";i:3543;s:35:\"fb_f6ba771dbd6ab6a650c680928117948a\";i:3544;s:40:\"twitter_f6ba771dbd6ab6a650c680928117948a\";i:3545;s:42:\"pinterest_f6ba771dbd6ab6a650c680928117948a\";i:3546;s:41:\"linkedin_f6ba771dbd6ab6a650c680928117948a\";i:3547;s:35:\"fb_a78681efa7f4fc0b815a5cd9c65971e0\";i:3548;s:40:\"twitter_a78681efa7f4fc0b815a5cd9c65971e0\";i:3549;s:42:\"pinterest_a78681efa7f4fc0b815a5cd9c65971e0\";i:3550;s:41:\"linkedin_a78681efa7f4fc0b815a5cd9c65971e0\";i:3551;s:35:\"fb_c27463a3304d5aa1a275711db83e480c\";i:3552;s:40:\"twitter_c27463a3304d5aa1a275711db83e480c\";i:3553;s:42:\"pinterest_c27463a3304d5aa1a275711db83e480c\";i:3554;s:41:\"linkedin_c27463a3304d5aa1a275711db83e480c\";i:3555;s:35:\"fb_89080edffc1f14dbb301c61fa9b22e63\";i:3556;s:40:\"twitter_89080edffc1f14dbb301c61fa9b22e63\";i:3557;s:42:\"pinterest_89080edffc1f14dbb301c61fa9b22e63\";i:3558;s:41:\"linkedin_89080edffc1f14dbb301c61fa9b22e63\";i:3559;s:35:\"fb_43157fe40c8d761fb6de7a2a8ceb37c6\";i:3560;s:40:\"twitter_43157fe40c8d761fb6de7a2a8ceb37c6\";i:3561;s:42:\"pinterest_43157fe40c8d761fb6de7a2a8ceb37c6\";i:3562;s:41:\"linkedin_43157fe40c8d761fb6de7a2a8ceb37c6\";i:3563;s:35:\"fb_c11e4156a85806186f780eb895419bf9\";i:3564;s:40:\"twitter_c11e4156a85806186f780eb895419bf9\";i:3565;s:42:\"pinterest_c11e4156a85806186f780eb895419bf9\";i:3566;s:41:\"linkedin_c11e4156a85806186f780eb895419bf9\";i:3567;s:35:\"fb_1b027b26be7eb33cca3b4873b4733483\";i:3568;s:40:\"twitter_1b027b26be7eb33cca3b4873b4733483\";i:3569;s:42:\"pinterest_1b027b26be7eb33cca3b4873b4733483\";i:3570;s:41:\"linkedin_1b027b26be7eb33cca3b4873b4733483\";i:3571;s:35:\"fb_575621363b3e8911be3b1af6c4e0c414\";i:3572;s:40:\"twitter_575621363b3e8911be3b1af6c4e0c414\";i:3573;s:42:\"pinterest_575621363b3e8911be3b1af6c4e0c414\";i:3574;s:41:\"linkedin_575621363b3e8911be3b1af6c4e0c414\";i:3575;s:35:\"fb_c5784a679f5d38cff5efda8a79566586\";i:3576;s:40:\"twitter_c5784a679f5d38cff5efda8a79566586\";i:3577;s:42:\"pinterest_c5784a679f5d38cff5efda8a79566586\";i:3578;s:41:\"linkedin_c5784a679f5d38cff5efda8a79566586\";i:3579;s:35:\"fb_b5e41623ee6c2cecc6322e580b9c3995\";i:3580;s:40:\"twitter_b5e41623ee6c2cecc6322e580b9c3995\";i:3581;s:42:\"pinterest_b5e41623ee6c2cecc6322e580b9c3995\";i:3582;s:41:\"linkedin_b5e41623ee6c2cecc6322e580b9c3995\";i:3583;s:35:\"fb_9213adcddbde889dd4d055853c9ccf94\";i:3584;s:40:\"twitter_9213adcddbde889dd4d055853c9ccf94\";i:3585;s:42:\"pinterest_9213adcddbde889dd4d055853c9ccf94\";i:3586;s:41:\"linkedin_9213adcddbde889dd4d055853c9ccf94\";i:3587;s:35:\"fb_3c2a190018fb1909b8440505bc91d0b8\";i:3588;s:40:\"twitter_3c2a190018fb1909b8440505bc91d0b8\";i:3589;s:42:\"pinterest_3c2a190018fb1909b8440505bc91d0b8\";i:3590;s:41:\"linkedin_3c2a190018fb1909b8440505bc91d0b8\";i:3591;s:35:\"fb_6e04e346c84d41c2665affc8d173f11a\";i:3592;s:40:\"twitter_6e04e346c84d41c2665affc8d173f11a\";i:3593;s:42:\"pinterest_6e04e346c84d41c2665affc8d173f11a\";i:3594;s:41:\"linkedin_6e04e346c84d41c2665affc8d173f11a\";i:3595;s:35:\"fb_63aaa7b5cd7861127013abefd10f589c\";i:3596;s:40:\"twitter_63aaa7b5cd7861127013abefd10f589c\";i:3597;s:42:\"pinterest_63aaa7b5cd7861127013abefd10f589c\";i:3598;s:41:\"linkedin_63aaa7b5cd7861127013abefd10f589c\";i:3599;s:35:\"fb_e72ccc70b7802e49ceedbbcf83583f41\";i:3600;s:40:\"twitter_e72ccc70b7802e49ceedbbcf83583f41\";i:3601;s:42:\"pinterest_e72ccc70b7802e49ceedbbcf83583f41\";i:3602;s:41:\"linkedin_e72ccc70b7802e49ceedbbcf83583f41\";i:3603;s:35:\"fb_2ff65054151fd453a7ca7679674215c0\";i:3604;s:40:\"twitter_2ff65054151fd453a7ca7679674215c0\";i:3605;s:42:\"pinterest_2ff65054151fd453a7ca7679674215c0\";i:3606;s:41:\"linkedin_2ff65054151fd453a7ca7679674215c0\";i:3607;s:35:\"fb_10ef944ec61d1d66a691ba577ef564da\";i:3608;s:35:\"fb_7cfcefa5d5e026b01a9fc58323a2cb36\";i:3609;s:35:\"fb_8076af3237fad2b2045080f5b1865aaa\";i:3610;s:40:\"twitter_8076af3237fad2b2045080f5b1865aaa\";i:3611;s:42:\"pinterest_8076af3237fad2b2045080f5b1865aaa\";i:3612;s:41:\"linkedin_8076af3237fad2b2045080f5b1865aaa\";i:3613;s:35:\"fb_af56572ddee2b24a4f221da1c2d670cd\";i:3614;s:40:\"twitter_af56572ddee2b24a4f221da1c2d670cd\";i:3615;s:42:\"pinterest_af56572ddee2b24a4f221da1c2d670cd\";i:3616;s:35:\"fb_e03c23fa9858248345ec54dbb5f781e3\";i:3617;s:40:\"twitter_e03c23fa9858248345ec54dbb5f781e3\";i:3618;s:42:\"pinterest_e03c23fa9858248345ec54dbb5f781e3\";i:3619;s:41:\"linkedin_e03c23fa9858248345ec54dbb5f781e3\";i:3620;s:35:\"fb_611fbd3c690267ad487ecb6d149ffad0\";i:3621;s:40:\"twitter_611fbd3c690267ad487ecb6d149ffad0\";i:3622;s:42:\"pinterest_611fbd3c690267ad487ecb6d149ffad0\";i:3623;s:41:\"linkedin_611fbd3c690267ad487ecb6d149ffad0\";i:3624;s:35:\"fb_a06af4c90b353632cec26d66a9210a73\";i:3625;s:40:\"twitter_a06af4c90b353632cec26d66a9210a73\";i:3626;s:42:\"pinterest_a06af4c90b353632cec26d66a9210a73\";i:3627;s:41:\"linkedin_a06af4c90b353632cec26d66a9210a73\";i:3628;s:35:\"fb_75fd896e3a870f30c960210546fd7829\";i:3629;s:40:\"twitter_75fd896e3a870f30c960210546fd7829\";i:3630;s:42:\"pinterest_75fd896e3a870f30c960210546fd7829\";i:3631;s:41:\"linkedin_75fd896e3a870f30c960210546fd7829\";i:3632;s:35:\"fb_fedbe49a89f624c7953277bf397a223e\";i:3633;s:35:\"fb_5af6730f29d0857aefdaf1d339403a07\";i:3634;s:40:\"twitter_5af6730f29d0857aefdaf1d339403a07\";i:3635;s:42:\"pinterest_5af6730f29d0857aefdaf1d339403a07\";i:3636;s:41:\"linkedin_5af6730f29d0857aefdaf1d339403a07\";i:3637;s:35:\"fb_7bc83acf2a129fd10a29d4c60b877ec9\";i:3638;s:40:\"twitter_7bc83acf2a129fd10a29d4c60b877ec9\";i:3639;s:42:\"pinterest_7bc83acf2a129fd10a29d4c60b877ec9\";i:3640;s:41:\"linkedin_7bc83acf2a129fd10a29d4c60b877ec9\";i:3641;s:35:\"fb_1b06e399df5fae93ba7746f99db50ac8\";i:3642;s:40:\"twitter_1b06e399df5fae93ba7746f99db50ac8\";i:3643;s:42:\"pinterest_1b06e399df5fae93ba7746f99db50ac8\";i:3644;s:41:\"linkedin_1b06e399df5fae93ba7746f99db50ac8\";i:3645;s:35:\"fb_a99577c054d469fcfbc0d5b6ecd48dca\";i:3646;s:40:\"twitter_a99577c054d469fcfbc0d5b6ecd48dca\";i:3647;s:42:\"pinterest_a99577c054d469fcfbc0d5b6ecd48dca\";i:3648;s:41:\"linkedin_a99577c054d469fcfbc0d5b6ecd48dca\";i:3649;s:35:\"fb_7946fa8cdee46a2e86b3dce7a96c58b5\";i:3650;s:40:\"twitter_7946fa8cdee46a2e86b3dce7a96c58b5\";i:3651;s:42:\"pinterest_7946fa8cdee46a2e86b3dce7a96c58b5\";i:3652;s:41:\"linkedin_7946fa8cdee46a2e86b3dce7a96c58b5\";i:3653;s:41:\"linkedin_b5e535f91af7d5024d9a909ab35adb5b\";i:3654;s:35:\"fb_875039335510a98556870841b1650bdb\";i:3655;s:40:\"twitter_875039335510a98556870841b1650bdb\";i:3656;s:42:\"pinterest_875039335510a98556870841b1650bdb\";i:3657;s:41:\"linkedin_875039335510a98556870841b1650bdb\";i:3658;s:35:\"fb_e86c8e6a4cca84680d89b94b3d6b8f8e\";i:3659;s:40:\"twitter_e86c8e6a4cca84680d89b94b3d6b8f8e\";i:3660;s:42:\"pinterest_e86c8e6a4cca84680d89b94b3d6b8f8e\";i:3661;s:41:\"linkedin_e86c8e6a4cca84680d89b94b3d6b8f8e\";i:3662;s:35:\"fb_be982373cf4562526db3020b0a5b6869\";i:3663;s:40:\"twitter_be982373cf4562526db3020b0a5b6869\";i:3664;s:42:\"pinterest_be982373cf4562526db3020b0a5b6869\";i:3665;s:41:\"linkedin_be982373cf4562526db3020b0a5b6869\";i:3666;s:35:\"fb_d6e8c82d15495e71b32ed356448962a6\";i:3667;s:40:\"twitter_d6e8c82d15495e71b32ed356448962a6\";i:3668;s:42:\"pinterest_d6e8c82d15495e71b32ed356448962a6\";i:3669;s:41:\"linkedin_d6e8c82d15495e71b32ed356448962a6\";i:3670;s:35:\"fb_0e8a937d6164c00b8f7df7a5c723829b\";i:3671;s:40:\"twitter_0e8a937d6164c00b8f7df7a5c723829b\";i:3672;s:42:\"pinterest_0e8a937d6164c00b8f7df7a5c723829b\";i:3673;s:41:\"linkedin_0e8a937d6164c00b8f7df7a5c723829b\";i:3674;s:35:\"fb_e187e6c9e0ea23c926200f79b9af4e33\";i:3675;s:40:\"twitter_e187e6c9e0ea23c926200f79b9af4e33\";i:3676;s:42:\"pinterest_e187e6c9e0ea23c926200f79b9af4e33\";i:3677;s:41:\"linkedin_e187e6c9e0ea23c926200f79b9af4e33\";i:3678;s:35:\"fb_76b9c65aea9f036a06e6d3fd8918ebd3\";i:3679;s:40:\"twitter_76b9c65aea9f036a06e6d3fd8918ebd3\";i:3680;s:42:\"pinterest_76b9c65aea9f036a06e6d3fd8918ebd3\";i:3681;s:41:\"linkedin_76b9c65aea9f036a06e6d3fd8918ebd3\";i:3682;s:35:\"fb_3877255deb457ff179780f6848eb64db\";i:3683;s:40:\"twitter_3877255deb457ff179780f6848eb64db\";i:3684;s:42:\"pinterest_3877255deb457ff179780f6848eb64db\";i:3685;s:41:\"linkedin_3877255deb457ff179780f6848eb64db\";i:3686;s:35:\"fb_5613af2f3cbfce4058e560d44a018436\";i:3687;s:40:\"twitter_5613af2f3cbfce4058e560d44a018436\";i:3688;s:42:\"pinterest_5613af2f3cbfce4058e560d44a018436\";i:3689;s:41:\"linkedin_5613af2f3cbfce4058e560d44a018436\";i:3690;s:35:\"fb_21fbad92e8377b6cbb85b4f458fa46ed\";i:3691;s:40:\"twitter_21fbad92e8377b6cbb85b4f458fa46ed\";i:3692;s:42:\"pinterest_21fbad92e8377b6cbb85b4f458fa46ed\";i:3693;s:41:\"linkedin_21fbad92e8377b6cbb85b4f458fa46ed\";i:3694;s:35:\"fb_6d1a63900d5745d8ed166dcd8134d029\";i:3695;s:40:\"twitter_6d1a63900d5745d8ed166dcd8134d029\";i:3696;s:42:\"pinterest_6d1a63900d5745d8ed166dcd8134d029\";i:3697;s:41:\"linkedin_6d1a63900d5745d8ed166dcd8134d029\";i:3698;s:35:\"fb_0ba4e7fce88815a39a15409fd7ba03f9\";i:3699;s:40:\"twitter_0ba4e7fce88815a39a15409fd7ba03f9\";i:3700;s:42:\"pinterest_0ba4e7fce88815a39a15409fd7ba03f9\";i:3701;s:41:\"linkedin_0ba4e7fce88815a39a15409fd7ba03f9\";i:3702;s:35:\"fb_039bdaa6a329338ba0635dddb67156d0\";i:3703;s:40:\"twitter_039bdaa6a329338ba0635dddb67156d0\";i:3704;s:42:\"pinterest_039bdaa6a329338ba0635dddb67156d0\";i:3705;s:41:\"linkedin_039bdaa6a329338ba0635dddb67156d0\";i:3706;s:35:\"fb_798c02f2d5373217196134b923129f6b\";i:3707;s:40:\"twitter_798c02f2d5373217196134b923129f6b\";i:3708;s:42:\"pinterest_798c02f2d5373217196134b923129f6b\";i:3709;s:41:\"linkedin_798c02f2d5373217196134b923129f6b\";i:3710;s:35:\"fb_929a235dc11c28c7611eef14795f72b7\";i:3711;s:40:\"twitter_929a235dc11c28c7611eef14795f72b7\";i:3712;s:42:\"pinterest_929a235dc11c28c7611eef14795f72b7\";i:3713;s:41:\"linkedin_929a235dc11c28c7611eef14795f72b7\";i:3714;s:35:\"fb_1e805147d6e02b18e0b3140fe6f5be8c\";i:3715;s:40:\"twitter_1e805147d6e02b18e0b3140fe6f5be8c\";i:3716;s:42:\"pinterest_1e805147d6e02b18e0b3140fe6f5be8c\";i:3717;s:41:\"linkedin_1e805147d6e02b18e0b3140fe6f5be8c\";i:3718;s:35:\"fb_7a7d40309da2db00a9604104af364da5\";i:3719;s:35:\"fb_dfc0d1899c3000cc2ab6cdb14ff503b6\";i:3720;s:40:\"twitter_dfc0d1899c3000cc2ab6cdb14ff503b6\";i:3721;s:42:\"pinterest_dfc0d1899c3000cc2ab6cdb14ff503b6\";i:3722;s:41:\"linkedin_dfc0d1899c3000cc2ab6cdb14ff503b6\";i:3723;s:35:\"fb_53ae50930fe43075f7310efbe9f9ea0e\";i:3724;s:40:\"twitter_53ae50930fe43075f7310efbe9f9ea0e\";i:3725;s:42:\"pinterest_53ae50930fe43075f7310efbe9f9ea0e\";i:3726;s:41:\"linkedin_53ae50930fe43075f7310efbe9f9ea0e\";i:3727;s:35:\"fb_3341260838c675b82918b1eae483fac9\";i:3728;s:40:\"twitter_3341260838c675b82918b1eae483fac9\";i:3729;s:42:\"pinterest_3341260838c675b82918b1eae483fac9\";i:3730;s:41:\"linkedin_3341260838c675b82918b1eae483fac9\";i:3731;s:35:\"fb_d4d3600b07c65350d7e0551daa108e82\";i:3732;s:40:\"twitter_d4d3600b07c65350d7e0551daa108e82\";i:3733;s:42:\"pinterest_d4d3600b07c65350d7e0551daa108e82\";i:3734;s:41:\"linkedin_d4d3600b07c65350d7e0551daa108e82\";i:3735;s:35:\"fb_436b51a774072713a0f0df198162341f\";i:3736;s:40:\"twitter_436b51a774072713a0f0df198162341f\";i:3737;s:42:\"pinterest_436b51a774072713a0f0df198162341f\";i:3738;s:41:\"linkedin_436b51a774072713a0f0df198162341f\";i:3739;s:35:\"fb_829e9dbfde21d6ec729cf88d0b2a73fb\";i:3740;s:40:\"twitter_829e9dbfde21d6ec729cf88d0b2a73fb\";i:3741;s:42:\"pinterest_829e9dbfde21d6ec729cf88d0b2a73fb\";i:3742;s:41:\"linkedin_829e9dbfde21d6ec729cf88d0b2a73fb\";i:3743;s:35:\"fb_ab91acec44b253ddbd6c5049fcb1ee69\";i:3744;s:40:\"twitter_ab91acec44b253ddbd6c5049fcb1ee69\";i:3745;s:42:\"pinterest_ab91acec44b253ddbd6c5049fcb1ee69\";i:3746;s:41:\"linkedin_ab91acec44b253ddbd6c5049fcb1ee69\";i:3747;s:35:\"fb_4c049725bba85739396faa7a2a6fb7f1\";i:3748;s:40:\"twitter_4c049725bba85739396faa7a2a6fb7f1\";i:3749;s:42:\"pinterest_4c049725bba85739396faa7a2a6fb7f1\";i:3750;s:41:\"linkedin_4c049725bba85739396faa7a2a6fb7f1\";i:3751;s:35:\"fb_6dd1261a0e4fbe165071136f09abbe7b\";i:3752;s:40:\"twitter_6dd1261a0e4fbe165071136f09abbe7b\";i:3753;s:42:\"pinterest_6dd1261a0e4fbe165071136f09abbe7b\";i:3754;s:35:\"fb_15ef1a7c534c11d628106c6c49a910ce\";i:3755;s:40:\"twitter_15ef1a7c534c11d628106c6c49a910ce\";i:3756;s:42:\"pinterest_15ef1a7c534c11d628106c6c49a910ce\";i:3757;s:41:\"linkedin_15ef1a7c534c11d628106c6c49a910ce\";i:3758;s:35:\"fb_f6bca2679207d46e2bdc4c58588a08d6\";i:3759;s:40:\"twitter_f6bca2679207d46e2bdc4c58588a08d6\";i:3760;s:42:\"pinterest_f6bca2679207d46e2bdc4c58588a08d6\";i:3761;s:41:\"linkedin_f6bca2679207d46e2bdc4c58588a08d6\";i:3762;s:35:\"fb_ff7653c2a5b6c63c6464198347eef2d8\";i:3763;s:40:\"twitter_ff7653c2a5b6c63c6464198347eef2d8\";i:3764;s:42:\"pinterest_ff7653c2a5b6c63c6464198347eef2d8\";i:3765;s:41:\"linkedin_ff7653c2a5b6c63c6464198347eef2d8\";i:3766;s:35:\"fb_0212cec690db168533953f5be8ce2aa9\";i:3767;s:40:\"twitter_0212cec690db168533953f5be8ce2aa9\";i:3768;s:42:\"pinterest_0212cec690db168533953f5be8ce2aa9\";i:3769;s:41:\"linkedin_0212cec690db168533953f5be8ce2aa9\";i:3770;s:35:\"fb_501d715e62518ff559f34802cb6bd2ce\";i:3771;s:40:\"twitter_501d715e62518ff559f34802cb6bd2ce\";i:3772;s:42:\"pinterest_501d715e62518ff559f34802cb6bd2ce\";i:3773;s:41:\"linkedin_501d715e62518ff559f34802cb6bd2ce\";i:3774;s:35:\"fb_84d5eabaf4c91785d7ec14839832da0c\";i:3775;s:40:\"twitter_84d5eabaf4c91785d7ec14839832da0c\";i:3776;s:42:\"pinterest_84d5eabaf4c91785d7ec14839832da0c\";i:3777;s:41:\"linkedin_84d5eabaf4c91785d7ec14839832da0c\";i:3778;s:35:\"fb_41212a1283a25c3333079c841a540243\";i:3779;s:40:\"twitter_41212a1283a25c3333079c841a540243\";i:3780;s:42:\"pinterest_41212a1283a25c3333079c841a540243\";i:3781;s:41:\"linkedin_41212a1283a25c3333079c841a540243\";i:3782;s:35:\"fb_26339cf7f29652610ac6022e6399709c\";i:3783;s:40:\"twitter_26339cf7f29652610ac6022e6399709c\";i:3784;s:42:\"pinterest_26339cf7f29652610ac6022e6399709c\";i:3785;s:41:\"linkedin_26339cf7f29652610ac6022e6399709c\";i:3786;s:35:\"fb_6b764ee772d261e7494e654bcb8393e6\";i:3787;s:40:\"twitter_6b764ee772d261e7494e654bcb8393e6\";i:3788;s:42:\"pinterest_6b764ee772d261e7494e654bcb8393e6\";i:3789;s:41:\"linkedin_6b764ee772d261e7494e654bcb8393e6\";i:3790;s:35:\"fb_686abfca254abb0e40235e6f4fae5655\";i:3791;s:40:\"twitter_686abfca254abb0e40235e6f4fae5655\";i:3792;s:42:\"pinterest_686abfca254abb0e40235e6f4fae5655\";i:3793;s:41:\"linkedin_686abfca254abb0e40235e6f4fae5655\";i:3794;s:35:\"fb_027dc2b07f0d9021ff7672feba3a73a6\";i:3795;s:40:\"twitter_027dc2b07f0d9021ff7672feba3a73a6\";i:3796;s:42:\"pinterest_027dc2b07f0d9021ff7672feba3a73a6\";i:3797;s:41:\"linkedin_027dc2b07f0d9021ff7672feba3a73a6\";i:3798;s:35:\"fb_9b353d59e72a7fd31d1958a52b8e06b8\";i:3799;s:40:\"twitter_9b353d59e72a7fd31d1958a52b8e06b8\";i:3800;s:42:\"pinterest_9b353d59e72a7fd31d1958a52b8e06b8\";i:3801;s:41:\"linkedin_9b353d59e72a7fd31d1958a52b8e06b8\";i:3802;s:35:\"fb_a4b6fea7639c6df6596921f032298a43\";i:3803;s:40:\"twitter_a4b6fea7639c6df6596921f032298a43\";i:3804;s:42:\"pinterest_a4b6fea7639c6df6596921f032298a43\";i:3805;s:41:\"linkedin_a4b6fea7639c6df6596921f032298a43\";i:3806;s:35:\"fb_409041933586172324aad502e9b9a6d1\";i:3807;s:40:\"twitter_409041933586172324aad502e9b9a6d1\";i:3808;s:42:\"pinterest_409041933586172324aad502e9b9a6d1\";i:3809;s:41:\"linkedin_409041933586172324aad502e9b9a6d1\";i:3810;s:35:\"fb_fdff53cbde823603279efce0e496a8be\";i:3811;s:40:\"twitter_fdff53cbde823603279efce0e496a8be\";i:3812;s:42:\"pinterest_fdff53cbde823603279efce0e496a8be\";i:3813;s:41:\"linkedin_fdff53cbde823603279efce0e496a8be\";i:3814;s:35:\"fb_1e136bad71682009d39a7ca7833d0b6b\";i:3815;s:40:\"twitter_1e136bad71682009d39a7ca7833d0b6b\";i:3816;s:42:\"pinterest_1e136bad71682009d39a7ca7833d0b6b\";i:3817;s:41:\"linkedin_1e136bad71682009d39a7ca7833d0b6b\";i:3818;s:35:\"fb_81d1e8b268dd95bc0f5f2046fa2c77f3\";i:3819;s:40:\"twitter_81d1e8b268dd95bc0f5f2046fa2c77f3\";i:3820;s:42:\"pinterest_81d1e8b268dd95bc0f5f2046fa2c77f3\";i:3821;s:41:\"linkedin_81d1e8b268dd95bc0f5f2046fa2c77f3\";i:3822;s:35:\"fb_fc7be200e9870eebdba38dd5a9eff170\";i:3823;s:40:\"twitter_fc7be200e9870eebdba38dd5a9eff170\";i:3824;s:42:\"pinterest_fc7be200e9870eebdba38dd5a9eff170\";i:3825;s:41:\"linkedin_fc7be200e9870eebdba38dd5a9eff170\";i:3826;s:35:\"fb_2c285751bf5df073d8846d6d239a714e\";i:3827;s:40:\"twitter_2c285751bf5df073d8846d6d239a714e\";i:3828;s:42:\"pinterest_2c285751bf5df073d8846d6d239a714e\";i:3829;s:41:\"linkedin_2c285751bf5df073d8846d6d239a714e\";i:3830;s:35:\"fb_c2322808c4c20b3e5ff667b233f90cbb\";i:3831;s:40:\"twitter_c2322808c4c20b3e5ff667b233f90cbb\";i:3832;s:42:\"pinterest_c2322808c4c20b3e5ff667b233f90cbb\";i:3833;s:41:\"linkedin_c2322808c4c20b3e5ff667b233f90cbb\";i:3834;s:35:\"fb_9e6ba8ea997336b0948071ee9e6d116f\";i:3835;s:40:\"twitter_9e6ba8ea997336b0948071ee9e6d116f\";i:3836;s:42:\"pinterest_9e6ba8ea997336b0948071ee9e6d116f\";i:3837;s:41:\"linkedin_9e6ba8ea997336b0948071ee9e6d116f\";i:3838;s:35:\"fb_c7ad76ef1facb9ac6b0ac35cf3e4c9b9\";i:3839;s:40:\"twitter_c7ad76ef1facb9ac6b0ac35cf3e4c9b9\";i:3840;s:42:\"pinterest_c7ad76ef1facb9ac6b0ac35cf3e4c9b9\";i:3841;s:41:\"linkedin_c7ad76ef1facb9ac6b0ac35cf3e4c9b9\";i:3842;s:35:\"fb_27b7132c12697a8d9f244e4aa9a31f3e\";i:3843;s:40:\"twitter_27b7132c12697a8d9f244e4aa9a31f3e\";i:3844;s:42:\"pinterest_27b7132c12697a8d9f244e4aa9a31f3e\";i:3845;s:41:\"linkedin_27b7132c12697a8d9f244e4aa9a31f3e\";i:3846;s:35:\"fb_88b262dfd72370f8bf7ebda1088e18ec\";i:3847;s:40:\"twitter_88b262dfd72370f8bf7ebda1088e18ec\";i:3848;s:42:\"pinterest_88b262dfd72370f8bf7ebda1088e18ec\";i:3849;s:41:\"linkedin_88b262dfd72370f8bf7ebda1088e18ec\";i:3850;s:35:\"fb_0a883243ee284c156178fd4400b4b234\";i:3851;s:40:\"twitter_0a883243ee284c156178fd4400b4b234\";i:3852;s:42:\"pinterest_0a883243ee284c156178fd4400b4b234\";i:3853;s:41:\"linkedin_0a883243ee284c156178fd4400b4b234\";i:3854;s:35:\"fb_5a890b611353bea3b51eaf53dd3648f1\";i:3855;s:40:\"twitter_5a890b611353bea3b51eaf53dd3648f1\";i:3856;s:42:\"pinterest_5a890b611353bea3b51eaf53dd3648f1\";i:3857;s:41:\"linkedin_5a890b611353bea3b51eaf53dd3648f1\";i:3858;s:35:\"fb_48d61a076b21364f861a3ee2a070611c\";i:3859;s:40:\"twitter_48d61a076b21364f861a3ee2a070611c\";i:3860;s:42:\"pinterest_48d61a076b21364f861a3ee2a070611c\";i:3861;s:41:\"linkedin_48d61a076b21364f861a3ee2a070611c\";i:3862;s:41:\"linkedin_8718de05bfe26a3b84dcde36b1223b1a\";i:3863;s:35:\"fb_14ee99948e9c6a3829335023b34c560a\";i:3864;s:40:\"twitter_14ee99948e9c6a3829335023b34c560a\";i:3865;s:42:\"pinterest_14ee99948e9c6a3829335023b34c560a\";i:3866;s:41:\"linkedin_14ee99948e9c6a3829335023b34c560a\";i:3867;s:35:\"fb_674c3e132c7db092c209486a53367957\";i:3868;s:40:\"twitter_674c3e132c7db092c209486a53367957\";i:3869;s:42:\"pinterest_674c3e132c7db092c209486a53367957\";i:3870;s:41:\"linkedin_674c3e132c7db092c209486a53367957\";i:3871;s:35:\"fb_bb8ec8989accb2cef1b40f4ccff7ce52\";i:3872;s:40:\"twitter_bb8ec8989accb2cef1b40f4ccff7ce52\";i:3873;s:42:\"pinterest_bb8ec8989accb2cef1b40f4ccff7ce52\";i:3874;s:41:\"linkedin_bb8ec8989accb2cef1b40f4ccff7ce52\";i:3875;s:35:\"fb_df08557a70223f8e9768bfe15bd15bd9\";i:3876;s:40:\"twitter_df08557a70223f8e9768bfe15bd15bd9\";i:3877;s:42:\"pinterest_df08557a70223f8e9768bfe15bd15bd9\";i:3878;s:41:\"linkedin_df08557a70223f8e9768bfe15bd15bd9\";i:3879;s:35:\"fb_925b98bd46e5529bd184283cd1cfdcaa\";i:3880;s:40:\"twitter_925b98bd46e5529bd184283cd1cfdcaa\";i:3881;s:42:\"pinterest_925b98bd46e5529bd184283cd1cfdcaa\";i:3882;s:41:\"linkedin_925b98bd46e5529bd184283cd1cfdcaa\";i:3883;s:35:\"fb_eba402a581fb65937077e55668561f63\";i:3884;s:40:\"twitter_eba402a581fb65937077e55668561f63\";i:3885;s:42:\"pinterest_eba402a581fb65937077e55668561f63\";i:3886;s:41:\"linkedin_eba402a581fb65937077e55668561f63\";i:3887;s:35:\"fb_861bd7e258891fab16e7c658bc0397e1\";i:3888;s:40:\"twitter_861bd7e258891fab16e7c658bc0397e1\";i:3889;s:42:\"pinterest_861bd7e258891fab16e7c658bc0397e1\";i:3890;s:35:\"fb_5b89bc3dc3b8b7f17c800b75939d24c3\";i:3891;s:40:\"twitter_5b89bc3dc3b8b7f17c800b75939d24c3\";i:3892;s:42:\"pinterest_5b89bc3dc3b8b7f17c800b75939d24c3\";i:3893;s:41:\"linkedin_5b89bc3dc3b8b7f17c800b75939d24c3\";i:3894;s:35:\"fb_238e276519cfa94a26b93237be3f9ac1\";i:3895;s:40:\"twitter_238e276519cfa94a26b93237be3f9ac1\";i:3896;s:42:\"pinterest_238e276519cfa94a26b93237be3f9ac1\";i:3897;s:41:\"linkedin_238e276519cfa94a26b93237be3f9ac1\";i:3898;s:35:\"fb_31f12d0f213dea791aba4e77cab6114a\";i:3899;s:40:\"twitter_31f12d0f213dea791aba4e77cab6114a\";i:3900;s:35:\"fb_6c627ab7ad79663b03ab1167e9f7cac0\";i:3901;s:40:\"twitter_6c627ab7ad79663b03ab1167e9f7cac0\";i:3902;s:42:\"pinterest_6c627ab7ad79663b03ab1167e9f7cac0\";i:3903;s:41:\"linkedin_6c627ab7ad79663b03ab1167e9f7cac0\";i:3904;s:35:\"fb_95be5ea25c97e2f413dd2e64da940748\";i:3905;s:40:\"twitter_95be5ea25c97e2f413dd2e64da940748\";i:3906;s:42:\"pinterest_95be5ea25c97e2f413dd2e64da940748\";i:3907;s:41:\"linkedin_95be5ea25c97e2f413dd2e64da940748\";i:3908;s:35:\"fb_2a29dc96414693912adbaf5397e07bf6\";i:3909;s:40:\"twitter_2a29dc96414693912adbaf5397e07bf6\";i:3910;s:42:\"pinterest_2a29dc96414693912adbaf5397e07bf6\";i:3911;s:41:\"linkedin_2a29dc96414693912adbaf5397e07bf6\";i:3912;s:35:\"fb_bb76b6d5d722d41742f47321ac41acb8\";i:3913;s:40:\"twitter_bb76b6d5d722d41742f47321ac41acb8\";i:3914;s:42:\"pinterest_bb76b6d5d722d41742f47321ac41acb8\";i:3915;s:41:\"linkedin_bb76b6d5d722d41742f47321ac41acb8\";i:3916;s:35:\"fb_9b9d59848197b54dd19f3523187cd75a\";i:3917;s:40:\"twitter_9b9d59848197b54dd19f3523187cd75a\";i:3918;s:42:\"pinterest_9b9d59848197b54dd19f3523187cd75a\";i:3919;s:41:\"linkedin_9b9d59848197b54dd19f3523187cd75a\";i:3920;s:35:\"fb_faad6d68ec0e89ea3a12aedeea628eb9\";i:3921;s:40:\"twitter_faad6d68ec0e89ea3a12aedeea628eb9\";i:3922;s:42:\"pinterest_faad6d68ec0e89ea3a12aedeea628eb9\";i:3923;s:41:\"linkedin_faad6d68ec0e89ea3a12aedeea628eb9\";i:3924;s:35:\"fb_a4ca9997ca659bf447b6fd11e3b558bb\";i:3925;s:40:\"twitter_a4ca9997ca659bf447b6fd11e3b558bb\";i:3926;s:42:\"pinterest_a4ca9997ca659bf447b6fd11e3b558bb\";i:3927;s:41:\"linkedin_a4ca9997ca659bf447b6fd11e3b558bb\";i:3928;s:35:\"fb_85b94664b275ec31e3a4377df86509c2\";i:3929;s:40:\"twitter_85b94664b275ec31e3a4377df86509c2\";i:3930;s:42:\"pinterest_85b94664b275ec31e3a4377df86509c2\";i:3931;s:41:\"linkedin_85b94664b275ec31e3a4377df86509c2\";i:3932;s:35:\"fb_18ac0e4b593634bc4ec49d0d683b0a2a\";i:3933;s:40:\"twitter_18ac0e4b593634bc4ec49d0d683b0a2a\";i:3934;s:42:\"pinterest_18ac0e4b593634bc4ec49d0d683b0a2a\";i:3935;s:41:\"linkedin_18ac0e4b593634bc4ec49d0d683b0a2a\";i:3936;s:35:\"fb_604c3d25989c1b8aa89164d65ab52dda\";i:3937;s:40:\"twitter_604c3d25989c1b8aa89164d65ab52dda\";i:3938;s:42:\"pinterest_604c3d25989c1b8aa89164d65ab52dda\";i:3939;s:41:\"linkedin_604c3d25989c1b8aa89164d65ab52dda\";i:3940;s:35:\"fb_1f2c473c6dc70c2062fa937269a2c408\";i:3941;s:40:\"twitter_1f2c473c6dc70c2062fa937269a2c408\";i:3942;s:42:\"pinterest_1f2c473c6dc70c2062fa937269a2c408\";i:3943;s:41:\"linkedin_1f2c473c6dc70c2062fa937269a2c408\";i:3944;s:35:\"fb_6a9e776f121fc5aa3545a85f01c10698\";i:3945;s:40:\"twitter_6a9e776f121fc5aa3545a85f01c10698\";i:3946;s:42:\"pinterest_6a9e776f121fc5aa3545a85f01c10698\";i:3947;s:41:\"linkedin_6a9e776f121fc5aa3545a85f01c10698\";i:3948;s:35:\"fb_5b15f329e258146920cb97a2e0a30b60\";i:3949;s:40:\"twitter_5b15f329e258146920cb97a2e0a30b60\";i:3950;s:42:\"pinterest_5b15f329e258146920cb97a2e0a30b60\";i:3951;s:41:\"linkedin_5b15f329e258146920cb97a2e0a30b60\";i:3952;s:35:\"fb_4039854284568c1a9e181b139cbb13c6\";i:3953;s:40:\"twitter_4039854284568c1a9e181b139cbb13c6\";i:3954;s:42:\"pinterest_4039854284568c1a9e181b139cbb13c6\";i:3955;s:41:\"linkedin_4039854284568c1a9e181b139cbb13c6\";i:3956;s:35:\"fb_0e3360296aa5d26cfb1ff4e44ae02f5c\";i:3957;s:40:\"twitter_0e3360296aa5d26cfb1ff4e44ae02f5c\";i:3958;s:42:\"pinterest_0e3360296aa5d26cfb1ff4e44ae02f5c\";i:3959;s:41:\"linkedin_0e3360296aa5d26cfb1ff4e44ae02f5c\";i:3960;s:35:\"fb_8ccfe813fd937d53c5ee0736fb8b6262\";i:3961;s:40:\"twitter_8ccfe813fd937d53c5ee0736fb8b6262\";i:3962;s:42:\"pinterest_8ccfe813fd937d53c5ee0736fb8b6262\";i:3963;s:41:\"linkedin_8ccfe813fd937d53c5ee0736fb8b6262\";i:3964;s:35:\"fb_a865c9eabb7fe200846b3c78f25b1351\";i:3965;s:40:\"twitter_a865c9eabb7fe200846b3c78f25b1351\";i:3966;s:42:\"pinterest_a865c9eabb7fe200846b3c78f25b1351\";i:3967;s:41:\"linkedin_a865c9eabb7fe200846b3c78f25b1351\";i:3968;s:35:\"fb_01b8fb9876aea059872d7bf19b73ecf7\";i:3969;s:40:\"twitter_01b8fb9876aea059872d7bf19b73ecf7\";i:3970;s:42:\"pinterest_01b8fb9876aea059872d7bf19b73ecf7\";i:3971;s:41:\"linkedin_01b8fb9876aea059872d7bf19b73ecf7\";i:3972;s:35:\"fb_c57023fcabf64fb2929f0af9febebd50\";i:3973;s:40:\"twitter_c57023fcabf64fb2929f0af9febebd50\";i:3974;s:42:\"pinterest_c57023fcabf64fb2929f0af9febebd50\";i:3975;s:41:\"linkedin_c57023fcabf64fb2929f0af9febebd50\";i:3976;s:35:\"fb_bf10c099a9bf71690508c88a1a3484b1\";i:3977;s:40:\"twitter_bf10c099a9bf71690508c88a1a3484b1\";i:3978;s:42:\"pinterest_bf10c099a9bf71690508c88a1a3484b1\";i:3979;s:41:\"linkedin_bf10c099a9bf71690508c88a1a3484b1\";i:3980;s:35:\"fb_9973e0a62cc52f8e04d89fbde8bec282\";i:3981;s:40:\"twitter_9973e0a62cc52f8e04d89fbde8bec282\";i:3982;s:42:\"pinterest_9973e0a62cc52f8e04d89fbde8bec282\";i:3983;s:41:\"linkedin_9973e0a62cc52f8e04d89fbde8bec282\";i:3984;s:35:\"fb_15efbdda9a985fb1ff86a9891d401b67\";i:3985;s:40:\"twitter_15efbdda9a985fb1ff86a9891d401b67\";i:3986;s:42:\"pinterest_15efbdda9a985fb1ff86a9891d401b67\";i:3987;s:41:\"linkedin_15efbdda9a985fb1ff86a9891d401b67\";i:3988;s:35:\"fb_4248f42b5ad2f0768f38d0ed23998fb6\";i:3989;s:40:\"twitter_4248f42b5ad2f0768f38d0ed23998fb6\";i:3990;s:42:\"pinterest_4248f42b5ad2f0768f38d0ed23998fb6\";i:3991;s:41:\"linkedin_4248f42b5ad2f0768f38d0ed23998fb6\";i:3992;s:35:\"fb_5e6dded3bc7787981608a42643cf10c5\";i:3993;s:40:\"twitter_5e6dded3bc7787981608a42643cf10c5\";i:3994;s:42:\"pinterest_5e6dded3bc7787981608a42643cf10c5\";i:3995;s:41:\"linkedin_5e6dded3bc7787981608a42643cf10c5\";i:3996;s:35:\"fb_e9f36b314c7fe57ef7797b4ecfd33fd7\";i:3997;s:40:\"twitter_e9f36b314c7fe57ef7797b4ecfd33fd7\";i:3998;s:42:\"pinterest_e9f36b314c7fe57ef7797b4ecfd33fd7\";i:3999;s:41:\"linkedin_e9f36b314c7fe57ef7797b4ecfd33fd7\";i:4000;s:35:\"fb_ab2273325c4dac3a41d7889d6430eb6d\";i:4001;s:40:\"twitter_ab2273325c4dac3a41d7889d6430eb6d\";i:4002;s:42:\"pinterest_ab2273325c4dac3a41d7889d6430eb6d\";i:4003;s:41:\"linkedin_ab2273325c4dac3a41d7889d6430eb6d\";i:4004;s:35:\"fb_bbfdaafdc3b2c8ccaa9253655d6e3578\";i:4005;s:40:\"twitter_bbfdaafdc3b2c8ccaa9253655d6e3578\";i:4006;s:42:\"pinterest_bbfdaafdc3b2c8ccaa9253655d6e3578\";i:4007;s:41:\"linkedin_bbfdaafdc3b2c8ccaa9253655d6e3578\";i:4008;s:35:\"fb_4d4778bff0bb7ff76742c6cf4adf3363\";i:4009;s:40:\"twitter_4d4778bff0bb7ff76742c6cf4adf3363\";i:4010;s:42:\"pinterest_4d4778bff0bb7ff76742c6cf4adf3363\";i:4011;s:41:\"linkedin_4d4778bff0bb7ff76742c6cf4adf3363\";i:4012;s:35:\"fb_8826b6e35ea85ea933d45d74c0d63e96\";i:4013;s:40:\"twitter_8826b6e35ea85ea933d45d74c0d63e96\";i:4014;s:42:\"pinterest_8826b6e35ea85ea933d45d74c0d63e96\";i:4015;s:41:\"linkedin_8826b6e35ea85ea933d45d74c0d63e96\";i:4016;s:35:\"fb_5d570faf2d2bcbcdd772e799b9e5d887\";i:4017;s:40:\"twitter_5d570faf2d2bcbcdd772e799b9e5d887\";i:4018;s:42:\"pinterest_5d570faf2d2bcbcdd772e799b9e5d887\";i:4019;s:41:\"linkedin_5d570faf2d2bcbcdd772e799b9e5d887\";i:4020;s:35:\"fb_8f72d9067a44df4312c088f20da62eb0\";i:4021;s:40:\"twitter_8f72d9067a44df4312c088f20da62eb0\";i:4022;s:42:\"pinterest_8f72d9067a44df4312c088f20da62eb0\";i:4023;s:41:\"linkedin_8f72d9067a44df4312c088f20da62eb0\";i:4024;s:35:\"fb_231a3142e45ae5cedad2fad60161d21a\";i:4025;s:40:\"twitter_231a3142e45ae5cedad2fad60161d21a\";i:4026;s:42:\"pinterest_231a3142e45ae5cedad2fad60161d21a\";i:4027;s:41:\"linkedin_231a3142e45ae5cedad2fad60161d21a\";i:4028;s:35:\"fb_9cceeba105d1716b606472d27432e05c\";i:4029;s:40:\"twitter_9cceeba105d1716b606472d27432e05c\";i:4030;s:42:\"pinterest_9cceeba105d1716b606472d27432e05c\";i:4031;s:41:\"linkedin_9cceeba105d1716b606472d27432e05c\";i:4032;s:35:\"fb_748c672b815c072498deff6eb39a02f7\";i:4033;s:40:\"twitter_748c672b815c072498deff6eb39a02f7\";i:4034;s:42:\"pinterest_748c672b815c072498deff6eb39a02f7\";i:4035;s:41:\"linkedin_748c672b815c072498deff6eb39a02f7\";i:4036;s:35:\"fb_1109b0a4ee22ba9c44b1c3bd4de3c19a\";i:4037;s:40:\"twitter_1109b0a4ee22ba9c44b1c3bd4de3c19a\";i:4038;s:42:\"pinterest_1109b0a4ee22ba9c44b1c3bd4de3c19a\";i:4039;s:41:\"linkedin_1109b0a4ee22ba9c44b1c3bd4de3c19a\";i:4040;s:35:\"fb_b56a3be15092e1bd9fb4f33a3d22f2ee\";i:4041;s:41:\"linkedin_b56a3be15092e1bd9fb4f33a3d22f2ee\";i:4042;s:35:\"fb_7206e47d0ce2071db1489fbaa8784ee4\";i:4043;s:40:\"twitter_7206e47d0ce2071db1489fbaa8784ee4\";i:4044;s:42:\"pinterest_7206e47d0ce2071db1489fbaa8784ee4\";i:4045;s:35:\"fb_43b0c65b92cb1cf77e87dcc5c1b517a0\";i:4046;s:40:\"twitter_43b0c65b92cb1cf77e87dcc5c1b517a0\";i:4047;s:42:\"pinterest_43b0c65b92cb1cf77e87dcc5c1b517a0\";i:4048;s:41:\"linkedin_43b0c65b92cb1cf77e87dcc5c1b517a0\";i:4049;s:35:\"fb_e8030df37ebcce794998d4928a1ed496\";i:4050;s:40:\"twitter_e8030df37ebcce794998d4928a1ed496\";i:4051;s:42:\"pinterest_e8030df37ebcce794998d4928a1ed496\";i:4052;s:41:\"linkedin_e8030df37ebcce794998d4928a1ed496\";i:4053;s:35:\"fb_d2aac6e318d42595e0768d2afa56b93c\";i:4054;s:40:\"twitter_d2aac6e318d42595e0768d2afa56b93c\";i:4055;s:42:\"pinterest_d2aac6e318d42595e0768d2afa56b93c\";i:4056;s:41:\"linkedin_d2aac6e318d42595e0768d2afa56b93c\";i:4057;s:35:\"fb_71c8e9b72ddf996829bbfc4eb2ebbd88\";i:4058;s:40:\"twitter_71c8e9b72ddf996829bbfc4eb2ebbd88\";i:4059;s:42:\"pinterest_71c8e9b72ddf996829bbfc4eb2ebbd88\";i:4060;s:41:\"linkedin_71c8e9b72ddf996829bbfc4eb2ebbd88\";i:4061;s:35:\"fb_d977f749ce41231a78a1ba576c5bfef5\";i:4062;s:40:\"twitter_d977f749ce41231a78a1ba576c5bfef5\";i:4063;s:42:\"pinterest_d977f749ce41231a78a1ba576c5bfef5\";i:4064;s:41:\"linkedin_d977f749ce41231a78a1ba576c5bfef5\";i:4065;s:35:\"fb_945e6e3f7fd399417af52621c2656213\";i:4066;s:40:\"twitter_945e6e3f7fd399417af52621c2656213\";i:4067;s:42:\"pinterest_945e6e3f7fd399417af52621c2656213\";i:4068;s:41:\"linkedin_945e6e3f7fd399417af52621c2656213\";i:4069;s:35:\"fb_82eeff61659fdcad00f7857117a70a99\";i:4070;s:40:\"twitter_82eeff61659fdcad00f7857117a70a99\";i:4071;s:42:\"pinterest_82eeff61659fdcad00f7857117a70a99\";i:4072;s:41:\"linkedin_82eeff61659fdcad00f7857117a70a99\";i:4073;s:35:\"fb_3b30f98f49fabb6210e61bc47754e7c1\";i:4074;s:40:\"twitter_3b30f98f49fabb6210e61bc47754e7c1\";i:4075;s:42:\"pinterest_3b30f98f49fabb6210e61bc47754e7c1\";i:4076;s:41:\"linkedin_3b30f98f49fabb6210e61bc47754e7c1\";i:4077;s:35:\"fb_31bb6a444e792e4302ea0f4d257f8ec8\";i:4078;s:40:\"twitter_31bb6a444e792e4302ea0f4d257f8ec8\";i:4079;s:42:\"pinterest_31bb6a444e792e4302ea0f4d257f8ec8\";i:4080;s:41:\"linkedin_31bb6a444e792e4302ea0f4d257f8ec8\";i:4081;s:35:\"fb_b6e41f582abf5fe30c87a8d96b396473\";i:4082;s:40:\"twitter_b6e41f582abf5fe30c87a8d96b396473\";i:4083;s:42:\"pinterest_b6e41f582abf5fe30c87a8d96b396473\";i:4084;s:41:\"linkedin_b6e41f582abf5fe30c87a8d96b396473\";i:4085;s:35:\"fb_2b44fed0b2f650861513ba784ae92a06\";i:4086;s:40:\"twitter_2b44fed0b2f650861513ba784ae92a06\";i:4087;s:42:\"pinterest_2b44fed0b2f650861513ba784ae92a06\";i:4088;s:41:\"linkedin_2b44fed0b2f650861513ba784ae92a06\";i:4089;s:35:\"fb_724344b39c3dc3b90283a5e53db0535c\";i:4090;s:40:\"twitter_724344b39c3dc3b90283a5e53db0535c\";i:4091;s:42:\"pinterest_724344b39c3dc3b90283a5e53db0535c\";i:4092;s:41:\"linkedin_724344b39c3dc3b90283a5e53db0535c\";i:4093;s:35:\"fb_c2938ada04b9b97146930d267f9a84eb\";i:4094;s:40:\"twitter_c2938ada04b9b97146930d267f9a84eb\";i:4095;s:42:\"pinterest_c2938ada04b9b97146930d267f9a84eb\";i:4096;s:41:\"linkedin_c2938ada04b9b97146930d267f9a84eb\";i:4097;s:35:\"fb_e7f09d4133f889056d0a0c0822258f4f\";i:4098;s:40:\"twitter_e7f09d4133f889056d0a0c0822258f4f\";i:4099;s:42:\"pinterest_e7f09d4133f889056d0a0c0822258f4f\";i:4100;s:41:\"linkedin_e7f09d4133f889056d0a0c0822258f4f\";i:4101;s:35:\"fb_a2a1863b20bed60beaa51db83a8cec4a\";i:4102;s:40:\"twitter_a2a1863b20bed60beaa51db83a8cec4a\";i:4103;s:42:\"pinterest_a2a1863b20bed60beaa51db83a8cec4a\";i:4104;s:41:\"linkedin_a2a1863b20bed60beaa51db83a8cec4a\";i:4105;s:35:\"fb_1b71f816ff16f5a6674ea2bcc9711073\";i:4106;s:40:\"twitter_1b71f816ff16f5a6674ea2bcc9711073\";i:4107;s:42:\"pinterest_1b71f816ff16f5a6674ea2bcc9711073\";i:4108;s:41:\"linkedin_1b71f816ff16f5a6674ea2bcc9711073\";i:4109;s:35:\"fb_2d8f0a044a540fe5d86853de6123073f\";i:4110;s:40:\"twitter_2d8f0a044a540fe5d86853de6123073f\";i:4111;s:42:\"pinterest_2d8f0a044a540fe5d86853de6123073f\";i:4112;s:41:\"linkedin_2d8f0a044a540fe5d86853de6123073f\";i:4113;s:35:\"fb_1c7f5daa8145d7f4fe630c1ba4826836\";i:4114;s:40:\"twitter_1c7f5daa8145d7f4fe630c1ba4826836\";i:4115;s:42:\"pinterest_1c7f5daa8145d7f4fe630c1ba4826836\";i:4116;s:41:\"linkedin_1c7f5daa8145d7f4fe630c1ba4826836\";i:4117;s:35:\"fb_f3afe90757683f7949f0566728e3362c\";i:4118;s:40:\"twitter_f3afe90757683f7949f0566728e3362c\";i:4119;s:42:\"pinterest_f3afe90757683f7949f0566728e3362c\";i:4120;s:41:\"linkedin_f3afe90757683f7949f0566728e3362c\";i:4121;s:35:\"fb_554809486d67a2713fa5da6ba3d4616e\";i:4122;s:40:\"twitter_554809486d67a2713fa5da6ba3d4616e\";i:4123;s:42:\"pinterest_554809486d67a2713fa5da6ba3d4616e\";i:4124;s:41:\"linkedin_554809486d67a2713fa5da6ba3d4616e\";i:4125;s:35:\"fb_b1e97d2d7741ad356e57a24894ab289c\";i:4126;s:40:\"twitter_b1e97d2d7741ad356e57a24894ab289c\";i:4127;s:42:\"pinterest_b1e97d2d7741ad356e57a24894ab289c\";i:4128;s:41:\"linkedin_b1e97d2d7741ad356e57a24894ab289c\";i:4129;s:35:\"fb_48e1229d7bddc7e651e9e7eece18c384\";i:4130;s:40:\"twitter_48e1229d7bddc7e651e9e7eece18c384\";i:4131;s:42:\"pinterest_48e1229d7bddc7e651e9e7eece18c384\";i:4132;s:41:\"linkedin_48e1229d7bddc7e651e9e7eece18c384\";i:4133;s:35:\"fb_3be5851a6a9c81be29e6eb40630921d6\";i:4134;s:40:\"twitter_3be5851a6a9c81be29e6eb40630921d6\";i:4135;s:42:\"pinterest_3be5851a6a9c81be29e6eb40630921d6\";i:4136;s:41:\"linkedin_3be5851a6a9c81be29e6eb40630921d6\";i:4137;s:35:\"fb_4e9c4154606af0bec591c1717b659f68\";i:4138;s:40:\"twitter_4e9c4154606af0bec591c1717b659f68\";i:4139;s:42:\"pinterest_4e9c4154606af0bec591c1717b659f68\";i:4140;s:41:\"linkedin_4e9c4154606af0bec591c1717b659f68\";i:4141;s:35:\"fb_8b5acc6886bc654906db716310ced82e\";i:4142;s:40:\"twitter_8b5acc6886bc654906db716310ced82e\";i:4143;s:42:\"pinterest_8b5acc6886bc654906db716310ced82e\";i:4144;s:41:\"linkedin_8b5acc6886bc654906db716310ced82e\";i:4145;s:35:\"fb_660c30832ad6741e7584838947dc4249\";i:4146;s:40:\"twitter_660c30832ad6741e7584838947dc4249\";i:4147;s:42:\"pinterest_660c30832ad6741e7584838947dc4249\";i:4148;s:41:\"linkedin_660c30832ad6741e7584838947dc4249\";i:4149;s:35:\"fb_e423f2ddb0f7bd78e806dfe892a7f807\";i:4150;s:40:\"twitter_e423f2ddb0f7bd78e806dfe892a7f807\";i:4151;s:42:\"pinterest_e423f2ddb0f7bd78e806dfe892a7f807\";i:4152;s:41:\"linkedin_e423f2ddb0f7bd78e806dfe892a7f807\";i:4153;s:35:\"fb_56f82fe0e5445ccbe3260bf90e63f2e2\";i:4154;s:40:\"twitter_56f82fe0e5445ccbe3260bf90e63f2e2\";i:4155;s:42:\"pinterest_56f82fe0e5445ccbe3260bf90e63f2e2\";i:4156;s:41:\"linkedin_56f82fe0e5445ccbe3260bf90e63f2e2\";i:4157;s:35:\"fb_ee4e6c96eb695285ea475d0ecb85e318\";i:4158;s:40:\"twitter_ee4e6c96eb695285ea475d0ecb85e318\";i:4159;s:42:\"pinterest_ee4e6c96eb695285ea475d0ecb85e318\";i:4160;s:41:\"linkedin_ee4e6c96eb695285ea475d0ecb85e318\";i:4161;s:35:\"fb_dc85c1859a40a2ebc201de7c4941b591\";i:4162;s:40:\"twitter_dc85c1859a40a2ebc201de7c4941b591\";i:4163;s:42:\"pinterest_dc85c1859a40a2ebc201de7c4941b591\";i:4164;s:41:\"linkedin_dc85c1859a40a2ebc201de7c4941b591\";i:4165;s:35:\"fb_df45548a44072c838a7b553573f03d8d\";i:4166;s:40:\"twitter_df45548a44072c838a7b553573f03d8d\";i:4167;s:42:\"pinterest_df45548a44072c838a7b553573f03d8d\";i:4168;s:41:\"linkedin_df45548a44072c838a7b553573f03d8d\";i:4169;s:35:\"fb_b469ab948ac45ded1c2b3e1dc4b25fa9\";i:4170;s:40:\"twitter_b469ab948ac45ded1c2b3e1dc4b25fa9\";i:4171;s:42:\"pinterest_b469ab948ac45ded1c2b3e1dc4b25fa9\";i:4172;s:41:\"linkedin_b469ab948ac45ded1c2b3e1dc4b25fa9\";i:4173;s:35:\"fb_b40e4e743196b98d9369499ccbcc9d0b\";i:4174;s:40:\"twitter_b40e4e743196b98d9369499ccbcc9d0b\";i:4175;s:42:\"pinterest_b40e4e743196b98d9369499ccbcc9d0b\";i:4176;s:41:\"linkedin_b40e4e743196b98d9369499ccbcc9d0b\";i:4177;s:35:\"fb_4e7aac96277949d895652d7f32b46ddd\";i:4178;s:40:\"twitter_4e7aac96277949d895652d7f32b46ddd\";i:4179;s:42:\"pinterest_4e7aac96277949d895652d7f32b46ddd\";i:4180;s:41:\"linkedin_4e7aac96277949d895652d7f32b46ddd\";i:4181;s:35:\"fb_b1f80b95e1eba90ad96ee6f82fb18e45\";i:4182;s:40:\"twitter_b1f80b95e1eba90ad96ee6f82fb18e45\";i:4183;s:42:\"pinterest_b1f80b95e1eba90ad96ee6f82fb18e45\";i:4184;s:41:\"linkedin_b1f80b95e1eba90ad96ee6f82fb18e45\";i:4185;s:35:\"fb_fd1fef6118afd0f1406519e6e8970b20\";i:4186;s:40:\"twitter_fd1fef6118afd0f1406519e6e8970b20\";i:4187;s:42:\"pinterest_fd1fef6118afd0f1406519e6e8970b20\";i:4188;s:41:\"linkedin_fd1fef6118afd0f1406519e6e8970b20\";i:4189;s:35:\"fb_33d7785ea99ee6f8279f418bf8455bc2\";i:4190;s:40:\"twitter_33d7785ea99ee6f8279f418bf8455bc2\";i:4191;s:42:\"pinterest_33d7785ea99ee6f8279f418bf8455bc2\";i:4192;s:41:\"linkedin_33d7785ea99ee6f8279f418bf8455bc2\";i:4193;s:35:\"fb_f3c3a51140aef146eda716ace230aa7c\";i:4194;s:40:\"twitter_f3c3a51140aef146eda716ace230aa7c\";i:4195;s:42:\"pinterest_f3c3a51140aef146eda716ace230aa7c\";i:4196;s:41:\"linkedin_f3c3a51140aef146eda716ace230aa7c\";i:4197;s:35:\"fb_5d86a0c18b43eb8cb7467c1d7e421205\";i:4198;s:40:\"twitter_5d86a0c18b43eb8cb7467c1d7e421205\";i:4199;s:42:\"pinterest_5d86a0c18b43eb8cb7467c1d7e421205\";i:4200;s:41:\"linkedin_5d86a0c18b43eb8cb7467c1d7e421205\";i:4201;s:35:\"fb_55807e36d14c9542ad9290fe3586569d\";i:4202;s:40:\"twitter_55807e36d14c9542ad9290fe3586569d\";i:4203;s:42:\"pinterest_55807e36d14c9542ad9290fe3586569d\";i:4204;s:41:\"linkedin_55807e36d14c9542ad9290fe3586569d\";i:4205;s:35:\"fb_38f8780d4600652c06bd6f40fb89d407\";i:4206;s:40:\"twitter_38f8780d4600652c06bd6f40fb89d407\";i:4207;s:42:\"pinterest_38f8780d4600652c06bd6f40fb89d407\";i:4208;s:41:\"linkedin_38f8780d4600652c06bd6f40fb89d407\";i:4209;s:35:\"fb_b2cd65b3dc66141cb265c995fbc7dcce\";i:4210;s:40:\"twitter_b2cd65b3dc66141cb265c995fbc7dcce\";i:4211;s:42:\"pinterest_b2cd65b3dc66141cb265c995fbc7dcce\";i:4212;s:41:\"linkedin_b2cd65b3dc66141cb265c995fbc7dcce\";i:4213;s:35:\"fb_3ec46e0fefefb28b7754ce40b5e97353\";i:4214;s:40:\"twitter_3ec46e0fefefb28b7754ce40b5e97353\";i:4215;s:42:\"pinterest_3ec46e0fefefb28b7754ce40b5e97353\";i:4216;s:41:\"linkedin_3ec46e0fefefb28b7754ce40b5e97353\";i:4217;s:35:\"fb_e3d8825fdf33d77b1b98dadaf00722ad\";i:4218;s:40:\"twitter_e3d8825fdf33d77b1b98dadaf00722ad\";i:4219;s:42:\"pinterest_e3d8825fdf33d77b1b98dadaf00722ad\";i:4220;s:35:\"fb_b2a41328a1ccdc44cd70da92789054c2\";i:4221;s:40:\"twitter_b2a41328a1ccdc44cd70da92789054c2\";i:4222;s:42:\"pinterest_b2a41328a1ccdc44cd70da92789054c2\";i:4223;s:35:\"fb_98f3760f6a19375938aed3145d74ec05\";i:4224;s:41:\"linkedin_98f3760f6a19375938aed3145d74ec05\";i:4225;s:35:\"fb_2449d835ba4c6fff2cf9e3bac933332a\";i:4226;s:40:\"twitter_2449d835ba4c6fff2cf9e3bac933332a\";i:4227;s:42:\"pinterest_2449d835ba4c6fff2cf9e3bac933332a\";i:4228;s:41:\"linkedin_2449d835ba4c6fff2cf9e3bac933332a\";i:4229;s:35:\"fb_a91d443be3b0068940b3ab262e88ec6d\";i:4230;s:40:\"twitter_a91d443be3b0068940b3ab262e88ec6d\";i:4231;s:42:\"pinterest_a91d443be3b0068940b3ab262e88ec6d\";i:4232;s:41:\"linkedin_a91d443be3b0068940b3ab262e88ec6d\";i:4233;s:35:\"fb_4015f5d3b6b46931d5257da50e92c35a\";i:4234;s:40:\"twitter_4015f5d3b6b46931d5257da50e92c35a\";i:4235;s:42:\"pinterest_4015f5d3b6b46931d5257da50e92c35a\";i:4236;s:41:\"linkedin_4015f5d3b6b46931d5257da50e92c35a\";i:4237;s:35:\"fb_6833302b9150fe1ccdcba9af84d2f460\";i:4238;s:40:\"twitter_6833302b9150fe1ccdcba9af84d2f460\";i:4239;s:42:\"pinterest_6833302b9150fe1ccdcba9af84d2f460\";i:4240;s:41:\"linkedin_6833302b9150fe1ccdcba9af84d2f460\";i:4241;s:35:\"fb_57896ac3e89d00437a7689c32723b983\";i:4242;s:40:\"twitter_57896ac3e89d00437a7689c32723b983\";i:4243;s:42:\"pinterest_57896ac3e89d00437a7689c32723b983\";i:4244;s:41:\"linkedin_57896ac3e89d00437a7689c32723b983\";i:4245;s:35:\"fb_d776a17e1a78be1f0d42868eab9c7974\";i:4246;s:40:\"twitter_d776a17e1a78be1f0d42868eab9c7974\";i:4247;s:42:\"pinterest_d776a17e1a78be1f0d42868eab9c7974\";i:4248;s:41:\"linkedin_d776a17e1a78be1f0d42868eab9c7974\";i:4249;s:35:\"fb_8defb3674c44c881c90e7afb5412fae0\";i:4250;s:40:\"twitter_8defb3674c44c881c90e7afb5412fae0\";i:4251;s:42:\"pinterest_8defb3674c44c881c90e7afb5412fae0\";i:4252;s:41:\"linkedin_8defb3674c44c881c90e7afb5412fae0\";i:4253;s:35:\"fb_1fcaba6397f0091c7dcc1193776c03a0\";i:4254;s:40:\"twitter_1fcaba6397f0091c7dcc1193776c03a0\";i:4255;s:42:\"pinterest_1fcaba6397f0091c7dcc1193776c03a0\";i:4256;s:41:\"linkedin_1fcaba6397f0091c7dcc1193776c03a0\";i:4257;s:35:\"fb_da7816549aa2192b9636c4f58eec0721\";i:4258;s:40:\"twitter_da7816549aa2192b9636c4f58eec0721\";i:4259;s:42:\"pinterest_da7816549aa2192b9636c4f58eec0721\";i:4260;s:41:\"linkedin_da7816549aa2192b9636c4f58eec0721\";i:4261;s:35:\"fb_2709db7291daa751cd842e0d199fd682\";i:4262;s:40:\"twitter_2709db7291daa751cd842e0d199fd682\";i:4263;s:42:\"pinterest_2709db7291daa751cd842e0d199fd682\";i:4264;s:41:\"linkedin_2709db7291daa751cd842e0d199fd682\";i:4265;s:35:\"fb_1af0c65619c480c5995f46f0c71fa601\";i:4266;s:40:\"twitter_1af0c65619c480c5995f46f0c71fa601\";i:4267;s:42:\"pinterest_1af0c65619c480c5995f46f0c71fa601\";i:4268;s:41:\"linkedin_1af0c65619c480c5995f46f0c71fa601\";i:4269;s:35:\"fb_8f17ea4b2a278af43b1c482ae50b7deb\";i:4270;s:40:\"twitter_8f17ea4b2a278af43b1c482ae50b7deb\";i:4271;s:42:\"pinterest_8f17ea4b2a278af43b1c482ae50b7deb\";i:4272;s:41:\"linkedin_8f17ea4b2a278af43b1c482ae50b7deb\";i:4273;s:35:\"fb_d748a9b25d8916022d7a8e1244e40ed1\";i:4274;s:40:\"twitter_d748a9b25d8916022d7a8e1244e40ed1\";i:4275;s:42:\"pinterest_d748a9b25d8916022d7a8e1244e40ed1\";i:4276;s:41:\"linkedin_d748a9b25d8916022d7a8e1244e40ed1\";i:4277;s:35:\"fb_d2a10e2378a715b6aafbd14a111999c1\";i:4278;s:40:\"twitter_d2a10e2378a715b6aafbd14a111999c1\";i:4279;s:42:\"pinterest_d2a10e2378a715b6aafbd14a111999c1\";i:4280;s:41:\"linkedin_d2a10e2378a715b6aafbd14a111999c1\";i:4281;s:35:\"fb_2011d2b87dd83d1b4ce7f38b78b7dbd7\";i:4282;s:40:\"twitter_2011d2b87dd83d1b4ce7f38b78b7dbd7\";i:4283;s:42:\"pinterest_2011d2b87dd83d1b4ce7f38b78b7dbd7\";i:4284;s:41:\"linkedin_2011d2b87dd83d1b4ce7f38b78b7dbd7\";i:4285;s:35:\"fb_6c318ee09d5057bd3e76112593ef0a18\";i:4286;s:40:\"twitter_6c318ee09d5057bd3e76112593ef0a18\";i:4287;s:42:\"pinterest_6c318ee09d5057bd3e76112593ef0a18\";i:4288;s:41:\"linkedin_6c318ee09d5057bd3e76112593ef0a18\";i:4289;s:35:\"fb_d1ecd6b1e6310b72299096f86cb7dd4f\";i:4290;s:40:\"twitter_d1ecd6b1e6310b72299096f86cb7dd4f\";i:4291;s:42:\"pinterest_d1ecd6b1e6310b72299096f86cb7dd4f\";i:4292;s:41:\"linkedin_d1ecd6b1e6310b72299096f86cb7dd4f\";i:4293;s:35:\"fb_3cad2f1350424dc213bf9cea74f67203\";i:4294;s:40:\"twitter_3cad2f1350424dc213bf9cea74f67203\";i:4295;s:42:\"pinterest_3cad2f1350424dc213bf9cea74f67203\";i:4296;s:41:\"linkedin_3cad2f1350424dc213bf9cea74f67203\";i:4297;s:35:\"fb_3ee2dc5eb6e5f23c702fe3c7c1b69bfc\";i:4298;s:40:\"twitter_3ee2dc5eb6e5f23c702fe3c7c1b69bfc\";i:4299;s:42:\"pinterest_3ee2dc5eb6e5f23c702fe3c7c1b69bfc\";i:4300;s:41:\"linkedin_3ee2dc5eb6e5f23c702fe3c7c1b69bfc\";i:4301;s:35:\"fb_fe9211f7d9f3c98bef912a18ec9b5adf\";i:4302;s:40:\"twitter_fe9211f7d9f3c98bef912a18ec9b5adf\";i:4303;s:42:\"pinterest_fe9211f7d9f3c98bef912a18ec9b5adf\";i:4304;s:35:\"fb_0b5bb7c6550273246bcc830ecd7d99b9\";i:4305;s:40:\"twitter_0b5bb7c6550273246bcc830ecd7d99b9\";i:4306;s:42:\"pinterest_0b5bb7c6550273246bcc830ecd7d99b9\";i:4307;s:41:\"linkedin_0b5bb7c6550273246bcc830ecd7d99b9\";i:4308;s:35:\"fb_356b506f3b95ab02fc9ef040543a1aaa\";i:4309;s:40:\"twitter_356b506f3b95ab02fc9ef040543a1aaa\";i:4310;s:42:\"pinterest_356b506f3b95ab02fc9ef040543a1aaa\";i:4311;s:41:\"linkedin_356b506f3b95ab02fc9ef040543a1aaa\";i:4312;s:35:\"fb_dd2c6a1a09c71eacc7931aacc44e5fe3\";i:4313;s:40:\"twitter_dd2c6a1a09c71eacc7931aacc44e5fe3\";i:4314;s:42:\"pinterest_dd2c6a1a09c71eacc7931aacc44e5fe3\";i:4315;s:41:\"linkedin_dd2c6a1a09c71eacc7931aacc44e5fe3\";i:4316;s:35:\"fb_8fac83916bb1c9c52de68cbab9aa1fa4\";i:4317;s:40:\"twitter_8fac83916bb1c9c52de68cbab9aa1fa4\";i:4318;s:42:\"pinterest_8fac83916bb1c9c52de68cbab9aa1fa4\";i:4319;s:41:\"linkedin_8fac83916bb1c9c52de68cbab9aa1fa4\";i:4320;s:35:\"fb_b55c1ae0602deeab393aabe237518bab\";i:4321;s:40:\"twitter_b55c1ae0602deeab393aabe237518bab\";i:4322;s:42:\"pinterest_b55c1ae0602deeab393aabe237518bab\";i:4323;s:41:\"linkedin_b55c1ae0602deeab393aabe237518bab\";i:4324;s:35:\"fb_bf0ef64ebab3890255ef81318667eae8\";i:4325;s:40:\"twitter_bf0ef64ebab3890255ef81318667eae8\";i:4326;s:42:\"pinterest_bf0ef64ebab3890255ef81318667eae8\";i:4327;s:41:\"linkedin_bf0ef64ebab3890255ef81318667eae8\";i:4328;s:35:\"fb_75831ae3f492ec500025638899231415\";i:4329;s:40:\"twitter_75831ae3f492ec500025638899231415\";i:4330;s:42:\"pinterest_75831ae3f492ec500025638899231415\";i:4331;s:41:\"linkedin_75831ae3f492ec500025638899231415\";i:4332;s:35:\"fb_a315e8389297a4d852965831ae7a7409\";i:4333;s:40:\"twitter_a315e8389297a4d852965831ae7a7409\";i:4334;s:42:\"pinterest_a315e8389297a4d852965831ae7a7409\";i:4335;s:41:\"linkedin_a315e8389297a4d852965831ae7a7409\";i:4336;s:35:\"fb_1f1f49a564c93049219fce825f246f5d\";i:4337;s:40:\"twitter_1f1f49a564c93049219fce825f246f5d\";i:4338;s:42:\"pinterest_1f1f49a564c93049219fce825f246f5d\";i:4339;s:41:\"linkedin_1f1f49a564c93049219fce825f246f5d\";i:4340;s:35:\"fb_77d37b082c0a142f6d8a991537b8eeaf\";i:4341;s:40:\"twitter_77d37b082c0a142f6d8a991537b8eeaf\";i:4342;s:42:\"pinterest_77d37b082c0a142f6d8a991537b8eeaf\";i:4343;s:41:\"linkedin_77d37b082c0a142f6d8a991537b8eeaf\";i:4344;s:35:\"fb_2addf5c4c181f8590c0f82cce163f9cc\";i:4345;s:40:\"twitter_2addf5c4c181f8590c0f82cce163f9cc\";i:4346;s:42:\"pinterest_2addf5c4c181f8590c0f82cce163f9cc\";i:4347;s:41:\"linkedin_2addf5c4c181f8590c0f82cce163f9cc\";i:4348;s:35:\"fb_1efafba2ae85e9c9c2032665e8915bd9\";i:4349;s:40:\"twitter_1efafba2ae85e9c9c2032665e8915bd9\";i:4350;s:42:\"pinterest_1efafba2ae85e9c9c2032665e8915bd9\";i:4351;s:41:\"linkedin_1efafba2ae85e9c9c2032665e8915bd9\";i:4352;s:35:\"fb_3f44be90506a507ed7577f269668aa6d\";i:4353;s:40:\"twitter_3f44be90506a507ed7577f269668aa6d\";i:4354;s:42:\"pinterest_3f44be90506a507ed7577f269668aa6d\";i:4355;s:41:\"linkedin_3f44be90506a507ed7577f269668aa6d\";i:4356;s:35:\"fb_213472aa8e5befa53bbda057c15ec332\";i:4357;s:40:\"twitter_213472aa8e5befa53bbda057c15ec332\";i:4358;s:42:\"pinterest_213472aa8e5befa53bbda057c15ec332\";i:4359;s:41:\"linkedin_213472aa8e5befa53bbda057c15ec332\";i:4360;s:35:\"fb_cb8364ccbd02be54093168e8f2f3dff4\";i:4361;s:40:\"twitter_cb8364ccbd02be54093168e8f2f3dff4\";i:4362;s:42:\"pinterest_cb8364ccbd02be54093168e8f2f3dff4\";i:4363;s:41:\"linkedin_cb8364ccbd02be54093168e8f2f3dff4\";i:4364;s:35:\"fb_da5f99f5bf5aaa5b7935a4506f168c19\";i:4365;s:40:\"twitter_da5f99f5bf5aaa5b7935a4506f168c19\";i:4366;s:42:\"pinterest_da5f99f5bf5aaa5b7935a4506f168c19\";i:4367;s:41:\"linkedin_da5f99f5bf5aaa5b7935a4506f168c19\";i:4368;s:35:\"fb_a2ef4ef775563cba8f38426be68dbdfc\";i:4369;s:40:\"twitter_a2ef4ef775563cba8f38426be68dbdfc\";i:4370;s:42:\"pinterest_a2ef4ef775563cba8f38426be68dbdfc\";i:4371;s:41:\"linkedin_a2ef4ef775563cba8f38426be68dbdfc\";i:4372;s:35:\"fb_e01cd600779d5632808888542bb85af0\";i:4373;s:40:\"twitter_e01cd600779d5632808888542bb85af0\";i:4374;s:42:\"pinterest_e01cd600779d5632808888542bb85af0\";i:4375;s:41:\"linkedin_e01cd600779d5632808888542bb85af0\";i:4376;s:35:\"fb_0050a06278b8ce5569c9526bb1e5887e\";i:4377;s:40:\"twitter_0050a06278b8ce5569c9526bb1e5887e\";i:4378;s:42:\"pinterest_0050a06278b8ce5569c9526bb1e5887e\";i:4379;s:41:\"linkedin_0050a06278b8ce5569c9526bb1e5887e\";i:4380;s:35:\"fb_3ad93e063a5f1dbd2b8ba10260d706ba\";i:4381;s:40:\"twitter_3ad93e063a5f1dbd2b8ba10260d706ba\";i:4382;s:42:\"pinterest_3ad93e063a5f1dbd2b8ba10260d706ba\";i:4383;s:41:\"linkedin_3ad93e063a5f1dbd2b8ba10260d706ba\";i:4384;s:35:\"fb_25bde4bee387ab782044758d1f680323\";i:4385;s:40:\"twitter_25bde4bee387ab782044758d1f680323\";i:4386;s:42:\"pinterest_25bde4bee387ab782044758d1f680323\";i:4387;s:41:\"linkedin_25bde4bee387ab782044758d1f680323\";i:4388;s:35:\"fb_0500ca5bc7733c6f8844678a8b611c4f\";i:4389;s:40:\"twitter_0500ca5bc7733c6f8844678a8b611c4f\";i:4390;s:42:\"pinterest_0500ca5bc7733c6f8844678a8b611c4f\";i:4391;s:41:\"linkedin_0500ca5bc7733c6f8844678a8b611c4f\";i:4392;s:35:\"fb_f8419bba8f66af4a7be2d17f7552e5e0\";i:4393;s:40:\"twitter_f8419bba8f66af4a7be2d17f7552e5e0\";i:4394;s:42:\"pinterest_f8419bba8f66af4a7be2d17f7552e5e0\";i:4395;s:35:\"fb_aa5dff1b8e297a5f9df793db4a90e3dd\";i:4396;s:40:\"twitter_aa5dff1b8e297a5f9df793db4a90e3dd\";i:4397;s:42:\"pinterest_aa5dff1b8e297a5f9df793db4a90e3dd\";i:4398;s:41:\"linkedin_aa5dff1b8e297a5f9df793db4a90e3dd\";i:4399;s:35:\"fb_7c8d19829004ad476dcf6b16609e2623\";i:4400;s:40:\"twitter_7c8d19829004ad476dcf6b16609e2623\";i:4401;s:42:\"pinterest_7c8d19829004ad476dcf6b16609e2623\";i:4402;s:41:\"linkedin_7c8d19829004ad476dcf6b16609e2623\";i:4403;s:35:\"fb_46c2ef465f6f522334b6abde6df025ea\";i:4404;s:40:\"twitter_46c2ef465f6f522334b6abde6df025ea\";i:4405;s:42:\"pinterest_46c2ef465f6f522334b6abde6df025ea\";i:4406;s:41:\"linkedin_46c2ef465f6f522334b6abde6df025ea\";i:4407;s:35:\"fb_b00d9c46523c71322738ce1dce3016b9\";i:4408;s:40:\"twitter_b00d9c46523c71322738ce1dce3016b9\";i:4409;s:42:\"pinterest_b00d9c46523c71322738ce1dce3016b9\";i:4410;s:41:\"linkedin_b00d9c46523c71322738ce1dce3016b9\";i:4411;s:35:\"fb_eb00c60e326dc84396a1f770bd9f23b7\";i:4412;s:40:\"twitter_eb00c60e326dc84396a1f770bd9f23b7\";i:4413;s:42:\"pinterest_eb00c60e326dc84396a1f770bd9f23b7\";i:4414;s:41:\"linkedin_eb00c60e326dc84396a1f770bd9f23b7\";i:4415;s:35:\"fb_70501725f9c97755991f70d370832de2\";i:4416;s:40:\"twitter_70501725f9c97755991f70d370832de2\";i:4417;s:42:\"pinterest_70501725f9c97755991f70d370832de2\";i:4418;s:41:\"linkedin_70501725f9c97755991f70d370832de2\";i:4419;s:35:\"fb_ab416bdb6c38d268e6f2c992df5ff1be\";i:4420;s:40:\"twitter_ab416bdb6c38d268e6f2c992df5ff1be\";i:4421;s:42:\"pinterest_ab416bdb6c38d268e6f2c992df5ff1be\";i:4422;s:41:\"linkedin_ab416bdb6c38d268e6f2c992df5ff1be\";i:4423;s:35:\"fb_577dbbf8798809de1879cf9925d3f5be\";i:4424;s:40:\"twitter_577dbbf8798809de1879cf9925d3f5be\";i:4425;s:42:\"pinterest_577dbbf8798809de1879cf9925d3f5be\";i:4426;s:41:\"linkedin_577dbbf8798809de1879cf9925d3f5be\";i:4427;s:35:\"fb_dad3e4418c2c553e83a8a492045038b8\";i:4428;s:40:\"twitter_dad3e4418c2c553e83a8a492045038b8\";i:4429;s:42:\"pinterest_dad3e4418c2c553e83a8a492045038b8\";i:4430;s:41:\"linkedin_dad3e4418c2c553e83a8a492045038b8\";i:4431;s:35:\"fb_f5fab45c884ec4e3d9ae7d08899c6e92\";i:4432;s:40:\"twitter_f5fab45c884ec4e3d9ae7d08899c6e92\";i:4433;s:42:\"pinterest_f5fab45c884ec4e3d9ae7d08899c6e92\";i:4434;s:35:\"fb_e5dd6d29a55d6cfbae60e1bb1ffbd3d8\";i:4435;s:40:\"twitter_e5dd6d29a55d6cfbae60e1bb1ffbd3d8\";i:4436;s:42:\"pinterest_e5dd6d29a55d6cfbae60e1bb1ffbd3d8\";i:4437;s:41:\"linkedin_e5dd6d29a55d6cfbae60e1bb1ffbd3d8\";i:4438;s:35:\"fb_b74dcf4294a9dd8fdc9116c6bcbc4276\";i:4439;s:40:\"twitter_b74dcf4294a9dd8fdc9116c6bcbc4276\";i:4440;s:42:\"pinterest_b74dcf4294a9dd8fdc9116c6bcbc4276\";i:4441;s:41:\"linkedin_b74dcf4294a9dd8fdc9116c6bcbc4276\";i:4442;s:35:\"fb_786fc70cc3291bad0a531808d8b89dba\";i:4443;s:40:\"twitter_786fc70cc3291bad0a531808d8b89dba\";i:4444;s:42:\"pinterest_786fc70cc3291bad0a531808d8b89dba\";i:4445;s:41:\"linkedin_786fc70cc3291bad0a531808d8b89dba\";i:4446;s:35:\"fb_e08ad0b9370775a463d02474154d8547\";i:4447;s:40:\"twitter_e08ad0b9370775a463d02474154d8547\";i:4448;s:42:\"pinterest_e08ad0b9370775a463d02474154d8547\";i:4449;s:41:\"linkedin_e08ad0b9370775a463d02474154d8547\";i:4450;s:35:\"fb_961ac8e3ca8e05918d2e036abb72b68f\";i:4451;s:40:\"twitter_961ac8e3ca8e05918d2e036abb72b68f\";i:4452;s:42:\"pinterest_961ac8e3ca8e05918d2e036abb72b68f\";i:4453;s:41:\"linkedin_961ac8e3ca8e05918d2e036abb72b68f\";i:4454;s:35:\"fb_4f81fc677f494621292515f3b653044c\";i:4455;s:40:\"twitter_4f81fc677f494621292515f3b653044c\";i:4456;s:42:\"pinterest_4f81fc677f494621292515f3b653044c\";i:4457;s:41:\"linkedin_4f81fc677f494621292515f3b653044c\";i:4458;s:35:\"fb_d23b11a3abf80a7f675232a6f3fcf265\";i:4459;s:40:\"twitter_d23b11a3abf80a7f675232a6f3fcf265\";i:4460;s:42:\"pinterest_d23b11a3abf80a7f675232a6f3fcf265\";i:4461;s:41:\"linkedin_d23b11a3abf80a7f675232a6f3fcf265\";i:4462;s:35:\"fb_1ef6c5872c4e7b657e31b50874a3b95b\";i:4463;s:40:\"twitter_1ef6c5872c4e7b657e31b50874a3b95b\";i:4464;s:42:\"pinterest_1ef6c5872c4e7b657e31b50874a3b95b\";i:4465;s:41:\"linkedin_1ef6c5872c4e7b657e31b50874a3b95b\";i:4466;s:35:\"fb_cec5df4e8e7a3648c7ed68fb52e235f7\";i:4467;s:40:\"twitter_cec5df4e8e7a3648c7ed68fb52e235f7\";i:4468;s:42:\"pinterest_cec5df4e8e7a3648c7ed68fb52e235f7\";i:4469;s:41:\"linkedin_cec5df4e8e7a3648c7ed68fb52e235f7\";i:4470;s:35:\"fb_e3c4efc804754822ce21b2cf3e64e396\";i:4471;s:40:\"twitter_e3c4efc804754822ce21b2cf3e64e396\";i:4472;s:42:\"pinterest_e3c4efc804754822ce21b2cf3e64e396\";i:4473;s:41:\"linkedin_e3c4efc804754822ce21b2cf3e64e396\";i:4474;s:35:\"fb_223c572332f27323a1a4244ffa821888\";i:4475;s:40:\"twitter_223c572332f27323a1a4244ffa821888\";i:4476;s:42:\"pinterest_223c572332f27323a1a4244ffa821888\";i:4477;s:41:\"linkedin_223c572332f27323a1a4244ffa821888\";i:4478;s:35:\"fb_c767fd3ced303f91a194e6627e806baa\";i:4479;s:40:\"twitter_c767fd3ced303f91a194e6627e806baa\";i:4480;s:42:\"pinterest_c767fd3ced303f91a194e6627e806baa\";i:4481;s:41:\"linkedin_c767fd3ced303f91a194e6627e806baa\";i:4482;s:35:\"fb_921f151229aac6fadd61d06fcb6211bb\";i:4483;s:40:\"twitter_921f151229aac6fadd61d06fcb6211bb\";i:4484;s:42:\"pinterest_921f151229aac6fadd61d06fcb6211bb\";i:4485;s:41:\"linkedin_921f151229aac6fadd61d06fcb6211bb\";i:4486;s:35:\"fb_669eabb5c1da724c572e8ab6ae7f69eb\";i:4487;s:40:\"twitter_669eabb5c1da724c572e8ab6ae7f69eb\";i:4488;s:42:\"pinterest_669eabb5c1da724c572e8ab6ae7f69eb\";i:4489;s:41:\"linkedin_669eabb5c1da724c572e8ab6ae7f69eb\";i:4490;s:35:\"fb_390fc9f842159e5abb928401a5a7fe9e\";i:4491;s:40:\"twitter_390fc9f842159e5abb928401a5a7fe9e\";i:4492;s:42:\"pinterest_390fc9f842159e5abb928401a5a7fe9e\";i:4493;s:41:\"linkedin_390fc9f842159e5abb928401a5a7fe9e\";i:4494;s:35:\"fb_7e84f16f72b3a096d3c66fded9fd7fb1\";i:4495;s:40:\"twitter_7e84f16f72b3a096d3c66fded9fd7fb1\";i:4496;s:42:\"pinterest_7e84f16f72b3a096d3c66fded9fd7fb1\";i:4497;s:41:\"linkedin_7e84f16f72b3a096d3c66fded9fd7fb1\";i:4498;s:35:\"fb_f7bb8ca779fafd19a858c3c1143a9a03\";i:4499;s:40:\"twitter_f7bb8ca779fafd19a858c3c1143a9a03\";i:4500;s:42:\"pinterest_f7bb8ca779fafd19a858c3c1143a9a03\";i:4501;s:41:\"linkedin_f7bb8ca779fafd19a858c3c1143a9a03\";i:4502;s:35:\"fb_bdc5a2b7495cad64736f67a914ccac36\";i:4503;s:40:\"twitter_bdc5a2b7495cad64736f67a914ccac36\";i:4504;s:42:\"pinterest_bdc5a2b7495cad64736f67a914ccac36\";i:4505;s:41:\"linkedin_bdc5a2b7495cad64736f67a914ccac36\";i:4506;s:35:\"fb_fab4f79b5762d666d220d56ba04638e4\";i:4507;s:40:\"twitter_fab4f79b5762d666d220d56ba04638e4\";i:4508;s:42:\"pinterest_fab4f79b5762d666d220d56ba04638e4\";i:4509;s:41:\"linkedin_fab4f79b5762d666d220d56ba04638e4\";i:4510;s:35:\"fb_5932890bf52ce78395198d481271ff57\";i:4511;s:40:\"twitter_5932890bf52ce78395198d481271ff57\";i:4512;s:42:\"pinterest_5932890bf52ce78395198d481271ff57\";i:4513;s:41:\"linkedin_5932890bf52ce78395198d481271ff57\";i:4514;s:35:\"fb_bfd502a9d29b69311f00bdc3789d670d\";i:4515;s:40:\"twitter_bfd502a9d29b69311f00bdc3789d670d\";i:4516;s:42:\"pinterest_bfd502a9d29b69311f00bdc3789d670d\";i:4517;s:41:\"linkedin_bfd502a9d29b69311f00bdc3789d670d\";i:4518;s:35:\"fb_b5f7fd43bd29a79b11d5365e6b5c932e\";i:4519;s:40:\"twitter_b5f7fd43bd29a79b11d5365e6b5c932e\";i:4520;s:42:\"pinterest_b5f7fd43bd29a79b11d5365e6b5c932e\";i:4521;s:41:\"linkedin_b5f7fd43bd29a79b11d5365e6b5c932e\";i:4522;s:35:\"fb_f21fa210f0c17474e3c0a256cc14d102\";i:4523;s:40:\"twitter_f21fa210f0c17474e3c0a256cc14d102\";i:4524;s:42:\"pinterest_f21fa210f0c17474e3c0a256cc14d102\";i:4525;s:41:\"linkedin_f21fa210f0c17474e3c0a256cc14d102\";i:4526;s:35:\"fb_43882022e060bdd857fedcf0da9df79e\";i:4527;s:40:\"twitter_43882022e060bdd857fedcf0da9df79e\";i:4528;s:42:\"pinterest_43882022e060bdd857fedcf0da9df79e\";i:4529;s:41:\"linkedin_43882022e060bdd857fedcf0da9df79e\";i:4530;s:35:\"fb_b74ddd4840cc451a527faa051ec9966e\";i:4531;s:40:\"twitter_b74ddd4840cc451a527faa051ec9966e\";i:4532;s:42:\"pinterest_b74ddd4840cc451a527faa051ec9966e\";i:4533;s:41:\"linkedin_b74ddd4840cc451a527faa051ec9966e\";i:4534;s:35:\"fb_853999a080fe2625a095b2a2da6459ae\";i:4535;s:40:\"twitter_853999a080fe2625a095b2a2da6459ae\";i:4536;s:42:\"pinterest_853999a080fe2625a095b2a2da6459ae\";i:4537;s:41:\"linkedin_853999a080fe2625a095b2a2da6459ae\";i:4538;s:35:\"fb_05604145d2f36ffdddc2af46870f5cba\";i:4539;s:40:\"twitter_05604145d2f36ffdddc2af46870f5cba\";i:4540;s:42:\"pinterest_05604145d2f36ffdddc2af46870f5cba\";i:4541;s:41:\"linkedin_05604145d2f36ffdddc2af46870f5cba\";i:4542;s:35:\"fb_55f80832eb1031c3695c8d28b9bbdd8b\";i:4543;s:40:\"twitter_55f80832eb1031c3695c8d28b9bbdd8b\";i:4544;s:42:\"pinterest_55f80832eb1031c3695c8d28b9bbdd8b\";i:4545;s:41:\"linkedin_55f80832eb1031c3695c8d28b9bbdd8b\";i:4546;s:35:\"fb_5b6bb100cf4e53bedb66f8a5150f17b9\";i:4547;s:40:\"twitter_5b6bb100cf4e53bedb66f8a5150f17b9\";i:4548;s:42:\"pinterest_5b6bb100cf4e53bedb66f8a5150f17b9\";i:4549;s:41:\"linkedin_5b6bb100cf4e53bedb66f8a5150f17b9\";i:4550;s:35:\"fb_17e6d3af72c4166280e6bc7b62c8bdec\";i:4551;s:40:\"twitter_17e6d3af72c4166280e6bc7b62c8bdec\";i:4552;s:42:\"pinterest_17e6d3af72c4166280e6bc7b62c8bdec\";i:4553;s:41:\"linkedin_17e6d3af72c4166280e6bc7b62c8bdec\";i:4554;s:35:\"fb_7863652801610ef7a70dc3088952af6f\";i:4555;s:40:\"twitter_7863652801610ef7a70dc3088952af6f\";i:4556;s:42:\"pinterest_7863652801610ef7a70dc3088952af6f\";i:4557;s:41:\"linkedin_7863652801610ef7a70dc3088952af6f\";i:4558;s:35:\"fb_09801c1bb41710ce60f0569a233cc49a\";i:4559;s:40:\"twitter_09801c1bb41710ce60f0569a233cc49a\";i:4560;s:42:\"pinterest_09801c1bb41710ce60f0569a233cc49a\";i:4561;s:41:\"linkedin_09801c1bb41710ce60f0569a233cc49a\";i:4562;s:35:\"fb_978a93f0c2a8cb364ba658f10705ab08\";i:4563;s:40:\"twitter_978a93f0c2a8cb364ba658f10705ab08\";i:4564;s:42:\"pinterest_978a93f0c2a8cb364ba658f10705ab08\";i:4565;s:41:\"linkedin_978a93f0c2a8cb364ba658f10705ab08\";i:4566;s:35:\"fb_384628fcb0b69703dc5fb994cc9b6228\";i:4567;s:40:\"twitter_384628fcb0b69703dc5fb994cc9b6228\";i:4568;s:42:\"pinterest_384628fcb0b69703dc5fb994cc9b6228\";i:4569;s:41:\"linkedin_384628fcb0b69703dc5fb994cc9b6228\";i:4570;s:35:\"fb_ae7bb3b0b5e33a099b303643d29b0a53\";i:4571;s:40:\"twitter_ae7bb3b0b5e33a099b303643d29b0a53\";i:4572;s:42:\"pinterest_ae7bb3b0b5e33a099b303643d29b0a53\";i:4573;s:41:\"linkedin_ae7bb3b0b5e33a099b303643d29b0a53\";i:4574;s:35:\"fb_b1a65045c77436a6688eccd3b8e9d378\";i:4575;s:40:\"twitter_b1a65045c77436a6688eccd3b8e9d378\";i:4576;s:42:\"pinterest_b1a65045c77436a6688eccd3b8e9d378\";i:4577;s:41:\"linkedin_b1a65045c77436a6688eccd3b8e9d378\";i:4578;s:35:\"fb_dc668fd78ba539978667f97ff763942e\";i:4579;s:40:\"twitter_dc668fd78ba539978667f97ff763942e\";i:4580;s:42:\"pinterest_dc668fd78ba539978667f97ff763942e\";i:4581;s:41:\"linkedin_dc668fd78ba539978667f97ff763942e\";i:4582;s:35:\"fb_9bbb795308ceea9c2914d5b6fc7193be\";i:4583;s:40:\"twitter_9bbb795308ceea9c2914d5b6fc7193be\";i:4584;s:42:\"pinterest_9bbb795308ceea9c2914d5b6fc7193be\";i:4585;s:41:\"linkedin_9bbb795308ceea9c2914d5b6fc7193be\";i:4586;s:35:\"fb_ed271fa3878e366dfc10fad1771efd8a\";i:4587;s:40:\"twitter_ed271fa3878e366dfc10fad1771efd8a\";i:4588;s:42:\"pinterest_ed271fa3878e366dfc10fad1771efd8a\";i:4589;s:41:\"linkedin_ed271fa3878e366dfc10fad1771efd8a\";i:4590;s:35:\"fb_55a97b44622cf6686a6112c5d6172675\";i:4591;s:40:\"twitter_55a97b44622cf6686a6112c5d6172675\";i:4592;s:42:\"pinterest_55a97b44622cf6686a6112c5d6172675\";i:4593;s:41:\"linkedin_55a97b44622cf6686a6112c5d6172675\";i:4594;s:35:\"fb_88b3ae6db768b04e3124138ddeab4544\";i:4595;s:40:\"twitter_88b3ae6db768b04e3124138ddeab4544\";i:4596;s:42:\"pinterest_88b3ae6db768b04e3124138ddeab4544\";i:4597;s:41:\"linkedin_88b3ae6db768b04e3124138ddeab4544\";i:4598;s:35:\"fb_ef5ce4af0c20d4d3b10cb64da9cf3908\";i:4599;s:40:\"twitter_ef5ce4af0c20d4d3b10cb64da9cf3908\";i:4600;s:42:\"pinterest_ef5ce4af0c20d4d3b10cb64da9cf3908\";i:4601;s:41:\"linkedin_ef5ce4af0c20d4d3b10cb64da9cf3908\";i:4602;s:35:\"fb_70f65ce0003d2ea71a0d241679f991ac\";i:4603;s:40:\"twitter_70f65ce0003d2ea71a0d241679f991ac\";i:4604;s:42:\"pinterest_70f65ce0003d2ea71a0d241679f991ac\";i:4605;s:41:\"linkedin_70f65ce0003d2ea71a0d241679f991ac\";i:4606;s:35:\"fb_e0c6a79814289e5fe420b49b6eacb41d\";i:4607;s:40:\"twitter_e0c6a79814289e5fe420b49b6eacb41d\";i:4608;s:42:\"pinterest_e0c6a79814289e5fe420b49b6eacb41d\";i:4609;s:41:\"linkedin_e0c6a79814289e5fe420b49b6eacb41d\";i:4610;s:35:\"fb_d5c887c02bc5147e815da7183bb5ab59\";i:4611;s:40:\"twitter_d5c887c02bc5147e815da7183bb5ab59\";i:4612;s:42:\"pinterest_d5c887c02bc5147e815da7183bb5ab59\";i:4613;s:41:\"linkedin_d5c887c02bc5147e815da7183bb5ab59\";i:4614;s:35:\"fb_b80414f33f4a0f88ea285cf1cadb9e3d\";i:4615;s:40:\"twitter_b80414f33f4a0f88ea285cf1cadb9e3d\";i:4616;s:42:\"pinterest_b80414f33f4a0f88ea285cf1cadb9e3d\";i:4617;s:41:\"linkedin_b80414f33f4a0f88ea285cf1cadb9e3d\";i:4618;s:35:\"fb_61222848cb183ff6ebc25a8de2c4393c\";i:4619;s:40:\"twitter_61222848cb183ff6ebc25a8de2c4393c\";i:4620;s:42:\"pinterest_61222848cb183ff6ebc25a8de2c4393c\";i:4621;s:41:\"linkedin_61222848cb183ff6ebc25a8de2c4393c\";i:4622;s:35:\"fb_f60dbc30e0bb09764d53bdc68fce73a2\";i:4623;s:40:\"twitter_f60dbc30e0bb09764d53bdc68fce73a2\";i:4624;s:42:\"pinterest_f60dbc30e0bb09764d53bdc68fce73a2\";i:4625;s:41:\"linkedin_f60dbc30e0bb09764d53bdc68fce73a2\";i:4626;s:35:\"fb_40cebc9392e785edcc3722027759ad96\";i:4627;s:40:\"twitter_40cebc9392e785edcc3722027759ad96\";i:4628;s:42:\"pinterest_40cebc9392e785edcc3722027759ad96\";i:4629;s:41:\"linkedin_40cebc9392e785edcc3722027759ad96\";i:4630;s:35:\"fb_91a57bf8893b821dff2eb101d98515d3\";i:4631;s:40:\"twitter_91a57bf8893b821dff2eb101d98515d3\";i:4632;s:42:\"pinterest_91a57bf8893b821dff2eb101d98515d3\";i:4633;s:35:\"fb_1fd913b8d8c5f5c71af5e1081cc620aa\";i:4634;s:40:\"twitter_1fd913b8d8c5f5c71af5e1081cc620aa\";i:4635;s:42:\"pinterest_1fd913b8d8c5f5c71af5e1081cc620aa\";i:4636;s:41:\"linkedin_1fd913b8d8c5f5c71af5e1081cc620aa\";i:4637;s:35:\"fb_688dc10e117f1dc0b78303eddc975158\";i:4638;s:40:\"twitter_688dc10e117f1dc0b78303eddc975158\";i:4639;s:42:\"pinterest_688dc10e117f1dc0b78303eddc975158\";i:4640;s:41:\"linkedin_688dc10e117f1dc0b78303eddc975158\";i:4641;s:35:\"fb_0d3bc051247f15656c2875b9eb74ca0a\";i:4642;s:40:\"twitter_0d3bc051247f15656c2875b9eb74ca0a\";i:4643;s:42:\"pinterest_0d3bc051247f15656c2875b9eb74ca0a\";i:4644;s:41:\"linkedin_0d3bc051247f15656c2875b9eb74ca0a\";i:4645;s:35:\"fb_c4c4c4a79a7cbc35728c42737d266edd\";i:4646;s:40:\"twitter_c4c4c4a79a7cbc35728c42737d266edd\";i:4647;s:42:\"pinterest_c4c4c4a79a7cbc35728c42737d266edd\";i:4648;s:41:\"linkedin_c4c4c4a79a7cbc35728c42737d266edd\";i:4649;s:35:\"fb_3125604fc1758876b6c6f0cb84947d31\";i:4650;s:40:\"twitter_3125604fc1758876b6c6f0cb84947d31\";i:4651;s:42:\"pinterest_3125604fc1758876b6c6f0cb84947d31\";i:4652;s:41:\"linkedin_3125604fc1758876b6c6f0cb84947d31\";i:4653;s:35:\"fb_efebdb1b1ef360f0e9c18762e45398df\";i:4654;s:40:\"twitter_efebdb1b1ef360f0e9c18762e45398df\";i:4655;s:42:\"pinterest_efebdb1b1ef360f0e9c18762e45398df\";i:4656;s:41:\"linkedin_efebdb1b1ef360f0e9c18762e45398df\";i:4657;s:35:\"fb_1e3038fa3fc1d8892b29702701953a62\";i:4658;s:40:\"twitter_1e3038fa3fc1d8892b29702701953a62\";i:4659;s:42:\"pinterest_1e3038fa3fc1d8892b29702701953a62\";i:4660;s:41:\"linkedin_1e3038fa3fc1d8892b29702701953a62\";i:4661;s:35:\"fb_eda44ea2c68900d18c1a19357f198fd3\";i:4662;s:40:\"twitter_eda44ea2c68900d18c1a19357f198fd3\";i:4663;s:42:\"pinterest_eda44ea2c68900d18c1a19357f198fd3\";i:4664;s:41:\"linkedin_eda44ea2c68900d18c1a19357f198fd3\";i:4665;s:35:\"fb_3d357f7a2091f106614dfa67ee1aac92\";i:4666;s:40:\"twitter_3d357f7a2091f106614dfa67ee1aac92\";i:4667;s:42:\"pinterest_3d357f7a2091f106614dfa67ee1aac92\";i:4668;s:41:\"linkedin_3d357f7a2091f106614dfa67ee1aac92\";i:4669;s:35:\"fb_f324c23c590d7f05f91e7d29f5616e03\";i:4670;s:40:\"twitter_f324c23c590d7f05f91e7d29f5616e03\";i:4671;s:42:\"pinterest_f324c23c590d7f05f91e7d29f5616e03\";i:4672;s:41:\"linkedin_f324c23c590d7f05f91e7d29f5616e03\";i:4673;s:35:\"fb_ca9ef0b27b8151165544988a2d76f255\";i:4674;s:40:\"twitter_ca9ef0b27b8151165544988a2d76f255\";i:4675;s:42:\"pinterest_ca9ef0b27b8151165544988a2d76f255\";i:4676;s:41:\"linkedin_ca9ef0b27b8151165544988a2d76f255\";i:4677;s:35:\"fb_70f5006cb2ca2d570be9c1dc1ccc440a\";i:4678;s:40:\"twitter_70f5006cb2ca2d570be9c1dc1ccc440a\";i:4679;s:42:\"pinterest_70f5006cb2ca2d570be9c1dc1ccc440a\";i:4680;s:41:\"linkedin_70f5006cb2ca2d570be9c1dc1ccc440a\";i:4681;s:35:\"fb_52c345bc6dd4da112d26e5cb95a15949\";i:4682;s:40:\"twitter_52c345bc6dd4da112d26e5cb95a15949\";i:4683;s:42:\"pinterest_52c345bc6dd4da112d26e5cb95a15949\";i:4684;s:41:\"linkedin_52c345bc6dd4da112d26e5cb95a15949\";i:4685;s:35:\"fb_b64628095496719ac4dcf893680a99af\";i:4686;s:35:\"fb_3894ee6024afee80d45062a4e26a773e\";i:4687;s:40:\"twitter_3894ee6024afee80d45062a4e26a773e\";i:4688;s:35:\"fb_c193015dd0b64624ad974f2da124ec7a\";i:4689;s:40:\"twitter_c193015dd0b64624ad974f2da124ec7a\";i:4690;s:42:\"pinterest_c193015dd0b64624ad974f2da124ec7a\";i:4691;s:41:\"linkedin_c193015dd0b64624ad974f2da124ec7a\";i:4692;s:35:\"fb_0569065d72fd9bb2877610abf35265c3\";i:4693;s:40:\"twitter_0569065d72fd9bb2877610abf35265c3\";i:4694;s:42:\"pinterest_0569065d72fd9bb2877610abf35265c3\";i:4695;s:35:\"fb_908a78ca08481c614ba9319f3d2674fc\";i:4696;s:40:\"twitter_908a78ca08481c614ba9319f3d2674fc\";i:4697;s:42:\"pinterest_908a78ca08481c614ba9319f3d2674fc\";i:4698;s:41:\"linkedin_908a78ca08481c614ba9319f3d2674fc\";i:4699;s:35:\"fb_d255db0437be90d2b63ab83d0a52868c\";i:4700;s:40:\"twitter_d255db0437be90d2b63ab83d0a52868c\";i:4701;s:42:\"pinterest_d255db0437be90d2b63ab83d0a52868c\";i:4702;s:41:\"linkedin_d255db0437be90d2b63ab83d0a52868c\";i:4703;s:35:\"fb_1e1457176b3d2f83d93a55d84a2af444\";i:4704;s:40:\"twitter_1e1457176b3d2f83d93a55d84a2af444\";i:4705;s:42:\"pinterest_1e1457176b3d2f83d93a55d84a2af444\";i:4706;s:41:\"linkedin_1e1457176b3d2f83d93a55d84a2af444\";i:4707;s:35:\"fb_6348b784fdb0f852c7ba82c3658f74b5\";i:4708;s:40:\"twitter_6348b784fdb0f852c7ba82c3658f74b5\";i:4709;s:42:\"pinterest_6348b784fdb0f852c7ba82c3658f74b5\";i:4710;s:41:\"linkedin_6348b784fdb0f852c7ba82c3658f74b5\";i:4711;s:35:\"fb_3ec369fd9e5ddfffe763964085393d63\";i:4712;s:40:\"twitter_3ec369fd9e5ddfffe763964085393d63\";i:4713;s:42:\"pinterest_3ec369fd9e5ddfffe763964085393d63\";i:4714;s:35:\"fb_e95203789debeb964067d1d790c924f4\";i:4715;s:40:\"twitter_e95203789debeb964067d1d790c924f4\";i:4716;s:42:\"pinterest_e95203789debeb964067d1d790c924f4\";i:4717;s:41:\"linkedin_e95203789debeb964067d1d790c924f4\";i:4718;s:35:\"fb_b25b4a82526ed8c58d48940b1e9fd3a1\";i:4719;s:40:\"twitter_b25b4a82526ed8c58d48940b1e9fd3a1\";i:4720;s:42:\"pinterest_b25b4a82526ed8c58d48940b1e9fd3a1\";i:4721;s:41:\"linkedin_b25b4a82526ed8c58d48940b1e9fd3a1\";i:4722;s:35:\"fb_d4e17151aef02c536392a25f8654a6c8\";i:4723;s:40:\"twitter_d4e17151aef02c536392a25f8654a6c8\";i:4724;s:42:\"pinterest_d4e17151aef02c536392a25f8654a6c8\";i:4725;s:41:\"linkedin_d4e17151aef02c536392a25f8654a6c8\";i:4726;s:35:\"fb_b9e3a54b6ce3d682cd00efc2d561c9d4\";i:4727;s:40:\"twitter_b9e3a54b6ce3d682cd00efc2d561c9d4\";i:4728;s:42:\"pinterest_b9e3a54b6ce3d682cd00efc2d561c9d4\";i:4729;s:41:\"linkedin_b9e3a54b6ce3d682cd00efc2d561c9d4\";i:4730;s:35:\"fb_52639f8d0c1f9359976f421cc2679002\";i:4731;s:40:\"twitter_52639f8d0c1f9359976f421cc2679002\";i:4732;s:42:\"pinterest_52639f8d0c1f9359976f421cc2679002\";i:4733;s:41:\"linkedin_52639f8d0c1f9359976f421cc2679002\";i:4734;s:35:\"fb_5f5ed3a9fb15219840929b4aa96cd541\";i:4735;s:40:\"twitter_5f5ed3a9fb15219840929b4aa96cd541\";i:4736;s:42:\"pinterest_5f5ed3a9fb15219840929b4aa96cd541\";i:4737;s:41:\"linkedin_5f5ed3a9fb15219840929b4aa96cd541\";i:4738;s:35:\"fb_d38caa788310707665f467c80b64ab29\";i:4739;s:40:\"twitter_d38caa788310707665f467c80b64ab29\";i:4740;s:42:\"pinterest_d38caa788310707665f467c80b64ab29\";i:4741;s:41:\"linkedin_d38caa788310707665f467c80b64ab29\";i:4742;s:35:\"fb_e88550df628e8ae396b83556044cb672\";i:4743;s:40:\"twitter_e88550df628e8ae396b83556044cb672\";i:4744;s:42:\"pinterest_e88550df628e8ae396b83556044cb672\";i:4745;s:41:\"linkedin_e88550df628e8ae396b83556044cb672\";i:4746;s:35:\"fb_2871ab6e059f0efe17bfab57ce529322\";i:4747;s:40:\"twitter_2871ab6e059f0efe17bfab57ce529322\";i:4748;s:42:\"pinterest_2871ab6e059f0efe17bfab57ce529322\";i:4749;s:41:\"linkedin_2871ab6e059f0efe17bfab57ce529322\";i:4750;s:35:\"fb_354bd2aa0a6bdc46b6a9e1d918e65f15\";i:4751;s:40:\"twitter_354bd2aa0a6bdc46b6a9e1d918e65f15\";i:4752;s:42:\"pinterest_354bd2aa0a6bdc46b6a9e1d918e65f15\";i:4753;s:41:\"linkedin_354bd2aa0a6bdc46b6a9e1d918e65f15\";i:4754;s:35:\"fb_0164e189ac734751ee04848fe56afaa9\";i:4755;s:40:\"twitter_0164e189ac734751ee04848fe56afaa9\";i:4756;s:42:\"pinterest_0164e189ac734751ee04848fe56afaa9\";i:4757;s:41:\"linkedin_0164e189ac734751ee04848fe56afaa9\";i:4758;s:35:\"fb_7cc43b27f4c5dcc6cc825aeb0d93ec9a\";i:4759;s:40:\"twitter_7cc43b27f4c5dcc6cc825aeb0d93ec9a\";i:4760;s:42:\"pinterest_7cc43b27f4c5dcc6cc825aeb0d93ec9a\";i:4761;s:41:\"linkedin_7cc43b27f4c5dcc6cc825aeb0d93ec9a\";i:4762;s:35:\"fb_d9c2280d5892adf3574d1be0c7dfc366\";i:4763;s:40:\"twitter_d9c2280d5892adf3574d1be0c7dfc366\";i:4764;s:42:\"pinterest_d9c2280d5892adf3574d1be0c7dfc366\";i:4765;s:41:\"linkedin_d9c2280d5892adf3574d1be0c7dfc366\";i:4766;s:35:\"fb_606ecd472bed0f1a4088de840812e9ab\";i:4767;s:40:\"twitter_606ecd472bed0f1a4088de840812e9ab\";i:4768;s:42:\"pinterest_606ecd472bed0f1a4088de840812e9ab\";i:4769;s:41:\"linkedin_606ecd472bed0f1a4088de840812e9ab\";i:4770;s:35:\"fb_680c1b16d7ea732a1fecbbc17a691e9a\";i:4771;s:40:\"twitter_680c1b16d7ea732a1fecbbc17a691e9a\";i:4772;s:42:\"pinterest_680c1b16d7ea732a1fecbbc17a691e9a\";i:4773;s:41:\"linkedin_680c1b16d7ea732a1fecbbc17a691e9a\";i:4774;s:35:\"fb_363816cf4210e692eddf3d1d646c5202\";i:4775;s:40:\"twitter_363816cf4210e692eddf3d1d646c5202\";i:4776;s:42:\"pinterest_363816cf4210e692eddf3d1d646c5202\";i:4777;s:41:\"linkedin_363816cf4210e692eddf3d1d646c5202\";i:4778;s:35:\"fb_d21ca296de141a7fcbe407de01beb586\";i:4779;s:40:\"twitter_d21ca296de141a7fcbe407de01beb586\";i:4780;s:42:\"pinterest_d21ca296de141a7fcbe407de01beb586\";i:4781;s:41:\"linkedin_d21ca296de141a7fcbe407de01beb586\";i:4782;s:35:\"fb_1036ffb7def68a2f8d1a0f890e9b00ce\";i:4783;s:40:\"twitter_1036ffb7def68a2f8d1a0f890e9b00ce\";i:4784;s:42:\"pinterest_1036ffb7def68a2f8d1a0f890e9b00ce\";i:4785;s:41:\"linkedin_1036ffb7def68a2f8d1a0f890e9b00ce\";i:4786;s:35:\"fb_e987eeefd2b1800641e4cf86c1446dd9\";i:4787;s:40:\"twitter_e987eeefd2b1800641e4cf86c1446dd9\";i:4788;s:42:\"pinterest_e987eeefd2b1800641e4cf86c1446dd9\";i:4789;s:41:\"linkedin_e987eeefd2b1800641e4cf86c1446dd9\";i:4790;s:35:\"fb_0b89fa7874292ba0cef3b16726e65af8\";i:4791;s:40:\"twitter_0b89fa7874292ba0cef3b16726e65af8\";i:4792;s:42:\"pinterest_0b89fa7874292ba0cef3b16726e65af8\";i:4793;s:41:\"linkedin_0b89fa7874292ba0cef3b16726e65af8\";i:4794;s:35:\"fb_5a6ee850330aff3f7fcc7f0c7ac114bb\";i:4795;s:40:\"twitter_5a6ee850330aff3f7fcc7f0c7ac114bb\";i:4796;s:42:\"pinterest_5a6ee850330aff3f7fcc7f0c7ac114bb\";i:4797;s:41:\"linkedin_5a6ee850330aff3f7fcc7f0c7ac114bb\";i:4798;s:35:\"fb_af2dd56abe15fdec21c0a0081fd0b5ce\";i:4799;s:40:\"twitter_af2dd56abe15fdec21c0a0081fd0b5ce\";i:4800;s:42:\"pinterest_af2dd56abe15fdec21c0a0081fd0b5ce\";i:4801;s:41:\"linkedin_af2dd56abe15fdec21c0a0081fd0b5ce\";i:4802;s:35:\"fb_5c5a1111d477a41f5257c520bc1ba0cf\";i:4803;s:40:\"twitter_5c5a1111d477a41f5257c520bc1ba0cf\";i:4804;s:42:\"pinterest_5c5a1111d477a41f5257c520bc1ba0cf\";i:4805;s:41:\"linkedin_5c5a1111d477a41f5257c520bc1ba0cf\";i:4806;s:35:\"fb_37eeadb3cc08b6c8c4a1c28f48b84ebb\";i:4807;s:40:\"twitter_37eeadb3cc08b6c8c4a1c28f48b84ebb\";i:4808;s:42:\"pinterest_37eeadb3cc08b6c8c4a1c28f48b84ebb\";i:4809;s:41:\"linkedin_37eeadb3cc08b6c8c4a1c28f48b84ebb\";i:4810;s:35:\"fb_f194741fc52dc6d6a64f846f21524f95\";i:4811;s:40:\"twitter_f194741fc52dc6d6a64f846f21524f95\";i:4812;s:42:\"pinterest_f194741fc52dc6d6a64f846f21524f95\";i:4813;s:41:\"linkedin_f194741fc52dc6d6a64f846f21524f95\";i:4814;s:35:\"fb_21460217e274be58c6c2be6dc44c7f51\";i:4815;s:35:\"fb_40b6a6087acf49730bade6a22a382afc\";i:4816;s:40:\"twitter_40b6a6087acf49730bade6a22a382afc\";i:4817;s:42:\"pinterest_40b6a6087acf49730bade6a22a382afc\";i:4818;s:41:\"linkedin_40b6a6087acf49730bade6a22a382afc\";i:4819;s:35:\"fb_787424bd48c2cde58350c691296d6b1a\";i:4820;s:40:\"twitter_787424bd48c2cde58350c691296d6b1a\";i:4821;s:42:\"pinterest_787424bd48c2cde58350c691296d6b1a\";i:4822;s:41:\"linkedin_787424bd48c2cde58350c691296d6b1a\";i:4823;s:35:\"fb_58838c5e95acc96ab42cd881ea647449\";i:4824;s:40:\"twitter_58838c5e95acc96ab42cd881ea647449\";i:4825;s:42:\"pinterest_58838c5e95acc96ab42cd881ea647449\";i:4826;s:41:\"linkedin_58838c5e95acc96ab42cd881ea647449\";i:4827;s:35:\"fb_68bfedde3fd463a08862f7b8cbbfebda\";i:4828;s:40:\"twitter_68bfedde3fd463a08862f7b8cbbfebda\";i:4829;s:42:\"pinterest_68bfedde3fd463a08862f7b8cbbfebda\";i:4830;s:41:\"linkedin_68bfedde3fd463a08862f7b8cbbfebda\";i:4831;s:35:\"fb_20d67b766f00c21c156fdda7498f06b5\";i:4832;s:40:\"twitter_20d67b766f00c21c156fdda7498f06b5\";i:4833;s:42:\"pinterest_20d67b766f00c21c156fdda7498f06b5\";i:4834;s:41:\"linkedin_20d67b766f00c21c156fdda7498f06b5\";i:4835;s:35:\"fb_d63ad278fcd8becf5fdaf6c2c2475fe9\";i:4836;s:40:\"twitter_d63ad278fcd8becf5fdaf6c2c2475fe9\";i:4837;s:42:\"pinterest_d63ad278fcd8becf5fdaf6c2c2475fe9\";i:4838;s:41:\"linkedin_d63ad278fcd8becf5fdaf6c2c2475fe9\";i:4839;s:35:\"fb_30f7454450513c842ac681bd153f310d\";i:4840;s:40:\"twitter_30f7454450513c842ac681bd153f310d\";i:4841;s:42:\"pinterest_30f7454450513c842ac681bd153f310d\";i:4842;s:41:\"linkedin_30f7454450513c842ac681bd153f310d\";i:4843;s:35:\"fb_0577f9eb96b1b950ffbe2e6f159b1483\";i:4844;s:40:\"twitter_0577f9eb96b1b950ffbe2e6f159b1483\";i:4845;s:42:\"pinterest_0577f9eb96b1b950ffbe2e6f159b1483\";i:4846;s:41:\"linkedin_0577f9eb96b1b950ffbe2e6f159b1483\";i:4847;s:35:\"fb_265aee475ffeb1e735268b5681f50f08\";i:4848;s:40:\"twitter_265aee475ffeb1e735268b5681f50f08\";i:4849;s:42:\"pinterest_265aee475ffeb1e735268b5681f50f08\";i:4850;s:41:\"linkedin_265aee475ffeb1e735268b5681f50f08\";i:4851;s:35:\"fb_d8f766d0659437a7139191f729c8e0e6\";i:4852;s:40:\"twitter_d8f766d0659437a7139191f729c8e0e6\";i:4853;s:42:\"pinterest_d8f766d0659437a7139191f729c8e0e6\";i:4854;s:41:\"linkedin_d8f766d0659437a7139191f729c8e0e6\";i:4855;s:35:\"fb_78cb30a6df377a2f7d57e26f667bd9fb\";i:4856;s:40:\"twitter_78cb30a6df377a2f7d57e26f667bd9fb\";i:4857;s:42:\"pinterest_78cb30a6df377a2f7d57e26f667bd9fb\";i:4858;s:41:\"linkedin_78cb30a6df377a2f7d57e26f667bd9fb\";i:4859;s:35:\"fb_52e82965ec090ea9084a7a6463760fe5\";i:4860;s:40:\"twitter_52e82965ec090ea9084a7a6463760fe5\";i:4861;s:42:\"pinterest_52e82965ec090ea9084a7a6463760fe5\";i:4862;s:41:\"linkedin_52e82965ec090ea9084a7a6463760fe5\";i:4863;s:35:\"fb_37cec94b9a7aa8be07c9d1534159eb01\";i:4864;s:40:\"twitter_37cec94b9a7aa8be07c9d1534159eb01\";i:4865;s:42:\"pinterest_37cec94b9a7aa8be07c9d1534159eb01\";i:4866;s:41:\"linkedin_37cec94b9a7aa8be07c9d1534159eb01\";i:4867;s:35:\"fb_5f1e8bf3dcfb9ef12c5799c1c1a86fef\";i:4868;s:40:\"twitter_5f1e8bf3dcfb9ef12c5799c1c1a86fef\";i:4869;s:42:\"pinterest_5f1e8bf3dcfb9ef12c5799c1c1a86fef\";i:4870;s:41:\"linkedin_5f1e8bf3dcfb9ef12c5799c1c1a86fef\";i:4871;s:35:\"fb_796ae7b6b39c0145537de96cd5d40f92\";i:4872;s:40:\"twitter_796ae7b6b39c0145537de96cd5d40f92\";i:4873;s:42:\"pinterest_796ae7b6b39c0145537de96cd5d40f92\";i:4874;s:41:\"linkedin_796ae7b6b39c0145537de96cd5d40f92\";i:4875;s:35:\"fb_f0301d9f419608ea681916e1213d8adf\";i:4876;s:40:\"twitter_f0301d9f419608ea681916e1213d8adf\";i:4877;s:42:\"pinterest_f0301d9f419608ea681916e1213d8adf\";i:4878;s:41:\"linkedin_f0301d9f419608ea681916e1213d8adf\";i:4879;s:35:\"fb_4db90067fc25f4d40d05e21d5963b2f4\";i:4880;s:40:\"twitter_4db90067fc25f4d40d05e21d5963b2f4\";i:4881;s:42:\"pinterest_4db90067fc25f4d40d05e21d5963b2f4\";i:4882;s:41:\"linkedin_4db90067fc25f4d40d05e21d5963b2f4\";i:4883;s:35:\"fb_2a18527025e8bb930e7d72a63d224d7c\";i:4884;s:40:\"twitter_2a18527025e8bb930e7d72a63d224d7c\";i:4885;s:42:\"pinterest_2a18527025e8bb930e7d72a63d224d7c\";i:4886;s:41:\"linkedin_2a18527025e8bb930e7d72a63d224d7c\";i:4887;s:35:\"fb_738206b58dfd8b52659df00371336f9e\";i:4888;s:40:\"twitter_738206b58dfd8b52659df00371336f9e\";i:4889;s:42:\"pinterest_738206b58dfd8b52659df00371336f9e\";i:4890;s:41:\"linkedin_738206b58dfd8b52659df00371336f9e\";i:4891;s:35:\"fb_ea8fc7facb2948ae7eca76ae80060ac3\";i:4892;s:40:\"twitter_ea8fc7facb2948ae7eca76ae80060ac3\";i:4893;s:42:\"pinterest_ea8fc7facb2948ae7eca76ae80060ac3\";i:4894;s:41:\"linkedin_ea8fc7facb2948ae7eca76ae80060ac3\";i:4895;s:35:\"fb_b007a9184d9b507075b650f18b5b813c\";i:4896;s:40:\"twitter_b007a9184d9b507075b650f18b5b813c\";i:4897;s:42:\"pinterest_b007a9184d9b507075b650f18b5b813c\";i:4898;s:41:\"linkedin_b007a9184d9b507075b650f18b5b813c\";i:4899;s:35:\"fb_688a3fe42fd1690e0a658e7d3a8e3cf1\";i:4900;s:40:\"twitter_688a3fe42fd1690e0a658e7d3a8e3cf1\";i:4901;s:42:\"pinterest_688a3fe42fd1690e0a658e7d3a8e3cf1\";i:4902;s:35:\"fb_936edb15706f68ad8d82741519dbd3ef\";i:4903;s:40:\"twitter_936edb15706f68ad8d82741519dbd3ef\";i:4904;s:42:\"pinterest_936edb15706f68ad8d82741519dbd3ef\";i:4905;s:41:\"linkedin_936edb15706f68ad8d82741519dbd3ef\";i:4906;s:35:\"fb_a99f9edd39f0bae04513d00e957e2b3e\";i:4907;s:35:\"fb_6168b86a8ac05e2e0665029955d43f57\";i:4908;s:40:\"twitter_6168b86a8ac05e2e0665029955d43f57\";i:4909;s:42:\"pinterest_6168b86a8ac05e2e0665029955d43f57\";i:4910;s:41:\"linkedin_6168b86a8ac05e2e0665029955d43f57\";i:4911;s:35:\"fb_4d742bf85d1534909f17ad45de6db990\";i:4912;s:40:\"twitter_4d742bf85d1534909f17ad45de6db990\";i:4913;s:42:\"pinterest_4d742bf85d1534909f17ad45de6db990\";i:4914;s:41:\"linkedin_4d742bf85d1534909f17ad45de6db990\";i:4915;s:35:\"fb_0af66cbc947741be61cc50a65b2fe2ca\";i:4916;s:40:\"twitter_0af66cbc947741be61cc50a65b2fe2ca\";i:4917;s:42:\"pinterest_0af66cbc947741be61cc50a65b2fe2ca\";i:4918;s:41:\"linkedin_0af66cbc947741be61cc50a65b2fe2ca\";i:4919;s:35:\"fb_b5ff0c0f5f83b93e5fbdbb17910b4e8a\";i:4920;s:40:\"twitter_b5ff0c0f5f83b93e5fbdbb17910b4e8a\";i:4921;s:42:\"pinterest_b5ff0c0f5f83b93e5fbdbb17910b4e8a\";i:4922;s:41:\"linkedin_b5ff0c0f5f83b93e5fbdbb17910b4e8a\";i:4923;s:35:\"fb_48e36713a5eb27d7720883bdc272530c\";i:4924;s:40:\"twitter_48e36713a5eb27d7720883bdc272530c\";i:4925;s:42:\"pinterest_48e36713a5eb27d7720883bdc272530c\";i:4926;s:41:\"linkedin_48e36713a5eb27d7720883bdc272530c\";i:4927;s:35:\"fb_748094f6f57590efa13d73c226f738f8\";i:4928;s:40:\"twitter_748094f6f57590efa13d73c226f738f8\";i:4929;s:42:\"pinterest_748094f6f57590efa13d73c226f738f8\";i:4930;s:41:\"linkedin_748094f6f57590efa13d73c226f738f8\";i:4931;s:35:\"fb_89b4bf471bf0f90262b3bc98e9062222\";i:4932;s:40:\"twitter_89b4bf471bf0f90262b3bc98e9062222\";i:4933;s:42:\"pinterest_89b4bf471bf0f90262b3bc98e9062222\";i:4934;s:35:\"fb_568f7a0877a8a263e7fe6062e5d2afb2\";i:4935;s:40:\"twitter_568f7a0877a8a263e7fe6062e5d2afb2\";i:4936;s:42:\"pinterest_568f7a0877a8a263e7fe6062e5d2afb2\";i:4937;s:41:\"linkedin_568f7a0877a8a263e7fe6062e5d2afb2\";i:4938;s:35:\"fb_83069c85c30379c78ffc7a7e54efd313\";i:4939;s:40:\"twitter_83069c85c30379c78ffc7a7e54efd313\";i:4940;s:42:\"pinterest_83069c85c30379c78ffc7a7e54efd313\";i:4941;s:41:\"linkedin_83069c85c30379c78ffc7a7e54efd313\";i:4942;s:35:\"fb_12bf91feff0763d045beea92901a0091\";i:4943;s:40:\"twitter_12bf91feff0763d045beea92901a0091\";i:4944;s:42:\"pinterest_12bf91feff0763d045beea92901a0091\";i:4945;s:41:\"linkedin_12bf91feff0763d045beea92901a0091\";i:4946;s:35:\"fb_f52147b5817561d0c58cca2f05dd9fe2\";i:4947;s:40:\"twitter_f52147b5817561d0c58cca2f05dd9fe2\";i:4948;s:42:\"pinterest_f52147b5817561d0c58cca2f05dd9fe2\";i:4949;s:41:\"linkedin_f52147b5817561d0c58cca2f05dd9fe2\";i:4950;s:35:\"fb_09def08b8444d0f072c956626555bb46\";i:4951;s:40:\"twitter_09def08b8444d0f072c956626555bb46\";i:4952;s:42:\"pinterest_09def08b8444d0f072c956626555bb46\";i:4953;s:41:\"linkedin_09def08b8444d0f072c956626555bb46\";i:4954;s:35:\"fb_db5ac0420b644c639196c037569e3911\";i:4955;s:40:\"twitter_db5ac0420b644c639196c037569e3911\";i:4956;s:42:\"pinterest_db5ac0420b644c639196c037569e3911\";i:4957;s:41:\"linkedin_db5ac0420b644c639196c037569e3911\";i:4958;s:35:\"fb_91c5b34a16d7961c6d09d804bf07b13e\";i:4959;s:40:\"twitter_91c5b34a16d7961c6d09d804bf07b13e\";i:4960;s:42:\"pinterest_91c5b34a16d7961c6d09d804bf07b13e\";i:4961;s:41:\"linkedin_91c5b34a16d7961c6d09d804bf07b13e\";i:4962;s:35:\"fb_6f5babc8bbfbd0b6a846d6cc77ee80fa\";i:4963;s:40:\"twitter_6f5babc8bbfbd0b6a846d6cc77ee80fa\";i:4964;s:42:\"pinterest_6f5babc8bbfbd0b6a846d6cc77ee80fa\";i:4965;s:41:\"linkedin_6f5babc8bbfbd0b6a846d6cc77ee80fa\";i:4966;s:35:\"fb_eea2d4f14c9a5610f19687509918df48\";i:4967;s:40:\"twitter_eea2d4f14c9a5610f19687509918df48\";i:4968;s:42:\"pinterest_eea2d4f14c9a5610f19687509918df48\";i:4969;s:41:\"linkedin_eea2d4f14c9a5610f19687509918df48\";i:4970;s:35:\"fb_6224bbf3a55d4bc36254932a28dc48ad\";i:4971;s:40:\"twitter_6224bbf3a55d4bc36254932a28dc48ad\";i:4972;s:42:\"pinterest_6224bbf3a55d4bc36254932a28dc48ad\";i:4973;s:41:\"linkedin_6224bbf3a55d4bc36254932a28dc48ad\";i:4974;s:35:\"fb_c609db375d700295dbab76679d1fe412\";i:4975;s:40:\"twitter_c609db375d700295dbab76679d1fe412\";i:4976;s:42:\"pinterest_c609db375d700295dbab76679d1fe412\";i:4977;s:41:\"linkedin_c609db375d700295dbab76679d1fe412\";i:4978;s:35:\"fb_e626230e253c6760f8f6c6126955bb42\";i:4979;s:40:\"twitter_e626230e253c6760f8f6c6126955bb42\";i:4980;s:42:\"pinterest_e626230e253c6760f8f6c6126955bb42\";i:4981;s:41:\"linkedin_e626230e253c6760f8f6c6126955bb42\";i:4982;s:35:\"fb_3d14ae412417dbcb2ecf43ef6d34e56b\";i:4983;s:40:\"twitter_3d14ae412417dbcb2ecf43ef6d34e56b\";i:4984;s:42:\"pinterest_3d14ae412417dbcb2ecf43ef6d34e56b\";i:4985;s:41:\"linkedin_3d14ae412417dbcb2ecf43ef6d34e56b\";i:4986;s:35:\"fb_339e6b4e4dc33c0da87c62db688b3a50\";i:4987;s:40:\"twitter_339e6b4e4dc33c0da87c62db688b3a50\";i:4988;s:42:\"pinterest_339e6b4e4dc33c0da87c62db688b3a50\";i:4989;s:41:\"linkedin_339e6b4e4dc33c0da87c62db688b3a50\";i:4990;s:35:\"fb_6d0fb26760070ab74923bb492c7ae1cd\";i:4991;s:40:\"twitter_6d0fb26760070ab74923bb492c7ae1cd\";i:4992;s:42:\"pinterest_6d0fb26760070ab74923bb492c7ae1cd\";i:4993;s:41:\"linkedin_6d0fb26760070ab74923bb492c7ae1cd\";i:4994;s:35:\"fb_fb09d5a7460fd91e4b2f73e7155f2a24\";i:4995;s:40:\"twitter_fb09d5a7460fd91e4b2f73e7155f2a24\";i:4996;s:42:\"pinterest_fb09d5a7460fd91e4b2f73e7155f2a24\";i:4997;s:41:\"linkedin_fb09d5a7460fd91e4b2f73e7155f2a24\";i:4998;s:35:\"fb_e560b14ac009e02bb9fa1727dc5b515b\";i:4999;s:40:\"twitter_e560b14ac009e02bb9fa1727dc5b515b\";i:5000;s:42:\"pinterest_e560b14ac009e02bb9fa1727dc5b515b\";i:5001;s:41:\"linkedin_e560b14ac009e02bb9fa1727dc5b515b\";i:5002;s:35:\"fb_9da28e2cceaaaf1d3d4beecbc061fa16\";i:5003;s:40:\"twitter_9da28e2cceaaaf1d3d4beecbc061fa16\";i:5004;s:42:\"pinterest_9da28e2cceaaaf1d3d4beecbc061fa16\";i:5005;s:41:\"linkedin_9da28e2cceaaaf1d3d4beecbc061fa16\";i:5006;s:35:\"fb_d9fcb7536d7bb4c0ce1a133d6985cfc9\";i:5007;s:40:\"twitter_d9fcb7536d7bb4c0ce1a133d6985cfc9\";i:5008;s:42:\"pinterest_d9fcb7536d7bb4c0ce1a133d6985cfc9\";i:5009;s:41:\"linkedin_d9fcb7536d7bb4c0ce1a133d6985cfc9\";i:5010;s:35:\"fb_fa8823ddb0ecc25521df3777c4305e57\";i:5011;s:40:\"twitter_fa8823ddb0ecc25521df3777c4305e57\";i:5012;s:42:\"pinterest_fa8823ddb0ecc25521df3777c4305e57\";i:5013;s:41:\"linkedin_fa8823ddb0ecc25521df3777c4305e57\";i:5014;s:35:\"fb_4711c930199e5330e2b85c683cf8cc08\";i:5015;s:40:\"twitter_4711c930199e5330e2b85c683cf8cc08\";i:5016;s:42:\"pinterest_4711c930199e5330e2b85c683cf8cc08\";i:5017;s:41:\"linkedin_4711c930199e5330e2b85c683cf8cc08\";i:5018;s:35:\"fb_a0c306f4421d2155979ec9def8a06925\";i:5019;s:40:\"twitter_a0c306f4421d2155979ec9def8a06925\";i:5020;s:42:\"pinterest_a0c306f4421d2155979ec9def8a06925\";i:5021;s:41:\"linkedin_a0c306f4421d2155979ec9def8a06925\";i:5022;s:35:\"fb_a00b95d3aad7631a1c5e95d7fbc2f6aa\";i:5023;s:40:\"twitter_a00b95d3aad7631a1c5e95d7fbc2f6aa\";i:5024;s:42:\"pinterest_a00b95d3aad7631a1c5e95d7fbc2f6aa\";i:5025;s:35:\"fb_0a3c073b0809adc663434bebe1ea30bc\";i:5026;s:40:\"twitter_0a3c073b0809adc663434bebe1ea30bc\";i:5027;s:42:\"pinterest_0a3c073b0809adc663434bebe1ea30bc\";i:5028;s:41:\"linkedin_0a3c073b0809adc663434bebe1ea30bc\";i:5029;s:35:\"fb_42f42e0c8ba667f9380112268d8324e0\";i:5030;s:40:\"twitter_42f42e0c8ba667f9380112268d8324e0\";i:5031;s:42:\"pinterest_42f42e0c8ba667f9380112268d8324e0\";i:5032;s:41:\"linkedin_42f42e0c8ba667f9380112268d8324e0\";i:5033;s:35:\"fb_356002a332c8f4a3691ce5daefb810b5\";i:5034;s:40:\"twitter_356002a332c8f4a3691ce5daefb810b5\";i:5035;s:42:\"pinterest_356002a332c8f4a3691ce5daefb810b5\";i:5036;s:35:\"fb_9c2d532a6d31a548b58cf2c79277fee2\";i:5037;s:40:\"twitter_9c2d532a6d31a548b58cf2c79277fee2\";i:5038;s:42:\"pinterest_9c2d532a6d31a548b58cf2c79277fee2\";i:5039;s:41:\"linkedin_9c2d532a6d31a548b58cf2c79277fee2\";i:5040;s:35:\"fb_2b55706c814c079e24f84dcf2c53e9f0\";i:5041;s:40:\"twitter_2b55706c814c079e24f84dcf2c53e9f0\";i:5042;s:42:\"pinterest_2b55706c814c079e24f84dcf2c53e9f0\";i:5043;s:41:\"linkedin_2b55706c814c079e24f84dcf2c53e9f0\";i:5044;s:35:\"fb_f6045d78f099b824e6ce2dd87150928a\";i:5045;s:40:\"twitter_f6045d78f099b824e6ce2dd87150928a\";i:5046;s:42:\"pinterest_f6045d78f099b824e6ce2dd87150928a\";i:5047;s:41:\"linkedin_f6045d78f099b824e6ce2dd87150928a\";i:5048;s:35:\"fb_9457024c7a24503ac6adbf87a9608873\";i:5049;s:40:\"twitter_9457024c7a24503ac6adbf87a9608873\";i:5050;s:42:\"pinterest_9457024c7a24503ac6adbf87a9608873\";i:5051;s:41:\"linkedin_9457024c7a24503ac6adbf87a9608873\";i:5052;s:35:\"fb_b809a515de10dbd9885708fca71f0fde\";i:5053;s:40:\"twitter_b809a515de10dbd9885708fca71f0fde\";i:5054;s:42:\"pinterest_b809a515de10dbd9885708fca71f0fde\";i:5055;s:41:\"linkedin_b809a515de10dbd9885708fca71f0fde\";i:5056;s:35:\"fb_71ffc65931b7e97fb62c39771427aa84\";i:5057;s:40:\"twitter_71ffc65931b7e97fb62c39771427aa84\";i:5058;s:42:\"pinterest_71ffc65931b7e97fb62c39771427aa84\";i:5059;s:41:\"linkedin_71ffc65931b7e97fb62c39771427aa84\";i:5060;s:35:\"fb_6bdb0198278ad79935010f6b3364cbbc\";i:5061;s:40:\"twitter_6bdb0198278ad79935010f6b3364cbbc\";i:5062;s:42:\"pinterest_6bdb0198278ad79935010f6b3364cbbc\";i:5063;s:41:\"linkedin_6bdb0198278ad79935010f6b3364cbbc\";i:5064;s:35:\"fb_cb8d54ab3d388b88271046d667c4eb11\";i:5065;s:40:\"twitter_cb8d54ab3d388b88271046d667c4eb11\";i:5066;s:42:\"pinterest_cb8d54ab3d388b88271046d667c4eb11\";i:5067;s:41:\"linkedin_cb8d54ab3d388b88271046d667c4eb11\";i:5068;s:35:\"fb_3321d5ff000f2f3aad6d9af5533e7658\";i:5069;s:40:\"twitter_3321d5ff000f2f3aad6d9af5533e7658\";i:5070;s:42:\"pinterest_3321d5ff000f2f3aad6d9af5533e7658\";i:5071;s:41:\"linkedin_3321d5ff000f2f3aad6d9af5533e7658\";i:5072;s:35:\"fb_05b989b2d53da3354f4a8ba4c192bbde\";i:5073;s:40:\"twitter_05b989b2d53da3354f4a8ba4c192bbde\";i:5074;s:42:\"pinterest_05b989b2d53da3354f4a8ba4c192bbde\";i:5075;s:41:\"linkedin_05b989b2d53da3354f4a8ba4c192bbde\";i:5076;s:35:\"fb_09ec665580fb5719e462daf89e180a70\";i:5077;s:40:\"twitter_09ec665580fb5719e462daf89e180a70\";i:5078;s:42:\"pinterest_09ec665580fb5719e462daf89e180a70\";i:5079;s:35:\"fb_3877fb4eaa8b50ef8f6f2a85d79683dd\";i:5080;s:40:\"twitter_3877fb4eaa8b50ef8f6f2a85d79683dd\";i:5081;s:42:\"pinterest_3877fb4eaa8b50ef8f6f2a85d79683dd\";i:5082;s:35:\"fb_5638c57e7fd0a657dd2134357c3fb6d2\";i:5083;s:40:\"twitter_5638c57e7fd0a657dd2134357c3fb6d2\";i:5084;s:42:\"pinterest_5638c57e7fd0a657dd2134357c3fb6d2\";i:5085;s:41:\"linkedin_5638c57e7fd0a657dd2134357c3fb6d2\";i:5086;s:35:\"fb_d2546fa2d0488f4d5ad8b2114e2e4bef\";i:5087;s:40:\"twitter_d2546fa2d0488f4d5ad8b2114e2e4bef\";i:5088;s:42:\"pinterest_d2546fa2d0488f4d5ad8b2114e2e4bef\";i:5089;s:41:\"linkedin_d2546fa2d0488f4d5ad8b2114e2e4bef\";i:5090;s:35:\"fb_b4d01ab2346565e55e3ac5fe2febe08b\";i:5091;s:40:\"twitter_b4d01ab2346565e55e3ac5fe2febe08b\";i:5092;s:42:\"pinterest_b4d01ab2346565e55e3ac5fe2febe08b\";i:5093;s:41:\"linkedin_b4d01ab2346565e55e3ac5fe2febe08b\";i:5094;s:35:\"fb_f0405b2c01e8c5de45e2cb06cb88f8f3\";i:5095;s:40:\"twitter_f0405b2c01e8c5de45e2cb06cb88f8f3\";i:5096;s:42:\"pinterest_f0405b2c01e8c5de45e2cb06cb88f8f3\";i:5097;s:41:\"linkedin_f0405b2c01e8c5de45e2cb06cb88f8f3\";i:5098;s:35:\"fb_781de470243c045631b920b30f111f33\";i:5099;s:40:\"twitter_781de470243c045631b920b30f111f33\";i:5100;s:42:\"pinterest_781de470243c045631b920b30f111f33\";i:5101;s:41:\"linkedin_781de470243c045631b920b30f111f33\";i:5102;s:35:\"fb_4a1d1ae38090e7d6efa206621e50d517\";i:5103;s:40:\"twitter_4a1d1ae38090e7d6efa206621e50d517\";i:5104;s:42:\"pinterest_4a1d1ae38090e7d6efa206621e50d517\";i:5105;s:41:\"linkedin_4a1d1ae38090e7d6efa206621e50d517\";i:5106;s:35:\"fb_c3c332b77dce8df554f2623774e82793\";i:5107;s:40:\"twitter_c3c332b77dce8df554f2623774e82793\";i:5108;s:42:\"pinterest_c3c332b77dce8df554f2623774e82793\";i:5109;s:41:\"linkedin_c3c332b77dce8df554f2623774e82793\";i:5110;s:35:\"fb_e8cb8e15b065334461085e79ffc9b7c1\";i:5111;s:40:\"twitter_e8cb8e15b065334461085e79ffc9b7c1\";i:5112;s:42:\"pinterest_e8cb8e15b065334461085e79ffc9b7c1\";i:5113;s:41:\"linkedin_e8cb8e15b065334461085e79ffc9b7c1\";i:5114;s:35:\"fb_4e291187d9f32239d3cbfc76a3563cb0\";i:5115;s:40:\"twitter_4e291187d9f32239d3cbfc76a3563cb0\";i:5116;s:42:\"pinterest_4e291187d9f32239d3cbfc76a3563cb0\";i:5117;s:35:\"fb_aa280f06e820db53133790bbf7ec7c88\";i:5118;s:40:\"twitter_aa280f06e820db53133790bbf7ec7c88\";i:5119;s:42:\"pinterest_aa280f06e820db53133790bbf7ec7c88\";i:5120;s:41:\"linkedin_aa280f06e820db53133790bbf7ec7c88\";i:5121;s:35:\"fb_d2ab87dfb708a7e7aff4d2b875f33c33\";i:5122;s:40:\"twitter_d2ab87dfb708a7e7aff4d2b875f33c33\";i:5123;s:42:\"pinterest_d2ab87dfb708a7e7aff4d2b875f33c33\";i:5124;s:41:\"linkedin_d2ab87dfb708a7e7aff4d2b875f33c33\";i:5125;s:35:\"fb_61303de3de4e9f9e5658e42641ca72da\";i:5126;s:40:\"twitter_61303de3de4e9f9e5658e42641ca72da\";i:5127;s:42:\"pinterest_61303de3de4e9f9e5658e42641ca72da\";i:5128;s:41:\"linkedin_61303de3de4e9f9e5658e42641ca72da\";i:5129;s:35:\"fb_8e23ff1bdc2d68c3e589da2d78889ba2\";i:5130;s:40:\"twitter_8e23ff1bdc2d68c3e589da2d78889ba2\";i:5131;s:42:\"pinterest_8e23ff1bdc2d68c3e589da2d78889ba2\";i:5132;s:41:\"linkedin_8e23ff1bdc2d68c3e589da2d78889ba2\";i:5133;s:35:\"fb_d18848dbbced5436b6e16697627ce968\";i:5134;s:40:\"twitter_d18848dbbced5436b6e16697627ce968\";i:5135;s:42:\"pinterest_d18848dbbced5436b6e16697627ce968\";i:5136;s:41:\"linkedin_d18848dbbced5436b6e16697627ce968\";i:5137;s:35:\"fb_654c703d48c36eb1b3678b4c51dfcb6b\";i:5138;s:40:\"twitter_654c703d48c36eb1b3678b4c51dfcb6b\";i:5139;s:42:\"pinterest_654c703d48c36eb1b3678b4c51dfcb6b\";i:5140;s:41:\"linkedin_654c703d48c36eb1b3678b4c51dfcb6b\";i:5141;s:35:\"fb_d56c14c8bf1e6ee5fcb24beb2ac612be\";i:5142;s:40:\"twitter_d56c14c8bf1e6ee5fcb24beb2ac612be\";i:5143;s:42:\"pinterest_d56c14c8bf1e6ee5fcb24beb2ac612be\";i:5144;s:41:\"linkedin_d56c14c8bf1e6ee5fcb24beb2ac612be\";i:5145;s:35:\"fb_715fde71e2bd37a13ed0605edba7df99\";i:5146;s:40:\"twitter_715fde71e2bd37a13ed0605edba7df99\";i:5147;s:42:\"pinterest_715fde71e2bd37a13ed0605edba7df99\";i:5148;s:35:\"fb_12daca6c3b3e46692176ee4f671b903e\";i:5149;s:40:\"twitter_12daca6c3b3e46692176ee4f671b903e\";i:5150;s:42:\"pinterest_12daca6c3b3e46692176ee4f671b903e\";i:5151;s:41:\"linkedin_12daca6c3b3e46692176ee4f671b903e\";i:5152;s:35:\"fb_f6b10fa94e994ef389d42ec98110e200\";i:5153;s:40:\"twitter_f6b10fa94e994ef389d42ec98110e200\";i:5154;s:42:\"pinterest_f6b10fa94e994ef389d42ec98110e200\";i:5155;s:41:\"linkedin_f6b10fa94e994ef389d42ec98110e200\";i:5156;s:35:\"fb_cd9a8b1492936716a276eb1b3a0c420e\";i:5157;s:40:\"twitter_cd9a8b1492936716a276eb1b3a0c420e\";i:5158;s:42:\"pinterest_cd9a8b1492936716a276eb1b3a0c420e\";i:5159;s:41:\"linkedin_cd9a8b1492936716a276eb1b3a0c420e\";i:5160;s:35:\"fb_25cb4433c8e46b3dd38325923a7c3e59\";i:5161;s:40:\"twitter_25cb4433c8e46b3dd38325923a7c3e59\";i:5162;s:42:\"pinterest_25cb4433c8e46b3dd38325923a7c3e59\";i:5163;s:35:\"fb_13cb2099133182cd819ca232480a35a7\";i:5164;s:40:\"twitter_13cb2099133182cd819ca232480a35a7\";i:5165;s:42:\"pinterest_13cb2099133182cd819ca232480a35a7\";i:5166;s:41:\"linkedin_13cb2099133182cd819ca232480a35a7\";i:5167;s:35:\"fb_dc5133e156018661a8cf32c006963900\";i:5168;s:40:\"twitter_dc5133e156018661a8cf32c006963900\";i:5169;s:42:\"pinterest_dc5133e156018661a8cf32c006963900\";i:5170;s:41:\"linkedin_dc5133e156018661a8cf32c006963900\";i:5171;s:35:\"fb_97199f69e9c1cce755106fb262a47afd\";i:5172;s:40:\"twitter_97199f69e9c1cce755106fb262a47afd\";i:5173;s:42:\"pinterest_97199f69e9c1cce755106fb262a47afd\";i:5174;s:41:\"linkedin_97199f69e9c1cce755106fb262a47afd\";i:5175;s:35:\"fb_1161f5ed0045c6deecbb0d2d297d96d3\";i:5176;s:40:\"twitter_1161f5ed0045c6deecbb0d2d297d96d3\";i:5177;s:42:\"pinterest_1161f5ed0045c6deecbb0d2d297d96d3\";i:5178;s:41:\"linkedin_1161f5ed0045c6deecbb0d2d297d96d3\";i:5179;s:35:\"fb_d9ebec144eb7b193b520c6e9acc5f1c9\";i:5180;s:40:\"twitter_d9ebec144eb7b193b520c6e9acc5f1c9\";i:5181;s:42:\"pinterest_d9ebec144eb7b193b520c6e9acc5f1c9\";i:5182;s:41:\"linkedin_d9ebec144eb7b193b520c6e9acc5f1c9\";i:5183;s:35:\"fb_88a875a5d570e509e2b99f6091baec1d\";i:5184;s:40:\"twitter_88a875a5d570e509e2b99f6091baec1d\";i:5185;s:42:\"pinterest_88a875a5d570e509e2b99f6091baec1d\";i:5186;s:41:\"linkedin_88a875a5d570e509e2b99f6091baec1d\";i:5187;s:35:\"fb_3d2ad15b688ccda2705d218a6dda32c4\";i:5188;s:40:\"twitter_3d2ad15b688ccda2705d218a6dda32c4\";i:5189;s:42:\"pinterest_3d2ad15b688ccda2705d218a6dda32c4\";i:5190;s:41:\"linkedin_3d2ad15b688ccda2705d218a6dda32c4\";i:5191;s:35:\"fb_26afaaf53f1efe9311e8236312e951cd\";i:5192;s:40:\"twitter_26afaaf53f1efe9311e8236312e951cd\";i:5193;s:35:\"fb_50104e8f9e059406e2fb74685ab9c4ed\";i:5194;s:40:\"twitter_50104e8f9e059406e2fb74685ab9c4ed\";i:5195;s:42:\"pinterest_50104e8f9e059406e2fb74685ab9c4ed\";i:5196;s:35:\"fb_250132d8967a2e4dfc27e03a8e4848a8\";i:5197;s:40:\"twitter_250132d8967a2e4dfc27e03a8e4848a8\";i:5198;s:42:\"pinterest_250132d8967a2e4dfc27e03a8e4848a8\";i:5199;s:41:\"linkedin_250132d8967a2e4dfc27e03a8e4848a8\";i:5200;s:35:\"fb_ef0a7b2a3b5770dfd552ed7c7bd25fc2\";i:5201;s:40:\"twitter_ef0a7b2a3b5770dfd552ed7c7bd25fc2\";i:5202;s:42:\"pinterest_ef0a7b2a3b5770dfd552ed7c7bd25fc2\";i:5203;s:41:\"linkedin_ef0a7b2a3b5770dfd552ed7c7bd25fc2\";i:5204;s:35:\"fb_b73cf79896582b21fddd31490d10ad88\";i:5205;s:40:\"twitter_b73cf79896582b21fddd31490d10ad88\";i:5206;s:42:\"pinterest_b73cf79896582b21fddd31490d10ad88\";i:5207;s:41:\"linkedin_b73cf79896582b21fddd31490d10ad88\";i:5208;s:35:\"fb_2c5d686462a31eee3488a1eed6beae37\";i:5209;s:40:\"twitter_2c5d686462a31eee3488a1eed6beae37\";i:5210;s:42:\"pinterest_2c5d686462a31eee3488a1eed6beae37\";i:5211;s:41:\"linkedin_2c5d686462a31eee3488a1eed6beae37\";i:5212;s:35:\"fb_6c8958ab32101e8e9fe9874fa7bba1d8\";i:5213;s:40:\"twitter_6c8958ab32101e8e9fe9874fa7bba1d8\";i:5214;s:42:\"pinterest_6c8958ab32101e8e9fe9874fa7bba1d8\";i:5215;s:41:\"linkedin_6c8958ab32101e8e9fe9874fa7bba1d8\";i:5216;s:35:\"fb_355120b6179fdedc80b4ffb686c6e573\";i:5217;s:40:\"twitter_355120b6179fdedc80b4ffb686c6e573\";i:5218;s:42:\"pinterest_355120b6179fdedc80b4ffb686c6e573\";i:5219;s:41:\"linkedin_355120b6179fdedc80b4ffb686c6e573\";i:5220;s:35:\"fb_c614cce4390f3f1194565410893f2537\";i:5221;s:40:\"twitter_c614cce4390f3f1194565410893f2537\";i:5222;s:42:\"pinterest_c614cce4390f3f1194565410893f2537\";i:5223;s:41:\"linkedin_c614cce4390f3f1194565410893f2537\";i:5224;s:35:\"fb_c515e343edb63ef55e3ef0d509e08d51\";i:5225;s:40:\"twitter_c515e343edb63ef55e3ef0d509e08d51\";i:5226;s:42:\"pinterest_c515e343edb63ef55e3ef0d509e08d51\";i:5227;s:41:\"linkedin_c515e343edb63ef55e3ef0d509e08d51\";i:5228;s:35:\"fb_7ffea884fd1cc7f01b55102b79c88baa\";i:5229;s:40:\"twitter_7ffea884fd1cc7f01b55102b79c88baa\";i:5230;s:42:\"pinterest_7ffea884fd1cc7f01b55102b79c88baa\";i:5231;s:41:\"linkedin_7ffea884fd1cc7f01b55102b79c88baa\";i:5232;s:35:\"fb_80e82ad0911539324fb5360f9a80a851\";i:5233;s:40:\"twitter_80e82ad0911539324fb5360f9a80a851\";i:5234;s:42:\"pinterest_80e82ad0911539324fb5360f9a80a851\";i:5235;s:41:\"linkedin_80e82ad0911539324fb5360f9a80a851\";i:5236;s:35:\"fb_fb539257c47dcf025210b17ca355c961\";i:5237;s:40:\"twitter_fb539257c47dcf025210b17ca355c961\";i:5238;s:42:\"pinterest_fb539257c47dcf025210b17ca355c961\";i:5239;s:41:\"linkedin_fb539257c47dcf025210b17ca355c961\";i:5240;s:35:\"fb_1aa771ab318ef1bb9bd64f5306aff156\";i:5241;s:40:\"twitter_1aa771ab318ef1bb9bd64f5306aff156\";i:5242;s:42:\"pinterest_1aa771ab318ef1bb9bd64f5306aff156\";i:5243;s:41:\"linkedin_1aa771ab318ef1bb9bd64f5306aff156\";i:5244;s:35:\"fb_0c1638fd28b5d9a8193d179ee3793d35\";i:5245;s:40:\"twitter_0c1638fd28b5d9a8193d179ee3793d35\";i:5246;s:42:\"pinterest_0c1638fd28b5d9a8193d179ee3793d35\";i:5247;s:41:\"linkedin_0c1638fd28b5d9a8193d179ee3793d35\";i:5248;s:35:\"fb_518feefbe68bb8299191893949f66e7c\";i:5249;s:40:\"twitter_518feefbe68bb8299191893949f66e7c\";i:5250;s:42:\"pinterest_518feefbe68bb8299191893949f66e7c\";i:5251;s:41:\"linkedin_518feefbe68bb8299191893949f66e7c\";i:5252;s:35:\"fb_d78c14ee5f929831d994b78c6052b2fb\";i:5253;s:40:\"twitter_d78c14ee5f929831d994b78c6052b2fb\";i:5254;s:42:\"pinterest_d78c14ee5f929831d994b78c6052b2fb\";i:5255;s:41:\"linkedin_d78c14ee5f929831d994b78c6052b2fb\";i:5256;s:35:\"fb_7e6f15c5902b50e44e5056bc100f9256\";i:5257;s:40:\"twitter_7e6f15c5902b50e44e5056bc100f9256\";i:5258;s:42:\"pinterest_7e6f15c5902b50e44e5056bc100f9256\";i:5259;s:41:\"linkedin_7e6f15c5902b50e44e5056bc100f9256\";i:5260;s:35:\"fb_e229d60087b985c63a90ebe36c617610\";i:5261;s:40:\"twitter_e229d60087b985c63a90ebe36c617610\";i:5262;s:42:\"pinterest_e229d60087b985c63a90ebe36c617610\";i:5263;s:41:\"linkedin_e229d60087b985c63a90ebe36c617610\";i:5264;s:35:\"fb_f7be4929c97a4a1459ef872f19f3fb08\";i:5265;s:40:\"twitter_f7be4929c97a4a1459ef872f19f3fb08\";i:5266;s:42:\"pinterest_f7be4929c97a4a1459ef872f19f3fb08\";i:5267;s:41:\"linkedin_f7be4929c97a4a1459ef872f19f3fb08\";i:5268;s:35:\"fb_39ca289be3b06256768721f5f1f76061\";i:5269;s:40:\"twitter_39ca289be3b06256768721f5f1f76061\";i:5270;s:42:\"pinterest_39ca289be3b06256768721f5f1f76061\";i:5271;s:41:\"linkedin_39ca289be3b06256768721f5f1f76061\";i:5272;s:35:\"fb_ed7e5b1047738ad023990c06b176ccce\";i:5273;s:40:\"twitter_ed7e5b1047738ad023990c06b176ccce\";i:5274;s:42:\"pinterest_ed7e5b1047738ad023990c06b176ccce\";i:5275;s:41:\"linkedin_ed7e5b1047738ad023990c06b176ccce\";i:5276;s:35:\"fb_80d4d55a06671b7533f1577bb83bd004\";i:5277;s:40:\"twitter_80d4d55a06671b7533f1577bb83bd004\";i:5278;s:42:\"pinterest_80d4d55a06671b7533f1577bb83bd004\";i:5279;s:41:\"linkedin_80d4d55a06671b7533f1577bb83bd004\";i:5280;s:35:\"fb_b81d0d60bcc20d4f2cf025b24391a4fd\";i:5281;s:40:\"twitter_b81d0d60bcc20d4f2cf025b24391a4fd\";i:5282;s:42:\"pinterest_b81d0d60bcc20d4f2cf025b24391a4fd\";i:5283;s:41:\"linkedin_b81d0d60bcc20d4f2cf025b24391a4fd\";i:5284;s:35:\"fb_9bdfee92be3b64401f780c58b8225d0c\";i:5285;s:40:\"twitter_9bdfee92be3b64401f780c58b8225d0c\";i:5286;s:42:\"pinterest_9bdfee92be3b64401f780c58b8225d0c\";i:5287;s:41:\"linkedin_9bdfee92be3b64401f780c58b8225d0c\";i:5288;s:35:\"fb_7d2ffaf657a06a6e122a672395c9470c\";i:5289;s:40:\"twitter_7d2ffaf657a06a6e122a672395c9470c\";i:5290;s:42:\"pinterest_7d2ffaf657a06a6e122a672395c9470c\";i:5291;s:41:\"linkedin_7d2ffaf657a06a6e122a672395c9470c\";i:5292;s:35:\"fb_fc8551886785a3fe3a38b0a4b6f20916\";i:5293;s:40:\"twitter_fc8551886785a3fe3a38b0a4b6f20916\";i:5294;s:42:\"pinterest_fc8551886785a3fe3a38b0a4b6f20916\";i:5295;s:41:\"linkedin_fc8551886785a3fe3a38b0a4b6f20916\";i:5296;s:35:\"fb_7a4852299c47d7859e072d61908dbaba\";i:5297;s:40:\"twitter_7a4852299c47d7859e072d61908dbaba\";i:5298;s:42:\"pinterest_7a4852299c47d7859e072d61908dbaba\";i:5299;s:41:\"linkedin_7a4852299c47d7859e072d61908dbaba\";i:5300;s:35:\"fb_6d03244491ff234374acea5b46be21c0\";i:5301;s:40:\"twitter_6d03244491ff234374acea5b46be21c0\";i:5302;s:42:\"pinterest_6d03244491ff234374acea5b46be21c0\";i:5303;s:35:\"fb_ff3e687a838e7aad3ceeaca57527ea57\";i:5304;s:40:\"twitter_ff3e687a838e7aad3ceeaca57527ea57\";i:5305;s:42:\"pinterest_ff3e687a838e7aad3ceeaca57527ea57\";i:5306;s:41:\"linkedin_ff3e687a838e7aad3ceeaca57527ea57\";i:5307;s:35:\"fb_31ba0ea7de85ef1cb27e5b78b142f97f\";i:5308;s:40:\"twitter_31ba0ea7de85ef1cb27e5b78b142f97f\";i:5309;s:42:\"pinterest_31ba0ea7de85ef1cb27e5b78b142f97f\";i:5310;s:41:\"linkedin_31ba0ea7de85ef1cb27e5b78b142f97f\";i:5311;s:35:\"fb_a476f735d240164d0e23485179b7eb69\";i:5312;s:40:\"twitter_a476f735d240164d0e23485179b7eb69\";i:5313;s:42:\"pinterest_a476f735d240164d0e23485179b7eb69\";i:5314;s:41:\"linkedin_a476f735d240164d0e23485179b7eb69\";i:5315;s:35:\"fb_82ae3941543fb2da15e1aaf37437b131\";i:5316;s:40:\"twitter_82ae3941543fb2da15e1aaf37437b131\";i:5317;s:42:\"pinterest_82ae3941543fb2da15e1aaf37437b131\";i:5318;s:41:\"linkedin_82ae3941543fb2da15e1aaf37437b131\";i:5319;s:35:\"fb_75de482b11904a2071a94b84dd296bc5\";i:5320;s:40:\"twitter_75de482b11904a2071a94b84dd296bc5\";i:5321;s:42:\"pinterest_75de482b11904a2071a94b84dd296bc5\";i:5322;s:41:\"linkedin_75de482b11904a2071a94b84dd296bc5\";i:5323;s:35:\"fb_867a729e2d842a2ef8d9ed8b8e8547b1\";i:5324;s:40:\"twitter_867a729e2d842a2ef8d9ed8b8e8547b1\";i:5325;s:42:\"pinterest_867a729e2d842a2ef8d9ed8b8e8547b1\";i:5326;s:41:\"linkedin_867a729e2d842a2ef8d9ed8b8e8547b1\";i:5327;s:35:\"fb_e78512c2ad29e1cbccc930a444bdeb7d\";i:5328;s:40:\"twitter_e78512c2ad29e1cbccc930a444bdeb7d\";i:5329;s:42:\"pinterest_e78512c2ad29e1cbccc930a444bdeb7d\";i:5330;s:41:\"linkedin_e78512c2ad29e1cbccc930a444bdeb7d\";i:5331;s:35:\"fb_9d0e1c2a7dac875795ab436cf8ec3bb8\";i:5332;s:40:\"twitter_9d0e1c2a7dac875795ab436cf8ec3bb8\";i:5333;s:42:\"pinterest_9d0e1c2a7dac875795ab436cf8ec3bb8\";i:5334;s:41:\"linkedin_9d0e1c2a7dac875795ab436cf8ec3bb8\";i:5335;s:35:\"fb_5b69bf8a451c4ae3692bce92e5c19d24\";i:5336;s:40:\"twitter_5b69bf8a451c4ae3692bce92e5c19d24\";i:5337;s:42:\"pinterest_5b69bf8a451c4ae3692bce92e5c19d24\";i:5338;s:41:\"linkedin_5b69bf8a451c4ae3692bce92e5c19d24\";i:5339;s:35:\"fb_f2eaf54823c6a0f5595aac8d0a8f2584\";i:5340;s:40:\"twitter_f2eaf54823c6a0f5595aac8d0a8f2584\";i:5341;s:42:\"pinterest_f2eaf54823c6a0f5595aac8d0a8f2584\";i:5342;s:41:\"linkedin_f2eaf54823c6a0f5595aac8d0a8f2584\";i:5343;s:35:\"fb_0d9feeb02bceeaf485f27cb00629a691\";i:5344;s:40:\"twitter_0d9feeb02bceeaf485f27cb00629a691\";i:5345;s:42:\"pinterest_0d9feeb02bceeaf485f27cb00629a691\";i:5346;s:41:\"linkedin_0d9feeb02bceeaf485f27cb00629a691\";i:5347;s:35:\"fb_2f3304a673271e5961798a0c7488dbc1\";i:5348;s:40:\"twitter_2f3304a673271e5961798a0c7488dbc1\";i:5349;s:42:\"pinterest_2f3304a673271e5961798a0c7488dbc1\";i:5350;s:41:\"linkedin_2f3304a673271e5961798a0c7488dbc1\";i:5351;s:35:\"fb_9d9f2d6cfa757e4af600d36bc96e02d2\";i:5352;s:40:\"twitter_9d9f2d6cfa757e4af600d36bc96e02d2\";i:5353;s:42:\"pinterest_9d9f2d6cfa757e4af600d36bc96e02d2\";i:5354;s:41:\"linkedin_9d9f2d6cfa757e4af600d36bc96e02d2\";i:5355;s:35:\"fb_5f13f533bc3ca3483d942d75e3ed460e\";i:5356;s:40:\"twitter_5f13f533bc3ca3483d942d75e3ed460e\";i:5357;s:42:\"pinterest_5f13f533bc3ca3483d942d75e3ed460e\";i:5358;s:41:\"linkedin_5f13f533bc3ca3483d942d75e3ed460e\";i:5359;s:35:\"fb_b6021d6e9d200187e692d4410270a462\";i:5360;s:40:\"twitter_b6021d6e9d200187e692d4410270a462\";i:5361;s:42:\"pinterest_b6021d6e9d200187e692d4410270a462\";i:5362;s:41:\"linkedin_b6021d6e9d200187e692d4410270a462\";i:5363;s:35:\"fb_15af69c584be707244b025ad30cbce81\";i:5364;s:40:\"twitter_15af69c584be707244b025ad30cbce81\";i:5365;s:42:\"pinterest_15af69c584be707244b025ad30cbce81\";i:5366;s:41:\"linkedin_15af69c584be707244b025ad30cbce81\";i:5367;s:35:\"fb_006705daf930986c21fc32ac2fb01a4a\";i:5368;s:40:\"twitter_006705daf930986c21fc32ac2fb01a4a\";i:5369;s:42:\"pinterest_006705daf930986c21fc32ac2fb01a4a\";i:5370;s:41:\"linkedin_006705daf930986c21fc32ac2fb01a4a\";i:5371;s:35:\"fb_cb3148f9bb9515bf1cdd5f7b37262343\";i:5372;s:40:\"twitter_cb3148f9bb9515bf1cdd5f7b37262343\";i:5373;s:42:\"pinterest_cb3148f9bb9515bf1cdd5f7b37262343\";i:5374;s:41:\"linkedin_cb3148f9bb9515bf1cdd5f7b37262343\";i:5375;s:35:\"fb_623f6d764170ed05e41d97c9a9946be9\";i:5376;s:40:\"twitter_623f6d764170ed05e41d97c9a9946be9\";i:5377;s:42:\"pinterest_623f6d764170ed05e41d97c9a9946be9\";i:5378;s:41:\"linkedin_623f6d764170ed05e41d97c9a9946be9\";i:5379;s:35:\"fb_627ee3d215200b394c9b9a83b4837eac\";i:5380;s:40:\"twitter_627ee3d215200b394c9b9a83b4837eac\";i:5381;s:42:\"pinterest_627ee3d215200b394c9b9a83b4837eac\";i:5382;s:41:\"linkedin_627ee3d215200b394c9b9a83b4837eac\";i:5383;s:35:\"fb_9547ed10e88a6353e70e474c5fb9407f\";i:5384;s:40:\"twitter_9547ed10e88a6353e70e474c5fb9407f\";i:5385;s:42:\"pinterest_9547ed10e88a6353e70e474c5fb9407f\";i:5386;s:41:\"linkedin_9547ed10e88a6353e70e474c5fb9407f\";i:5387;s:35:\"fb_8f08f966bd24494d8634587839df6620\";i:5388;s:40:\"twitter_8f08f966bd24494d8634587839df6620\";i:5389;s:42:\"pinterest_8f08f966bd24494d8634587839df6620\";i:5390;s:41:\"linkedin_8f08f966bd24494d8634587839df6620\";i:5391;s:35:\"fb_403ac36cc60f91da39ab903e33b4743a\";i:5392;s:40:\"twitter_403ac36cc60f91da39ab903e33b4743a\";i:5393;s:42:\"pinterest_403ac36cc60f91da39ab903e33b4743a\";i:5394;s:41:\"linkedin_403ac36cc60f91da39ab903e33b4743a\";i:5395;s:35:\"fb_c979b98aa26bbeff6a57007762b69884\";i:5396;s:40:\"twitter_c979b98aa26bbeff6a57007762b69884\";i:5397;s:42:\"pinterest_c979b98aa26bbeff6a57007762b69884\";i:5398;s:41:\"linkedin_c979b98aa26bbeff6a57007762b69884\";i:5399;s:35:\"fb_70938051ed31abcdb1cfda73080021b0\";i:5400;s:40:\"twitter_70938051ed31abcdb1cfda73080021b0\";i:5401;s:42:\"pinterest_70938051ed31abcdb1cfda73080021b0\";i:5402;s:41:\"linkedin_70938051ed31abcdb1cfda73080021b0\";i:5403;s:41:\"linkedin_57d1790ce284d90a61f85d52de354858\";i:5404;s:35:\"fb_2ab8848069fc9f976199f85954b987e9\";i:5405;s:40:\"twitter_2ab8848069fc9f976199f85954b987e9\";i:5406;s:42:\"pinterest_2ab8848069fc9f976199f85954b987e9\";i:5407;s:41:\"linkedin_2ab8848069fc9f976199f85954b987e9\";i:5408;s:35:\"fb_09df559ee3ff67ee582ebb53714e68c2\";i:5409;s:35:\"fb_44b2a6b336113514b7d36d55736934fc\";i:5410;s:40:\"twitter_44b2a6b336113514b7d36d55736934fc\";i:5411;s:42:\"pinterest_44b2a6b336113514b7d36d55736934fc\";i:5412;s:41:\"linkedin_44b2a6b336113514b7d36d55736934fc\";i:5413;s:35:\"fb_b4e41054ac6819718300b0baa8c114dd\";i:5414;s:40:\"twitter_b4e41054ac6819718300b0baa8c114dd\";i:5415;s:42:\"pinterest_b4e41054ac6819718300b0baa8c114dd\";i:5416;s:41:\"linkedin_b4e41054ac6819718300b0baa8c114dd\";i:5417;s:35:\"fb_ced821d19647bdc2c4ab28b091653e28\";i:5418;s:40:\"twitter_ced821d19647bdc2c4ab28b091653e28\";i:5419;s:42:\"pinterest_ced821d19647bdc2c4ab28b091653e28\";i:5420;s:41:\"linkedin_ced821d19647bdc2c4ab28b091653e28\";i:5421;s:35:\"fb_800037c0c1bbd00032df66aa59988d83\";i:5422;s:40:\"twitter_800037c0c1bbd00032df66aa59988d83\";i:5423;s:35:\"fb_742f91a4535b9f474a0ed348e21a401f\";i:5424;s:40:\"twitter_742f91a4535b9f474a0ed348e21a401f\";i:5425;s:42:\"pinterest_742f91a4535b9f474a0ed348e21a401f\";i:5426;s:41:\"linkedin_742f91a4535b9f474a0ed348e21a401f\";i:5427;s:35:\"fb_06060e6d312dc29b49745eb127c0a478\";i:5428;s:40:\"twitter_06060e6d312dc29b49745eb127c0a478\";i:5429;s:42:\"pinterest_06060e6d312dc29b49745eb127c0a478\";i:5430;s:41:\"linkedin_06060e6d312dc29b49745eb127c0a478\";i:5431;s:35:\"fb_51cfdd785b9adf58fd9ed557f3296318\";i:5432;s:40:\"twitter_51cfdd785b9adf58fd9ed557f3296318\";i:5433;s:42:\"pinterest_51cfdd785b9adf58fd9ed557f3296318\";i:5434;s:41:\"linkedin_51cfdd785b9adf58fd9ed557f3296318\";i:5435;s:35:\"fb_1f82eec9335d2f3bcca72abe1460fcea\";i:5436;s:40:\"twitter_1f82eec9335d2f3bcca72abe1460fcea\";i:5437;s:42:\"pinterest_1f82eec9335d2f3bcca72abe1460fcea\";i:5438;s:41:\"linkedin_1f82eec9335d2f3bcca72abe1460fcea\";i:5439;s:35:\"fb_990d7aa7a8b6e8f6b581fd55647a6347\";i:5440;s:40:\"twitter_990d7aa7a8b6e8f6b581fd55647a6347\";i:5441;s:42:\"pinterest_990d7aa7a8b6e8f6b581fd55647a6347\";i:5442;s:41:\"linkedin_990d7aa7a8b6e8f6b581fd55647a6347\";i:5443;s:35:\"fb_5c1e80874a5e5203625bfb3b3abf5a4f\";i:5444;s:40:\"twitter_5c1e80874a5e5203625bfb3b3abf5a4f\";i:5445;s:42:\"pinterest_5c1e80874a5e5203625bfb3b3abf5a4f\";i:5446;s:41:\"linkedin_5c1e80874a5e5203625bfb3b3abf5a4f\";i:5447;s:35:\"fb_6e5c5c774d363b14bf557f1179d3d0ef\";i:5448;s:40:\"twitter_6e5c5c774d363b14bf557f1179d3d0ef\";i:5449;s:42:\"pinterest_6e5c5c774d363b14bf557f1179d3d0ef\";i:5450;s:41:\"linkedin_6e5c5c774d363b14bf557f1179d3d0ef\";i:5451;s:35:\"fb_9d7f4d9e59d6b486abbfc6d149af1de5\";i:5452;s:40:\"twitter_9d7f4d9e59d6b486abbfc6d149af1de5\";i:5453;s:42:\"pinterest_9d7f4d9e59d6b486abbfc6d149af1de5\";i:5454;s:41:\"linkedin_9d7f4d9e59d6b486abbfc6d149af1de5\";i:5455;s:35:\"fb_96dfa030fb5f0a7fcc9e4f390c428b84\";i:5456;s:40:\"twitter_96dfa030fb5f0a7fcc9e4f390c428b84\";i:5457;s:42:\"pinterest_96dfa030fb5f0a7fcc9e4f390c428b84\";i:5458;s:41:\"linkedin_96dfa030fb5f0a7fcc9e4f390c428b84\";i:5459;s:35:\"fb_1d6746afe39c3f0a6a73cb52b141e98c\";i:5460;s:40:\"twitter_1d6746afe39c3f0a6a73cb52b141e98c\";i:5461;s:42:\"pinterest_1d6746afe39c3f0a6a73cb52b141e98c\";i:5462;s:41:\"linkedin_1d6746afe39c3f0a6a73cb52b141e98c\";i:5463;s:35:\"fb_5107ed4f74b1d2841ed21e1dabaed925\";i:5464;s:40:\"twitter_5107ed4f74b1d2841ed21e1dabaed925\";i:5465;s:42:\"pinterest_5107ed4f74b1d2841ed21e1dabaed925\";i:5466;s:41:\"linkedin_5107ed4f74b1d2841ed21e1dabaed925\";i:5467;s:35:\"fb_50d1682b03eb683669b9161cccf42b1f\";i:5468;s:40:\"twitter_50d1682b03eb683669b9161cccf42b1f\";i:5469;s:42:\"pinterest_50d1682b03eb683669b9161cccf42b1f\";i:5470;s:41:\"linkedin_50d1682b03eb683669b9161cccf42b1f\";i:5471;s:35:\"fb_39f6050c1666420a55cb1f55d4b59a08\";i:5472;s:40:\"twitter_39f6050c1666420a55cb1f55d4b59a08\";i:5473;s:42:\"pinterest_39f6050c1666420a55cb1f55d4b59a08\";i:5474;s:41:\"linkedin_39f6050c1666420a55cb1f55d4b59a08\";i:5475;s:35:\"fb_3604e57d4bf900a5ecb5d9ccb13dfa7b\";i:5476;s:40:\"twitter_3604e57d4bf900a5ecb5d9ccb13dfa7b\";i:5477;s:42:\"pinterest_3604e57d4bf900a5ecb5d9ccb13dfa7b\";i:5478;s:41:\"linkedin_3604e57d4bf900a5ecb5d9ccb13dfa7b\";i:5479;s:35:\"fb_b14ac6b27aa590a9dfad039ffa625f8a\";i:5480;s:40:\"twitter_b14ac6b27aa590a9dfad039ffa625f8a\";i:5481;s:42:\"pinterest_b14ac6b27aa590a9dfad039ffa625f8a\";i:5482;s:41:\"linkedin_b14ac6b27aa590a9dfad039ffa625f8a\";i:5483;s:35:\"fb_ef8bc62bb8f509352a3d6d08cab6cee6\";i:5484;s:40:\"twitter_ef8bc62bb8f509352a3d6d08cab6cee6\";i:5485;s:42:\"pinterest_ef8bc62bb8f509352a3d6d08cab6cee6\";i:5486;s:41:\"linkedin_ef8bc62bb8f509352a3d6d08cab6cee6\";i:5487;s:35:\"fb_343e571b9522384fbff373d2a425de72\";i:5488;s:40:\"twitter_343e571b9522384fbff373d2a425de72\";i:5489;s:42:\"pinterest_343e571b9522384fbff373d2a425de72\";i:5490;s:41:\"linkedin_343e571b9522384fbff373d2a425de72\";i:5491;s:35:\"fb_68aa59689058a2e095eeb52ce670f3be\";i:5492;s:40:\"twitter_68aa59689058a2e095eeb52ce670f3be\";i:5493;s:42:\"pinterest_68aa59689058a2e095eeb52ce670f3be\";i:5494;s:41:\"linkedin_68aa59689058a2e095eeb52ce670f3be\";i:5495;s:35:\"fb_1405f3d0e23dafff2f6624eddcbdaee8\";i:5496;s:40:\"twitter_1405f3d0e23dafff2f6624eddcbdaee8\";i:5497;s:42:\"pinterest_1405f3d0e23dafff2f6624eddcbdaee8\";i:5498;s:41:\"linkedin_1405f3d0e23dafff2f6624eddcbdaee8\";i:5499;s:35:\"fb_43cede203709439acb090b3caf6ad70f\";i:5500;s:40:\"twitter_43cede203709439acb090b3caf6ad70f\";i:5501;s:42:\"pinterest_43cede203709439acb090b3caf6ad70f\";i:5502;s:41:\"linkedin_43cede203709439acb090b3caf6ad70f\";i:5503;s:35:\"fb_d8e5d68e14bf9e6c94aa5343953517c8\";i:5504;s:40:\"twitter_d8e5d68e14bf9e6c94aa5343953517c8\";i:5505;s:42:\"pinterest_d8e5d68e14bf9e6c94aa5343953517c8\";i:5506;s:41:\"linkedin_d8e5d68e14bf9e6c94aa5343953517c8\";i:5507;s:35:\"fb_836445aa6b573f07adf3111bc4f2ea8e\";i:5508;s:40:\"twitter_836445aa6b573f07adf3111bc4f2ea8e\";i:5509;s:42:\"pinterest_836445aa6b573f07adf3111bc4f2ea8e\";i:5510;s:41:\"linkedin_836445aa6b573f07adf3111bc4f2ea8e\";i:5511;s:35:\"fb_54328cadc4f3b258200a1134d4134243\";i:5512;s:40:\"twitter_54328cadc4f3b258200a1134d4134243\";i:5513;s:42:\"pinterest_54328cadc4f3b258200a1134d4134243\";i:5514;s:41:\"linkedin_54328cadc4f3b258200a1134d4134243\";i:5515;s:35:\"fb_3370901fd6214400ea3b26c5dcdfcb3b\";i:5516;s:40:\"twitter_3370901fd6214400ea3b26c5dcdfcb3b\";i:5517;s:42:\"pinterest_3370901fd6214400ea3b26c5dcdfcb3b\";i:5518;s:41:\"linkedin_3370901fd6214400ea3b26c5dcdfcb3b\";i:5519;s:35:\"fb_489e85fc86b4d9e43fa722aff78a2ffc\";i:5520;s:40:\"twitter_489e85fc86b4d9e43fa722aff78a2ffc\";i:5521;s:42:\"pinterest_489e85fc86b4d9e43fa722aff78a2ffc\";i:5522;s:41:\"linkedin_489e85fc86b4d9e43fa722aff78a2ffc\";i:5523;s:35:\"fb_476938015c034a657c6f27e3d313e11d\";i:5524;s:40:\"twitter_476938015c034a657c6f27e3d313e11d\";i:5525;s:42:\"pinterest_476938015c034a657c6f27e3d313e11d\";i:5526;s:41:\"linkedin_476938015c034a657c6f27e3d313e11d\";i:5527;s:35:\"fb_4c63fd7aa52849f1bfbec4f4114452c5\";i:5528;s:40:\"twitter_4c63fd7aa52849f1bfbec4f4114452c5\";i:5529;s:42:\"pinterest_4c63fd7aa52849f1bfbec4f4114452c5\";i:5530;s:41:\"linkedin_4c63fd7aa52849f1bfbec4f4114452c5\";i:5531;s:35:\"fb_bfe06adf64e7d481cc7250c502245826\";i:5532;s:40:\"twitter_bfe06adf64e7d481cc7250c502245826\";i:5533;s:42:\"pinterest_bfe06adf64e7d481cc7250c502245826\";i:5534;s:41:\"linkedin_bfe06adf64e7d481cc7250c502245826\";i:5535;s:35:\"fb_1c6aa4aae051eaf2b3d5822f9657fd45\";i:5536;s:40:\"twitter_1c6aa4aae051eaf2b3d5822f9657fd45\";i:5537;s:42:\"pinterest_1c6aa4aae051eaf2b3d5822f9657fd45\";i:5538;s:41:\"linkedin_1c6aa4aae051eaf2b3d5822f9657fd45\";i:5539;s:35:\"fb_83bd58c30cb41f87e98fb7505c604df2\";i:5540;s:40:\"twitter_83bd58c30cb41f87e98fb7505c604df2\";i:5541;s:42:\"pinterest_83bd58c30cb41f87e98fb7505c604df2\";i:5542;s:41:\"linkedin_83bd58c30cb41f87e98fb7505c604df2\";i:5543;s:35:\"fb_93da135e4b6d6ad4d4ab6e9495eed1e3\";i:5544;s:40:\"twitter_93da135e4b6d6ad4d4ab6e9495eed1e3\";i:5545;s:42:\"pinterest_93da135e4b6d6ad4d4ab6e9495eed1e3\";i:5546;s:41:\"linkedin_93da135e4b6d6ad4d4ab6e9495eed1e3\";i:5547;s:35:\"fb_b99dd42131b1f88fd21c591974eed1aa\";i:5548;s:40:\"twitter_b99dd42131b1f88fd21c591974eed1aa\";i:5549;s:42:\"pinterest_b99dd42131b1f88fd21c591974eed1aa\";i:5550;s:41:\"linkedin_b99dd42131b1f88fd21c591974eed1aa\";i:5551;s:35:\"fb_c3193e5386f3babd446ea5005dfc9bfd\";i:5552;s:40:\"twitter_c3193e5386f3babd446ea5005dfc9bfd\";i:5553;s:42:\"pinterest_c3193e5386f3babd446ea5005dfc9bfd\";i:5554;s:41:\"linkedin_c3193e5386f3babd446ea5005dfc9bfd\";i:5555;s:35:\"fb_bad36fd9528751025f21f1f6a1d37d04\";i:5556;s:40:\"twitter_bad36fd9528751025f21f1f6a1d37d04\";i:5557;s:42:\"pinterest_bad36fd9528751025f21f1f6a1d37d04\";i:5558;s:41:\"linkedin_bad36fd9528751025f21f1f6a1d37d04\";i:5559;s:35:\"fb_12fd6840286426c8fffa2ae972eecd22\";i:5560;s:40:\"twitter_12fd6840286426c8fffa2ae972eecd22\";i:5561;s:42:\"pinterest_12fd6840286426c8fffa2ae972eecd22\";i:5562;s:41:\"linkedin_12fd6840286426c8fffa2ae972eecd22\";i:5563;s:35:\"fb_6daca0a095108ac9f9de6fdedc093bbb\";i:5564;s:40:\"twitter_6daca0a095108ac9f9de6fdedc093bbb\";i:5565;s:42:\"pinterest_6daca0a095108ac9f9de6fdedc093bbb\";i:5566;s:41:\"linkedin_6daca0a095108ac9f9de6fdedc093bbb\";i:5567;s:35:\"fb_dd91797f1b598d5fe512b9f26d9296f2\";i:5568;s:40:\"twitter_dd91797f1b598d5fe512b9f26d9296f2\";i:5569;s:42:\"pinterest_dd91797f1b598d5fe512b9f26d9296f2\";i:5570;s:41:\"linkedin_dd91797f1b598d5fe512b9f26d9296f2\";i:5571;s:35:\"fb_86651dd92af9f35ba056c3fe58e8a586\";i:5572;s:40:\"twitter_86651dd92af9f35ba056c3fe58e8a586\";i:5573;s:42:\"pinterest_86651dd92af9f35ba056c3fe58e8a586\";i:5574;s:41:\"linkedin_86651dd92af9f35ba056c3fe58e8a586\";i:5575;s:35:\"fb_176d277377675428828969565e1aec83\";i:5576;s:40:\"twitter_176d277377675428828969565e1aec83\";i:5577;s:42:\"pinterest_176d277377675428828969565e1aec83\";i:5578;s:41:\"linkedin_176d277377675428828969565e1aec83\";i:5579;s:35:\"fb_0252ee4dab0916cb64dc18d9bee1dd50\";i:5580;s:40:\"twitter_0252ee4dab0916cb64dc18d9bee1dd50\";i:5581;s:42:\"pinterest_0252ee4dab0916cb64dc18d9bee1dd50\";i:5582;s:41:\"linkedin_0252ee4dab0916cb64dc18d9bee1dd50\";i:5583;s:35:\"fb_748f107134e5ae64c857c97f5a8851b1\";i:5584;s:40:\"twitter_748f107134e5ae64c857c97f5a8851b1\";i:5585;s:42:\"pinterest_748f107134e5ae64c857c97f5a8851b1\";i:5586;s:41:\"linkedin_748f107134e5ae64c857c97f5a8851b1\";i:5587;s:35:\"fb_5db65e54c9603bb22a57db566d91fcf3\";i:5588;s:40:\"twitter_5db65e54c9603bb22a57db566d91fcf3\";i:5589;s:42:\"pinterest_5db65e54c9603bb22a57db566d91fcf3\";i:5590;s:41:\"linkedin_5db65e54c9603bb22a57db566d91fcf3\";i:5591;s:35:\"fb_ffaf35ca055cc4a3e97670f628062b1f\";i:5592;s:40:\"twitter_ffaf35ca055cc4a3e97670f628062b1f\";i:5593;s:42:\"pinterest_ffaf35ca055cc4a3e97670f628062b1f\";i:5594;s:41:\"linkedin_ffaf35ca055cc4a3e97670f628062b1f\";i:5595;s:35:\"fb_297fe77b6406110471dea54d4f4482c3\";i:5596;s:40:\"twitter_297fe77b6406110471dea54d4f4482c3\";i:5597;s:42:\"pinterest_297fe77b6406110471dea54d4f4482c3\";i:5598;s:41:\"linkedin_297fe77b6406110471dea54d4f4482c3\";i:5599;s:35:\"fb_d6d493abea6d6bf5cc68dd86997618f1\";i:5600;s:40:\"twitter_d6d493abea6d6bf5cc68dd86997618f1\";i:5601;s:42:\"pinterest_d6d493abea6d6bf5cc68dd86997618f1\";i:5602;s:41:\"linkedin_d6d493abea6d6bf5cc68dd86997618f1\";i:5603;s:35:\"fb_3b72ddac34854dd472f0f2fe99fb3506\";i:5604;s:40:\"twitter_3b72ddac34854dd472f0f2fe99fb3506\";i:5605;s:42:\"pinterest_3b72ddac34854dd472f0f2fe99fb3506\";i:5606;s:41:\"linkedin_3b72ddac34854dd472f0f2fe99fb3506\";i:5607;s:35:\"fb_4b2c757a35dbd3f1df4d289f4c9b62cd\";i:5608;s:40:\"twitter_4b2c757a35dbd3f1df4d289f4c9b62cd\";i:5609;s:42:\"pinterest_4b2c757a35dbd3f1df4d289f4c9b62cd\";i:5610;s:41:\"linkedin_4b2c757a35dbd3f1df4d289f4c9b62cd\";i:5611;s:35:\"fb_44f21222e9d0107c848064620ec37810\";i:5612;s:40:\"twitter_44f21222e9d0107c848064620ec37810\";i:5613;s:42:\"pinterest_44f21222e9d0107c848064620ec37810\";i:5614;s:41:\"linkedin_44f21222e9d0107c848064620ec37810\";i:5615;s:35:\"fb_4b5a596470595eae340707cab697a6e9\";i:5616;s:40:\"twitter_4b5a596470595eae340707cab697a6e9\";i:5617;s:42:\"pinterest_4b5a596470595eae340707cab697a6e9\";i:5618;s:41:\"linkedin_4b5a596470595eae340707cab697a6e9\";i:5619;s:35:\"fb_d468a1be89a4ad1667f0aa43c2b94918\";i:5620;s:40:\"twitter_d468a1be89a4ad1667f0aa43c2b94918\";i:5621;s:42:\"pinterest_d468a1be89a4ad1667f0aa43c2b94918\";i:5622;s:41:\"linkedin_d468a1be89a4ad1667f0aa43c2b94918\";i:5623;s:35:\"fb_e52ec82f70867e022c8449cb425a2f10\";i:5624;s:40:\"twitter_e52ec82f70867e022c8449cb425a2f10\";i:5625;s:42:\"pinterest_e52ec82f70867e022c8449cb425a2f10\";i:5626;s:41:\"linkedin_e52ec82f70867e022c8449cb425a2f10\";i:5627;s:35:\"fb_1063de4828eb3691ebf830e8076e615a\";i:5628;s:40:\"twitter_1063de4828eb3691ebf830e8076e615a\";i:5629;s:42:\"pinterest_1063de4828eb3691ebf830e8076e615a\";i:5630;s:41:\"linkedin_1063de4828eb3691ebf830e8076e615a\";i:5631;s:35:\"fb_dd5851c04b4f3c9db929851cc9acc37c\";i:5632;s:40:\"twitter_dd5851c04b4f3c9db929851cc9acc37c\";i:5633;s:42:\"pinterest_dd5851c04b4f3c9db929851cc9acc37c\";i:5634;s:41:\"linkedin_dd5851c04b4f3c9db929851cc9acc37c\";i:5635;s:35:\"fb_d70f4c1048243873d5fd0a2124b44930\";i:5636;s:40:\"twitter_d70f4c1048243873d5fd0a2124b44930\";i:5637;s:42:\"pinterest_d70f4c1048243873d5fd0a2124b44930\";i:5638;s:41:\"linkedin_d70f4c1048243873d5fd0a2124b44930\";i:5639;s:35:\"fb_69d356004f65318c17c2456a9978c59e\";i:5640;s:40:\"twitter_69d356004f65318c17c2456a9978c59e\";i:5641;s:42:\"pinterest_69d356004f65318c17c2456a9978c59e\";i:5642;s:41:\"linkedin_69d356004f65318c17c2456a9978c59e\";i:5643;s:35:\"fb_5cd12c610fcee153e400db844dfbc50c\";i:5644;s:40:\"twitter_5cd12c610fcee153e400db844dfbc50c\";i:5645;s:42:\"pinterest_5cd12c610fcee153e400db844dfbc50c\";i:5646;s:41:\"linkedin_5cd12c610fcee153e400db844dfbc50c\";i:5647;s:35:\"fb_516c35456b32f610950c472432af278f\";i:5648;s:40:\"twitter_516c35456b32f610950c472432af278f\";i:5649;s:42:\"pinterest_516c35456b32f610950c472432af278f\";i:5650;s:41:\"linkedin_516c35456b32f610950c472432af278f\";i:5651;s:35:\"fb_9165d73e2c2b7a7a9863c9217137df7c\";i:5652;s:40:\"twitter_9165d73e2c2b7a7a9863c9217137df7c\";i:5653;s:42:\"pinterest_9165d73e2c2b7a7a9863c9217137df7c\";i:5654;s:41:\"linkedin_9165d73e2c2b7a7a9863c9217137df7c\";i:5655;s:35:\"fb_920ed1bec61d5a833902aee34c09eff6\";i:5656;s:40:\"twitter_920ed1bec61d5a833902aee34c09eff6\";i:5657;s:42:\"pinterest_920ed1bec61d5a833902aee34c09eff6\";i:5658;s:41:\"linkedin_920ed1bec61d5a833902aee34c09eff6\";i:5659;s:35:\"fb_028bebd73231423f63d0656b273542b3\";i:5660;s:40:\"twitter_028bebd73231423f63d0656b273542b3\";i:5661;s:42:\"pinterest_028bebd73231423f63d0656b273542b3\";i:5662;s:41:\"linkedin_028bebd73231423f63d0656b273542b3\";i:5663;s:35:\"fb_edbb361f59f3b415e73f83b0a7536ac3\";i:5664;s:40:\"twitter_edbb361f59f3b415e73f83b0a7536ac3\";i:5665;s:42:\"pinterest_edbb361f59f3b415e73f83b0a7536ac3\";i:5666;s:41:\"linkedin_edbb361f59f3b415e73f83b0a7536ac3\";i:5667;s:35:\"fb_16648bc4e2d331af14613840104a4efe\";i:5668;s:40:\"twitter_16648bc4e2d331af14613840104a4efe\";i:5669;s:42:\"pinterest_16648bc4e2d331af14613840104a4efe\";i:5670;s:41:\"linkedin_16648bc4e2d331af14613840104a4efe\";i:5671;s:35:\"fb_03b4e653a4c66e83bb8a6fc725b0e228\";i:5672;s:40:\"twitter_03b4e653a4c66e83bb8a6fc725b0e228\";i:5673;s:42:\"pinterest_03b4e653a4c66e83bb8a6fc725b0e228\";i:5674;s:41:\"linkedin_03b4e653a4c66e83bb8a6fc725b0e228\";i:5675;s:35:\"fb_45b9051fcce74c646b08c31bba70999d\";i:5676;s:40:\"twitter_45b9051fcce74c646b08c31bba70999d\";i:5677;s:42:\"pinterest_45b9051fcce74c646b08c31bba70999d\";i:5678;s:41:\"linkedin_45b9051fcce74c646b08c31bba70999d\";i:5679;s:35:\"fb_0d993305d90b27420f95852a172a19ec\";i:5680;s:40:\"twitter_0d993305d90b27420f95852a172a19ec\";i:5681;s:42:\"pinterest_0d993305d90b27420f95852a172a19ec\";i:5682;s:41:\"linkedin_0d993305d90b27420f95852a172a19ec\";i:5683;s:35:\"fb_670e399005c1da6f27e3afeb206f95a0\";i:5684;s:40:\"twitter_670e399005c1da6f27e3afeb206f95a0\";i:5685;s:42:\"pinterest_670e399005c1da6f27e3afeb206f95a0\";i:5686;s:35:\"fb_76f9cbcd93b8929974e56ad17a4b1bc4\";i:5687;s:40:\"twitter_76f9cbcd93b8929974e56ad17a4b1bc4\";i:5688;s:42:\"pinterest_76f9cbcd93b8929974e56ad17a4b1bc4\";i:5689;s:41:\"linkedin_76f9cbcd93b8929974e56ad17a4b1bc4\";i:5690;s:35:\"fb_42cdbf9979197ec42f4f286df6019e44\";i:5691;s:40:\"twitter_42cdbf9979197ec42f4f286df6019e44\";i:5692;s:42:\"pinterest_42cdbf9979197ec42f4f286df6019e44\";i:5693;s:41:\"linkedin_42cdbf9979197ec42f4f286df6019e44\";i:5694;s:35:\"fb_a6e497d850239fbf4424f3ecae35739a\";i:5695;s:40:\"twitter_a6e497d850239fbf4424f3ecae35739a\";i:5696;s:42:\"pinterest_a6e497d850239fbf4424f3ecae35739a\";i:5697;s:41:\"linkedin_a6e497d850239fbf4424f3ecae35739a\";i:5698;s:35:\"fb_b2b9e0a9ee4a38d38738ad7a192eaad3\";i:5699;s:40:\"twitter_b2b9e0a9ee4a38d38738ad7a192eaad3\";i:5700;s:42:\"pinterest_b2b9e0a9ee4a38d38738ad7a192eaad3\";i:5701;s:41:\"linkedin_b2b9e0a9ee4a38d38738ad7a192eaad3\";i:5702;s:35:\"fb_eb74773d698cf9831d7bbbe3e14858ad\";i:5703;s:40:\"twitter_eb74773d698cf9831d7bbbe3e14858ad\";i:5704;s:42:\"pinterest_eb74773d698cf9831d7bbbe3e14858ad\";i:5705;s:41:\"linkedin_eb74773d698cf9831d7bbbe3e14858ad\";i:5706;s:35:\"fb_13df3b156ea7ba53f01d153bb62b6f5f\";i:5707;s:40:\"twitter_13df3b156ea7ba53f01d153bb62b6f5f\";i:5708;s:35:\"fb_e6665f6f4f19c901a09576ba0d08c30a\";i:5709;s:40:\"twitter_e6665f6f4f19c901a09576ba0d08c30a\";i:5710;s:42:\"pinterest_e6665f6f4f19c901a09576ba0d08c30a\";i:5711;s:41:\"linkedin_e6665f6f4f19c901a09576ba0d08c30a\";i:5712;s:35:\"fb_8427b019545933697a1ee2cf0fc2d115\";i:5713;s:40:\"twitter_8427b019545933697a1ee2cf0fc2d115\";i:5714;s:42:\"pinterest_8427b019545933697a1ee2cf0fc2d115\";i:5715;s:41:\"linkedin_8427b019545933697a1ee2cf0fc2d115\";i:5716;s:35:\"fb_6a8823a3c6f903617c5ec3207a87f37b\";i:5717;s:40:\"twitter_6a8823a3c6f903617c5ec3207a87f37b\";i:5718;s:42:\"pinterest_6a8823a3c6f903617c5ec3207a87f37b\";i:5719;s:41:\"linkedin_6a8823a3c6f903617c5ec3207a87f37b\";i:5720;s:35:\"fb_e2a03dc3d364ad22b3582ae19499e049\";i:5721;s:40:\"twitter_e2a03dc3d364ad22b3582ae19499e049\";i:5722;s:42:\"pinterest_e2a03dc3d364ad22b3582ae19499e049\";i:5723;s:41:\"linkedin_e2a03dc3d364ad22b3582ae19499e049\";i:5724;s:35:\"fb_03a6345764722f613fc7d7bce0142d0c\";i:5725;s:40:\"twitter_03a6345764722f613fc7d7bce0142d0c\";i:5726;s:42:\"pinterest_03a6345764722f613fc7d7bce0142d0c\";i:5727;s:41:\"linkedin_03a6345764722f613fc7d7bce0142d0c\";i:5728;s:35:\"fb_bd2b9bd0ba09a8e07efd81587dd42622\";i:5729;s:40:\"twitter_bd2b9bd0ba09a8e07efd81587dd42622\";i:5730;s:42:\"pinterest_bd2b9bd0ba09a8e07efd81587dd42622\";i:5731;s:41:\"linkedin_bd2b9bd0ba09a8e07efd81587dd42622\";i:5732;s:35:\"fb_e4b42bf5febdfa3a667f8b18dbb3f2e0\";i:5733;s:40:\"twitter_e4b42bf5febdfa3a667f8b18dbb3f2e0\";i:5734;s:42:\"pinterest_e4b42bf5febdfa3a667f8b18dbb3f2e0\";i:5735;s:41:\"linkedin_e4b42bf5febdfa3a667f8b18dbb3f2e0\";i:5736;s:35:\"fb_235c226366d91e9b7c7f66ab537798b5\";i:5737;s:40:\"twitter_235c226366d91e9b7c7f66ab537798b5\";i:5738;s:42:\"pinterest_235c226366d91e9b7c7f66ab537798b5\";i:5739;s:41:\"linkedin_235c226366d91e9b7c7f66ab537798b5\";i:5740;s:35:\"fb_889634c6d50eb8cf1c8f6563a4e88e07\";i:5741;s:40:\"twitter_889634c6d50eb8cf1c8f6563a4e88e07\";i:5742;s:42:\"pinterest_889634c6d50eb8cf1c8f6563a4e88e07\";i:5743;s:41:\"linkedin_889634c6d50eb8cf1c8f6563a4e88e07\";i:5744;s:35:\"fb_3783619027970cf4f9322c81fb1fffef\";i:5745;s:40:\"twitter_3783619027970cf4f9322c81fb1fffef\";i:5746;s:42:\"pinterest_3783619027970cf4f9322c81fb1fffef\";i:5747;s:41:\"linkedin_3783619027970cf4f9322c81fb1fffef\";i:5748;s:35:\"fb_0b2d4258a7e626927eb73d55e972eed7\";i:5749;s:40:\"twitter_0b2d4258a7e626927eb73d55e972eed7\";i:5750;s:42:\"pinterest_0b2d4258a7e626927eb73d55e972eed7\";i:5751;s:41:\"linkedin_0b2d4258a7e626927eb73d55e972eed7\";i:5752;s:35:\"fb_4ce344976ba271f059fb648c15a468aa\";i:5753;s:40:\"twitter_4ce344976ba271f059fb648c15a468aa\";i:5754;s:42:\"pinterest_4ce344976ba271f059fb648c15a468aa\";i:5755;s:41:\"linkedin_4ce344976ba271f059fb648c15a468aa\";i:5756;s:35:\"fb_8416133e56b6a5351d04f6c3544e1bc0\";i:5757;s:40:\"twitter_8416133e56b6a5351d04f6c3544e1bc0\";i:5758;s:42:\"pinterest_8416133e56b6a5351d04f6c3544e1bc0\";i:5759;s:41:\"linkedin_8416133e56b6a5351d04f6c3544e1bc0\";i:5760;s:35:\"fb_e35b17be85df16305f385acdde25bb5a\";i:5761;s:40:\"twitter_e35b17be85df16305f385acdde25bb5a\";i:5762;s:42:\"pinterest_e35b17be85df16305f385acdde25bb5a\";i:5763;s:41:\"linkedin_e35b17be85df16305f385acdde25bb5a\";i:5764;s:35:\"fb_1218d396f8b373dd30af940d1755ef0f\";i:5765;s:40:\"twitter_1218d396f8b373dd30af940d1755ef0f\";i:5766;s:42:\"pinterest_1218d396f8b373dd30af940d1755ef0f\";i:5767;s:41:\"linkedin_1218d396f8b373dd30af940d1755ef0f\";i:5768;s:35:\"fb_8f339f15ef148257d4a94e9644d8d234\";i:5769;s:40:\"twitter_8f339f15ef148257d4a94e9644d8d234\";i:5770;s:42:\"pinterest_8f339f15ef148257d4a94e9644d8d234\";i:5771;s:41:\"linkedin_8f339f15ef148257d4a94e9644d8d234\";i:5772;s:35:\"fb_8332ae138a5f5d82935680c562f0c328\";i:5773;s:40:\"twitter_8332ae138a5f5d82935680c562f0c328\";i:5774;s:42:\"pinterest_8332ae138a5f5d82935680c562f0c328\";i:5775;s:41:\"linkedin_8332ae138a5f5d82935680c562f0c328\";i:5776;s:35:\"fb_8e2acba6f54f0e8b76b6e9cf947fff58\";i:5777;s:40:\"twitter_8e2acba6f54f0e8b76b6e9cf947fff58\";i:5778;s:42:\"pinterest_8e2acba6f54f0e8b76b6e9cf947fff58\";i:5779;s:41:\"linkedin_8e2acba6f54f0e8b76b6e9cf947fff58\";i:5780;s:35:\"fb_d2a40b7d0534356f1279bcf412eec4ca\";i:5781;s:40:\"twitter_d2a40b7d0534356f1279bcf412eec4ca\";i:5782;s:42:\"pinterest_d2a40b7d0534356f1279bcf412eec4ca\";i:5783;s:35:\"fb_fef20311b398bb154ac739873215859c\";i:5784;s:40:\"twitter_fef20311b398bb154ac739873215859c\";i:5785;s:42:\"pinterest_fef20311b398bb154ac739873215859c\";i:5786;s:41:\"linkedin_fef20311b398bb154ac739873215859c\";i:5787;s:35:\"fb_bb731d933bc23be9acfd3c490995a354\";i:5788;s:40:\"twitter_bb731d933bc23be9acfd3c490995a354\";i:5789;s:42:\"pinterest_bb731d933bc23be9acfd3c490995a354\";i:5790;s:41:\"linkedin_bb731d933bc23be9acfd3c490995a354\";i:5791;s:35:\"fb_f47406856973ba233f695ba453fb6111\";i:5792;s:40:\"twitter_f47406856973ba233f695ba453fb6111\";i:5793;s:42:\"pinterest_f47406856973ba233f695ba453fb6111\";i:5794;s:41:\"linkedin_f47406856973ba233f695ba453fb6111\";i:5795;s:35:\"fb_aed7d4ff580fb3ce7ccf74186603cc98\";i:5796;s:40:\"twitter_aed7d4ff580fb3ce7ccf74186603cc98\";i:5797;s:42:\"pinterest_aed7d4ff580fb3ce7ccf74186603cc98\";i:5798;s:41:\"linkedin_aed7d4ff580fb3ce7ccf74186603cc98\";i:5799;s:35:\"fb_6ab3504cb1171f790cda3ce96475570d\";i:5800;s:40:\"twitter_6ab3504cb1171f790cda3ce96475570d\";i:5801;s:42:\"pinterest_6ab3504cb1171f790cda3ce96475570d\";i:5802;s:41:\"linkedin_6ab3504cb1171f790cda3ce96475570d\";i:5803;s:35:\"fb_15dab8b61d91dd45495bd3ae70c37945\";i:5804;s:40:\"twitter_15dab8b61d91dd45495bd3ae70c37945\";i:5805;s:42:\"pinterest_15dab8b61d91dd45495bd3ae70c37945\";i:5806;s:41:\"linkedin_15dab8b61d91dd45495bd3ae70c37945\";i:5807;s:35:\"fb_13dabfbf7b27523860769a3a267480c7\";i:5808;s:40:\"twitter_13dabfbf7b27523860769a3a267480c7\";i:5809;s:42:\"pinterest_13dabfbf7b27523860769a3a267480c7\";i:5810;s:41:\"linkedin_13dabfbf7b27523860769a3a267480c7\";i:5811;s:35:\"fb_fccb97858e83c4c7c6f2c674448809ca\";i:5812;s:40:\"twitter_fccb97858e83c4c7c6f2c674448809ca\";i:5813;s:42:\"pinterest_fccb97858e83c4c7c6f2c674448809ca\";i:5814;s:41:\"linkedin_fccb97858e83c4c7c6f2c674448809ca\";i:5815;s:35:\"fb_5bc051ebaf6968e35a95c2586c91172e\";i:5816;s:40:\"twitter_5bc051ebaf6968e35a95c2586c91172e\";i:5817;s:42:\"pinterest_5bc051ebaf6968e35a95c2586c91172e\";i:5818;s:41:\"linkedin_5bc051ebaf6968e35a95c2586c91172e\";i:5819;s:35:\"fb_9b23d7c0e874c9075fe5b369d3570e3b\";i:5820;s:40:\"twitter_9b23d7c0e874c9075fe5b369d3570e3b\";i:5821;s:42:\"pinterest_9b23d7c0e874c9075fe5b369d3570e3b\";i:5822;s:41:\"linkedin_9b23d7c0e874c9075fe5b369d3570e3b\";i:5823;s:35:\"fb_2d7f952f8e6281322566ed4c892a8d76\";i:5824;s:40:\"twitter_2d7f952f8e6281322566ed4c892a8d76\";i:5825;s:42:\"pinterest_2d7f952f8e6281322566ed4c892a8d76\";i:5826;s:41:\"linkedin_2d7f952f8e6281322566ed4c892a8d76\";i:5827;s:35:\"fb_d2a56457c1b526bfa0ba11e7252e16d2\";i:5828;s:40:\"twitter_d2a56457c1b526bfa0ba11e7252e16d2\";i:5829;s:42:\"pinterest_d2a56457c1b526bfa0ba11e7252e16d2\";i:5830;s:41:\"linkedin_d2a56457c1b526bfa0ba11e7252e16d2\";i:5831;s:35:\"fb_216d509018dcee5af2168ef7448dff52\";i:5832;s:40:\"twitter_216d509018dcee5af2168ef7448dff52\";i:5833;s:42:\"pinterest_216d509018dcee5af2168ef7448dff52\";i:5834;s:41:\"linkedin_216d509018dcee5af2168ef7448dff52\";i:5835;s:35:\"fb_dd718ca443e69c146419234f9bb6dbd3\";i:5836;s:40:\"twitter_dd718ca443e69c146419234f9bb6dbd3\";i:5837;s:42:\"pinterest_dd718ca443e69c146419234f9bb6dbd3\";i:5838;s:41:\"linkedin_dd718ca443e69c146419234f9bb6dbd3\";i:5839;s:35:\"fb_c5858524af9c0f8d490cadeebcecad3a\";i:5840;s:40:\"twitter_c5858524af9c0f8d490cadeebcecad3a\";i:5841;s:42:\"pinterest_c5858524af9c0f8d490cadeebcecad3a\";i:5842;s:41:\"linkedin_c5858524af9c0f8d490cadeebcecad3a\";i:5843;s:35:\"fb_cb566cc4ab4e1dd329a06584d2418553\";i:5844;s:40:\"twitter_cb566cc4ab4e1dd329a06584d2418553\";i:5845;s:42:\"pinterest_cb566cc4ab4e1dd329a06584d2418553\";i:5846;s:41:\"linkedin_cb566cc4ab4e1dd329a06584d2418553\";i:5847;s:35:\"fb_961ca61849dd191d1a4e1f3b26ca28e9\";i:5848;s:40:\"twitter_961ca61849dd191d1a4e1f3b26ca28e9\";i:5849;s:42:\"pinterest_961ca61849dd191d1a4e1f3b26ca28e9\";i:5850;s:41:\"linkedin_961ca61849dd191d1a4e1f3b26ca28e9\";i:5851;s:35:\"fb_65e3f18a5f1c5781c71d2459e6cee530\";i:5852;s:40:\"twitter_65e3f18a5f1c5781c71d2459e6cee530\";i:5853;s:42:\"pinterest_65e3f18a5f1c5781c71d2459e6cee530\";i:5854;s:41:\"linkedin_65e3f18a5f1c5781c71d2459e6cee530\";i:5855;s:35:\"fb_3438c7baae5ecc287fea849188807057\";i:5856;s:40:\"twitter_3438c7baae5ecc287fea849188807057\";i:5857;s:42:\"pinterest_3438c7baae5ecc287fea849188807057\";i:5858;s:41:\"linkedin_3438c7baae5ecc287fea849188807057\";i:5859;s:35:\"fb_613c15da80604e25c5640eb724263dcc\";i:5860;s:40:\"twitter_613c15da80604e25c5640eb724263dcc\";i:5861;s:42:\"pinterest_613c15da80604e25c5640eb724263dcc\";i:5862;s:41:\"linkedin_613c15da80604e25c5640eb724263dcc\";i:5863;s:35:\"fb_388f4f6a1c610e3ed6ef6520553498ec\";i:5864;s:40:\"twitter_388f4f6a1c610e3ed6ef6520553498ec\";i:5865;s:42:\"pinterest_388f4f6a1c610e3ed6ef6520553498ec\";i:5866;s:41:\"linkedin_388f4f6a1c610e3ed6ef6520553498ec\";i:5867;s:35:\"fb_434ea2a2bd5d3ca25e9127226a0fdbe7\";i:5868;s:40:\"twitter_434ea2a2bd5d3ca25e9127226a0fdbe7\";i:5869;s:42:\"pinterest_434ea2a2bd5d3ca25e9127226a0fdbe7\";i:5870;s:41:\"linkedin_434ea2a2bd5d3ca25e9127226a0fdbe7\";i:5871;s:35:\"fb_f36bedfcdd07be52f4a861989014d6ce\";i:5872;s:40:\"twitter_f36bedfcdd07be52f4a861989014d6ce\";i:5873;s:42:\"pinterest_f36bedfcdd07be52f4a861989014d6ce\";i:5874;s:41:\"linkedin_f36bedfcdd07be52f4a861989014d6ce\";i:5875;s:35:\"fb_0b05896a3daf277f066bb376d57f420c\";i:5876;s:40:\"twitter_0b05896a3daf277f066bb376d57f420c\";i:5877;s:42:\"pinterest_0b05896a3daf277f066bb376d57f420c\";i:5878;s:41:\"linkedin_0b05896a3daf277f066bb376d57f420c\";i:5879;s:35:\"fb_ff10cf90df77b4776bbbb3e756f28988\";i:5880;s:40:\"twitter_ff10cf90df77b4776bbbb3e756f28988\";i:5881;s:42:\"pinterest_ff10cf90df77b4776bbbb3e756f28988\";i:5882;s:41:\"linkedin_ff10cf90df77b4776bbbb3e756f28988\";i:5883;s:35:\"fb_cdf7a71478e48fdb386b49fa486c7884\";i:5884;s:40:\"twitter_cdf7a71478e48fdb386b49fa486c7884\";i:5885;s:42:\"pinterest_cdf7a71478e48fdb386b49fa486c7884\";i:5886;s:41:\"linkedin_cdf7a71478e48fdb386b49fa486c7884\";i:5887;s:35:\"fb_2a29a910c280fd0c68393404d7add839\";i:5888;s:40:\"twitter_2a29a910c280fd0c68393404d7add839\";i:5889;s:42:\"pinterest_2a29a910c280fd0c68393404d7add839\";i:5890;s:41:\"linkedin_2a29a910c280fd0c68393404d7add839\";i:5891;s:35:\"fb_c2f75b6795727e5008a58c3c94188eae\";i:5892;s:40:\"twitter_c2f75b6795727e5008a58c3c94188eae\";i:5893;s:42:\"pinterest_c2f75b6795727e5008a58c3c94188eae\";i:5894;s:41:\"linkedin_c2f75b6795727e5008a58c3c94188eae\";i:5895;s:35:\"fb_d2895dbe2ff955414bdc28825a590df0\";i:5896;s:40:\"twitter_d2895dbe2ff955414bdc28825a590df0\";i:5897;s:42:\"pinterest_d2895dbe2ff955414bdc28825a590df0\";i:5898;s:41:\"linkedin_d2895dbe2ff955414bdc28825a590df0\";i:5899;s:35:\"fb_732e9e11766e2b85db9253cb583f610b\";i:5900;s:40:\"twitter_732e9e11766e2b85db9253cb583f610b\";i:5901;s:42:\"pinterest_732e9e11766e2b85db9253cb583f610b\";i:5902;s:41:\"linkedin_732e9e11766e2b85db9253cb583f610b\";i:5903;s:35:\"fb_0b95b440a375b876a395ca379517a0e9\";i:5904;s:40:\"twitter_0b95b440a375b876a395ca379517a0e9\";i:5905;s:42:\"pinterest_0b95b440a375b876a395ca379517a0e9\";i:5906;s:41:\"linkedin_0b95b440a375b876a395ca379517a0e9\";i:5907;s:35:\"fb_4b77dc86140c599f2297835a3f1b6678\";i:5908;s:40:\"twitter_4b77dc86140c599f2297835a3f1b6678\";i:5909;s:42:\"pinterest_4b77dc86140c599f2297835a3f1b6678\";i:5910;s:41:\"linkedin_4b77dc86140c599f2297835a3f1b6678\";i:5911;s:35:\"fb_ae1d21c8b0f436930a52a19f56355c4d\";i:5912;s:40:\"twitter_ae1d21c8b0f436930a52a19f56355c4d\";i:5913;s:42:\"pinterest_ae1d21c8b0f436930a52a19f56355c4d\";i:5914;s:41:\"linkedin_ae1d21c8b0f436930a52a19f56355c4d\";i:5915;s:35:\"fb_c6b1804b6f57e59419f36960a92e6784\";i:5916;s:40:\"twitter_c6b1804b6f57e59419f36960a92e6784\";i:5917;s:42:\"pinterest_c6b1804b6f57e59419f36960a92e6784\";i:5918;s:41:\"linkedin_c6b1804b6f57e59419f36960a92e6784\";i:5919;s:35:\"fb_b05db49d6be453f960319087b459b46f\";i:5920;s:40:\"twitter_b05db49d6be453f960319087b459b46f\";i:5921;s:42:\"pinterest_b05db49d6be453f960319087b459b46f\";i:5922;s:41:\"linkedin_b05db49d6be453f960319087b459b46f\";i:5923;s:35:\"fb_58afce9c1b34262f7fa3e50292bd329f\";i:5924;s:40:\"twitter_58afce9c1b34262f7fa3e50292bd329f\";i:5925;s:42:\"pinterest_58afce9c1b34262f7fa3e50292bd329f\";i:5926;s:41:\"linkedin_58afce9c1b34262f7fa3e50292bd329f\";i:5927;s:35:\"fb_49d47cba14364d8cececf8a49cc9df20\";i:5928;s:40:\"twitter_49d47cba14364d8cececf8a49cc9df20\";i:5929;s:42:\"pinterest_49d47cba14364d8cececf8a49cc9df20\";i:5930;s:41:\"linkedin_49d47cba14364d8cececf8a49cc9df20\";i:5931;s:35:\"fb_4186731ec5efb7566d6abda71fee0c8d\";i:5932;s:40:\"twitter_4186731ec5efb7566d6abda71fee0c8d\";i:5933;s:42:\"pinterest_4186731ec5efb7566d6abda71fee0c8d\";i:5934;s:41:\"linkedin_4186731ec5efb7566d6abda71fee0c8d\";i:5935;s:35:\"fb_787f2ee87b5b32b6e321e796af3bfd47\";i:5936;s:40:\"twitter_787f2ee87b5b32b6e321e796af3bfd47\";i:5937;s:42:\"pinterest_787f2ee87b5b32b6e321e796af3bfd47\";i:5938;s:41:\"linkedin_787f2ee87b5b32b6e321e796af3bfd47\";i:5939;s:35:\"fb_54da4e765a6d65863a7788dbf3ed4df7\";i:5940;s:40:\"twitter_54da4e765a6d65863a7788dbf3ed4df7\";i:5941;s:42:\"pinterest_54da4e765a6d65863a7788dbf3ed4df7\";i:5942;s:41:\"linkedin_54da4e765a6d65863a7788dbf3ed4df7\";i:5943;s:35:\"fb_b06263f3fdb887d826ce542347f86629\";i:5944;s:40:\"twitter_b06263f3fdb887d826ce542347f86629\";i:5945;s:42:\"pinterest_b06263f3fdb887d826ce542347f86629\";i:5946;s:41:\"linkedin_b06263f3fdb887d826ce542347f86629\";i:5947;s:35:\"fb_5329630b9e1e664391d6a55f24a41d90\";i:5948;s:40:\"twitter_5329630b9e1e664391d6a55f24a41d90\";i:5949;s:42:\"pinterest_5329630b9e1e664391d6a55f24a41d90\";i:5950;s:41:\"linkedin_5329630b9e1e664391d6a55f24a41d90\";i:5951;s:35:\"fb_1b605a143421eb4624fc24730acab0c1\";i:5952;s:40:\"twitter_1b605a143421eb4624fc24730acab0c1\";i:5953;s:42:\"pinterest_1b605a143421eb4624fc24730acab0c1\";i:5954;s:41:\"linkedin_1b605a143421eb4624fc24730acab0c1\";i:5955;s:35:\"fb_fac51e135b7c70a947d4799685d511bf\";i:5956;s:40:\"twitter_fac51e135b7c70a947d4799685d511bf\";i:5957;s:42:\"pinterest_fac51e135b7c70a947d4799685d511bf\";i:5958;s:41:\"linkedin_fac51e135b7c70a947d4799685d511bf\";i:5959;s:35:\"fb_e0895a4a72d1d7757cb80f120a2af192\";i:5960;s:40:\"twitter_e0895a4a72d1d7757cb80f120a2af192\";i:5961;s:42:\"pinterest_e0895a4a72d1d7757cb80f120a2af192\";i:5962;s:41:\"linkedin_e0895a4a72d1d7757cb80f120a2af192\";i:5963;s:35:\"fb_6a075c65433de0ebd1fb823c30ddb86a\";i:5964;s:40:\"twitter_6a075c65433de0ebd1fb823c30ddb86a\";i:5965;s:42:\"pinterest_6a075c65433de0ebd1fb823c30ddb86a\";i:5966;s:41:\"linkedin_6a075c65433de0ebd1fb823c30ddb86a\";i:5967;s:35:\"fb_98a57dfc57f56c984693bd060607ad35\";i:5968;s:40:\"twitter_98a57dfc57f56c984693bd060607ad35\";i:5969;s:42:\"pinterest_98a57dfc57f56c984693bd060607ad35\";i:5970;s:41:\"linkedin_98a57dfc57f56c984693bd060607ad35\";i:5971;s:35:\"fb_2df412c74d3fffaf1752ba3e1c19526f\";i:5972;s:40:\"twitter_2df412c74d3fffaf1752ba3e1c19526f\";i:5973;s:35:\"fb_f55a76346fc53b3dfde41aeb8f06902b\";i:5974;s:35:\"fb_474326b5b524104ca1854764572d3413\";i:5975;s:40:\"twitter_474326b5b524104ca1854764572d3413\";i:5976;s:42:\"pinterest_474326b5b524104ca1854764572d3413\";i:5977;s:35:\"fb_21fcf39bf80e97f064d65940bca1afc5\";i:5978;s:40:\"twitter_21fcf39bf80e97f064d65940bca1afc5\";i:5979;s:42:\"pinterest_21fcf39bf80e97f064d65940bca1afc5\";i:5980;s:41:\"linkedin_21fcf39bf80e97f064d65940bca1afc5\";i:5981;s:35:\"fb_0fe9f684105d6bfcacd0501f3e948ca4\";i:5982;s:40:\"twitter_0fe9f684105d6bfcacd0501f3e948ca4\";i:5983;s:42:\"pinterest_0fe9f684105d6bfcacd0501f3e948ca4\";i:5984;s:41:\"linkedin_0fe9f684105d6bfcacd0501f3e948ca4\";i:5985;s:35:\"fb_c58e0d5f73b96ce9c9f20ae33efea716\";i:5986;s:40:\"twitter_c58e0d5f73b96ce9c9f20ae33efea716\";i:5987;s:42:\"pinterest_c58e0d5f73b96ce9c9f20ae33efea716\";i:5988;s:41:\"linkedin_c58e0d5f73b96ce9c9f20ae33efea716\";i:5989;s:35:\"fb_5002c523029315ed20b4cd818161b3d7\";i:5990;s:40:\"twitter_5002c523029315ed20b4cd818161b3d7\";i:5991;s:42:\"pinterest_5002c523029315ed20b4cd818161b3d7\";i:5992;s:41:\"linkedin_5002c523029315ed20b4cd818161b3d7\";i:5993;s:35:\"fb_dbcc4c81518d9c078f540c5e7eb38a69\";i:5994;s:40:\"twitter_dbcc4c81518d9c078f540c5e7eb38a69\";i:5995;s:42:\"pinterest_dbcc4c81518d9c078f540c5e7eb38a69\";i:5996;s:41:\"linkedin_dbcc4c81518d9c078f540c5e7eb38a69\";i:5997;s:35:\"fb_18f200241a5e41ad5970e75c80f82083\";i:5998;s:40:\"twitter_18f200241a5e41ad5970e75c80f82083\";i:5999;s:42:\"pinterest_18f200241a5e41ad5970e75c80f82083\";i:6000;s:41:\"linkedin_18f200241a5e41ad5970e75c80f82083\";i:6001;s:35:\"fb_dc529844f7a6b1e1f793dd1a555dc9ed\";i:6002;s:40:\"twitter_dc529844f7a6b1e1f793dd1a555dc9ed\";i:6003;s:42:\"pinterest_dc529844f7a6b1e1f793dd1a555dc9ed\";i:6004;s:41:\"linkedin_dc529844f7a6b1e1f793dd1a555dc9ed\";i:6005;s:35:\"fb_4a81b6d0687207b0d4ea629fb4aeaae6\";i:6006;s:40:\"twitter_4a81b6d0687207b0d4ea629fb4aeaae6\";i:6007;s:42:\"pinterest_4a81b6d0687207b0d4ea629fb4aeaae6\";i:6008;s:41:\"linkedin_4a81b6d0687207b0d4ea629fb4aeaae6\";i:6009;s:35:\"fb_88324287725cc127267520d86365983b\";i:6010;s:40:\"twitter_88324287725cc127267520d86365983b\";i:6011;s:42:\"pinterest_88324287725cc127267520d86365983b\";i:6012;s:41:\"linkedin_88324287725cc127267520d86365983b\";i:6013;s:35:\"fb_4063cd09f55507828672d9bef929a671\";i:6014;s:40:\"twitter_4063cd09f55507828672d9bef929a671\";i:6015;s:42:\"pinterest_4063cd09f55507828672d9bef929a671\";i:6016;s:41:\"linkedin_4063cd09f55507828672d9bef929a671\";i:6017;s:35:\"fb_ec48781902d4c4c84e1d0a4fad08bb1f\";i:6018;s:40:\"twitter_ec48781902d4c4c84e1d0a4fad08bb1f\";i:6019;s:42:\"pinterest_ec48781902d4c4c84e1d0a4fad08bb1f\";i:6020;s:41:\"linkedin_ec48781902d4c4c84e1d0a4fad08bb1f\";i:6021;s:35:\"fb_872d2690f11941ff015b21b965e3d2b7\";i:6022;s:40:\"twitter_872d2690f11941ff015b21b965e3d2b7\";i:6023;s:42:\"pinterest_872d2690f11941ff015b21b965e3d2b7\";i:6024;s:41:\"linkedin_872d2690f11941ff015b21b965e3d2b7\";i:6025;s:35:\"fb_536bdd92f0e4e2f58a109b106dc049da\";i:6026;s:40:\"twitter_536bdd92f0e4e2f58a109b106dc049da\";i:6027;s:42:\"pinterest_536bdd92f0e4e2f58a109b106dc049da\";i:6028;s:41:\"linkedin_536bdd92f0e4e2f58a109b106dc049da\";i:6029;s:35:\"fb_6b75c1e99c97aeb3fad93a193f433ec5\";i:6030;s:40:\"twitter_6b75c1e99c97aeb3fad93a193f433ec5\";i:6031;s:42:\"pinterest_6b75c1e99c97aeb3fad93a193f433ec5\";i:6032;s:41:\"linkedin_6b75c1e99c97aeb3fad93a193f433ec5\";i:6033;s:35:\"fb_4049c15cf1222da0496cf7860439ce54\";i:6034;s:40:\"twitter_4049c15cf1222da0496cf7860439ce54\";i:6035;s:42:\"pinterest_4049c15cf1222da0496cf7860439ce54\";i:6036;s:41:\"linkedin_4049c15cf1222da0496cf7860439ce54\";i:6037;s:35:\"fb_6d45ac1a45a4468fe0c24319acc19e4c\";i:6038;s:40:\"twitter_6d45ac1a45a4468fe0c24319acc19e4c\";i:6039;s:42:\"pinterest_6d45ac1a45a4468fe0c24319acc19e4c\";i:6040;s:41:\"linkedin_6d45ac1a45a4468fe0c24319acc19e4c\";i:6041;s:35:\"fb_812fd53d046909a14e57885af2ebf12d\";i:6042;s:40:\"twitter_812fd53d046909a14e57885af2ebf12d\";i:6043;s:42:\"pinterest_812fd53d046909a14e57885af2ebf12d\";i:6044;s:41:\"linkedin_812fd53d046909a14e57885af2ebf12d\";i:6045;s:35:\"fb_ee171a1f9ca5f72181b2aad205170601\";i:6046;s:40:\"twitter_ee171a1f9ca5f72181b2aad205170601\";i:6047;s:42:\"pinterest_ee171a1f9ca5f72181b2aad205170601\";i:6048;s:41:\"linkedin_ee171a1f9ca5f72181b2aad205170601\";i:6049;s:35:\"fb_4911fe20ac2c3fd752176f681e1a0957\";i:6050;s:40:\"twitter_4911fe20ac2c3fd752176f681e1a0957\";i:6051;s:42:\"pinterest_4911fe20ac2c3fd752176f681e1a0957\";i:6052;s:41:\"linkedin_4911fe20ac2c3fd752176f681e1a0957\";i:6053;s:35:\"fb_e1f18abf2a9a531212e611883c8ec392\";i:6054;s:40:\"twitter_e1f18abf2a9a531212e611883c8ec392\";i:6055;s:42:\"pinterest_e1f18abf2a9a531212e611883c8ec392\";i:6056;s:41:\"linkedin_e1f18abf2a9a531212e611883c8ec392\";i:6057;s:35:\"fb_a271037677ad496283384bd6c3589f27\";i:6058;s:40:\"twitter_a271037677ad496283384bd6c3589f27\";i:6059;s:42:\"pinterest_a271037677ad496283384bd6c3589f27\";i:6060;s:41:\"linkedin_a271037677ad496283384bd6c3589f27\";i:6061;s:35:\"fb_7d7f25fcd0691e8eb75dd9972590c498\";i:6062;s:40:\"twitter_7d7f25fcd0691e8eb75dd9972590c498\";i:6063;s:42:\"pinterest_7d7f25fcd0691e8eb75dd9972590c498\";i:6064;s:41:\"linkedin_7d7f25fcd0691e8eb75dd9972590c498\";i:6065;s:40:\"twitter_cf969cfcdeab24e2d446d424743f3d61\";i:6066;s:42:\"pinterest_cf969cfcdeab24e2d446d424743f3d61\";i:6067;s:41:\"linkedin_cf969cfcdeab24e2d446d424743f3d61\";i:6068;s:35:\"fb_a8899e89abed5169a8f18bf2962865a0\";i:6069;s:40:\"twitter_a8899e89abed5169a8f18bf2962865a0\";i:6070;s:42:\"pinterest_a8899e89abed5169a8f18bf2962865a0\";i:6071;s:41:\"linkedin_a8899e89abed5169a8f18bf2962865a0\";i:6072;s:35:\"fb_fb4f6801e5e6664af3c65fe80bd45be2\";i:6073;s:40:\"twitter_fb4f6801e5e6664af3c65fe80bd45be2\";i:6074;s:42:\"pinterest_fb4f6801e5e6664af3c65fe80bd45be2\";i:6075;s:41:\"linkedin_fb4f6801e5e6664af3c65fe80bd45be2\";i:6076;s:35:\"fb_1fd06a5d71f1fa145027a8c03ad15f17\";i:6077;s:40:\"twitter_1fd06a5d71f1fa145027a8c03ad15f17\";i:6078;s:42:\"pinterest_1fd06a5d71f1fa145027a8c03ad15f17\";i:6079;s:41:\"linkedin_1fd06a5d71f1fa145027a8c03ad15f17\";i:6080;s:35:\"fb_8ada1ef7d9c410009d97ee0241f33cfa\";i:6081;s:40:\"twitter_8ada1ef7d9c410009d97ee0241f33cfa\";i:6082;s:42:\"pinterest_8ada1ef7d9c410009d97ee0241f33cfa\";i:6083;s:41:\"linkedin_8ada1ef7d9c410009d97ee0241f33cfa\";i:6084;s:35:\"fb_acc36bf0b034d7f5a71938399d7d8238\";i:6085;s:40:\"twitter_acc36bf0b034d7f5a71938399d7d8238\";i:6086;s:42:\"pinterest_acc36bf0b034d7f5a71938399d7d8238\";i:6087;s:41:\"linkedin_acc36bf0b034d7f5a71938399d7d8238\";i:6088;s:35:\"fb_6378b59695109c1a75d75f8cd4b17e15\";i:6089;s:40:\"twitter_6378b59695109c1a75d75f8cd4b17e15\";i:6090;s:42:\"pinterest_6378b59695109c1a75d75f8cd4b17e15\";i:6091;s:41:\"linkedin_6378b59695109c1a75d75f8cd4b17e15\";i:6092;s:35:\"fb_40d140653369d425b382810c5c96c7b5\";i:6093;s:40:\"twitter_40d140653369d425b382810c5c96c7b5\";i:6094;s:42:\"pinterest_40d140653369d425b382810c5c96c7b5\";i:6095;s:41:\"linkedin_40d140653369d425b382810c5c96c7b5\";i:6096;s:35:\"fb_270997e959691dbe3943f21aec7d33b6\";i:6097;s:40:\"twitter_270997e959691dbe3943f21aec7d33b6\";i:6098;s:42:\"pinterest_270997e959691dbe3943f21aec7d33b6\";i:6099;s:41:\"linkedin_270997e959691dbe3943f21aec7d33b6\";i:6100;s:35:\"fb_de9201aa8e111b14a15e241fb8af4416\";i:6101;s:40:\"twitter_de9201aa8e111b14a15e241fb8af4416\";i:6102;s:42:\"pinterest_de9201aa8e111b14a15e241fb8af4416\";i:6103;s:41:\"linkedin_de9201aa8e111b14a15e241fb8af4416\";i:6104;s:35:\"fb_1509994733892628d5829c975f707b57\";i:6105;s:40:\"twitter_1509994733892628d5829c975f707b57\";i:6106;s:42:\"pinterest_1509994733892628d5829c975f707b57\";i:6107;s:41:\"linkedin_1509994733892628d5829c975f707b57\";i:6108;s:35:\"fb_c16fdd76dc4f959463198b4bb4b0859f\";i:6109;s:40:\"twitter_c16fdd76dc4f959463198b4bb4b0859f\";i:6110;s:42:\"pinterest_c16fdd76dc4f959463198b4bb4b0859f\";i:6111;s:35:\"fb_f5299ceee0651ef93eea1090248dc907\";i:6112;s:40:\"twitter_f5299ceee0651ef93eea1090248dc907\";i:6113;s:42:\"pinterest_f5299ceee0651ef93eea1090248dc907\";i:6114;s:41:\"linkedin_f5299ceee0651ef93eea1090248dc907\";i:6115;s:35:\"fb_7c3651a4c068d9a867fc23123536a1ce\";i:6116;s:40:\"twitter_7c3651a4c068d9a867fc23123536a1ce\";i:6117;s:42:\"pinterest_7c3651a4c068d9a867fc23123536a1ce\";i:6118;s:41:\"linkedin_7c3651a4c068d9a867fc23123536a1ce\";i:6119;s:35:\"fb_e8451d88162069c515fdb82cc747ae1d\";i:6120;s:40:\"twitter_e8451d88162069c515fdb82cc747ae1d\";i:6121;s:42:\"pinterest_e8451d88162069c515fdb82cc747ae1d\";i:6122;s:41:\"linkedin_e8451d88162069c515fdb82cc747ae1d\";i:6123;s:35:\"fb_8a8aa86a1ad657aabd979c4e278f67ca\";i:6124;s:40:\"twitter_8a8aa86a1ad657aabd979c4e278f67ca\";i:6125;s:42:\"pinterest_8a8aa86a1ad657aabd979c4e278f67ca\";i:6126;s:41:\"linkedin_8a8aa86a1ad657aabd979c4e278f67ca\";i:6127;s:35:\"fb_c8b2e25b1b63447f5860c558e560bf46\";i:6128;s:40:\"twitter_c8b2e25b1b63447f5860c558e560bf46\";i:6129;s:42:\"pinterest_c8b2e25b1b63447f5860c558e560bf46\";i:6130;s:41:\"linkedin_c8b2e25b1b63447f5860c558e560bf46\";i:6131;s:35:\"fb_babac9bc4d487d597628d26c84dfde8e\";i:6132;s:40:\"twitter_babac9bc4d487d597628d26c84dfde8e\";i:6133;s:42:\"pinterest_babac9bc4d487d597628d26c84dfde8e\";i:6134;s:41:\"linkedin_babac9bc4d487d597628d26c84dfde8e\";i:6135;s:35:\"fb_af9057fd11672c782745fac848b933ee\";i:6136;s:40:\"twitter_af9057fd11672c782745fac848b933ee\";i:6137;s:42:\"pinterest_af9057fd11672c782745fac848b933ee\";i:6138;s:41:\"linkedin_af9057fd11672c782745fac848b933ee\";i:6139;s:35:\"fb_8ab9f35033e301ac65ced19d520ae04e\";i:6140;s:40:\"twitter_8ab9f35033e301ac65ced19d520ae04e\";i:6141;s:42:\"pinterest_8ab9f35033e301ac65ced19d520ae04e\";i:6142;s:41:\"linkedin_8ab9f35033e301ac65ced19d520ae04e\";i:6143;s:35:\"fb_6f97c15d93d04313193ba1e86e51b731\";i:6144;s:40:\"twitter_6f97c15d93d04313193ba1e86e51b731\";i:6145;s:42:\"pinterest_6f97c15d93d04313193ba1e86e51b731\";i:6146;s:41:\"linkedin_6f97c15d93d04313193ba1e86e51b731\";i:6147;s:35:\"fb_8262816da9f4893ec4cd0b15e889e726\";i:6148;s:40:\"twitter_8262816da9f4893ec4cd0b15e889e726\";i:6149;s:42:\"pinterest_8262816da9f4893ec4cd0b15e889e726\";i:6150;s:41:\"linkedin_8262816da9f4893ec4cd0b15e889e726\";i:6151;s:35:\"fb_4d60fbca64ef99f9508467aefa4f0b63\";i:6152;s:40:\"twitter_4d60fbca64ef99f9508467aefa4f0b63\";i:6153;s:42:\"pinterest_4d60fbca64ef99f9508467aefa4f0b63\";i:6154;s:41:\"linkedin_4d60fbca64ef99f9508467aefa4f0b63\";i:6155;s:35:\"fb_7b8449e18509841923781bec6ef28141\";i:6156;s:40:\"twitter_7b8449e18509841923781bec6ef28141\";i:6157;s:42:\"pinterest_7b8449e18509841923781bec6ef28141\";i:6158;s:41:\"linkedin_7b8449e18509841923781bec6ef28141\";i:6159;s:35:\"fb_46a8cc7f440a74cf942f4a7a30362aef\";i:6160;s:40:\"twitter_46a8cc7f440a74cf942f4a7a30362aef\";i:6161;s:42:\"pinterest_46a8cc7f440a74cf942f4a7a30362aef\";i:6162;s:41:\"linkedin_46a8cc7f440a74cf942f4a7a30362aef\";i:6163;s:35:\"fb_ddc6f0a361a063f6026377a4c2fa7e35\";i:6164;s:40:\"twitter_ddc6f0a361a063f6026377a4c2fa7e35\";i:6165;s:42:\"pinterest_ddc6f0a361a063f6026377a4c2fa7e35\";i:6166;s:41:\"linkedin_ddc6f0a361a063f6026377a4c2fa7e35\";i:6167;s:35:\"fb_557faea74366d5ed9490f3455ccbbfa1\";i:6168;s:40:\"twitter_557faea74366d5ed9490f3455ccbbfa1\";i:6169;s:42:\"pinterest_557faea74366d5ed9490f3455ccbbfa1\";i:6170;s:41:\"linkedin_557faea74366d5ed9490f3455ccbbfa1\";i:6171;s:35:\"fb_e01f83542712c473127161ff24f1a271\";i:6172;s:40:\"twitter_e01f83542712c473127161ff24f1a271\";i:6173;s:42:\"pinterest_e01f83542712c473127161ff24f1a271\";i:6174;s:41:\"linkedin_e01f83542712c473127161ff24f1a271\";i:6175;s:35:\"fb_bc35353624c94e335a71fdb3ca00aaca\";i:6176;s:40:\"twitter_bc35353624c94e335a71fdb3ca00aaca\";i:6177;s:42:\"pinterest_bc35353624c94e335a71fdb3ca00aaca\";i:6178;s:41:\"linkedin_bc35353624c94e335a71fdb3ca00aaca\";i:6179;s:35:\"fb_0bfe445891ef01c6f37f50b1da8e3619\";i:6180;s:40:\"twitter_0bfe445891ef01c6f37f50b1da8e3619\";i:6181;s:42:\"pinterest_0bfe445891ef01c6f37f50b1da8e3619\";i:6182;s:41:\"linkedin_0bfe445891ef01c6f37f50b1da8e3619\";i:6183;s:35:\"fb_2fe42f1a3192ef0445cd0dd61e586649\";i:6184;s:40:\"twitter_2fe42f1a3192ef0445cd0dd61e586649\";i:6185;s:42:\"pinterest_2fe42f1a3192ef0445cd0dd61e586649\";i:6186;s:41:\"linkedin_2fe42f1a3192ef0445cd0dd61e586649\";i:6187;s:35:\"fb_22564735bb8c89aad88b5a0b1b51f9c2\";i:6188;s:40:\"twitter_22564735bb8c89aad88b5a0b1b51f9c2\";i:6189;s:42:\"pinterest_22564735bb8c89aad88b5a0b1b51f9c2\";i:6190;s:41:\"linkedin_22564735bb8c89aad88b5a0b1b51f9c2\";i:6191;s:35:\"fb_ef3cce230386ec5a1398cc0ded92a9f8\";i:6192;s:40:\"twitter_ef3cce230386ec5a1398cc0ded92a9f8\";i:6193;s:42:\"pinterest_ef3cce230386ec5a1398cc0ded92a9f8\";i:6194;s:41:\"linkedin_ef3cce230386ec5a1398cc0ded92a9f8\";i:6195;s:35:\"fb_e35f672de45b6c5c2da9f84df492a30b\";i:6196;s:40:\"twitter_e35f672de45b6c5c2da9f84df492a30b\";i:6197;s:42:\"pinterest_e35f672de45b6c5c2da9f84df492a30b\";i:6198;s:41:\"linkedin_e35f672de45b6c5c2da9f84df492a30b\";i:6199;s:35:\"fb_f478c9b7201d301dcb070dce2ea08cd8\";i:6200;s:40:\"twitter_f478c9b7201d301dcb070dce2ea08cd8\";i:6201;s:42:\"pinterest_f478c9b7201d301dcb070dce2ea08cd8\";i:6202;s:41:\"linkedin_f478c9b7201d301dcb070dce2ea08cd8\";i:6203;s:35:\"fb_53c12ea1b026899022ca66b23c6162ca\";i:6204;s:40:\"twitter_53c12ea1b026899022ca66b23c6162ca\";i:6205;s:42:\"pinterest_53c12ea1b026899022ca66b23c6162ca\";i:6206;s:41:\"linkedin_53c12ea1b026899022ca66b23c6162ca\";i:6207;s:35:\"fb_ff379b9c42dff3c5ebb958d9876d1a41\";i:6208;s:40:\"twitter_ff379b9c42dff3c5ebb958d9876d1a41\";i:6209;s:42:\"pinterest_ff379b9c42dff3c5ebb958d9876d1a41\";i:6210;s:41:\"linkedin_ff379b9c42dff3c5ebb958d9876d1a41\";i:6211;s:35:\"fb_cd40ba0726496014b1556fe4eb99f67d\";i:6212;s:40:\"twitter_cd40ba0726496014b1556fe4eb99f67d\";i:6213;s:42:\"pinterest_cd40ba0726496014b1556fe4eb99f67d\";i:6214;s:41:\"linkedin_cd40ba0726496014b1556fe4eb99f67d\";i:6215;s:35:\"fb_04c5a1816253ecfe15f8ce588850da2c\";i:6216;s:40:\"twitter_04c5a1816253ecfe15f8ce588850da2c\";i:6217;s:42:\"pinterest_04c5a1816253ecfe15f8ce588850da2c\";i:6218;s:41:\"linkedin_04c5a1816253ecfe15f8ce588850da2c\";i:6219;s:35:\"fb_cfc27eafe8ed129667c30a891b469335\";i:6220;s:40:\"twitter_cfc27eafe8ed129667c30a891b469335\";i:6221;s:42:\"pinterest_cfc27eafe8ed129667c30a891b469335\";i:6222;s:41:\"linkedin_cfc27eafe8ed129667c30a891b469335\";i:6223;s:35:\"fb_321e323f7309eeaf058de24b17fa80b0\";i:6224;s:40:\"twitter_321e323f7309eeaf058de24b17fa80b0\";i:6225;s:42:\"pinterest_321e323f7309eeaf058de24b17fa80b0\";i:6226;s:41:\"linkedin_321e323f7309eeaf058de24b17fa80b0\";i:6227;s:35:\"fb_3dc700303302a9a468f0a0ce99a760d0\";i:6228;s:40:\"twitter_3dc700303302a9a468f0a0ce99a760d0\";i:6229;s:42:\"pinterest_3dc700303302a9a468f0a0ce99a760d0\";i:6230;s:41:\"linkedin_3dc700303302a9a468f0a0ce99a760d0\";i:6231;s:35:\"fb_9069d3b9593b6abb279d771eee0bd665\";i:6232;s:40:\"twitter_9069d3b9593b6abb279d771eee0bd665\";i:6233;s:42:\"pinterest_9069d3b9593b6abb279d771eee0bd665\";i:6234;s:41:\"linkedin_9069d3b9593b6abb279d771eee0bd665\";i:6235;s:35:\"fb_bdb42dc3637116d5bebd368ee27aa366\";i:6236;s:40:\"twitter_bdb42dc3637116d5bebd368ee27aa366\";i:6237;s:42:\"pinterest_bdb42dc3637116d5bebd368ee27aa366\";i:6238;s:41:\"linkedin_bdb42dc3637116d5bebd368ee27aa366\";i:6239;s:35:\"fb_6c42f0d3f53e71db5b34f009fa240bb9\";i:6240;s:40:\"twitter_6c42f0d3f53e71db5b34f009fa240bb9\";i:6241;s:42:\"pinterest_6c42f0d3f53e71db5b34f009fa240bb9\";i:6242;s:41:\"linkedin_6c42f0d3f53e71db5b34f009fa240bb9\";i:6243;s:35:\"fb_a913c3edf7cd47d900aace8f842bbdec\";i:6244;s:40:\"twitter_a913c3edf7cd47d900aace8f842bbdec\";i:6245;s:42:\"pinterest_a913c3edf7cd47d900aace8f842bbdec\";i:6246;s:41:\"linkedin_a913c3edf7cd47d900aace8f842bbdec\";i:6247;s:35:\"fb_f9854f721f2f30b2a5b685adb5856b3e\";i:6248;s:40:\"twitter_f9854f721f2f30b2a5b685adb5856b3e\";i:6249;s:42:\"pinterest_f9854f721f2f30b2a5b685adb5856b3e\";i:6250;s:41:\"linkedin_f9854f721f2f30b2a5b685adb5856b3e\";i:6251;s:35:\"fb_d32389b27e0a4d143397fd237c882ab8\";i:6252;s:40:\"twitter_d32389b27e0a4d143397fd237c882ab8\";i:6253;s:42:\"pinterest_d32389b27e0a4d143397fd237c882ab8\";i:6254;s:41:\"linkedin_d32389b27e0a4d143397fd237c882ab8\";i:6255;s:35:\"fb_251e519ee441f784af0c2fab828aef33\";i:6256;s:40:\"twitter_251e519ee441f784af0c2fab828aef33\";i:6257;s:42:\"pinterest_251e519ee441f784af0c2fab828aef33\";i:6258;s:41:\"linkedin_251e519ee441f784af0c2fab828aef33\";i:6259;s:35:\"fb_6a1a61fd4a73678e2b02a5e4f74a5623\";i:6260;s:40:\"twitter_6a1a61fd4a73678e2b02a5e4f74a5623\";i:6261;s:42:\"pinterest_6a1a61fd4a73678e2b02a5e4f74a5623\";i:6262;s:41:\"linkedin_6a1a61fd4a73678e2b02a5e4f74a5623\";i:6263;s:35:\"fb_d0ebf5edeb1bb26d43c5c1cb9de1bd40\";i:6264;s:40:\"twitter_d0ebf5edeb1bb26d43c5c1cb9de1bd40\";i:6265;s:42:\"pinterest_d0ebf5edeb1bb26d43c5c1cb9de1bd40\";i:6266;s:41:\"linkedin_d0ebf5edeb1bb26d43c5c1cb9de1bd40\";i:6267;s:35:\"fb_c9e357b82c7055118610cd296e10f3cb\";i:6268;s:40:\"twitter_c9e357b82c7055118610cd296e10f3cb\";i:6269;s:42:\"pinterest_c9e357b82c7055118610cd296e10f3cb\";i:6270;s:41:\"linkedin_c9e357b82c7055118610cd296e10f3cb\";i:6271;s:35:\"fb_845f5ff04c84e995e92a4aa07f4a0e24\";i:6272;s:40:\"twitter_845f5ff04c84e995e92a4aa07f4a0e24\";i:6273;s:42:\"pinterest_845f5ff04c84e995e92a4aa07f4a0e24\";i:6274;s:35:\"fb_7e5e46430202f0c290c7df5485574972\";i:6275;s:40:\"twitter_7e5e46430202f0c290c7df5485574972\";i:6276;s:42:\"pinterest_7e5e46430202f0c290c7df5485574972\";i:6277;s:41:\"linkedin_7e5e46430202f0c290c7df5485574972\";i:6278;s:35:\"fb_6bc146a49b2135260cc672b09494760c\";i:6279;s:40:\"twitter_6bc146a49b2135260cc672b09494760c\";i:6280;s:42:\"pinterest_6bc146a49b2135260cc672b09494760c\";i:6281;s:41:\"linkedin_6bc146a49b2135260cc672b09494760c\";i:6282;s:35:\"fb_3fce416b56cfd73f09bc14c6978827da\";i:6283;s:40:\"twitter_3fce416b56cfd73f09bc14c6978827da\";i:6284;s:42:\"pinterest_3fce416b56cfd73f09bc14c6978827da\";i:6285;s:41:\"linkedin_3fce416b56cfd73f09bc14c6978827da\";i:6286;s:35:\"fb_509ee92f524b1df0d9a498150896dff8\";i:6287;s:40:\"twitter_509ee92f524b1df0d9a498150896dff8\";i:6288;s:42:\"pinterest_509ee92f524b1df0d9a498150896dff8\";i:6289;s:41:\"linkedin_509ee92f524b1df0d9a498150896dff8\";i:6290;s:35:\"fb_1d60468bd693fa4fe555af9625c60ec8\";i:6291;s:40:\"twitter_1d60468bd693fa4fe555af9625c60ec8\";i:6292;s:42:\"pinterest_1d60468bd693fa4fe555af9625c60ec8\";i:6293;s:41:\"linkedin_1d60468bd693fa4fe555af9625c60ec8\";i:6294;s:35:\"fb_2b63d24b9dbc216f26eb9bba61ca2e9d\";i:6295;s:40:\"twitter_2b63d24b9dbc216f26eb9bba61ca2e9d\";i:6296;s:42:\"pinterest_2b63d24b9dbc216f26eb9bba61ca2e9d\";i:6297;s:41:\"linkedin_2b63d24b9dbc216f26eb9bba61ca2e9d\";i:6298;s:35:\"fb_2a129adc1ec1d803473b0b75981df5fc\";i:6299;s:40:\"twitter_2a129adc1ec1d803473b0b75981df5fc\";i:6300;s:42:\"pinterest_2a129adc1ec1d803473b0b75981df5fc\";i:6301;s:41:\"linkedin_2a129adc1ec1d803473b0b75981df5fc\";i:6302;s:35:\"fb_fc33fece0762d65106bb49ef297748b8\";i:6303;s:40:\"twitter_fc33fece0762d65106bb49ef297748b8\";i:6304;s:42:\"pinterest_fc33fece0762d65106bb49ef297748b8\";i:6305;s:41:\"linkedin_fc33fece0762d65106bb49ef297748b8\";i:6306;s:35:\"fb_48423409b42167fc7c5278cff0b009ee\";i:6307;s:40:\"twitter_48423409b42167fc7c5278cff0b009ee\";i:6308;s:42:\"pinterest_48423409b42167fc7c5278cff0b009ee\";i:6309;s:41:\"linkedin_48423409b42167fc7c5278cff0b009ee\";i:6310;s:35:\"fb_c58d0117f9e594411f0b995accff8196\";i:6311;s:40:\"twitter_c58d0117f9e594411f0b995accff8196\";i:6312;s:42:\"pinterest_c58d0117f9e594411f0b995accff8196\";i:6313;s:41:\"linkedin_c58d0117f9e594411f0b995accff8196\";i:6314;s:35:\"fb_e4828f69e8243eca0b4db86bb0d0e8ce\";i:6315;s:40:\"twitter_e4828f69e8243eca0b4db86bb0d0e8ce\";i:6316;s:42:\"pinterest_e4828f69e8243eca0b4db86bb0d0e8ce\";i:6317;s:41:\"linkedin_e4828f69e8243eca0b4db86bb0d0e8ce\";i:6318;s:35:\"fb_6789116f3694733cf256ccbd20fa5b31\";i:6319;s:40:\"twitter_6789116f3694733cf256ccbd20fa5b31\";i:6320;s:42:\"pinterest_6789116f3694733cf256ccbd20fa5b31\";i:6321;s:41:\"linkedin_6789116f3694733cf256ccbd20fa5b31\";i:6322;s:35:\"fb_f4d36e68ee8ed20222dfbf17b8ec267e\";i:6323;s:40:\"twitter_f4d36e68ee8ed20222dfbf17b8ec267e\";i:6324;s:42:\"pinterest_f4d36e68ee8ed20222dfbf17b8ec267e\";i:6325;s:41:\"linkedin_f4d36e68ee8ed20222dfbf17b8ec267e\";i:6326;s:35:\"fb_6ccb9fb3851a929868dd43e6d7847255\";i:6327;s:40:\"twitter_6ccb9fb3851a929868dd43e6d7847255\";i:6328;s:42:\"pinterest_6ccb9fb3851a929868dd43e6d7847255\";i:6329;s:41:\"linkedin_6ccb9fb3851a929868dd43e6d7847255\";i:6330;s:35:\"fb_8b06ae1f2087129cd503f01ee8d22e58\";i:6331;s:40:\"twitter_8b06ae1f2087129cd503f01ee8d22e58\";i:6332;s:42:\"pinterest_8b06ae1f2087129cd503f01ee8d22e58\";i:6333;s:41:\"linkedin_8b06ae1f2087129cd503f01ee8d22e58\";i:6334;s:35:\"fb_76865ca683bb5822245d6c13e0a25ea2\";i:6335;s:40:\"twitter_76865ca683bb5822245d6c13e0a25ea2\";i:6336;s:42:\"pinterest_76865ca683bb5822245d6c13e0a25ea2\";i:6337;s:41:\"linkedin_76865ca683bb5822245d6c13e0a25ea2\";i:6338;s:35:\"fb_4fb29b9fdafbc1108a9d87396efa516c\";i:6339;s:40:\"twitter_4fb29b9fdafbc1108a9d87396efa516c\";i:6340;s:42:\"pinterest_4fb29b9fdafbc1108a9d87396efa516c\";i:6341;s:41:\"linkedin_4fb29b9fdafbc1108a9d87396efa516c\";i:6342;s:35:\"fb_02abffb5e169f0dcef9d3dbbdee05219\";i:6343;s:40:\"twitter_02abffb5e169f0dcef9d3dbbdee05219\";i:6344;s:42:\"pinterest_02abffb5e169f0dcef9d3dbbdee05219\";i:6345;s:41:\"linkedin_02abffb5e169f0dcef9d3dbbdee05219\";i:6346;s:35:\"fb_9bdc5f9bdeb93a3ad0f6d2266c7290a8\";i:6347;s:40:\"twitter_9bdc5f9bdeb93a3ad0f6d2266c7290a8\";i:6348;s:35:\"fb_8d77b9705a49b2a1f76da9095fdcd8f3\";i:6349;s:40:\"twitter_8d77b9705a49b2a1f76da9095fdcd8f3\";i:6350;s:42:\"pinterest_8d77b9705a49b2a1f76da9095fdcd8f3\";i:6351;s:41:\"linkedin_8d77b9705a49b2a1f76da9095fdcd8f3\";i:6352;s:35:\"fb_53f1a0b894884e0792cc4a99da551dbc\";i:6353;s:40:\"twitter_53f1a0b894884e0792cc4a99da551dbc\";i:6354;s:42:\"pinterest_53f1a0b894884e0792cc4a99da551dbc\";i:6355;s:41:\"linkedin_53f1a0b894884e0792cc4a99da551dbc\";i:6356;s:35:\"fb_e428bac202859c1ff0e506f3f9ec19c8\";i:6357;s:40:\"twitter_e428bac202859c1ff0e506f3f9ec19c8\";i:6358;s:42:\"pinterest_e428bac202859c1ff0e506f3f9ec19c8\";i:6359;s:41:\"linkedin_e428bac202859c1ff0e506f3f9ec19c8\";i:6360;s:35:\"fb_0162c91e0963495c72382ffecae99ae7\";i:6361;s:40:\"twitter_0162c91e0963495c72382ffecae99ae7\";i:6362;s:42:\"pinterest_0162c91e0963495c72382ffecae99ae7\";i:6363;s:41:\"linkedin_0162c91e0963495c72382ffecae99ae7\";i:6364;s:35:\"fb_55de21db007c39a3fd0b6a10bf33d112\";i:6365;s:40:\"twitter_55de21db007c39a3fd0b6a10bf33d112\";i:6366;s:42:\"pinterest_55de21db007c39a3fd0b6a10bf33d112\";i:6367;s:41:\"linkedin_55de21db007c39a3fd0b6a10bf33d112\";i:6368;s:35:\"fb_b90cf8a22f74c5dd273ff162e091e981\";i:6369;s:40:\"twitter_b90cf8a22f74c5dd273ff162e091e981\";i:6370;s:42:\"pinterest_b90cf8a22f74c5dd273ff162e091e981\";i:6371;s:41:\"linkedin_b90cf8a22f74c5dd273ff162e091e981\";i:6372;s:35:\"fb_714b45e9e487ef2814a2d5e8dc674c74\";i:6373;s:40:\"twitter_714b45e9e487ef2814a2d5e8dc674c74\";i:6374;s:42:\"pinterest_714b45e9e487ef2814a2d5e8dc674c74\";i:6375;s:41:\"linkedin_714b45e9e487ef2814a2d5e8dc674c74\";i:6376;s:35:\"fb_508035d968b16c7e32943329be3529b7\";i:6377;s:40:\"twitter_508035d968b16c7e32943329be3529b7\";i:6378;s:42:\"pinterest_508035d968b16c7e32943329be3529b7\";i:6379;s:41:\"linkedin_508035d968b16c7e32943329be3529b7\";i:6380;s:35:\"fb_6c15ce2cd384fc46ed4293a44daf4613\";i:6381;s:40:\"twitter_6c15ce2cd384fc46ed4293a44daf4613\";i:6382;s:42:\"pinterest_6c15ce2cd384fc46ed4293a44daf4613\";i:6383;s:41:\"linkedin_6c15ce2cd384fc46ed4293a44daf4613\";i:6384;s:35:\"fb_dec2dda93d855cbddcc4d24306e1a5bc\";i:6385;s:40:\"twitter_dec2dda93d855cbddcc4d24306e1a5bc\";i:6386;s:42:\"pinterest_dec2dda93d855cbddcc4d24306e1a5bc\";i:6387;s:41:\"linkedin_dec2dda93d855cbddcc4d24306e1a5bc\";i:6388;s:35:\"fb_a1f780f0ae69e594743943bb39aeb45a\";i:6389;s:40:\"twitter_a1f780f0ae69e594743943bb39aeb45a\";i:6390;s:42:\"pinterest_a1f780f0ae69e594743943bb39aeb45a\";i:6391;s:35:\"fb_44c860aa6977c8fb90337edb62f8bb08\";i:6392;s:40:\"twitter_44c860aa6977c8fb90337edb62f8bb08\";i:6393;s:42:\"pinterest_44c860aa6977c8fb90337edb62f8bb08\";i:6394;s:41:\"linkedin_44c860aa6977c8fb90337edb62f8bb08\";i:6395;s:35:\"fb_67f2ce04ab2e4c590e570e1468d60b29\";i:6396;s:40:\"twitter_67f2ce04ab2e4c590e570e1468d60b29\";i:6397;s:42:\"pinterest_67f2ce04ab2e4c590e570e1468d60b29\";i:6398;s:41:\"linkedin_67f2ce04ab2e4c590e570e1468d60b29\";i:6399;s:35:\"fb_bb7da4470579fc1301416f867eb84088\";i:6400;s:40:\"twitter_bb7da4470579fc1301416f867eb84088\";i:6401;s:42:\"pinterest_bb7da4470579fc1301416f867eb84088\";i:6402;s:41:\"linkedin_bb7da4470579fc1301416f867eb84088\";i:6403;s:35:\"fb_0b391e761d774d34b689b6891dc17ea8\";i:6404;s:40:\"twitter_0b391e761d774d34b689b6891dc17ea8\";i:6405;s:42:\"pinterest_0b391e761d774d34b689b6891dc17ea8\";i:6406;s:41:\"linkedin_0b391e761d774d34b689b6891dc17ea8\";i:6407;s:35:\"fb_461234355b29db11aa7fa85eddcacef6\";i:6408;s:40:\"twitter_461234355b29db11aa7fa85eddcacef6\";i:6409;s:42:\"pinterest_461234355b29db11aa7fa85eddcacef6\";i:6410;s:41:\"linkedin_461234355b29db11aa7fa85eddcacef6\";i:6411;s:35:\"fb_d2261b433407bd827a8c082623cdab8a\";i:6412;s:40:\"twitter_d2261b433407bd827a8c082623cdab8a\";i:6413;s:42:\"pinterest_d2261b433407bd827a8c082623cdab8a\";i:6414;s:41:\"linkedin_d2261b433407bd827a8c082623cdab8a\";i:6415;s:35:\"fb_87e1b24726b191727fc2565e13a05966\";i:6416;s:40:\"twitter_87e1b24726b191727fc2565e13a05966\";i:6417;s:42:\"pinterest_87e1b24726b191727fc2565e13a05966\";i:6418;s:41:\"linkedin_87e1b24726b191727fc2565e13a05966\";i:6419;s:35:\"fb_ffc095f461e56ff9fea6227ef62a7b62\";i:6420;s:40:\"twitter_ffc095f461e56ff9fea6227ef62a7b62\";i:6421;s:42:\"pinterest_ffc095f461e56ff9fea6227ef62a7b62\";i:6422;s:41:\"linkedin_ffc095f461e56ff9fea6227ef62a7b62\";i:6423;s:35:\"fb_62236912e2c473605c9a4c8ca916ff52\";i:6424;s:40:\"twitter_62236912e2c473605c9a4c8ca916ff52\";i:6425;s:42:\"pinterest_62236912e2c473605c9a4c8ca916ff52\";i:6426;s:41:\"linkedin_62236912e2c473605c9a4c8ca916ff52\";i:6427;s:35:\"fb_970560c3a51279d42ede141e246feb24\";i:6428;s:40:\"twitter_970560c3a51279d42ede141e246feb24\";i:6429;s:42:\"pinterest_970560c3a51279d42ede141e246feb24\";i:6430;s:41:\"linkedin_970560c3a51279d42ede141e246feb24\";i:6431;s:35:\"fb_dec2f7e5eb76ce83adaa97823f6f1875\";i:6432;s:40:\"twitter_dec2f7e5eb76ce83adaa97823f6f1875\";i:6433;s:42:\"pinterest_dec2f7e5eb76ce83adaa97823f6f1875\";i:6434;s:41:\"linkedin_dec2f7e5eb76ce83adaa97823f6f1875\";i:6435;s:35:\"fb_c0425ca52376939e8aaef97108124d04\";i:6436;s:40:\"twitter_c0425ca52376939e8aaef97108124d04\";i:6437;s:42:\"pinterest_c0425ca52376939e8aaef97108124d04\";i:6438;s:41:\"linkedin_c0425ca52376939e8aaef97108124d04\";i:6439;s:35:\"fb_fe52833be72ff984d3f4196ae41708df\";i:6440;s:40:\"twitter_fe52833be72ff984d3f4196ae41708df\";i:6441;s:42:\"pinterest_fe52833be72ff984d3f4196ae41708df\";i:6442;s:41:\"linkedin_fe52833be72ff984d3f4196ae41708df\";i:6443;s:35:\"fb_afb199be0b7c1f235696609f0b20dba5\";i:6444;s:40:\"twitter_afb199be0b7c1f235696609f0b20dba5\";i:6445;s:42:\"pinterest_afb199be0b7c1f235696609f0b20dba5\";i:6446;s:41:\"linkedin_afb199be0b7c1f235696609f0b20dba5\";i:6447;s:35:\"fb_4c6aeb1b08204efb6154cf3feb86fca0\";i:6448;s:40:\"twitter_4c6aeb1b08204efb6154cf3feb86fca0\";i:6449;s:42:\"pinterest_4c6aeb1b08204efb6154cf3feb86fca0\";i:6450;s:41:\"linkedin_4c6aeb1b08204efb6154cf3feb86fca0\";i:6451;s:35:\"fb_79a11641e5011d757b9e090c51863ad3\";i:6452;s:40:\"twitter_79a11641e5011d757b9e090c51863ad3\";i:6453;s:42:\"pinterest_79a11641e5011d757b9e090c51863ad3\";i:6454;s:41:\"linkedin_79a11641e5011d757b9e090c51863ad3\";i:6455;s:35:\"fb_83c302212c9506979298b52ceca41635\";i:6456;s:40:\"twitter_83c302212c9506979298b52ceca41635\";i:6457;s:42:\"pinterest_83c302212c9506979298b52ceca41635\";i:6458;s:41:\"linkedin_83c302212c9506979298b52ceca41635\";i:6459;s:35:\"fb_6de5eb829fc69d801cd020ea734cd034\";i:6460;s:40:\"twitter_6de5eb829fc69d801cd020ea734cd034\";i:6461;s:42:\"pinterest_6de5eb829fc69d801cd020ea734cd034\";i:6462;s:41:\"linkedin_6de5eb829fc69d801cd020ea734cd034\";i:6463;s:35:\"fb_bdd5b38f9a79690bc7293488ec3ed84b\";i:6464;s:40:\"twitter_bdd5b38f9a79690bc7293488ec3ed84b\";i:6465;s:42:\"pinterest_bdd5b38f9a79690bc7293488ec3ed84b\";i:6466;s:41:\"linkedin_bdd5b38f9a79690bc7293488ec3ed84b\";i:6467;s:35:\"fb_574a6e78ee1a02156a98ab1fd385c677\";i:6468;s:40:\"twitter_574a6e78ee1a02156a98ab1fd385c677\";i:6469;s:42:\"pinterest_574a6e78ee1a02156a98ab1fd385c677\";i:6470;s:41:\"linkedin_574a6e78ee1a02156a98ab1fd385c677\";i:6471;s:35:\"fb_86e5963b847f92f8f3aead8a95f7e5b6\";i:6472;s:40:\"twitter_86e5963b847f92f8f3aead8a95f7e5b6\";i:6473;s:42:\"pinterest_86e5963b847f92f8f3aead8a95f7e5b6\";i:6474;s:41:\"linkedin_86e5963b847f92f8f3aead8a95f7e5b6\";i:6475;s:35:\"fb_3ac1a2dc076701fe7924fc398ed79649\";i:6476;s:40:\"twitter_3ac1a2dc076701fe7924fc398ed79649\";i:6477;s:42:\"pinterest_3ac1a2dc076701fe7924fc398ed79649\";i:6478;s:41:\"linkedin_3ac1a2dc076701fe7924fc398ed79649\";i:6479;s:35:\"fb_2870f99014707a69f990e55d7447d814\";i:6480;s:40:\"twitter_2870f99014707a69f990e55d7447d814\";i:6481;s:42:\"pinterest_2870f99014707a69f990e55d7447d814\";i:6482;s:41:\"linkedin_2870f99014707a69f990e55d7447d814\";i:6483;s:35:\"fb_81ac4100f43f7c9d5784f15bf4e4886d\";i:6484;s:40:\"twitter_81ac4100f43f7c9d5784f15bf4e4886d\";i:6485;s:42:\"pinterest_81ac4100f43f7c9d5784f15bf4e4886d\";i:6486;s:41:\"linkedin_81ac4100f43f7c9d5784f15bf4e4886d\";i:6487;s:35:\"fb_e9e10403260cfa28e56e3efbed4ad972\";i:6488;s:40:\"twitter_e9e10403260cfa28e56e3efbed4ad972\";i:6489;s:42:\"pinterest_e9e10403260cfa28e56e3efbed4ad972\";i:6490;s:41:\"linkedin_e9e10403260cfa28e56e3efbed4ad972\";i:6491;s:35:\"fb_b20465c92375531edeb9a795a11e7189\";i:6492;s:40:\"twitter_b20465c92375531edeb9a795a11e7189\";i:6493;s:42:\"pinterest_b20465c92375531edeb9a795a11e7189\";i:6494;s:41:\"linkedin_b20465c92375531edeb9a795a11e7189\";i:6495;s:35:\"fb_54aac3ff343187340ea647dea790d41a\";i:6496;s:40:\"twitter_54aac3ff343187340ea647dea790d41a\";i:6497;s:42:\"pinterest_54aac3ff343187340ea647dea790d41a\";i:6498;s:41:\"linkedin_54aac3ff343187340ea647dea790d41a\";i:6499;s:35:\"fb_3b55957f167644d02476c05e41db345f\";i:6500;s:40:\"twitter_3b55957f167644d02476c05e41db345f\";i:6501;s:42:\"pinterest_3b55957f167644d02476c05e41db345f\";i:6502;s:41:\"linkedin_3b55957f167644d02476c05e41db345f\";i:6503;s:35:\"fb_1842c4986197b40dafb51900b11a34dc\";i:6504;s:40:\"twitter_1842c4986197b40dafb51900b11a34dc\";i:6505;s:42:\"pinterest_1842c4986197b40dafb51900b11a34dc\";i:6506;s:41:\"linkedin_1842c4986197b40dafb51900b11a34dc\";i:6507;s:35:\"fb_f78b5eabca853ce615a4f3ebb0e11045\";i:6508;s:40:\"twitter_f78b5eabca853ce615a4f3ebb0e11045\";i:6509;s:42:\"pinterest_f78b5eabca853ce615a4f3ebb0e11045\";i:6510;s:41:\"linkedin_f78b5eabca853ce615a4f3ebb0e11045\";i:6511;s:35:\"fb_5bdac079a60cd224608285b937903eaa\";i:6512;s:40:\"twitter_5bdac079a60cd224608285b937903eaa\";i:6513;s:42:\"pinterest_5bdac079a60cd224608285b937903eaa\";i:6514;s:41:\"linkedin_5bdac079a60cd224608285b937903eaa\";i:6515;s:35:\"fb_d55141d7f8e9ab59916282b49f67acd6\";i:6516;s:40:\"twitter_d55141d7f8e9ab59916282b49f67acd6\";i:6517;s:42:\"pinterest_d55141d7f8e9ab59916282b49f67acd6\";i:6518;s:41:\"linkedin_d55141d7f8e9ab59916282b49f67acd6\";i:6519;s:35:\"fb_a690b8e0f1a01d63906dfea1052fe797\";i:6520;s:40:\"twitter_a690b8e0f1a01d63906dfea1052fe797\";i:6521;s:42:\"pinterest_a690b8e0f1a01d63906dfea1052fe797\";i:6522;s:41:\"linkedin_a690b8e0f1a01d63906dfea1052fe797\";i:6523;s:35:\"fb_b36081395b5eea45952d81c8fc803e59\";i:6524;s:40:\"twitter_b36081395b5eea45952d81c8fc803e59\";i:6525;s:42:\"pinterest_b36081395b5eea45952d81c8fc803e59\";i:6526;s:41:\"linkedin_b36081395b5eea45952d81c8fc803e59\";i:6527;s:35:\"fb_eabc74d645f573d0188503f26948cfb8\";i:6528;s:40:\"twitter_eabc74d645f573d0188503f26948cfb8\";i:6529;s:42:\"pinterest_eabc74d645f573d0188503f26948cfb8\";i:6530;s:41:\"linkedin_eabc74d645f573d0188503f26948cfb8\";i:6531;s:35:\"fb_40a3f84a0a4537f316e3f72c43e6019b\";i:6532;s:40:\"twitter_40a3f84a0a4537f316e3f72c43e6019b\";i:6533;s:42:\"pinterest_40a3f84a0a4537f316e3f72c43e6019b\";i:6534;s:41:\"linkedin_40a3f84a0a4537f316e3f72c43e6019b\";i:6535;s:35:\"fb_dff5ed2b2c6e82aed24027b5941a8bce\";i:6536;s:40:\"twitter_dff5ed2b2c6e82aed24027b5941a8bce\";i:6537;s:42:\"pinterest_dff5ed2b2c6e82aed24027b5941a8bce\";i:6538;s:41:\"linkedin_dff5ed2b2c6e82aed24027b5941a8bce\";i:6539;s:35:\"fb_a53f2f2ad7fb43439f1237ac9893275e\";i:6540;s:40:\"twitter_a53f2f2ad7fb43439f1237ac9893275e\";i:6541;s:42:\"pinterest_a53f2f2ad7fb43439f1237ac9893275e\";i:6542;s:41:\"linkedin_a53f2f2ad7fb43439f1237ac9893275e\";i:6543;s:35:\"fb_d3080cb5979d1de3210ef40ac46a335a\";i:6544;s:40:\"twitter_d3080cb5979d1de3210ef40ac46a335a\";i:6545;s:42:\"pinterest_d3080cb5979d1de3210ef40ac46a335a\";i:6546;s:41:\"linkedin_d3080cb5979d1de3210ef40ac46a335a\";i:6547;s:35:\"fb_6a98a6066c9fd85a50d100632109dcd8\";i:6548;s:40:\"twitter_6a98a6066c9fd85a50d100632109dcd8\";i:6549;s:42:\"pinterest_6a98a6066c9fd85a50d100632109dcd8\";i:6550;s:41:\"linkedin_6a98a6066c9fd85a50d100632109dcd8\";i:6551;s:35:\"fb_d9dddcd593afbeb3990eda8583e4093b\";i:6552;s:40:\"twitter_d9dddcd593afbeb3990eda8583e4093b\";i:6553;s:42:\"pinterest_d9dddcd593afbeb3990eda8583e4093b\";i:6554;s:41:\"linkedin_d9dddcd593afbeb3990eda8583e4093b\";i:6555;s:35:\"fb_205022fe7798ad3ad5478fe918799cbd\";i:6556;s:40:\"twitter_205022fe7798ad3ad5478fe918799cbd\";i:6557;s:42:\"pinterest_205022fe7798ad3ad5478fe918799cbd\";i:6558;s:41:\"linkedin_205022fe7798ad3ad5478fe918799cbd\";i:6559;s:35:\"fb_e33457b3a2c85d39c88c442f939908c9\";i:6560;s:40:\"twitter_e33457b3a2c85d39c88c442f939908c9\";i:6561;s:42:\"pinterest_e33457b3a2c85d39c88c442f939908c9\";i:6562;s:41:\"linkedin_e33457b3a2c85d39c88c442f939908c9\";i:6563;s:35:\"fb_c612da4710ed0e78b5a1f04f84024b5b\";i:6564;s:40:\"twitter_c612da4710ed0e78b5a1f04f84024b5b\";i:6565;s:42:\"pinterest_c612da4710ed0e78b5a1f04f84024b5b\";i:6566;s:41:\"linkedin_c612da4710ed0e78b5a1f04f84024b5b\";i:6567;s:35:\"fb_d21424d7b04a1587cd0996f806eb75be\";i:6568;s:40:\"twitter_d21424d7b04a1587cd0996f806eb75be\";i:6569;s:42:\"pinterest_d21424d7b04a1587cd0996f806eb75be\";i:6570;s:41:\"linkedin_d21424d7b04a1587cd0996f806eb75be\";i:6571;s:35:\"fb_17d32a1e36632c39551aad87e6d235bb\";i:6572;s:35:\"fb_a0947d8d5e13cda911050c3d548efdd4\";i:6573;s:40:\"twitter_a0947d8d5e13cda911050c3d548efdd4\";i:6574;s:42:\"pinterest_a0947d8d5e13cda911050c3d548efdd4\";i:6575;s:41:\"linkedin_a0947d8d5e13cda911050c3d548efdd4\";i:6576;s:35:\"fb_8b387ad22b76d3edd91f218af282a950\";i:6577;s:40:\"twitter_8b387ad22b76d3edd91f218af282a950\";i:6578;s:42:\"pinterest_8b387ad22b76d3edd91f218af282a950\";i:6579;s:41:\"linkedin_8b387ad22b76d3edd91f218af282a950\";i:6580;s:35:\"fb_2267779fbb55be7c58121119595d9271\";i:6581;s:40:\"twitter_2267779fbb55be7c58121119595d9271\";i:6582;s:42:\"pinterest_2267779fbb55be7c58121119595d9271\";i:6583;s:41:\"linkedin_2267779fbb55be7c58121119595d9271\";i:6584;s:35:\"fb_efeb738f6e99b99688ff91c5eecc740e\";i:6585;s:40:\"twitter_efeb738f6e99b99688ff91c5eecc740e\";i:6586;s:42:\"pinterest_efeb738f6e99b99688ff91c5eecc740e\";i:6587;s:41:\"linkedin_efeb738f6e99b99688ff91c5eecc740e\";i:6588;s:35:\"fb_c5becc34951fd230cc255ea10b894532\";i:6589;s:40:\"twitter_c5becc34951fd230cc255ea10b894532\";i:6590;s:42:\"pinterest_c5becc34951fd230cc255ea10b894532\";i:6591;s:41:\"linkedin_c5becc34951fd230cc255ea10b894532\";i:6592;s:35:\"fb_962e850295e29044719f0f89cfc79859\";i:6593;s:40:\"twitter_962e850295e29044719f0f89cfc79859\";i:6594;s:42:\"pinterest_962e850295e29044719f0f89cfc79859\";i:6595;s:41:\"linkedin_962e850295e29044719f0f89cfc79859\";i:6596;s:35:\"fb_20a8df390c82a826499be78cc072d482\";i:6597;s:40:\"twitter_20a8df390c82a826499be78cc072d482\";i:6598;s:42:\"pinterest_20a8df390c82a826499be78cc072d482\";i:6599;s:41:\"linkedin_20a8df390c82a826499be78cc072d482\";i:6600;s:35:\"fb_5a906321a5a4acc16aeeaa0b897be2f7\";i:6601;s:40:\"twitter_5a906321a5a4acc16aeeaa0b897be2f7\";i:6602;s:42:\"pinterest_5a906321a5a4acc16aeeaa0b897be2f7\";i:6603;s:41:\"linkedin_5a906321a5a4acc16aeeaa0b897be2f7\";i:6604;s:35:\"fb_761ab61d66f79d9ccab3285cbb517f61\";i:6605;s:40:\"twitter_761ab61d66f79d9ccab3285cbb517f61\";i:6606;s:42:\"pinterest_761ab61d66f79d9ccab3285cbb517f61\";i:6607;s:41:\"linkedin_761ab61d66f79d9ccab3285cbb517f61\";i:6608;s:35:\"fb_494af5285eba39c45abc9e7a3cc69b70\";i:6609;s:40:\"twitter_494af5285eba39c45abc9e7a3cc69b70\";i:6610;s:35:\"fb_c8a0ce4127845c139ff42ec811a340c5\";i:6611;s:40:\"twitter_c8a0ce4127845c139ff42ec811a340c5\";i:6612;s:42:\"pinterest_c8a0ce4127845c139ff42ec811a340c5\";i:6613;s:41:\"linkedin_c8a0ce4127845c139ff42ec811a340c5\";i:6614;s:35:\"fb_5d70e21d689e86d6e0460ee953db405d\";i:6615;s:40:\"twitter_5d70e21d689e86d6e0460ee953db405d\";i:6616;s:42:\"pinterest_5d70e21d689e86d6e0460ee953db405d\";i:6617;s:41:\"linkedin_5d70e21d689e86d6e0460ee953db405d\";i:6618;s:35:\"fb_4ff9f1c29d2006a06ffe60c66fada30a\";i:6619;s:40:\"twitter_4ff9f1c29d2006a06ffe60c66fada30a\";i:6620;s:42:\"pinterest_4ff9f1c29d2006a06ffe60c66fada30a\";i:6621;s:41:\"linkedin_4ff9f1c29d2006a06ffe60c66fada30a\";i:6622;s:35:\"fb_101dd27e3d244f25f7590e76c41883bd\";i:6623;s:40:\"twitter_101dd27e3d244f25f7590e76c41883bd\";i:6624;s:42:\"pinterest_101dd27e3d244f25f7590e76c41883bd\";i:6625;s:41:\"linkedin_101dd27e3d244f25f7590e76c41883bd\";i:6626;s:35:\"fb_d4bc1b217e4a866af9801b554e6855f5\";i:6627;s:40:\"twitter_d4bc1b217e4a866af9801b554e6855f5\";i:6628;s:42:\"pinterest_d4bc1b217e4a866af9801b554e6855f5\";i:6629;s:41:\"linkedin_d4bc1b217e4a866af9801b554e6855f5\";i:6630;s:35:\"fb_0570f901a241dbd65953a52372388e68\";i:6631;s:40:\"twitter_0570f901a241dbd65953a52372388e68\";i:6632;s:42:\"pinterest_0570f901a241dbd65953a52372388e68\";i:6633;s:41:\"linkedin_0570f901a241dbd65953a52372388e68\";i:6634;s:35:\"fb_121a1cbd895332c0b2faa30c9218fd32\";i:6635;s:40:\"twitter_121a1cbd895332c0b2faa30c9218fd32\";i:6636;s:42:\"pinterest_121a1cbd895332c0b2faa30c9218fd32\";i:6637;s:41:\"linkedin_121a1cbd895332c0b2faa30c9218fd32\";i:6638;s:35:\"fb_26cbd4a17046359cc9699989494c4f90\";i:6639;s:40:\"twitter_26cbd4a17046359cc9699989494c4f90\";i:6640;s:42:\"pinterest_26cbd4a17046359cc9699989494c4f90\";i:6641;s:41:\"linkedin_26cbd4a17046359cc9699989494c4f90\";i:6642;s:35:\"fb_4de1245b0470923a86fa780a59655ada\";i:6643;s:40:\"twitter_4de1245b0470923a86fa780a59655ada\";i:6644;s:42:\"pinterest_4de1245b0470923a86fa780a59655ada\";i:6645;s:41:\"linkedin_4de1245b0470923a86fa780a59655ada\";i:6646;s:35:\"fb_be2c13e26c04d70983b6b603641042a2\";i:6647;s:40:\"twitter_be2c13e26c04d70983b6b603641042a2\";i:6648;s:42:\"pinterest_be2c13e26c04d70983b6b603641042a2\";i:6649;s:41:\"linkedin_be2c13e26c04d70983b6b603641042a2\";i:6650;s:35:\"fb_17220308cfb5aa83bfdf7d8523e845bb\";i:6651;s:40:\"twitter_17220308cfb5aa83bfdf7d8523e845bb\";i:6652;s:35:\"fb_cfd22589358d5bd0759c4cc2b0cbf7c3\";i:6653;s:40:\"twitter_cfd22589358d5bd0759c4cc2b0cbf7c3\";i:6654;s:42:\"pinterest_cfd22589358d5bd0759c4cc2b0cbf7c3\";i:6655;s:41:\"linkedin_cfd22589358d5bd0759c4cc2b0cbf7c3\";i:6656;s:35:\"fb_4cc85b7c4f02d76037bcc14cdf1e0032\";i:6657;s:40:\"twitter_4cc85b7c4f02d76037bcc14cdf1e0032\";i:6658;s:42:\"pinterest_4cc85b7c4f02d76037bcc14cdf1e0032\";i:6659;s:41:\"linkedin_4cc85b7c4f02d76037bcc14cdf1e0032\";i:6660;s:35:\"fb_f2fce5bb366c96d138389ed7acbe8b8a\";i:6661;s:40:\"twitter_f2fce5bb366c96d138389ed7acbe8b8a\";i:6662;s:42:\"pinterest_f2fce5bb366c96d138389ed7acbe8b8a\";i:6663;s:41:\"linkedin_f2fce5bb366c96d138389ed7acbe8b8a\";i:6664;s:35:\"fb_7fd61595670ed7c8ec7d2ad2366883b9\";i:6665;s:40:\"twitter_7fd61595670ed7c8ec7d2ad2366883b9\";i:6666;s:42:\"pinterest_7fd61595670ed7c8ec7d2ad2366883b9\";i:6667;s:41:\"linkedin_7fd61595670ed7c8ec7d2ad2366883b9\";i:6668;s:35:\"fb_408cb832a5c19bd8d4955f87ee958509\";i:6669;s:40:\"twitter_408cb832a5c19bd8d4955f87ee958509\";i:6670;s:42:\"pinterest_408cb832a5c19bd8d4955f87ee958509\";i:6671;s:41:\"linkedin_408cb832a5c19bd8d4955f87ee958509\";i:6672;s:35:\"fb_d91b363a45ac0e786bd4dc8604d5ab78\";i:6673;s:40:\"twitter_d91b363a45ac0e786bd4dc8604d5ab78\";i:6674;s:42:\"pinterest_d91b363a45ac0e786bd4dc8604d5ab78\";i:6675;s:41:\"linkedin_d91b363a45ac0e786bd4dc8604d5ab78\";i:6676;s:35:\"fb_9faed7eb970194a5893b1240a26e6e16\";i:6677;s:40:\"twitter_9faed7eb970194a5893b1240a26e6e16\";i:6678;s:42:\"pinterest_9faed7eb970194a5893b1240a26e6e16\";i:6679;s:41:\"linkedin_9faed7eb970194a5893b1240a26e6e16\";i:6680;s:35:\"fb_8b7d35e4159f9bdb26a2d79d362850d7\";i:6681;s:40:\"twitter_8b7d35e4159f9bdb26a2d79d362850d7\";i:6682;s:42:\"pinterest_8b7d35e4159f9bdb26a2d79d362850d7\";i:6683;s:41:\"linkedin_8b7d35e4159f9bdb26a2d79d362850d7\";i:6684;s:35:\"fb_689c9d0df0ae21d8fa08b9a82706aa3c\";i:6685;s:40:\"twitter_689c9d0df0ae21d8fa08b9a82706aa3c\";i:6686;s:42:\"pinterest_689c9d0df0ae21d8fa08b9a82706aa3c\";i:6687;s:35:\"fb_88d391b4ce30105b0a4ca6d6fdda99b9\";i:6688;s:40:\"twitter_88d391b4ce30105b0a4ca6d6fdda99b9\";i:6689;s:42:\"pinterest_88d391b4ce30105b0a4ca6d6fdda99b9\";i:6690;s:41:\"linkedin_88d391b4ce30105b0a4ca6d6fdda99b9\";i:6691;s:35:\"fb_037173aba819067a0c10bd7c42b37ee0\";i:6692;s:40:\"twitter_037173aba819067a0c10bd7c42b37ee0\";i:6693;s:42:\"pinterest_037173aba819067a0c10bd7c42b37ee0\";i:6694;s:41:\"linkedin_037173aba819067a0c10bd7c42b37ee0\";i:6695;s:35:\"fb_4cf831a8b7feb3f212f2ce48f5893ccb\";i:6696;s:40:\"twitter_4cf831a8b7feb3f212f2ce48f5893ccb\";i:6697;s:42:\"pinterest_4cf831a8b7feb3f212f2ce48f5893ccb\";i:6698;s:41:\"linkedin_4cf831a8b7feb3f212f2ce48f5893ccb\";i:6699;s:35:\"fb_eaca084708d00146ad7cfe5b44c238cd\";i:6700;s:40:\"twitter_eaca084708d00146ad7cfe5b44c238cd\";i:6701;s:42:\"pinterest_eaca084708d00146ad7cfe5b44c238cd\";i:6702;s:41:\"linkedin_eaca084708d00146ad7cfe5b44c238cd\";i:6703;s:35:\"fb_10a1ba62ce5f57f70ca998a78d6c3071\";i:6704;s:40:\"twitter_10a1ba62ce5f57f70ca998a78d6c3071\";i:6705;s:42:\"pinterest_10a1ba62ce5f57f70ca998a78d6c3071\";i:6706;s:41:\"linkedin_10a1ba62ce5f57f70ca998a78d6c3071\";i:6707;s:35:\"fb_e9f9e613d2842058499e2b1d30c61b1d\";i:6708;s:40:\"twitter_e9f9e613d2842058499e2b1d30c61b1d\";i:6709;s:42:\"pinterest_e9f9e613d2842058499e2b1d30c61b1d\";i:6710;s:41:\"linkedin_e9f9e613d2842058499e2b1d30c61b1d\";i:6711;s:35:\"fb_952900b8fcda56042ab59abc2444e38b\";i:6712;s:40:\"twitter_952900b8fcda56042ab59abc2444e38b\";i:6713;s:42:\"pinterest_952900b8fcda56042ab59abc2444e38b\";i:6714;s:41:\"linkedin_952900b8fcda56042ab59abc2444e38b\";i:6715;s:35:\"fb_4015361eadfb90bbdb75e6177f611d15\";i:6716;s:40:\"twitter_4015361eadfb90bbdb75e6177f611d15\";i:6717;s:42:\"pinterest_4015361eadfb90bbdb75e6177f611d15\";i:6718;s:41:\"linkedin_4015361eadfb90bbdb75e6177f611d15\";i:6719;s:35:\"fb_d5c4bd6ba07bdf500b17784f4275e53c\";i:6720;s:40:\"twitter_d5c4bd6ba07bdf500b17784f4275e53c\";i:6721;s:42:\"pinterest_d5c4bd6ba07bdf500b17784f4275e53c\";i:6722;s:41:\"linkedin_d5c4bd6ba07bdf500b17784f4275e53c\";i:6723;s:35:\"fb_7e496e3014396c3e763befe74c9c1c2c\";i:6724;s:40:\"twitter_7e496e3014396c3e763befe74c9c1c2c\";i:6725;s:42:\"pinterest_7e496e3014396c3e763befe74c9c1c2c\";i:6726;s:41:\"linkedin_7e496e3014396c3e763befe74c9c1c2c\";i:6727;s:35:\"fb_539e6d25d15b315e504c92c0683efe09\";i:6728;s:40:\"twitter_539e6d25d15b315e504c92c0683efe09\";i:6729;s:42:\"pinterest_539e6d25d15b315e504c92c0683efe09\";i:6730;s:41:\"linkedin_539e6d25d15b315e504c92c0683efe09\";i:6731;s:35:\"fb_b3c1ece538541cb60bd1bc9fb6fb42f1\";i:6732;s:40:\"twitter_b3c1ece538541cb60bd1bc9fb6fb42f1\";i:6733;s:42:\"pinterest_b3c1ece538541cb60bd1bc9fb6fb42f1\";i:6734;s:41:\"linkedin_b3c1ece538541cb60bd1bc9fb6fb42f1\";i:6735;s:35:\"fb_76f267a6c3f2ce61452febc619420af0\";i:6736;s:40:\"twitter_76f267a6c3f2ce61452febc619420af0\";i:6737;s:42:\"pinterest_76f267a6c3f2ce61452febc619420af0\";i:6738;s:41:\"linkedin_76f267a6c3f2ce61452febc619420af0\";i:6739;s:35:\"fb_bdb14ad6d499ae246e6514cb9ae44fa3\";i:6740;s:40:\"twitter_bdb14ad6d499ae246e6514cb9ae44fa3\";i:6741;s:42:\"pinterest_bdb14ad6d499ae246e6514cb9ae44fa3\";i:6742;s:41:\"linkedin_bdb14ad6d499ae246e6514cb9ae44fa3\";i:6743;s:35:\"fb_16416c30bb95cff554cbf92f449c7313\";i:6744;s:40:\"twitter_16416c30bb95cff554cbf92f449c7313\";i:6745;s:42:\"pinterest_16416c30bb95cff554cbf92f449c7313\";i:6746;s:41:\"linkedin_16416c30bb95cff554cbf92f449c7313\";i:6747;s:35:\"fb_799bbaab974617e9a3eb43afe5cb8a9c\";i:6748;s:40:\"twitter_799bbaab974617e9a3eb43afe5cb8a9c\";i:6749;s:42:\"pinterest_799bbaab974617e9a3eb43afe5cb8a9c\";i:6750;s:41:\"linkedin_799bbaab974617e9a3eb43afe5cb8a9c\";i:6751;s:35:\"fb_ca23e77055e252ea8cbbcbf3d0eee0cc\";i:6752;s:40:\"twitter_ca23e77055e252ea8cbbcbf3d0eee0cc\";i:6753;s:42:\"pinterest_ca23e77055e252ea8cbbcbf3d0eee0cc\";i:6754;s:41:\"linkedin_ca23e77055e252ea8cbbcbf3d0eee0cc\";i:6755;s:35:\"fb_658857ffcc81170c7e55cd4acc4f7ec0\";i:6756;s:40:\"twitter_658857ffcc81170c7e55cd4acc4f7ec0\";i:6757;s:42:\"pinterest_658857ffcc81170c7e55cd4acc4f7ec0\";i:6758;s:41:\"linkedin_658857ffcc81170c7e55cd4acc4f7ec0\";i:6759;s:35:\"fb_d755ab82b7f7104956c23ee6aad5fd96\";i:6760;s:40:\"twitter_d755ab82b7f7104956c23ee6aad5fd96\";i:6761;s:42:\"pinterest_d755ab82b7f7104956c23ee6aad5fd96\";i:6762;s:41:\"linkedin_d755ab82b7f7104956c23ee6aad5fd96\";i:6763;s:35:\"fb_3fdb7f13adfc4d546968dc40a7a03e09\";i:6764;s:40:\"twitter_3fdb7f13adfc4d546968dc40a7a03e09\";i:6765;s:42:\"pinterest_3fdb7f13adfc4d546968dc40a7a03e09\";i:6766;s:41:\"linkedin_3fdb7f13adfc4d546968dc40a7a03e09\";i:6767;s:35:\"fb_54b6e00e2491fa6692477fbcb59aa38a\";i:6768;s:40:\"twitter_54b6e00e2491fa6692477fbcb59aa38a\";i:6769;s:42:\"pinterest_54b6e00e2491fa6692477fbcb59aa38a\";i:6770;s:41:\"linkedin_54b6e00e2491fa6692477fbcb59aa38a\";i:6771;s:35:\"fb_5a4326969e8ed46233f81779b62ae5c4\";i:6772;s:40:\"twitter_5a4326969e8ed46233f81779b62ae5c4\";i:6773;s:42:\"pinterest_5a4326969e8ed46233f81779b62ae5c4\";i:6774;s:41:\"linkedin_5a4326969e8ed46233f81779b62ae5c4\";i:6775;s:35:\"fb_0cfcb9cfe508f19dc65e68be98c22359\";i:6776;s:40:\"twitter_0cfcb9cfe508f19dc65e68be98c22359\";i:6777;s:42:\"pinterest_0cfcb9cfe508f19dc65e68be98c22359\";i:6778;s:41:\"linkedin_0cfcb9cfe508f19dc65e68be98c22359\";i:6779;s:35:\"fb_98ce2f0bef3ed3346a585e867f4dc25d\";i:6780;s:40:\"twitter_98ce2f0bef3ed3346a585e867f4dc25d\";i:6781;s:42:\"pinterest_98ce2f0bef3ed3346a585e867f4dc25d\";i:6782;s:41:\"linkedin_98ce2f0bef3ed3346a585e867f4dc25d\";i:6783;s:35:\"fb_086bd64536d034bde39a72984eb80e65\";i:6784;s:40:\"twitter_086bd64536d034bde39a72984eb80e65\";i:6785;s:42:\"pinterest_086bd64536d034bde39a72984eb80e65\";i:6786;s:41:\"linkedin_086bd64536d034bde39a72984eb80e65\";i:6787;s:35:\"fb_bd12f96243b279afb22f00739e8bef9a\";i:6788;s:40:\"twitter_bd12f96243b279afb22f00739e8bef9a\";i:6789;s:42:\"pinterest_bd12f96243b279afb22f00739e8bef9a\";i:6790;s:41:\"linkedin_bd12f96243b279afb22f00739e8bef9a\";i:6791;s:35:\"fb_e7eb52bc547519ba9797111e0fd121c7\";i:6792;s:40:\"twitter_e7eb52bc547519ba9797111e0fd121c7\";i:6793;s:42:\"pinterest_e7eb52bc547519ba9797111e0fd121c7\";i:6794;s:41:\"linkedin_e7eb52bc547519ba9797111e0fd121c7\";i:6795;s:35:\"fb_7d666e3ebddd7130168d83cbcd298254\";i:6796;s:40:\"twitter_7d666e3ebddd7130168d83cbcd298254\";i:6797;s:42:\"pinterest_7d666e3ebddd7130168d83cbcd298254\";i:6798;s:41:\"linkedin_7d666e3ebddd7130168d83cbcd298254\";i:6799;s:35:\"fb_bdd2fe8a7b0a2a166148a41e2d8119ba\";i:6800;s:40:\"twitter_bdd2fe8a7b0a2a166148a41e2d8119ba\";i:6801;s:42:\"pinterest_bdd2fe8a7b0a2a166148a41e2d8119ba\";i:6802;s:41:\"linkedin_bdd2fe8a7b0a2a166148a41e2d8119ba\";i:6803;s:35:\"fb_b6f56f0f95ba48098f4a3cc66e27e660\";i:6804;s:40:\"twitter_b6f56f0f95ba48098f4a3cc66e27e660\";i:6805;s:42:\"pinterest_b6f56f0f95ba48098f4a3cc66e27e660\";i:6806;s:41:\"linkedin_b6f56f0f95ba48098f4a3cc66e27e660\";i:6807;s:35:\"fb_019dfcc16d2a976a9855c45bbe3c5ba9\";i:6808;s:40:\"twitter_019dfcc16d2a976a9855c45bbe3c5ba9\";i:6809;s:42:\"pinterest_019dfcc16d2a976a9855c45bbe3c5ba9\";i:6810;s:41:\"linkedin_019dfcc16d2a976a9855c45bbe3c5ba9\";i:6811;s:35:\"fb_5341c19d67fde9b0475e5c8693b7e3b5\";i:6812;s:40:\"twitter_5341c19d67fde9b0475e5c8693b7e3b5\";i:6813;s:42:\"pinterest_5341c19d67fde9b0475e5c8693b7e3b5\";i:6814;s:41:\"linkedin_5341c19d67fde9b0475e5c8693b7e3b5\";i:6815;s:35:\"fb_26ff796d5a173e3f2b6aba8d615d6a92\";i:6816;s:40:\"twitter_26ff796d5a173e3f2b6aba8d615d6a92\";i:6817;s:42:\"pinterest_26ff796d5a173e3f2b6aba8d615d6a92\";i:6818;s:41:\"linkedin_26ff796d5a173e3f2b6aba8d615d6a92\";i:6819;s:35:\"fb_4f33cc8287e6d3b56abec96b821a3a59\";i:6820;s:40:\"twitter_4f33cc8287e6d3b56abec96b821a3a59\";i:6821;s:42:\"pinterest_4f33cc8287e6d3b56abec96b821a3a59\";i:6822;s:41:\"linkedin_4f33cc8287e6d3b56abec96b821a3a59\";i:6823;s:35:\"fb_c482296ed44269090263891347f01c46\";i:6824;s:40:\"twitter_c482296ed44269090263891347f01c46\";i:6825;s:42:\"pinterest_c482296ed44269090263891347f01c46\";i:6826;s:41:\"linkedin_c482296ed44269090263891347f01c46\";i:6827;s:35:\"fb_1dad40e1bc235c66fd036f1911a335e9\";i:6828;s:40:\"twitter_1dad40e1bc235c66fd036f1911a335e9\";i:6829;s:42:\"pinterest_1dad40e1bc235c66fd036f1911a335e9\";i:6830;s:41:\"linkedin_1dad40e1bc235c66fd036f1911a335e9\";i:6831;s:35:\"fb_c1378785c7f81f692b73231237d88eac\";i:6832;s:40:\"twitter_c1378785c7f81f692b73231237d88eac\";i:6833;s:42:\"pinterest_c1378785c7f81f692b73231237d88eac\";i:6834;s:41:\"linkedin_c1378785c7f81f692b73231237d88eac\";i:6835;s:35:\"fb_1387b666e90e0cf61086811f80afb7c3\";i:6836;s:40:\"twitter_1387b666e90e0cf61086811f80afb7c3\";i:6837;s:42:\"pinterest_1387b666e90e0cf61086811f80afb7c3\";i:6838;s:41:\"linkedin_1387b666e90e0cf61086811f80afb7c3\";i:6839;s:35:\"fb_35f52896345aa77e2ba689db4a9d690c\";i:6840;s:40:\"twitter_35f52896345aa77e2ba689db4a9d690c\";i:6841;s:42:\"pinterest_35f52896345aa77e2ba689db4a9d690c\";i:6842;s:41:\"linkedin_35f52896345aa77e2ba689db4a9d690c\";i:6843;s:35:\"fb_82e4614e4ed45a54eebad0f641bd7cda\";i:6844;s:40:\"twitter_82e4614e4ed45a54eebad0f641bd7cda\";i:6845;s:42:\"pinterest_82e4614e4ed45a54eebad0f641bd7cda\";i:6846;s:41:\"linkedin_82e4614e4ed45a54eebad0f641bd7cda\";i:6847;s:35:\"fb_1f96d56cc99922498bfcf28aa6e538a1\";i:6848;s:40:\"twitter_1f96d56cc99922498bfcf28aa6e538a1\";i:6849;s:42:\"pinterest_1f96d56cc99922498bfcf28aa6e538a1\";i:6850;s:41:\"linkedin_1f96d56cc99922498bfcf28aa6e538a1\";i:6851;s:35:\"fb_8085819aafd1fb37438ad6f71694a483\";i:6852;s:40:\"twitter_8085819aafd1fb37438ad6f71694a483\";i:6853;s:42:\"pinterest_8085819aafd1fb37438ad6f71694a483\";i:6854;s:41:\"linkedin_8085819aafd1fb37438ad6f71694a483\";i:6855;s:35:\"fb_8a0225f8b9e2717471825550deb2740e\";i:6856;s:40:\"twitter_8a0225f8b9e2717471825550deb2740e\";i:6857;s:42:\"pinterest_8a0225f8b9e2717471825550deb2740e\";i:6858;s:35:\"fb_398ef3b62eae92b49caed7efe0daf3e9\";i:6859;s:40:\"twitter_398ef3b62eae92b49caed7efe0daf3e9\";i:6860;s:42:\"pinterest_398ef3b62eae92b49caed7efe0daf3e9\";i:6861;s:41:\"linkedin_398ef3b62eae92b49caed7efe0daf3e9\";i:6862;s:35:\"fb_f59d0a25d1bf5cf1bd0c1e554c1f6fac\";i:6863;s:40:\"twitter_f59d0a25d1bf5cf1bd0c1e554c1f6fac\";i:6864;s:42:\"pinterest_f59d0a25d1bf5cf1bd0c1e554c1f6fac\";i:6865;s:41:\"linkedin_f59d0a25d1bf5cf1bd0c1e554c1f6fac\";i:6866;s:35:\"fb_eeaf75b39ce70b21d3e7e58ac3183442\";i:6867;s:40:\"twitter_eeaf75b39ce70b21d3e7e58ac3183442\";i:6868;s:42:\"pinterest_eeaf75b39ce70b21d3e7e58ac3183442\";i:6869;s:41:\"linkedin_eeaf75b39ce70b21d3e7e58ac3183442\";i:6870;s:35:\"fb_09365473b9019d65b7bbb687781687bd\";i:6871;s:40:\"twitter_09365473b9019d65b7bbb687781687bd\";i:6872;s:42:\"pinterest_09365473b9019d65b7bbb687781687bd\";i:6873;s:41:\"linkedin_09365473b9019d65b7bbb687781687bd\";i:6874;s:35:\"fb_e789df6a572796bfe273284c5b046183\";i:6875;s:40:\"twitter_e789df6a572796bfe273284c5b046183\";i:6876;s:42:\"pinterest_e789df6a572796bfe273284c5b046183\";i:6877;s:41:\"linkedin_e789df6a572796bfe273284c5b046183\";i:6878;s:35:\"fb_6a5c41cf1f3d0ec692245ecf38f4b045\";i:6879;s:40:\"twitter_6a5c41cf1f3d0ec692245ecf38f4b045\";i:6880;s:42:\"pinterest_6a5c41cf1f3d0ec692245ecf38f4b045\";i:6881;s:41:\"linkedin_6a5c41cf1f3d0ec692245ecf38f4b045\";i:6882;s:35:\"fb_6d9aaef3d26227aa43a88d4e9c8611dd\";i:6883;s:40:\"twitter_6d9aaef3d26227aa43a88d4e9c8611dd\";i:6884;s:42:\"pinterest_6d9aaef3d26227aa43a88d4e9c8611dd\";i:6885;s:41:\"linkedin_6d9aaef3d26227aa43a88d4e9c8611dd\";i:6886;s:35:\"fb_f6703c084961bda973d918dd106e3124\";i:6887;s:40:\"twitter_f6703c084961bda973d918dd106e3124\";i:6888;s:42:\"pinterest_f6703c084961bda973d918dd106e3124\";i:6889;s:41:\"linkedin_f6703c084961bda973d918dd106e3124\";i:6890;s:35:\"fb_8b182fa1e294783a4877a889cc55c713\";i:6891;s:40:\"twitter_8b182fa1e294783a4877a889cc55c713\";i:6892;s:42:\"pinterest_8b182fa1e294783a4877a889cc55c713\";i:6893;s:41:\"linkedin_8b182fa1e294783a4877a889cc55c713\";i:6894;s:35:\"fb_4513866f03f1f0bf7d8bea898b30052a\";i:6895;s:40:\"twitter_4513866f03f1f0bf7d8bea898b30052a\";i:6896;s:42:\"pinterest_4513866f03f1f0bf7d8bea898b30052a\";i:6897;s:41:\"linkedin_4513866f03f1f0bf7d8bea898b30052a\";i:6898;s:35:\"fb_54fd5b34a5222ae937dfbd0d2febdd58\";i:6899;s:40:\"twitter_54fd5b34a5222ae937dfbd0d2febdd58\";i:6900;s:42:\"pinterest_54fd5b34a5222ae937dfbd0d2febdd58\";i:6901;s:41:\"linkedin_54fd5b34a5222ae937dfbd0d2febdd58\";i:6902;s:35:\"fb_17a918af9c59029ecbee4528901a3da2\";i:6903;s:40:\"twitter_17a918af9c59029ecbee4528901a3da2\";i:6904;s:42:\"pinterest_17a918af9c59029ecbee4528901a3da2\";i:6905;s:41:\"linkedin_17a918af9c59029ecbee4528901a3da2\";i:6906;s:35:\"fb_f7390246a0cb942d392d93d6d91e6966\";i:6907;s:40:\"twitter_f7390246a0cb942d392d93d6d91e6966\";i:6908;s:42:\"pinterest_f7390246a0cb942d392d93d6d91e6966\";i:6909;s:41:\"linkedin_f7390246a0cb942d392d93d6d91e6966\";i:6910;s:35:\"fb_61cf4915954b6c46bfc47247090f2136\";i:6911;s:40:\"twitter_61cf4915954b6c46bfc47247090f2136\";i:6912;s:42:\"pinterest_61cf4915954b6c46bfc47247090f2136\";i:6913;s:41:\"linkedin_61cf4915954b6c46bfc47247090f2136\";i:6914;s:35:\"fb_b78896e38590d73ceba4283ba734c63e\";i:6915;s:40:\"twitter_b78896e38590d73ceba4283ba734c63e\";i:6916;s:42:\"pinterest_b78896e38590d73ceba4283ba734c63e\";i:6917;s:41:\"linkedin_b78896e38590d73ceba4283ba734c63e\";i:6918;s:35:\"fb_c85f447804b6b559b28905b59864490c\";i:6919;s:40:\"twitter_c85f447804b6b559b28905b59864490c\";i:6920;s:42:\"pinterest_c85f447804b6b559b28905b59864490c\";i:6921;s:41:\"linkedin_c85f447804b6b559b28905b59864490c\";i:6922;s:35:\"fb_72f5faa67f294cfff1cf5ff370ef224e\";i:6923;s:40:\"twitter_72f5faa67f294cfff1cf5ff370ef224e\";i:6924;s:42:\"pinterest_72f5faa67f294cfff1cf5ff370ef224e\";i:6925;s:41:\"linkedin_72f5faa67f294cfff1cf5ff370ef224e\";i:6926;s:35:\"fb_d19b4449ff9669788182d2d7cc155132\";i:6927;s:40:\"twitter_d19b4449ff9669788182d2d7cc155132\";i:6928;s:42:\"pinterest_d19b4449ff9669788182d2d7cc155132\";i:6929;s:41:\"linkedin_d19b4449ff9669788182d2d7cc155132\";i:6930;s:35:\"fb_9607b74bae8511cfa28520b9e2470c9b\";i:6931;s:40:\"twitter_9607b74bae8511cfa28520b9e2470c9b\";i:6932;s:42:\"pinterest_9607b74bae8511cfa28520b9e2470c9b\";i:6933;s:41:\"linkedin_9607b74bae8511cfa28520b9e2470c9b\";i:6934;s:35:\"fb_35bb892db0d2473e73bc2d407c284969\";i:6935;s:40:\"twitter_35bb892db0d2473e73bc2d407c284969\";i:6936;s:42:\"pinterest_35bb892db0d2473e73bc2d407c284969\";i:6937;s:41:\"linkedin_35bb892db0d2473e73bc2d407c284969\";i:6938;s:35:\"fb_dc56e2849773615847da6f8a5ab06e0d\";i:6939;s:40:\"twitter_dc56e2849773615847da6f8a5ab06e0d\";i:6940;s:42:\"pinterest_dc56e2849773615847da6f8a5ab06e0d\";i:6941;s:41:\"linkedin_dc56e2849773615847da6f8a5ab06e0d\";i:6942;s:35:\"fb_a4ec08193d9a5e55fe6fd89b9162647d\";i:6943;s:40:\"twitter_a4ec08193d9a5e55fe6fd89b9162647d\";i:6944;s:42:\"pinterest_a4ec08193d9a5e55fe6fd89b9162647d\";i:6945;s:41:\"linkedin_a4ec08193d9a5e55fe6fd89b9162647d\";i:6946;s:35:\"fb_5bcba1484b16bad47a4b5b1e4b2fb50b\";i:6947;s:40:\"twitter_5bcba1484b16bad47a4b5b1e4b2fb50b\";i:6948;s:42:\"pinterest_5bcba1484b16bad47a4b5b1e4b2fb50b\";i:6949;s:41:\"linkedin_5bcba1484b16bad47a4b5b1e4b2fb50b\";i:6950;s:35:\"fb_6df1f0f5abbe393aed8f9b80b8795ad1\";i:6951;s:40:\"twitter_6df1f0f5abbe393aed8f9b80b8795ad1\";i:6952;s:42:\"pinterest_6df1f0f5abbe393aed8f9b80b8795ad1\";i:6953;s:41:\"linkedin_6df1f0f5abbe393aed8f9b80b8795ad1\";i:6954;s:35:\"fb_8f6bacbbb423c5d0d5065f2e60150133\";i:6955;s:40:\"twitter_8f6bacbbb423c5d0d5065f2e60150133\";i:6956;s:42:\"pinterest_8f6bacbbb423c5d0d5065f2e60150133\";i:6957;s:41:\"linkedin_8f6bacbbb423c5d0d5065f2e60150133\";i:6958;s:35:\"fb_3d354614011607dcf9ba8ccc5b83277e\";i:6959;s:40:\"twitter_3d354614011607dcf9ba8ccc5b83277e\";i:6960;s:42:\"pinterest_3d354614011607dcf9ba8ccc5b83277e\";i:6961;s:41:\"linkedin_3d354614011607dcf9ba8ccc5b83277e\";i:6962;s:35:\"fb_f6a7979949b256be93f8953463423004\";i:6963;s:40:\"twitter_f6a7979949b256be93f8953463423004\";i:6964;s:42:\"pinterest_f6a7979949b256be93f8953463423004\";i:6965;s:41:\"linkedin_f6a7979949b256be93f8953463423004\";i:6966;s:35:\"fb_baedc494a0fa16e2e34bc5ab41a35b40\";i:6967;s:40:\"twitter_baedc494a0fa16e2e34bc5ab41a35b40\";i:6968;s:42:\"pinterest_baedc494a0fa16e2e34bc5ab41a35b40\";i:6969;s:41:\"linkedin_baedc494a0fa16e2e34bc5ab41a35b40\";i:6970;s:35:\"fb_b2884cd0f28b5fac5032f61e39d6469e\";i:6971;s:40:\"twitter_b2884cd0f28b5fac5032f61e39d6469e\";i:6972;s:42:\"pinterest_b2884cd0f28b5fac5032f61e39d6469e\";i:6973;s:41:\"linkedin_b2884cd0f28b5fac5032f61e39d6469e\";i:6974;s:35:\"fb_d3272006a9ef3365c0177e582ef67065\";i:6975;s:40:\"twitter_d3272006a9ef3365c0177e582ef67065\";i:6976;s:42:\"pinterest_d3272006a9ef3365c0177e582ef67065\";i:6977;s:41:\"linkedin_d3272006a9ef3365c0177e582ef67065\";i:6978;s:35:\"fb_665c4fb869a367271a2cc4703dad86bd\";i:6979;s:40:\"twitter_665c4fb869a367271a2cc4703dad86bd\";i:6980;s:42:\"pinterest_665c4fb869a367271a2cc4703dad86bd\";i:6981;s:41:\"linkedin_665c4fb869a367271a2cc4703dad86bd\";i:6982;s:35:\"fb_e82f2ea91fa7b8c5d47b15393c613876\";i:6983;s:40:\"twitter_e82f2ea91fa7b8c5d47b15393c613876\";i:6984;s:42:\"pinterest_e82f2ea91fa7b8c5d47b15393c613876\";i:6985;s:41:\"linkedin_e82f2ea91fa7b8c5d47b15393c613876\";i:6986;s:35:\"fb_65c1240db7de73c80d9ea759d1345606\";i:6987;s:40:\"twitter_65c1240db7de73c80d9ea759d1345606\";i:6988;s:42:\"pinterest_65c1240db7de73c80d9ea759d1345606\";i:6989;s:41:\"linkedin_65c1240db7de73c80d9ea759d1345606\";i:6990;s:35:\"fb_af8c6f8d14bb759e735ef15dd4a91cd8\";i:6991;s:40:\"twitter_af8c6f8d14bb759e735ef15dd4a91cd8\";i:6992;s:42:\"pinterest_af8c6f8d14bb759e735ef15dd4a91cd8\";i:6993;s:41:\"linkedin_af8c6f8d14bb759e735ef15dd4a91cd8\";i:6994;s:35:\"fb_e4984f58e31c415b808ebcb6589fca16\";i:6995;s:40:\"twitter_e4984f58e31c415b808ebcb6589fca16\";i:6996;s:42:\"pinterest_e4984f58e31c415b808ebcb6589fca16\";i:6997;s:41:\"linkedin_e4984f58e31c415b808ebcb6589fca16\";i:6998;s:35:\"fb_0810f9834cf4d438440eec4875de96dc\";i:6999;s:40:\"twitter_0810f9834cf4d438440eec4875de96dc\";i:7000;s:42:\"pinterest_0810f9834cf4d438440eec4875de96dc\";i:7001;s:41:\"linkedin_0810f9834cf4d438440eec4875de96dc\";i:7002;s:35:\"fb_ae2af261d7613aa7cbc0619d238984c2\";i:7003;s:40:\"twitter_ae2af261d7613aa7cbc0619d238984c2\";i:7004;s:42:\"pinterest_ae2af261d7613aa7cbc0619d238984c2\";i:7005;s:41:\"linkedin_ae2af261d7613aa7cbc0619d238984c2\";i:7006;s:35:\"fb_17d159b19e94aa27f881f6efe9f22765\";i:7007;s:40:\"twitter_17d159b19e94aa27f881f6efe9f22765\";i:7008;s:42:\"pinterest_17d159b19e94aa27f881f6efe9f22765\";i:7009;s:41:\"linkedin_17d159b19e94aa27f881f6efe9f22765\";i:7010;s:35:\"fb_1805ab9e878146becfb24bb43e84dee1\";i:7011;s:40:\"twitter_1805ab9e878146becfb24bb43e84dee1\";i:7012;s:42:\"pinterest_1805ab9e878146becfb24bb43e84dee1\";i:7013;s:41:\"linkedin_1805ab9e878146becfb24bb43e84dee1\";i:7014;s:35:\"fb_3761332c66aefdc12e9a1baad2602a73\";i:7015;s:40:\"twitter_3761332c66aefdc12e9a1baad2602a73\";i:7016;s:42:\"pinterest_3761332c66aefdc12e9a1baad2602a73\";i:7017;s:41:\"linkedin_3761332c66aefdc12e9a1baad2602a73\";i:7018;s:35:\"fb_f14d1b8b76fc5ab49d6a7c64c8183bcc\";i:7019;s:40:\"twitter_f14d1b8b76fc5ab49d6a7c64c8183bcc\";i:7020;s:42:\"pinterest_f14d1b8b76fc5ab49d6a7c64c8183bcc\";i:7021;s:41:\"linkedin_f14d1b8b76fc5ab49d6a7c64c8183bcc\";i:7022;s:35:\"fb_89b7c4eb561ce2438af03f21e36fa19f\";i:7023;s:40:\"twitter_89b7c4eb561ce2438af03f21e36fa19f\";i:7024;s:42:\"pinterest_89b7c4eb561ce2438af03f21e36fa19f\";i:7025;s:41:\"linkedin_89b7c4eb561ce2438af03f21e36fa19f\";i:7026;s:35:\"fb_26e2e59ed0c060f7f210c3d2514d9d04\";i:7027;s:40:\"twitter_26e2e59ed0c060f7f210c3d2514d9d04\";i:7028;s:42:\"pinterest_26e2e59ed0c060f7f210c3d2514d9d04\";i:7029;s:41:\"linkedin_26e2e59ed0c060f7f210c3d2514d9d04\";i:7030;s:35:\"fb_dbf5f583feb524385003cd5ebadfaf6d\";i:7031;s:40:\"twitter_dbf5f583feb524385003cd5ebadfaf6d\";i:7032;s:42:\"pinterest_dbf5f583feb524385003cd5ebadfaf6d\";i:7033;s:41:\"linkedin_dbf5f583feb524385003cd5ebadfaf6d\";i:7034;s:35:\"fb_522ca1c14a9181a3c06e221c17625ce0\";i:7035;s:40:\"twitter_522ca1c14a9181a3c06e221c17625ce0\";i:7036;s:42:\"pinterest_522ca1c14a9181a3c06e221c17625ce0\";i:7037;s:41:\"linkedin_522ca1c14a9181a3c06e221c17625ce0\";i:7038;s:35:\"fb_9881d753352f614ea4dfa9a23f8c305c\";i:7039;s:40:\"twitter_9881d753352f614ea4dfa9a23f8c305c\";i:7040;s:42:\"pinterest_9881d753352f614ea4dfa9a23f8c305c\";i:7041;s:41:\"linkedin_9881d753352f614ea4dfa9a23f8c305c\";i:7042;s:35:\"fb_a698505d7b3c2af9cd1c72a9091725ec\";i:7043;s:40:\"twitter_a698505d7b3c2af9cd1c72a9091725ec\";i:7044;s:42:\"pinterest_a698505d7b3c2af9cd1c72a9091725ec\";i:7045;s:41:\"linkedin_a698505d7b3c2af9cd1c72a9091725ec\";i:7046;s:35:\"fb_8590dfe8c3bfd4aac4b1967fcd5a8487\";i:7047;s:40:\"twitter_8590dfe8c3bfd4aac4b1967fcd5a8487\";i:7048;s:42:\"pinterest_8590dfe8c3bfd4aac4b1967fcd5a8487\";i:7049;s:41:\"linkedin_8590dfe8c3bfd4aac4b1967fcd5a8487\";i:7050;s:35:\"fb_6eb22976db0b7f7dce3c7c2844dbef55\";i:7051;s:40:\"twitter_6eb22976db0b7f7dce3c7c2844dbef55\";i:7052;s:42:\"pinterest_6eb22976db0b7f7dce3c7c2844dbef55\";i:7053;s:41:\"linkedin_6eb22976db0b7f7dce3c7c2844dbef55\";i:7054;s:35:\"fb_a1d5a2ec185ff7b624742f275cdd8e14\";i:7055;s:40:\"twitter_a1d5a2ec185ff7b624742f275cdd8e14\";i:7056;s:42:\"pinterest_a1d5a2ec185ff7b624742f275cdd8e14\";i:7057;s:41:\"linkedin_a1d5a2ec185ff7b624742f275cdd8e14\";i:7058;s:35:\"fb_fafe04f0f56a0a806edfe3d0a07a9b55\";i:7059;s:40:\"twitter_fafe04f0f56a0a806edfe3d0a07a9b55\";i:7060;s:42:\"pinterest_fafe04f0f56a0a806edfe3d0a07a9b55\";i:7061;s:41:\"linkedin_fafe04f0f56a0a806edfe3d0a07a9b55\";i:7062;s:35:\"fb_6d93eb685b24c31e329404518b981b40\";i:7063;s:40:\"twitter_6d93eb685b24c31e329404518b981b40\";i:7064;s:42:\"pinterest_6d93eb685b24c31e329404518b981b40\";i:7065;s:41:\"linkedin_6d93eb685b24c31e329404518b981b40\";i:7066;s:35:\"fb_b27d82450929032990146d3f35c8f083\";i:7067;s:40:\"twitter_b27d82450929032990146d3f35c8f083\";i:7068;s:42:\"pinterest_b27d82450929032990146d3f35c8f083\";i:7069;s:41:\"linkedin_b27d82450929032990146d3f35c8f083\";i:7070;s:35:\"fb_5778eeace2fe99cb884620d1ee8f6d67\";i:7071;s:40:\"twitter_5778eeace2fe99cb884620d1ee8f6d67\";i:7072;s:42:\"pinterest_5778eeace2fe99cb884620d1ee8f6d67\";i:7073;s:41:\"linkedin_5778eeace2fe99cb884620d1ee8f6d67\";i:7074;s:35:\"fb_565cb40c61f8567739d6ac45b74aad86\";i:7075;s:40:\"twitter_565cb40c61f8567739d6ac45b74aad86\";i:7076;s:42:\"pinterest_565cb40c61f8567739d6ac45b74aad86\";i:7077;s:41:\"linkedin_565cb40c61f8567739d6ac45b74aad86\";i:7078;s:35:\"fb_172f09c9a5eb035f69d61cea926beddb\";i:7079;s:40:\"twitter_172f09c9a5eb035f69d61cea926beddb\";i:7080;s:42:\"pinterest_172f09c9a5eb035f69d61cea926beddb\";i:7081;s:41:\"linkedin_172f09c9a5eb035f69d61cea926beddb\";i:7082;s:35:\"fb_0e2ebec30ffd48450c06213bb8219b83\";i:7083;s:40:\"twitter_0e2ebec30ffd48450c06213bb8219b83\";i:7084;s:42:\"pinterest_0e2ebec30ffd48450c06213bb8219b83\";i:7085;s:41:\"linkedin_0e2ebec30ffd48450c06213bb8219b83\";i:7086;s:35:\"fb_d3feaeacada0bc246c7c9a0531011a3a\";i:7087;s:40:\"twitter_d3feaeacada0bc246c7c9a0531011a3a\";i:7088;s:42:\"pinterest_d3feaeacada0bc246c7c9a0531011a3a\";i:7089;s:41:\"linkedin_d3feaeacada0bc246c7c9a0531011a3a\";i:7090;s:35:\"fb_84e7f26d868000fa18abb3360329071d\";i:7091;s:40:\"twitter_84e7f26d868000fa18abb3360329071d\";i:7092;s:42:\"pinterest_84e7f26d868000fa18abb3360329071d\";i:7093;s:41:\"linkedin_84e7f26d868000fa18abb3360329071d\";i:7094;s:35:\"fb_d818c6f721b9019952e52b2bd7f67bdc\";i:7095;s:40:\"twitter_d818c6f721b9019952e52b2bd7f67bdc\";i:7096;s:42:\"pinterest_d818c6f721b9019952e52b2bd7f67bdc\";i:7097;s:41:\"linkedin_d818c6f721b9019952e52b2bd7f67bdc\";i:7098;s:35:\"fb_bc7b0fc5a9ddb38f4afed0a36fb16b05\";i:7099;s:40:\"twitter_bc7b0fc5a9ddb38f4afed0a36fb16b05\";i:7100;s:42:\"pinterest_bc7b0fc5a9ddb38f4afed0a36fb16b05\";i:7101;s:41:\"linkedin_bc7b0fc5a9ddb38f4afed0a36fb16b05\";i:7102;s:35:\"fb_fed74e6494d2818e1d4c8d2f7c743116\";i:7103;s:35:\"fb_7485f577cc349ebb5b180db4b4899404\";i:7104;s:35:\"fb_8629d73d19f9a357b350ebff8a12b8ba\";i:7105;s:40:\"twitter_8629d73d19f9a357b350ebff8a12b8ba\";i:7106;s:42:\"pinterest_8629d73d19f9a357b350ebff8a12b8ba\";i:7107;s:41:\"linkedin_8629d73d19f9a357b350ebff8a12b8ba\";i:7108;s:35:\"fb_81b53ca20262744279047c47010f9a7a\";i:7109;s:40:\"twitter_81b53ca20262744279047c47010f9a7a\";i:7110;s:42:\"pinterest_81b53ca20262744279047c47010f9a7a\";i:7111;s:41:\"linkedin_81b53ca20262744279047c47010f9a7a\";i:7112;s:35:\"fb_38ddc0c8a8bb259820d425f3ef6ffd8a\";i:7113;s:40:\"twitter_38ddc0c8a8bb259820d425f3ef6ffd8a\";i:7114;s:42:\"pinterest_38ddc0c8a8bb259820d425f3ef6ffd8a\";i:7115;s:41:\"linkedin_38ddc0c8a8bb259820d425f3ef6ffd8a\";i:7116;s:35:\"fb_1416111ac87045cd2ad554b0024db264\";i:7117;s:40:\"twitter_1416111ac87045cd2ad554b0024db264\";i:7118;s:42:\"pinterest_1416111ac87045cd2ad554b0024db264\";i:7119;s:41:\"linkedin_1416111ac87045cd2ad554b0024db264\";i:7120;s:35:\"fb_f0586f60a94682a80c2765875612d1a2\";i:7121;s:40:\"twitter_f0586f60a94682a80c2765875612d1a2\";i:7122;s:42:\"pinterest_f0586f60a94682a80c2765875612d1a2\";i:7123;s:41:\"linkedin_f0586f60a94682a80c2765875612d1a2\";i:7124;s:35:\"fb_5ab49a487eff9e634101000166f30cf9\";i:7125;s:40:\"twitter_5ab49a487eff9e634101000166f30cf9\";i:7126;s:42:\"pinterest_5ab49a487eff9e634101000166f30cf9\";i:7127;s:41:\"linkedin_5ab49a487eff9e634101000166f30cf9\";i:7128;s:35:\"fb_4a521bf22b91014e31d4128e445ec201\";i:7129;s:40:\"twitter_4a521bf22b91014e31d4128e445ec201\";i:7130;s:42:\"pinterest_4a521bf22b91014e31d4128e445ec201\";i:7131;s:41:\"linkedin_4a521bf22b91014e31d4128e445ec201\";i:7132;s:35:\"fb_bb596ad49bc724055ebc7a1411fe1efc\";i:7133;s:40:\"twitter_bb596ad49bc724055ebc7a1411fe1efc\";i:7134;s:42:\"pinterest_bb596ad49bc724055ebc7a1411fe1efc\";i:7135;s:41:\"linkedin_bb596ad49bc724055ebc7a1411fe1efc\";i:7136;s:35:\"fb_d3f565ca867b2f6389715bad06b3dda0\";i:7137;s:40:\"twitter_d3f565ca867b2f6389715bad06b3dda0\";i:7138;s:42:\"pinterest_d3f565ca867b2f6389715bad06b3dda0\";i:7139;s:41:\"linkedin_d3f565ca867b2f6389715bad06b3dda0\";i:7140;s:35:\"fb_518ed2cd05edab706a5adb47f6b84c6e\";i:7141;s:40:\"twitter_518ed2cd05edab706a5adb47f6b84c6e\";i:7142;s:42:\"pinterest_518ed2cd05edab706a5adb47f6b84c6e\";i:7143;s:41:\"linkedin_518ed2cd05edab706a5adb47f6b84c6e\";i:7144;s:35:\"fb_c7530ebf1359593e40f7d80c97b91b90\";i:7145;s:40:\"twitter_c7530ebf1359593e40f7d80c97b91b90\";i:7146;s:42:\"pinterest_c7530ebf1359593e40f7d80c97b91b90\";i:7147;s:41:\"linkedin_c7530ebf1359593e40f7d80c97b91b90\";i:7148;s:35:\"fb_a3e1281c24cb0edf4fc83e43a6996dec\";i:7149;s:40:\"twitter_a3e1281c24cb0edf4fc83e43a6996dec\";i:7150;s:42:\"pinterest_a3e1281c24cb0edf4fc83e43a6996dec\";i:7151;s:41:\"linkedin_a3e1281c24cb0edf4fc83e43a6996dec\";i:7152;s:35:\"fb_31c629521f6dbe8d290f93ea15aeb142\";i:7153;s:40:\"twitter_31c629521f6dbe8d290f93ea15aeb142\";i:7154;s:42:\"pinterest_31c629521f6dbe8d290f93ea15aeb142\";i:7155;s:41:\"linkedin_31c629521f6dbe8d290f93ea15aeb142\";i:7156;s:35:\"fb_bf150c1ff1aa3614f122f3fbea6387e8\";i:7157;s:40:\"twitter_bf150c1ff1aa3614f122f3fbea6387e8\";i:7158;s:42:\"pinterest_bf150c1ff1aa3614f122f3fbea6387e8\";i:7159;s:41:\"linkedin_bf150c1ff1aa3614f122f3fbea6387e8\";i:7160;s:35:\"fb_a4681b13be37586e0725b7e3c9fb8c2d\";i:7161;s:40:\"twitter_a4681b13be37586e0725b7e3c9fb8c2d\";i:7162;s:42:\"pinterest_a4681b13be37586e0725b7e3c9fb8c2d\";i:7163;s:41:\"linkedin_a4681b13be37586e0725b7e3c9fb8c2d\";i:7164;s:35:\"fb_505f2262b2741fbdd569fbb57fc7e233\";i:7165;s:40:\"twitter_505f2262b2741fbdd569fbb57fc7e233\";i:7166;s:42:\"pinterest_505f2262b2741fbdd569fbb57fc7e233\";i:7167;s:41:\"linkedin_505f2262b2741fbdd569fbb57fc7e233\";i:7168;s:35:\"fb_93e1866ac2e3ad9bdcc18634da3191b7\";i:7169;s:40:\"twitter_93e1866ac2e3ad9bdcc18634da3191b7\";i:7170;s:42:\"pinterest_93e1866ac2e3ad9bdcc18634da3191b7\";i:7171;s:41:\"linkedin_93e1866ac2e3ad9bdcc18634da3191b7\";i:7172;s:35:\"fb_f93f9fc4b1413d7484a72eddb05ff519\";i:7173;s:40:\"twitter_f93f9fc4b1413d7484a72eddb05ff519\";i:7174;s:42:\"pinterest_f93f9fc4b1413d7484a72eddb05ff519\";i:7175;s:41:\"linkedin_f93f9fc4b1413d7484a72eddb05ff519\";i:7176;s:35:\"fb_8487c718744e4f6c78b985f9fe290648\";i:7177;s:40:\"twitter_8487c718744e4f6c78b985f9fe290648\";i:7178;s:42:\"pinterest_8487c718744e4f6c78b985f9fe290648\";i:7179;s:35:\"fb_7a0c3fe5758a68ff5fef80310aaaaee2\";i:7180;s:40:\"twitter_7a0c3fe5758a68ff5fef80310aaaaee2\";i:7181;s:42:\"pinterest_7a0c3fe5758a68ff5fef80310aaaaee2\";i:7182;s:41:\"linkedin_7a0c3fe5758a68ff5fef80310aaaaee2\";i:7183;s:35:\"fb_da12e3eccd9debe32d8de21c0d465d6e\";i:7184;s:40:\"twitter_da12e3eccd9debe32d8de21c0d465d6e\";i:7185;s:42:\"pinterest_da12e3eccd9debe32d8de21c0d465d6e\";i:7186;s:35:\"fb_16ced36303a4f1011b47ab36966884fb\";i:7187;s:40:\"twitter_16ced36303a4f1011b47ab36966884fb\";i:7188;s:42:\"pinterest_16ced36303a4f1011b47ab36966884fb\";i:7189;s:41:\"linkedin_16ced36303a4f1011b47ab36966884fb\";i:7190;s:35:\"fb_da37eae25abfb642a997dc002c4768a1\";i:7191;s:40:\"twitter_da37eae25abfb642a997dc002c4768a1\";i:7192;s:42:\"pinterest_da37eae25abfb642a997dc002c4768a1\";i:7193;s:41:\"linkedin_da37eae25abfb642a997dc002c4768a1\";i:7194;s:35:\"fb_e3db663a746378e1fb7d2974b5a93e61\";i:7195;s:40:\"twitter_e3db663a746378e1fb7d2974b5a93e61\";i:7196;s:42:\"pinterest_e3db663a746378e1fb7d2974b5a93e61\";i:7197;s:41:\"linkedin_e3db663a746378e1fb7d2974b5a93e61\";i:7198;s:35:\"fb_f755c993c5f9da50afc7d2887d3bfca1\";i:7199;s:40:\"twitter_f755c993c5f9da50afc7d2887d3bfca1\";i:7200;s:42:\"pinterest_f755c993c5f9da50afc7d2887d3bfca1\";i:7201;s:41:\"linkedin_f755c993c5f9da50afc7d2887d3bfca1\";i:7202;s:35:\"fb_742fc95a942237089f8aaf99b8c042b0\";i:7203;s:40:\"twitter_742fc95a942237089f8aaf99b8c042b0\";i:7204;s:42:\"pinterest_742fc95a942237089f8aaf99b8c042b0\";i:7205;s:41:\"linkedin_742fc95a942237089f8aaf99b8c042b0\";i:7206;s:35:\"fb_2127a9dfaa8c0ea1c709bdb3ae0be759\";i:7207;s:40:\"twitter_2127a9dfaa8c0ea1c709bdb3ae0be759\";i:7208;s:42:\"pinterest_2127a9dfaa8c0ea1c709bdb3ae0be759\";i:7209;s:41:\"linkedin_2127a9dfaa8c0ea1c709bdb3ae0be759\";i:7210;s:35:\"fb_c0a85861b9ba9c9b1aefd65970e94826\";i:7211;s:40:\"twitter_c0a85861b9ba9c9b1aefd65970e94826\";i:7212;s:42:\"pinterest_c0a85861b9ba9c9b1aefd65970e94826\";i:7213;s:41:\"linkedin_c0a85861b9ba9c9b1aefd65970e94826\";i:7214;s:35:\"fb_0f9030d0e7c22df873a8a830afccfd04\";i:7215;s:40:\"twitter_0f9030d0e7c22df873a8a830afccfd04\";i:7216;s:42:\"pinterest_0f9030d0e7c22df873a8a830afccfd04\";i:7217;s:41:\"linkedin_0f9030d0e7c22df873a8a830afccfd04\";i:7218;s:35:\"fb_08c16cedbd9070c847223e515b4d7936\";i:7219;s:40:\"twitter_08c16cedbd9070c847223e515b4d7936\";i:7220;s:42:\"pinterest_08c16cedbd9070c847223e515b4d7936\";i:7221;s:41:\"linkedin_08c16cedbd9070c847223e515b4d7936\";i:7222;s:35:\"fb_aa64d58c4bdd76fbd11bcc0998e37af8\";i:7223;s:40:\"twitter_aa64d58c4bdd76fbd11bcc0998e37af8\";i:7224;s:42:\"pinterest_aa64d58c4bdd76fbd11bcc0998e37af8\";i:7225;s:41:\"linkedin_aa64d58c4bdd76fbd11bcc0998e37af8\";i:7226;s:35:\"fb_498f56bd5114b7bbbb2a13852400cb3d\";i:7227;s:40:\"twitter_498f56bd5114b7bbbb2a13852400cb3d\";i:7228;s:42:\"pinterest_498f56bd5114b7bbbb2a13852400cb3d\";i:7229;s:41:\"linkedin_498f56bd5114b7bbbb2a13852400cb3d\";i:7230;s:35:\"fb_84423c8c1df19d6c0300960db9cee4cb\";i:7231;s:40:\"twitter_84423c8c1df19d6c0300960db9cee4cb\";i:7232;s:42:\"pinterest_84423c8c1df19d6c0300960db9cee4cb\";i:7233;s:41:\"linkedin_84423c8c1df19d6c0300960db9cee4cb\";i:7234;s:35:\"fb_e1601c62a5087c9bcb5a0b4665e63391\";i:7235;s:40:\"twitter_e1601c62a5087c9bcb5a0b4665e63391\";i:7236;s:42:\"pinterest_e1601c62a5087c9bcb5a0b4665e63391\";i:7237;s:41:\"linkedin_e1601c62a5087c9bcb5a0b4665e63391\";i:7238;s:35:\"fb_93879369d1e25c544a8fb51d8e6dd39d\";i:7239;s:40:\"twitter_93879369d1e25c544a8fb51d8e6dd39d\";i:7240;s:42:\"pinterest_93879369d1e25c544a8fb51d8e6dd39d\";i:7241;s:41:\"linkedin_93879369d1e25c544a8fb51d8e6dd39d\";i:7242;s:35:\"fb_25aa0d5a05173771ee9ee56aaf35e8ab\";i:7243;s:40:\"twitter_25aa0d5a05173771ee9ee56aaf35e8ab\";i:7244;s:42:\"pinterest_25aa0d5a05173771ee9ee56aaf35e8ab\";i:7245;s:41:\"linkedin_25aa0d5a05173771ee9ee56aaf35e8ab\";i:7246;s:35:\"fb_e735d35055f79b6ca81603f4be4bbcb1\";i:7247;s:40:\"twitter_e735d35055f79b6ca81603f4be4bbcb1\";i:7248;s:42:\"pinterest_e735d35055f79b6ca81603f4be4bbcb1\";i:7249;s:41:\"linkedin_e735d35055f79b6ca81603f4be4bbcb1\";i:7250;s:35:\"fb_ff1f6a2d4bcd6e808344c7a08d3fcd56\";i:7251;s:40:\"twitter_ff1f6a2d4bcd6e808344c7a08d3fcd56\";i:7252;s:42:\"pinterest_ff1f6a2d4bcd6e808344c7a08d3fcd56\";i:7253;s:41:\"linkedin_ff1f6a2d4bcd6e808344c7a08d3fcd56\";i:7254;s:35:\"fb_6ea7c5899bd411a7f7382a0c4e29ba84\";i:7255;s:40:\"twitter_6ea7c5899bd411a7f7382a0c4e29ba84\";i:7256;s:42:\"pinterest_6ea7c5899bd411a7f7382a0c4e29ba84\";i:7257;s:41:\"linkedin_6ea7c5899bd411a7f7382a0c4e29ba84\";i:7258;s:35:\"fb_a52d03b4c0cd2346f0555cce27d3e3d0\";i:7259;s:40:\"twitter_a52d03b4c0cd2346f0555cce27d3e3d0\";i:7260;s:42:\"pinterest_a52d03b4c0cd2346f0555cce27d3e3d0\";i:7261;s:41:\"linkedin_a52d03b4c0cd2346f0555cce27d3e3d0\";i:7262;s:35:\"fb_653523ac5f8e9bcfa6913590384a016d\";i:7263;s:40:\"twitter_653523ac5f8e9bcfa6913590384a016d\";i:7264;s:42:\"pinterest_653523ac5f8e9bcfa6913590384a016d\";i:7265;s:41:\"linkedin_653523ac5f8e9bcfa6913590384a016d\";i:7266;s:35:\"fb_d607650dc78fd906c17fd564fdb1e727\";i:7267;s:40:\"twitter_d607650dc78fd906c17fd564fdb1e727\";i:7268;s:42:\"pinterest_d607650dc78fd906c17fd564fdb1e727\";i:7269;s:41:\"linkedin_d607650dc78fd906c17fd564fdb1e727\";i:7270;s:35:\"fb_efe9684f11e0f73b7c69de9d1d90d652\";i:7271;s:40:\"twitter_efe9684f11e0f73b7c69de9d1d90d652\";i:7272;s:42:\"pinterest_efe9684f11e0f73b7c69de9d1d90d652\";i:7273;s:41:\"linkedin_efe9684f11e0f73b7c69de9d1d90d652\";i:7274;s:35:\"fb_f19dbbe7a1752ad7ee337b448a735868\";i:7275;s:40:\"twitter_f19dbbe7a1752ad7ee337b448a735868\";i:7276;s:42:\"pinterest_f19dbbe7a1752ad7ee337b448a735868\";i:7277;s:41:\"linkedin_f19dbbe7a1752ad7ee337b448a735868\";i:7278;s:35:\"fb_e3dbd0de4983e3d792a0576cc5efe805\";i:7279;s:40:\"twitter_e3dbd0de4983e3d792a0576cc5efe805\";i:7280;s:42:\"pinterest_e3dbd0de4983e3d792a0576cc5efe805\";i:7281;s:41:\"linkedin_e3dbd0de4983e3d792a0576cc5efe805\";i:7282;s:35:\"fb_b67595c146ed2ffb46090c84308d2740\";i:7283;s:40:\"twitter_b67595c146ed2ffb46090c84308d2740\";i:7284;s:42:\"pinterest_b67595c146ed2ffb46090c84308d2740\";i:7285;s:41:\"linkedin_b67595c146ed2ffb46090c84308d2740\";i:7286;s:35:\"fb_1be27c4c40ac060d8e3fc06576d4c6e3\";i:7287;s:40:\"twitter_1be27c4c40ac060d8e3fc06576d4c6e3\";i:7288;s:42:\"pinterest_1be27c4c40ac060d8e3fc06576d4c6e3\";i:7289;s:41:\"linkedin_1be27c4c40ac060d8e3fc06576d4c6e3\";i:7290;s:35:\"fb_f54e0fcf1b08bcdf7bbfd7c587fcf6f4\";i:7291;s:40:\"twitter_f54e0fcf1b08bcdf7bbfd7c587fcf6f4\";i:7292;s:42:\"pinterest_f54e0fcf1b08bcdf7bbfd7c587fcf6f4\";i:7293;s:41:\"linkedin_f54e0fcf1b08bcdf7bbfd7c587fcf6f4\";i:7294;s:35:\"fb_c978c1fb5d3b01aad4d2efe5163d08ae\";i:7295;s:40:\"twitter_c978c1fb5d3b01aad4d2efe5163d08ae\";i:7296;s:42:\"pinterest_c978c1fb5d3b01aad4d2efe5163d08ae\";i:7297;s:41:\"linkedin_c978c1fb5d3b01aad4d2efe5163d08ae\";i:7298;s:35:\"fb_1a1e919eb3ac61d389cd3685ff70f5c8\";i:7299;s:40:\"twitter_1a1e919eb3ac61d389cd3685ff70f5c8\";i:7300;s:42:\"pinterest_1a1e919eb3ac61d389cd3685ff70f5c8\";i:7301;s:41:\"linkedin_1a1e919eb3ac61d389cd3685ff70f5c8\";i:7302;s:35:\"fb_216a816694c1a0663c7b47962fcfc95e\";i:7303;s:40:\"twitter_216a816694c1a0663c7b47962fcfc95e\";i:7304;s:42:\"pinterest_216a816694c1a0663c7b47962fcfc95e\";i:7305;s:41:\"linkedin_216a816694c1a0663c7b47962fcfc95e\";i:7306;s:35:\"fb_13729b2bdd2c52884241bda91c8cf553\";i:7307;s:40:\"twitter_13729b2bdd2c52884241bda91c8cf553\";i:7308;s:42:\"pinterest_13729b2bdd2c52884241bda91c8cf553\";i:7309;s:41:\"linkedin_13729b2bdd2c52884241bda91c8cf553\";i:7310;s:35:\"fb_cbbb3e8443acf5f99d29b776d5ea9a63\";i:7311;s:40:\"twitter_cbbb3e8443acf5f99d29b776d5ea9a63\";i:7312;s:42:\"pinterest_cbbb3e8443acf5f99d29b776d5ea9a63\";i:7313;s:41:\"linkedin_cbbb3e8443acf5f99d29b776d5ea9a63\";i:7314;s:35:\"fb_5542d9c3dd2593f5dd9350cbd2648ad6\";i:7315;s:40:\"twitter_5542d9c3dd2593f5dd9350cbd2648ad6\";i:7316;s:42:\"pinterest_5542d9c3dd2593f5dd9350cbd2648ad6\";i:7317;s:41:\"linkedin_5542d9c3dd2593f5dd9350cbd2648ad6\";i:7318;s:35:\"fb_1acaa4bee742df5d6f79e2cf0e79e0c7\";i:7319;s:40:\"twitter_1acaa4bee742df5d6f79e2cf0e79e0c7\";i:7320;s:42:\"pinterest_1acaa4bee742df5d6f79e2cf0e79e0c7\";i:7321;s:41:\"linkedin_1acaa4bee742df5d6f79e2cf0e79e0c7\";i:7322;s:35:\"fb_cd830a3570ec6b4056c6ab97f41621e7\";i:7323;s:40:\"twitter_cd830a3570ec6b4056c6ab97f41621e7\";i:7324;s:42:\"pinterest_cd830a3570ec6b4056c6ab97f41621e7\";i:7325;s:41:\"linkedin_cd830a3570ec6b4056c6ab97f41621e7\";i:7326;s:35:\"fb_233071128d8f446f481d0afa40279ba8\";i:7327;s:40:\"twitter_233071128d8f446f481d0afa40279ba8\";i:7328;s:42:\"pinterest_233071128d8f446f481d0afa40279ba8\";i:7329;s:41:\"linkedin_233071128d8f446f481d0afa40279ba8\";i:7330;s:35:\"fb_c8f13aee03a462f86e5d16882714bdca\";i:7331;s:40:\"twitter_c8f13aee03a462f86e5d16882714bdca\";i:7332;s:42:\"pinterest_c8f13aee03a462f86e5d16882714bdca\";i:7333;s:41:\"linkedin_c8f13aee03a462f86e5d16882714bdca\";i:7334;s:35:\"fb_0de62ce45e4244b17fbc10de2a294439\";i:7335;s:40:\"twitter_0de62ce45e4244b17fbc10de2a294439\";i:7336;s:42:\"pinterest_0de62ce45e4244b17fbc10de2a294439\";i:7337;s:41:\"linkedin_0de62ce45e4244b17fbc10de2a294439\";i:7338;s:35:\"fb_71b0a313c619b713a4f5f6927267f1a1\";i:7339;s:40:\"twitter_71b0a313c619b713a4f5f6927267f1a1\";i:7340;s:42:\"pinterest_71b0a313c619b713a4f5f6927267f1a1\";i:7341;s:41:\"linkedin_71b0a313c619b713a4f5f6927267f1a1\";i:7342;s:35:\"fb_bcdd110e55441398b5b12d7121ba1004\";i:7343;s:40:\"twitter_bcdd110e55441398b5b12d7121ba1004\";i:7344;s:42:\"pinterest_bcdd110e55441398b5b12d7121ba1004\";i:7345;s:41:\"linkedin_bcdd110e55441398b5b12d7121ba1004\";i:7346;s:35:\"fb_e79a6e5d2e525820c41e9ef5846eaecb\";i:7347;s:40:\"twitter_e79a6e5d2e525820c41e9ef5846eaecb\";i:7348;s:42:\"pinterest_e79a6e5d2e525820c41e9ef5846eaecb\";i:7349;s:41:\"linkedin_e79a6e5d2e525820c41e9ef5846eaecb\";i:7350;s:35:\"fb_1e16e3ac1f71555237edcdd86ab3f955\";i:7351;s:40:\"twitter_1e16e3ac1f71555237edcdd86ab3f955\";i:7352;s:42:\"pinterest_1e16e3ac1f71555237edcdd86ab3f955\";i:7353;s:41:\"linkedin_1e16e3ac1f71555237edcdd86ab3f955\";i:7354;s:35:\"fb_36afbec04f41972aa491c6d337f8adfe\";i:7355;s:40:\"twitter_36afbec04f41972aa491c6d337f8adfe\";i:7356;s:42:\"pinterest_36afbec04f41972aa491c6d337f8adfe\";i:7357;s:41:\"linkedin_36afbec04f41972aa491c6d337f8adfe\";i:7358;s:35:\"fb_afafb3ca774106b2972f67406bc1b18e\";i:7359;s:40:\"twitter_afafb3ca774106b2972f67406bc1b18e\";i:7360;s:42:\"pinterest_afafb3ca774106b2972f67406bc1b18e\";i:7361;s:41:\"linkedin_afafb3ca774106b2972f67406bc1b18e\";i:7362;s:35:\"fb_2cc3492419fc4fb7647666b83c431859\";i:7363;s:40:\"twitter_2cc3492419fc4fb7647666b83c431859\";i:7364;s:42:\"pinterest_2cc3492419fc4fb7647666b83c431859\";i:7365;s:41:\"linkedin_2cc3492419fc4fb7647666b83c431859\";i:7366;s:35:\"fb_116294bf365ab7553336df27376475fa\";i:7367;s:40:\"twitter_116294bf365ab7553336df27376475fa\";i:7368;s:42:\"pinterest_116294bf365ab7553336df27376475fa\";i:7369;s:41:\"linkedin_116294bf365ab7553336df27376475fa\";i:7370;s:35:\"fb_463654921214a7c04d5d92ade04e00f6\";i:7371;s:40:\"twitter_463654921214a7c04d5d92ade04e00f6\";i:7372;s:42:\"pinterest_463654921214a7c04d5d92ade04e00f6\";i:7373;s:41:\"linkedin_463654921214a7c04d5d92ade04e00f6\";i:7374;s:35:\"fb_d10aff15814ee3fd246495a603069a70\";i:7375;s:40:\"twitter_d10aff15814ee3fd246495a603069a70\";i:7376;s:42:\"pinterest_d10aff15814ee3fd246495a603069a70\";i:7377;s:41:\"linkedin_d10aff15814ee3fd246495a603069a70\";i:7378;s:35:\"fb_4bfd68c126a64110a286d50291fe39d6\";i:7379;s:40:\"twitter_4bfd68c126a64110a286d50291fe39d6\";i:7380;s:42:\"pinterest_4bfd68c126a64110a286d50291fe39d6\";i:7381;s:41:\"linkedin_4bfd68c126a64110a286d50291fe39d6\";i:7382;s:35:\"fb_ee8a983093c64af916bd07c7097afd9d\";i:7383;s:40:\"twitter_ee8a983093c64af916bd07c7097afd9d\";i:7384;s:42:\"pinterest_ee8a983093c64af916bd07c7097afd9d\";i:7385;s:41:\"linkedin_ee8a983093c64af916bd07c7097afd9d\";i:7386;s:35:\"fb_a55e192486f8dff1895373721ceecf4d\";i:7387;s:40:\"twitter_a55e192486f8dff1895373721ceecf4d\";i:7388;s:42:\"pinterest_a55e192486f8dff1895373721ceecf4d\";i:7389;s:41:\"linkedin_a55e192486f8dff1895373721ceecf4d\";i:7390;s:35:\"fb_be60fab6963524f7925df125eb82b636\";i:7391;s:40:\"twitter_be60fab6963524f7925df125eb82b636\";i:7392;s:42:\"pinterest_be60fab6963524f7925df125eb82b636\";i:7393;s:41:\"linkedin_be60fab6963524f7925df125eb82b636\";i:7394;s:35:\"fb_0646041d8638cda8617de4d7194db7d4\";i:7395;s:40:\"twitter_0646041d8638cda8617de4d7194db7d4\";i:7396;s:42:\"pinterest_0646041d8638cda8617de4d7194db7d4\";i:7397;s:41:\"linkedin_0646041d8638cda8617de4d7194db7d4\";i:7398;s:35:\"fb_1f03c022771bd9bdc27ac62c11cc0350\";i:7399;s:41:\"linkedin_1f03c022771bd9bdc27ac62c11cc0350\";i:7400;s:35:\"fb_5eca1c420195e0cab3eca04f191053b4\";i:7401;s:40:\"twitter_5eca1c420195e0cab3eca04f191053b4\";i:7402;s:42:\"pinterest_5eca1c420195e0cab3eca04f191053b4\";i:7403;s:41:\"linkedin_5eca1c420195e0cab3eca04f191053b4\";i:7404;s:35:\"fb_bf71ca2f528484564b03a243b9e0e94e\";i:7405;s:40:\"twitter_bf71ca2f528484564b03a243b9e0e94e\";i:7406;s:42:\"pinterest_bf71ca2f528484564b03a243b9e0e94e\";i:7407;s:41:\"linkedin_bf71ca2f528484564b03a243b9e0e94e\";i:7408;s:35:\"fb_d05258ce1c860a64e728afa803b7f68f\";i:7409;s:40:\"twitter_d05258ce1c860a64e728afa803b7f68f\";i:7410;s:42:\"pinterest_d05258ce1c860a64e728afa803b7f68f\";i:7411;s:41:\"linkedin_d05258ce1c860a64e728afa803b7f68f\";i:7412;s:35:\"fb_1f5a8e027dcd4af3a13fe046dba1b828\";i:7413;s:40:\"twitter_1f5a8e027dcd4af3a13fe046dba1b828\";i:7414;s:42:\"pinterest_1f5a8e027dcd4af3a13fe046dba1b828\";i:7415;s:41:\"linkedin_1f5a8e027dcd4af3a13fe046dba1b828\";i:7416;s:35:\"fb_f99954d6e0ed17d3f8752bfd0bbd270b\";i:7417;s:40:\"twitter_f99954d6e0ed17d3f8752bfd0bbd270b\";i:7418;s:42:\"pinterest_f99954d6e0ed17d3f8752bfd0bbd270b\";i:7419;s:35:\"fb_d20ab7140cbbef6db2ce13716c306a1c\";i:7420;s:40:\"twitter_d20ab7140cbbef6db2ce13716c306a1c\";i:7421;s:42:\"pinterest_d20ab7140cbbef6db2ce13716c306a1c\";i:7422;s:41:\"linkedin_d20ab7140cbbef6db2ce13716c306a1c\";i:7423;s:35:\"fb_ef3ff34b47bd49cad0a402b21232839c\";i:7424;s:40:\"twitter_ef3ff34b47bd49cad0a402b21232839c\";i:7425;s:42:\"pinterest_ef3ff34b47bd49cad0a402b21232839c\";i:7426;s:41:\"linkedin_ef3ff34b47bd49cad0a402b21232839c\";i:7427;s:35:\"fb_94fdf1d7dac36bf5ad32d46c918320b3\";i:7428;s:40:\"twitter_94fdf1d7dac36bf5ad32d46c918320b3\";i:7429;s:42:\"pinterest_94fdf1d7dac36bf5ad32d46c918320b3\";i:7430;s:41:\"linkedin_94fdf1d7dac36bf5ad32d46c918320b3\";i:7431;s:35:\"fb_2a164303852b5ef79e5d3d9bc0118f7a\";i:7432;s:40:\"twitter_2a164303852b5ef79e5d3d9bc0118f7a\";i:7433;s:42:\"pinterest_2a164303852b5ef79e5d3d9bc0118f7a\";i:7434;s:41:\"linkedin_2a164303852b5ef79e5d3d9bc0118f7a\";i:7435;s:35:\"fb_9e202f4a8d5272c319e5e2fc4fcdcbbe\";i:7436;s:40:\"twitter_9e202f4a8d5272c319e5e2fc4fcdcbbe\";i:7437;s:42:\"pinterest_9e202f4a8d5272c319e5e2fc4fcdcbbe\";i:7438;s:41:\"linkedin_9e202f4a8d5272c319e5e2fc4fcdcbbe\";i:7439;s:35:\"fb_505738ce8080316a6f794f09f0c37123\";i:7440;s:40:\"twitter_505738ce8080316a6f794f09f0c37123\";i:7441;s:42:\"pinterest_505738ce8080316a6f794f09f0c37123\";i:7442;s:41:\"linkedin_505738ce8080316a6f794f09f0c37123\";i:7443;s:35:\"fb_197e058894e1a18d88d147029ebb44b8\";i:7444;s:40:\"twitter_197e058894e1a18d88d147029ebb44b8\";i:7445;s:42:\"pinterest_197e058894e1a18d88d147029ebb44b8\";i:7446;s:41:\"linkedin_197e058894e1a18d88d147029ebb44b8\";i:7447;s:35:\"fb_64ba17727a094284e6df822c3bf0e633\";i:7448;s:40:\"twitter_64ba17727a094284e6df822c3bf0e633\";i:7449;s:42:\"pinterest_64ba17727a094284e6df822c3bf0e633\";i:7450;s:41:\"linkedin_64ba17727a094284e6df822c3bf0e633\";i:7451;s:35:\"fb_21f7768e8ec46b247f721ff4b6c38a08\";i:7452;s:40:\"twitter_21f7768e8ec46b247f721ff4b6c38a08\";i:7453;s:42:\"pinterest_21f7768e8ec46b247f721ff4b6c38a08\";i:7454;s:41:\"linkedin_21f7768e8ec46b247f721ff4b6c38a08\";i:7455;s:35:\"fb_4e95c004c0df031e84571e4b615f0708\";i:7456;s:40:\"twitter_4e95c004c0df031e84571e4b615f0708\";i:7457;s:42:\"pinterest_4e95c004c0df031e84571e4b615f0708\";i:7458;s:41:\"linkedin_4e95c004c0df031e84571e4b615f0708\";i:7459;s:35:\"fb_6bc81590ebc21a035ab80e34dedd8f70\";i:7460;s:40:\"twitter_6bc81590ebc21a035ab80e34dedd8f70\";i:7461;s:42:\"pinterest_6bc81590ebc21a035ab80e34dedd8f70\";i:7462;s:41:\"linkedin_6bc81590ebc21a035ab80e34dedd8f70\";i:7463;s:35:\"fb_8297eed05e353a2fc8e778c5f4ec8879\";i:7464;s:40:\"twitter_8297eed05e353a2fc8e778c5f4ec8879\";i:7465;s:42:\"pinterest_8297eed05e353a2fc8e778c5f4ec8879\";i:7466;s:41:\"linkedin_8297eed05e353a2fc8e778c5f4ec8879\";i:7467;s:35:\"fb_e8e3e538effa47be2144d6a5025a0777\";i:7468;s:42:\"pinterest_e8e3e538effa47be2144d6a5025a0777\";i:7469;s:41:\"linkedin_e8e3e538effa47be2144d6a5025a0777\";i:7470;s:35:\"fb_bf26153bb300b64f72c6ee37157f34b6\";i:7471;s:40:\"twitter_bf26153bb300b64f72c6ee37157f34b6\";i:7472;s:42:\"pinterest_bf26153bb300b64f72c6ee37157f34b6\";i:7473;s:41:\"linkedin_bf26153bb300b64f72c6ee37157f34b6\";i:7474;s:35:\"fb_6393b363ee3cf0c1c84b5a8d1c154ca3\";i:7475;s:40:\"twitter_6393b363ee3cf0c1c84b5a8d1c154ca3\";i:7476;s:42:\"pinterest_6393b363ee3cf0c1c84b5a8d1c154ca3\";i:7477;s:41:\"linkedin_6393b363ee3cf0c1c84b5a8d1c154ca3\";i:7478;s:35:\"fb_e7e96229b7fb7ce91151d195b37205db\";i:7479;s:40:\"twitter_e7e96229b7fb7ce91151d195b37205db\";i:7480;s:42:\"pinterest_e7e96229b7fb7ce91151d195b37205db\";i:7481;s:41:\"linkedin_e7e96229b7fb7ce91151d195b37205db\";i:7482;s:35:\"fb_2669b26e39e5b5a15c53703d029199c3\";i:7483;s:40:\"twitter_2669b26e39e5b5a15c53703d029199c3\";i:7484;s:42:\"pinterest_2669b26e39e5b5a15c53703d029199c3\";i:7485;s:41:\"linkedin_2669b26e39e5b5a15c53703d029199c3\";i:7486;s:35:\"fb_7e10cfeed42da8cec508c784a1dabd65\";i:7487;s:40:\"twitter_7e10cfeed42da8cec508c784a1dabd65\";i:7488;s:42:\"pinterest_7e10cfeed42da8cec508c784a1dabd65\";i:7489;s:41:\"linkedin_7e10cfeed42da8cec508c784a1dabd65\";i:7490;s:35:\"fb_d12882d1a562f4b3d9eb97f2d6c3bf28\";i:7491;s:40:\"twitter_d12882d1a562f4b3d9eb97f2d6c3bf28\";i:7492;s:42:\"pinterest_d12882d1a562f4b3d9eb97f2d6c3bf28\";i:7493;s:41:\"linkedin_d12882d1a562f4b3d9eb97f2d6c3bf28\";i:7494;s:35:\"fb_55c4fbc16d70d66085ae9be4483543f6\";i:7495;s:40:\"twitter_55c4fbc16d70d66085ae9be4483543f6\";i:7496;s:42:\"pinterest_55c4fbc16d70d66085ae9be4483543f6\";i:7497;s:41:\"linkedin_55c4fbc16d70d66085ae9be4483543f6\";i:7498;s:35:\"fb_131eff01a0069f5cae9b5bb9caca5af6\";i:7499;s:40:\"twitter_131eff01a0069f5cae9b5bb9caca5af6\";i:7500;s:42:\"pinterest_131eff01a0069f5cae9b5bb9caca5af6\";i:7501;s:41:\"linkedin_131eff01a0069f5cae9b5bb9caca5af6\";i:7502;s:35:\"fb_4308fd3c80f7c7e0d2672bef758ede3d\";i:7503;s:40:\"twitter_4308fd3c80f7c7e0d2672bef758ede3d\";i:7504;s:42:\"pinterest_4308fd3c80f7c7e0d2672bef758ede3d\";i:7505;s:41:\"linkedin_4308fd3c80f7c7e0d2672bef758ede3d\";i:7506;s:35:\"fb_7222d9fe14bdbf084e35883b574451e8\";i:7507;s:40:\"twitter_7222d9fe14bdbf084e35883b574451e8\";i:7508;s:42:\"pinterest_7222d9fe14bdbf084e35883b574451e8\";i:7509;s:41:\"linkedin_7222d9fe14bdbf084e35883b574451e8\";i:7510;s:35:\"fb_7d0c98985f37d9d7a1fb2b33fae20eb9\";i:7511;s:40:\"twitter_7d0c98985f37d9d7a1fb2b33fae20eb9\";i:7512;s:42:\"pinterest_7d0c98985f37d9d7a1fb2b33fae20eb9\";i:7513;s:41:\"linkedin_7d0c98985f37d9d7a1fb2b33fae20eb9\";i:7514;s:35:\"fb_d1d72dd6796d02ac6aa12e316660eb09\";i:7515;s:40:\"twitter_d1d72dd6796d02ac6aa12e316660eb09\";i:7516;s:42:\"pinterest_d1d72dd6796d02ac6aa12e316660eb09\";i:7517;s:41:\"linkedin_d1d72dd6796d02ac6aa12e316660eb09\";i:7518;s:35:\"fb_c43a12afef03f0c3197610e7afcc0f47\";i:7519;s:40:\"twitter_c43a12afef03f0c3197610e7afcc0f47\";i:7520;s:42:\"pinterest_c43a12afef03f0c3197610e7afcc0f47\";i:7521;s:41:\"linkedin_c43a12afef03f0c3197610e7afcc0f47\";i:7522;s:35:\"fb_ca0194e18041a65b2b1d362bd4bf87c6\";i:7523;s:40:\"twitter_ca0194e18041a65b2b1d362bd4bf87c6\";i:7524;s:42:\"pinterest_ca0194e18041a65b2b1d362bd4bf87c6\";i:7525;s:41:\"linkedin_ca0194e18041a65b2b1d362bd4bf87c6\";i:7526;s:35:\"fb_1c115a9f2b320149c253b2c8377d644e\";i:7527;s:40:\"twitter_1c115a9f2b320149c253b2c8377d644e\";i:7528;s:42:\"pinterest_1c115a9f2b320149c253b2c8377d644e\";i:7529;s:41:\"linkedin_1c115a9f2b320149c253b2c8377d644e\";i:7530;s:35:\"fb_8ed3d980b110e2cf9228671b00178d25\";i:7531;s:40:\"twitter_8ed3d980b110e2cf9228671b00178d25\";i:7532;s:42:\"pinterest_8ed3d980b110e2cf9228671b00178d25\";i:7533;s:41:\"linkedin_8ed3d980b110e2cf9228671b00178d25\";i:7534;s:35:\"fb_3735efb75706df87d00944992be92087\";i:7535;s:40:\"twitter_3735efb75706df87d00944992be92087\";i:7536;s:42:\"pinterest_3735efb75706df87d00944992be92087\";i:7537;s:41:\"linkedin_3735efb75706df87d00944992be92087\";i:7538;s:35:\"fb_9937ab03bb9795d52e8620fbc342675f\";i:7539;s:40:\"twitter_9937ab03bb9795d52e8620fbc342675f\";i:7540;s:42:\"pinterest_9937ab03bb9795d52e8620fbc342675f\";i:7541;s:41:\"linkedin_9937ab03bb9795d52e8620fbc342675f\";i:7542;s:35:\"fb_9f5705b160df1882ecd219c55c57402c\";i:7543;s:40:\"twitter_9f5705b160df1882ecd219c55c57402c\";i:7544;s:42:\"pinterest_9f5705b160df1882ecd219c55c57402c\";i:7545;s:41:\"linkedin_9f5705b160df1882ecd219c55c57402c\";i:7546;s:35:\"fb_01bed457ae6a993184b004eb67e5ccdb\";i:7547;s:40:\"twitter_01bed457ae6a993184b004eb67e5ccdb\";i:7548;s:42:\"pinterest_01bed457ae6a993184b004eb67e5ccdb\";i:7549;s:41:\"linkedin_01bed457ae6a993184b004eb67e5ccdb\";i:7550;s:35:\"fb_cec99a63b7740a7fb18c8b00f990ee54\";i:7551;s:40:\"twitter_cec99a63b7740a7fb18c8b00f990ee54\";i:7552;s:42:\"pinterest_cec99a63b7740a7fb18c8b00f990ee54\";i:7553;s:41:\"linkedin_cec99a63b7740a7fb18c8b00f990ee54\";i:7554;s:35:\"fb_438ceb6d7f7261dedb46a5bf9f458a62\";i:7555;s:40:\"twitter_438ceb6d7f7261dedb46a5bf9f458a62\";i:7556;s:42:\"pinterest_438ceb6d7f7261dedb46a5bf9f458a62\";i:7557;s:41:\"linkedin_438ceb6d7f7261dedb46a5bf9f458a62\";i:7558;s:35:\"fb_1bb945fb710fa0779726f5d90077ef9d\";i:7559;s:40:\"twitter_1bb945fb710fa0779726f5d90077ef9d\";i:7560;s:42:\"pinterest_1bb945fb710fa0779726f5d90077ef9d\";i:7561;s:41:\"linkedin_1bb945fb710fa0779726f5d90077ef9d\";i:7562;s:35:\"fb_dafff75777d041070e725455d0fb9642\";i:7563;s:40:\"twitter_dafff75777d041070e725455d0fb9642\";i:7564;s:42:\"pinterest_dafff75777d041070e725455d0fb9642\";i:7565;s:41:\"linkedin_dafff75777d041070e725455d0fb9642\";i:7566;s:35:\"fb_18d6616722239cb38b6e70ce30bc31c0\";i:7567;s:40:\"twitter_18d6616722239cb38b6e70ce30bc31c0\";i:7568;s:42:\"pinterest_18d6616722239cb38b6e70ce30bc31c0\";i:7569;s:41:\"linkedin_18d6616722239cb38b6e70ce30bc31c0\";i:7570;s:35:\"fb_9534c92176dcec25d9aaa02e309f55b7\";i:7571;s:40:\"twitter_9534c92176dcec25d9aaa02e309f55b7\";i:7572;s:42:\"pinterest_9534c92176dcec25d9aaa02e309f55b7\";i:7573;s:41:\"linkedin_9534c92176dcec25d9aaa02e309f55b7\";i:7574;s:35:\"fb_4829a21fc9e3929335d380079d75311b\";i:7575;s:40:\"twitter_4829a21fc9e3929335d380079d75311b\";i:7576;s:42:\"pinterest_4829a21fc9e3929335d380079d75311b\";i:7577;s:41:\"linkedin_4829a21fc9e3929335d380079d75311b\";i:7578;s:35:\"fb_2bd05debcad4721b4df1e281aafc27a9\";i:7579;s:40:\"twitter_2bd05debcad4721b4df1e281aafc27a9\";i:7580;s:42:\"pinterest_2bd05debcad4721b4df1e281aafc27a9\";i:7581;s:41:\"linkedin_2bd05debcad4721b4df1e281aafc27a9\";i:7582;s:35:\"fb_c72c66c767df85bdedb1bcc19e286d1c\";i:7583;s:40:\"twitter_c72c66c767df85bdedb1bcc19e286d1c\";i:7584;s:42:\"pinterest_c72c66c767df85bdedb1bcc19e286d1c\";i:7585;s:41:\"linkedin_c72c66c767df85bdedb1bcc19e286d1c\";i:7586;s:35:\"fb_e616db069212ddf0afe48e3ee7c6a219\";i:7587;s:40:\"twitter_e616db069212ddf0afe48e3ee7c6a219\";i:7588;s:42:\"pinterest_e616db069212ddf0afe48e3ee7c6a219\";i:7589;s:35:\"fb_0681923c2b98c1a4b359148400fb20c5\";i:7590;s:40:\"twitter_0681923c2b98c1a4b359148400fb20c5\";i:7591;s:42:\"pinterest_0681923c2b98c1a4b359148400fb20c5\";i:7592;s:41:\"linkedin_0681923c2b98c1a4b359148400fb20c5\";i:7593;s:35:\"fb_84163943d6f0b6340671ae18d59d1068\";i:7594;s:40:\"twitter_84163943d6f0b6340671ae18d59d1068\";i:7595;s:42:\"pinterest_84163943d6f0b6340671ae18d59d1068\";i:7596;s:41:\"linkedin_84163943d6f0b6340671ae18d59d1068\";i:7597;s:35:\"fb_22238259c6809d4c1b64df2599fd7b50\";i:7598;s:40:\"twitter_22238259c6809d4c1b64df2599fd7b50\";i:7599;s:42:\"pinterest_22238259c6809d4c1b64df2599fd7b50\";i:7600;s:41:\"linkedin_22238259c6809d4c1b64df2599fd7b50\";i:7601;s:35:\"fb_f33bfb6c58f21c3200c1455ae2cc4bfb\";i:7602;s:40:\"twitter_f33bfb6c58f21c3200c1455ae2cc4bfb\";i:7603;s:42:\"pinterest_f33bfb6c58f21c3200c1455ae2cc4bfb\";i:7604;s:41:\"linkedin_f33bfb6c58f21c3200c1455ae2cc4bfb\";i:7605;s:35:\"fb_261b91aa03929fb0d2c19992ba22a59b\";i:7606;s:40:\"twitter_261b91aa03929fb0d2c19992ba22a59b\";i:7607;s:42:\"pinterest_261b91aa03929fb0d2c19992ba22a59b\";i:7608;s:41:\"linkedin_261b91aa03929fb0d2c19992ba22a59b\";i:7609;s:35:\"fb_1a546773d9c4ec4488748106c907bf14\";i:7610;s:40:\"twitter_1a546773d9c4ec4488748106c907bf14\";i:7611;s:42:\"pinterest_1a546773d9c4ec4488748106c907bf14\";i:7612;s:41:\"linkedin_1a546773d9c4ec4488748106c907bf14\";i:7613;s:35:\"fb_3a6b1946f6e946a020add6ff9e5d219b\";i:7614;s:40:\"twitter_3a6b1946f6e946a020add6ff9e5d219b\";i:7615;s:42:\"pinterest_3a6b1946f6e946a020add6ff9e5d219b\";i:7616;s:41:\"linkedin_3a6b1946f6e946a020add6ff9e5d219b\";i:7617;s:35:\"fb_34750dbedcbd4bc9c9c00557634ba5e4\";i:7618;s:40:\"twitter_34750dbedcbd4bc9c9c00557634ba5e4\";i:7619;s:42:\"pinterest_34750dbedcbd4bc9c9c00557634ba5e4\";i:7620;s:41:\"linkedin_34750dbedcbd4bc9c9c00557634ba5e4\";i:7621;s:35:\"fb_2cb234013380585e0251c410993ef7d9\";i:7622;s:40:\"twitter_2cb234013380585e0251c410993ef7d9\";i:7623;s:42:\"pinterest_2cb234013380585e0251c410993ef7d9\";i:7624;s:41:\"linkedin_2cb234013380585e0251c410993ef7d9\";i:7625;s:35:\"fb_cb46228a91916e37477b255ae81344fd\";i:7626;s:40:\"twitter_cb46228a91916e37477b255ae81344fd\";i:7627;s:42:\"pinterest_cb46228a91916e37477b255ae81344fd\";i:7628;s:41:\"linkedin_cb46228a91916e37477b255ae81344fd\";i:7629;s:35:\"fb_722918d7a41f17418cedb87e23a6caea\";i:7630;s:40:\"twitter_722918d7a41f17418cedb87e23a6caea\";i:7631;s:42:\"pinterest_722918d7a41f17418cedb87e23a6caea\";i:7632;s:41:\"linkedin_722918d7a41f17418cedb87e23a6caea\";i:7633;s:35:\"fb_51d466731705e61b453835ad10ab9979\";i:7634;s:40:\"twitter_51d466731705e61b453835ad10ab9979\";i:7635;s:42:\"pinterest_51d466731705e61b453835ad10ab9979\";i:7636;s:41:\"linkedin_51d466731705e61b453835ad10ab9979\";i:7637;s:35:\"fb_aa243054a5e72b2e945ea63525a28df8\";i:7638;s:40:\"twitter_aa243054a5e72b2e945ea63525a28df8\";i:7639;s:42:\"pinterest_aa243054a5e72b2e945ea63525a28df8\";i:7640;s:41:\"linkedin_aa243054a5e72b2e945ea63525a28df8\";i:7641;s:35:\"fb_7c5d3c9258001ee740eab0776b9df317\";i:7642;s:40:\"twitter_7c5d3c9258001ee740eab0776b9df317\";i:7643;s:42:\"pinterest_7c5d3c9258001ee740eab0776b9df317\";i:7644;s:41:\"linkedin_7c5d3c9258001ee740eab0776b9df317\";i:7645;s:35:\"fb_a1614b9f93f606263e95e47ada94bdea\";i:7646;s:40:\"twitter_a1614b9f93f606263e95e47ada94bdea\";i:7647;s:42:\"pinterest_a1614b9f93f606263e95e47ada94bdea\";i:7648;s:41:\"linkedin_a1614b9f93f606263e95e47ada94bdea\";i:7649;s:35:\"fb_f1bb87f82e9824a364eb769713356450\";i:7650;s:40:\"twitter_f1bb87f82e9824a364eb769713356450\";i:7651;s:42:\"pinterest_f1bb87f82e9824a364eb769713356450\";i:7652;s:41:\"linkedin_f1bb87f82e9824a364eb769713356450\";i:7653;s:35:\"fb_851c0b73067fb82a15033fdacac295b8\";i:7654;s:40:\"twitter_851c0b73067fb82a15033fdacac295b8\";i:7655;s:42:\"pinterest_851c0b73067fb82a15033fdacac295b8\";i:7656;s:41:\"linkedin_851c0b73067fb82a15033fdacac295b8\";i:7657;s:35:\"fb_f9f0d2451b0512f170becbfbb9af6bb6\";i:7658;s:40:\"twitter_f9f0d2451b0512f170becbfbb9af6bb6\";i:7659;s:42:\"pinterest_f9f0d2451b0512f170becbfbb9af6bb6\";i:7660;s:41:\"linkedin_f9f0d2451b0512f170becbfbb9af6bb6\";i:7661;s:35:\"fb_ba728c5d7e0660080d753e13eb1c06b4\";i:7662;s:40:\"twitter_ba728c5d7e0660080d753e13eb1c06b4\";i:7663;s:42:\"pinterest_ba728c5d7e0660080d753e13eb1c06b4\";i:7664;s:41:\"linkedin_ba728c5d7e0660080d753e13eb1c06b4\";i:7665;s:35:\"fb_8a39372a70c7d7f7e875f46f8f235f28\";i:7666;s:40:\"twitter_8a39372a70c7d7f7e875f46f8f235f28\";i:7667;s:42:\"pinterest_8a39372a70c7d7f7e875f46f8f235f28\";i:7668;s:41:\"linkedin_8a39372a70c7d7f7e875f46f8f235f28\";i:7669;s:35:\"fb_d015a456981ad41d615527c17aa1b7d2\";i:7670;s:40:\"twitter_d015a456981ad41d615527c17aa1b7d2\";i:7671;s:42:\"pinterest_d015a456981ad41d615527c17aa1b7d2\";i:7672;s:41:\"linkedin_d015a456981ad41d615527c17aa1b7d2\";i:7673;s:35:\"fb_5912bb419641e5d67a455e353c160a1a\";i:7674;s:40:\"twitter_5912bb419641e5d67a455e353c160a1a\";i:7675;s:42:\"pinterest_5912bb419641e5d67a455e353c160a1a\";i:7676;s:41:\"linkedin_5912bb419641e5d67a455e353c160a1a\";i:7677;s:35:\"fb_7fb817e79a21408d6a252b6cedcefcb4\";i:7678;s:40:\"twitter_7fb817e79a21408d6a252b6cedcefcb4\";i:7679;s:42:\"pinterest_7fb817e79a21408d6a252b6cedcefcb4\";i:7680;s:41:\"linkedin_7fb817e79a21408d6a252b6cedcefcb4\";i:7681;s:35:\"fb_a3bfbde83f6f34e86ae7ee267b68b7e9\";i:7682;s:40:\"twitter_a3bfbde83f6f34e86ae7ee267b68b7e9\";i:7683;s:42:\"pinterest_a3bfbde83f6f34e86ae7ee267b68b7e9\";i:7684;s:41:\"linkedin_a3bfbde83f6f34e86ae7ee267b68b7e9\";i:7685;s:35:\"fb_0a8344de87c04261169487a9e7a72e25\";i:7686;s:40:\"twitter_0a8344de87c04261169487a9e7a72e25\";i:7687;s:42:\"pinterest_0a8344de87c04261169487a9e7a72e25\";i:7688;s:41:\"linkedin_0a8344de87c04261169487a9e7a72e25\";i:7689;s:35:\"fb_e1325391ac1bafb1f9f4804c91b4cb79\";i:7690;s:40:\"twitter_e1325391ac1bafb1f9f4804c91b4cb79\";i:7691;s:42:\"pinterest_e1325391ac1bafb1f9f4804c91b4cb79\";i:7692;s:41:\"linkedin_e1325391ac1bafb1f9f4804c91b4cb79\";i:7693;s:35:\"fb_4efd91be895627d8972185dd07b51de2\";i:7694;s:40:\"twitter_4efd91be895627d8972185dd07b51de2\";i:7695;s:42:\"pinterest_4efd91be895627d8972185dd07b51de2\";i:7696;s:41:\"linkedin_4efd91be895627d8972185dd07b51de2\";i:7697;s:35:\"fb_7275cf7cd8f9aaa98a2e37b17f1b7f1e\";i:7698;s:40:\"twitter_7275cf7cd8f9aaa98a2e37b17f1b7f1e\";i:7699;s:42:\"pinterest_7275cf7cd8f9aaa98a2e37b17f1b7f1e\";i:7700;s:41:\"linkedin_7275cf7cd8f9aaa98a2e37b17f1b7f1e\";i:7701;s:35:\"fb_dcd3b3d27899b5f0335f79cba15b0bcf\";i:7702;s:40:\"twitter_dcd3b3d27899b5f0335f79cba15b0bcf\";i:7703;s:42:\"pinterest_dcd3b3d27899b5f0335f79cba15b0bcf\";i:7704;s:41:\"linkedin_dcd3b3d27899b5f0335f79cba15b0bcf\";i:7705;s:35:\"fb_2b431ccda9c72c701021d12f3de8b3dd\";i:7706;s:40:\"twitter_2b431ccda9c72c701021d12f3de8b3dd\";i:7707;s:42:\"pinterest_2b431ccda9c72c701021d12f3de8b3dd\";i:7708;s:41:\"linkedin_2b431ccda9c72c701021d12f3de8b3dd\";i:7709;s:35:\"fb_0d76cb7065bd509de638360b12f991a6\";i:7710;s:35:\"fb_d0ae62374392eb6ee8a5aca828cd356d\";i:7711;s:40:\"twitter_d0ae62374392eb6ee8a5aca828cd356d\";i:7712;s:42:\"pinterest_d0ae62374392eb6ee8a5aca828cd356d\";i:7713;s:41:\"linkedin_d0ae62374392eb6ee8a5aca828cd356d\";i:7714;s:35:\"fb_78b9ce7b2c220837bf10da8b38d08579\";i:7715;s:40:\"twitter_78b9ce7b2c220837bf10da8b38d08579\";i:7716;s:42:\"pinterest_78b9ce7b2c220837bf10da8b38d08579\";i:7717;s:41:\"linkedin_78b9ce7b2c220837bf10da8b38d08579\";i:7718;s:35:\"fb_cfffbd5d132e2ca981195ef8815a109f\";i:7719;s:40:\"twitter_cfffbd5d132e2ca981195ef8815a109f\";i:7720;s:35:\"fb_26a3b92c5e4e92a866384c1502bf1bb6\";i:7721;s:40:\"twitter_26a3b92c5e4e92a866384c1502bf1bb6\";i:7722;s:42:\"pinterest_26a3b92c5e4e92a866384c1502bf1bb6\";i:7723;s:41:\"linkedin_26a3b92c5e4e92a866384c1502bf1bb6\";i:7724;s:35:\"fb_16caf40e23872d933fa0af431fbe8d79\";i:7725;s:40:\"twitter_16caf40e23872d933fa0af431fbe8d79\";i:7726;s:42:\"pinterest_16caf40e23872d933fa0af431fbe8d79\";i:7727;s:41:\"linkedin_16caf40e23872d933fa0af431fbe8d79\";i:7728;s:35:\"fb_0c10f8b2ae3d444cd457983e5abcceff\";i:7729;s:40:\"twitter_0c10f8b2ae3d444cd457983e5abcceff\";i:7730;s:42:\"pinterest_0c10f8b2ae3d444cd457983e5abcceff\";i:7731;s:41:\"linkedin_0c10f8b2ae3d444cd457983e5abcceff\";i:7732;s:35:\"fb_a6a71dd9e91b5c997b03e2001c5d16a1\";i:7733;s:40:\"twitter_a6a71dd9e91b5c997b03e2001c5d16a1\";i:7734;s:42:\"pinterest_a6a71dd9e91b5c997b03e2001c5d16a1\";i:7735;s:41:\"linkedin_a6a71dd9e91b5c997b03e2001c5d16a1\";i:7736;s:35:\"fb_35f7f39ded1a55ae74ace0c4fdcee298\";i:7737;s:40:\"twitter_35f7f39ded1a55ae74ace0c4fdcee298\";i:7738;s:42:\"pinterest_35f7f39ded1a55ae74ace0c4fdcee298\";i:7739;s:41:\"linkedin_35f7f39ded1a55ae74ace0c4fdcee298\";i:7740;s:35:\"fb_92beed011b88eef88dd2ce654340078a\";i:7741;s:40:\"twitter_92beed011b88eef88dd2ce654340078a\";i:7742;s:42:\"pinterest_92beed011b88eef88dd2ce654340078a\";i:7743;s:41:\"linkedin_92beed011b88eef88dd2ce654340078a\";i:7744;s:35:\"fb_38ff7d19be3ea1c2afa3b9a34129cfea\";i:7745;s:40:\"twitter_38ff7d19be3ea1c2afa3b9a34129cfea\";i:7746;s:42:\"pinterest_38ff7d19be3ea1c2afa3b9a34129cfea\";i:7747;s:41:\"linkedin_38ff7d19be3ea1c2afa3b9a34129cfea\";i:7748;s:35:\"fb_05b662157d8cac6ac8649e769e970f64\";i:7749;s:40:\"twitter_05b662157d8cac6ac8649e769e970f64\";i:7750;s:42:\"pinterest_05b662157d8cac6ac8649e769e970f64\";i:7751;s:41:\"linkedin_05b662157d8cac6ac8649e769e970f64\";i:7752;s:35:\"fb_06d97d437e8a9a898357642a6511d8ad\";i:7753;s:40:\"twitter_06d97d437e8a9a898357642a6511d8ad\";i:7754;s:42:\"pinterest_06d97d437e8a9a898357642a6511d8ad\";i:7755;s:41:\"linkedin_06d97d437e8a9a898357642a6511d8ad\";i:7756;s:35:\"fb_7c7fc6979ebed608192ee1a0f4263665\";i:7757;s:40:\"twitter_7c7fc6979ebed608192ee1a0f4263665\";i:7758;s:42:\"pinterest_7c7fc6979ebed608192ee1a0f4263665\";i:7759;s:41:\"linkedin_7c7fc6979ebed608192ee1a0f4263665\";i:7760;s:35:\"fb_a4c95cf1553d34d4409cde9be1d3df7f\";i:7761;s:40:\"twitter_a4c95cf1553d34d4409cde9be1d3df7f\";i:7762;s:42:\"pinterest_a4c95cf1553d34d4409cde9be1d3df7f\";i:7763;s:41:\"linkedin_a4c95cf1553d34d4409cde9be1d3df7f\";i:7764;s:35:\"fb_6c46b9f7f8ad0a05470fbcf236f6d552\";i:7765;s:40:\"twitter_6c46b9f7f8ad0a05470fbcf236f6d552\";i:7766;s:42:\"pinterest_6c46b9f7f8ad0a05470fbcf236f6d552\";i:7767;s:41:\"linkedin_6c46b9f7f8ad0a05470fbcf236f6d552\";i:7768;s:35:\"fb_f61eae15acb0d90a94c84a0424dd2819\";i:7769;s:40:\"twitter_f61eae15acb0d90a94c84a0424dd2819\";i:7770;s:42:\"pinterest_f61eae15acb0d90a94c84a0424dd2819\";i:7771;s:41:\"linkedin_f61eae15acb0d90a94c84a0424dd2819\";i:7772;s:35:\"fb_dd2fdf0683efe83a1bc7e63fab43282f\";i:7773;s:40:\"twitter_dd2fdf0683efe83a1bc7e63fab43282f\";i:7774;s:42:\"pinterest_dd2fdf0683efe83a1bc7e63fab43282f\";i:7775;s:41:\"linkedin_dd2fdf0683efe83a1bc7e63fab43282f\";i:7776;s:35:\"fb_73f0ee6ebb404b740c840cdb7bfe7d44\";i:7777;s:40:\"twitter_73f0ee6ebb404b740c840cdb7bfe7d44\";i:7778;s:42:\"pinterest_73f0ee6ebb404b740c840cdb7bfe7d44\";i:7779;s:41:\"linkedin_73f0ee6ebb404b740c840cdb7bfe7d44\";i:7780;s:35:\"fb_cd4680540a1a9ea97d510608bd5acdac\";i:7781;s:40:\"twitter_cd4680540a1a9ea97d510608bd5acdac\";i:7782;s:42:\"pinterest_cd4680540a1a9ea97d510608bd5acdac\";i:7783;s:41:\"linkedin_cd4680540a1a9ea97d510608bd5acdac\";i:7784;s:35:\"fb_620e05838a7f49002606234d9e916cf1\";i:7785;s:40:\"twitter_620e05838a7f49002606234d9e916cf1\";i:7786;s:42:\"pinterest_620e05838a7f49002606234d9e916cf1\";i:7787;s:41:\"linkedin_620e05838a7f49002606234d9e916cf1\";i:7788;s:35:\"fb_08f089e0aed19d1dc72186cc6b08e7c9\";i:7789;s:40:\"twitter_08f089e0aed19d1dc72186cc6b08e7c9\";i:7790;s:42:\"pinterest_08f089e0aed19d1dc72186cc6b08e7c9\";i:7791;s:41:\"linkedin_08f089e0aed19d1dc72186cc6b08e7c9\";i:7792;s:35:\"fb_a5a2731b88620072151139dab2cc7781\";i:7793;s:40:\"twitter_a5a2731b88620072151139dab2cc7781\";i:7794;s:42:\"pinterest_a5a2731b88620072151139dab2cc7781\";i:7795;s:41:\"linkedin_a5a2731b88620072151139dab2cc7781\";i:7796;s:35:\"fb_263c5922b13ca891233bf375b69270f0\";i:7797;s:40:\"twitter_263c5922b13ca891233bf375b69270f0\";i:7798;s:42:\"pinterest_263c5922b13ca891233bf375b69270f0\";i:7799;s:41:\"linkedin_263c5922b13ca891233bf375b69270f0\";i:7800;s:35:\"fb_d597cb1a9921cbdc66affe262ff5875f\";i:7801;s:40:\"twitter_d597cb1a9921cbdc66affe262ff5875f\";i:7802;s:42:\"pinterest_d597cb1a9921cbdc66affe262ff5875f\";i:7803;s:41:\"linkedin_d597cb1a9921cbdc66affe262ff5875f\";i:7804;s:35:\"fb_b076b7e49448d347b7aecb7b0b77383a\";i:7805;s:40:\"twitter_b076b7e49448d347b7aecb7b0b77383a\";i:7806;s:42:\"pinterest_b076b7e49448d347b7aecb7b0b77383a\";i:7807;s:41:\"linkedin_b076b7e49448d347b7aecb7b0b77383a\";i:7808;s:35:\"fb_fa2ec167229a53baf50158ba056c2846\";i:7809;s:40:\"twitter_fa2ec167229a53baf50158ba056c2846\";i:7810;s:42:\"pinterest_fa2ec167229a53baf50158ba056c2846\";i:7811;s:41:\"linkedin_fa2ec167229a53baf50158ba056c2846\";i:7812;s:35:\"fb_ea056c3a22466cba0ac66b1ee35170bf\";i:7813;s:40:\"twitter_ea056c3a22466cba0ac66b1ee35170bf\";i:7814;s:42:\"pinterest_ea056c3a22466cba0ac66b1ee35170bf\";i:7815;s:41:\"linkedin_ea056c3a22466cba0ac66b1ee35170bf\";i:7816;s:35:\"fb_5750aecef889071d62072503e9151f13\";i:7817;s:40:\"twitter_5750aecef889071d62072503e9151f13\";i:7818;s:42:\"pinterest_5750aecef889071d62072503e9151f13\";i:7819;s:41:\"linkedin_5750aecef889071d62072503e9151f13\";i:7820;s:35:\"fb_98e0578d31dc088a2d2b71ad3ce56c3b\";i:7821;s:40:\"twitter_98e0578d31dc088a2d2b71ad3ce56c3b\";i:7822;s:42:\"pinterest_98e0578d31dc088a2d2b71ad3ce56c3b\";i:7823;s:41:\"linkedin_98e0578d31dc088a2d2b71ad3ce56c3b\";i:7824;s:35:\"fb_08c7f96aeabe8a111822fb90e5eb6f17\";i:7825;s:40:\"twitter_08c7f96aeabe8a111822fb90e5eb6f17\";i:7826;s:42:\"pinterest_08c7f96aeabe8a111822fb90e5eb6f17\";i:7827;s:41:\"linkedin_08c7f96aeabe8a111822fb90e5eb6f17\";i:7828;s:35:\"fb_bdd37cbbe849e987e02b712bf3aa04b2\";i:7829;s:40:\"twitter_bdd37cbbe849e987e02b712bf3aa04b2\";i:7830;s:42:\"pinterest_bdd37cbbe849e987e02b712bf3aa04b2\";i:7831;s:41:\"linkedin_bdd37cbbe849e987e02b712bf3aa04b2\";i:7832;s:35:\"fb_9d7bf90774e41f186423f9b716cc11c5\";i:7833;s:40:\"twitter_9d7bf90774e41f186423f9b716cc11c5\";i:7834;s:42:\"pinterest_9d7bf90774e41f186423f9b716cc11c5\";i:7835;s:41:\"linkedin_9d7bf90774e41f186423f9b716cc11c5\";i:7836;s:35:\"fb_04b60b871bdd9fc8de951c3857481cbf\";i:7837;s:40:\"twitter_04b60b871bdd9fc8de951c3857481cbf\";i:7838;s:42:\"pinterest_04b60b871bdd9fc8de951c3857481cbf\";i:7839;s:41:\"linkedin_04b60b871bdd9fc8de951c3857481cbf\";i:7840;s:35:\"fb_09527e1140b27b77567f598e03faf109\";i:7841;s:40:\"twitter_09527e1140b27b77567f598e03faf109\";i:7842;s:42:\"pinterest_09527e1140b27b77567f598e03faf109\";i:7843;s:41:\"linkedin_09527e1140b27b77567f598e03faf109\";i:7844;s:35:\"fb_4c86a1ff4a7e276b931669b2f8952313\";i:7845;s:40:\"twitter_4c86a1ff4a7e276b931669b2f8952313\";i:7846;s:42:\"pinterest_4c86a1ff4a7e276b931669b2f8952313\";i:7847;s:41:\"linkedin_4c86a1ff4a7e276b931669b2f8952313\";i:7848;s:35:\"fb_cf5e120f3258d4da59ceddec6cea6092\";i:7849;s:40:\"twitter_cf5e120f3258d4da59ceddec6cea6092\";i:7850;s:42:\"pinterest_cf5e120f3258d4da59ceddec6cea6092\";i:7851;s:41:\"linkedin_cf5e120f3258d4da59ceddec6cea6092\";i:7852;s:35:\"fb_022cbcfb92f04f0ddb82aa0c6364ca86\";i:7853;s:40:\"twitter_022cbcfb92f04f0ddb82aa0c6364ca86\";i:7854;s:42:\"pinterest_022cbcfb92f04f0ddb82aa0c6364ca86\";i:7855;s:41:\"linkedin_022cbcfb92f04f0ddb82aa0c6364ca86\";i:7856;s:35:\"fb_73018f5ca526db6f608a15f3110cc1ff\";i:7857;s:40:\"twitter_73018f5ca526db6f608a15f3110cc1ff\";i:7858;s:42:\"pinterest_73018f5ca526db6f608a15f3110cc1ff\";i:7859;s:41:\"linkedin_73018f5ca526db6f608a15f3110cc1ff\";i:7860;s:35:\"fb_31eea5d7698ce37c4a9ce25e9ec6a677\";i:7861;s:40:\"twitter_31eea5d7698ce37c4a9ce25e9ec6a677\";i:7862;s:42:\"pinterest_31eea5d7698ce37c4a9ce25e9ec6a677\";i:7863;s:41:\"linkedin_31eea5d7698ce37c4a9ce25e9ec6a677\";i:7864;s:35:\"fb_1734c2b44d34d5a9ce8d53b432d8fc0a\";i:7865;s:40:\"twitter_1734c2b44d34d5a9ce8d53b432d8fc0a\";i:7866;s:42:\"pinterest_1734c2b44d34d5a9ce8d53b432d8fc0a\";i:7867;s:41:\"linkedin_1734c2b44d34d5a9ce8d53b432d8fc0a\";i:7868;s:35:\"fb_bd31e7e956a0345191991836d17187d8\";i:7869;s:40:\"twitter_bd31e7e956a0345191991836d17187d8\";i:7870;s:42:\"pinterest_bd31e7e956a0345191991836d17187d8\";i:7871;s:41:\"linkedin_bd31e7e956a0345191991836d17187d8\";i:7872;s:35:\"fb_7c7fde0a0f2c38315d4a42ac3ded0746\";i:7873;s:40:\"twitter_7c7fde0a0f2c38315d4a42ac3ded0746\";i:7874;s:42:\"pinterest_7c7fde0a0f2c38315d4a42ac3ded0746\";i:7875;s:41:\"linkedin_7c7fde0a0f2c38315d4a42ac3ded0746\";i:7876;s:35:\"fb_574622a3217345077bebb3a716153ed7\";i:7877;s:40:\"twitter_574622a3217345077bebb3a716153ed7\";i:7878;s:42:\"pinterest_574622a3217345077bebb3a716153ed7\";i:7879;s:41:\"linkedin_574622a3217345077bebb3a716153ed7\";i:7880;s:35:\"fb_ca549f0698774bc69c6f8cb95424cc2e\";i:7881;s:40:\"twitter_ca549f0698774bc69c6f8cb95424cc2e\";i:7882;s:42:\"pinterest_ca549f0698774bc69c6f8cb95424cc2e\";i:7883;s:41:\"linkedin_ca549f0698774bc69c6f8cb95424cc2e\";i:7884;s:35:\"fb_0486821ec3d32486061fe1a469923734\";i:7885;s:40:\"twitter_0486821ec3d32486061fe1a469923734\";i:7886;s:42:\"pinterest_0486821ec3d32486061fe1a469923734\";i:7887;s:41:\"linkedin_0486821ec3d32486061fe1a469923734\";i:7888;s:35:\"fb_dd7704e2f1294d303be8fe9d562f3ee9\";i:7889;s:40:\"twitter_dd7704e2f1294d303be8fe9d562f3ee9\";i:7890;s:42:\"pinterest_dd7704e2f1294d303be8fe9d562f3ee9\";i:7891;s:41:\"linkedin_dd7704e2f1294d303be8fe9d562f3ee9\";i:7892;s:35:\"fb_d9d99169375618e76ae4fdbacdba2520\";i:7893;s:40:\"twitter_d9d99169375618e76ae4fdbacdba2520\";i:7894;s:42:\"pinterest_d9d99169375618e76ae4fdbacdba2520\";i:7895;s:41:\"linkedin_d9d99169375618e76ae4fdbacdba2520\";i:7896;s:35:\"fb_3393a355d8e6f1269cbcc2cd49dc0cbf\";i:7897;s:40:\"twitter_3393a355d8e6f1269cbcc2cd49dc0cbf\";i:7898;s:42:\"pinterest_3393a355d8e6f1269cbcc2cd49dc0cbf\";i:7899;s:41:\"linkedin_3393a355d8e6f1269cbcc2cd49dc0cbf\";i:7900;s:35:\"fb_df791a192ca69f251a0c0ba05cc2c524\";i:7901;s:40:\"twitter_df791a192ca69f251a0c0ba05cc2c524\";i:7902;s:42:\"pinterest_df791a192ca69f251a0c0ba05cc2c524\";i:7903;s:41:\"linkedin_df791a192ca69f251a0c0ba05cc2c524\";i:7904;s:35:\"fb_675d8eac0e3780a568be1722b808290c\";i:7905;s:40:\"twitter_675d8eac0e3780a568be1722b808290c\";i:7906;s:42:\"pinterest_675d8eac0e3780a568be1722b808290c\";i:7907;s:41:\"linkedin_675d8eac0e3780a568be1722b808290c\";i:7908;s:35:\"fb_705e06a44a1c326fd82b0200bf323a56\";i:7909;s:40:\"twitter_705e06a44a1c326fd82b0200bf323a56\";i:7910;s:42:\"pinterest_705e06a44a1c326fd82b0200bf323a56\";i:7911;s:41:\"linkedin_705e06a44a1c326fd82b0200bf323a56\";i:7912;s:35:\"fb_89ab3c7729cf1ac18eea974019fdeb49\";i:7913;s:40:\"twitter_89ab3c7729cf1ac18eea974019fdeb49\";i:7914;s:42:\"pinterest_89ab3c7729cf1ac18eea974019fdeb49\";i:7915;s:41:\"linkedin_89ab3c7729cf1ac18eea974019fdeb49\";i:7916;s:35:\"fb_f7372f0f03379652c005c4997c00d7bf\";i:7917;s:40:\"twitter_f7372f0f03379652c005c4997c00d7bf\";i:7918;s:42:\"pinterest_f7372f0f03379652c005c4997c00d7bf\";i:7919;s:41:\"linkedin_f7372f0f03379652c005c4997c00d7bf\";i:7920;s:35:\"fb_c5bf91c22bf2ad715a77439270a1f5f8\";i:7921;s:40:\"twitter_c5bf91c22bf2ad715a77439270a1f5f8\";i:7922;s:42:\"pinterest_c5bf91c22bf2ad715a77439270a1f5f8\";i:7923;s:41:\"linkedin_c5bf91c22bf2ad715a77439270a1f5f8\";i:7924;s:35:\"fb_b1911024b21aa4a715a225640a9d4340\";i:7925;s:40:\"twitter_b1911024b21aa4a715a225640a9d4340\";i:7926;s:42:\"pinterest_b1911024b21aa4a715a225640a9d4340\";i:7927;s:41:\"linkedin_b1911024b21aa4a715a225640a9d4340\";i:7928;s:35:\"fb_606751469794a8bb023ade00f64f0ba4\";i:7929;s:40:\"twitter_606751469794a8bb023ade00f64f0ba4\";i:7930;s:42:\"pinterest_606751469794a8bb023ade00f64f0ba4\";i:7931;s:41:\"linkedin_606751469794a8bb023ade00f64f0ba4\";i:7932;s:35:\"fb_891f6c5b444c21799e9d4671d16a2270\";i:7933;s:40:\"twitter_891f6c5b444c21799e9d4671d16a2270\";i:7934;s:42:\"pinterest_891f6c5b444c21799e9d4671d16a2270\";i:7935;s:41:\"linkedin_891f6c5b444c21799e9d4671d16a2270\";i:7936;s:35:\"fb_7ed20703b075a411ca2a2b3f7c50720c\";i:7937;s:40:\"twitter_7ed20703b075a411ca2a2b3f7c50720c\";i:7938;s:42:\"pinterest_7ed20703b075a411ca2a2b3f7c50720c\";i:7939;s:41:\"linkedin_7ed20703b075a411ca2a2b3f7c50720c\";i:7940;s:35:\"fb_b85e619b3bd138456e58634924932f1e\";i:7941;s:40:\"twitter_b85e619b3bd138456e58634924932f1e\";i:7942;s:42:\"pinterest_b85e619b3bd138456e58634924932f1e\";i:7943;s:41:\"linkedin_b85e619b3bd138456e58634924932f1e\";i:7944;s:35:\"fb_ec976cf4a9a3aa45bfc68c6e31a647ab\";i:7945;s:40:\"twitter_ec976cf4a9a3aa45bfc68c6e31a647ab\";i:7946;s:42:\"pinterest_ec976cf4a9a3aa45bfc68c6e31a647ab\";i:7947;s:41:\"linkedin_ec976cf4a9a3aa45bfc68c6e31a647ab\";i:7948;s:35:\"fb_a41f8ba132d6c5d87a65ea13212ab8e0\";i:7949;s:40:\"twitter_a41f8ba132d6c5d87a65ea13212ab8e0\";i:7950;s:42:\"pinterest_a41f8ba132d6c5d87a65ea13212ab8e0\";i:7951;s:41:\"linkedin_a41f8ba132d6c5d87a65ea13212ab8e0\";i:7952;s:35:\"fb_3b2f3ba0b39c1b49c3d6950be2b3649f\";i:7953;s:40:\"twitter_3b2f3ba0b39c1b49c3d6950be2b3649f\";i:7954;s:42:\"pinterest_3b2f3ba0b39c1b49c3d6950be2b3649f\";i:7955;s:41:\"linkedin_3b2f3ba0b39c1b49c3d6950be2b3649f\";i:7956;s:35:\"fb_219275eedd1d9f795d7c343ea4ad749d\";i:7957;s:40:\"twitter_219275eedd1d9f795d7c343ea4ad749d\";i:7958;s:42:\"pinterest_219275eedd1d9f795d7c343ea4ad749d\";i:7959;s:41:\"linkedin_219275eedd1d9f795d7c343ea4ad749d\";i:7960;s:35:\"fb_4aa2435d4e2577b7fa21f8c3fcd5b00a\";i:7961;s:40:\"twitter_4aa2435d4e2577b7fa21f8c3fcd5b00a\";i:7962;s:42:\"pinterest_4aa2435d4e2577b7fa21f8c3fcd5b00a\";i:7963;s:41:\"linkedin_4aa2435d4e2577b7fa21f8c3fcd5b00a\";i:7964;s:35:\"fb_6a880ce074d5594ddc4041d74ebe8bab\";i:7965;s:35:\"fb_abf8e80bfc17e52a9f05f69d354b207f\";i:7966;s:40:\"twitter_abf8e80bfc17e52a9f05f69d354b207f\";i:7967;s:42:\"pinterest_abf8e80bfc17e52a9f05f69d354b207f\";i:7968;s:41:\"linkedin_abf8e80bfc17e52a9f05f69d354b207f\";i:7969;s:35:\"fb_3aac7d961a9517da691ce4a956e505d5\";i:7970;s:40:\"twitter_3aac7d961a9517da691ce4a956e505d5\";i:7971;s:42:\"pinterest_3aac7d961a9517da691ce4a956e505d5\";i:7972;s:41:\"linkedin_3aac7d961a9517da691ce4a956e505d5\";i:7973;s:35:\"fb_aadf780f5b98ad8101aa933f3a1210ca\";i:7974;s:40:\"twitter_aadf780f5b98ad8101aa933f3a1210ca\";i:7975;s:42:\"pinterest_aadf780f5b98ad8101aa933f3a1210ca\";i:7976;s:41:\"linkedin_aadf780f5b98ad8101aa933f3a1210ca\";i:7977;s:35:\"fb_72a4c4ed61438a2aa6cd10e25bea8f11\";i:7978;s:40:\"twitter_72a4c4ed61438a2aa6cd10e25bea8f11\";i:7979;s:42:\"pinterest_72a4c4ed61438a2aa6cd10e25bea8f11\";i:7980;s:41:\"linkedin_72a4c4ed61438a2aa6cd10e25bea8f11\";i:7981;s:35:\"fb_2d8f29e600219bfd7ee63e6384702935\";i:7982;s:40:\"twitter_2d8f29e600219bfd7ee63e6384702935\";i:7983;s:42:\"pinterest_2d8f29e600219bfd7ee63e6384702935\";i:7984;s:41:\"linkedin_2d8f29e600219bfd7ee63e6384702935\";i:7985;s:35:\"fb_66306e88c61c50eaac293a72bc753cd5\";i:7986;s:40:\"twitter_66306e88c61c50eaac293a72bc753cd5\";i:7987;s:42:\"pinterest_66306e88c61c50eaac293a72bc753cd5\";i:7988;s:41:\"linkedin_66306e88c61c50eaac293a72bc753cd5\";i:7989;s:35:\"fb_333fbc83bedb214327546354fbc678b8\";i:7990;s:40:\"twitter_333fbc83bedb214327546354fbc678b8\";i:7991;s:42:\"pinterest_333fbc83bedb214327546354fbc678b8\";i:7992;s:41:\"linkedin_333fbc83bedb214327546354fbc678b8\";i:7993;s:35:\"fb_c3c2945c9545ae0463c1d53f68211cd8\";i:7994;s:40:\"twitter_c3c2945c9545ae0463c1d53f68211cd8\";i:7995;s:42:\"pinterest_c3c2945c9545ae0463c1d53f68211cd8\";i:7996;s:41:\"linkedin_c3c2945c9545ae0463c1d53f68211cd8\";i:7997;s:35:\"fb_c019bbf1edb05e4d646f18d1ccb5ecdc\";i:7998;s:40:\"twitter_c019bbf1edb05e4d646f18d1ccb5ecdc\";i:7999;s:42:\"pinterest_c019bbf1edb05e4d646f18d1ccb5ecdc\";i:8000;s:41:\"linkedin_c019bbf1edb05e4d646f18d1ccb5ecdc\";i:8001;s:35:\"fb_4bb635a3291bb787a3b525a0a24097f9\";i:8002;s:40:\"twitter_4bb635a3291bb787a3b525a0a24097f9\";i:8003;s:42:\"pinterest_4bb635a3291bb787a3b525a0a24097f9\";i:8004;s:41:\"linkedin_4bb635a3291bb787a3b525a0a24097f9\";i:8005;s:35:\"fb_d8fa54193c80ef5d95acc3d28e21d659\";i:8006;s:40:\"twitter_d8fa54193c80ef5d95acc3d28e21d659\";i:8007;s:42:\"pinterest_d8fa54193c80ef5d95acc3d28e21d659\";i:8008;s:41:\"linkedin_d8fa54193c80ef5d95acc3d28e21d659\";i:8009;s:35:\"fb_e52f7f713ec741b515202f876a335f15\";i:8010;s:40:\"twitter_e52f7f713ec741b515202f876a335f15\";i:8011;s:42:\"pinterest_e52f7f713ec741b515202f876a335f15\";i:8012;s:41:\"linkedin_e52f7f713ec741b515202f876a335f15\";i:8013;s:35:\"fb_3a2c666ea51ccd4563f743b64b57247e\";i:8014;s:40:\"twitter_3a2c666ea51ccd4563f743b64b57247e\";i:8015;s:42:\"pinterest_3a2c666ea51ccd4563f743b64b57247e\";i:8016;s:41:\"linkedin_3a2c666ea51ccd4563f743b64b57247e\";i:8017;s:35:\"fb_b686f9a57a5a2df4a3983530e47225c1\";i:8018;s:40:\"twitter_b686f9a57a5a2df4a3983530e47225c1\";i:8019;s:42:\"pinterest_b686f9a57a5a2df4a3983530e47225c1\";i:8020;s:41:\"linkedin_b686f9a57a5a2df4a3983530e47225c1\";i:8021;s:35:\"fb_ec188a1c4105a8843185037c76961e13\";i:8022;s:40:\"twitter_ec188a1c4105a8843185037c76961e13\";i:8023;s:42:\"pinterest_ec188a1c4105a8843185037c76961e13\";i:8024;s:41:\"linkedin_ec188a1c4105a8843185037c76961e13\";i:8025;s:35:\"fb_02372a7d5ff6360353e12ed9a65f1a9e\";i:8026;s:40:\"twitter_02372a7d5ff6360353e12ed9a65f1a9e\";i:8027;s:42:\"pinterest_02372a7d5ff6360353e12ed9a65f1a9e\";i:8028;s:41:\"linkedin_02372a7d5ff6360353e12ed9a65f1a9e\";i:8029;s:35:\"fb_5a075eb355e607614d62b8a5f426f416\";i:8030;s:40:\"twitter_5a075eb355e607614d62b8a5f426f416\";i:8031;s:42:\"pinterest_5a075eb355e607614d62b8a5f426f416\";i:8032;s:41:\"linkedin_5a075eb355e607614d62b8a5f426f416\";i:8033;s:35:\"fb_8052bae102b73677cb0574a3949b182d\";i:8034;s:40:\"twitter_8052bae102b73677cb0574a3949b182d\";i:8035;s:42:\"pinterest_8052bae102b73677cb0574a3949b182d\";i:8036;s:41:\"linkedin_8052bae102b73677cb0574a3949b182d\";i:8037;s:35:\"fb_88dc46e874e1aead459f1e2c9cb98890\";i:8038;s:40:\"twitter_88dc46e874e1aead459f1e2c9cb98890\";i:8039;s:42:\"pinterest_88dc46e874e1aead459f1e2c9cb98890\";i:8040;s:41:\"linkedin_88dc46e874e1aead459f1e2c9cb98890\";i:8041;s:35:\"fb_379d8354031a93733eb8baa2bc0598cf\";i:8042;s:40:\"twitter_379d8354031a93733eb8baa2bc0598cf\";i:8043;s:42:\"pinterest_379d8354031a93733eb8baa2bc0598cf\";i:8044;s:41:\"linkedin_379d8354031a93733eb8baa2bc0598cf\";i:8045;s:35:\"fb_b58959f1abda65081299f6dbbcc2b319\";i:8046;s:40:\"twitter_b58959f1abda65081299f6dbbcc2b319\";i:8047;s:42:\"pinterest_b58959f1abda65081299f6dbbcc2b319\";i:8048;s:41:\"linkedin_b58959f1abda65081299f6dbbcc2b319\";i:8049;s:35:\"fb_6d811c7440e927c3a1bdf77dc68dd050\";i:8050;s:40:\"twitter_6d811c7440e927c3a1bdf77dc68dd050\";i:8051;s:42:\"pinterest_6d811c7440e927c3a1bdf77dc68dd050\";i:8052;s:41:\"linkedin_6d811c7440e927c3a1bdf77dc68dd050\";i:8053;s:35:\"fb_f2944cf5919ee06700b5e3854c8e13dd\";i:8054;s:40:\"twitter_f2944cf5919ee06700b5e3854c8e13dd\";i:8055;s:42:\"pinterest_f2944cf5919ee06700b5e3854c8e13dd\";i:8056;s:41:\"linkedin_f2944cf5919ee06700b5e3854c8e13dd\";i:8057;s:35:\"fb_fd462862f5b9263a92933defda5ee84e\";i:8058;s:40:\"twitter_fd462862f5b9263a92933defda5ee84e\";i:8059;s:42:\"pinterest_fd462862f5b9263a92933defda5ee84e\";i:8060;s:41:\"linkedin_fd462862f5b9263a92933defda5ee84e\";i:8061;s:35:\"fb_69a5d4fda273934313e07bbbbc020b07\";i:8062;s:40:\"twitter_69a5d4fda273934313e07bbbbc020b07\";i:8063;s:42:\"pinterest_69a5d4fda273934313e07bbbbc020b07\";i:8064;s:41:\"linkedin_69a5d4fda273934313e07bbbbc020b07\";i:8065;s:35:\"fb_5f43d24dda9fe8a25395f2103b2cae46\";i:8066;s:40:\"twitter_5f43d24dda9fe8a25395f2103b2cae46\";i:8067;s:42:\"pinterest_5f43d24dda9fe8a25395f2103b2cae46\";i:8068;s:41:\"linkedin_5f43d24dda9fe8a25395f2103b2cae46\";i:8069;s:35:\"fb_0b6d29760017171acaf48ef4a98d1aa3\";i:8070;s:40:\"twitter_0b6d29760017171acaf48ef4a98d1aa3\";i:8071;s:42:\"pinterest_0b6d29760017171acaf48ef4a98d1aa3\";i:8072;s:41:\"linkedin_0b6d29760017171acaf48ef4a98d1aa3\";i:8073;s:35:\"fb_4d5dd606b980aa111df45d1ee0418ed6\";i:8074;s:40:\"twitter_4d5dd606b980aa111df45d1ee0418ed6\";i:8075;s:42:\"pinterest_4d5dd606b980aa111df45d1ee0418ed6\";i:8076;s:41:\"linkedin_4d5dd606b980aa111df45d1ee0418ed6\";i:8077;s:35:\"fb_dcbfddb64f792fe28599c07b05bdd2a5\";i:8078;s:40:\"twitter_dcbfddb64f792fe28599c07b05bdd2a5\";i:8079;s:42:\"pinterest_dcbfddb64f792fe28599c07b05bdd2a5\";i:8080;s:41:\"linkedin_dcbfddb64f792fe28599c07b05bdd2a5\";i:8081;s:35:\"fb_b8c554e6a39f193cf43546d70f1c4528\";i:8082;s:40:\"twitter_b8c554e6a39f193cf43546d70f1c4528\";i:8083;s:42:\"pinterest_b8c554e6a39f193cf43546d70f1c4528\";i:8084;s:41:\"linkedin_b8c554e6a39f193cf43546d70f1c4528\";i:8085;s:35:\"fb_e9fcc73c23fbac862adf73acb7cf6ba0\";i:8086;s:40:\"twitter_e9fcc73c23fbac862adf73acb7cf6ba0\";i:8087;s:42:\"pinterest_e9fcc73c23fbac862adf73acb7cf6ba0\";i:8088;s:41:\"linkedin_e9fcc73c23fbac862adf73acb7cf6ba0\";i:8089;s:35:\"fb_822cb98cbb420f4a8a3a7435c47d9bf1\";i:8090;s:35:\"fb_4124255b690905aa43a513fbbaac7e5c\";i:8091;s:40:\"twitter_4124255b690905aa43a513fbbaac7e5c\";i:8092;s:42:\"pinterest_4124255b690905aa43a513fbbaac7e5c\";i:8093;s:35:\"fb_48242677557a16d04cd92abe974429f6\";i:8094;s:40:\"twitter_48242677557a16d04cd92abe974429f6\";i:8095;s:42:\"pinterest_48242677557a16d04cd92abe974429f6\";i:8096;s:41:\"linkedin_48242677557a16d04cd92abe974429f6\";i:8097;s:35:\"fb_6ff710ae4cc7b21964a4b2cbb61f5bcc\";i:8098;s:40:\"twitter_6ff710ae4cc7b21964a4b2cbb61f5bcc\";i:8099;s:42:\"pinterest_6ff710ae4cc7b21964a4b2cbb61f5bcc\";i:8100;s:35:\"fb_c9a514b28a0879473000f2fe7b15ac83\";i:8101;s:40:\"twitter_c9a514b28a0879473000f2fe7b15ac83\";i:8102;s:42:\"pinterest_c9a514b28a0879473000f2fe7b15ac83\";i:8103;s:41:\"linkedin_c9a514b28a0879473000f2fe7b15ac83\";i:8104;s:35:\"fb_b0b3edad8529061b80375ad503b80bb0\";i:8105;s:40:\"twitter_b0b3edad8529061b80375ad503b80bb0\";i:8106;s:42:\"pinterest_b0b3edad8529061b80375ad503b80bb0\";i:8107;s:41:\"linkedin_b0b3edad8529061b80375ad503b80bb0\";i:8108;s:35:\"fb_501e7dc90cc911e5b7abd08a338090bf\";i:8109;s:40:\"twitter_501e7dc90cc911e5b7abd08a338090bf\";i:8110;s:42:\"pinterest_501e7dc90cc911e5b7abd08a338090bf\";i:8111;s:41:\"linkedin_501e7dc90cc911e5b7abd08a338090bf\";i:8112;s:35:\"fb_58ae369a031fb2f6de87be67e0899f33\";i:8113;s:40:\"twitter_58ae369a031fb2f6de87be67e0899f33\";i:8114;s:42:\"pinterest_58ae369a031fb2f6de87be67e0899f33\";i:8115;s:41:\"linkedin_58ae369a031fb2f6de87be67e0899f33\";i:8116;s:35:\"fb_2184d7f02f21bc54393924621024377c\";i:8117;s:40:\"twitter_2184d7f02f21bc54393924621024377c\";i:8118;s:42:\"pinterest_2184d7f02f21bc54393924621024377c\";i:8119;s:41:\"linkedin_2184d7f02f21bc54393924621024377c\";i:8120;s:35:\"fb_f1de5e4288950b7663573990fd9c5297\";i:8121;s:40:\"twitter_f1de5e4288950b7663573990fd9c5297\";i:8122;s:42:\"pinterest_f1de5e4288950b7663573990fd9c5297\";i:8123;s:35:\"fb_6fedc98da1e429fa232314ae8502d18a\";i:8124;s:40:\"twitter_6fedc98da1e429fa232314ae8502d18a\";i:8125;s:42:\"pinterest_6fedc98da1e429fa232314ae8502d18a\";i:8126;s:41:\"linkedin_6fedc98da1e429fa232314ae8502d18a\";i:8127;s:35:\"fb_e0533bab4ec78b19becfeeefb84a1815\";i:8128;s:40:\"twitter_e0533bab4ec78b19becfeeefb84a1815\";i:8129;s:42:\"pinterest_e0533bab4ec78b19becfeeefb84a1815\";i:8130;s:41:\"linkedin_e0533bab4ec78b19becfeeefb84a1815\";i:8131;s:35:\"fb_453a47ba7ecc0b0a0de8f1f5d17e9fad\";i:8132;s:40:\"twitter_453a47ba7ecc0b0a0de8f1f5d17e9fad\";i:8133;s:42:\"pinterest_453a47ba7ecc0b0a0de8f1f5d17e9fad\";i:8134;s:41:\"linkedin_453a47ba7ecc0b0a0de8f1f5d17e9fad\";i:8135;s:35:\"fb_5d81459ff360e7fa8381816ec1393711\";i:8136;s:40:\"twitter_5d81459ff360e7fa8381816ec1393711\";i:8137;s:42:\"pinterest_5d81459ff360e7fa8381816ec1393711\";i:8138;s:41:\"linkedin_5d81459ff360e7fa8381816ec1393711\";i:8139;s:35:\"fb_70db9b1dd0a650d8d9ab3bae2388c6c2\";i:8140;s:40:\"twitter_70db9b1dd0a650d8d9ab3bae2388c6c2\";i:8141;s:42:\"pinterest_70db9b1dd0a650d8d9ab3bae2388c6c2\";i:8142;s:41:\"linkedin_70db9b1dd0a650d8d9ab3bae2388c6c2\";i:8143;s:35:\"fb_2c134740bb2d7db881d93834940b8e69\";i:8144;s:40:\"twitter_2c134740bb2d7db881d93834940b8e69\";i:8145;s:42:\"pinterest_2c134740bb2d7db881d93834940b8e69\";i:8146;s:41:\"linkedin_2c134740bb2d7db881d93834940b8e69\";i:8147;s:35:\"fb_2a846748974e4e3ee2b6a15fdf49389f\";i:8148;s:40:\"twitter_2a846748974e4e3ee2b6a15fdf49389f\";i:8149;s:42:\"pinterest_2a846748974e4e3ee2b6a15fdf49389f\";i:8150;s:41:\"linkedin_2a846748974e4e3ee2b6a15fdf49389f\";i:8151;s:35:\"fb_48e77ee73ddae082fa5e94ba284de8e5\";i:8152;s:40:\"twitter_48e77ee73ddae082fa5e94ba284de8e5\";i:8153;s:42:\"pinterest_48e77ee73ddae082fa5e94ba284de8e5\";i:8154;s:41:\"linkedin_48e77ee73ddae082fa5e94ba284de8e5\";i:8155;s:35:\"fb_3c65410dec01275ab881e73f5548d1a8\";i:8156;s:40:\"twitter_3c65410dec01275ab881e73f5548d1a8\";i:8157;s:42:\"pinterest_3c65410dec01275ab881e73f5548d1a8\";i:8158;s:41:\"linkedin_3c65410dec01275ab881e73f5548d1a8\";i:8159;s:35:\"fb_8d2adcde10298ee9106a4d95b580b858\";i:8160;s:40:\"twitter_8d2adcde10298ee9106a4d95b580b858\";i:8161;s:42:\"pinterest_8d2adcde10298ee9106a4d95b580b858\";i:8162;s:41:\"linkedin_8d2adcde10298ee9106a4d95b580b858\";i:8163;s:35:\"fb_771f14d96904ac60dd18a2f0aec0c1f6\";i:8164;s:40:\"twitter_771f14d96904ac60dd18a2f0aec0c1f6\";i:8165;s:42:\"pinterest_771f14d96904ac60dd18a2f0aec0c1f6\";i:8166;s:41:\"linkedin_771f14d96904ac60dd18a2f0aec0c1f6\";i:8167;s:35:\"fb_2e0a1acf67a2eb10435b698ed84d32e5\";i:8168;s:40:\"twitter_2e0a1acf67a2eb10435b698ed84d32e5\";i:8169;s:42:\"pinterest_2e0a1acf67a2eb10435b698ed84d32e5\";i:8170;s:41:\"linkedin_2e0a1acf67a2eb10435b698ed84d32e5\";i:8171;s:35:\"fb_5b620e8aa756bd0047cb30698217ae7c\";i:8172;s:40:\"twitter_5b620e8aa756bd0047cb30698217ae7c\";i:8173;s:42:\"pinterest_5b620e8aa756bd0047cb30698217ae7c\";i:8174;s:41:\"linkedin_5b620e8aa756bd0047cb30698217ae7c\";i:8175;s:35:\"fb_52ae759e0a0913115cc2a6087165d87f\";i:8176;s:40:\"twitter_52ae759e0a0913115cc2a6087165d87f\";i:8177;s:42:\"pinterest_52ae759e0a0913115cc2a6087165d87f\";i:8178;s:41:\"linkedin_52ae759e0a0913115cc2a6087165d87f\";i:8179;s:35:\"fb_4da0fc64e829bb146d36c8d1bcd7ebe8\";i:8180;s:40:\"twitter_4da0fc64e829bb146d36c8d1bcd7ebe8\";i:8181;s:42:\"pinterest_4da0fc64e829bb146d36c8d1bcd7ebe8\";i:8182;s:41:\"linkedin_4da0fc64e829bb146d36c8d1bcd7ebe8\";i:8183;s:35:\"fb_139cc312fc143d350b40a33725ee390d\";i:8184;s:40:\"twitter_139cc312fc143d350b40a33725ee390d\";i:8185;s:42:\"pinterest_139cc312fc143d350b40a33725ee390d\";i:8186;s:41:\"linkedin_139cc312fc143d350b40a33725ee390d\";i:8187;s:35:\"fb_f427b9960574066b956ceba1c99418b0\";i:8188;s:40:\"twitter_f427b9960574066b956ceba1c99418b0\";i:8189;s:42:\"pinterest_f427b9960574066b956ceba1c99418b0\";i:8190;s:41:\"linkedin_f427b9960574066b956ceba1c99418b0\";i:8191;s:35:\"fb_4f3cd73f51734a56cdfb440cc03f8788\";i:8192;s:40:\"twitter_4f3cd73f51734a56cdfb440cc03f8788\";i:8193;s:42:\"pinterest_4f3cd73f51734a56cdfb440cc03f8788\";i:8194;s:41:\"linkedin_4f3cd73f51734a56cdfb440cc03f8788\";i:8195;s:35:\"fb_c11a8cbf03548538819383c289153f7b\";i:8196;s:40:\"twitter_c11a8cbf03548538819383c289153f7b\";i:8197;s:42:\"pinterest_c11a8cbf03548538819383c289153f7b\";i:8198;s:41:\"linkedin_c11a8cbf03548538819383c289153f7b\";i:8199;s:35:\"fb_858b5cc3a20dac37a91d503f4790eb76\";i:8200;s:40:\"twitter_858b5cc3a20dac37a91d503f4790eb76\";i:8201;s:42:\"pinterest_858b5cc3a20dac37a91d503f4790eb76\";i:8202;s:41:\"linkedin_858b5cc3a20dac37a91d503f4790eb76\";i:8203;s:35:\"fb_153565a8996eb69932001b2041c83e3e\";i:8204;s:40:\"twitter_153565a8996eb69932001b2041c83e3e\";i:8205;s:42:\"pinterest_153565a8996eb69932001b2041c83e3e\";i:8206;s:41:\"linkedin_153565a8996eb69932001b2041c83e3e\";i:8207;s:35:\"fb_88cee8c68efb04e675a38b79c72eb97e\";i:8208;s:41:\"linkedin_88cee8c68efb04e675a38b79c72eb97e\";i:8209;s:35:\"fb_d9fc537de333e7f10aa98410e2792cea\";i:8210;s:40:\"twitter_d9fc537de333e7f10aa98410e2792cea\";i:8211;s:42:\"pinterest_d9fc537de333e7f10aa98410e2792cea\";i:8212;s:41:\"linkedin_d9fc537de333e7f10aa98410e2792cea\";i:8213;s:35:\"fb_6c034f1033262008243436f8e972c139\";i:8214;s:40:\"twitter_6c034f1033262008243436f8e972c139\";i:8215;s:42:\"pinterest_6c034f1033262008243436f8e972c139\";i:8216;s:41:\"linkedin_6c034f1033262008243436f8e972c139\";i:8217;s:35:\"fb_3c712901efcd4e298f14f108873fc2e2\";i:8218;s:40:\"twitter_3c712901efcd4e298f14f108873fc2e2\";i:8219;s:42:\"pinterest_3c712901efcd4e298f14f108873fc2e2\";i:8220;s:41:\"linkedin_3c712901efcd4e298f14f108873fc2e2\";i:8221;s:35:\"fb_ac88d153bf6410a293f4c014608a6db5\";i:8222;s:40:\"twitter_ac88d153bf6410a293f4c014608a6db5\";i:8223;s:42:\"pinterest_ac88d153bf6410a293f4c014608a6db5\";i:8224;s:41:\"linkedin_ac88d153bf6410a293f4c014608a6db5\";i:8225;s:35:\"fb_2623863289ceeef5393d112fbf64f806\";i:8226;s:40:\"twitter_2623863289ceeef5393d112fbf64f806\";i:8227;s:42:\"pinterest_2623863289ceeef5393d112fbf64f806\";i:8228;s:41:\"linkedin_2623863289ceeef5393d112fbf64f806\";i:8229;s:35:\"fb_1aa0323045d2fc13e84582d4421880df\";i:8230;s:40:\"twitter_1aa0323045d2fc13e84582d4421880df\";i:8231;s:42:\"pinterest_1aa0323045d2fc13e84582d4421880df\";i:8232;s:41:\"linkedin_1aa0323045d2fc13e84582d4421880df\";i:8233;s:35:\"fb_4dcdf2f9e11065c716e9eefdec169750\";i:8234;s:40:\"twitter_4dcdf2f9e11065c716e9eefdec169750\";i:8235;s:42:\"pinterest_4dcdf2f9e11065c716e9eefdec169750\";i:8236;s:41:\"linkedin_4dcdf2f9e11065c716e9eefdec169750\";i:8237;s:35:\"fb_9eba37182c36dc0e3966e4271fc8defb\";i:8238;s:40:\"twitter_9eba37182c36dc0e3966e4271fc8defb\";i:8239;s:42:\"pinterest_9eba37182c36dc0e3966e4271fc8defb\";i:8240;s:41:\"linkedin_9eba37182c36dc0e3966e4271fc8defb\";i:8241;s:35:\"fb_7eb2ae3717963d68af3628f10a800d76\";i:8242;s:40:\"twitter_7eb2ae3717963d68af3628f10a800d76\";i:8243;s:42:\"pinterest_7eb2ae3717963d68af3628f10a800d76\";i:8244;s:41:\"linkedin_7eb2ae3717963d68af3628f10a800d76\";i:8245;s:35:\"fb_2113d76ed0b8d2d6fcc7a55a5a55aa55\";i:8246;s:40:\"twitter_2113d76ed0b8d2d6fcc7a55a5a55aa55\";i:8247;s:42:\"pinterest_2113d76ed0b8d2d6fcc7a55a5a55aa55\";i:8248;s:41:\"linkedin_2113d76ed0b8d2d6fcc7a55a5a55aa55\";i:8249;s:35:\"fb_4886f8b98ad3a68d85b3975763d6ce3d\";i:8250;s:40:\"twitter_4886f8b98ad3a68d85b3975763d6ce3d\";i:8251;s:42:\"pinterest_4886f8b98ad3a68d85b3975763d6ce3d\";i:8252;s:41:\"linkedin_4886f8b98ad3a68d85b3975763d6ce3d\";i:8253;s:35:\"fb_7ea4c2c06d49f9207e6ab2359bed8bd6\";i:8254;s:40:\"twitter_7ea4c2c06d49f9207e6ab2359bed8bd6\";i:8255;s:42:\"pinterest_7ea4c2c06d49f9207e6ab2359bed8bd6\";i:8256;s:41:\"linkedin_7ea4c2c06d49f9207e6ab2359bed8bd6\";i:8257;s:35:\"fb_21e9cfef9e591111d64d542cd5591f42\";i:8258;s:40:\"twitter_21e9cfef9e591111d64d542cd5591f42\";i:8259;s:42:\"pinterest_21e9cfef9e591111d64d542cd5591f42\";i:8260;s:41:\"linkedin_21e9cfef9e591111d64d542cd5591f42\";i:8261;s:35:\"fb_a2a1f69b5f8881724ba7f0262b2370b1\";i:8262;s:40:\"twitter_a2a1f69b5f8881724ba7f0262b2370b1\";i:8263;s:42:\"pinterest_a2a1f69b5f8881724ba7f0262b2370b1\";i:8264;s:41:\"linkedin_a2a1f69b5f8881724ba7f0262b2370b1\";i:8265;s:35:\"fb_6eef1f07a1a30a3eef0bc4283204f280\";i:8266;s:40:\"twitter_6eef1f07a1a30a3eef0bc4283204f280\";i:8267;s:42:\"pinterest_6eef1f07a1a30a3eef0bc4283204f280\";i:8268;s:41:\"linkedin_6eef1f07a1a30a3eef0bc4283204f280\";i:8269;s:35:\"fb_cc02a9988c55b098772f867731009cdd\";i:8270;s:40:\"twitter_cc02a9988c55b098772f867731009cdd\";i:8271;s:42:\"pinterest_cc02a9988c55b098772f867731009cdd\";i:8272;s:41:\"linkedin_cc02a9988c55b098772f867731009cdd\";i:8273;s:35:\"fb_42b90308163046500d092d60d0a8faa0\";i:8274;s:40:\"twitter_42b90308163046500d092d60d0a8faa0\";i:8275;s:42:\"pinterest_42b90308163046500d092d60d0a8faa0\";i:8276;s:41:\"linkedin_42b90308163046500d092d60d0a8faa0\";i:8277;s:35:\"fb_cbe397df93cdba18cee752d3b28b6af9\";i:8278;s:40:\"twitter_cbe397df93cdba18cee752d3b28b6af9\";i:8279;s:42:\"pinterest_cbe397df93cdba18cee752d3b28b6af9\";i:8280;s:41:\"linkedin_cbe397df93cdba18cee752d3b28b6af9\";i:8281;s:35:\"fb_d2f2b98e32282a5a02be5089c1c15702\";i:8282;s:40:\"twitter_d2f2b98e32282a5a02be5089c1c15702\";i:8283;s:42:\"pinterest_d2f2b98e32282a5a02be5089c1c15702\";i:8284;s:41:\"linkedin_d2f2b98e32282a5a02be5089c1c15702\";i:8285;s:35:\"fb_0150610e2704cfd3210c2d9718bd3e11\";i:8286;s:40:\"twitter_0150610e2704cfd3210c2d9718bd3e11\";i:8287;s:42:\"pinterest_0150610e2704cfd3210c2d9718bd3e11\";i:8288;s:41:\"linkedin_0150610e2704cfd3210c2d9718bd3e11\";i:8289;s:35:\"fb_6e84fb9b532166c9d72fb2da9a1c5a1c\";i:8290;s:40:\"twitter_6e84fb9b532166c9d72fb2da9a1c5a1c\";i:8291;s:42:\"pinterest_6e84fb9b532166c9d72fb2da9a1c5a1c\";i:8292;s:41:\"linkedin_6e84fb9b532166c9d72fb2da9a1c5a1c\";i:8293;s:35:\"fb_2e2b097778c226ed74d1d15621ba6a9d\";i:8294;s:40:\"twitter_2e2b097778c226ed74d1d15621ba6a9d\";i:8295;s:42:\"pinterest_2e2b097778c226ed74d1d15621ba6a9d\";i:8296;s:41:\"linkedin_2e2b097778c226ed74d1d15621ba6a9d\";i:8297;s:35:\"fb_b073f5888503782f9e90e3c7c7d133ed\";i:8298;s:40:\"twitter_b073f5888503782f9e90e3c7c7d133ed\";i:8299;s:42:\"pinterest_b073f5888503782f9e90e3c7c7d133ed\";i:8300;s:41:\"linkedin_b073f5888503782f9e90e3c7c7d133ed\";i:8301;s:35:\"fb_9dee099ee2624d1feaa85e1be5bdebaa\";i:8302;s:35:\"fb_45a547a0897bf26c5c2378e3cc1f8fd2\";i:8303;s:40:\"twitter_45a547a0897bf26c5c2378e3cc1f8fd2\";i:8304;s:42:\"pinterest_45a547a0897bf26c5c2378e3cc1f8fd2\";i:8305;s:41:\"linkedin_45a547a0897bf26c5c2378e3cc1f8fd2\";i:8306;s:35:\"fb_0c4342135c173e27f97ba95deb6afab7\";i:8307;s:40:\"twitter_0c4342135c173e27f97ba95deb6afab7\";i:8308;s:42:\"pinterest_0c4342135c173e27f97ba95deb6afab7\";i:8309;s:41:\"linkedin_0c4342135c173e27f97ba95deb6afab7\";i:8310;s:35:\"fb_b0a41fb97f2fc74cf9b4954de6b429a1\";i:8311;s:41:\"linkedin_b0a41fb97f2fc74cf9b4954de6b429a1\";i:8312;s:35:\"fb_e70d96d11c78f0cbb554457c1a019d5d\";i:8313;s:40:\"twitter_e70d96d11c78f0cbb554457c1a019d5d\";i:8314;s:42:\"pinterest_e70d96d11c78f0cbb554457c1a019d5d\";i:8315;s:41:\"linkedin_e70d96d11c78f0cbb554457c1a019d5d\";i:8316;s:35:\"fb_ff02f3f9bb6bff35d82dcf579c1d0a6e\";i:8317;s:40:\"twitter_ff02f3f9bb6bff35d82dcf579c1d0a6e\";i:8318;s:35:\"fb_72d58fe4245f76cacf2ae3a18ab7e2a8\";i:8319;s:40:\"twitter_72d58fe4245f76cacf2ae3a18ab7e2a8\";i:8320;s:42:\"pinterest_72d58fe4245f76cacf2ae3a18ab7e2a8\";i:8321;s:41:\"linkedin_72d58fe4245f76cacf2ae3a18ab7e2a8\";i:8322;s:35:\"fb_cd95890be3fc5c735f1f92e348389728\";i:8323;s:40:\"twitter_cd95890be3fc5c735f1f92e348389728\";i:8324;s:42:\"pinterest_cd95890be3fc5c735f1f92e348389728\";i:8325;s:41:\"linkedin_cd95890be3fc5c735f1f92e348389728\";i:8326;s:35:\"fb_d7bc5a82d5dbd937313c79e341bab28c\";i:8327;s:40:\"twitter_d7bc5a82d5dbd937313c79e341bab28c\";i:8328;s:42:\"pinterest_d7bc5a82d5dbd937313c79e341bab28c\";i:8329;s:41:\"linkedin_d7bc5a82d5dbd937313c79e341bab28c\";i:8330;s:35:\"fb_150a697065fb1cca9b062fcf8901a82e\";i:8331;s:40:\"twitter_150a697065fb1cca9b062fcf8901a82e\";i:8332;s:42:\"pinterest_150a697065fb1cca9b062fcf8901a82e\";i:8333;s:41:\"linkedin_150a697065fb1cca9b062fcf8901a82e\";i:8334;s:35:\"fb_759f8e4b184a679c88830b05d481ddbc\";i:8335;s:40:\"twitter_759f8e4b184a679c88830b05d481ddbc\";i:8336;s:42:\"pinterest_759f8e4b184a679c88830b05d481ddbc\";i:8337;s:41:\"linkedin_759f8e4b184a679c88830b05d481ddbc\";i:8338;s:35:\"fb_3f311dbed75ea11a5ca40d1191861967\";i:8339;s:40:\"twitter_3f311dbed75ea11a5ca40d1191861967\";i:8340;s:42:\"pinterest_3f311dbed75ea11a5ca40d1191861967\";i:8341;s:41:\"linkedin_3f311dbed75ea11a5ca40d1191861967\";i:8342;s:35:\"fb_d55df79d6c140349b4d10c67c26b4436\";i:8343;s:40:\"twitter_d55df79d6c140349b4d10c67c26b4436\";i:8344;s:42:\"pinterest_d55df79d6c140349b4d10c67c26b4436\";i:8345;s:41:\"linkedin_d55df79d6c140349b4d10c67c26b4436\";i:8346;s:35:\"fb_506f663f22288be8c8ee5b59cbe93150\";i:8347;s:40:\"twitter_506f663f22288be8c8ee5b59cbe93150\";i:8348;s:42:\"pinterest_506f663f22288be8c8ee5b59cbe93150\";i:8349;s:41:\"linkedin_506f663f22288be8c8ee5b59cbe93150\";i:8350;s:35:\"fb_cbe84e95f4400c6caa7246cbe8092283\";i:8351;s:40:\"twitter_cbe84e95f4400c6caa7246cbe8092283\";i:8352;s:42:\"pinterest_cbe84e95f4400c6caa7246cbe8092283\";i:8353;s:41:\"linkedin_cbe84e95f4400c6caa7246cbe8092283\";i:8354;s:35:\"fb_9458aeaa82b342da9be64f01b2952fe6\";i:8355;s:40:\"twitter_9458aeaa82b342da9be64f01b2952fe6\";i:8356;s:42:\"pinterest_9458aeaa82b342da9be64f01b2952fe6\";i:8357;s:41:\"linkedin_9458aeaa82b342da9be64f01b2952fe6\";i:8358;s:35:\"fb_ed7c3ae25391c67698a2ffeb49fc34dd\";i:8359;s:40:\"twitter_ed7c3ae25391c67698a2ffeb49fc34dd\";i:8360;s:42:\"pinterest_ed7c3ae25391c67698a2ffeb49fc34dd\";i:8361;s:41:\"linkedin_ed7c3ae25391c67698a2ffeb49fc34dd\";i:8362;s:35:\"fb_4971266e28d4d8fd29a2abddb90b1f6f\";i:8363;s:40:\"twitter_4971266e28d4d8fd29a2abddb90b1f6f\";i:8364;s:42:\"pinterest_4971266e28d4d8fd29a2abddb90b1f6f\";i:8365;s:41:\"linkedin_4971266e28d4d8fd29a2abddb90b1f6f\";i:8366;s:35:\"fb_23db22e2a091c7ede73ed81e5f79ba2f\";i:8367;s:40:\"twitter_23db22e2a091c7ede73ed81e5f79ba2f\";i:8368;s:42:\"pinterest_23db22e2a091c7ede73ed81e5f79ba2f\";i:8369;s:41:\"linkedin_23db22e2a091c7ede73ed81e5f79ba2f\";i:8370;s:35:\"fb_19d1788d66dc09f7d89e3aaf1e1ffb7b\";i:8371;s:40:\"twitter_19d1788d66dc09f7d89e3aaf1e1ffb7b\";i:8372;s:42:\"pinterest_19d1788d66dc09f7d89e3aaf1e1ffb7b\";i:8373;s:41:\"linkedin_19d1788d66dc09f7d89e3aaf1e1ffb7b\";i:8374;s:35:\"fb_5e62be9af9459e94c48d0f3f3d1be775\";i:8375;s:40:\"twitter_5e62be9af9459e94c48d0f3f3d1be775\";i:8376;s:42:\"pinterest_5e62be9af9459e94c48d0f3f3d1be775\";i:8377;s:41:\"linkedin_5e62be9af9459e94c48d0f3f3d1be775\";i:8378;s:35:\"fb_7bf443d9536a783b139f9aa6a0dcfb5c\";i:8379;s:40:\"twitter_7bf443d9536a783b139f9aa6a0dcfb5c\";i:8380;s:42:\"pinterest_7bf443d9536a783b139f9aa6a0dcfb5c\";i:8381;s:41:\"linkedin_7bf443d9536a783b139f9aa6a0dcfb5c\";i:8382;s:35:\"fb_1438be2ee3331242cc83c8f944d75356\";i:8383;s:40:\"twitter_1438be2ee3331242cc83c8f944d75356\";i:8384;s:42:\"pinterest_1438be2ee3331242cc83c8f944d75356\";i:8385;s:41:\"linkedin_1438be2ee3331242cc83c8f944d75356\";i:8386;s:35:\"fb_899481eda36fe182d31e731771b0437a\";i:8387;s:40:\"twitter_899481eda36fe182d31e731771b0437a\";i:8388;s:42:\"pinterest_899481eda36fe182d31e731771b0437a\";i:8389;s:41:\"linkedin_899481eda36fe182d31e731771b0437a\";i:8390;s:35:\"fb_08632f0592b2c390d5cbdc7edc4bcdaa\";i:8391;s:40:\"twitter_08632f0592b2c390d5cbdc7edc4bcdaa\";i:8392;s:42:\"pinterest_08632f0592b2c390d5cbdc7edc4bcdaa\";i:8393;s:35:\"fb_0e3050da6df99b4f7605863150fdbada\";i:8394;s:40:\"twitter_0e3050da6df99b4f7605863150fdbada\";i:8395;s:42:\"pinterest_0e3050da6df99b4f7605863150fdbada\";i:8396;s:41:\"linkedin_0e3050da6df99b4f7605863150fdbada\";i:8397;s:35:\"fb_2c4e597092a07101eae6e5599c36a830\";i:8398;s:40:\"twitter_2c4e597092a07101eae6e5599c36a830\";i:8399;s:42:\"pinterest_2c4e597092a07101eae6e5599c36a830\";i:8400;s:41:\"linkedin_2c4e597092a07101eae6e5599c36a830\";i:8401;s:35:\"fb_84f56a87d35abf2d3f7851e137b5a8fc\";i:8402;s:40:\"twitter_84f56a87d35abf2d3f7851e137b5a8fc\";i:8403;s:42:\"pinterest_84f56a87d35abf2d3f7851e137b5a8fc\";i:8404;s:41:\"linkedin_84f56a87d35abf2d3f7851e137b5a8fc\";i:8405;s:35:\"fb_b2e7c425be6d629ab478b86e3fa4ea25\";i:8406;s:40:\"twitter_b2e7c425be6d629ab478b86e3fa4ea25\";i:8407;s:42:\"pinterest_b2e7c425be6d629ab478b86e3fa4ea25\";i:8408;s:41:\"linkedin_b2e7c425be6d629ab478b86e3fa4ea25\";i:8409;s:35:\"fb_346be8ce4565bee5aa6e875ce8cd4584\";i:8410;s:40:\"twitter_346be8ce4565bee5aa6e875ce8cd4584\";i:8411;s:42:\"pinterest_346be8ce4565bee5aa6e875ce8cd4584\";i:8412;s:41:\"linkedin_346be8ce4565bee5aa6e875ce8cd4584\";i:8413;s:35:\"fb_77396e7c729b8f560f89ba32d8efabe3\";i:8414;s:40:\"twitter_77396e7c729b8f560f89ba32d8efabe3\";i:8415;s:42:\"pinterest_77396e7c729b8f560f89ba32d8efabe3\";i:8416;s:41:\"linkedin_77396e7c729b8f560f89ba32d8efabe3\";i:8417;s:35:\"fb_8c922ae3ab149503b6937df2a1e7d7d7\";i:8418;s:40:\"twitter_8c922ae3ab149503b6937df2a1e7d7d7\";i:8419;s:42:\"pinterest_8c922ae3ab149503b6937df2a1e7d7d7\";i:8420;s:41:\"linkedin_8c922ae3ab149503b6937df2a1e7d7d7\";i:8421;s:35:\"fb_29ed3a5fbd9f305e248e56cda1325e69\";i:8422;s:40:\"twitter_29ed3a5fbd9f305e248e56cda1325e69\";i:8423;s:42:\"pinterest_29ed3a5fbd9f305e248e56cda1325e69\";i:8424;s:41:\"linkedin_29ed3a5fbd9f305e248e56cda1325e69\";i:8425;s:35:\"fb_947329eb4ecd0cf59bcf29f0405e6668\";i:8426;s:40:\"twitter_947329eb4ecd0cf59bcf29f0405e6668\";i:8427;s:42:\"pinterest_947329eb4ecd0cf59bcf29f0405e6668\";i:8428;s:41:\"linkedin_947329eb4ecd0cf59bcf29f0405e6668\";i:8429;s:35:\"fb_40e81855d299b93a16f6b51ae7a2e270\";i:8430;s:40:\"twitter_40e81855d299b93a16f6b51ae7a2e270\";i:8431;s:42:\"pinterest_40e81855d299b93a16f6b51ae7a2e270\";i:8432;s:41:\"linkedin_40e81855d299b93a16f6b51ae7a2e270\";i:8433;s:35:\"fb_4b9433c4dd25ade9a02186a2bbc7b401\";i:8434;s:40:\"twitter_4b9433c4dd25ade9a02186a2bbc7b401\";i:8435;s:42:\"pinterest_4b9433c4dd25ade9a02186a2bbc7b401\";i:8436;s:41:\"linkedin_4b9433c4dd25ade9a02186a2bbc7b401\";i:8437;s:35:\"fb_2b37378570c71ae64925a6591c953501\";i:8438;s:40:\"twitter_2b37378570c71ae64925a6591c953501\";i:8439;s:42:\"pinterest_2b37378570c71ae64925a6591c953501\";i:8440;s:41:\"linkedin_2b37378570c71ae64925a6591c953501\";i:8441;s:35:\"fb_4808a154ea38e4e30978b6bc496b3e1a\";i:8442;s:40:\"twitter_4808a154ea38e4e30978b6bc496b3e1a\";i:8443;s:42:\"pinterest_4808a154ea38e4e30978b6bc496b3e1a\";i:8444;s:41:\"linkedin_4808a154ea38e4e30978b6bc496b3e1a\";i:8445;s:35:\"fb_8b1b0744fcdefab54e1213865acc9124\";i:8446;s:40:\"twitter_8b1b0744fcdefab54e1213865acc9124\";i:8447;s:42:\"pinterest_8b1b0744fcdefab54e1213865acc9124\";i:8448;s:41:\"linkedin_8b1b0744fcdefab54e1213865acc9124\";i:8449;s:35:\"fb_4c8fe5ee348a9dc18cd49f63227a79b8\";i:8450;s:40:\"twitter_4c8fe5ee348a9dc18cd49f63227a79b8\";i:8451;s:42:\"pinterest_4c8fe5ee348a9dc18cd49f63227a79b8\";i:8452;s:41:\"linkedin_4c8fe5ee348a9dc18cd49f63227a79b8\";i:8453;s:35:\"fb_9fa4dc124a2dfe4353bf9c23f57dc558\";i:8454;s:40:\"twitter_9fa4dc124a2dfe4353bf9c23f57dc558\";i:8455;s:42:\"pinterest_9fa4dc124a2dfe4353bf9c23f57dc558\";i:8456;s:41:\"linkedin_9fa4dc124a2dfe4353bf9c23f57dc558\";i:8457;s:35:\"fb_8613bf8b4d41da512af166c44ef69db0\";i:8458;s:40:\"twitter_8613bf8b4d41da512af166c44ef69db0\";i:8459;s:42:\"pinterest_8613bf8b4d41da512af166c44ef69db0\";i:8460;s:41:\"linkedin_8613bf8b4d41da512af166c44ef69db0\";i:8461;s:35:\"fb_f23f8f6487ae3687c4508fa9b0746ac2\";i:8462;s:40:\"twitter_f23f8f6487ae3687c4508fa9b0746ac2\";i:8463;s:42:\"pinterest_f23f8f6487ae3687c4508fa9b0746ac2\";i:8464;s:41:\"linkedin_f23f8f6487ae3687c4508fa9b0746ac2\";i:8465;s:35:\"fb_d7a24deb336cbb54c3ee768cd745bf88\";i:8466;s:40:\"twitter_d7a24deb336cbb54c3ee768cd745bf88\";i:8467;s:42:\"pinterest_d7a24deb336cbb54c3ee768cd745bf88\";i:8468;s:41:\"linkedin_d7a24deb336cbb54c3ee768cd745bf88\";i:8469;s:35:\"fb_2a4c1bf68152171708bd65207302f96f\";i:8470;s:40:\"twitter_2a4c1bf68152171708bd65207302f96f\";i:8471;s:42:\"pinterest_2a4c1bf68152171708bd65207302f96f\";i:8472;s:41:\"linkedin_2a4c1bf68152171708bd65207302f96f\";i:8473;s:35:\"fb_b7fb20953003f1a1246e2f798cbe4ecc\";i:8474;s:40:\"twitter_b7fb20953003f1a1246e2f798cbe4ecc\";i:8475;s:42:\"pinterest_b7fb20953003f1a1246e2f798cbe4ecc\";i:8476;s:41:\"linkedin_b7fb20953003f1a1246e2f798cbe4ecc\";i:8477;s:35:\"fb_a9eeed4fcdf1a58e7e4e37a2254ed776\";i:8478;s:40:\"twitter_a9eeed4fcdf1a58e7e4e37a2254ed776\";i:8479;s:42:\"pinterest_a9eeed4fcdf1a58e7e4e37a2254ed776\";i:8480;s:41:\"linkedin_a9eeed4fcdf1a58e7e4e37a2254ed776\";i:8481;s:35:\"fb_739f1b3df3d93d04b3ec4106891e889d\";i:8482;s:40:\"twitter_739f1b3df3d93d04b3ec4106891e889d\";i:8483;s:42:\"pinterest_739f1b3df3d93d04b3ec4106891e889d\";i:8484;s:41:\"linkedin_739f1b3df3d93d04b3ec4106891e889d\";i:8485;s:35:\"fb_dc19e2ed7a190b0d91a7e26f56e2c259\";i:8486;s:40:\"twitter_dc19e2ed7a190b0d91a7e26f56e2c259\";i:8487;s:42:\"pinterest_dc19e2ed7a190b0d91a7e26f56e2c259\";i:8488;s:41:\"linkedin_dc19e2ed7a190b0d91a7e26f56e2c259\";i:8489;s:35:\"fb_cc906b9f85e4bf4fa57a131e6dfafda4\";i:8490;s:40:\"twitter_cc906b9f85e4bf4fa57a131e6dfafda4\";i:8491;s:42:\"pinterest_cc906b9f85e4bf4fa57a131e6dfafda4\";i:8492;s:41:\"linkedin_cc906b9f85e4bf4fa57a131e6dfafda4\";i:8493;s:35:\"fb_e76af1436fcb71765645f3858ab3a327\";i:8494;s:40:\"twitter_e76af1436fcb71765645f3858ab3a327\";i:8495;s:42:\"pinterest_e76af1436fcb71765645f3858ab3a327\";i:8496;s:41:\"linkedin_e76af1436fcb71765645f3858ab3a327\";i:8497;s:35:\"fb_a25283d3c3c022f62a0f3a9ef3a8e498\";i:8498;s:40:\"twitter_a25283d3c3c022f62a0f3a9ef3a8e498\";i:8499;s:42:\"pinterest_a25283d3c3c022f62a0f3a9ef3a8e498\";i:8500;s:41:\"linkedin_a25283d3c3c022f62a0f3a9ef3a8e498\";i:8501;s:35:\"fb_0d47172ae66523ac7d0ff3f68da824c9\";i:8502;s:40:\"twitter_0d47172ae66523ac7d0ff3f68da824c9\";i:8503;s:42:\"pinterest_0d47172ae66523ac7d0ff3f68da824c9\";i:8504;s:41:\"linkedin_0d47172ae66523ac7d0ff3f68da824c9\";i:8505;s:35:\"fb_72ebd22d847754a8b88196b573c55f40\";i:8506;s:40:\"twitter_72ebd22d847754a8b88196b573c55f40\";i:8507;s:42:\"pinterest_72ebd22d847754a8b88196b573c55f40\";i:8508;s:41:\"linkedin_72ebd22d847754a8b88196b573c55f40\";i:8509;s:35:\"fb_bf4c7b821a7f75a79e3f2130725d6685\";i:8510;s:40:\"twitter_bf4c7b821a7f75a79e3f2130725d6685\";i:8511;s:42:\"pinterest_bf4c7b821a7f75a79e3f2130725d6685\";i:8512;s:35:\"fb_6811c565a3e51484a6e0cab614d55316\";i:8513;s:40:\"twitter_6811c565a3e51484a6e0cab614d55316\";i:8514;s:42:\"pinterest_6811c565a3e51484a6e0cab614d55316\";i:8515;s:41:\"linkedin_6811c565a3e51484a6e0cab614d55316\";i:8516;s:35:\"fb_a616546a7dab6d99e787a3fe1a4b04e1\";i:8517;s:40:\"twitter_a616546a7dab6d99e787a3fe1a4b04e1\";i:8518;s:42:\"pinterest_a616546a7dab6d99e787a3fe1a4b04e1\";i:8519;s:41:\"linkedin_a616546a7dab6d99e787a3fe1a4b04e1\";i:8520;s:35:\"fb_81da9d152b41991ba6ea26d6cb02c90b\";i:8521;s:40:\"twitter_81da9d152b41991ba6ea26d6cb02c90b\";i:8522;s:42:\"pinterest_81da9d152b41991ba6ea26d6cb02c90b\";i:8523;s:41:\"linkedin_81da9d152b41991ba6ea26d6cb02c90b\";i:8524;s:35:\"fb_67d18ce5ccbeae206e9072e5e5dee0b3\";i:8525;s:40:\"twitter_67d18ce5ccbeae206e9072e5e5dee0b3\";i:8526;s:42:\"pinterest_67d18ce5ccbeae206e9072e5e5dee0b3\";i:8527;s:41:\"linkedin_67d18ce5ccbeae206e9072e5e5dee0b3\";i:8528;s:35:\"fb_9a8c0c58d5645c0480c0d166a0be062d\";i:8529;s:40:\"twitter_9a8c0c58d5645c0480c0d166a0be062d\";i:8530;s:42:\"pinterest_9a8c0c58d5645c0480c0d166a0be062d\";i:8531;s:41:\"linkedin_9a8c0c58d5645c0480c0d166a0be062d\";i:8532;s:35:\"fb_546808d3025d94b613fc0bfd8ee5fcf4\";i:8533;s:40:\"twitter_546808d3025d94b613fc0bfd8ee5fcf4\";i:8534;s:42:\"pinterest_546808d3025d94b613fc0bfd8ee5fcf4\";i:8535;s:41:\"linkedin_546808d3025d94b613fc0bfd8ee5fcf4\";i:8536;s:35:\"fb_9fb60b9b4efe4d6a06d63c3a9b39bfb3\";i:8537;s:40:\"twitter_9fb60b9b4efe4d6a06d63c3a9b39bfb3\";i:8538;s:42:\"pinterest_9fb60b9b4efe4d6a06d63c3a9b39bfb3\";i:8539;s:41:\"linkedin_9fb60b9b4efe4d6a06d63c3a9b39bfb3\";i:8540;s:35:\"fb_221a0f8a073ef5c5644323a0f80f72e7\";i:8541;s:40:\"twitter_221a0f8a073ef5c5644323a0f80f72e7\";i:8542;s:42:\"pinterest_221a0f8a073ef5c5644323a0f80f72e7\";i:8543;s:41:\"linkedin_221a0f8a073ef5c5644323a0f80f72e7\";i:8544;s:35:\"fb_50240ab108d2bdc0ff63d3b1aad43d0a\";i:8545;s:40:\"twitter_50240ab108d2bdc0ff63d3b1aad43d0a\";i:8546;s:42:\"pinterest_50240ab108d2bdc0ff63d3b1aad43d0a\";i:8547;s:41:\"linkedin_50240ab108d2bdc0ff63d3b1aad43d0a\";i:8548;s:35:\"fb_8ae997d02488d0aa1fecebed07eb1811\";i:8549;s:40:\"twitter_8ae997d02488d0aa1fecebed07eb1811\";i:8550;s:42:\"pinterest_8ae997d02488d0aa1fecebed07eb1811\";i:8551;s:41:\"linkedin_8ae997d02488d0aa1fecebed07eb1811\";i:8552;s:35:\"fb_1e32629e67f8bd43a0efa16a94ece531\";i:8553;s:40:\"twitter_1e32629e67f8bd43a0efa16a94ece531\";i:8554;s:42:\"pinterest_1e32629e67f8bd43a0efa16a94ece531\";i:8555;s:41:\"linkedin_1e32629e67f8bd43a0efa16a94ece531\";i:8556;s:35:\"fb_c5700c0477b8a6d4ad64705615fd048d\";i:8557;s:40:\"twitter_c5700c0477b8a6d4ad64705615fd048d\";i:8558;s:42:\"pinterest_c5700c0477b8a6d4ad64705615fd048d\";i:8559;s:41:\"linkedin_c5700c0477b8a6d4ad64705615fd048d\";i:8560;s:35:\"fb_aebe0e0e9bcbc309108ac2fe25ed0601\";i:8561;s:40:\"twitter_aebe0e0e9bcbc309108ac2fe25ed0601\";i:8562;s:42:\"pinterest_aebe0e0e9bcbc309108ac2fe25ed0601\";i:8563;s:41:\"linkedin_aebe0e0e9bcbc309108ac2fe25ed0601\";i:8564;s:35:\"fb_87033d9f84c1d6424d63461cf36ce6ce\";i:8565;s:40:\"twitter_87033d9f84c1d6424d63461cf36ce6ce\";i:8566;s:42:\"pinterest_87033d9f84c1d6424d63461cf36ce6ce\";i:8567;s:41:\"linkedin_87033d9f84c1d6424d63461cf36ce6ce\";i:8568;s:35:\"fb_5aaf2bbcaff4d778ce3e75fbaa043ac0\";i:8569;s:40:\"twitter_5aaf2bbcaff4d778ce3e75fbaa043ac0\";i:8570;s:42:\"pinterest_5aaf2bbcaff4d778ce3e75fbaa043ac0\";i:8571;s:41:\"linkedin_5aaf2bbcaff4d778ce3e75fbaa043ac0\";i:8572;s:35:\"fb_31aecf26145e56f0fbaf8858ae9b75db\";i:8573;s:40:\"twitter_31aecf26145e56f0fbaf8858ae9b75db\";i:8574;s:42:\"pinterest_31aecf26145e56f0fbaf8858ae9b75db\";i:8575;s:41:\"linkedin_31aecf26145e56f0fbaf8858ae9b75db\";i:8576;s:35:\"fb_3f9fc69fe6b921a73b7cf1dcc4e73973\";i:8577;s:40:\"twitter_3f9fc69fe6b921a73b7cf1dcc4e73973\";i:8578;s:42:\"pinterest_3f9fc69fe6b921a73b7cf1dcc4e73973\";i:8579;s:41:\"linkedin_3f9fc69fe6b921a73b7cf1dcc4e73973\";i:8580;s:35:\"fb_0c1664a0a828148b28e2575496d3f8af\";i:8581;s:40:\"twitter_0c1664a0a828148b28e2575496d3f8af\";i:8582;s:42:\"pinterest_0c1664a0a828148b28e2575496d3f8af\";i:8583;s:41:\"linkedin_0c1664a0a828148b28e2575496d3f8af\";i:8584;s:35:\"fb_b515fb4ad48e81b66cd8e95af2aa78b7\";i:8585;s:40:\"twitter_b515fb4ad48e81b66cd8e95af2aa78b7\";i:8586;s:42:\"pinterest_b515fb4ad48e81b66cd8e95af2aa78b7\";i:8587;s:41:\"linkedin_b515fb4ad48e81b66cd8e95af2aa78b7\";i:8588;s:35:\"fb_dfadf18ebd807026013b12b1a518e974\";i:8589;s:41:\"linkedin_dfadf18ebd807026013b12b1a518e974\";i:8590;s:35:\"fb_749b49d6184a6fd3596d614f9d157d46\";i:8591;s:40:\"twitter_749b49d6184a6fd3596d614f9d157d46\";i:8592;s:42:\"pinterest_749b49d6184a6fd3596d614f9d157d46\";i:8593;s:41:\"linkedin_749b49d6184a6fd3596d614f9d157d46\";i:8594;s:35:\"fb_169b6ca34f7d54620909520304069d3c\";i:8595;s:40:\"twitter_169b6ca34f7d54620909520304069d3c\";i:8596;s:42:\"pinterest_169b6ca34f7d54620909520304069d3c\";i:8597;s:41:\"linkedin_169b6ca34f7d54620909520304069d3c\";i:8598;s:35:\"fb_df3adcb1e29d87143244411b60592f0f\";i:8599;s:40:\"twitter_df3adcb1e29d87143244411b60592f0f\";i:8600;s:42:\"pinterest_df3adcb1e29d87143244411b60592f0f\";i:8601;s:41:\"linkedin_df3adcb1e29d87143244411b60592f0f\";i:8602;s:35:\"fb_5f9b3cd431079e27570b9cf03811e197\";i:8603;s:40:\"twitter_5f9b3cd431079e27570b9cf03811e197\";i:8604;s:42:\"pinterest_5f9b3cd431079e27570b9cf03811e197\";i:8605;s:41:\"linkedin_5f9b3cd431079e27570b9cf03811e197\";i:8606;s:35:\"fb_95b01ae49a5ee5e752f4ab8e1d52caa5\";i:8607;s:40:\"twitter_95b01ae49a5ee5e752f4ab8e1d52caa5\";i:8608;s:42:\"pinterest_95b01ae49a5ee5e752f4ab8e1d52caa5\";i:8609;s:41:\"linkedin_95b01ae49a5ee5e752f4ab8e1d52caa5\";i:8610;s:35:\"fb_f857699c1694a65ca55f0c76f0ecdcc9\";i:8611;s:40:\"twitter_f857699c1694a65ca55f0c76f0ecdcc9\";i:8612;s:42:\"pinterest_f857699c1694a65ca55f0c76f0ecdcc9\";i:8613;s:41:\"linkedin_f857699c1694a65ca55f0c76f0ecdcc9\";i:8614;s:35:\"fb_56c9e316295aff56216ddbef33e8151d\";i:8615;s:40:\"twitter_56c9e316295aff56216ddbef33e8151d\";i:8616;s:42:\"pinterest_56c9e316295aff56216ddbef33e8151d\";i:8617;s:41:\"linkedin_56c9e316295aff56216ddbef33e8151d\";i:8618;s:35:\"fb_2bc3ffa20117950edfb17396bfb10991\";i:8619;s:40:\"twitter_2bc3ffa20117950edfb17396bfb10991\";i:8620;s:42:\"pinterest_2bc3ffa20117950edfb17396bfb10991\";i:8621;s:41:\"linkedin_2bc3ffa20117950edfb17396bfb10991\";i:8622;s:35:\"fb_057ea535613b626fe3dd8bb7f36a9e5a\";i:8623;s:40:\"twitter_057ea535613b626fe3dd8bb7f36a9e5a\";i:8624;s:42:\"pinterest_057ea535613b626fe3dd8bb7f36a9e5a\";i:8625;s:41:\"linkedin_057ea535613b626fe3dd8bb7f36a9e5a\";i:8626;s:35:\"fb_5a77cd611a8fbb3b5504bc0cf662c2d5\";i:8627;s:40:\"twitter_5a77cd611a8fbb3b5504bc0cf662c2d5\";i:8628;s:42:\"pinterest_5a77cd611a8fbb3b5504bc0cf662c2d5\";i:8629;s:41:\"linkedin_5a77cd611a8fbb3b5504bc0cf662c2d5\";i:8630;s:35:\"fb_16e41956a231ce0ef94241b0dcbc547f\";i:8631;s:40:\"twitter_16e41956a231ce0ef94241b0dcbc547f\";i:8632;s:42:\"pinterest_16e41956a231ce0ef94241b0dcbc547f\";i:8633;s:41:\"linkedin_16e41956a231ce0ef94241b0dcbc547f\";i:8634;s:35:\"fb_bf3b2310e17ce0b86d176452e9ebd308\";i:8635;s:40:\"twitter_bf3b2310e17ce0b86d176452e9ebd308\";i:8636;s:42:\"pinterest_bf3b2310e17ce0b86d176452e9ebd308\";i:8637;s:41:\"linkedin_bf3b2310e17ce0b86d176452e9ebd308\";i:8638;s:35:\"fb_13544049e3520fc646564883bf3b2f9a\";i:8639;s:40:\"twitter_13544049e3520fc646564883bf3b2f9a\";i:8640;s:42:\"pinterest_13544049e3520fc646564883bf3b2f9a\";i:8641;s:41:\"linkedin_13544049e3520fc646564883bf3b2f9a\";i:8642;s:35:\"fb_773a8af11dd1692a852bd25112f8291f\";i:8643;s:40:\"twitter_773a8af11dd1692a852bd25112f8291f\";i:8644;s:42:\"pinterest_773a8af11dd1692a852bd25112f8291f\";i:8645;s:41:\"linkedin_773a8af11dd1692a852bd25112f8291f\";i:8646;s:35:\"fb_7947aecfd9216a05e90588d7f8d64271\";i:8647;s:40:\"twitter_7947aecfd9216a05e90588d7f8d64271\";i:8648;s:42:\"pinterest_7947aecfd9216a05e90588d7f8d64271\";i:8649;s:41:\"linkedin_7947aecfd9216a05e90588d7f8d64271\";i:8650;s:35:\"fb_b09dfdd7fac176f906496dbdbcce6b24\";i:8651;s:40:\"twitter_b09dfdd7fac176f906496dbdbcce6b24\";i:8652;s:42:\"pinterest_b09dfdd7fac176f906496dbdbcce6b24\";i:8653;s:41:\"linkedin_b09dfdd7fac176f906496dbdbcce6b24\";i:8654;s:35:\"fb_835500c7e46329b08c0efbe97a2bcde0\";i:8655;s:40:\"twitter_835500c7e46329b08c0efbe97a2bcde0\";i:8656;s:42:\"pinterest_835500c7e46329b08c0efbe97a2bcde0\";i:8657;s:41:\"linkedin_835500c7e46329b08c0efbe97a2bcde0\";i:8658;s:35:\"fb_a4bf94057eed9289dc443f57ccebef6a\";i:8659;s:40:\"twitter_a4bf94057eed9289dc443f57ccebef6a\";i:8660;s:42:\"pinterest_a4bf94057eed9289dc443f57ccebef6a\";i:8661;s:41:\"linkedin_a4bf94057eed9289dc443f57ccebef6a\";i:8662;s:35:\"fb_b9c6020fd1719fd6837a33e7fb5d55b9\";i:8663;s:40:\"twitter_b9c6020fd1719fd6837a33e7fb5d55b9\";i:8664;s:42:\"pinterest_b9c6020fd1719fd6837a33e7fb5d55b9\";i:8665;s:41:\"linkedin_b9c6020fd1719fd6837a33e7fb5d55b9\";i:8666;s:35:\"fb_7a64cdf14d2253536d2d3b7cfd604191\";i:8667;s:40:\"twitter_7a64cdf14d2253536d2d3b7cfd604191\";i:8668;s:42:\"pinterest_7a64cdf14d2253536d2d3b7cfd604191\";i:8669;s:41:\"linkedin_7a64cdf14d2253536d2d3b7cfd604191\";i:8670;s:35:\"fb_4b224eac9a43ba09e81097ab2bea29b3\";i:8671;s:40:\"twitter_4b224eac9a43ba09e81097ab2bea29b3\";i:8672;s:42:\"pinterest_4b224eac9a43ba09e81097ab2bea29b3\";i:8673;s:41:\"linkedin_4b224eac9a43ba09e81097ab2bea29b3\";i:8674;s:35:\"fb_ec7f7fbca77f77edb22f6d49d3e2395e\";i:8675;s:40:\"twitter_ec7f7fbca77f77edb22f6d49d3e2395e\";i:8676;s:42:\"pinterest_ec7f7fbca77f77edb22f6d49d3e2395e\";i:8677;s:41:\"linkedin_ec7f7fbca77f77edb22f6d49d3e2395e\";i:8678;s:35:\"fb_e62e5bddcc7c37b8fa04d25268bc6d20\";i:8679;s:40:\"twitter_e62e5bddcc7c37b8fa04d25268bc6d20\";i:8680;s:42:\"pinterest_e62e5bddcc7c37b8fa04d25268bc6d20\";i:8681;s:41:\"linkedin_e62e5bddcc7c37b8fa04d25268bc6d20\";i:8682;s:35:\"fb_86e17f0e0559cea91e3036a7f7a6977d\";i:8683;s:40:\"twitter_86e17f0e0559cea91e3036a7f7a6977d\";i:8684;s:42:\"pinterest_86e17f0e0559cea91e3036a7f7a6977d\";i:8685;s:41:\"linkedin_86e17f0e0559cea91e3036a7f7a6977d\";i:8686;s:35:\"fb_76d1e313366162fa31d8656de7c83297\";i:8687;s:40:\"twitter_76d1e313366162fa31d8656de7c83297\";i:8688;s:42:\"pinterest_76d1e313366162fa31d8656de7c83297\";i:8689;s:41:\"linkedin_76d1e313366162fa31d8656de7c83297\";i:8690;s:35:\"fb_be96d7ac8d9e3cbb6800b7fce83bb4ff\";i:8691;s:40:\"twitter_be96d7ac8d9e3cbb6800b7fce83bb4ff\";i:8692;s:42:\"pinterest_be96d7ac8d9e3cbb6800b7fce83bb4ff\";i:8693;s:41:\"linkedin_be96d7ac8d9e3cbb6800b7fce83bb4ff\";i:8694;s:35:\"fb_7bd0708f17fd1a1501095ac2859327a1\";i:8695;s:40:\"twitter_7bd0708f17fd1a1501095ac2859327a1\";i:8696;s:42:\"pinterest_7bd0708f17fd1a1501095ac2859327a1\";i:8697;s:41:\"linkedin_7bd0708f17fd1a1501095ac2859327a1\";i:8698;s:35:\"fb_7929f22a7c00a81f9c715456a9a50f6f\";i:8699;s:40:\"twitter_7929f22a7c00a81f9c715456a9a50f6f\";i:8700;s:42:\"pinterest_7929f22a7c00a81f9c715456a9a50f6f\";i:8701;s:41:\"linkedin_7929f22a7c00a81f9c715456a9a50f6f\";i:8702;s:35:\"fb_c2a94ced5bb340f8c4c4500b4d5857fa\";i:8703;s:40:\"twitter_c2a94ced5bb340f8c4c4500b4d5857fa\";i:8704;s:42:\"pinterest_c2a94ced5bb340f8c4c4500b4d5857fa\";i:8705;s:41:\"linkedin_c2a94ced5bb340f8c4c4500b4d5857fa\";i:8706;s:35:\"fb_070fd15dbffb78f238231edcdbaec80b\";i:8707;s:40:\"twitter_070fd15dbffb78f238231edcdbaec80b\";i:8708;s:42:\"pinterest_070fd15dbffb78f238231edcdbaec80b\";i:8709;s:41:\"linkedin_070fd15dbffb78f238231edcdbaec80b\";i:8710;s:35:\"fb_4beead29fce36bb3dc739296cc8773e9\";i:8711;s:40:\"twitter_4beead29fce36bb3dc739296cc8773e9\";i:8712;s:42:\"pinterest_4beead29fce36bb3dc739296cc8773e9\";i:8713;s:41:\"linkedin_4beead29fce36bb3dc739296cc8773e9\";i:8714;s:35:\"fb_0d5c2a93f7ca4f6d1c4416a8d7912f1a\";i:8715;s:40:\"twitter_0d5c2a93f7ca4f6d1c4416a8d7912f1a\";i:8716;s:42:\"pinterest_0d5c2a93f7ca4f6d1c4416a8d7912f1a\";i:8717;s:41:\"linkedin_0d5c2a93f7ca4f6d1c4416a8d7912f1a\";i:8718;s:35:\"fb_17cff45e9bc023eac2b6710a3250fb93\";i:8719;s:40:\"twitter_17cff45e9bc023eac2b6710a3250fb93\";i:8720;s:42:\"pinterest_17cff45e9bc023eac2b6710a3250fb93\";i:8721;s:35:\"fb_642e4941f633d4adc5c01883e55718b3\";i:8722;s:40:\"twitter_642e4941f633d4adc5c01883e55718b3\";i:8723;s:42:\"pinterest_642e4941f633d4adc5c01883e55718b3\";i:8724;s:41:\"linkedin_642e4941f633d4adc5c01883e55718b3\";i:8725;s:35:\"fb_a59786a14922a5d3c6fcd2c2bde76887\";i:8726;s:40:\"twitter_a59786a14922a5d3c6fcd2c2bde76887\";i:8727;s:42:\"pinterest_a59786a14922a5d3c6fcd2c2bde76887\";i:8728;s:41:\"linkedin_a59786a14922a5d3c6fcd2c2bde76887\";i:8729;s:35:\"fb_e67801722e1c9e6cd7e9cb2ec53d22cb\";i:8730;s:40:\"twitter_e67801722e1c9e6cd7e9cb2ec53d22cb\";i:8731;s:42:\"pinterest_e67801722e1c9e6cd7e9cb2ec53d22cb\";i:8732;s:41:\"linkedin_e67801722e1c9e6cd7e9cb2ec53d22cb\";i:8733;s:35:\"fb_dcf15f876781fd3abecf8c8b0d238562\";i:8734;s:40:\"twitter_dcf15f876781fd3abecf8c8b0d238562\";i:8735;s:42:\"pinterest_dcf15f876781fd3abecf8c8b0d238562\";i:8736;s:41:\"linkedin_dcf15f876781fd3abecf8c8b0d238562\";i:8737;s:35:\"fb_3ff86dc385d5b925ae9f4c8ac2ef1588\";i:8738;s:40:\"twitter_3ff86dc385d5b925ae9f4c8ac2ef1588\";i:8739;s:42:\"pinterest_3ff86dc385d5b925ae9f4c8ac2ef1588\";i:8740;s:41:\"linkedin_3ff86dc385d5b925ae9f4c8ac2ef1588\";i:8741;s:35:\"fb_7e0735200105e12f9aa0367949896893\";i:8742;s:40:\"twitter_7e0735200105e12f9aa0367949896893\";i:8743;s:42:\"pinterest_7e0735200105e12f9aa0367949896893\";i:8744;s:41:\"linkedin_7e0735200105e12f9aa0367949896893\";i:8745;s:35:\"fb_70147f48251e3c21a42d486fbd813349\";i:8746;s:40:\"twitter_70147f48251e3c21a42d486fbd813349\";i:8747;s:42:\"pinterest_70147f48251e3c21a42d486fbd813349\";i:8748;s:41:\"linkedin_70147f48251e3c21a42d486fbd813349\";i:8749;s:35:\"fb_0bb23fec6277e4ef03db3286be05c540\";i:8750;s:40:\"twitter_0bb23fec6277e4ef03db3286be05c540\";i:8751;s:42:\"pinterest_0bb23fec6277e4ef03db3286be05c540\";i:8752;s:41:\"linkedin_0bb23fec6277e4ef03db3286be05c540\";i:8753;s:35:\"fb_861744aff239b0b860ff2d2b9346524d\";i:8754;s:40:\"twitter_861744aff239b0b860ff2d2b9346524d\";i:8755;s:42:\"pinterest_861744aff239b0b860ff2d2b9346524d\";i:8756;s:41:\"linkedin_861744aff239b0b860ff2d2b9346524d\";i:8757;s:35:\"fb_83e43e3a3cac7535cfdbf40e429a6c11\";i:8758;s:40:\"twitter_83e43e3a3cac7535cfdbf40e429a6c11\";i:8759;s:42:\"pinterest_83e43e3a3cac7535cfdbf40e429a6c11\";i:8760;s:41:\"linkedin_83e43e3a3cac7535cfdbf40e429a6c11\";i:8761;s:35:\"fb_6ef056036ce66a3bf11ef21976e88e0a\";i:8762;s:40:\"twitter_6ef056036ce66a3bf11ef21976e88e0a\";i:8763;s:42:\"pinterest_6ef056036ce66a3bf11ef21976e88e0a\";i:8764;s:41:\"linkedin_6ef056036ce66a3bf11ef21976e88e0a\";i:8765;s:35:\"fb_919b87b0d6243b664f5bab79be2223b1\";i:8766;s:40:\"twitter_919b87b0d6243b664f5bab79be2223b1\";i:8767;s:35:\"fb_ff455995718e54210eaec8c2536795de\";i:8768;s:40:\"twitter_ff455995718e54210eaec8c2536795de\";i:8769;s:42:\"pinterest_ff455995718e54210eaec8c2536795de\";i:8770;s:41:\"linkedin_ff455995718e54210eaec8c2536795de\";i:8771;s:35:\"fb_b2354cf05d03ff5c632956fc84885133\";i:8772;s:40:\"twitter_b2354cf05d03ff5c632956fc84885133\";i:8773;s:42:\"pinterest_b2354cf05d03ff5c632956fc84885133\";i:8774;s:41:\"linkedin_b2354cf05d03ff5c632956fc84885133\";i:8775;s:35:\"fb_bd599b82948dea98f2545ed76e420e17\";i:8776;s:40:\"twitter_bd599b82948dea98f2545ed76e420e17\";i:8777;s:42:\"pinterest_bd599b82948dea98f2545ed76e420e17\";i:8778;s:41:\"linkedin_bd599b82948dea98f2545ed76e420e17\";i:8779;s:35:\"fb_2e0bd719c33fc939d0b86a647a9ad6c4\";i:8780;s:40:\"twitter_2e0bd719c33fc939d0b86a647a9ad6c4\";i:8781;s:42:\"pinterest_2e0bd719c33fc939d0b86a647a9ad6c4\";i:8782;s:41:\"linkedin_2e0bd719c33fc939d0b86a647a9ad6c4\";i:8783;s:35:\"fb_2a1641a8055be3b87b012243cbd26e99\";i:8784;s:40:\"twitter_2a1641a8055be3b87b012243cbd26e99\";i:8785;s:42:\"pinterest_2a1641a8055be3b87b012243cbd26e99\";i:8786;s:41:\"linkedin_2a1641a8055be3b87b012243cbd26e99\";i:8787;s:35:\"fb_35ef143fb3849504320b21d1b6285fb1\";i:8788;s:40:\"twitter_35ef143fb3849504320b21d1b6285fb1\";i:8789;s:42:\"pinterest_35ef143fb3849504320b21d1b6285fb1\";i:8790;s:41:\"linkedin_35ef143fb3849504320b21d1b6285fb1\";i:8791;s:35:\"fb_0a17ba463dd3992da2ea4424e99f3661\";i:8792;s:40:\"twitter_0a17ba463dd3992da2ea4424e99f3661\";i:8793;s:42:\"pinterest_0a17ba463dd3992da2ea4424e99f3661\";i:8794;s:41:\"linkedin_0a17ba463dd3992da2ea4424e99f3661\";i:8795;s:35:\"fb_f212529155cb69e491b76d11f3142828\";i:8796;s:40:\"twitter_f212529155cb69e491b76d11f3142828\";i:8797;s:42:\"pinterest_f212529155cb69e491b76d11f3142828\";i:8798;s:41:\"linkedin_f212529155cb69e491b76d11f3142828\";i:8799;s:35:\"fb_bde0922dbd9e29472d84ab5add4a823c\";i:8800;s:40:\"twitter_bde0922dbd9e29472d84ab5add4a823c\";i:8801;s:42:\"pinterest_bde0922dbd9e29472d84ab5add4a823c\";i:8802;s:41:\"linkedin_bde0922dbd9e29472d84ab5add4a823c\";i:8803;s:35:\"fb_fc69c07749db86bc81fa5ec858e86428\";i:8804;s:40:\"twitter_fc69c07749db86bc81fa5ec858e86428\";i:8805;s:42:\"pinterest_fc69c07749db86bc81fa5ec858e86428\";i:8806;s:41:\"linkedin_fc69c07749db86bc81fa5ec858e86428\";i:8807;s:35:\"fb_98d45b96ff0ca978760b48ad56954fee\";i:8808;s:40:\"twitter_98d45b96ff0ca978760b48ad56954fee\";i:8809;s:42:\"pinterest_98d45b96ff0ca978760b48ad56954fee\";i:8810;s:41:\"linkedin_98d45b96ff0ca978760b48ad56954fee\";i:8811;s:35:\"fb_ee18906f030c37997927eec57ccaf84e\";i:8812;s:40:\"twitter_ee18906f030c37997927eec57ccaf84e\";i:8813;s:42:\"pinterest_ee18906f030c37997927eec57ccaf84e\";i:8814;s:41:\"linkedin_ee18906f030c37997927eec57ccaf84e\";i:8815;s:35:\"fb_15e047510307fc381920e73463e4cd1b\";i:8816;s:40:\"twitter_15e047510307fc381920e73463e4cd1b\";i:8817;s:42:\"pinterest_15e047510307fc381920e73463e4cd1b\";i:8818;s:41:\"linkedin_15e047510307fc381920e73463e4cd1b\";i:8819;s:35:\"fb_06acadef51d8a822b3c56c5eb25dc262\";i:8820;s:40:\"twitter_06acadef51d8a822b3c56c5eb25dc262\";i:8821;s:42:\"pinterest_06acadef51d8a822b3c56c5eb25dc262\";i:8822;s:41:\"linkedin_06acadef51d8a822b3c56c5eb25dc262\";i:8823;s:42:\"pinterest_7493a034e3cc99f8e1537521f60e929e\";i:8824;s:41:\"linkedin_7493a034e3cc99f8e1537521f60e929e\";i:8825;s:35:\"fb_cc9ae5132445157959c838564c80c162\";i:8826;s:40:\"twitter_cc9ae5132445157959c838564c80c162\";i:8827;s:42:\"pinterest_cc9ae5132445157959c838564c80c162\";i:8828;s:41:\"linkedin_cc9ae5132445157959c838564c80c162\";i:8829;s:35:\"fb_716ca064f232699dc017d930b597a224\";i:8830;s:40:\"twitter_716ca064f232699dc017d930b597a224\";i:8831;s:42:\"pinterest_716ca064f232699dc017d930b597a224\";i:8832;s:41:\"linkedin_716ca064f232699dc017d930b597a224\";i:8833;s:35:\"fb_c09df355e303e7524d4f2327c60ff398\";i:8834;s:40:\"twitter_c09df355e303e7524d4f2327c60ff398\";i:8835;s:42:\"pinterest_c09df355e303e7524d4f2327c60ff398\";i:8836;s:41:\"linkedin_c09df355e303e7524d4f2327c60ff398\";i:8837;s:35:\"fb_6ab692e31edd34ac9581340da5398f09\";i:8838;s:40:\"twitter_6ab692e31edd34ac9581340da5398f09\";i:8839;s:42:\"pinterest_6ab692e31edd34ac9581340da5398f09\";i:8840;s:41:\"linkedin_6ab692e31edd34ac9581340da5398f09\";i:8841;s:35:\"fb_566a408048e46ebb2a7c475795656172\";i:8842;s:40:\"twitter_566a408048e46ebb2a7c475795656172\";i:8843;s:42:\"pinterest_566a408048e46ebb2a7c475795656172\";i:8844;s:41:\"linkedin_566a408048e46ebb2a7c475795656172\";i:8845;s:35:\"fb_d6d703a70b413af92a68c33cf991303f\";i:8846;s:40:\"twitter_d6d703a70b413af92a68c33cf991303f\";i:8847;s:42:\"pinterest_d6d703a70b413af92a68c33cf991303f\";i:8848;s:41:\"linkedin_d6d703a70b413af92a68c33cf991303f\";i:8849;s:35:\"fb_5b3ead8eac52d6bb5bf34edc30202c86\";i:8850;s:40:\"twitter_5b3ead8eac52d6bb5bf34edc30202c86\";i:8851;s:42:\"pinterest_5b3ead8eac52d6bb5bf34edc30202c86\";i:8852;s:35:\"fb_01f67aa7c849841231ce5370c4629b05\";i:8853;s:40:\"twitter_01f67aa7c849841231ce5370c4629b05\";i:8854;s:42:\"pinterest_01f67aa7c849841231ce5370c4629b05\";i:8855;s:41:\"linkedin_01f67aa7c849841231ce5370c4629b05\";i:8856;s:35:\"fb_83dea24b6b01527fe4ccfc9edad16cf6\";i:8857;s:40:\"twitter_83dea24b6b01527fe4ccfc9edad16cf6\";i:8858;s:42:\"pinterest_83dea24b6b01527fe4ccfc9edad16cf6\";i:8859;s:41:\"linkedin_83dea24b6b01527fe4ccfc9edad16cf6\";i:8860;s:35:\"fb_6f5fe0a3e4f6914f7e5ffcb80b5111bd\";i:8861;s:40:\"twitter_6f5fe0a3e4f6914f7e5ffcb80b5111bd\";i:8862;s:42:\"pinterest_6f5fe0a3e4f6914f7e5ffcb80b5111bd\";i:8863;s:41:\"linkedin_6f5fe0a3e4f6914f7e5ffcb80b5111bd\";i:8864;s:35:\"fb_63189871c48adfb3af4c4e1eb596d056\";i:8865;s:40:\"twitter_63189871c48adfb3af4c4e1eb596d056\";i:8866;s:42:\"pinterest_63189871c48adfb3af4c4e1eb596d056\";i:8867;s:41:\"linkedin_63189871c48adfb3af4c4e1eb596d056\";i:8868;s:35:\"fb_685827dbda572c0d9c5cb04c52377015\";i:8869;s:40:\"twitter_685827dbda572c0d9c5cb04c52377015\";i:8870;s:42:\"pinterest_685827dbda572c0d9c5cb04c52377015\";i:8871;s:41:\"linkedin_685827dbda572c0d9c5cb04c52377015\";i:8872;s:35:\"fb_65bbdf3f4ec016c662357ff3ba5ac935\";i:8873;s:40:\"twitter_65bbdf3f4ec016c662357ff3ba5ac935\";i:8874;s:42:\"pinterest_65bbdf3f4ec016c662357ff3ba5ac935\";i:8875;s:41:\"linkedin_65bbdf3f4ec016c662357ff3ba5ac935\";i:8876;s:35:\"fb_b178b2056a2d88193d3fbf41a60b0922\";i:8877;s:40:\"twitter_b178b2056a2d88193d3fbf41a60b0922\";i:8878;s:42:\"pinterest_b178b2056a2d88193d3fbf41a60b0922\";i:8879;s:41:\"linkedin_b178b2056a2d88193d3fbf41a60b0922\";i:8880;s:35:\"fb_ba6a0131508546887e4281f6f1b59cff\";i:8881;s:40:\"twitter_ba6a0131508546887e4281f6f1b59cff\";i:8882;s:42:\"pinterest_ba6a0131508546887e4281f6f1b59cff\";i:8883;s:41:\"linkedin_ba6a0131508546887e4281f6f1b59cff\";i:8884;s:35:\"fb_b9bef607d1dfb41953457eeb9cd0c66a\";i:8885;s:41:\"linkedin_b9bef607d1dfb41953457eeb9cd0c66a\";i:8886;s:35:\"fb_5d77d9a2c51982756903a5d84e7a69eb\";i:8887;s:40:\"twitter_5d77d9a2c51982756903a5d84e7a69eb\";i:8888;s:42:\"pinterest_5d77d9a2c51982756903a5d84e7a69eb\";i:8889;s:41:\"linkedin_5d77d9a2c51982756903a5d84e7a69eb\";i:8890;s:35:\"fb_262c84f0a820df48287d177db2037e72\";i:8891;s:40:\"twitter_262c84f0a820df48287d177db2037e72\";i:8892;s:42:\"pinterest_262c84f0a820df48287d177db2037e72\";i:8893;s:41:\"linkedin_262c84f0a820df48287d177db2037e72\";i:8894;s:35:\"fb_8dd14d9fb4d89025f6bf6455a9429039\";i:8895;s:40:\"twitter_8dd14d9fb4d89025f6bf6455a9429039\";i:8896;s:42:\"pinterest_8dd14d9fb4d89025f6bf6455a9429039\";i:8897;s:41:\"linkedin_8dd14d9fb4d89025f6bf6455a9429039\";i:8898;s:35:\"fb_008f8bcdfca9b7e2c68caf7cc5877988\";i:8899;s:40:\"twitter_008f8bcdfca9b7e2c68caf7cc5877988\";i:8900;s:42:\"pinterest_008f8bcdfca9b7e2c68caf7cc5877988\";i:8901;s:41:\"linkedin_008f8bcdfca9b7e2c68caf7cc5877988\";i:8902;s:35:\"fb_fda09c4aeea4f45f29d887656e2d5634\";i:8903;s:40:\"twitter_fda09c4aeea4f45f29d887656e2d5634\";i:8904;s:42:\"pinterest_fda09c4aeea4f45f29d887656e2d5634\";i:8905;s:41:\"linkedin_fda09c4aeea4f45f29d887656e2d5634\";i:8906;s:35:\"fb_8b4377ec9aa32f96ae3f68faf17e69cf\";i:8907;s:40:\"twitter_8b4377ec9aa32f96ae3f68faf17e69cf\";i:8908;s:42:\"pinterest_8b4377ec9aa32f96ae3f68faf17e69cf\";i:8909;s:41:\"linkedin_8b4377ec9aa32f96ae3f68faf17e69cf\";i:8910;s:35:\"fb_187bbb29a76335be698a8790f8c0c7bb\";i:8911;s:40:\"twitter_187bbb29a76335be698a8790f8c0c7bb\";i:8912;s:42:\"pinterest_187bbb29a76335be698a8790f8c0c7bb\";i:8913;s:41:\"linkedin_187bbb29a76335be698a8790f8c0c7bb\";i:8914;s:35:\"fb_26f47d87c4d39dc503133594e686f014\";i:8915;s:40:\"twitter_26f47d87c4d39dc503133594e686f014\";i:8916;s:42:\"pinterest_26f47d87c4d39dc503133594e686f014\";i:8917;s:41:\"linkedin_26f47d87c4d39dc503133594e686f014\";i:8918;s:35:\"fb_7776d1ffd24470a599e8f1a42693b70d\";i:8919;s:40:\"twitter_7776d1ffd24470a599e8f1a42693b70d\";i:8920;s:42:\"pinterest_7776d1ffd24470a599e8f1a42693b70d\";i:8921;s:41:\"linkedin_7776d1ffd24470a599e8f1a42693b70d\";i:8922;s:35:\"fb_1193072296840cc849aa6a98182303e6\";i:8923;s:40:\"twitter_1193072296840cc849aa6a98182303e6\";i:8924;s:42:\"pinterest_1193072296840cc849aa6a98182303e6\";i:8925;s:41:\"linkedin_1193072296840cc849aa6a98182303e6\";i:8926;s:35:\"fb_4b7b94f27b4470fd5161d9ac46779909\";i:8927;s:40:\"twitter_4b7b94f27b4470fd5161d9ac46779909\";i:8928;s:42:\"pinterest_4b7b94f27b4470fd5161d9ac46779909\";i:8929;s:41:\"linkedin_4b7b94f27b4470fd5161d9ac46779909\";i:8930;s:35:\"fb_0b0fd784c304499ab59cf4f8325822f2\";i:8931;s:40:\"twitter_0b0fd784c304499ab59cf4f8325822f2\";i:8932;s:42:\"pinterest_0b0fd784c304499ab59cf4f8325822f2\";i:8933;s:41:\"linkedin_0b0fd784c304499ab59cf4f8325822f2\";i:8934;s:35:\"fb_da6a652a6f6ac23503e8089ea1b4a318\";i:8935;s:40:\"twitter_da6a652a6f6ac23503e8089ea1b4a318\";i:8936;s:42:\"pinterest_da6a652a6f6ac23503e8089ea1b4a318\";i:8937;s:41:\"linkedin_da6a652a6f6ac23503e8089ea1b4a318\";i:8938;s:35:\"fb_d208f5c4cdd38974c6555b491ab749ec\";i:8939;s:40:\"twitter_d208f5c4cdd38974c6555b491ab749ec\";i:8940;s:42:\"pinterest_d208f5c4cdd38974c6555b491ab749ec\";i:8941;s:41:\"linkedin_d208f5c4cdd38974c6555b491ab749ec\";i:8942;s:35:\"fb_b8cf33624bcbaf0c7b5c9035897faecd\";i:8943;s:40:\"twitter_b8cf33624bcbaf0c7b5c9035897faecd\";i:8944;s:42:\"pinterest_b8cf33624bcbaf0c7b5c9035897faecd\";i:8945;s:41:\"linkedin_b8cf33624bcbaf0c7b5c9035897faecd\";i:8946;s:35:\"fb_7eca9886aafdd801ddc12d3a7bbe11b8\";i:8947;s:40:\"twitter_7eca9886aafdd801ddc12d3a7bbe11b8\";i:8948;s:42:\"pinterest_7eca9886aafdd801ddc12d3a7bbe11b8\";i:8949;s:41:\"linkedin_7eca9886aafdd801ddc12d3a7bbe11b8\";i:8950;s:35:\"fb_427843d1b06c17e784e55867d21d5b06\";i:8951;s:40:\"twitter_427843d1b06c17e784e55867d21d5b06\";i:8952;s:42:\"pinterest_427843d1b06c17e784e55867d21d5b06\";i:8953;s:41:\"linkedin_427843d1b06c17e784e55867d21d5b06\";i:8954;s:35:\"fb_709555cfe0026562ab007116cc0e000a\";i:8955;s:40:\"twitter_709555cfe0026562ab007116cc0e000a\";i:8956;s:42:\"pinterest_709555cfe0026562ab007116cc0e000a\";i:8957;s:41:\"linkedin_709555cfe0026562ab007116cc0e000a\";i:8958;s:35:\"fb_643303471b5b4df04a7c03a99ad14758\";i:8959;s:40:\"twitter_643303471b5b4df04a7c03a99ad14758\";i:8960;s:42:\"pinterest_643303471b5b4df04a7c03a99ad14758\";i:8961;s:41:\"linkedin_643303471b5b4df04a7c03a99ad14758\";i:8962;s:35:\"fb_37db27697c4ec33878cd28449338c989\";i:8963;s:40:\"twitter_37db27697c4ec33878cd28449338c989\";i:8964;s:42:\"pinterest_37db27697c4ec33878cd28449338c989\";i:8965;s:41:\"linkedin_37db27697c4ec33878cd28449338c989\";i:8966;s:35:\"fb_426e34deafc45298465b9604f11e06ed\";i:8967;s:40:\"twitter_426e34deafc45298465b9604f11e06ed\";i:8968;s:42:\"pinterest_426e34deafc45298465b9604f11e06ed\";i:8969;s:41:\"linkedin_426e34deafc45298465b9604f11e06ed\";i:8970;s:35:\"fb_b3f5bb7377e52a9a8a4319150ea5d2b8\";i:8971;s:40:\"twitter_b3f5bb7377e52a9a8a4319150ea5d2b8\";i:8972;s:42:\"pinterest_b3f5bb7377e52a9a8a4319150ea5d2b8\";i:8973;s:41:\"linkedin_b3f5bb7377e52a9a8a4319150ea5d2b8\";i:8974;s:35:\"fb_acc82609a5ab0227c54210fd0073ecdf\";i:8975;s:40:\"twitter_acc82609a5ab0227c54210fd0073ecdf\";i:8976;s:42:\"pinterest_acc82609a5ab0227c54210fd0073ecdf\";i:8977;s:41:\"linkedin_acc82609a5ab0227c54210fd0073ecdf\";i:8978;s:35:\"fb_4679ef38af3bf34944bc396fe9913c57\";i:8979;s:40:\"twitter_4679ef38af3bf34944bc396fe9913c57\";i:8980;s:42:\"pinterest_4679ef38af3bf34944bc396fe9913c57\";i:8981;s:41:\"linkedin_4679ef38af3bf34944bc396fe9913c57\";i:8982;s:35:\"fb_4d89027ad69e9c34f9ad3dd966cc6dd2\";i:8983;s:40:\"twitter_4d89027ad69e9c34f9ad3dd966cc6dd2\";i:8984;s:42:\"pinterest_4d89027ad69e9c34f9ad3dd966cc6dd2\";i:8985;s:41:\"linkedin_4d89027ad69e9c34f9ad3dd966cc6dd2\";i:8986;s:35:\"fb_c85a87179d07fe101d43a92725ee8383\";i:8987;s:40:\"twitter_c85a87179d07fe101d43a92725ee8383\";i:8988;s:35:\"fb_a79510321f6bf19fc1280804820593fe\";i:8989;s:40:\"twitter_a79510321f6bf19fc1280804820593fe\";i:8990;s:42:\"pinterest_a79510321f6bf19fc1280804820593fe\";i:8991;s:41:\"linkedin_a79510321f6bf19fc1280804820593fe\";i:8992;s:35:\"fb_3fa815f11ee8aefd6e38556e191f96dc\";i:8993;s:40:\"twitter_3fa815f11ee8aefd6e38556e191f96dc\";i:8994;s:42:\"pinterest_3fa815f11ee8aefd6e38556e191f96dc\";i:8995;s:41:\"linkedin_3fa815f11ee8aefd6e38556e191f96dc\";i:8996;s:35:\"fb_428879a0e86e424bb7df7a84ae9efac9\";i:8997;s:40:\"twitter_428879a0e86e424bb7df7a84ae9efac9\";i:8998;s:42:\"pinterest_428879a0e86e424bb7df7a84ae9efac9\";i:8999;s:41:\"linkedin_428879a0e86e424bb7df7a84ae9efac9\";i:9000;s:35:\"fb_faf48484c4ad04a0b65625901e8dc182\";i:9001;s:40:\"twitter_faf48484c4ad04a0b65625901e8dc182\";i:9002;s:42:\"pinterest_faf48484c4ad04a0b65625901e8dc182\";i:9003;s:41:\"linkedin_faf48484c4ad04a0b65625901e8dc182\";i:9004;s:35:\"fb_9ab9885352becf721c2fb0b446af6e3e\";i:9005;s:40:\"twitter_9ab9885352becf721c2fb0b446af6e3e\";i:9006;s:42:\"pinterest_9ab9885352becf721c2fb0b446af6e3e\";i:9007;s:41:\"linkedin_9ab9885352becf721c2fb0b446af6e3e\";i:9008;s:35:\"fb_0b7afff2e114e3d8d19a9692c4f3537b\";i:9009;s:40:\"twitter_0b7afff2e114e3d8d19a9692c4f3537b\";i:9010;s:42:\"pinterest_0b7afff2e114e3d8d19a9692c4f3537b\";i:9011;s:41:\"linkedin_0b7afff2e114e3d8d19a9692c4f3537b\";i:9012;s:35:\"fb_1334212e25b0e82872aa9c9e8cb66ada\";i:9013;s:40:\"twitter_1334212e25b0e82872aa9c9e8cb66ada\";i:9014;s:42:\"pinterest_1334212e25b0e82872aa9c9e8cb66ada\";i:9015;s:41:\"linkedin_1334212e25b0e82872aa9c9e8cb66ada\";i:9016;s:35:\"fb_2a3e6e15cb2b279552fd83023b7ec487\";i:9017;s:40:\"twitter_2a3e6e15cb2b279552fd83023b7ec487\";i:9018;s:42:\"pinterest_2a3e6e15cb2b279552fd83023b7ec487\";i:9019;s:41:\"linkedin_2a3e6e15cb2b279552fd83023b7ec487\";i:9020;s:35:\"fb_8646be4d342244089c33da607ea2b207\";i:9021;s:40:\"twitter_8646be4d342244089c33da607ea2b207\";i:9022;s:42:\"pinterest_8646be4d342244089c33da607ea2b207\";i:9023;s:41:\"linkedin_8646be4d342244089c33da607ea2b207\";i:9024;s:35:\"fb_de771ba72e2f049ce7e259746ba6cc95\";i:9025;s:40:\"twitter_de771ba72e2f049ce7e259746ba6cc95\";i:9026;s:42:\"pinterest_de771ba72e2f049ce7e259746ba6cc95\";i:9027;s:41:\"linkedin_de771ba72e2f049ce7e259746ba6cc95\";i:9028;s:35:\"fb_d799948b6a18db1d289f3e406cb60a49\";i:9029;s:40:\"twitter_d799948b6a18db1d289f3e406cb60a49\";i:9030;s:42:\"pinterest_d799948b6a18db1d289f3e406cb60a49\";i:9031;s:41:\"linkedin_d799948b6a18db1d289f3e406cb60a49\";i:9032;s:35:\"fb_965a214d2c6a80cd52f3e8c306a08641\";i:9033;s:40:\"twitter_965a214d2c6a80cd52f3e8c306a08641\";i:9034;s:42:\"pinterest_965a214d2c6a80cd52f3e8c306a08641\";i:9035;s:41:\"linkedin_965a214d2c6a80cd52f3e8c306a08641\";i:9036;s:35:\"fb_801dd4d1d8f25601ee3ef386d52a94cb\";i:9037;s:40:\"twitter_801dd4d1d8f25601ee3ef386d52a94cb\";i:9038;s:42:\"pinterest_801dd4d1d8f25601ee3ef386d52a94cb\";i:9039;s:41:\"linkedin_801dd4d1d8f25601ee3ef386d52a94cb\";i:9040;s:35:\"fb_17e43457db040d98374322408af8a600\";i:9041;s:40:\"twitter_17e43457db040d98374322408af8a600\";i:9042;s:42:\"pinterest_17e43457db040d98374322408af8a600\";i:9043;s:41:\"linkedin_17e43457db040d98374322408af8a600\";i:9044;s:35:\"fb_32624953341d22f9f2eecd258e734d6e\";i:9045;s:40:\"twitter_32624953341d22f9f2eecd258e734d6e\";i:9046;s:42:\"pinterest_32624953341d22f9f2eecd258e734d6e\";i:9047;s:41:\"linkedin_32624953341d22f9f2eecd258e734d6e\";i:9048;s:35:\"fb_3ebb903edc6741521942d3b73d28d7f6\";i:9049;s:40:\"twitter_3ebb903edc6741521942d3b73d28d7f6\";i:9050;s:42:\"pinterest_3ebb903edc6741521942d3b73d28d7f6\";i:9051;s:41:\"linkedin_3ebb903edc6741521942d3b73d28d7f6\";i:9052;s:35:\"fb_f4cb0d81cab9080acdc5c008475c924f\";i:9053;s:40:\"twitter_f4cb0d81cab9080acdc5c008475c924f\";i:9054;s:42:\"pinterest_f4cb0d81cab9080acdc5c008475c924f\";i:9055;s:41:\"linkedin_f4cb0d81cab9080acdc5c008475c924f\";i:9056;s:35:\"fb_747e6cd27589ee173db8ac9408a20409\";i:9057;s:40:\"twitter_747e6cd27589ee173db8ac9408a20409\";i:9058;s:42:\"pinterest_747e6cd27589ee173db8ac9408a20409\";i:9059;s:41:\"linkedin_747e6cd27589ee173db8ac9408a20409\";i:9060;s:35:\"fb_bce2bda673a201577ea5322debc15834\";i:9061;s:40:\"twitter_bce2bda673a201577ea5322debc15834\";i:9062;s:42:\"pinterest_bce2bda673a201577ea5322debc15834\";i:9063;s:41:\"linkedin_bce2bda673a201577ea5322debc15834\";i:9064;s:35:\"fb_133b5812b1718c7f020a948f6c2b0901\";i:9065;s:40:\"twitter_133b5812b1718c7f020a948f6c2b0901\";i:9066;s:42:\"pinterest_133b5812b1718c7f020a948f6c2b0901\";i:9067;s:41:\"linkedin_133b5812b1718c7f020a948f6c2b0901\";i:9068;s:35:\"fb_98b5ac3495a656516c4fa2c1f3f5b4b0\";i:9069;s:40:\"twitter_98b5ac3495a656516c4fa2c1f3f5b4b0\";i:9070;s:42:\"pinterest_98b5ac3495a656516c4fa2c1f3f5b4b0\";i:9071;s:41:\"linkedin_98b5ac3495a656516c4fa2c1f3f5b4b0\";i:9072;s:35:\"fb_4a0e1959fbd421344adb3dbfdc04cfef\";i:9073;s:40:\"twitter_4a0e1959fbd421344adb3dbfdc04cfef\";i:9074;s:42:\"pinterest_4a0e1959fbd421344adb3dbfdc04cfef\";i:9075;s:41:\"linkedin_4a0e1959fbd421344adb3dbfdc04cfef\";i:9076;s:35:\"fb_2e16d0132736ee1297358fb820aef4aa\";i:9077;s:40:\"twitter_2e16d0132736ee1297358fb820aef4aa\";i:9078;s:42:\"pinterest_2e16d0132736ee1297358fb820aef4aa\";i:9079;s:41:\"linkedin_2e16d0132736ee1297358fb820aef4aa\";i:9080;s:35:\"fb_3544f9611d2d7f34c4100e8dc07750af\";i:9081;s:40:\"twitter_3544f9611d2d7f34c4100e8dc07750af\";i:9082;s:42:\"pinterest_3544f9611d2d7f34c4100e8dc07750af\";i:9083;s:41:\"linkedin_3544f9611d2d7f34c4100e8dc07750af\";i:9084;s:35:\"fb_af21ae7adf250602fea3398dd58de91f\";i:9085;s:40:\"twitter_af21ae7adf250602fea3398dd58de91f\";i:9086;s:42:\"pinterest_af21ae7adf250602fea3398dd58de91f\";i:9087;s:41:\"linkedin_af21ae7adf250602fea3398dd58de91f\";i:9088;s:35:\"fb_0cd5a45e0572f5aeca9433ec985f6139\";i:9089;s:40:\"twitter_0cd5a45e0572f5aeca9433ec985f6139\";i:9090;s:42:\"pinterest_0cd5a45e0572f5aeca9433ec985f6139\";i:9091;s:41:\"linkedin_0cd5a45e0572f5aeca9433ec985f6139\";i:9092;s:35:\"fb_6c899b7f8bae9b8f21f929eb64aa0a88\";i:9093;s:40:\"twitter_6c899b7f8bae9b8f21f929eb64aa0a88\";i:9094;s:42:\"pinterest_6c899b7f8bae9b8f21f929eb64aa0a88\";i:9095;s:41:\"linkedin_6c899b7f8bae9b8f21f929eb64aa0a88\";i:9096;s:35:\"fb_1eca0f00df2f397b1748ecee6df0ea67\";i:9097;s:40:\"twitter_1eca0f00df2f397b1748ecee6df0ea67\";i:9098;s:42:\"pinterest_1eca0f00df2f397b1748ecee6df0ea67\";i:9099;s:41:\"linkedin_1eca0f00df2f397b1748ecee6df0ea67\";i:9100;s:35:\"fb_4f09f69232b29885dffc092564cf8266\";i:9101;s:40:\"twitter_4f09f69232b29885dffc092564cf8266\";i:9102;s:42:\"pinterest_4f09f69232b29885dffc092564cf8266\";i:9103;s:41:\"linkedin_4f09f69232b29885dffc092564cf8266\";i:9104;s:35:\"fb_c4c83db9fe16a5b2afe8d6fc9bd9fd1d\";i:9105;s:40:\"twitter_c4c83db9fe16a5b2afe8d6fc9bd9fd1d\";i:9106;s:42:\"pinterest_c4c83db9fe16a5b2afe8d6fc9bd9fd1d\";i:9107;s:41:\"linkedin_c4c83db9fe16a5b2afe8d6fc9bd9fd1d\";i:9108;s:35:\"fb_b33afa8d17749eb0434cee4f38b3599b\";i:9109;s:40:\"twitter_b33afa8d17749eb0434cee4f38b3599b\";i:9110;s:42:\"pinterest_b33afa8d17749eb0434cee4f38b3599b\";i:9111;s:41:\"linkedin_b33afa8d17749eb0434cee4f38b3599b\";i:9112;s:35:\"fb_fa67e4a61dd0d9471cdb5822060757fa\";i:9113;s:40:\"twitter_fa67e4a61dd0d9471cdb5822060757fa\";i:9114;s:42:\"pinterest_fa67e4a61dd0d9471cdb5822060757fa\";i:9115;s:41:\"linkedin_fa67e4a61dd0d9471cdb5822060757fa\";i:9116;s:35:\"fb_c606b5a4bcbadf4faaa2b4ffe4aaaacb\";i:9117;s:40:\"twitter_c606b5a4bcbadf4faaa2b4ffe4aaaacb\";i:9118;s:42:\"pinterest_c606b5a4bcbadf4faaa2b4ffe4aaaacb\";i:9119;s:41:\"linkedin_c606b5a4bcbadf4faaa2b4ffe4aaaacb\";i:9120;s:35:\"fb_4a2e6b23b16b78cf6071efecbb2d2e4a\";i:9121;s:40:\"twitter_4a2e6b23b16b78cf6071efecbb2d2e4a\";i:9122;s:42:\"pinterest_4a2e6b23b16b78cf6071efecbb2d2e4a\";i:9123;s:41:\"linkedin_4a2e6b23b16b78cf6071efecbb2d2e4a\";i:9124;s:35:\"fb_cc3b44a83fe0f7348e5e6e54c31bb1d9\";i:9125;s:40:\"twitter_cc3b44a83fe0f7348e5e6e54c31bb1d9\";i:9126;s:42:\"pinterest_cc3b44a83fe0f7348e5e6e54c31bb1d9\";i:9127;s:41:\"linkedin_cc3b44a83fe0f7348e5e6e54c31bb1d9\";i:9128;s:35:\"fb_5cf63846a0bb9e29b1a04a1ed5c52bb9\";i:9129;s:40:\"twitter_5cf63846a0bb9e29b1a04a1ed5c52bb9\";i:9130;s:42:\"pinterest_5cf63846a0bb9e29b1a04a1ed5c52bb9\";i:9131;s:41:\"linkedin_5cf63846a0bb9e29b1a04a1ed5c52bb9\";i:9132;s:35:\"fb_a598499155a55988b6f0c75a515d6e52\";i:9133;s:40:\"twitter_a598499155a55988b6f0c75a515d6e52\";i:9134;s:42:\"pinterest_a598499155a55988b6f0c75a515d6e52\";i:9135;s:41:\"linkedin_a598499155a55988b6f0c75a515d6e52\";i:9136;s:35:\"fb_4b25912f6d07f6a1ebc6687a792a4065\";i:9137;s:40:\"twitter_4b25912f6d07f6a1ebc6687a792a4065\";i:9138;s:42:\"pinterest_4b25912f6d07f6a1ebc6687a792a4065\";i:9139;s:41:\"linkedin_4b25912f6d07f6a1ebc6687a792a4065\";i:9140;s:35:\"fb_cf7f1aa704730c964ff142b59dbf27d7\";i:9141;s:40:\"twitter_cf7f1aa704730c964ff142b59dbf27d7\";i:9142;s:42:\"pinterest_cf7f1aa704730c964ff142b59dbf27d7\";i:9143;s:41:\"linkedin_cf7f1aa704730c964ff142b59dbf27d7\";i:9144;s:35:\"fb_dce0b8c3b1ba569c6879723519d8f9f5\";i:9145;s:40:\"twitter_dce0b8c3b1ba569c6879723519d8f9f5\";i:9146;s:42:\"pinterest_dce0b8c3b1ba569c6879723519d8f9f5\";i:9147;s:41:\"linkedin_dce0b8c3b1ba569c6879723519d8f9f5\";i:9148;s:35:\"fb_82316d43677d5c472bccab4b61d101d0\";i:9149;s:40:\"twitter_82316d43677d5c472bccab4b61d101d0\";i:9150;s:42:\"pinterest_82316d43677d5c472bccab4b61d101d0\";i:9151;s:41:\"linkedin_82316d43677d5c472bccab4b61d101d0\";i:9152;s:35:\"fb_9ff92ebb307d0ea984457f8041ad8c81\";i:9153;s:40:\"twitter_9ff92ebb307d0ea984457f8041ad8c81\";i:9154;s:42:\"pinterest_9ff92ebb307d0ea984457f8041ad8c81\";i:9155;s:35:\"fb_e9dc2b45e4d9d8841b60c0a922d617c4\";i:9156;s:40:\"twitter_e9dc2b45e4d9d8841b60c0a922d617c4\";i:9157;s:42:\"pinterest_e9dc2b45e4d9d8841b60c0a922d617c4\";i:9158;s:41:\"linkedin_e9dc2b45e4d9d8841b60c0a922d617c4\";i:9159;s:35:\"fb_890d3097c985596cc9622a84fd179ab9\";i:9160;s:40:\"twitter_890d3097c985596cc9622a84fd179ab9\";i:9161;s:42:\"pinterest_890d3097c985596cc9622a84fd179ab9\";i:9162;s:41:\"linkedin_890d3097c985596cc9622a84fd179ab9\";i:9163;s:35:\"fb_eed335910d541bc6922f7dbe71b78331\";i:9164;s:40:\"twitter_eed335910d541bc6922f7dbe71b78331\";i:9165;s:42:\"pinterest_eed335910d541bc6922f7dbe71b78331\";i:9166;s:41:\"linkedin_eed335910d541bc6922f7dbe71b78331\";i:9167;s:35:\"fb_9de50c6f08849ddf526cebe1a0528cf5\";i:9168;s:40:\"twitter_9de50c6f08849ddf526cebe1a0528cf5\";i:9169;s:42:\"pinterest_9de50c6f08849ddf526cebe1a0528cf5\";i:9170;s:41:\"linkedin_9de50c6f08849ddf526cebe1a0528cf5\";i:9171;s:35:\"fb_1c8d9fe215c282bc3014bf2813831025\";i:9172;s:40:\"twitter_1c8d9fe215c282bc3014bf2813831025\";i:9173;s:42:\"pinterest_1c8d9fe215c282bc3014bf2813831025\";i:9174;s:41:\"linkedin_1c8d9fe215c282bc3014bf2813831025\";i:9175;s:35:\"fb_8e18267fb7cb2c92141e643e69661025\";i:9176;s:40:\"twitter_8e18267fb7cb2c92141e643e69661025\";i:9177;s:42:\"pinterest_8e18267fb7cb2c92141e643e69661025\";i:9178;s:41:\"linkedin_8e18267fb7cb2c92141e643e69661025\";i:9179;s:35:\"fb_b78db06369538bd85ec81632f35781bb\";i:9180;s:40:\"twitter_b78db06369538bd85ec81632f35781bb\";i:9181;s:42:\"pinterest_b78db06369538bd85ec81632f35781bb\";i:9182;s:41:\"linkedin_b78db06369538bd85ec81632f35781bb\";i:9183;s:35:\"fb_3319999c4b4ae66c860e89ce26031d8a\";i:9184;s:40:\"twitter_3319999c4b4ae66c860e89ce26031d8a\";i:9185;s:42:\"pinterest_3319999c4b4ae66c860e89ce26031d8a\";i:9186;s:35:\"fb_699b062138301f219559118ebb543f5e\";i:9187;s:40:\"twitter_699b062138301f219559118ebb543f5e\";i:9188;s:42:\"pinterest_699b062138301f219559118ebb543f5e\";i:9189;s:41:\"linkedin_699b062138301f219559118ebb543f5e\";i:9190;s:35:\"fb_8c58e4fa99395f32af7d9cc4565ddf9f\";i:9191;s:40:\"twitter_8c58e4fa99395f32af7d9cc4565ddf9f\";i:9192;s:42:\"pinterest_8c58e4fa99395f32af7d9cc4565ddf9f\";i:9193;s:41:\"linkedin_8c58e4fa99395f32af7d9cc4565ddf9f\";i:9194;s:35:\"fb_3608bbdaf298294930f0ba7896a95e45\";i:9195;s:40:\"twitter_3608bbdaf298294930f0ba7896a95e45\";i:9196;s:42:\"pinterest_3608bbdaf298294930f0ba7896a95e45\";i:9197;s:41:\"linkedin_3608bbdaf298294930f0ba7896a95e45\";i:9198;s:35:\"fb_288fa6de44f493019e8f28c1f8cd8f70\";i:9199;s:40:\"twitter_288fa6de44f493019e8f28c1f8cd8f70\";i:9200;s:42:\"pinterest_288fa6de44f493019e8f28c1f8cd8f70\";i:9201;s:41:\"linkedin_288fa6de44f493019e8f28c1f8cd8f70\";i:9202;s:35:\"fb_b1251001cf3f09170cbca4f9015d6a46\";i:9203;s:40:\"twitter_b1251001cf3f09170cbca4f9015d6a46\";i:9204;s:42:\"pinterest_b1251001cf3f09170cbca4f9015d6a46\";i:9205;s:41:\"linkedin_b1251001cf3f09170cbca4f9015d6a46\";i:9206;s:35:\"fb_3c51374f2c1bbc070716c0b5fbee910c\";i:9207;s:40:\"twitter_3c51374f2c1bbc070716c0b5fbee910c\";i:9208;s:42:\"pinterest_3c51374f2c1bbc070716c0b5fbee910c\";i:9209;s:41:\"linkedin_3c51374f2c1bbc070716c0b5fbee910c\";i:9210;s:35:\"fb_2ef67202263748028083101cb988e548\";i:9211;s:40:\"twitter_2ef67202263748028083101cb988e548\";i:9212;s:42:\"pinterest_2ef67202263748028083101cb988e548\";i:9213;s:41:\"linkedin_2ef67202263748028083101cb988e548\";i:9214;s:35:\"fb_645c134f23476f98fa4b0a6e73586b32\";i:9215;s:40:\"twitter_645c134f23476f98fa4b0a6e73586b32\";i:9216;s:42:\"pinterest_645c134f23476f98fa4b0a6e73586b32\";i:9217;s:41:\"linkedin_645c134f23476f98fa4b0a6e73586b32\";i:9218;s:35:\"fb_750907e7771c30aee1aa673880d942ee\";i:9219;s:40:\"twitter_750907e7771c30aee1aa673880d942ee\";i:9220;s:42:\"pinterest_750907e7771c30aee1aa673880d942ee\";i:9221;s:41:\"linkedin_750907e7771c30aee1aa673880d942ee\";i:9222;s:35:\"fb_ea0126e55f08d05122fcdd50a77b5d1b\";i:9223;s:40:\"twitter_ea0126e55f08d05122fcdd50a77b5d1b\";i:9224;s:42:\"pinterest_ea0126e55f08d05122fcdd50a77b5d1b\";i:9225;s:41:\"linkedin_ea0126e55f08d05122fcdd50a77b5d1b\";i:9226;s:35:\"fb_b17bca645b462b0f3d63bc723369001f\";i:9227;s:40:\"twitter_b17bca645b462b0f3d63bc723369001f\";i:9228;s:42:\"pinterest_b17bca645b462b0f3d63bc723369001f\";i:9229;s:41:\"linkedin_b17bca645b462b0f3d63bc723369001f\";i:9230;s:35:\"fb_cbacda96245ca1c0823018cdf005bed7\";i:9231;s:40:\"twitter_cbacda96245ca1c0823018cdf005bed7\";i:9232;s:42:\"pinterest_cbacda96245ca1c0823018cdf005bed7\";i:9233;s:41:\"linkedin_cbacda96245ca1c0823018cdf005bed7\";i:9234;s:35:\"fb_7783b7d096f39709ad59fe1161c61014\";i:9235;s:40:\"twitter_7783b7d096f39709ad59fe1161c61014\";i:9236;s:42:\"pinterest_7783b7d096f39709ad59fe1161c61014\";i:9237;s:41:\"linkedin_7783b7d096f39709ad59fe1161c61014\";i:9238;s:35:\"fb_d0701f8ecb782963c217d79bde184d63\";i:9239;s:40:\"twitter_d0701f8ecb782963c217d79bde184d63\";i:9240;s:42:\"pinterest_d0701f8ecb782963c217d79bde184d63\";i:9241;s:41:\"linkedin_d0701f8ecb782963c217d79bde184d63\";i:9242;s:35:\"fb_9cef38d8de4bb80b80ce5d420bddcc39\";i:9243;s:40:\"twitter_9cef38d8de4bb80b80ce5d420bddcc39\";i:9244;s:42:\"pinterest_9cef38d8de4bb80b80ce5d420bddcc39\";i:9245;s:41:\"linkedin_9cef38d8de4bb80b80ce5d420bddcc39\";i:9246;s:35:\"fb_f6cad2ecb4fc39068b81593c2f30aea5\";i:9247;s:40:\"twitter_f6cad2ecb4fc39068b81593c2f30aea5\";i:9248;s:42:\"pinterest_f6cad2ecb4fc39068b81593c2f30aea5\";i:9249;s:41:\"linkedin_f6cad2ecb4fc39068b81593c2f30aea5\";i:9250;s:35:\"fb_14c012e98573cd3fcc23e8b63701252c\";i:9251;s:40:\"twitter_14c012e98573cd3fcc23e8b63701252c\";i:9252;s:42:\"pinterest_14c012e98573cd3fcc23e8b63701252c\";i:9253;s:41:\"linkedin_14c012e98573cd3fcc23e8b63701252c\";i:9254;s:35:\"fb_df4732a3a0943b5aa4aa0093c1d42dfe\";i:9255;s:40:\"twitter_df4732a3a0943b5aa4aa0093c1d42dfe\";i:9256;s:42:\"pinterest_df4732a3a0943b5aa4aa0093c1d42dfe\";i:9257;s:35:\"fb_beb450b5d8cb4fe0a3974ff221354d56\";i:9258;s:40:\"twitter_beb450b5d8cb4fe0a3974ff221354d56\";i:9259;s:42:\"pinterest_beb450b5d8cb4fe0a3974ff221354d56\";i:9260;s:41:\"linkedin_beb450b5d8cb4fe0a3974ff221354d56\";i:9261;s:35:\"fb_8bb6d50754d66524d3b14b2aa70a9f4e\";i:9262;s:40:\"twitter_8bb6d50754d66524d3b14b2aa70a9f4e\";i:9263;s:42:\"pinterest_8bb6d50754d66524d3b14b2aa70a9f4e\";i:9264;s:41:\"linkedin_8bb6d50754d66524d3b14b2aa70a9f4e\";i:9265;s:35:\"fb_4674f428e97cbd963078a95f45ecc3f9\";i:9266;s:40:\"twitter_4674f428e97cbd963078a95f45ecc3f9\";i:9267;s:42:\"pinterest_4674f428e97cbd963078a95f45ecc3f9\";i:9268;s:41:\"linkedin_4674f428e97cbd963078a95f45ecc3f9\";i:9269;s:35:\"fb_559ad4bfc5599d5628b835de58edb96a\";i:9270;s:40:\"twitter_559ad4bfc5599d5628b835de58edb96a\";i:9271;s:42:\"pinterest_559ad4bfc5599d5628b835de58edb96a\";i:9272;s:41:\"linkedin_559ad4bfc5599d5628b835de58edb96a\";i:9273;s:35:\"fb_bd803f8b863177b39a137556445d99ba\";i:9274;s:40:\"twitter_bd803f8b863177b39a137556445d99ba\";i:9275;s:42:\"pinterest_bd803f8b863177b39a137556445d99ba\";i:9276;s:41:\"linkedin_bd803f8b863177b39a137556445d99ba\";i:9277;s:35:\"fb_813b82536b19606578de72da241501ab\";i:9278;s:40:\"twitter_813b82536b19606578de72da241501ab\";i:9279;s:42:\"pinterest_813b82536b19606578de72da241501ab\";i:9280;s:41:\"linkedin_813b82536b19606578de72da241501ab\";i:9281;s:35:\"fb_1a50034a7eae51fd1e0e535cfcad383a\";i:9282;s:40:\"twitter_1a50034a7eae51fd1e0e535cfcad383a\";i:9283;s:42:\"pinterest_1a50034a7eae51fd1e0e535cfcad383a\";i:9284;s:41:\"linkedin_1a50034a7eae51fd1e0e535cfcad383a\";i:9285;s:35:\"fb_771cf221519f37696d6405ea66890bf9\";i:9286;s:40:\"twitter_771cf221519f37696d6405ea66890bf9\";i:9287;s:42:\"pinterest_771cf221519f37696d6405ea66890bf9\";i:9288;s:41:\"linkedin_771cf221519f37696d6405ea66890bf9\";i:9289;s:35:\"fb_0979968cbeec5616c44b933abe890111\";i:9290;s:40:\"twitter_0979968cbeec5616c44b933abe890111\";i:9291;s:35:\"fb_c28bc6f44c6a46d0e3de9f862b95ff94\";i:9292;s:40:\"twitter_c28bc6f44c6a46d0e3de9f862b95ff94\";i:9293;s:42:\"pinterest_c28bc6f44c6a46d0e3de9f862b95ff94\";i:9294;s:41:\"linkedin_c28bc6f44c6a46d0e3de9f862b95ff94\";i:9295;s:35:\"fb_3233d6fddd8890fa0211786365367b97\";i:9296;s:40:\"twitter_3233d6fddd8890fa0211786365367b97\";i:9297;s:42:\"pinterest_3233d6fddd8890fa0211786365367b97\";i:9298;s:41:\"linkedin_3233d6fddd8890fa0211786365367b97\";i:9299;s:35:\"fb_8f1c3221b3a2e1e9881dbc4aa6a321e8\";i:9300;s:40:\"twitter_8f1c3221b3a2e1e9881dbc4aa6a321e8\";i:9301;s:42:\"pinterest_8f1c3221b3a2e1e9881dbc4aa6a321e8\";i:9302;s:41:\"linkedin_8f1c3221b3a2e1e9881dbc4aa6a321e8\";i:9303;s:35:\"fb_88160de3e3b6f8e6a6b13274ee503b50\";i:9304;s:40:\"twitter_88160de3e3b6f8e6a6b13274ee503b50\";i:9305;s:42:\"pinterest_88160de3e3b6f8e6a6b13274ee503b50\";i:9306;s:41:\"linkedin_88160de3e3b6f8e6a6b13274ee503b50\";i:9307;s:35:\"fb_3a389f4767c7327cb840f8e0f31ff264\";i:9308;s:40:\"twitter_3a389f4767c7327cb840f8e0f31ff264\";i:9309;s:42:\"pinterest_3a389f4767c7327cb840f8e0f31ff264\";i:9310;s:41:\"linkedin_3a389f4767c7327cb840f8e0f31ff264\";i:9311;s:35:\"fb_aeaa9c3a99e8bd33d3c29f8e74ab107b\";i:9312;s:40:\"twitter_aeaa9c3a99e8bd33d3c29f8e74ab107b\";i:9313;s:42:\"pinterest_aeaa9c3a99e8bd33d3c29f8e74ab107b\";i:9314;s:41:\"linkedin_aeaa9c3a99e8bd33d3c29f8e74ab107b\";i:9315;s:35:\"fb_c7078d1a9001f69dafbeebfece00cc96\";i:9316;s:40:\"twitter_c7078d1a9001f69dafbeebfece00cc96\";i:9317;s:42:\"pinterest_c7078d1a9001f69dafbeebfece00cc96\";i:9318;s:41:\"linkedin_c7078d1a9001f69dafbeebfece00cc96\";i:9319;s:35:\"fb_dd81adcabd9ba96d7c9bdddce59f6fb2\";i:9320;s:40:\"twitter_dd81adcabd9ba96d7c9bdddce59f6fb2\";i:9321;s:42:\"pinterest_dd81adcabd9ba96d7c9bdddce59f6fb2\";i:9322;s:41:\"linkedin_dd81adcabd9ba96d7c9bdddce59f6fb2\";i:9323;s:35:\"fb_7ed5ca19cae3444cb91a75a166deea58\";i:9324;s:40:\"twitter_7ed5ca19cae3444cb91a75a166deea58\";i:9325;s:42:\"pinterest_7ed5ca19cae3444cb91a75a166deea58\";i:9326;s:41:\"linkedin_7ed5ca19cae3444cb91a75a166deea58\";i:9327;s:35:\"fb_f53395462a3a1267a6a486f95888b213\";i:9328;s:40:\"twitter_f53395462a3a1267a6a486f95888b213\";i:9329;s:42:\"pinterest_f53395462a3a1267a6a486f95888b213\";i:9330;s:41:\"linkedin_f53395462a3a1267a6a486f95888b213\";i:9331;s:35:\"fb_dcc36611faceb74408101bf0233baa8d\";i:9332;s:40:\"twitter_dcc36611faceb74408101bf0233baa8d\";i:9333;s:42:\"pinterest_dcc36611faceb74408101bf0233baa8d\";i:9334;s:41:\"linkedin_dcc36611faceb74408101bf0233baa8d\";i:9335;s:35:\"fb_9c1b151f172c27f2857dd38d9d6c3e32\";i:9336;s:40:\"twitter_9c1b151f172c27f2857dd38d9d6c3e32\";i:9337;s:42:\"pinterest_9c1b151f172c27f2857dd38d9d6c3e32\";i:9338;s:41:\"linkedin_9c1b151f172c27f2857dd38d9d6c3e32\";i:9339;s:35:\"fb_e5a0b006cd1f33086437ad64a1db369b\";i:9340;s:40:\"twitter_e5a0b006cd1f33086437ad64a1db369b\";i:9341;s:42:\"pinterest_e5a0b006cd1f33086437ad64a1db369b\";i:9342;s:41:\"linkedin_e5a0b006cd1f33086437ad64a1db369b\";i:9343;s:35:\"fb_589dec8396f9930e81e1cced161f406d\";i:9344;s:40:\"twitter_589dec8396f9930e81e1cced161f406d\";i:9345;s:42:\"pinterest_589dec8396f9930e81e1cced161f406d\";i:9346;s:41:\"linkedin_589dec8396f9930e81e1cced161f406d\";i:9347;s:35:\"fb_d33bd1ca40f79e5c3eeec696dd1a3bf2\";i:9348;s:40:\"twitter_d33bd1ca40f79e5c3eeec696dd1a3bf2\";i:9349;s:42:\"pinterest_d33bd1ca40f79e5c3eeec696dd1a3bf2\";i:9350;s:41:\"linkedin_d33bd1ca40f79e5c3eeec696dd1a3bf2\";i:9351;s:35:\"fb_6d293102993667cbde65f6d10865ac91\";i:9352;s:40:\"twitter_6d293102993667cbde65f6d10865ac91\";i:9353;s:42:\"pinterest_6d293102993667cbde65f6d10865ac91\";i:9354;s:41:\"linkedin_6d293102993667cbde65f6d10865ac91\";i:9355;s:35:\"fb_0fe7c3fe45478bfb88c1861991fd56d2\";i:9356;s:40:\"twitter_0fe7c3fe45478bfb88c1861991fd56d2\";i:9357;s:42:\"pinterest_0fe7c3fe45478bfb88c1861991fd56d2\";i:9358;s:41:\"linkedin_0fe7c3fe45478bfb88c1861991fd56d2\";i:9359;s:35:\"fb_9fb897913064ba77ddfff071c59c6fb6\";i:9360;s:40:\"twitter_9fb897913064ba77ddfff071c59c6fb6\";i:9361;s:42:\"pinterest_9fb897913064ba77ddfff071c59c6fb6\";i:9362;s:41:\"linkedin_9fb897913064ba77ddfff071c59c6fb6\";i:9363;s:35:\"fb_34ba3218af65c1cd3da2b7456237cee9\";i:9364;s:40:\"twitter_34ba3218af65c1cd3da2b7456237cee9\";i:9365;s:42:\"pinterest_34ba3218af65c1cd3da2b7456237cee9\";i:9366;s:41:\"linkedin_34ba3218af65c1cd3da2b7456237cee9\";i:9367;s:35:\"fb_e879b65bc093b018ab277317c595e670\";i:9368;s:40:\"twitter_e879b65bc093b018ab277317c595e670\";i:9369;s:42:\"pinterest_e879b65bc093b018ab277317c595e670\";i:9370;s:41:\"linkedin_e879b65bc093b018ab277317c595e670\";i:9371;s:35:\"fb_8c2b56a80edae3c1cd3bd66c76515594\";i:9372;s:40:\"twitter_8c2b56a80edae3c1cd3bd66c76515594\";i:9373;s:42:\"pinterest_8c2b56a80edae3c1cd3bd66c76515594\";i:9374;s:41:\"linkedin_8c2b56a80edae3c1cd3bd66c76515594\";i:9375;s:35:\"fb_47383f0c85c82c2cba4c0fdecc290291\";i:9376;s:40:\"twitter_47383f0c85c82c2cba4c0fdecc290291\";i:9377;s:42:\"pinterest_47383f0c85c82c2cba4c0fdecc290291\";i:9378;s:41:\"linkedin_47383f0c85c82c2cba4c0fdecc290291\";i:9379;s:35:\"fb_3b019e5ce1130948a78c4e24769fbc94\";i:9380;s:40:\"twitter_3b019e5ce1130948a78c4e24769fbc94\";i:9381;s:42:\"pinterest_3b019e5ce1130948a78c4e24769fbc94\";i:9382;s:41:\"linkedin_3b019e5ce1130948a78c4e24769fbc94\";i:9383;s:35:\"fb_48ae6605166c165d76f28e01d6552e6a\";i:9384;s:40:\"twitter_48ae6605166c165d76f28e01d6552e6a\";i:9385;s:42:\"pinterest_48ae6605166c165d76f28e01d6552e6a\";i:9386;s:41:\"linkedin_48ae6605166c165d76f28e01d6552e6a\";i:9387;s:35:\"fb_9b526f3454d47ca11d8c04c816b98638\";i:9388;s:40:\"twitter_9b526f3454d47ca11d8c04c816b98638\";i:9389;s:42:\"pinterest_9b526f3454d47ca11d8c04c816b98638\";i:9390;s:41:\"linkedin_9b526f3454d47ca11d8c04c816b98638\";i:9391;s:35:\"fb_ecf9dd7bc57ecb87a75ef6b52a190a1b\";i:9392;s:40:\"twitter_ecf9dd7bc57ecb87a75ef6b52a190a1b\";i:9393;s:42:\"pinterest_ecf9dd7bc57ecb87a75ef6b52a190a1b\";i:9394;s:41:\"linkedin_ecf9dd7bc57ecb87a75ef6b52a190a1b\";i:9395;s:35:\"fb_611acdc7e36c2f407cbac92b8f20d7f1\";i:9396;s:40:\"twitter_611acdc7e36c2f407cbac92b8f20d7f1\";i:9397;s:42:\"pinterest_611acdc7e36c2f407cbac92b8f20d7f1\";i:9398;s:41:\"linkedin_611acdc7e36c2f407cbac92b8f20d7f1\";i:9399;s:35:\"fb_1f61f2eee2fb3fa970adda0b5779041a\";i:9400;s:40:\"twitter_1f61f2eee2fb3fa970adda0b5779041a\";i:9401;s:42:\"pinterest_1f61f2eee2fb3fa970adda0b5779041a\";i:9402;s:41:\"linkedin_1f61f2eee2fb3fa970adda0b5779041a\";i:9403;s:35:\"fb_d8697c2dba1f68a9ef04e117991e5275\";i:9404;s:40:\"twitter_d8697c2dba1f68a9ef04e117991e5275\";i:9405;s:42:\"pinterest_d8697c2dba1f68a9ef04e117991e5275\";i:9406;s:41:\"linkedin_d8697c2dba1f68a9ef04e117991e5275\";i:9407;s:35:\"fb_5acb8db05d36445f519ba09598be3cbb\";i:9408;s:40:\"twitter_5acb8db05d36445f519ba09598be3cbb\";i:9409;s:42:\"pinterest_5acb8db05d36445f519ba09598be3cbb\";i:9410;s:41:\"linkedin_5acb8db05d36445f519ba09598be3cbb\";i:9411;s:35:\"fb_7da3a602a0a953e3c89ad984b90189da\";i:9412;s:40:\"twitter_7da3a602a0a953e3c89ad984b90189da\";i:9413;s:42:\"pinterest_7da3a602a0a953e3c89ad984b90189da\";i:9414;s:41:\"linkedin_7da3a602a0a953e3c89ad984b90189da\";i:9415;s:35:\"fb_67a1c2cadf20e4fd817cad744df335e7\";i:9416;s:40:\"twitter_67a1c2cadf20e4fd817cad744df335e7\";i:9417;s:42:\"pinterest_67a1c2cadf20e4fd817cad744df335e7\";i:9418;s:41:\"linkedin_67a1c2cadf20e4fd817cad744df335e7\";i:9419;s:35:\"fb_f378ca8d887cb641b505c3b8131f40b6\";i:9420;s:40:\"twitter_f378ca8d887cb641b505c3b8131f40b6\";i:9421;s:42:\"pinterest_f378ca8d887cb641b505c3b8131f40b6\";i:9422;s:41:\"linkedin_f378ca8d887cb641b505c3b8131f40b6\";i:9423;s:35:\"fb_fb3948ed34fa1b48716b5f1c5733df38\";i:9424;s:40:\"twitter_fb3948ed34fa1b48716b5f1c5733df38\";i:9425;s:42:\"pinterest_fb3948ed34fa1b48716b5f1c5733df38\";i:9426;s:41:\"linkedin_fb3948ed34fa1b48716b5f1c5733df38\";i:9427;s:35:\"fb_3104149be7b861cad67945dcf8b5ac65\";i:9428;s:40:\"twitter_3104149be7b861cad67945dcf8b5ac65\";i:9429;s:42:\"pinterest_3104149be7b861cad67945dcf8b5ac65\";i:9430;s:41:\"linkedin_3104149be7b861cad67945dcf8b5ac65\";i:9431;s:35:\"fb_6a442b271492e565a5412bf7c8669825\";i:9432;s:40:\"twitter_6a442b271492e565a5412bf7c8669825\";i:9433;s:42:\"pinterest_6a442b271492e565a5412bf7c8669825\";i:9434;s:41:\"linkedin_6a442b271492e565a5412bf7c8669825\";i:9435;s:35:\"fb_7288e7f7991b8d190e3822818badca51\";i:9436;s:40:\"twitter_7288e7f7991b8d190e3822818badca51\";i:9437;s:42:\"pinterest_7288e7f7991b8d190e3822818badca51\";i:9438;s:41:\"linkedin_7288e7f7991b8d190e3822818badca51\";i:9439;s:35:\"fb_f2b9182f33a9cc1341846a8f5fb6f08e\";i:9440;s:40:\"twitter_f2b9182f33a9cc1341846a8f5fb6f08e\";i:9441;s:42:\"pinterest_f2b9182f33a9cc1341846a8f5fb6f08e\";i:9442;s:41:\"linkedin_f2b9182f33a9cc1341846a8f5fb6f08e\";i:9443;s:35:\"fb_82777e48387839984397659823287304\";i:9444;s:40:\"twitter_82777e48387839984397659823287304\";i:9445;s:42:\"pinterest_82777e48387839984397659823287304\";i:9446;s:41:\"linkedin_82777e48387839984397659823287304\";i:9447;s:35:\"fb_65e21d872eea1be5c02f4fc05d60c2a9\";i:9448;s:40:\"twitter_65e21d872eea1be5c02f4fc05d60c2a9\";i:9449;s:42:\"pinterest_65e21d872eea1be5c02f4fc05d60c2a9\";i:9450;s:41:\"linkedin_65e21d872eea1be5c02f4fc05d60c2a9\";i:9451;s:35:\"fb_d19f11e1a66c9ee329025cdb65125e66\";i:9452;s:40:\"twitter_d19f11e1a66c9ee329025cdb65125e66\";i:9453;s:42:\"pinterest_d19f11e1a66c9ee329025cdb65125e66\";i:9454;s:41:\"linkedin_d19f11e1a66c9ee329025cdb65125e66\";i:9455;s:35:\"fb_211104fe2907b28c119b0437013183e0\";i:9456;s:40:\"twitter_211104fe2907b28c119b0437013183e0\";i:9457;s:42:\"pinterest_211104fe2907b28c119b0437013183e0\";i:9458;s:41:\"linkedin_211104fe2907b28c119b0437013183e0\";i:9459;s:35:\"fb_a22405135c6368c961f8504665c950a6\";i:9460;s:40:\"twitter_a22405135c6368c961f8504665c950a6\";i:9461;s:42:\"pinterest_a22405135c6368c961f8504665c950a6\";i:9462;s:41:\"linkedin_a22405135c6368c961f8504665c950a6\";i:9463;s:35:\"fb_4b80de5f709917a98c55020e26d5649a\";i:9464;s:40:\"twitter_4b80de5f709917a98c55020e26d5649a\";i:9465;s:42:\"pinterest_4b80de5f709917a98c55020e26d5649a\";i:9466;s:41:\"linkedin_4b80de5f709917a98c55020e26d5649a\";i:9467;s:35:\"fb_c50229f915ff4733e88a5756ddc87687\";i:9468;s:40:\"twitter_c50229f915ff4733e88a5756ddc87687\";i:9469;s:42:\"pinterest_c50229f915ff4733e88a5756ddc87687\";i:9470;s:41:\"linkedin_c50229f915ff4733e88a5756ddc87687\";i:9471;s:35:\"fb_074f9702e69da052c7b73870a86c7c5f\";i:9472;s:40:\"twitter_074f9702e69da052c7b73870a86c7c5f\";i:9473;s:42:\"pinterest_074f9702e69da052c7b73870a86c7c5f\";i:9474;s:41:\"linkedin_074f9702e69da052c7b73870a86c7c5f\";i:9475;s:35:\"fb_e9cf7075e0a305f81541d882cf534c5c\";i:9476;s:40:\"twitter_e9cf7075e0a305f81541d882cf534c5c\";i:9477;s:42:\"pinterest_e9cf7075e0a305f81541d882cf534c5c\";i:9478;s:41:\"linkedin_e9cf7075e0a305f81541d882cf534c5c\";i:9479;s:35:\"fb_0dc64b76d73a1a63d6e38cb8af501f4a\";i:9480;s:40:\"twitter_0dc64b76d73a1a63d6e38cb8af501f4a\";i:9481;s:42:\"pinterest_0dc64b76d73a1a63d6e38cb8af501f4a\";i:9482;s:41:\"linkedin_0dc64b76d73a1a63d6e38cb8af501f4a\";i:9483;s:35:\"fb_80a12e0ce49303b61b8e81f5003271e7\";i:9484;s:40:\"twitter_80a12e0ce49303b61b8e81f5003271e7\";i:9485;s:42:\"pinterest_80a12e0ce49303b61b8e81f5003271e7\";i:9486;s:41:\"linkedin_80a12e0ce49303b61b8e81f5003271e7\";i:9487;s:35:\"fb_d964e723a59e61375775b29da172b0d3\";i:9488;s:40:\"twitter_d964e723a59e61375775b29da172b0d3\";i:9489;s:42:\"pinterest_d964e723a59e61375775b29da172b0d3\";i:9490;s:41:\"linkedin_d964e723a59e61375775b29da172b0d3\";i:9491;s:35:\"fb_76bb154ee000183e918058d1883c463e\";i:9492;s:40:\"twitter_76bb154ee000183e918058d1883c463e\";i:9493;s:42:\"pinterest_76bb154ee000183e918058d1883c463e\";i:9494;s:41:\"linkedin_76bb154ee000183e918058d1883c463e\";i:9495;s:35:\"fb_1f6e58213d4aaf8773582c31bc739603\";i:9496;s:40:\"twitter_1f6e58213d4aaf8773582c31bc739603\";i:9497;s:42:\"pinterest_1f6e58213d4aaf8773582c31bc739603\";i:9498;s:41:\"linkedin_1f6e58213d4aaf8773582c31bc739603\";i:9499;s:35:\"fb_a51936e0d3f3a492fe7137db99a40a2a\";i:9500;s:40:\"twitter_a51936e0d3f3a492fe7137db99a40a2a\";i:9501;s:42:\"pinterest_a51936e0d3f3a492fe7137db99a40a2a\";i:9502;s:41:\"linkedin_a51936e0d3f3a492fe7137db99a40a2a\";i:9503;s:35:\"fb_333901926be070bf1d0b15786267228a\";i:9504;s:40:\"twitter_333901926be070bf1d0b15786267228a\";i:9505;s:42:\"pinterest_333901926be070bf1d0b15786267228a\";i:9506;s:41:\"linkedin_333901926be070bf1d0b15786267228a\";i:9507;s:35:\"fb_f2dfd749f0909eea96dcbf3b9228c815\";i:9508;s:40:\"twitter_f2dfd749f0909eea96dcbf3b9228c815\";i:9509;s:42:\"pinterest_f2dfd749f0909eea96dcbf3b9228c815\";i:9510;s:41:\"linkedin_f2dfd749f0909eea96dcbf3b9228c815\";i:9511;s:35:\"fb_574792d99db532af08ec00b140108dcd\";i:9512;s:40:\"twitter_574792d99db532af08ec00b140108dcd\";i:9513;s:42:\"pinterest_574792d99db532af08ec00b140108dcd\";i:9514;s:41:\"linkedin_574792d99db532af08ec00b140108dcd\";i:9515;s:35:\"fb_3e54107b61ed1ac8bb7baba2f701689c\";i:9516;s:40:\"twitter_3e54107b61ed1ac8bb7baba2f701689c\";i:9517;s:42:\"pinterest_3e54107b61ed1ac8bb7baba2f701689c\";i:9518;s:41:\"linkedin_3e54107b61ed1ac8bb7baba2f701689c\";i:9519;s:35:\"fb_6074abcad8bafad5e785ee60d0ca74b0\";i:9520;s:40:\"twitter_6074abcad8bafad5e785ee60d0ca74b0\";i:9521;s:42:\"pinterest_6074abcad8bafad5e785ee60d0ca74b0\";i:9522;s:41:\"linkedin_6074abcad8bafad5e785ee60d0ca74b0\";i:9523;s:35:\"fb_de3a9e360b4bc66a2bc6b15cd9204d94\";i:9524;s:40:\"twitter_de3a9e360b4bc66a2bc6b15cd9204d94\";i:9525;s:42:\"pinterest_de3a9e360b4bc66a2bc6b15cd9204d94\";i:9526;s:41:\"linkedin_de3a9e360b4bc66a2bc6b15cd9204d94\";i:9527;s:35:\"fb_7e34b5a4dc52059de105897888507f88\";i:9528;s:40:\"twitter_7e34b5a4dc52059de105897888507f88\";i:9529;s:42:\"pinterest_7e34b5a4dc52059de105897888507f88\";i:9530;s:41:\"linkedin_7e34b5a4dc52059de105897888507f88\";i:9531;s:35:\"fb_d3a97b7438df1378edcd44e16b397f38\";i:9532;s:40:\"twitter_d3a97b7438df1378edcd44e16b397f38\";i:9533;s:42:\"pinterest_d3a97b7438df1378edcd44e16b397f38\";i:9534;s:41:\"linkedin_d3a97b7438df1378edcd44e16b397f38\";i:9535;s:35:\"fb_1bd490facae6cf948044fe6f30af3bf8\";i:9536;s:40:\"twitter_1bd490facae6cf948044fe6f30af3bf8\";i:9537;s:42:\"pinterest_1bd490facae6cf948044fe6f30af3bf8\";i:9538;s:41:\"linkedin_1bd490facae6cf948044fe6f30af3bf8\";i:9539;s:35:\"fb_4b0e90180856f5c230674f6da5c37063\";i:9540;s:40:\"twitter_4b0e90180856f5c230674f6da5c37063\";i:9541;s:42:\"pinterest_4b0e90180856f5c230674f6da5c37063\";i:9542;s:41:\"linkedin_4b0e90180856f5c230674f6da5c37063\";i:9543;s:35:\"fb_81637ce288d6bc5f352e92831147e129\";i:9544;s:40:\"twitter_81637ce288d6bc5f352e92831147e129\";i:9545;s:42:\"pinterest_81637ce288d6bc5f352e92831147e129\";i:9546;s:41:\"linkedin_81637ce288d6bc5f352e92831147e129\";i:9547;s:35:\"fb_8132e6f99c6432620c4f932367a63df7\";i:9548;s:40:\"twitter_8132e6f99c6432620c4f932367a63df7\";i:9549;s:42:\"pinterest_8132e6f99c6432620c4f932367a63df7\";i:9550;s:41:\"linkedin_8132e6f99c6432620c4f932367a63df7\";i:9551;s:35:\"fb_108d7ed5d3c0da6ca97e6f96e5d8e717\";i:9552;s:40:\"twitter_108d7ed5d3c0da6ca97e6f96e5d8e717\";i:9553;s:42:\"pinterest_108d7ed5d3c0da6ca97e6f96e5d8e717\";i:9554;s:41:\"linkedin_108d7ed5d3c0da6ca97e6f96e5d8e717\";i:9555;s:35:\"fb_32c60c9e545aa90088e77eae29774664\";i:9556;s:40:\"twitter_32c60c9e545aa90088e77eae29774664\";i:9557;s:42:\"pinterest_32c60c9e545aa90088e77eae29774664\";i:9558;s:41:\"linkedin_32c60c9e545aa90088e77eae29774664\";i:9559;s:35:\"fb_4278c69088f6f4ddd84d621018565724\";i:9560;s:40:\"twitter_4278c69088f6f4ddd84d621018565724\";i:9561;s:42:\"pinterest_4278c69088f6f4ddd84d621018565724\";i:9562;s:41:\"linkedin_4278c69088f6f4ddd84d621018565724\";i:9563;s:35:\"fb_4bd5a55c3e66559ab822217905fda96e\";i:9564;s:40:\"twitter_4bd5a55c3e66559ab822217905fda96e\";i:9565;s:42:\"pinterest_4bd5a55c3e66559ab822217905fda96e\";i:9566;s:41:\"linkedin_4bd5a55c3e66559ab822217905fda96e\";i:9567;s:35:\"fb_eae4b3fcbe0103b02ae6c178d94e1972\";i:9568;s:40:\"twitter_eae4b3fcbe0103b02ae6c178d94e1972\";i:9569;s:42:\"pinterest_eae4b3fcbe0103b02ae6c178d94e1972\";i:9570;s:41:\"linkedin_eae4b3fcbe0103b02ae6c178d94e1972\";i:9571;s:35:\"fb_2a7a17a3220d39982c22de2f78523f97\";i:9572;s:40:\"twitter_2a7a17a3220d39982c22de2f78523f97\";i:9573;s:42:\"pinterest_2a7a17a3220d39982c22de2f78523f97\";i:9574;s:41:\"linkedin_2a7a17a3220d39982c22de2f78523f97\";i:9575;s:35:\"fb_98643165fcce72807ab4f378acde3545\";i:9576;s:40:\"twitter_98643165fcce72807ab4f378acde3545\";i:9577;s:42:\"pinterest_98643165fcce72807ab4f378acde3545\";i:9578;s:41:\"linkedin_98643165fcce72807ab4f378acde3545\";i:9579;s:35:\"fb_ecd0f5591c1a48eef652e8c5d32e4208\";i:9580;s:40:\"twitter_ecd0f5591c1a48eef652e8c5d32e4208\";i:9581;s:42:\"pinterest_ecd0f5591c1a48eef652e8c5d32e4208\";i:9582;s:41:\"linkedin_ecd0f5591c1a48eef652e8c5d32e4208\";i:9583;s:35:\"fb_81e4ec05718289bfd0b66816ed4b52d3\";i:9584;s:40:\"twitter_81e4ec05718289bfd0b66816ed4b52d3\";i:9585;s:42:\"pinterest_81e4ec05718289bfd0b66816ed4b52d3\";i:9586;s:41:\"linkedin_81e4ec05718289bfd0b66816ed4b52d3\";i:9587;s:35:\"fb_ab3cc02e6ca77d1881204064133ac9a7\";i:9588;s:40:\"twitter_ab3cc02e6ca77d1881204064133ac9a7\";i:9589;s:42:\"pinterest_ab3cc02e6ca77d1881204064133ac9a7\";i:9590;s:41:\"linkedin_ab3cc02e6ca77d1881204064133ac9a7\";i:9591;s:35:\"fb_44c47a70360aee2e4e1a8d650cae64e8\";i:9592;s:40:\"twitter_44c47a70360aee2e4e1a8d650cae64e8\";i:9593;s:42:\"pinterest_44c47a70360aee2e4e1a8d650cae64e8\";i:9594;s:41:\"linkedin_44c47a70360aee2e4e1a8d650cae64e8\";i:9595;s:35:\"fb_db2a4a21bb80bc343f411bad40fbb570\";i:9596;s:40:\"twitter_db2a4a21bb80bc343f411bad40fbb570\";i:9597;s:42:\"pinterest_db2a4a21bb80bc343f411bad40fbb570\";i:9598;s:41:\"linkedin_db2a4a21bb80bc343f411bad40fbb570\";i:9599;s:35:\"fb_fe15cc944d745071358487b90d0c678e\";i:9600;s:40:\"twitter_fe15cc944d745071358487b90d0c678e\";i:9601;s:42:\"pinterest_fe15cc944d745071358487b90d0c678e\";i:9602;s:41:\"linkedin_fe15cc944d745071358487b90d0c678e\";i:9603;s:35:\"fb_22fe6dc7739ab1c3b71b00a7d8443816\";i:9604;s:40:\"twitter_22fe6dc7739ab1c3b71b00a7d8443816\";i:9605;s:42:\"pinterest_22fe6dc7739ab1c3b71b00a7d8443816\";i:9606;s:41:\"linkedin_22fe6dc7739ab1c3b71b00a7d8443816\";i:9607;s:35:\"fb_231158c27168b429d84cc3b4fd076110\";i:9608;s:40:\"twitter_231158c27168b429d84cc3b4fd076110\";i:9609;s:42:\"pinterest_231158c27168b429d84cc3b4fd076110\";i:9610;s:41:\"linkedin_231158c27168b429d84cc3b4fd076110\";i:9611;s:35:\"fb_969e9fb7da1e24831efb0a07a2729092\";i:9612;s:40:\"twitter_969e9fb7da1e24831efb0a07a2729092\";i:9613;s:42:\"pinterest_969e9fb7da1e24831efb0a07a2729092\";i:9614;s:41:\"linkedin_969e9fb7da1e24831efb0a07a2729092\";i:9615;s:35:\"fb_642e6fe39518af65e2a8990394b84f38\";i:9616;s:40:\"twitter_642e6fe39518af65e2a8990394b84f38\";i:9617;s:42:\"pinterest_642e6fe39518af65e2a8990394b84f38\";i:9618;s:41:\"linkedin_642e6fe39518af65e2a8990394b84f38\";i:9619;s:35:\"fb_819a2632dfca27a4dbd8c9fedb72c304\";i:9620;s:40:\"twitter_819a2632dfca27a4dbd8c9fedb72c304\";i:9621;s:42:\"pinterest_819a2632dfca27a4dbd8c9fedb72c304\";i:9622;s:41:\"linkedin_819a2632dfca27a4dbd8c9fedb72c304\";i:9623;s:35:\"fb_d060ac4fec45a8c12dc1dc3fd289deba\";i:9624;s:40:\"twitter_d060ac4fec45a8c12dc1dc3fd289deba\";i:9625;s:42:\"pinterest_d060ac4fec45a8c12dc1dc3fd289deba\";i:9626;s:41:\"linkedin_d060ac4fec45a8c12dc1dc3fd289deba\";i:9627;s:35:\"fb_6507fa420bd78ed110132302c2b98270\";i:9628;s:40:\"twitter_6507fa420bd78ed110132302c2b98270\";i:9629;s:42:\"pinterest_6507fa420bd78ed110132302c2b98270\";i:9630;s:41:\"linkedin_6507fa420bd78ed110132302c2b98270\";i:9631;s:35:\"fb_1c555585ce5930a8fca9db19ccda0b85\";i:9632;s:40:\"twitter_1c555585ce5930a8fca9db19ccda0b85\";i:9633;s:42:\"pinterest_1c555585ce5930a8fca9db19ccda0b85\";i:9634;s:41:\"linkedin_1c555585ce5930a8fca9db19ccda0b85\";i:9635;s:35:\"fb_6145832501bd6ae793d7114ac6d50964\";i:9636;s:40:\"twitter_6145832501bd6ae793d7114ac6d50964\";i:9637;s:42:\"pinterest_6145832501bd6ae793d7114ac6d50964\";i:9638;s:41:\"linkedin_6145832501bd6ae793d7114ac6d50964\";i:9639;s:35:\"fb_1eceb448e85ba2fee283f9190cb16f70\";i:9640;s:40:\"twitter_1eceb448e85ba2fee283f9190cb16f70\";i:9641;s:42:\"pinterest_1eceb448e85ba2fee283f9190cb16f70\";i:9642;s:41:\"linkedin_1eceb448e85ba2fee283f9190cb16f70\";i:9643;s:35:\"fb_7aafe05fcf4c1ee419ebeb4f130dd6a8\";i:9644;s:40:\"twitter_7aafe05fcf4c1ee419ebeb4f130dd6a8\";i:9645;s:42:\"pinterest_7aafe05fcf4c1ee419ebeb4f130dd6a8\";i:9646;s:41:\"linkedin_7aafe05fcf4c1ee419ebeb4f130dd6a8\";i:9647;s:35:\"fb_2777467d2811fa0a084fa87328f23ebb\";i:9648;s:40:\"twitter_2777467d2811fa0a084fa87328f23ebb\";i:9649;s:42:\"pinterest_2777467d2811fa0a084fa87328f23ebb\";i:9650;s:41:\"linkedin_2777467d2811fa0a084fa87328f23ebb\";i:9651;s:35:\"fb_bfbe97c8e23cc1a0f0b902ee66318b24\";i:9652;s:40:\"twitter_bfbe97c8e23cc1a0f0b902ee66318b24\";i:9653;s:42:\"pinterest_bfbe97c8e23cc1a0f0b902ee66318b24\";i:9654;s:41:\"linkedin_bfbe97c8e23cc1a0f0b902ee66318b24\";i:9655;s:35:\"fb_eb79dd5676b836a7f19b485be7c0c1bc\";i:9656;s:40:\"twitter_eb79dd5676b836a7f19b485be7c0c1bc\";i:9657;s:42:\"pinterest_eb79dd5676b836a7f19b485be7c0c1bc\";i:9658;s:41:\"linkedin_eb79dd5676b836a7f19b485be7c0c1bc\";i:9659;s:35:\"fb_d2151bc861221449bda0d26dac2aa6a4\";i:9660;s:40:\"twitter_d2151bc861221449bda0d26dac2aa6a4\";i:9661;s:42:\"pinterest_d2151bc861221449bda0d26dac2aa6a4\";i:9662;s:41:\"linkedin_d2151bc861221449bda0d26dac2aa6a4\";i:9663;s:35:\"fb_bd10561d2db249994e5339713b66f395\";i:9664;s:40:\"twitter_bd10561d2db249994e5339713b66f395\";i:9665;s:42:\"pinterest_bd10561d2db249994e5339713b66f395\";i:9666;s:41:\"linkedin_bd10561d2db249994e5339713b66f395\";i:9667;s:35:\"fb_36531b97c63fce295f3535c810a51d74\";i:9668;s:40:\"twitter_36531b97c63fce295f3535c810a51d74\";i:9669;s:42:\"pinterest_36531b97c63fce295f3535c810a51d74\";i:9670;s:41:\"linkedin_36531b97c63fce295f3535c810a51d74\";i:9671;s:35:\"fb_d9bd84c18223068b98b6260dffef9f1c\";i:9672;s:40:\"twitter_d9bd84c18223068b98b6260dffef9f1c\";i:9673;s:42:\"pinterest_d9bd84c18223068b98b6260dffef9f1c\";i:9674;s:41:\"linkedin_d9bd84c18223068b98b6260dffef9f1c\";i:9675;s:35:\"fb_679b5318bd6175e0f1011b9dec898ee8\";i:9676;s:40:\"twitter_679b5318bd6175e0f1011b9dec898ee8\";i:9677;s:42:\"pinterest_679b5318bd6175e0f1011b9dec898ee8\";i:9678;s:41:\"linkedin_679b5318bd6175e0f1011b9dec898ee8\";i:9679;s:35:\"fb_df85ca160861f24cbda2ad2edc5e3f8f\";i:9680;s:40:\"twitter_df85ca160861f24cbda2ad2edc5e3f8f\";i:9681;s:42:\"pinterest_df85ca160861f24cbda2ad2edc5e3f8f\";i:9682;s:41:\"linkedin_df85ca160861f24cbda2ad2edc5e3f8f\";i:9683;s:35:\"fb_da9521658609ab00e8bdb39b5cf5c9a1\";i:9684;s:40:\"twitter_da9521658609ab00e8bdb39b5cf5c9a1\";i:9685;s:42:\"pinterest_da9521658609ab00e8bdb39b5cf5c9a1\";i:9686;s:41:\"linkedin_da9521658609ab00e8bdb39b5cf5c9a1\";i:9687;s:42:\"pinterest_c6fa6eadc081a35643a03e4ca0a88b44\";i:9688;s:41:\"linkedin_c6fa6eadc081a35643a03e4ca0a88b44\";i:9689;s:35:\"fb_8617d89fe643d4c109ce7662e4069f8c\";i:9690;s:40:\"twitter_8617d89fe643d4c109ce7662e4069f8c\";i:9691;s:42:\"pinterest_8617d89fe643d4c109ce7662e4069f8c\";i:9692;s:41:\"linkedin_8617d89fe643d4c109ce7662e4069f8c\";i:9693;s:35:\"fb_f6d3b5c6cd2a19d590eec66359f90998\";i:9694;s:40:\"twitter_f6d3b5c6cd2a19d590eec66359f90998\";i:9695;s:42:\"pinterest_f6d3b5c6cd2a19d590eec66359f90998\";i:9696;s:41:\"linkedin_f6d3b5c6cd2a19d590eec66359f90998\";i:9697;s:35:\"fb_3630057517a3005b2820ba9d218041ef\";i:9698;s:40:\"twitter_3630057517a3005b2820ba9d218041ef\";i:9699;s:42:\"pinterest_3630057517a3005b2820ba9d218041ef\";i:9700;s:41:\"linkedin_3630057517a3005b2820ba9d218041ef\";i:9701;s:35:\"fb_464dc97b41603d3ec5a69b492b1d37c5\";i:9702;s:41:\"linkedin_464dc97b41603d3ec5a69b492b1d37c5\";i:9703;s:35:\"fb_93535336e968915d159d577c596bfde4\";i:9704;s:40:\"twitter_93535336e968915d159d577c596bfde4\";i:9705;s:42:\"pinterest_93535336e968915d159d577c596bfde4\";i:9706;s:41:\"linkedin_93535336e968915d159d577c596bfde4\";i:9707;s:35:\"fb_f1d94a6969443c26285cc11cfcb11a4e\";i:9708;s:40:\"twitter_f1d94a6969443c26285cc11cfcb11a4e\";i:9709;s:42:\"pinterest_f1d94a6969443c26285cc11cfcb11a4e\";i:9710;s:41:\"linkedin_f1d94a6969443c26285cc11cfcb11a4e\";i:9711;s:35:\"fb_9171e9508f46f0b1ae615a3682cf4b45\";i:9712;s:40:\"twitter_9171e9508f46f0b1ae615a3682cf4b45\";i:9713;s:42:\"pinterest_9171e9508f46f0b1ae615a3682cf4b45\";i:9714;s:41:\"linkedin_9171e9508f46f0b1ae615a3682cf4b45\";i:9715;s:35:\"fb_4aed31961c8e2bf03838884bff99a97f\";i:9716;s:40:\"twitter_4aed31961c8e2bf03838884bff99a97f\";i:9717;s:42:\"pinterest_4aed31961c8e2bf03838884bff99a97f\";i:9718;s:41:\"linkedin_4aed31961c8e2bf03838884bff99a97f\";i:9719;s:35:\"fb_2fb8e99bd94c46b7d6701db702efc5fc\";i:9720;s:40:\"twitter_2fb8e99bd94c46b7d6701db702efc5fc\";i:9721;s:42:\"pinterest_2fb8e99bd94c46b7d6701db702efc5fc\";i:9722;s:41:\"linkedin_2fb8e99bd94c46b7d6701db702efc5fc\";i:9723;s:35:\"fb_6c0590c9c95c0886e1587f90bd83e7d3\";i:9724;s:40:\"twitter_6c0590c9c95c0886e1587f90bd83e7d3\";i:9725;s:35:\"fb_a240f115d320bc30779f39a76aac145c\";i:9726;s:40:\"twitter_a240f115d320bc30779f39a76aac145c\";i:9727;s:42:\"pinterest_a240f115d320bc30779f39a76aac145c\";i:9728;s:41:\"linkedin_a240f115d320bc30779f39a76aac145c\";i:9729;s:35:\"fb_acee28644abeac01fd17a06ab183944a\";i:9730;s:40:\"twitter_acee28644abeac01fd17a06ab183944a\";i:9731;s:42:\"pinterest_acee28644abeac01fd17a06ab183944a\";i:9732;s:41:\"linkedin_acee28644abeac01fd17a06ab183944a\";i:9733;s:35:\"fb_84fea1426e593ab8ed84de58cb2fde03\";i:9734;s:40:\"twitter_84fea1426e593ab8ed84de58cb2fde03\";i:9735;s:42:\"pinterest_84fea1426e593ab8ed84de58cb2fde03\";i:9736;s:41:\"linkedin_84fea1426e593ab8ed84de58cb2fde03\";i:9737;s:35:\"fb_270c939cd063dd9c4bc13cae77867a54\";i:9738;s:40:\"twitter_270c939cd063dd9c4bc13cae77867a54\";i:9739;s:42:\"pinterest_270c939cd063dd9c4bc13cae77867a54\";i:9740;s:41:\"linkedin_270c939cd063dd9c4bc13cae77867a54\";i:9741;s:35:\"fb_9d5a9ce51ef8c5a31a5e83ee4c4743a3\";i:9742;s:40:\"twitter_9d5a9ce51ef8c5a31a5e83ee4c4743a3\";i:9743;s:42:\"pinterest_9d5a9ce51ef8c5a31a5e83ee4c4743a3\";i:9744;s:41:\"linkedin_9d5a9ce51ef8c5a31a5e83ee4c4743a3\";i:9745;s:35:\"fb_65a50e628a74fb4627bb1e339bb3777f\";i:9746;s:40:\"twitter_65a50e628a74fb4627bb1e339bb3777f\";i:9747;s:42:\"pinterest_65a50e628a74fb4627bb1e339bb3777f\";i:9748;s:41:\"linkedin_65a50e628a74fb4627bb1e339bb3777f\";i:9749;s:35:\"fb_40eabc3918f57e80269d1e5524d7b36a\";i:9750;s:40:\"twitter_40eabc3918f57e80269d1e5524d7b36a\";i:9751;s:42:\"pinterest_40eabc3918f57e80269d1e5524d7b36a\";i:9752;s:41:\"linkedin_40eabc3918f57e80269d1e5524d7b36a\";i:9753;s:35:\"fb_ae2d37ec85adef6cf97387b5833d98d6\";i:9754;s:40:\"twitter_ae2d37ec85adef6cf97387b5833d98d6\";i:9755;s:42:\"pinterest_ae2d37ec85adef6cf97387b5833d98d6\";i:9756;s:41:\"linkedin_ae2d37ec85adef6cf97387b5833d98d6\";i:9757;s:35:\"fb_64d5cbce7df7d8757b64d52c3e2755d7\";i:9758;s:40:\"twitter_64d5cbce7df7d8757b64d52c3e2755d7\";i:9759;s:42:\"pinterest_64d5cbce7df7d8757b64d52c3e2755d7\";i:9760;s:41:\"linkedin_64d5cbce7df7d8757b64d52c3e2755d7\";i:9761;s:35:\"fb_8e53b84e23fee845140dfaa06bfd475b\";i:9762;s:40:\"twitter_8e53b84e23fee845140dfaa06bfd475b\";i:9763;s:42:\"pinterest_8e53b84e23fee845140dfaa06bfd475b\";i:9764;s:41:\"linkedin_8e53b84e23fee845140dfaa06bfd475b\";i:9765;s:35:\"fb_bed85fcac0e1b0c996b410cdea68316f\";i:9766;s:40:\"twitter_bed85fcac0e1b0c996b410cdea68316f\";i:9767;s:42:\"pinterest_bed85fcac0e1b0c996b410cdea68316f\";i:9768;s:41:\"linkedin_bed85fcac0e1b0c996b410cdea68316f\";i:9769;s:35:\"fb_00db0ebf80a3250931c65dec44b04ccd\";i:9770;s:40:\"twitter_00db0ebf80a3250931c65dec44b04ccd\";i:9771;s:42:\"pinterest_00db0ebf80a3250931c65dec44b04ccd\";i:9772;s:41:\"linkedin_00db0ebf80a3250931c65dec44b04ccd\";i:9773;s:35:\"fb_1b6dd6dbf2e3eb9ac6975f723c6201ea\";i:9774;s:40:\"twitter_1b6dd6dbf2e3eb9ac6975f723c6201ea\";i:9775;s:42:\"pinterest_1b6dd6dbf2e3eb9ac6975f723c6201ea\";i:9776;s:41:\"linkedin_1b6dd6dbf2e3eb9ac6975f723c6201ea\";i:9777;s:35:\"fb_1667947f80489eb174a23694d839ec5f\";i:9778;s:40:\"twitter_1667947f80489eb174a23694d839ec5f\";i:9779;s:42:\"pinterest_1667947f80489eb174a23694d839ec5f\";i:9780;s:41:\"linkedin_1667947f80489eb174a23694d839ec5f\";i:9781;s:35:\"fb_4594808a30927b12b2386851bbca7389\";i:9782;s:40:\"twitter_4594808a30927b12b2386851bbca7389\";i:9783;s:42:\"pinterest_4594808a30927b12b2386851bbca7389\";i:9784;s:41:\"linkedin_4594808a30927b12b2386851bbca7389\";i:9785;s:35:\"fb_37c4425a13355b28017cfcbfa16429b4\";i:9786;s:40:\"twitter_37c4425a13355b28017cfcbfa16429b4\";i:9787;s:42:\"pinterest_37c4425a13355b28017cfcbfa16429b4\";i:9788;s:41:\"linkedin_37c4425a13355b28017cfcbfa16429b4\";i:9789;s:35:\"fb_e0cf5eeec4984ef93707ca21bb12a392\";i:9790;s:40:\"twitter_e0cf5eeec4984ef93707ca21bb12a392\";i:9791;s:42:\"pinterest_e0cf5eeec4984ef93707ca21bb12a392\";i:9792;s:41:\"linkedin_e0cf5eeec4984ef93707ca21bb12a392\";i:9793;s:35:\"fb_3f23edcbaec245ea133bbc70f772cd27\";i:9794;s:40:\"twitter_3f23edcbaec245ea133bbc70f772cd27\";i:9795;s:42:\"pinterest_3f23edcbaec245ea133bbc70f772cd27\";i:9796;s:41:\"linkedin_3f23edcbaec245ea133bbc70f772cd27\";i:9797;s:35:\"fb_1f2d8a8b7dbbef7750b4c653b21558d6\";i:9798;s:40:\"twitter_1f2d8a8b7dbbef7750b4c653b21558d6\";i:9799;s:42:\"pinterest_1f2d8a8b7dbbef7750b4c653b21558d6\";i:9800;s:41:\"linkedin_1f2d8a8b7dbbef7750b4c653b21558d6\";i:9801;s:35:\"fb_cc69624f44a7271f9a693e842209a1f3\";i:9802;s:40:\"twitter_cc69624f44a7271f9a693e842209a1f3\";i:9803;s:42:\"pinterest_cc69624f44a7271f9a693e842209a1f3\";i:9804;s:41:\"linkedin_cc69624f44a7271f9a693e842209a1f3\";i:9805;s:35:\"fb_63bd785164de27971487b6add9f2a61f\";i:9806;s:40:\"twitter_63bd785164de27971487b6add9f2a61f\";i:9807;s:42:\"pinterest_63bd785164de27971487b6add9f2a61f\";i:9808;s:41:\"linkedin_63bd785164de27971487b6add9f2a61f\";i:9809;s:35:\"fb_c206f15a49b04020efff642310057da8\";i:9810;s:40:\"twitter_c206f15a49b04020efff642310057da8\";i:9811;s:42:\"pinterest_c206f15a49b04020efff642310057da8\";i:9812;s:41:\"linkedin_c206f15a49b04020efff642310057da8\";i:9813;s:35:\"fb_21c91a6d926d2fdc62f0cbf005ee88d4\";i:9814;s:40:\"twitter_21c91a6d926d2fdc62f0cbf005ee88d4\";i:9815;s:42:\"pinterest_21c91a6d926d2fdc62f0cbf005ee88d4\";i:9816;s:41:\"linkedin_21c91a6d926d2fdc62f0cbf005ee88d4\";i:9817;s:35:\"fb_2477030b52f786bb6564cc43330afcaa\";i:9818;s:40:\"twitter_2477030b52f786bb6564cc43330afcaa\";i:9819;s:42:\"pinterest_2477030b52f786bb6564cc43330afcaa\";i:9820;s:41:\"linkedin_2477030b52f786bb6564cc43330afcaa\";i:9821;s:35:\"fb_4813b7576d307fade4de90e936fe31c6\";i:9822;s:40:\"twitter_4813b7576d307fade4de90e936fe31c6\";i:9823;s:42:\"pinterest_4813b7576d307fade4de90e936fe31c6\";i:9824;s:41:\"linkedin_4813b7576d307fade4de90e936fe31c6\";i:9825;s:35:\"fb_df65a7203d33d9368d550c172ac28794\";i:9826;s:40:\"twitter_df65a7203d33d9368d550c172ac28794\";i:9827;s:42:\"pinterest_df65a7203d33d9368d550c172ac28794\";i:9828;s:41:\"linkedin_df65a7203d33d9368d550c172ac28794\";i:9829;s:35:\"fb_4fda7da706725603fbc2d00289536b7e\";i:9830;s:40:\"twitter_4fda7da706725603fbc2d00289536b7e\";i:9831;s:42:\"pinterest_4fda7da706725603fbc2d00289536b7e\";i:9832;s:41:\"linkedin_4fda7da706725603fbc2d00289536b7e\";i:9833;s:35:\"fb_e2215099802c163c585ce0e192daa2a1\";i:9834;s:40:\"twitter_e2215099802c163c585ce0e192daa2a1\";i:9835;s:42:\"pinterest_e2215099802c163c585ce0e192daa2a1\";i:9836;s:41:\"linkedin_e2215099802c163c585ce0e192daa2a1\";i:9837;s:35:\"fb_e845aa22af9b59905bcd4a730b3ad405\";i:9838;s:40:\"twitter_e845aa22af9b59905bcd4a730b3ad405\";i:9839;s:42:\"pinterest_e845aa22af9b59905bcd4a730b3ad405\";i:9840;s:41:\"linkedin_e845aa22af9b59905bcd4a730b3ad405\";i:9841;s:35:\"fb_45bd436964014318a10140aa8e5fa870\";i:9842;s:40:\"twitter_45bd436964014318a10140aa8e5fa870\";i:9843;s:42:\"pinterest_45bd436964014318a10140aa8e5fa870\";i:9844;s:41:\"linkedin_45bd436964014318a10140aa8e5fa870\";i:9845;s:35:\"fb_27a0c56b2911d7a1c4ee8122cf6b364a\";i:9846;s:40:\"twitter_27a0c56b2911d7a1c4ee8122cf6b364a\";i:9847;s:42:\"pinterest_27a0c56b2911d7a1c4ee8122cf6b364a\";i:9848;s:41:\"linkedin_27a0c56b2911d7a1c4ee8122cf6b364a\";i:9849;s:35:\"fb_302a5bdd19dffb7ac2305fd63bea3076\";i:9850;s:40:\"twitter_302a5bdd19dffb7ac2305fd63bea3076\";i:9851;s:42:\"pinterest_302a5bdd19dffb7ac2305fd63bea3076\";i:9852;s:41:\"linkedin_302a5bdd19dffb7ac2305fd63bea3076\";i:9853;s:35:\"fb_b2ceac057a588f73924c1020458d48ed\";i:9854;s:40:\"twitter_b2ceac057a588f73924c1020458d48ed\";i:9855;s:42:\"pinterest_b2ceac057a588f73924c1020458d48ed\";i:9856;s:41:\"linkedin_b2ceac057a588f73924c1020458d48ed\";i:9857;s:35:\"fb_6d1967c91424ee9c6eb307ce931fae6d\";i:9858;s:40:\"twitter_6d1967c91424ee9c6eb307ce931fae6d\";i:9859;s:42:\"pinterest_6d1967c91424ee9c6eb307ce931fae6d\";i:9860;s:41:\"linkedin_6d1967c91424ee9c6eb307ce931fae6d\";i:9861;s:35:\"fb_94eb898eb7ced6c1b8e949adf6054760\";i:9862;s:40:\"twitter_94eb898eb7ced6c1b8e949adf6054760\";i:9863;s:42:\"pinterest_94eb898eb7ced6c1b8e949adf6054760\";i:9864;s:41:\"linkedin_94eb898eb7ced6c1b8e949adf6054760\";i:9865;s:35:\"fb_d04f0a25eac403c90a6ceea0aa3a4c7e\";i:9866;s:40:\"twitter_d04f0a25eac403c90a6ceea0aa3a4c7e\";i:9867;s:42:\"pinterest_d04f0a25eac403c90a6ceea0aa3a4c7e\";i:9868;s:41:\"linkedin_d04f0a25eac403c90a6ceea0aa3a4c7e\";i:9869;s:35:\"fb_9d10ca8a7ccde50dd55cf324c34c1adc\";i:9870;s:40:\"twitter_9d10ca8a7ccde50dd55cf324c34c1adc\";i:9871;s:42:\"pinterest_9d10ca8a7ccde50dd55cf324c34c1adc\";i:9872;s:41:\"linkedin_9d10ca8a7ccde50dd55cf324c34c1adc\";i:9873;s:35:\"fb_9c27309f69a7c0b7b4443e9236ad0cba\";i:9874;s:40:\"twitter_9c27309f69a7c0b7b4443e9236ad0cba\";i:9875;s:42:\"pinterest_9c27309f69a7c0b7b4443e9236ad0cba\";i:9876;s:41:\"linkedin_9c27309f69a7c0b7b4443e9236ad0cba\";i:9877;s:35:\"fb_910c57e9cd0fa6c21efb43cc866b56cc\";i:9878;s:40:\"twitter_910c57e9cd0fa6c21efb43cc866b56cc\";i:9879;s:42:\"pinterest_910c57e9cd0fa6c21efb43cc866b56cc\";i:9880;s:41:\"linkedin_910c57e9cd0fa6c21efb43cc866b56cc\";i:9881;s:35:\"fb_ed2fe5acc9b8480ef56948cf9bd25288\";i:9882;s:40:\"twitter_ed2fe5acc9b8480ef56948cf9bd25288\";i:9883;s:42:\"pinterest_ed2fe5acc9b8480ef56948cf9bd25288\";i:9884;s:41:\"linkedin_ed2fe5acc9b8480ef56948cf9bd25288\";i:9885;s:35:\"fb_5f4a56fd5dfdaa2dee076a5890f1cdf1\";i:9886;s:40:\"twitter_5f4a56fd5dfdaa2dee076a5890f1cdf1\";i:9887;s:42:\"pinterest_5f4a56fd5dfdaa2dee076a5890f1cdf1\";i:9888;s:41:\"linkedin_5f4a56fd5dfdaa2dee076a5890f1cdf1\";i:9889;s:35:\"fb_95a4959329ac6170ed1ea2271f9e7a2a\";i:9890;s:40:\"twitter_95a4959329ac6170ed1ea2271f9e7a2a\";i:9891;s:42:\"pinterest_95a4959329ac6170ed1ea2271f9e7a2a\";i:9892;s:41:\"linkedin_95a4959329ac6170ed1ea2271f9e7a2a\";i:9893;s:35:\"fb_065fc157eeb72edf8974045e98d42bad\";i:9894;s:40:\"twitter_065fc157eeb72edf8974045e98d42bad\";i:9895;s:42:\"pinterest_065fc157eeb72edf8974045e98d42bad\";i:9896;s:41:\"linkedin_065fc157eeb72edf8974045e98d42bad\";i:9897;s:35:\"fb_39546bd7c6e880370ea9ccf8e6f6e868\";i:9898;s:40:\"twitter_39546bd7c6e880370ea9ccf8e6f6e868\";i:9899;s:42:\"pinterest_39546bd7c6e880370ea9ccf8e6f6e868\";i:9900;s:41:\"linkedin_39546bd7c6e880370ea9ccf8e6f6e868\";i:9901;s:35:\"fb_0292d27dd4efb2024efa658a816c34f0\";i:9902;s:40:\"twitter_0292d27dd4efb2024efa658a816c34f0\";i:9903;s:42:\"pinterest_0292d27dd4efb2024efa658a816c34f0\";i:9904;s:41:\"linkedin_0292d27dd4efb2024efa658a816c34f0\";i:9905;s:35:\"fb_fd607a22a928a4ff7b3daae1aa6193b8\";i:9906;s:35:\"fb_fc1f36d4174f974a3a8f932ae5d7e82e\";i:9907;s:40:\"twitter_fc1f36d4174f974a3a8f932ae5d7e82e\";i:9908;s:42:\"pinterest_fc1f36d4174f974a3a8f932ae5d7e82e\";i:9909;s:41:\"linkedin_fc1f36d4174f974a3a8f932ae5d7e82e\";i:9910;s:35:\"fb_48191f28bdddb68145c75bb0e23de83f\";i:9911;s:40:\"twitter_48191f28bdddb68145c75bb0e23de83f\";i:9912;s:42:\"pinterest_48191f28bdddb68145c75bb0e23de83f\";i:9913;s:41:\"linkedin_48191f28bdddb68145c75bb0e23de83f\";i:9914;s:35:\"fb_8da3d71badd558a28de380af14be5da2\";i:9915;s:40:\"twitter_8da3d71badd558a28de380af14be5da2\";i:9916;s:42:\"pinterest_8da3d71badd558a28de380af14be5da2\";i:9917;s:41:\"linkedin_8da3d71badd558a28de380af14be5da2\";i:9918;s:35:\"fb_abb54214df3944905e692ca6c17435d7\";i:9919;s:40:\"twitter_abb54214df3944905e692ca6c17435d7\";i:9920;s:42:\"pinterest_abb54214df3944905e692ca6c17435d7\";i:9921;s:41:\"linkedin_abb54214df3944905e692ca6c17435d7\";i:9922;s:35:\"fb_6f298a936e35869ad562c3f4356d94da\";i:9923;s:40:\"twitter_6f298a936e35869ad562c3f4356d94da\";i:9924;s:42:\"pinterest_6f298a936e35869ad562c3f4356d94da\";i:9925;s:41:\"linkedin_6f298a936e35869ad562c3f4356d94da\";i:9926;s:35:\"fb_a68c47272185b84a2f6d229601f0641b\";i:9927;s:40:\"twitter_a68c47272185b84a2f6d229601f0641b\";i:9928;s:42:\"pinterest_a68c47272185b84a2f6d229601f0641b\";i:9929;s:41:\"linkedin_a68c47272185b84a2f6d229601f0641b\";i:9930;s:35:\"fb_e5d46592209b406c7520b179ba243e7c\";i:9931;s:40:\"twitter_e5d46592209b406c7520b179ba243e7c\";i:9932;s:42:\"pinterest_e5d46592209b406c7520b179ba243e7c\";i:9933;s:41:\"linkedin_e5d46592209b406c7520b179ba243e7c\";i:9934;s:35:\"fb_b1601a1375c140b68f04915bbaa50dde\";i:9935;s:40:\"twitter_b1601a1375c140b68f04915bbaa50dde\";i:9936;s:42:\"pinterest_b1601a1375c140b68f04915bbaa50dde\";i:9937;s:41:\"linkedin_b1601a1375c140b68f04915bbaa50dde\";i:9938;s:35:\"fb_1c8cd3ebc055525de19f8f0876210e6e\";i:9939;s:40:\"twitter_1c8cd3ebc055525de19f8f0876210e6e\";i:9940;s:42:\"pinterest_1c8cd3ebc055525de19f8f0876210e6e\";i:9941;s:41:\"linkedin_1c8cd3ebc055525de19f8f0876210e6e\";i:9942;s:35:\"fb_8334377e30d778ad7bc2e286ed7b82e5\";i:9943;s:40:\"twitter_8334377e30d778ad7bc2e286ed7b82e5\";i:9944;s:42:\"pinterest_8334377e30d778ad7bc2e286ed7b82e5\";i:9945;s:41:\"linkedin_8334377e30d778ad7bc2e286ed7b82e5\";i:9946;s:35:\"fb_da4813dbcc250c7c2b3d944e5a0c2f3c\";i:9947;s:40:\"twitter_da4813dbcc250c7c2b3d944e5a0c2f3c\";i:9948;s:42:\"pinterest_da4813dbcc250c7c2b3d944e5a0c2f3c\";i:9949;s:41:\"linkedin_da4813dbcc250c7c2b3d944e5a0c2f3c\";i:9950;s:35:\"fb_abbd4f24e8b36f8f03d4762886005c7f\";i:9951;s:40:\"twitter_abbd4f24e8b36f8f03d4762886005c7f\";i:9952;s:42:\"pinterest_abbd4f24e8b36f8f03d4762886005c7f\";i:9953;s:41:\"linkedin_abbd4f24e8b36f8f03d4762886005c7f\";i:9954;s:35:\"fb_a717cdb39b82914dc996fc83ca755c42\";i:9955;s:40:\"twitter_a717cdb39b82914dc996fc83ca755c42\";i:9956;s:42:\"pinterest_a717cdb39b82914dc996fc83ca755c42\";i:9957;s:41:\"linkedin_a717cdb39b82914dc996fc83ca755c42\";i:9958;s:35:\"fb_7dd6586059f894db2b1a5c7f2eea4c97\";i:9959;s:40:\"twitter_7dd6586059f894db2b1a5c7f2eea4c97\";i:9960;s:42:\"pinterest_7dd6586059f894db2b1a5c7f2eea4c97\";i:9961;s:41:\"linkedin_7dd6586059f894db2b1a5c7f2eea4c97\";i:9962;s:35:\"fb_feb9d1fdd9215d605945497d447ac3c1\";i:9963;s:40:\"twitter_feb9d1fdd9215d605945497d447ac3c1\";i:9964;s:42:\"pinterest_feb9d1fdd9215d605945497d447ac3c1\";i:9965;s:41:\"linkedin_feb9d1fdd9215d605945497d447ac3c1\";i:9966;s:35:\"fb_fa2eb0bf52c1c573755851a9e0361aa6\";i:9967;s:40:\"twitter_fa2eb0bf52c1c573755851a9e0361aa6\";i:9968;s:42:\"pinterest_fa2eb0bf52c1c573755851a9e0361aa6\";i:9969;s:41:\"linkedin_fa2eb0bf52c1c573755851a9e0361aa6\";i:9970;s:35:\"fb_d42241b0804f1f2743edd2e9d5a7a192\";i:9971;s:40:\"twitter_d42241b0804f1f2743edd2e9d5a7a192\";i:9972;s:42:\"pinterest_d42241b0804f1f2743edd2e9d5a7a192\";i:9973;s:41:\"linkedin_d42241b0804f1f2743edd2e9d5a7a192\";i:9974;s:35:\"fb_9e7f2d158ea3bf5331fe6b2d3334f756\";i:9975;s:40:\"twitter_9e7f2d158ea3bf5331fe6b2d3334f756\";i:9976;s:42:\"pinterest_9e7f2d158ea3bf5331fe6b2d3334f756\";i:9977;s:35:\"fb_13f6d4ceda155afbb0c9e26c75b8ea30\";i:9978;s:40:\"twitter_13f6d4ceda155afbb0c9e26c75b8ea30\";i:9979;s:42:\"pinterest_13f6d4ceda155afbb0c9e26c75b8ea30\";i:9980;s:41:\"linkedin_13f6d4ceda155afbb0c9e26c75b8ea30\";i:9981;s:35:\"fb_cb78eb0df81cce2819a37fea1cc24edd\";i:9982;s:40:\"twitter_cb78eb0df81cce2819a37fea1cc24edd\";i:9983;s:42:\"pinterest_cb78eb0df81cce2819a37fea1cc24edd\";i:9984;s:41:\"linkedin_cb78eb0df81cce2819a37fea1cc24edd\";i:9985;s:35:\"fb_027daa96aadbeb94444ead54b1fb1695\";i:9986;s:40:\"twitter_027daa96aadbeb94444ead54b1fb1695\";i:9987;s:42:\"pinterest_027daa96aadbeb94444ead54b1fb1695\";i:9988;s:41:\"linkedin_027daa96aadbeb94444ead54b1fb1695\";i:9989;s:35:\"fb_2cfd2c6ddcf1b893453e44f78bed87d1\";i:9990;s:40:\"twitter_2cfd2c6ddcf1b893453e44f78bed87d1\";i:9991;s:42:\"pinterest_2cfd2c6ddcf1b893453e44f78bed87d1\";i:9992;s:41:\"linkedin_2cfd2c6ddcf1b893453e44f78bed87d1\";i:9993;s:35:\"fb_c69683f89c70fb3484048f87c03dcf9e\";i:9994;s:40:\"twitter_c69683f89c70fb3484048f87c03dcf9e\";i:9995;s:42:\"pinterest_c69683f89c70fb3484048f87c03dcf9e\";i:9996;s:41:\"linkedin_c69683f89c70fb3484048f87c03dcf9e\";i:9997;s:35:\"fb_903e1212df564c60396bb52279340dd9\";i:9998;s:40:\"twitter_903e1212df564c60396bb52279340dd9\";i:9999;s:42:\"pinterest_903e1212df564c60396bb52279340dd9\";i:10000;s:41:\"linkedin_903e1212df564c60396bb52279340dd9\";i:10001;s:35:\"fb_19ba210105a727fa5ca3a7ff41bf39b4\";i:10002;s:40:\"twitter_19ba210105a727fa5ca3a7ff41bf39b4\";i:10003;s:42:\"pinterest_19ba210105a727fa5ca3a7ff41bf39b4\";i:10004;s:41:\"linkedin_19ba210105a727fa5ca3a7ff41bf39b4\";i:10005;s:35:\"fb_498fdd1c53e01b7be4e80baa9fcd1eb8\";i:10006;s:40:\"twitter_498fdd1c53e01b7be4e80baa9fcd1eb8\";i:10007;s:42:\"pinterest_498fdd1c53e01b7be4e80baa9fcd1eb8\";i:10008;s:41:\"linkedin_498fdd1c53e01b7be4e80baa9fcd1eb8\";i:10009;s:35:\"fb_68421d23f489c3cb0c68e1fe86612982\";i:10010;s:40:\"twitter_68421d23f489c3cb0c68e1fe86612982\";i:10011;s:42:\"pinterest_68421d23f489c3cb0c68e1fe86612982\";i:10012;s:41:\"linkedin_68421d23f489c3cb0c68e1fe86612982\";i:10013;s:35:\"fb_12018b96a8db2a4afeb0a721b7c39022\";i:10014;s:40:\"twitter_12018b96a8db2a4afeb0a721b7c39022\";i:10015;s:42:\"pinterest_12018b96a8db2a4afeb0a721b7c39022\";i:10016;s:41:\"linkedin_12018b96a8db2a4afeb0a721b7c39022\";i:10017;s:35:\"fb_4e00bb2966aa6bcc57de83604414bd55\";i:10018;s:40:\"twitter_4e00bb2966aa6bcc57de83604414bd55\";i:10019;s:42:\"pinterest_4e00bb2966aa6bcc57de83604414bd55\";i:10020;s:41:\"linkedin_4e00bb2966aa6bcc57de83604414bd55\";i:10021;s:35:\"fb_e17dde8c77fdd18de854a954a3723d56\";i:10022;s:40:\"twitter_e17dde8c77fdd18de854a954a3723d56\";i:10023;s:42:\"pinterest_e17dde8c77fdd18de854a954a3723d56\";i:10024;s:41:\"linkedin_e17dde8c77fdd18de854a954a3723d56\";i:10025;s:35:\"fb_e1827c897edd0563bf67d00c8a109157\";i:10026;s:40:\"twitter_e1827c897edd0563bf67d00c8a109157\";i:10027;s:42:\"pinterest_e1827c897edd0563bf67d00c8a109157\";i:10028;s:41:\"linkedin_e1827c897edd0563bf67d00c8a109157\";i:10029;s:35:\"fb_1a3e46eac5e4febb9e106691662ebebb\";i:10030;s:40:\"twitter_1a3e46eac5e4febb9e106691662ebebb\";i:10031;s:42:\"pinterest_1a3e46eac5e4febb9e106691662ebebb\";i:10032;s:41:\"linkedin_1a3e46eac5e4febb9e106691662ebebb\";i:10033;s:35:\"fb_7ef2a1e2514dd02f60cc42ecf5d7d379\";i:10034;s:40:\"twitter_7ef2a1e2514dd02f60cc42ecf5d7d379\";i:10035;s:42:\"pinterest_7ef2a1e2514dd02f60cc42ecf5d7d379\";i:10036;s:41:\"linkedin_7ef2a1e2514dd02f60cc42ecf5d7d379\";i:10037;s:35:\"fb_b3cceb8db5b68e76f2a752772428193e\";i:10038;s:40:\"twitter_b3cceb8db5b68e76f2a752772428193e\";i:10039;s:42:\"pinterest_b3cceb8db5b68e76f2a752772428193e\";i:10040;s:41:\"linkedin_b3cceb8db5b68e76f2a752772428193e\";i:10041;s:35:\"fb_80a50f1353859f1da856a3f262df0acf\";i:10042;s:40:\"twitter_80a50f1353859f1da856a3f262df0acf\";i:10043;s:42:\"pinterest_80a50f1353859f1da856a3f262df0acf\";i:10044;s:41:\"linkedin_80a50f1353859f1da856a3f262df0acf\";i:10045;s:35:\"fb_0998a5a42817382d7315c1c4f1a71073\";i:10046;s:40:\"twitter_0998a5a42817382d7315c1c4f1a71073\";i:10047;s:42:\"pinterest_0998a5a42817382d7315c1c4f1a71073\";i:10048;s:41:\"linkedin_0998a5a42817382d7315c1c4f1a71073\";i:10049;s:35:\"fb_1e87a03205a9e2b6bcc7aa3a6ef75d30\";i:10050;s:40:\"twitter_1e87a03205a9e2b6bcc7aa3a6ef75d30\";i:10051;s:42:\"pinterest_1e87a03205a9e2b6bcc7aa3a6ef75d30\";i:10052;s:41:\"linkedin_1e87a03205a9e2b6bcc7aa3a6ef75d30\";i:10053;s:35:\"fb_1427a73852dc19cb133fc8477a842a4f\";i:10054;s:40:\"twitter_1427a73852dc19cb133fc8477a842a4f\";i:10055;s:42:\"pinterest_1427a73852dc19cb133fc8477a842a4f\";i:10056;s:41:\"linkedin_1427a73852dc19cb133fc8477a842a4f\";i:10057;s:35:\"fb_de65ee233a4d99b2d80deac5d3ababea\";i:10058;s:40:\"twitter_de65ee233a4d99b2d80deac5d3ababea\";i:10059;s:42:\"pinterest_de65ee233a4d99b2d80deac5d3ababea\";i:10060;s:41:\"linkedin_de65ee233a4d99b2d80deac5d3ababea\";i:10061;s:35:\"fb_32b552e8411530e15ec9470f52ff58fc\";i:10062;s:40:\"twitter_32b552e8411530e15ec9470f52ff58fc\";i:10063;s:42:\"pinterest_32b552e8411530e15ec9470f52ff58fc\";i:10064;s:41:\"linkedin_32b552e8411530e15ec9470f52ff58fc\";i:10065;s:35:\"fb_4bd9987b788baa79beac90dd94cfafe2\";i:10066;s:40:\"twitter_4bd9987b788baa79beac90dd94cfafe2\";i:10067;s:42:\"pinterest_4bd9987b788baa79beac90dd94cfafe2\";i:10068;s:41:\"linkedin_4bd9987b788baa79beac90dd94cfafe2\";i:10069;s:35:\"fb_c995dab92ce470fd430f8e0a3c1e7fae\";i:10070;s:40:\"twitter_c995dab92ce470fd430f8e0a3c1e7fae\";i:10071;s:42:\"pinterest_c995dab92ce470fd430f8e0a3c1e7fae\";i:10072;s:41:\"linkedin_c995dab92ce470fd430f8e0a3c1e7fae\";i:10073;s:35:\"fb_88feda76037d3450809051465206d8b5\";i:10074;s:40:\"twitter_88feda76037d3450809051465206d8b5\";i:10075;s:42:\"pinterest_88feda76037d3450809051465206d8b5\";i:10076;s:41:\"linkedin_88feda76037d3450809051465206d8b5\";i:10077;s:35:\"fb_96630ad3cc0c0b4f1f94c5f1c396862e\";i:10078;s:40:\"twitter_96630ad3cc0c0b4f1f94c5f1c396862e\";i:10079;s:42:\"pinterest_96630ad3cc0c0b4f1f94c5f1c396862e\";i:10080;s:41:\"linkedin_96630ad3cc0c0b4f1f94c5f1c396862e\";i:10081;s:35:\"fb_40c9ab9f6e909ce4091b3735abf7b3cb\";i:10082;s:40:\"twitter_40c9ab9f6e909ce4091b3735abf7b3cb\";i:10083;s:42:\"pinterest_40c9ab9f6e909ce4091b3735abf7b3cb\";i:10084;s:41:\"linkedin_40c9ab9f6e909ce4091b3735abf7b3cb\";i:10085;s:35:\"fb_0145051f88dc3d52797285957ab65603\";i:10086;s:40:\"twitter_0145051f88dc3d52797285957ab65603\";i:10087;s:42:\"pinterest_0145051f88dc3d52797285957ab65603\";i:10088;s:41:\"linkedin_0145051f88dc3d52797285957ab65603\";i:10089;s:35:\"fb_abfcc2d5d27e510ecee5dd2538e53539\";i:10090;s:40:\"twitter_abfcc2d5d27e510ecee5dd2538e53539\";i:10091;s:42:\"pinterest_abfcc2d5d27e510ecee5dd2538e53539\";i:10092;s:41:\"linkedin_abfcc2d5d27e510ecee5dd2538e53539\";i:10093;s:35:\"fb_9369083fcbb42ad8b253756d72b6d36b\";i:10094;s:40:\"twitter_9369083fcbb42ad8b253756d72b6d36b\";i:10095;s:42:\"pinterest_9369083fcbb42ad8b253756d72b6d36b\";i:10096;s:41:\"linkedin_9369083fcbb42ad8b253756d72b6d36b\";i:10097;s:35:\"fb_b71e6d23d97b1f750cd24713263aa878\";i:10098;s:40:\"twitter_b71e6d23d97b1f750cd24713263aa878\";i:10099;s:42:\"pinterest_b71e6d23d97b1f750cd24713263aa878\";i:10100;s:41:\"linkedin_b71e6d23d97b1f750cd24713263aa878\";i:10101;s:35:\"fb_4e8eb6ce3195dcae406b1eee399d0f96\";i:10102;s:40:\"twitter_4e8eb6ce3195dcae406b1eee399d0f96\";i:10103;s:42:\"pinterest_4e8eb6ce3195dcae406b1eee399d0f96\";i:10104;s:41:\"linkedin_4e8eb6ce3195dcae406b1eee399d0f96\";i:10105;s:35:\"fb_a55ce0d9d8422bf875197800c1c211d4\";i:10106;s:40:\"twitter_a55ce0d9d8422bf875197800c1c211d4\";i:10107;s:42:\"pinterest_a55ce0d9d8422bf875197800c1c211d4\";i:10108;s:41:\"linkedin_a55ce0d9d8422bf875197800c1c211d4\";i:10109;s:35:\"fb_fd186161b96885d9546133ec3a852fde\";i:10110;s:40:\"twitter_fd186161b96885d9546133ec3a852fde\";i:10111;s:42:\"pinterest_fd186161b96885d9546133ec3a852fde\";i:10112;s:41:\"linkedin_fd186161b96885d9546133ec3a852fde\";i:10113;s:35:\"fb_0a4cc059091ff8907d4830e9114cbdd1\";i:10114;s:40:\"twitter_0a4cc059091ff8907d4830e9114cbdd1\";i:10115;s:42:\"pinterest_0a4cc059091ff8907d4830e9114cbdd1\";i:10116;s:41:\"linkedin_0a4cc059091ff8907d4830e9114cbdd1\";i:10117;s:35:\"fb_f861aa1a640e81c574a809f020d30bb9\";i:10118;s:40:\"twitter_f861aa1a640e81c574a809f020d30bb9\";i:10119;s:42:\"pinterest_f861aa1a640e81c574a809f020d30bb9\";i:10120;s:41:\"linkedin_f861aa1a640e81c574a809f020d30bb9\";i:10121;s:35:\"fb_9af992b978d10b153051b48d50b357e5\";i:10122;s:40:\"twitter_9af992b978d10b153051b48d50b357e5\";i:10123;s:42:\"pinterest_9af992b978d10b153051b48d50b357e5\";i:10124;s:41:\"linkedin_9af992b978d10b153051b48d50b357e5\";i:10125;s:35:\"fb_3842258d62265526a976ef6cabc41c30\";i:10126;s:40:\"twitter_3842258d62265526a976ef6cabc41c30\";i:10127;s:42:\"pinterest_3842258d62265526a976ef6cabc41c30\";i:10128;s:41:\"linkedin_3842258d62265526a976ef6cabc41c30\";i:10129;s:35:\"fb_ba9503fa01a3a50505d22b1989fb927a\";i:10130;s:40:\"twitter_ba9503fa01a3a50505d22b1989fb927a\";i:10131;s:42:\"pinterest_ba9503fa01a3a50505d22b1989fb927a\";i:10132;s:41:\"linkedin_ba9503fa01a3a50505d22b1989fb927a\";i:10133;s:35:\"fb_34f6e6d7c9f6547ce5d163a2056c3d41\";i:10134;s:40:\"twitter_34f6e6d7c9f6547ce5d163a2056c3d41\";i:10135;s:42:\"pinterest_34f6e6d7c9f6547ce5d163a2056c3d41\";i:10136;s:41:\"linkedin_34f6e6d7c9f6547ce5d163a2056c3d41\";i:10137;s:35:\"fb_eda9fe89c87b8e760cb244cb6525ebde\";i:10138;s:40:\"twitter_eda9fe89c87b8e760cb244cb6525ebde\";i:10139;s:42:\"pinterest_eda9fe89c87b8e760cb244cb6525ebde\";i:10140;s:41:\"linkedin_eda9fe89c87b8e760cb244cb6525ebde\";i:10141;s:35:\"fb_4e12f771751cf4851482713da5f07beb\";i:10142;s:40:\"twitter_4e12f771751cf4851482713da5f07beb\";i:10143;s:42:\"pinterest_4e12f771751cf4851482713da5f07beb\";i:10144;s:41:\"linkedin_4e12f771751cf4851482713da5f07beb\";i:10145;s:35:\"fb_f6500f97235c350ce8834fb2ae065a41\";i:10146;s:40:\"twitter_f6500f97235c350ce8834fb2ae065a41\";i:10147;s:42:\"pinterest_f6500f97235c350ce8834fb2ae065a41\";i:10148;s:41:\"linkedin_f6500f97235c350ce8834fb2ae065a41\";i:10149;s:35:\"fb_4f43375e8e9e7b4cff55a0901b55b0b0\";i:10150;s:40:\"twitter_4f43375e8e9e7b4cff55a0901b55b0b0\";i:10151;s:42:\"pinterest_4f43375e8e9e7b4cff55a0901b55b0b0\";i:10152;s:41:\"linkedin_4f43375e8e9e7b4cff55a0901b55b0b0\";i:10153;s:35:\"fb_470f50bdd8a5bbcfa17e493edb2e964a\";i:10154;s:40:\"twitter_470f50bdd8a5bbcfa17e493edb2e964a\";i:10155;s:42:\"pinterest_470f50bdd8a5bbcfa17e493edb2e964a\";i:10156;s:41:\"linkedin_470f50bdd8a5bbcfa17e493edb2e964a\";i:10157;s:35:\"fb_334d6e6bdc84218348e972ad88cd3ed8\";i:10158;s:40:\"twitter_334d6e6bdc84218348e972ad88cd3ed8\";i:10159;s:42:\"pinterest_334d6e6bdc84218348e972ad88cd3ed8\";i:10160;s:41:\"linkedin_334d6e6bdc84218348e972ad88cd3ed8\";i:10161;s:35:\"fb_b765d5a00eda8567cbad057acc42a3de\";i:10162;s:40:\"twitter_b765d5a00eda8567cbad057acc42a3de\";i:10163;s:42:\"pinterest_b765d5a00eda8567cbad057acc42a3de\";i:10164;s:41:\"linkedin_b765d5a00eda8567cbad057acc42a3de\";i:10165;s:35:\"fb_669cca2bf29c0b23bb94afca69ed1ea1\";i:10166;s:40:\"twitter_669cca2bf29c0b23bb94afca69ed1ea1\";i:10167;s:42:\"pinterest_669cca2bf29c0b23bb94afca69ed1ea1\";i:10168;s:41:\"linkedin_669cca2bf29c0b23bb94afca69ed1ea1\";i:10169;s:35:\"fb_99604ddd4d499af58869fad1e3bd9fce\";i:10170;s:41:\"linkedin_99604ddd4d499af58869fad1e3bd9fce\";i:10171;s:35:\"fb_d7ccd907094952cdadee6578a8947e8d\";i:10172;s:40:\"twitter_d7ccd907094952cdadee6578a8947e8d\";i:10173;s:42:\"pinterest_d7ccd907094952cdadee6578a8947e8d\";i:10174;s:41:\"linkedin_d7ccd907094952cdadee6578a8947e8d\";i:10175;s:35:\"fb_ac54cae4e81925a0d6081d45e2cd81ae\";i:10176;s:40:\"twitter_ac54cae4e81925a0d6081d45e2cd81ae\";i:10177;s:42:\"pinterest_ac54cae4e81925a0d6081d45e2cd81ae\";i:10178;s:41:\"linkedin_ac54cae4e81925a0d6081d45e2cd81ae\";i:10179;s:35:\"fb_c5a88afb3233f56add177813fff388cc\";i:10180;s:40:\"twitter_c5a88afb3233f56add177813fff388cc\";i:10181;s:42:\"pinterest_c5a88afb3233f56add177813fff388cc\";i:10182;s:41:\"linkedin_c5a88afb3233f56add177813fff388cc\";i:10183;s:35:\"fb_99bf45e046bfcc9ea8c66977210fe752\";i:10184;s:40:\"twitter_99bf45e046bfcc9ea8c66977210fe752\";i:10185;s:42:\"pinterest_99bf45e046bfcc9ea8c66977210fe752\";i:10186;s:41:\"linkedin_99bf45e046bfcc9ea8c66977210fe752\";i:10187;s:35:\"fb_bef18f182b09180d5f1e810b7cf3e98f\";i:10188;s:40:\"twitter_bef18f182b09180d5f1e810b7cf3e98f\";i:10189;s:42:\"pinterest_bef18f182b09180d5f1e810b7cf3e98f\";i:10190;s:41:\"linkedin_bef18f182b09180d5f1e810b7cf3e98f\";i:10191;s:35:\"fb_d0ece50c122eeea8951eddff2b982016\";i:10192;s:40:\"twitter_d0ece50c122eeea8951eddff2b982016\";i:10193;s:42:\"pinterest_d0ece50c122eeea8951eddff2b982016\";i:10194;s:41:\"linkedin_d0ece50c122eeea8951eddff2b982016\";i:10195;s:35:\"fb_b2b7077dd4dc7931597f61e5f69be8b7\";i:10196;s:40:\"twitter_b2b7077dd4dc7931597f61e5f69be8b7\";i:10197;s:42:\"pinterest_b2b7077dd4dc7931597f61e5f69be8b7\";i:10198;s:41:\"linkedin_b2b7077dd4dc7931597f61e5f69be8b7\";i:10199;s:35:\"fb_da94f07759c18e69240d797cebb70e33\";i:10200;s:40:\"twitter_da94f07759c18e69240d797cebb70e33\";i:10201;s:42:\"pinterest_da94f07759c18e69240d797cebb70e33\";i:10202;s:41:\"linkedin_da94f07759c18e69240d797cebb70e33\";i:10203;s:35:\"fb_073ffed7025612b9f97ac0dff929f969\";i:10204;s:40:\"twitter_073ffed7025612b9f97ac0dff929f969\";i:10205;s:42:\"pinterest_073ffed7025612b9f97ac0dff929f969\";i:10206;s:41:\"linkedin_073ffed7025612b9f97ac0dff929f969\";i:10207;s:35:\"fb_16717011468259b62cde4726b5412fee\";i:10208;s:40:\"twitter_16717011468259b62cde4726b5412fee\";i:10209;s:42:\"pinterest_16717011468259b62cde4726b5412fee\";i:10210;s:41:\"linkedin_16717011468259b62cde4726b5412fee\";i:10211;s:35:\"fb_d49f606ce208a5238b0549db59456fd9\";i:10212;s:40:\"twitter_d49f606ce208a5238b0549db59456fd9\";i:10213;s:42:\"pinterest_d49f606ce208a5238b0549db59456fd9\";i:10214;s:41:\"linkedin_d49f606ce208a5238b0549db59456fd9\";i:10215;s:35:\"fb_6ee362105b018f12f689cd17ffcf309c\";i:10216;s:40:\"twitter_6ee362105b018f12f689cd17ffcf309c\";i:10217;s:42:\"pinterest_6ee362105b018f12f689cd17ffcf309c\";i:10218;s:41:\"linkedin_6ee362105b018f12f689cd17ffcf309c\";i:10219;s:35:\"fb_9eeb30e0f8574037c76dc17931aae45d\";i:10220;s:40:\"twitter_9eeb30e0f8574037c76dc17931aae45d\";i:10221;s:42:\"pinterest_9eeb30e0f8574037c76dc17931aae45d\";i:10222;s:41:\"linkedin_9eeb30e0f8574037c76dc17931aae45d\";i:10223;s:35:\"fb_bbea782394012f521bbaf3646fa4e840\";i:10224;s:40:\"twitter_bbea782394012f521bbaf3646fa4e840\";i:10225;s:42:\"pinterest_bbea782394012f521bbaf3646fa4e840\";i:10226;s:41:\"linkedin_bbea782394012f521bbaf3646fa4e840\";i:10227;s:35:\"fb_8549642300a3cda260c0254c0d1f953d\";i:10228;s:40:\"twitter_8549642300a3cda260c0254c0d1f953d\";i:10229;s:42:\"pinterest_8549642300a3cda260c0254c0d1f953d\";i:10230;s:41:\"linkedin_8549642300a3cda260c0254c0d1f953d\";i:10231;s:35:\"fb_e0f2a03761a9054cc6ebbf7c6afa2612\";i:10232;s:40:\"twitter_e0f2a03761a9054cc6ebbf7c6afa2612\";i:10233;s:42:\"pinterest_e0f2a03761a9054cc6ebbf7c6afa2612\";i:10234;s:41:\"linkedin_e0f2a03761a9054cc6ebbf7c6afa2612\";i:10235;s:35:\"fb_125c0d1c0ff28812a6b993c86d87b276\";i:10236;s:40:\"twitter_125c0d1c0ff28812a6b993c86d87b276\";i:10237;s:42:\"pinterest_125c0d1c0ff28812a6b993c86d87b276\";i:10238;s:41:\"linkedin_125c0d1c0ff28812a6b993c86d87b276\";i:10239;s:35:\"fb_4f3141a6f301be3fbdeb897b83d9fa1e\";i:10240;s:40:\"twitter_4f3141a6f301be3fbdeb897b83d9fa1e\";i:10241;s:42:\"pinterest_4f3141a6f301be3fbdeb897b83d9fa1e\";i:10242;s:41:\"linkedin_4f3141a6f301be3fbdeb897b83d9fa1e\";i:10243;s:35:\"fb_fb42f517331575b3bce3db24327ec64e\";i:10244;s:40:\"twitter_fb42f517331575b3bce3db24327ec64e\";i:10245;s:42:\"pinterest_fb42f517331575b3bce3db24327ec64e\";i:10246;s:41:\"linkedin_fb42f517331575b3bce3db24327ec64e\";i:10247;s:35:\"fb_66ea351fe9acac760b4f89f272261085\";i:10248;s:40:\"twitter_66ea351fe9acac760b4f89f272261085\";i:10249;s:42:\"pinterest_66ea351fe9acac760b4f89f272261085\";i:10250;s:41:\"linkedin_66ea351fe9acac760b4f89f272261085\";i:10251;s:35:\"fb_59c1b64433fe314656715684426990c3\";i:10252;s:40:\"twitter_59c1b64433fe314656715684426990c3\";i:10253;s:42:\"pinterest_59c1b64433fe314656715684426990c3\";i:10254;s:41:\"linkedin_59c1b64433fe314656715684426990c3\";i:10255;s:35:\"fb_7415af7a2c62905205046c84c578434f\";i:10256;s:40:\"twitter_7415af7a2c62905205046c84c578434f\";i:10257;s:42:\"pinterest_7415af7a2c62905205046c84c578434f\";i:10258;s:41:\"linkedin_7415af7a2c62905205046c84c578434f\";i:10259;s:35:\"fb_3a3bbf6ea7c9382e836330d9725a4465\";i:10260;s:40:\"twitter_3a3bbf6ea7c9382e836330d9725a4465\";i:10261;s:42:\"pinterest_3a3bbf6ea7c9382e836330d9725a4465\";i:10262;s:41:\"linkedin_3a3bbf6ea7c9382e836330d9725a4465\";i:10263;s:35:\"fb_75d983e5cf8bcc59914ea55fb9e92f5e\";i:10264;s:40:\"twitter_75d983e5cf8bcc59914ea55fb9e92f5e\";i:10265;s:42:\"pinterest_75d983e5cf8bcc59914ea55fb9e92f5e\";i:10266;s:41:\"linkedin_75d983e5cf8bcc59914ea55fb9e92f5e\";i:10267;s:35:\"fb_20cd2cec44dea62006ae01710ff2aa21\";i:10268;s:40:\"twitter_20cd2cec44dea62006ae01710ff2aa21\";i:10269;s:42:\"pinterest_20cd2cec44dea62006ae01710ff2aa21\";i:10270;s:41:\"linkedin_20cd2cec44dea62006ae01710ff2aa21\";i:10271;s:35:\"fb_1de94ee8805daf9483e6ad900204b3ec\";i:10272;s:40:\"twitter_1de94ee8805daf9483e6ad900204b3ec\";i:10273;s:42:\"pinterest_1de94ee8805daf9483e6ad900204b3ec\";i:10274;s:41:\"linkedin_1de94ee8805daf9483e6ad900204b3ec\";i:10275;s:35:\"fb_ba2d4ccba1bfb362ee4437c488af6da2\";i:10276;s:40:\"twitter_ba2d4ccba1bfb362ee4437c488af6da2\";i:10277;s:42:\"pinterest_ba2d4ccba1bfb362ee4437c488af6da2\";i:10278;s:41:\"linkedin_ba2d4ccba1bfb362ee4437c488af6da2\";i:10279;s:35:\"fb_3d5d9ccdbc40348afbba82f50ce31af6\";i:10280;s:40:\"twitter_3d5d9ccdbc40348afbba82f50ce31af6\";i:10281;s:42:\"pinterest_3d5d9ccdbc40348afbba82f50ce31af6\";i:10282;s:41:\"linkedin_3d5d9ccdbc40348afbba82f50ce31af6\";i:10283;s:35:\"fb_f901a739d82f05aa304636b491a5062a\";i:10284;s:40:\"twitter_f901a739d82f05aa304636b491a5062a\";i:10285;s:42:\"pinterest_f901a739d82f05aa304636b491a5062a\";i:10286;s:41:\"linkedin_f901a739d82f05aa304636b491a5062a\";i:10287;s:35:\"fb_d9c9e3f8b171e77ada407b8e4a18c2fc\";i:10288;s:40:\"twitter_d9c9e3f8b171e77ada407b8e4a18c2fc\";i:10289;s:42:\"pinterest_d9c9e3f8b171e77ada407b8e4a18c2fc\";i:10290;s:41:\"linkedin_d9c9e3f8b171e77ada407b8e4a18c2fc\";i:10291;s:35:\"fb_4d45e1bebb45a540840f15bd0813625e\";i:10292;s:40:\"twitter_4d45e1bebb45a540840f15bd0813625e\";i:10293;s:42:\"pinterest_4d45e1bebb45a540840f15bd0813625e\";i:10294;s:41:\"linkedin_4d45e1bebb45a540840f15bd0813625e\";i:10295;s:35:\"fb_ed4718aeb3f6491e218d503a07d76ee7\";i:10296;s:40:\"twitter_ed4718aeb3f6491e218d503a07d76ee7\";i:10297;s:42:\"pinterest_ed4718aeb3f6491e218d503a07d76ee7\";i:10298;s:35:\"fb_2127642cca6bb516dd0bb7bfee5fc292\";i:10299;s:40:\"twitter_2127642cca6bb516dd0bb7bfee5fc292\";i:10300;s:42:\"pinterest_2127642cca6bb516dd0bb7bfee5fc292\";i:10301;s:35:\"fb_ff9345ba43e678b1cd69a5e0293cb103\";i:10302;s:40:\"twitter_ff9345ba43e678b1cd69a5e0293cb103\";i:10303;s:42:\"pinterest_ff9345ba43e678b1cd69a5e0293cb103\";i:10304;s:41:\"linkedin_ff9345ba43e678b1cd69a5e0293cb103\";i:10305;s:35:\"fb_f8f6eded7a2ff4a4bceb9fdde7abe3d2\";i:10306;s:40:\"twitter_f8f6eded7a2ff4a4bceb9fdde7abe3d2\";i:10307;s:42:\"pinterest_f8f6eded7a2ff4a4bceb9fdde7abe3d2\";i:10308;s:41:\"linkedin_f8f6eded7a2ff4a4bceb9fdde7abe3d2\";i:10309;s:35:\"fb_f00c35b42fc7d5249d27509cd7b26748\";i:10310;s:40:\"twitter_f00c35b42fc7d5249d27509cd7b26748\";i:10311;s:42:\"pinterest_f00c35b42fc7d5249d27509cd7b26748\";i:10312;s:41:\"linkedin_f00c35b42fc7d5249d27509cd7b26748\";i:10313;s:35:\"fb_d6ace2831c646e27fbb4479d85f11e9a\";i:10314;s:40:\"twitter_d6ace2831c646e27fbb4479d85f11e9a\";i:10315;s:42:\"pinterest_d6ace2831c646e27fbb4479d85f11e9a\";i:10316;s:41:\"linkedin_d6ace2831c646e27fbb4479d85f11e9a\";i:10317;s:35:\"fb_3ef6c1edae935b718f01be3ff39eebd3\";i:10318;s:40:\"twitter_3ef6c1edae935b718f01be3ff39eebd3\";i:10319;s:42:\"pinterest_3ef6c1edae935b718f01be3ff39eebd3\";i:10320;s:41:\"linkedin_3ef6c1edae935b718f01be3ff39eebd3\";i:10321;s:35:\"fb_e555fc0b65ea0eb7ad3c74b4d204d698\";i:10322;s:40:\"twitter_e555fc0b65ea0eb7ad3c74b4d204d698\";i:10323;s:42:\"pinterest_e555fc0b65ea0eb7ad3c74b4d204d698\";i:10324;s:35:\"fb_70703525c6e38647b4b10e565f27ed65\";i:10325;s:40:\"twitter_70703525c6e38647b4b10e565f27ed65\";i:10326;s:42:\"pinterest_70703525c6e38647b4b10e565f27ed65\";i:10327;s:41:\"linkedin_70703525c6e38647b4b10e565f27ed65\";i:10328;s:35:\"fb_e6d572b96d036d6cf9ab2c4aa03d259b\";i:10329;s:40:\"twitter_e6d572b96d036d6cf9ab2c4aa03d259b\";i:10330;s:42:\"pinterest_e6d572b96d036d6cf9ab2c4aa03d259b\";i:10331;s:41:\"linkedin_e6d572b96d036d6cf9ab2c4aa03d259b\";i:10332;s:35:\"fb_4af5a007812ff3b81f502605ef836311\";i:10333;s:40:\"twitter_4af5a007812ff3b81f502605ef836311\";i:10334;s:42:\"pinterest_4af5a007812ff3b81f502605ef836311\";i:10335;s:41:\"linkedin_4af5a007812ff3b81f502605ef836311\";i:10336;s:35:\"fb_38d20f08c8e9143904b0bd1a1c8d7c8c\";i:10337;s:40:\"twitter_38d20f08c8e9143904b0bd1a1c8d7c8c\";i:10338;s:42:\"pinterest_38d20f08c8e9143904b0bd1a1c8d7c8c\";i:10339;s:41:\"linkedin_38d20f08c8e9143904b0bd1a1c8d7c8c\";i:10340;s:35:\"fb_ac6f6be607ec8819556b824ebcd5182d\";i:10341;s:40:\"twitter_ac6f6be607ec8819556b824ebcd5182d\";i:10342;s:42:\"pinterest_ac6f6be607ec8819556b824ebcd5182d\";i:10343;s:41:\"linkedin_ac6f6be607ec8819556b824ebcd5182d\";i:10344;s:35:\"fb_e5ffeafd50ee87accb0215ff54c90390\";i:10345;s:40:\"twitter_e5ffeafd50ee87accb0215ff54c90390\";i:10346;s:42:\"pinterest_e5ffeafd50ee87accb0215ff54c90390\";i:10347;s:41:\"linkedin_e5ffeafd50ee87accb0215ff54c90390\";i:10348;s:35:\"fb_644efc1ee4981972c770f01d7f3a241c\";i:10349;s:40:\"twitter_644efc1ee4981972c770f01d7f3a241c\";i:10350;s:42:\"pinterest_644efc1ee4981972c770f01d7f3a241c\";i:10351;s:41:\"linkedin_644efc1ee4981972c770f01d7f3a241c\";i:10352;s:35:\"fb_804987ca29a1bf0a18739e4f0ea4fbfe\";i:10353;s:40:\"twitter_804987ca29a1bf0a18739e4f0ea4fbfe\";i:10354;s:42:\"pinterest_804987ca29a1bf0a18739e4f0ea4fbfe\";i:10355;s:41:\"linkedin_804987ca29a1bf0a18739e4f0ea4fbfe\";i:10356;s:35:\"fb_5a701637e212f12dfe629ef9e0102b0f\";i:10357;s:40:\"twitter_5a701637e212f12dfe629ef9e0102b0f\";i:10358;s:42:\"pinterest_5a701637e212f12dfe629ef9e0102b0f\";i:10359;s:41:\"linkedin_5a701637e212f12dfe629ef9e0102b0f\";i:10360;s:35:\"fb_b191c82daac4c66160c4e618997cb9a6\";i:10361;s:40:\"twitter_b191c82daac4c66160c4e618997cb9a6\";i:10362;s:42:\"pinterest_b191c82daac4c66160c4e618997cb9a6\";i:10363;s:41:\"linkedin_b191c82daac4c66160c4e618997cb9a6\";i:10364;s:35:\"fb_3f664962783d122103973317b5c64940\";i:10365;s:40:\"twitter_3f664962783d122103973317b5c64940\";i:10366;s:42:\"pinterest_3f664962783d122103973317b5c64940\";i:10367;s:41:\"linkedin_3f664962783d122103973317b5c64940\";i:10368;s:35:\"fb_b981e11294a0581a18a5e2791e08e347\";i:10369;s:40:\"twitter_b981e11294a0581a18a5e2791e08e347\";i:10370;s:42:\"pinterest_b981e11294a0581a18a5e2791e08e347\";i:10371;s:41:\"linkedin_b981e11294a0581a18a5e2791e08e347\";i:10372;s:35:\"fb_82bbc1920cf0cbe2403f9220ac85e595\";i:10373;s:40:\"twitter_82bbc1920cf0cbe2403f9220ac85e595\";i:10374;s:42:\"pinterest_82bbc1920cf0cbe2403f9220ac85e595\";i:10375;s:41:\"linkedin_82bbc1920cf0cbe2403f9220ac85e595\";i:10376;s:35:\"fb_70b712a4657ca7e948d6ea6b478e1728\";i:10377;s:40:\"twitter_70b712a4657ca7e948d6ea6b478e1728\";i:10378;s:42:\"pinterest_70b712a4657ca7e948d6ea6b478e1728\";i:10379;s:41:\"linkedin_70b712a4657ca7e948d6ea6b478e1728\";i:10380;s:35:\"fb_7d5ba3921d331b71833a2ca86467760e\";i:10381;s:40:\"twitter_7d5ba3921d331b71833a2ca86467760e\";i:10382;s:42:\"pinterest_7d5ba3921d331b71833a2ca86467760e\";i:10383;s:41:\"linkedin_7d5ba3921d331b71833a2ca86467760e\";i:10384;s:35:\"fb_dae75cc2407f18a3f30eab0d284d2d13\";i:10385;s:40:\"twitter_dae75cc2407f18a3f30eab0d284d2d13\";i:10386;s:42:\"pinterest_dae75cc2407f18a3f30eab0d284d2d13\";i:10387;s:41:\"linkedin_dae75cc2407f18a3f30eab0d284d2d13\";i:10388;s:35:\"fb_07c0163849efeca933ee329555c40c6e\";i:10389;s:40:\"twitter_07c0163849efeca933ee329555c40c6e\";i:10390;s:42:\"pinterest_07c0163849efeca933ee329555c40c6e\";i:10391;s:41:\"linkedin_07c0163849efeca933ee329555c40c6e\";i:10392;s:35:\"fb_1ef89116a0a6f2b68ea00a30dd21d969\";i:10393;s:40:\"twitter_1ef89116a0a6f2b68ea00a30dd21d969\";i:10394;s:42:\"pinterest_1ef89116a0a6f2b68ea00a30dd21d969\";i:10395;s:41:\"linkedin_1ef89116a0a6f2b68ea00a30dd21d969\";i:10396;s:35:\"fb_b2a795d37354c6fc6031c3477ed9a619\";i:10397;s:40:\"twitter_b2a795d37354c6fc6031c3477ed9a619\";i:10398;s:42:\"pinterest_b2a795d37354c6fc6031c3477ed9a619\";i:10399;s:41:\"linkedin_b2a795d37354c6fc6031c3477ed9a619\";i:10400;s:35:\"fb_8cfe2ace825ccf2dbd4f72c6128a1c38\";i:10401;s:40:\"twitter_8cfe2ace825ccf2dbd4f72c6128a1c38\";i:10402;s:42:\"pinterest_8cfe2ace825ccf2dbd4f72c6128a1c38\";i:10403;s:41:\"linkedin_8cfe2ace825ccf2dbd4f72c6128a1c38\";i:10404;s:35:\"fb_e75b6664e48a8d9fa505e30b4221d806\";i:10405;s:40:\"twitter_e75b6664e48a8d9fa505e30b4221d806\";i:10406;s:42:\"pinterest_e75b6664e48a8d9fa505e30b4221d806\";i:10407;s:41:\"linkedin_e75b6664e48a8d9fa505e30b4221d806\";i:10408;s:35:\"fb_d2a61affca5c62527d3c42fe49d81174\";i:10409;s:40:\"twitter_d2a61affca5c62527d3c42fe49d81174\";i:10410;s:42:\"pinterest_d2a61affca5c62527d3c42fe49d81174\";i:10411;s:41:\"linkedin_d2a61affca5c62527d3c42fe49d81174\";i:10412;s:35:\"fb_ab9beceefd67252945d789da444f6043\";i:10413;s:40:\"twitter_ab9beceefd67252945d789da444f6043\";i:10414;s:42:\"pinterest_ab9beceefd67252945d789da444f6043\";i:10415;s:41:\"linkedin_ab9beceefd67252945d789da444f6043\";i:10416;s:35:\"fb_70c53c2fca6b0ae1d5a3dd7db65a8223\";i:10417;s:40:\"twitter_70c53c2fca6b0ae1d5a3dd7db65a8223\";i:10418;s:42:\"pinterest_70c53c2fca6b0ae1d5a3dd7db65a8223\";i:10419;s:41:\"linkedin_70c53c2fca6b0ae1d5a3dd7db65a8223\";i:10420;s:35:\"fb_2b2df203b3c27fc02a1cd24075ef4251\";i:10421;s:40:\"twitter_2b2df203b3c27fc02a1cd24075ef4251\";i:10422;s:42:\"pinterest_2b2df203b3c27fc02a1cd24075ef4251\";i:10423;s:41:\"linkedin_2b2df203b3c27fc02a1cd24075ef4251\";i:10424;s:35:\"fb_7ad10f95b1393017e7c22e9e36ae8f76\";i:10425;s:40:\"twitter_7ad10f95b1393017e7c22e9e36ae8f76\";i:10426;s:42:\"pinterest_7ad10f95b1393017e7c22e9e36ae8f76\";i:10427;s:41:\"linkedin_7ad10f95b1393017e7c22e9e36ae8f76\";i:10428;s:35:\"fb_61c96972bc84c5e2502d0f07ea90569c\";i:10429;s:40:\"twitter_61c96972bc84c5e2502d0f07ea90569c\";i:10430;s:42:\"pinterest_61c96972bc84c5e2502d0f07ea90569c\";i:10431;s:41:\"linkedin_61c96972bc84c5e2502d0f07ea90569c\";i:10432;s:35:\"fb_dda6bc64c03c59c44c1e1c6146e74fb5\";i:10433;s:40:\"twitter_dda6bc64c03c59c44c1e1c6146e74fb5\";i:10434;s:42:\"pinterest_dda6bc64c03c59c44c1e1c6146e74fb5\";i:10435;s:35:\"fb_0b1d9af554f3cb6fed3984d8a7ca6c06\";i:10436;s:40:\"twitter_0b1d9af554f3cb6fed3984d8a7ca6c06\";i:10437;s:42:\"pinterest_0b1d9af554f3cb6fed3984d8a7ca6c06\";i:10438;s:41:\"linkedin_0b1d9af554f3cb6fed3984d8a7ca6c06\";i:10439;s:35:\"fb_db57df47d0fc617cd7bb7d9558864769\";i:10440;s:40:\"twitter_db57df47d0fc617cd7bb7d9558864769\";i:10441;s:42:\"pinterest_db57df47d0fc617cd7bb7d9558864769\";i:10442;s:41:\"linkedin_db57df47d0fc617cd7bb7d9558864769\";i:10443;s:35:\"fb_ac19247b9a633220698e226bf9e6da8f\";i:10444;s:40:\"twitter_ac19247b9a633220698e226bf9e6da8f\";i:10445;s:42:\"pinterest_ac19247b9a633220698e226bf9e6da8f\";i:10446;s:41:\"linkedin_ac19247b9a633220698e226bf9e6da8f\";i:10447;s:35:\"fb_997e77f7629b3ff4d425d0e97eab9e5d\";i:10448;s:40:\"twitter_997e77f7629b3ff4d425d0e97eab9e5d\";i:10449;s:42:\"pinterest_997e77f7629b3ff4d425d0e97eab9e5d\";i:10450;s:41:\"linkedin_997e77f7629b3ff4d425d0e97eab9e5d\";i:10451;s:35:\"fb_180c8afcf20ab064392c5bc76a14dcfd\";i:10452;s:40:\"twitter_180c8afcf20ab064392c5bc76a14dcfd\";i:10453;s:42:\"pinterest_180c8afcf20ab064392c5bc76a14dcfd\";i:10454;s:41:\"linkedin_180c8afcf20ab064392c5bc76a14dcfd\";i:10455;s:35:\"fb_dd4af4fb1d4f29038a24af614b0f61f7\";i:10456;s:40:\"twitter_dd4af4fb1d4f29038a24af614b0f61f7\";i:10457;s:42:\"pinterest_dd4af4fb1d4f29038a24af614b0f61f7\";i:10458;s:41:\"linkedin_dd4af4fb1d4f29038a24af614b0f61f7\";i:10459;s:35:\"fb_45af5bf7f501c32a34f73fc2763d7c13\";i:10460;s:40:\"twitter_45af5bf7f501c32a34f73fc2763d7c13\";i:10461;s:42:\"pinterest_45af5bf7f501c32a34f73fc2763d7c13\";i:10462;s:41:\"linkedin_45af5bf7f501c32a34f73fc2763d7c13\";i:10463;s:35:\"fb_84074715e4c423dbbc0fda2b4b5189c0\";i:10464;s:40:\"twitter_84074715e4c423dbbc0fda2b4b5189c0\";i:10465;s:42:\"pinterest_84074715e4c423dbbc0fda2b4b5189c0\";i:10466;s:41:\"linkedin_84074715e4c423dbbc0fda2b4b5189c0\";i:10467;s:35:\"fb_cbd311497aef8008a376d098650f534d\";i:10468;s:40:\"twitter_cbd311497aef8008a376d098650f534d\";i:10469;s:42:\"pinterest_cbd311497aef8008a376d098650f534d\";i:10470;s:41:\"linkedin_cbd311497aef8008a376d098650f534d\";i:10471;s:35:\"fb_4c991537fb3a66ada525dc62eb978118\";i:10472;s:40:\"twitter_4c991537fb3a66ada525dc62eb978118\";i:10473;s:42:\"pinterest_4c991537fb3a66ada525dc62eb978118\";i:10474;s:41:\"linkedin_4c991537fb3a66ada525dc62eb978118\";i:10475;s:35:\"fb_e75c4fb8d86ac1f3b3d85d9c5c5f548e\";i:10476;s:41:\"linkedin_e75c4fb8d86ac1f3b3d85d9c5c5f548e\";i:10477;s:35:\"fb_f47260c927b22d67034a9023089648f7\";i:10478;s:40:\"twitter_f47260c927b22d67034a9023089648f7\";i:10479;s:42:\"pinterest_f47260c927b22d67034a9023089648f7\";i:10480;s:41:\"linkedin_f47260c927b22d67034a9023089648f7\";i:10481;s:35:\"fb_f7c6acfd762a08161ff8d93400d94077\";i:10482;s:40:\"twitter_f7c6acfd762a08161ff8d93400d94077\";i:10483;s:42:\"pinterest_f7c6acfd762a08161ff8d93400d94077\";i:10484;s:41:\"linkedin_f7c6acfd762a08161ff8d93400d94077\";i:10485;s:35:\"fb_b792a6bb8dd84294cd8b5c95e4d50ca7\";i:10486;s:40:\"twitter_b792a6bb8dd84294cd8b5c95e4d50ca7\";i:10487;s:42:\"pinterest_b792a6bb8dd84294cd8b5c95e4d50ca7\";i:10488;s:41:\"linkedin_b792a6bb8dd84294cd8b5c95e4d50ca7\";i:10489;s:35:\"fb_c107ddbf1c1115df15a192ed3e92beac\";i:10490;s:40:\"twitter_c107ddbf1c1115df15a192ed3e92beac\";i:10491;s:42:\"pinterest_c107ddbf1c1115df15a192ed3e92beac\";i:10492;s:41:\"linkedin_c107ddbf1c1115df15a192ed3e92beac\";i:10493;s:35:\"fb_b294d2eb67340f13dfdc606b2de2af6b\";i:10494;s:40:\"twitter_b294d2eb67340f13dfdc606b2de2af6b\";i:10495;s:42:\"pinterest_b294d2eb67340f13dfdc606b2de2af6b\";i:10496;s:41:\"linkedin_b294d2eb67340f13dfdc606b2de2af6b\";i:10497;s:35:\"fb_9e5efa1c08d61fb75786f9bbbd811379\";i:10498;s:40:\"twitter_9e5efa1c08d61fb75786f9bbbd811379\";i:10499;s:42:\"pinterest_9e5efa1c08d61fb75786f9bbbd811379\";i:10500;s:41:\"linkedin_9e5efa1c08d61fb75786f9bbbd811379\";i:10501;s:35:\"fb_aaa45008b7dbb3511c731e758668bd4f\";i:10502;s:40:\"twitter_aaa45008b7dbb3511c731e758668bd4f\";i:10503;s:42:\"pinterest_aaa45008b7dbb3511c731e758668bd4f\";i:10504;s:41:\"linkedin_aaa45008b7dbb3511c731e758668bd4f\";i:10505;s:35:\"fb_cb9abce63379d3e9208cfecb72999b9e\";i:10506;s:40:\"twitter_cb9abce63379d3e9208cfecb72999b9e\";i:10507;s:42:\"pinterest_cb9abce63379d3e9208cfecb72999b9e\";i:10508;s:41:\"linkedin_cb9abce63379d3e9208cfecb72999b9e\";i:10509;s:35:\"fb_9da9d3efaf2a7aa2bbe07ff76cb5a94c\";i:10510;s:40:\"twitter_9da9d3efaf2a7aa2bbe07ff76cb5a94c\";i:10511;s:42:\"pinterest_9da9d3efaf2a7aa2bbe07ff76cb5a94c\";i:10512;s:41:\"linkedin_9da9d3efaf2a7aa2bbe07ff76cb5a94c\";i:10513;s:35:\"fb_5811dcd608f1c4a1cf9f5e629dc3a7ee\";i:10514;s:40:\"twitter_5811dcd608f1c4a1cf9f5e629dc3a7ee\";i:10515;s:42:\"pinterest_5811dcd608f1c4a1cf9f5e629dc3a7ee\";i:10516;s:41:\"linkedin_5811dcd608f1c4a1cf9f5e629dc3a7ee\";i:10517;s:35:\"fb_e8b3549abc26cc33b84b17a057ada57b\";i:10518;s:40:\"twitter_e8b3549abc26cc33b84b17a057ada57b\";i:10519;s:42:\"pinterest_e8b3549abc26cc33b84b17a057ada57b\";i:10520;s:41:\"linkedin_e8b3549abc26cc33b84b17a057ada57b\";i:10521;s:35:\"fb_98ac65952e296c1f722a4f8286a5a5df\";i:10522;s:40:\"twitter_98ac65952e296c1f722a4f8286a5a5df\";i:10523;s:42:\"pinterest_98ac65952e296c1f722a4f8286a5a5df\";i:10524;s:41:\"linkedin_98ac65952e296c1f722a4f8286a5a5df\";i:10525;s:35:\"fb_21e92b9248f5369822c819e2bee9fa2f\";i:10526;s:40:\"twitter_21e92b9248f5369822c819e2bee9fa2f\";i:10527;s:42:\"pinterest_21e92b9248f5369822c819e2bee9fa2f\";i:10528;s:41:\"linkedin_21e92b9248f5369822c819e2bee9fa2f\";i:10529;s:35:\"fb_ec1d37dd3a099432ef93ddb5a8086210\";i:10530;s:40:\"twitter_ec1d37dd3a099432ef93ddb5a8086210\";i:10531;s:42:\"pinterest_ec1d37dd3a099432ef93ddb5a8086210\";i:10532;s:41:\"linkedin_ec1d37dd3a099432ef93ddb5a8086210\";i:10533;s:35:\"fb_515673d412c4c91055146653416d479b\";i:10534;s:40:\"twitter_515673d412c4c91055146653416d479b\";i:10535;s:42:\"pinterest_515673d412c4c91055146653416d479b\";i:10536;s:41:\"linkedin_515673d412c4c91055146653416d479b\";i:10537;s:35:\"fb_d79190c18c027f1368d284cd0c3d4ce3\";i:10538;s:40:\"twitter_d79190c18c027f1368d284cd0c3d4ce3\";i:10539;s:42:\"pinterest_d79190c18c027f1368d284cd0c3d4ce3\";i:10540;s:41:\"linkedin_d79190c18c027f1368d284cd0c3d4ce3\";i:10541;s:35:\"fb_fc0cc6cbff089124e7f6636a8b902f39\";i:10542;s:40:\"twitter_fc0cc6cbff089124e7f6636a8b902f39\";i:10543;s:42:\"pinterest_fc0cc6cbff089124e7f6636a8b902f39\";i:10544;s:41:\"linkedin_fc0cc6cbff089124e7f6636a8b902f39\";i:10545;s:35:\"fb_3d94bf340e35c9153952a3909f8756e4\";i:10546;s:40:\"twitter_3d94bf340e35c9153952a3909f8756e4\";i:10547;s:42:\"pinterest_3d94bf340e35c9153952a3909f8756e4\";i:10548;s:41:\"linkedin_3d94bf340e35c9153952a3909f8756e4\";i:10549;s:35:\"fb_24da04f593974949dc32ba2f86d175e1\";i:10550;s:40:\"twitter_24da04f593974949dc32ba2f86d175e1\";i:10551;s:42:\"pinterest_24da04f593974949dc32ba2f86d175e1\";i:10552;s:41:\"linkedin_24da04f593974949dc32ba2f86d175e1\";i:10553;s:35:\"fb_2ac0f90e4723f01417128e6e502f5af3\";i:10554;s:40:\"twitter_2ac0f90e4723f01417128e6e502f5af3\";i:10555;s:42:\"pinterest_2ac0f90e4723f01417128e6e502f5af3\";i:10556;s:41:\"linkedin_2ac0f90e4723f01417128e6e502f5af3\";i:10557;s:35:\"fb_740d7e84a4a1e1a35b5b9fbff2a88f75\";i:10558;s:40:\"twitter_740d7e84a4a1e1a35b5b9fbff2a88f75\";i:10559;s:42:\"pinterest_740d7e84a4a1e1a35b5b9fbff2a88f75\";i:10560;s:41:\"linkedin_740d7e84a4a1e1a35b5b9fbff2a88f75\";i:10561;s:35:\"fb_2db9672fd0b3c02f5b631cb253b85de2\";i:10562;s:40:\"twitter_2db9672fd0b3c02f5b631cb253b85de2\";i:10563;s:42:\"pinterest_2db9672fd0b3c02f5b631cb253b85de2\";i:10564;s:41:\"linkedin_2db9672fd0b3c02f5b631cb253b85de2\";i:10565;s:35:\"fb_4400b33d65322723f3d1151bc90bed13\";i:10566;s:40:\"twitter_4400b33d65322723f3d1151bc90bed13\";i:10567;s:42:\"pinterest_4400b33d65322723f3d1151bc90bed13\";i:10568;s:41:\"linkedin_4400b33d65322723f3d1151bc90bed13\";i:10569;s:35:\"fb_452f657ada3821303812da30d4816b60\";i:10570;s:40:\"twitter_452f657ada3821303812da30d4816b60\";i:10571;s:42:\"pinterest_452f657ada3821303812da30d4816b60\";i:10572;s:41:\"linkedin_452f657ada3821303812da30d4816b60\";i:10573;s:35:\"fb_0ba5537909f3d70dfb2c32952d9410a1\";i:10574;s:40:\"twitter_0ba5537909f3d70dfb2c32952d9410a1\";i:10575;s:42:\"pinterest_0ba5537909f3d70dfb2c32952d9410a1\";i:10576;s:41:\"linkedin_0ba5537909f3d70dfb2c32952d9410a1\";i:10577;s:35:\"fb_a1573577a6c5519f032068ca09b55100\";i:10578;s:40:\"twitter_a1573577a6c5519f032068ca09b55100\";i:10579;s:42:\"pinterest_a1573577a6c5519f032068ca09b55100\";i:10580;s:41:\"linkedin_a1573577a6c5519f032068ca09b55100\";i:10581;s:35:\"fb_8436ddc2e8fdf6f14e4ed1317de50924\";i:10582;s:40:\"twitter_8436ddc2e8fdf6f14e4ed1317de50924\";i:10583;s:42:\"pinterest_8436ddc2e8fdf6f14e4ed1317de50924\";i:10584;s:41:\"linkedin_8436ddc2e8fdf6f14e4ed1317de50924\";i:10585;s:35:\"fb_57128bcb37a851af557b484707239dda\";i:10586;s:40:\"twitter_57128bcb37a851af557b484707239dda\";i:10587;s:42:\"pinterest_57128bcb37a851af557b484707239dda\";i:10588;s:41:\"linkedin_57128bcb37a851af557b484707239dda\";i:10589;s:35:\"fb_313c3bfb11793f04d98fddaecf84a365\";i:10590;s:40:\"twitter_313c3bfb11793f04d98fddaecf84a365\";i:10591;s:42:\"pinterest_313c3bfb11793f04d98fddaecf84a365\";i:10592;s:41:\"linkedin_313c3bfb11793f04d98fddaecf84a365\";i:10593;s:35:\"fb_0c6b073a43ce81e6db3ee7757a07e2a5\";i:10594;s:40:\"twitter_0c6b073a43ce81e6db3ee7757a07e2a5\";i:10595;s:42:\"pinterest_0c6b073a43ce81e6db3ee7757a07e2a5\";i:10596;s:41:\"linkedin_0c6b073a43ce81e6db3ee7757a07e2a5\";i:10597;s:35:\"fb_6c39f0ecd1883b19396d4447fed0c841\";i:10598;s:40:\"twitter_6c39f0ecd1883b19396d4447fed0c841\";i:10599;s:42:\"pinterest_6c39f0ecd1883b19396d4447fed0c841\";i:10600;s:41:\"linkedin_6c39f0ecd1883b19396d4447fed0c841\";i:10601;s:35:\"fb_01e6b5c5197c53546955c7c1e3ff9e7f\";i:10602;s:40:\"twitter_01e6b5c5197c53546955c7c1e3ff9e7f\";i:10603;s:42:\"pinterest_01e6b5c5197c53546955c7c1e3ff9e7f\";i:10604;s:41:\"linkedin_01e6b5c5197c53546955c7c1e3ff9e7f\";i:10605;s:35:\"fb_34d187976c4b84f64bf96feb4379d326\";i:10606;s:40:\"twitter_34d187976c4b84f64bf96feb4379d326\";i:10607;s:42:\"pinterest_34d187976c4b84f64bf96feb4379d326\";i:10608;s:41:\"linkedin_34d187976c4b84f64bf96feb4379d326\";i:10609;s:35:\"fb_1c30ddf4a75c776c338de0bb8929822c\";i:10610;s:40:\"twitter_1c30ddf4a75c776c338de0bb8929822c\";i:10611;s:42:\"pinterest_1c30ddf4a75c776c338de0bb8929822c\";i:10612;s:41:\"linkedin_1c30ddf4a75c776c338de0bb8929822c\";i:10613;s:35:\"fb_3f23c162babfd444e912577cf2c0ca7a\";i:10614;s:40:\"twitter_3f23c162babfd444e912577cf2c0ca7a\";i:10615;s:42:\"pinterest_3f23c162babfd444e912577cf2c0ca7a\";i:10616;s:41:\"linkedin_3f23c162babfd444e912577cf2c0ca7a\";i:10617;s:35:\"fb_9c67d9cb89bf2e2ef9bdf7e63057d2cf\";i:10618;s:40:\"twitter_9c67d9cb89bf2e2ef9bdf7e63057d2cf\";i:10619;s:42:\"pinterest_9c67d9cb89bf2e2ef9bdf7e63057d2cf\";i:10620;s:41:\"linkedin_9c67d9cb89bf2e2ef9bdf7e63057d2cf\";i:10621;s:35:\"fb_1d5df81e097ed667269d800b952d10d2\";i:10622;s:40:\"twitter_1d5df81e097ed667269d800b952d10d2\";i:10623;s:42:\"pinterest_1d5df81e097ed667269d800b952d10d2\";i:10624;s:41:\"linkedin_1d5df81e097ed667269d800b952d10d2\";i:10625;s:35:\"fb_3ee6d85cc5e0d1ffd75fa1932900f179\";i:10626;s:40:\"twitter_3ee6d85cc5e0d1ffd75fa1932900f179\";i:10627;s:42:\"pinterest_3ee6d85cc5e0d1ffd75fa1932900f179\";i:10628;s:41:\"linkedin_3ee6d85cc5e0d1ffd75fa1932900f179\";i:10629;s:35:\"fb_78670b4096a6bec4e00fa7de3553b730\";i:10630;s:40:\"twitter_78670b4096a6bec4e00fa7de3553b730\";i:10631;s:42:\"pinterest_78670b4096a6bec4e00fa7de3553b730\";i:10632;s:41:\"linkedin_78670b4096a6bec4e00fa7de3553b730\";i:10633;s:35:\"fb_17a06686488b14a4ffc7a797b0e2924c\";i:10634;s:40:\"twitter_17a06686488b14a4ffc7a797b0e2924c\";i:10635;s:42:\"pinterest_17a06686488b14a4ffc7a797b0e2924c\";i:10636;s:41:\"linkedin_17a06686488b14a4ffc7a797b0e2924c\";i:10637;s:35:\"fb_c4fc1088046f554fe69c81d7f709efcd\";i:10638;s:40:\"twitter_c4fc1088046f554fe69c81d7f709efcd\";i:10639;s:42:\"pinterest_c4fc1088046f554fe69c81d7f709efcd\";i:10640;s:41:\"linkedin_c4fc1088046f554fe69c81d7f709efcd\";i:10641;s:35:\"fb_7457cdae26cdde5c77e1e85907079df2\";i:10642;s:40:\"twitter_7457cdae26cdde5c77e1e85907079df2\";i:10643;s:42:\"pinterest_7457cdae26cdde5c77e1e85907079df2\";i:10644;s:41:\"linkedin_7457cdae26cdde5c77e1e85907079df2\";i:10645;s:35:\"fb_eb514f035028aaaa7dcdcea25a1e9c23\";i:10646;s:40:\"twitter_eb514f035028aaaa7dcdcea25a1e9c23\";i:10647;s:42:\"pinterest_eb514f035028aaaa7dcdcea25a1e9c23\";i:10648;s:41:\"linkedin_eb514f035028aaaa7dcdcea25a1e9c23\";i:10649;s:35:\"fb_1ddabf19dacb16de39045f04df767557\";i:10650;s:40:\"twitter_1ddabf19dacb16de39045f04df767557\";i:10651;s:42:\"pinterest_1ddabf19dacb16de39045f04df767557\";i:10652;s:41:\"linkedin_1ddabf19dacb16de39045f04df767557\";i:10653;s:35:\"fb_5e11080cde94122ef17102ccf96e0156\";i:10654;s:40:\"twitter_5e11080cde94122ef17102ccf96e0156\";i:10655;s:42:\"pinterest_5e11080cde94122ef17102ccf96e0156\";i:10656;s:41:\"linkedin_5e11080cde94122ef17102ccf96e0156\";i:10657;s:35:\"fb_a7a5eb425a9d169485a58e502b27997b\";i:10658;s:40:\"twitter_a7a5eb425a9d169485a58e502b27997b\";i:10659;s:42:\"pinterest_a7a5eb425a9d169485a58e502b27997b\";i:10660;s:41:\"linkedin_a7a5eb425a9d169485a58e502b27997b\";i:10661;s:35:\"fb_3aaa643f5ca685b5ea43609597da688e\";i:10662;s:40:\"twitter_3aaa643f5ca685b5ea43609597da688e\";i:10663;s:42:\"pinterest_3aaa643f5ca685b5ea43609597da688e\";i:10664;s:41:\"linkedin_3aaa643f5ca685b5ea43609597da688e\";i:10665;s:35:\"fb_8efe0fd8bd87ea4c569f14ce470ed986\";i:10666;s:40:\"twitter_8efe0fd8bd87ea4c569f14ce470ed986\";i:10667;s:42:\"pinterest_8efe0fd8bd87ea4c569f14ce470ed986\";i:10668;s:41:\"linkedin_8efe0fd8bd87ea4c569f14ce470ed986\";i:10669;s:35:\"fb_b62c01d626e65ccde6c6fe30b6dd712e\";i:10670;s:40:\"twitter_b62c01d626e65ccde6c6fe30b6dd712e\";i:10671;s:42:\"pinterest_b62c01d626e65ccde6c6fe30b6dd712e\";i:10672;s:41:\"linkedin_b62c01d626e65ccde6c6fe30b6dd712e\";i:10673;s:35:\"fb_be2eb11fedd233a5e74f5b3d2e00ff5e\";i:10674;s:40:\"twitter_be2eb11fedd233a5e74f5b3d2e00ff5e\";i:10675;s:42:\"pinterest_be2eb11fedd233a5e74f5b3d2e00ff5e\";i:10676;s:41:\"linkedin_be2eb11fedd233a5e74f5b3d2e00ff5e\";i:10677;s:35:\"fb_0f6873bf28f9da0ad6272a5e365c5e70\";i:10678;s:40:\"twitter_0f6873bf28f9da0ad6272a5e365c5e70\";i:10679;s:42:\"pinterest_0f6873bf28f9da0ad6272a5e365c5e70\";i:10680;s:41:\"linkedin_0f6873bf28f9da0ad6272a5e365c5e70\";i:10681;s:35:\"fb_72c4b32eddea0db53960179bc070b9c8\";i:10682;s:40:\"twitter_72c4b32eddea0db53960179bc070b9c8\";i:10683;s:42:\"pinterest_72c4b32eddea0db53960179bc070b9c8\";i:10684;s:41:\"linkedin_72c4b32eddea0db53960179bc070b9c8\";i:10685;s:35:\"fb_4493233c2ef1f517345ed222e2c61848\";i:10686;s:40:\"twitter_4493233c2ef1f517345ed222e2c61848\";i:10687;s:42:\"pinterest_4493233c2ef1f517345ed222e2c61848\";i:10688;s:41:\"linkedin_4493233c2ef1f517345ed222e2c61848\";i:10689;s:35:\"fb_3c64b5e157108f0d947dada12db2162b\";i:10690;s:40:\"twitter_3c64b5e157108f0d947dada12db2162b\";i:10691;s:42:\"pinterest_3c64b5e157108f0d947dada12db2162b\";i:10692;s:41:\"linkedin_3c64b5e157108f0d947dada12db2162b\";i:10693;s:35:\"fb_25914b6d03c59e1562941bafff44f7f5\";i:10694;s:40:\"twitter_25914b6d03c59e1562941bafff44f7f5\";i:10695;s:42:\"pinterest_25914b6d03c59e1562941bafff44f7f5\";i:10696;s:41:\"linkedin_25914b6d03c59e1562941bafff44f7f5\";i:10697;s:35:\"fb_2842c4dfcca1621a1342ed0e6fc3fb75\";i:10698;s:40:\"twitter_2842c4dfcca1621a1342ed0e6fc3fb75\";i:10699;s:42:\"pinterest_2842c4dfcca1621a1342ed0e6fc3fb75\";i:10700;s:41:\"linkedin_2842c4dfcca1621a1342ed0e6fc3fb75\";i:10701;s:35:\"fb_f2f0430173d8a4e4076d64657c5ebe55\";i:10702;s:40:\"twitter_f2f0430173d8a4e4076d64657c5ebe55\";i:10703;s:42:\"pinterest_f2f0430173d8a4e4076d64657c5ebe55\";i:10704;s:41:\"linkedin_f2f0430173d8a4e4076d64657c5ebe55\";i:10705;s:35:\"fb_54017be7ebb597620b80248a27b42af2\";i:10706;s:40:\"twitter_54017be7ebb597620b80248a27b42af2\";i:10707;s:42:\"pinterest_54017be7ebb597620b80248a27b42af2\";i:10708;s:41:\"linkedin_54017be7ebb597620b80248a27b42af2\";i:10709;s:35:\"fb_f88d807e18ac85447926de4c2912df7e\";i:10710;s:40:\"twitter_f88d807e18ac85447926de4c2912df7e\";i:10711;s:42:\"pinterest_f88d807e18ac85447926de4c2912df7e\";i:10712;s:41:\"linkedin_f88d807e18ac85447926de4c2912df7e\";i:10713;s:35:\"fb_aa8a1c2c6c1d194ff966bdf23d0ca573\";i:10714;s:40:\"twitter_aa8a1c2c6c1d194ff966bdf23d0ca573\";i:10715;s:42:\"pinterest_aa8a1c2c6c1d194ff966bdf23d0ca573\";i:10716;s:41:\"linkedin_aa8a1c2c6c1d194ff966bdf23d0ca573\";i:10717;s:35:\"fb_9e6160161250202f434e626eafc65c81\";i:10718;s:40:\"twitter_9e6160161250202f434e626eafc65c81\";i:10719;s:42:\"pinterest_9e6160161250202f434e626eafc65c81\";i:10720;s:41:\"linkedin_9e6160161250202f434e626eafc65c81\";i:10721;s:35:\"fb_2116888c577d38c883f47569b620763f\";i:10722;s:40:\"twitter_2116888c577d38c883f47569b620763f\";i:10723;s:42:\"pinterest_2116888c577d38c883f47569b620763f\";i:10724;s:41:\"linkedin_2116888c577d38c883f47569b620763f\";i:10725;s:35:\"fb_ad2ebc2066f41e5ab9fe1e71f6a6dac1\";i:10726;s:40:\"twitter_ad2ebc2066f41e5ab9fe1e71f6a6dac1\";i:10727;s:42:\"pinterest_ad2ebc2066f41e5ab9fe1e71f6a6dac1\";i:10728;s:41:\"linkedin_ad2ebc2066f41e5ab9fe1e71f6a6dac1\";i:10729;s:35:\"fb_0903bf41f58cad1dbd40d81b9dfda08d\";i:10730;s:40:\"twitter_0903bf41f58cad1dbd40d81b9dfda08d\";i:10731;s:42:\"pinterest_0903bf41f58cad1dbd40d81b9dfda08d\";i:10732;s:41:\"linkedin_0903bf41f58cad1dbd40d81b9dfda08d\";i:10733;s:35:\"fb_f3dbd5ecd4ae61170bbc39c8f2adb361\";i:10734;s:40:\"twitter_f3dbd5ecd4ae61170bbc39c8f2adb361\";i:10735;s:42:\"pinterest_f3dbd5ecd4ae61170bbc39c8f2adb361\";i:10736;s:41:\"linkedin_f3dbd5ecd4ae61170bbc39c8f2adb361\";i:10737;s:35:\"fb_a4fa0b1a73c96c0a113e08259974136a\";i:10738;s:40:\"twitter_a4fa0b1a73c96c0a113e08259974136a\";i:10739;s:42:\"pinterest_a4fa0b1a73c96c0a113e08259974136a\";i:10740;s:41:\"linkedin_a4fa0b1a73c96c0a113e08259974136a\";i:10741;s:35:\"fb_9b216890f4328e59254571325a1fd7a8\";i:10742;s:40:\"twitter_9b216890f4328e59254571325a1fd7a8\";i:10743;s:42:\"pinterest_9b216890f4328e59254571325a1fd7a8\";i:10744;s:41:\"linkedin_9b216890f4328e59254571325a1fd7a8\";i:10745;s:35:\"fb_a18564c2c70ddc8cb11d4d9ba8637010\";i:10746;s:40:\"twitter_a18564c2c70ddc8cb11d4d9ba8637010\";i:10747;s:42:\"pinterest_a18564c2c70ddc8cb11d4d9ba8637010\";i:10748;s:41:\"linkedin_a18564c2c70ddc8cb11d4d9ba8637010\";i:10749;s:35:\"fb_3d3727db90eb2e11bba6c5597cbcad45\";i:10750;s:40:\"twitter_3d3727db90eb2e11bba6c5597cbcad45\";i:10751;s:42:\"pinterest_3d3727db90eb2e11bba6c5597cbcad45\";i:10752;s:41:\"linkedin_3d3727db90eb2e11bba6c5597cbcad45\";i:10753;s:35:\"fb_11f8cc4867690f1c0d44214f39502a63\";i:10754;s:40:\"twitter_11f8cc4867690f1c0d44214f39502a63\";i:10755;s:42:\"pinterest_11f8cc4867690f1c0d44214f39502a63\";i:10756;s:41:\"linkedin_11f8cc4867690f1c0d44214f39502a63\";i:10757;s:35:\"fb_4993fcdad970b9b54e425cff4e976025\";i:10758;s:40:\"twitter_4993fcdad970b9b54e425cff4e976025\";i:10759;s:42:\"pinterest_4993fcdad970b9b54e425cff4e976025\";i:10760;s:41:\"linkedin_4993fcdad970b9b54e425cff4e976025\";i:10761;s:35:\"fb_72bc941ed603cde4cde51ce8068724b1\";i:10762;s:40:\"twitter_72bc941ed603cde4cde51ce8068724b1\";i:10763;s:42:\"pinterest_72bc941ed603cde4cde51ce8068724b1\";i:10764;s:41:\"linkedin_72bc941ed603cde4cde51ce8068724b1\";i:10765;s:35:\"fb_ce2feefd083f50d0d71cf60a4e5f8bd6\";i:10766;s:40:\"twitter_ce2feefd083f50d0d71cf60a4e5f8bd6\";i:10767;s:42:\"pinterest_ce2feefd083f50d0d71cf60a4e5f8bd6\";i:10768;s:41:\"linkedin_ce2feefd083f50d0d71cf60a4e5f8bd6\";i:10769;s:35:\"fb_0c76e7aff77419cb594fafc7b1bc1c40\";i:10770;s:40:\"twitter_0c76e7aff77419cb594fafc7b1bc1c40\";i:10771;s:42:\"pinterest_0c76e7aff77419cb594fafc7b1bc1c40\";i:10772;s:41:\"linkedin_0c76e7aff77419cb594fafc7b1bc1c40\";i:10773;s:35:\"fb_83124cd4e97daf280f01e41f11d33619\";i:10774;s:40:\"twitter_83124cd4e97daf280f01e41f11d33619\";i:10775;s:42:\"pinterest_83124cd4e97daf280f01e41f11d33619\";i:10776;s:41:\"linkedin_83124cd4e97daf280f01e41f11d33619\";i:10777;s:35:\"fb_1709691dc1450f0962104b4b18ad4e66\";i:10778;s:40:\"twitter_1709691dc1450f0962104b4b18ad4e66\";i:10779;s:42:\"pinterest_1709691dc1450f0962104b4b18ad4e66\";i:10780;s:41:\"linkedin_1709691dc1450f0962104b4b18ad4e66\";i:10781;s:35:\"fb_354c453ab4024b83b38a21f2b6d64b91\";i:10782;s:40:\"twitter_354c453ab4024b83b38a21f2b6d64b91\";i:10783;s:42:\"pinterest_354c453ab4024b83b38a21f2b6d64b91\";i:10784;s:41:\"linkedin_354c453ab4024b83b38a21f2b6d64b91\";i:10785;s:35:\"fb_ea88ff0a7c701e426ba1e9b0b1eb9a05\";i:10786;s:40:\"twitter_ea88ff0a7c701e426ba1e9b0b1eb9a05\";i:10787;s:42:\"pinterest_ea88ff0a7c701e426ba1e9b0b1eb9a05\";i:10788;s:41:\"linkedin_ea88ff0a7c701e426ba1e9b0b1eb9a05\";i:10789;s:35:\"fb_0699800cf4aaf436bf89aab308f9b100\";i:10790;s:40:\"twitter_0699800cf4aaf436bf89aab308f9b100\";i:10791;s:42:\"pinterest_0699800cf4aaf436bf89aab308f9b100\";i:10792;s:41:\"linkedin_0699800cf4aaf436bf89aab308f9b100\";i:10793;s:35:\"fb_b3ebec5ab2f27cc67bd9334fd2168580\";i:10794;s:40:\"twitter_b3ebec5ab2f27cc67bd9334fd2168580\";i:10795;s:42:\"pinterest_b3ebec5ab2f27cc67bd9334fd2168580\";i:10796;s:41:\"linkedin_b3ebec5ab2f27cc67bd9334fd2168580\";i:10797;s:35:\"fb_6ed5963f5ec933bded9df862a396005b\";i:10798;s:40:\"twitter_6ed5963f5ec933bded9df862a396005b\";i:10799;s:42:\"pinterest_6ed5963f5ec933bded9df862a396005b\";i:10800;s:41:\"linkedin_6ed5963f5ec933bded9df862a396005b\";i:10801;s:35:\"fb_afa013b32055b990032662498a8dedd2\";i:10802;s:40:\"twitter_afa013b32055b990032662498a8dedd2\";i:10803;s:42:\"pinterest_afa013b32055b990032662498a8dedd2\";i:10804;s:41:\"linkedin_afa013b32055b990032662498a8dedd2\";i:10805;s:35:\"fb_c1d8bd4fb2da5c91b93a33f0f3bd0e70\";i:10806;s:40:\"twitter_c1d8bd4fb2da5c91b93a33f0f3bd0e70\";i:10807;s:42:\"pinterest_c1d8bd4fb2da5c91b93a33f0f3bd0e70\";i:10808;s:41:\"linkedin_c1d8bd4fb2da5c91b93a33f0f3bd0e70\";i:10809;s:35:\"fb_2b80d0892c1d3036dac0e25c690a29c2\";i:10810;s:40:\"twitter_2b80d0892c1d3036dac0e25c690a29c2\";i:10811;s:42:\"pinterest_2b80d0892c1d3036dac0e25c690a29c2\";i:10812;s:35:\"fb_0f92dbe95560cbfd8727f00b7fa49d18\";i:10813;s:40:\"twitter_0f92dbe95560cbfd8727f00b7fa49d18\";i:10814;s:42:\"pinterest_0f92dbe95560cbfd8727f00b7fa49d18\";i:10815;s:41:\"linkedin_0f92dbe95560cbfd8727f00b7fa49d18\";i:10816;s:35:\"fb_0630b2c5c884cdf5b0d197bc04e08ebf\";i:10817;s:40:\"twitter_0630b2c5c884cdf5b0d197bc04e08ebf\";i:10818;s:42:\"pinterest_0630b2c5c884cdf5b0d197bc04e08ebf\";i:10819;s:41:\"linkedin_0630b2c5c884cdf5b0d197bc04e08ebf\";i:10820;s:35:\"fb_c56e9b47187d817f17dc75df1443ebd4\";i:10821;s:40:\"twitter_c56e9b47187d817f17dc75df1443ebd4\";i:10822;s:42:\"pinterest_c56e9b47187d817f17dc75df1443ebd4\";i:10823;s:41:\"linkedin_c56e9b47187d817f17dc75df1443ebd4\";i:10824;s:35:\"fb_f08c2dff69ab8fec6c0d7dbe7dd128b7\";i:10825;s:40:\"twitter_f08c2dff69ab8fec6c0d7dbe7dd128b7\";i:10826;s:35:\"fb_6aa672424441e5d20a9fccf7e78017e9\";i:10827;s:40:\"twitter_6aa672424441e5d20a9fccf7e78017e9\";i:10828;s:42:\"pinterest_6aa672424441e5d20a9fccf7e78017e9\";i:10829;s:41:\"linkedin_6aa672424441e5d20a9fccf7e78017e9\";i:10830;s:35:\"fb_365d0bad3286cb3354680279b709b1e4\";i:10831;s:40:\"twitter_365d0bad3286cb3354680279b709b1e4\";i:10832;s:42:\"pinterest_365d0bad3286cb3354680279b709b1e4\";i:10833;s:41:\"linkedin_365d0bad3286cb3354680279b709b1e4\";i:10834;s:35:\"fb_793a3b0b3355dc7d41045e65f12c6322\";i:10835;s:40:\"twitter_793a3b0b3355dc7d41045e65f12c6322\";i:10836;s:42:\"pinterest_793a3b0b3355dc7d41045e65f12c6322\";i:10837;s:41:\"linkedin_793a3b0b3355dc7d41045e65f12c6322\";i:10838;s:35:\"fb_48d21de96b6000e1505da408b2d4cb9b\";i:10839;s:40:\"twitter_48d21de96b6000e1505da408b2d4cb9b\";i:10840;s:42:\"pinterest_48d21de96b6000e1505da408b2d4cb9b\";i:10841;s:41:\"linkedin_48d21de96b6000e1505da408b2d4cb9b\";i:10842;s:35:\"fb_13c730a910b6bcc46b96e8ed276b67a3\";i:10843;s:40:\"twitter_13c730a910b6bcc46b96e8ed276b67a3\";i:10844;s:42:\"pinterest_13c730a910b6bcc46b96e8ed276b67a3\";i:10845;s:41:\"linkedin_13c730a910b6bcc46b96e8ed276b67a3\";i:10846;s:35:\"fb_8f07214bb067c7d1116f53c6883071fe\";i:10847;s:40:\"twitter_8f07214bb067c7d1116f53c6883071fe\";i:10848;s:42:\"pinterest_8f07214bb067c7d1116f53c6883071fe\";i:10849;s:41:\"linkedin_8f07214bb067c7d1116f53c6883071fe\";i:10850;s:35:\"fb_008e9ac24b27ff7f6cb10c2910b2463b\";i:10851;s:40:\"twitter_008e9ac24b27ff7f6cb10c2910b2463b\";i:10852;s:42:\"pinterest_008e9ac24b27ff7f6cb10c2910b2463b\";i:10853;s:41:\"linkedin_008e9ac24b27ff7f6cb10c2910b2463b\";i:10854;s:35:\"fb_bd5ce281a0d9b1a10314f851cc3f498d\";i:10855;s:40:\"twitter_bd5ce281a0d9b1a10314f851cc3f498d\";i:10856;s:42:\"pinterest_bd5ce281a0d9b1a10314f851cc3f498d\";i:10857;s:41:\"linkedin_bd5ce281a0d9b1a10314f851cc3f498d\";i:10858;s:35:\"fb_db4638ad1ce0ac2a47a494d38726d544\";i:10859;s:40:\"twitter_db4638ad1ce0ac2a47a494d38726d544\";i:10860;s:42:\"pinterest_db4638ad1ce0ac2a47a494d38726d544\";i:10861;s:41:\"linkedin_db4638ad1ce0ac2a47a494d38726d544\";i:10862;s:35:\"fb_5612a6198ac7297281a3f4868e5f764d\";i:10863;s:40:\"twitter_5612a6198ac7297281a3f4868e5f764d\";i:10864;s:42:\"pinterest_5612a6198ac7297281a3f4868e5f764d\";i:10865;s:41:\"linkedin_5612a6198ac7297281a3f4868e5f764d\";i:10866;s:35:\"fb_5f237630a8c11a173d4083c898411ea5\";i:10867;s:40:\"twitter_5f237630a8c11a173d4083c898411ea5\";i:10868;s:42:\"pinterest_5f237630a8c11a173d4083c898411ea5\";i:10869;s:41:\"linkedin_5f237630a8c11a173d4083c898411ea5\";i:10870;s:35:\"fb_a010b0459af23b6557ece57724680cc5\";i:10871;s:40:\"twitter_a010b0459af23b6557ece57724680cc5\";i:10872;s:42:\"pinterest_a010b0459af23b6557ece57724680cc5\";i:10873;s:41:\"linkedin_a010b0459af23b6557ece57724680cc5\";i:10874;s:35:\"fb_7dffd1ec748acbfd0f42b0607211a85c\";i:10875;s:40:\"twitter_7dffd1ec748acbfd0f42b0607211a85c\";i:10876;s:42:\"pinterest_7dffd1ec748acbfd0f42b0607211a85c\";i:10877;s:41:\"linkedin_7dffd1ec748acbfd0f42b0607211a85c\";i:10878;s:35:\"fb_cd85a94aa2055b4d5202fe91a0feabda\";i:10879;s:40:\"twitter_cd85a94aa2055b4d5202fe91a0feabda\";i:10880;s:42:\"pinterest_cd85a94aa2055b4d5202fe91a0feabda\";i:10881;s:41:\"linkedin_cd85a94aa2055b4d5202fe91a0feabda\";i:10882;s:35:\"fb_ecf30828f652fa7d10a4d02c2a90969b\";i:10883;s:40:\"twitter_ecf30828f652fa7d10a4d02c2a90969b\";i:10884;s:42:\"pinterest_ecf30828f652fa7d10a4d02c2a90969b\";i:10885;s:41:\"linkedin_ecf30828f652fa7d10a4d02c2a90969b\";i:10886;s:35:\"fb_3f2f58066a4361b50323aa85aa95d327\";i:10887;s:40:\"twitter_3f2f58066a4361b50323aa85aa95d327\";i:10888;s:42:\"pinterest_3f2f58066a4361b50323aa85aa95d327\";i:10889;s:41:\"linkedin_3f2f58066a4361b50323aa85aa95d327\";i:10890;s:35:\"fb_51112464dcc20329193dc026427874f9\";i:10891;s:40:\"twitter_51112464dcc20329193dc026427874f9\";i:10892;s:42:\"pinterest_51112464dcc20329193dc026427874f9\";i:10893;s:41:\"linkedin_51112464dcc20329193dc026427874f9\";i:10894;s:35:\"fb_ce8ca527be327dc60c82ecb1cbbe89ea\";i:10895;s:40:\"twitter_ce8ca527be327dc60c82ecb1cbbe89ea\";i:10896;s:42:\"pinterest_ce8ca527be327dc60c82ecb1cbbe89ea\";i:10897;s:41:\"linkedin_ce8ca527be327dc60c82ecb1cbbe89ea\";i:10898;s:35:\"fb_9f9541e24d369b826e385b54afa935ae\";i:10899;s:40:\"twitter_9f9541e24d369b826e385b54afa935ae\";i:10900;s:42:\"pinterest_9f9541e24d369b826e385b54afa935ae\";i:10901;s:41:\"linkedin_9f9541e24d369b826e385b54afa935ae\";i:10902;s:35:\"fb_06f1d502fb0940314148b824bd89b77a\";i:10903;s:40:\"twitter_06f1d502fb0940314148b824bd89b77a\";i:10904;s:42:\"pinterest_06f1d502fb0940314148b824bd89b77a\";i:10905;s:41:\"linkedin_06f1d502fb0940314148b824bd89b77a\";i:10906;s:35:\"fb_1b68d8d007bba42f2c44c5e0ca9c790e\";i:10907;s:40:\"twitter_1b68d8d007bba42f2c44c5e0ca9c790e\";i:10908;s:42:\"pinterest_1b68d8d007bba42f2c44c5e0ca9c790e\";i:10909;s:41:\"linkedin_1b68d8d007bba42f2c44c5e0ca9c790e\";i:10910;s:35:\"fb_2b2196cc62b13e0fe58ee62a4d2e8dd2\";i:10911;s:40:\"twitter_2b2196cc62b13e0fe58ee62a4d2e8dd2\";i:10912;s:42:\"pinterest_2b2196cc62b13e0fe58ee62a4d2e8dd2\";i:10913;s:41:\"linkedin_2b2196cc62b13e0fe58ee62a4d2e8dd2\";i:10914;s:35:\"fb_b6b5a4bc75abd7a8a65b110407a19a52\";i:10915;s:40:\"twitter_b6b5a4bc75abd7a8a65b110407a19a52\";i:10916;s:42:\"pinterest_b6b5a4bc75abd7a8a65b110407a19a52\";i:10917;s:41:\"linkedin_b6b5a4bc75abd7a8a65b110407a19a52\";i:10918;s:35:\"fb_5b8c7602db6778e203ef3e0c871c6d4d\";i:10919;s:40:\"twitter_5b8c7602db6778e203ef3e0c871c6d4d\";i:10920;s:42:\"pinterest_5b8c7602db6778e203ef3e0c871c6d4d\";i:10921;s:35:\"fb_29e08d86ed57b0f494c3845a66d9e3f8\";i:10922;s:40:\"twitter_29e08d86ed57b0f494c3845a66d9e3f8\";i:10923;s:42:\"pinterest_29e08d86ed57b0f494c3845a66d9e3f8\";i:10924;s:41:\"linkedin_29e08d86ed57b0f494c3845a66d9e3f8\";i:10925;s:35:\"fb_97d95223ac5a1f129dc974443b56a8ab\";i:10926;s:40:\"twitter_97d95223ac5a1f129dc974443b56a8ab\";i:10927;s:42:\"pinterest_97d95223ac5a1f129dc974443b56a8ab\";i:10928;s:41:\"linkedin_97d95223ac5a1f129dc974443b56a8ab\";i:10929;s:35:\"fb_6065c2203e3811b8f7e6d8b2652c6fe7\";i:10930;s:40:\"twitter_6065c2203e3811b8f7e6d8b2652c6fe7\";i:10931;s:42:\"pinterest_6065c2203e3811b8f7e6d8b2652c6fe7\";i:10932;s:41:\"linkedin_6065c2203e3811b8f7e6d8b2652c6fe7\";i:10933;s:35:\"fb_ff0469bc4b307a862bfadc24d1d912f4\";i:10934;s:40:\"twitter_ff0469bc4b307a862bfadc24d1d912f4\";i:10935;s:42:\"pinterest_ff0469bc4b307a862bfadc24d1d912f4\";i:10936;s:41:\"linkedin_ff0469bc4b307a862bfadc24d1d912f4\";i:10937;s:35:\"fb_6ba8fb10d12c668949948ea1d5adb2b1\";i:10938;s:40:\"twitter_6ba8fb10d12c668949948ea1d5adb2b1\";i:10939;s:42:\"pinterest_6ba8fb10d12c668949948ea1d5adb2b1\";i:10940;s:41:\"linkedin_6ba8fb10d12c668949948ea1d5adb2b1\";i:10941;s:35:\"fb_4597af26e9102df3c75cedd513e8c918\";i:10942;s:40:\"twitter_4597af26e9102df3c75cedd513e8c918\";i:10943;s:42:\"pinterest_4597af26e9102df3c75cedd513e8c918\";i:10944;s:41:\"linkedin_4597af26e9102df3c75cedd513e8c918\";i:10945;s:35:\"fb_d0365eff2a7db98b9939c918a7abb1bf\";i:10946;s:40:\"twitter_d0365eff2a7db98b9939c918a7abb1bf\";i:10947;s:42:\"pinterest_d0365eff2a7db98b9939c918a7abb1bf\";i:10948;s:41:\"linkedin_d0365eff2a7db98b9939c918a7abb1bf\";i:10949;s:35:\"fb_a3960ac77abee062098c4c7e800c2a4e\";i:10950;s:40:\"twitter_a3960ac77abee062098c4c7e800c2a4e\";i:10951;s:42:\"pinterest_a3960ac77abee062098c4c7e800c2a4e\";i:10952;s:41:\"linkedin_a3960ac77abee062098c4c7e800c2a4e\";i:10953;s:35:\"fb_026ee7fcfba5bc498316889b66bf6e04\";i:10954;s:40:\"twitter_026ee7fcfba5bc498316889b66bf6e04\";i:10955;s:42:\"pinterest_026ee7fcfba5bc498316889b66bf6e04\";i:10956;s:41:\"linkedin_026ee7fcfba5bc498316889b66bf6e04\";i:10957;s:35:\"fb_153744cb607d529e3114d3d0fa53bc3a\";i:10958;s:40:\"twitter_153744cb607d529e3114d3d0fa53bc3a\";i:10959;s:42:\"pinterest_153744cb607d529e3114d3d0fa53bc3a\";i:10960;s:41:\"linkedin_153744cb607d529e3114d3d0fa53bc3a\";i:10961;s:35:\"fb_730f1390be7d7d9e286dea19bdda5c78\";i:10962;s:40:\"twitter_730f1390be7d7d9e286dea19bdda5c78\";i:10963;s:42:\"pinterest_730f1390be7d7d9e286dea19bdda5c78\";i:10964;s:41:\"linkedin_730f1390be7d7d9e286dea19bdda5c78\";i:10965;s:35:\"fb_fffaa8bb4b7d4838816516a1ba3d21e7\";i:10966;s:40:\"twitter_fffaa8bb4b7d4838816516a1ba3d21e7\";i:10967;s:42:\"pinterest_fffaa8bb4b7d4838816516a1ba3d21e7\";i:10968;s:41:\"linkedin_fffaa8bb4b7d4838816516a1ba3d21e7\";i:10969;s:35:\"fb_c0338ebf21b21d3e9b65349fb9bebae1\";i:10970;s:40:\"twitter_c0338ebf21b21d3e9b65349fb9bebae1\";i:10971;s:42:\"pinterest_c0338ebf21b21d3e9b65349fb9bebae1\";i:10972;s:41:\"linkedin_c0338ebf21b21d3e9b65349fb9bebae1\";i:10973;s:41:\"linkedin_73f69f2f6efad71bf39ac490c5224557\";i:10974;s:35:\"fb_42a17b1ee2bfc5ab7a274de1715ed65a\";i:10975;s:40:\"twitter_42a17b1ee2bfc5ab7a274de1715ed65a\";i:10976;s:42:\"pinterest_42a17b1ee2bfc5ab7a274de1715ed65a\";i:10977;s:41:\"linkedin_42a17b1ee2bfc5ab7a274de1715ed65a\";i:10978;s:35:\"fb_1b34848fc05caacdbf3937e74e48c879\";i:10979;s:40:\"twitter_1b34848fc05caacdbf3937e74e48c879\";i:10980;s:42:\"pinterest_1b34848fc05caacdbf3937e74e48c879\";i:10981;s:41:\"linkedin_1b34848fc05caacdbf3937e74e48c879\";i:10982;s:35:\"fb_d3879f302bdb8b9cd48db23574026f92\";i:10983;s:40:\"twitter_d3879f302bdb8b9cd48db23574026f92\";i:10984;s:42:\"pinterest_d3879f302bdb8b9cd48db23574026f92\";i:10985;s:41:\"linkedin_d3879f302bdb8b9cd48db23574026f92\";i:10986;s:35:\"fb_c92f2138c3c380408567a562b8896d93\";i:10987;s:40:\"twitter_c92f2138c3c380408567a562b8896d93\";i:10988;s:42:\"pinterest_c92f2138c3c380408567a562b8896d93\";i:10989;s:41:\"linkedin_c92f2138c3c380408567a562b8896d93\";i:10990;s:35:\"fb_ad04e1a88f53ab86b815c98f42336f29\";i:10991;s:40:\"twitter_ad04e1a88f53ab86b815c98f42336f29\";i:10992;s:42:\"pinterest_ad04e1a88f53ab86b815c98f42336f29\";i:10993;s:41:\"linkedin_ad04e1a88f53ab86b815c98f42336f29\";i:10994;s:35:\"fb_9ba7de4ac2169588d79a131759cecaa9\";i:10995;s:40:\"twitter_9ba7de4ac2169588d79a131759cecaa9\";i:10996;s:42:\"pinterest_9ba7de4ac2169588d79a131759cecaa9\";i:10997;s:41:\"linkedin_9ba7de4ac2169588d79a131759cecaa9\";i:10998;s:35:\"fb_08701dd3adb3354f53d65bb759cd0848\";i:10999;s:40:\"twitter_08701dd3adb3354f53d65bb759cd0848\";i:11000;s:42:\"pinterest_08701dd3adb3354f53d65bb759cd0848\";i:11001;s:41:\"linkedin_08701dd3adb3354f53d65bb759cd0848\";i:11002;s:35:\"fb_887a833409ef054469115c5a5b736342\";i:11003;s:40:\"twitter_887a833409ef054469115c5a5b736342\";i:11004;s:42:\"pinterest_887a833409ef054469115c5a5b736342\";i:11005;s:41:\"linkedin_887a833409ef054469115c5a5b736342\";i:11006;s:35:\"fb_e2a8d8163ec19f7dcb0328052ec9b8ec\";i:11007;s:40:\"twitter_e2a8d8163ec19f7dcb0328052ec9b8ec\";i:11008;s:42:\"pinterest_e2a8d8163ec19f7dcb0328052ec9b8ec\";i:11009;s:41:\"linkedin_e2a8d8163ec19f7dcb0328052ec9b8ec\";i:11010;s:35:\"fb_f706e8f9f19446baa3aad1e002e52567\";i:11011;s:40:\"twitter_f706e8f9f19446baa3aad1e002e52567\";i:11012;s:42:\"pinterest_f706e8f9f19446baa3aad1e002e52567\";i:11013;s:41:\"linkedin_f706e8f9f19446baa3aad1e002e52567\";i:11014;s:35:\"fb_007f7d296474efe01b7b5e9c2dd4daec\";i:11015;s:40:\"twitter_007f7d296474efe01b7b5e9c2dd4daec\";i:11016;s:42:\"pinterest_007f7d296474efe01b7b5e9c2dd4daec\";i:11017;s:41:\"linkedin_007f7d296474efe01b7b5e9c2dd4daec\";i:11018;s:35:\"fb_c81e2d40857c6476f5bc8d2a3a7dec1b\";i:11019;s:40:\"twitter_c81e2d40857c6476f5bc8d2a3a7dec1b\";i:11020;s:42:\"pinterest_c81e2d40857c6476f5bc8d2a3a7dec1b\";i:11021;s:41:\"linkedin_c81e2d40857c6476f5bc8d2a3a7dec1b\";i:11022;s:35:\"fb_af716b2390c37f9f28bd7822c6be25d1\";i:11023;s:40:\"twitter_af716b2390c37f9f28bd7822c6be25d1\";i:11024;s:42:\"pinterest_af716b2390c37f9f28bd7822c6be25d1\";i:11025;s:41:\"linkedin_af716b2390c37f9f28bd7822c6be25d1\";i:11026;s:35:\"fb_74d90f77354a1430b760ae24beb2e607\";i:11027;s:40:\"twitter_74d90f77354a1430b760ae24beb2e607\";i:11028;s:42:\"pinterest_74d90f77354a1430b760ae24beb2e607\";i:11029;s:41:\"linkedin_74d90f77354a1430b760ae24beb2e607\";i:11030;s:35:\"fb_6fd362165e74ac751b300df6b29441bc\";i:11031;s:40:\"twitter_6fd362165e74ac751b300df6b29441bc\";i:11032;s:42:\"pinterest_6fd362165e74ac751b300df6b29441bc\";i:11033;s:41:\"linkedin_6fd362165e74ac751b300df6b29441bc\";i:11034;s:35:\"fb_f97d64ad52bbb89ff1f9dca0e586277b\";i:11035;s:40:\"twitter_f97d64ad52bbb89ff1f9dca0e586277b\";i:11036;s:42:\"pinterest_f97d64ad52bbb89ff1f9dca0e586277b\";i:11037;s:41:\"linkedin_f97d64ad52bbb89ff1f9dca0e586277b\";i:11038;s:35:\"fb_c3349364e433de946d0d7fcb32785f7e\";i:11039;s:40:\"twitter_c3349364e433de946d0d7fcb32785f7e\";i:11040;s:42:\"pinterest_c3349364e433de946d0d7fcb32785f7e\";i:11041;s:41:\"linkedin_c3349364e433de946d0d7fcb32785f7e\";i:11042;s:35:\"fb_cfaa80a972fcdd11c3e50c75c25ddb32\";i:11043;s:40:\"twitter_cfaa80a972fcdd11c3e50c75c25ddb32\";i:11044;s:42:\"pinterest_cfaa80a972fcdd11c3e50c75c25ddb32\";i:11045;s:35:\"fb_2798b2cac0a8d1f76cbbc757e2336c1e\";i:11046;s:40:\"twitter_2798b2cac0a8d1f76cbbc757e2336c1e\";i:11047;s:42:\"pinterest_2798b2cac0a8d1f76cbbc757e2336c1e\";i:11048;s:41:\"linkedin_2798b2cac0a8d1f76cbbc757e2336c1e\";i:11049;s:35:\"fb_37ec76aabe5215442e007679a8bf9212\";i:11050;s:40:\"twitter_37ec76aabe5215442e007679a8bf9212\";i:11051;s:42:\"pinterest_37ec76aabe5215442e007679a8bf9212\";i:11052;s:41:\"linkedin_37ec76aabe5215442e007679a8bf9212\";i:11053;s:35:\"fb_b41ed363145d16c2fcb26c1f2fc60454\";i:11054;s:40:\"twitter_b41ed363145d16c2fcb26c1f2fc60454\";i:11055;s:42:\"pinterest_b41ed363145d16c2fcb26c1f2fc60454\";i:11056;s:41:\"linkedin_b41ed363145d16c2fcb26c1f2fc60454\";i:11057;s:35:\"fb_3476b92afe58f6dff5aec7abf6e748eb\";i:11058;s:40:\"twitter_3476b92afe58f6dff5aec7abf6e748eb\";i:11059;s:42:\"pinterest_3476b92afe58f6dff5aec7abf6e748eb\";i:11060;s:41:\"linkedin_3476b92afe58f6dff5aec7abf6e748eb\";i:11061;s:35:\"fb_bf9fece7eb0c406a52e64e688edf3848\";i:11062;s:40:\"twitter_bf9fece7eb0c406a52e64e688edf3848\";i:11063;s:42:\"pinterest_bf9fece7eb0c406a52e64e688edf3848\";i:11064;s:41:\"linkedin_bf9fece7eb0c406a52e64e688edf3848\";i:11065;s:35:\"fb_7987fe3ad7941f6b5e308925d9d1b85c\";i:11066;s:40:\"twitter_7987fe3ad7941f6b5e308925d9d1b85c\";i:11067;s:42:\"pinterest_7987fe3ad7941f6b5e308925d9d1b85c\";i:11068;s:41:\"linkedin_7987fe3ad7941f6b5e308925d9d1b85c\";i:11069;s:35:\"fb_b4af22d0b4a7356aa5835807c1fb0b3d\";i:11070;s:40:\"twitter_b4af22d0b4a7356aa5835807c1fb0b3d\";i:11071;s:42:\"pinterest_b4af22d0b4a7356aa5835807c1fb0b3d\";i:11072;s:41:\"linkedin_b4af22d0b4a7356aa5835807c1fb0b3d\";i:11073;s:35:\"fb_dc60dc2a9d5bb4ff2eb225e2cf71de68\";i:11074;s:40:\"twitter_dc60dc2a9d5bb4ff2eb225e2cf71de68\";i:11075;s:42:\"pinterest_dc60dc2a9d5bb4ff2eb225e2cf71de68\";i:11076;s:41:\"linkedin_dc60dc2a9d5bb4ff2eb225e2cf71de68\";i:11077;s:35:\"fb_06e37ebefa5053309ea707f3c9b41da0\";i:11078;s:40:\"twitter_06e37ebefa5053309ea707f3c9b41da0\";i:11079;s:42:\"pinterest_06e37ebefa5053309ea707f3c9b41da0\";i:11080;s:41:\"linkedin_06e37ebefa5053309ea707f3c9b41da0\";i:11081;s:35:\"fb_cf6499d7e65d046f0ee6ebb0e6bb9861\";i:11082;s:40:\"twitter_cf6499d7e65d046f0ee6ebb0e6bb9861\";i:11083;s:42:\"pinterest_cf6499d7e65d046f0ee6ebb0e6bb9861\";i:11084;s:41:\"linkedin_cf6499d7e65d046f0ee6ebb0e6bb9861\";i:11085;s:35:\"fb_f448bfb77cbd3a3e0eeac8cc301592f4\";i:11086;s:40:\"twitter_f448bfb77cbd3a3e0eeac8cc301592f4\";i:11087;s:42:\"pinterest_f448bfb77cbd3a3e0eeac8cc301592f4\";i:11088;s:41:\"linkedin_f448bfb77cbd3a3e0eeac8cc301592f4\";i:11089;s:35:\"fb_eba19ad19975b3aef6d6bf21d08aad1b\";i:11090;s:40:\"twitter_eba19ad19975b3aef6d6bf21d08aad1b\";i:11091;s:42:\"pinterest_eba19ad19975b3aef6d6bf21d08aad1b\";i:11092;s:41:\"linkedin_eba19ad19975b3aef6d6bf21d08aad1b\";i:11093;s:35:\"fb_96d80ec4d13301370afb9c67261007b5\";i:11094;s:40:\"twitter_96d80ec4d13301370afb9c67261007b5\";i:11095;s:42:\"pinterest_96d80ec4d13301370afb9c67261007b5\";i:11096;s:35:\"fb_d3b0f3f99e6fce76992a0622c2fd5d35\";i:11097;s:40:\"twitter_d3b0f3f99e6fce76992a0622c2fd5d35\";i:11098;s:42:\"pinterest_d3b0f3f99e6fce76992a0622c2fd5d35\";i:11099;s:41:\"linkedin_d3b0f3f99e6fce76992a0622c2fd5d35\";i:11100;s:35:\"fb_cb726e8332802872c357641be0654e5d\";i:11101;s:40:\"twitter_cb726e8332802872c357641be0654e5d\";i:11102;s:42:\"pinterest_cb726e8332802872c357641be0654e5d\";i:11103;s:41:\"linkedin_cb726e8332802872c357641be0654e5d\";i:11104;s:35:\"fb_9798146f069eed9fd8ebb6a536a2cead\";i:11105;s:40:\"twitter_9798146f069eed9fd8ebb6a536a2cead\";i:11106;s:42:\"pinterest_9798146f069eed9fd8ebb6a536a2cead\";i:11107;s:41:\"linkedin_9798146f069eed9fd8ebb6a536a2cead\";i:11108;s:35:\"fb_35fe44351942631601d2864b474bfadd\";i:11109;s:40:\"twitter_35fe44351942631601d2864b474bfadd\";i:11110;s:42:\"pinterest_35fe44351942631601d2864b474bfadd\";i:11111;s:41:\"linkedin_35fe44351942631601d2864b474bfadd\";i:11112;s:35:\"fb_94a94c6418d8906847d8d42acae1d468\";i:11113;s:40:\"twitter_94a94c6418d8906847d8d42acae1d468\";i:11114;s:42:\"pinterest_94a94c6418d8906847d8d42acae1d468\";i:11115;s:41:\"linkedin_94a94c6418d8906847d8d42acae1d468\";i:11116;s:35:\"fb_678514a9edd8270817763537ae023db9\";i:11117;s:40:\"twitter_678514a9edd8270817763537ae023db9\";i:11118;s:42:\"pinterest_678514a9edd8270817763537ae023db9\";i:11119;s:41:\"linkedin_678514a9edd8270817763537ae023db9\";i:11120;s:35:\"fb_d0d373bdcb5f209dc7aa33ef79ce7fd2\";i:11121;s:40:\"twitter_d0d373bdcb5f209dc7aa33ef79ce7fd2\";i:11122;s:42:\"pinterest_d0d373bdcb5f209dc7aa33ef79ce7fd2\";i:11123;s:41:\"linkedin_d0d373bdcb5f209dc7aa33ef79ce7fd2\";i:11124;s:35:\"fb_44f65c0081b839d94add3bccad94259b\";i:11125;s:40:\"twitter_44f65c0081b839d94add3bccad94259b\";i:11126;s:42:\"pinterest_44f65c0081b839d94add3bccad94259b\";i:11127;s:41:\"linkedin_44f65c0081b839d94add3bccad94259b\";i:11128;s:35:\"fb_1ca38d56e18738b729c3e57d6fd1084b\";i:11129;s:40:\"twitter_1ca38d56e18738b729c3e57d6fd1084b\";i:11130;s:42:\"pinterest_1ca38d56e18738b729c3e57d6fd1084b\";i:11131;s:41:\"linkedin_1ca38d56e18738b729c3e57d6fd1084b\";i:11132;s:35:\"fb_1ceb840dd57084f9d79d5af47311ef81\";i:11133;s:40:\"twitter_1ceb840dd57084f9d79d5af47311ef81\";i:11134;s:42:\"pinterest_1ceb840dd57084f9d79d5af47311ef81\";i:11135;s:41:\"linkedin_1ceb840dd57084f9d79d5af47311ef81\";i:11136;s:35:\"fb_bbb442749e9204593ed00d05afda5cc2\";i:11137;s:40:\"twitter_bbb442749e9204593ed00d05afda5cc2\";i:11138;s:42:\"pinterest_bbb442749e9204593ed00d05afda5cc2\";i:11139;s:41:\"linkedin_bbb442749e9204593ed00d05afda5cc2\";i:11140;s:35:\"fb_77bf8700553a9611411f1515e0b81b1a\";i:11141;s:40:\"twitter_77bf8700553a9611411f1515e0b81b1a\";i:11142;s:42:\"pinterest_77bf8700553a9611411f1515e0b81b1a\";i:11143;s:41:\"linkedin_77bf8700553a9611411f1515e0b81b1a\";i:11144;s:35:\"fb_9ccad2fee9f90c49812aaa197a4db332\";i:11145;s:40:\"twitter_9ccad2fee9f90c49812aaa197a4db332\";i:11146;s:42:\"pinterest_9ccad2fee9f90c49812aaa197a4db332\";i:11147;s:41:\"linkedin_9ccad2fee9f90c49812aaa197a4db332\";i:11148;s:35:\"fb_1e6fbc482f6aa88cf8d4d8cb5bb7bbb9\";i:11149;s:40:\"twitter_1e6fbc482f6aa88cf8d4d8cb5bb7bbb9\";i:11150;s:42:\"pinterest_1e6fbc482f6aa88cf8d4d8cb5bb7bbb9\";i:11151;s:41:\"linkedin_1e6fbc482f6aa88cf8d4d8cb5bb7bbb9\";i:11152;s:35:\"fb_354498881e24333b132eb3d9c79d5731\";i:11153;s:40:\"twitter_354498881e24333b132eb3d9c79d5731\";i:11154;s:42:\"pinterest_354498881e24333b132eb3d9c79d5731\";i:11155;s:41:\"linkedin_354498881e24333b132eb3d9c79d5731\";i:11156;s:35:\"fb_c2c68c55e4f8b8632d02732dbb811e2a\";i:11157;s:40:\"twitter_c2c68c55e4f8b8632d02732dbb811e2a\";i:11158;s:42:\"pinterest_c2c68c55e4f8b8632d02732dbb811e2a\";i:11159;s:41:\"linkedin_c2c68c55e4f8b8632d02732dbb811e2a\";i:11160;s:35:\"fb_4953097dadd1a51e22af21498b554e52\";i:11161;s:40:\"twitter_4953097dadd1a51e22af21498b554e52\";i:11162;s:42:\"pinterest_4953097dadd1a51e22af21498b554e52\";i:11163;s:41:\"linkedin_4953097dadd1a51e22af21498b554e52\";i:11164;s:35:\"fb_b933db21ef66803af35d7485ee036b25\";i:11165;s:40:\"twitter_b933db21ef66803af35d7485ee036b25\";i:11166;s:42:\"pinterest_b933db21ef66803af35d7485ee036b25\";i:11167;s:41:\"linkedin_b933db21ef66803af35d7485ee036b25\";i:11168;s:35:\"fb_d6f42f2b7113c84b059a220b80ede040\";i:11169;s:40:\"twitter_d6f42f2b7113c84b059a220b80ede040\";i:11170;s:42:\"pinterest_d6f42f2b7113c84b059a220b80ede040\";i:11171;s:41:\"linkedin_d6f42f2b7113c84b059a220b80ede040\";i:11172;s:35:\"fb_9eea34eb14ed53693edb52c247bee4e3\";i:11173;s:40:\"twitter_9eea34eb14ed53693edb52c247bee4e3\";i:11174;s:42:\"pinterest_9eea34eb14ed53693edb52c247bee4e3\";i:11175;s:41:\"linkedin_9eea34eb14ed53693edb52c247bee4e3\";i:11176;s:35:\"fb_3738cbb12ef9b96f0de725df54439d6b\";i:11177;s:40:\"twitter_3738cbb12ef9b96f0de725df54439d6b\";i:11178;s:42:\"pinterest_3738cbb12ef9b96f0de725df54439d6b\";i:11179;s:41:\"linkedin_3738cbb12ef9b96f0de725df54439d6b\";i:11180;s:35:\"fb_18ffd53449feedb3ab6ed8b6ad733977\";i:11181;s:40:\"twitter_18ffd53449feedb3ab6ed8b6ad733977\";i:11182;s:42:\"pinterest_18ffd53449feedb3ab6ed8b6ad733977\";i:11183;s:41:\"linkedin_18ffd53449feedb3ab6ed8b6ad733977\";i:11184;s:35:\"fb_5195291e98e935334828a99179c29c69\";i:11185;s:40:\"twitter_5195291e98e935334828a99179c29c69\";i:11186;s:42:\"pinterest_5195291e98e935334828a99179c29c69\";i:11187;s:41:\"linkedin_5195291e98e935334828a99179c29c69\";i:11188;s:35:\"fb_bb5fdfd91bfcc7a1aa0f91164953971b\";i:11189;s:40:\"twitter_bb5fdfd91bfcc7a1aa0f91164953971b\";i:11190;s:42:\"pinterest_bb5fdfd91bfcc7a1aa0f91164953971b\";i:11191;s:41:\"linkedin_bb5fdfd91bfcc7a1aa0f91164953971b\";i:11192;s:35:\"fb_89a55f472e91673581d921ba117774e6\";i:11193;s:40:\"twitter_89a55f472e91673581d921ba117774e6\";i:11194;s:42:\"pinterest_89a55f472e91673581d921ba117774e6\";i:11195;s:41:\"linkedin_89a55f472e91673581d921ba117774e6\";i:11196;s:35:\"fb_e672420feae32b46f3f82c1ed6873b75\";i:11197;s:40:\"twitter_e672420feae32b46f3f82c1ed6873b75\";i:11198;s:42:\"pinterest_e672420feae32b46f3f82c1ed6873b75\";i:11199;s:41:\"linkedin_e672420feae32b46f3f82c1ed6873b75\";i:11200;s:35:\"fb_ca0a00aa355aa00b8a5688da993b5a41\";i:11201;s:40:\"twitter_ca0a00aa355aa00b8a5688da993b5a41\";i:11202;s:42:\"pinterest_ca0a00aa355aa00b8a5688da993b5a41\";i:11203;s:41:\"linkedin_ca0a00aa355aa00b8a5688da993b5a41\";i:11204;s:35:\"fb_1465076c83f9e9243a0a40b482df6223\";i:11205;s:40:\"twitter_1465076c83f9e9243a0a40b482df6223\";i:11206;s:42:\"pinterest_1465076c83f9e9243a0a40b482df6223\";i:11207;s:41:\"linkedin_1465076c83f9e9243a0a40b482df6223\";i:11208;s:35:\"fb_f7d9f1f34c56c994f07c2ea494334795\";i:11209;s:40:\"twitter_f7d9f1f34c56c994f07c2ea494334795\";i:11210;s:42:\"pinterest_f7d9f1f34c56c994f07c2ea494334795\";i:11211;s:41:\"linkedin_f7d9f1f34c56c994f07c2ea494334795\";i:11212;s:35:\"fb_0d6f10f42e7d6c7ce9c16596edc5c250\";i:11213;s:40:\"twitter_0d6f10f42e7d6c7ce9c16596edc5c250\";i:11214;s:42:\"pinterest_0d6f10f42e7d6c7ce9c16596edc5c250\";i:11215;s:41:\"linkedin_0d6f10f42e7d6c7ce9c16596edc5c250\";i:11216;s:35:\"fb_438202fdfc83ee981b9fd1236d5b4f11\";i:11217;s:40:\"twitter_438202fdfc83ee981b9fd1236d5b4f11\";i:11218;s:42:\"pinterest_438202fdfc83ee981b9fd1236d5b4f11\";i:11219;s:41:\"linkedin_438202fdfc83ee981b9fd1236d5b4f11\";i:11220;s:35:\"fb_78cc030b020422e8e17f9151840a7644\";i:11221;s:40:\"twitter_78cc030b020422e8e17f9151840a7644\";i:11222;s:42:\"pinterest_78cc030b020422e8e17f9151840a7644\";i:11223;s:41:\"linkedin_78cc030b020422e8e17f9151840a7644\";i:11224;s:35:\"fb_24f7e499c2cfee94aa86b0bd2ed02a6f\";i:11225;s:40:\"twitter_24f7e499c2cfee94aa86b0bd2ed02a6f\";i:11226;s:42:\"pinterest_24f7e499c2cfee94aa86b0bd2ed02a6f\";i:11227;s:41:\"linkedin_24f7e499c2cfee94aa86b0bd2ed02a6f\";i:11228;s:35:\"fb_0154581c27b57bc9f8bde55fd024e1c9\";i:11229;s:40:\"twitter_0154581c27b57bc9f8bde55fd024e1c9\";i:11230;s:42:\"pinterest_0154581c27b57bc9f8bde55fd024e1c9\";i:11231;s:41:\"linkedin_0154581c27b57bc9f8bde55fd024e1c9\";i:11232;s:35:\"fb_5ea9686390b53b48422ac3edb6a9d523\";i:11233;s:40:\"twitter_5ea9686390b53b48422ac3edb6a9d523\";i:11234;s:42:\"pinterest_5ea9686390b53b48422ac3edb6a9d523\";i:11235;s:41:\"linkedin_5ea9686390b53b48422ac3edb6a9d523\";i:11236;s:35:\"fb_404be4b01bf9ab57addd1f241c236829\";i:11237;s:40:\"twitter_404be4b01bf9ab57addd1f241c236829\";i:11238;s:42:\"pinterest_404be4b01bf9ab57addd1f241c236829\";i:11239;s:41:\"linkedin_404be4b01bf9ab57addd1f241c236829\";i:11240;s:35:\"fb_4c1a53c605f64a2b016c1399b5e28a7c\";i:11241;s:40:\"twitter_4c1a53c605f64a2b016c1399b5e28a7c\";i:11242;s:42:\"pinterest_4c1a53c605f64a2b016c1399b5e28a7c\";i:11243;s:41:\"linkedin_4c1a53c605f64a2b016c1399b5e28a7c\";i:11244;s:35:\"fb_715493a08d9cc5832f8f6327798a5c50\";i:11245;s:40:\"twitter_715493a08d9cc5832f8f6327798a5c50\";i:11246;s:42:\"pinterest_715493a08d9cc5832f8f6327798a5c50\";i:11247;s:41:\"linkedin_715493a08d9cc5832f8f6327798a5c50\";i:11248;s:35:\"fb_60c2fb09f00571d91010a32baac0e8ad\";i:11249;s:40:\"twitter_60c2fb09f00571d91010a32baac0e8ad\";i:11250;s:42:\"pinterest_60c2fb09f00571d91010a32baac0e8ad\";i:11251;s:41:\"linkedin_60c2fb09f00571d91010a32baac0e8ad\";i:11252;s:35:\"fb_0979dc4f69c0a4ce1eee94a3ef025232\";i:11253;s:40:\"twitter_0979dc4f69c0a4ce1eee94a3ef025232\";i:11254;s:42:\"pinterest_0979dc4f69c0a4ce1eee94a3ef025232\";i:11255;s:41:\"linkedin_0979dc4f69c0a4ce1eee94a3ef025232\";i:11256;s:35:\"fb_876e1dbd77615b33b558aed5b7a4441a\";i:11257;s:40:\"twitter_876e1dbd77615b33b558aed5b7a4441a\";i:11258;s:42:\"pinterest_876e1dbd77615b33b558aed5b7a4441a\";i:11259;s:41:\"linkedin_876e1dbd77615b33b558aed5b7a4441a\";i:11260;s:35:\"fb_651e0ff46c85cd97f1ec143989dea2e8\";i:11261;s:40:\"twitter_651e0ff46c85cd97f1ec143989dea2e8\";i:11262;s:42:\"pinterest_651e0ff46c85cd97f1ec143989dea2e8\";i:11263;s:41:\"linkedin_651e0ff46c85cd97f1ec143989dea2e8\";i:11264;s:35:\"fb_710724a25b00c2c9f4f60ac4d925e464\";i:11265;s:40:\"twitter_710724a25b00c2c9f4f60ac4d925e464\";i:11266;s:42:\"pinterest_710724a25b00c2c9f4f60ac4d925e464\";i:11267;s:41:\"linkedin_710724a25b00c2c9f4f60ac4d925e464\";i:11268;s:35:\"fb_cc5a664643d7755191e1214c6edc5c12\";i:11269;s:40:\"twitter_cc5a664643d7755191e1214c6edc5c12\";i:11270;s:42:\"pinterest_cc5a664643d7755191e1214c6edc5c12\";i:11271;s:41:\"linkedin_cc5a664643d7755191e1214c6edc5c12\";i:11272;s:35:\"fb_205c742bfcca7cac4a2ff4e22d718b35\";i:11273;s:40:\"twitter_205c742bfcca7cac4a2ff4e22d718b35\";i:11274;s:42:\"pinterest_205c742bfcca7cac4a2ff4e22d718b35\";i:11275;s:41:\"linkedin_205c742bfcca7cac4a2ff4e22d718b35\";i:11276;s:35:\"fb_5b6dc8a7c29727194a5fe4a5954a1ac8\";i:11277;s:40:\"twitter_5b6dc8a7c29727194a5fe4a5954a1ac8\";i:11278;s:42:\"pinterest_5b6dc8a7c29727194a5fe4a5954a1ac8\";i:11279;s:41:\"linkedin_5b6dc8a7c29727194a5fe4a5954a1ac8\";i:11280;s:35:\"fb_06f32f95977adab4d13b9fb36c392f68\";i:11281;s:40:\"twitter_06f32f95977adab4d13b9fb36c392f68\";i:11282;s:42:\"pinterest_06f32f95977adab4d13b9fb36c392f68\";i:11283;s:41:\"linkedin_06f32f95977adab4d13b9fb36c392f68\";i:11284;s:35:\"fb_6ee1e5532a5567c7584c1b3968e500f0\";i:11285;s:40:\"twitter_6ee1e5532a5567c7584c1b3968e500f0\";i:11286;s:42:\"pinterest_6ee1e5532a5567c7584c1b3968e500f0\";i:11287;s:41:\"linkedin_6ee1e5532a5567c7584c1b3968e500f0\";i:11288;s:35:\"fb_05fa7049921ae5a04fb3949b59e6947b\";i:11289;s:40:\"twitter_05fa7049921ae5a04fb3949b59e6947b\";i:11290;s:42:\"pinterest_05fa7049921ae5a04fb3949b59e6947b\";i:11291;s:41:\"linkedin_05fa7049921ae5a04fb3949b59e6947b\";i:11292;s:35:\"fb_468b888b5cc5631b78a94757f4141f4d\";i:11293;s:40:\"twitter_468b888b5cc5631b78a94757f4141f4d\";i:11294;s:42:\"pinterest_468b888b5cc5631b78a94757f4141f4d\";i:11295;s:41:\"linkedin_468b888b5cc5631b78a94757f4141f4d\";i:11296;s:35:\"fb_28d6ace5f1d6fc06c275f5a84716a22e\";i:11297;s:40:\"twitter_28d6ace5f1d6fc06c275f5a84716a22e\";i:11298;s:42:\"pinterest_28d6ace5f1d6fc06c275f5a84716a22e\";i:11299;s:35:\"fb_f4554d6877ce680620fa1310819c527c\";i:11300;s:40:\"twitter_f4554d6877ce680620fa1310819c527c\";i:11301;s:42:\"pinterest_f4554d6877ce680620fa1310819c527c\";i:11302;s:41:\"linkedin_f4554d6877ce680620fa1310819c527c\";i:11303;s:35:\"fb_3091eea9227060a803d83441b6815320\";i:11304;s:40:\"twitter_3091eea9227060a803d83441b6815320\";i:11305;s:42:\"pinterest_3091eea9227060a803d83441b6815320\";i:11306;s:41:\"linkedin_3091eea9227060a803d83441b6815320\";i:11307;s:35:\"fb_182cfeeebc904a0ca18cad5c7211412b\";i:11308;s:40:\"twitter_182cfeeebc904a0ca18cad5c7211412b\";i:11309;s:42:\"pinterest_182cfeeebc904a0ca18cad5c7211412b\";i:11310;s:41:\"linkedin_182cfeeebc904a0ca18cad5c7211412b\";i:11311;s:35:\"fb_0bf65011f0cab8a30122f6134368708e\";i:11312;s:40:\"twitter_0bf65011f0cab8a30122f6134368708e\";i:11313;s:42:\"pinterest_0bf65011f0cab8a30122f6134368708e\";i:11314;s:41:\"linkedin_0bf65011f0cab8a30122f6134368708e\";i:11315;s:35:\"fb_849ca7bf9fb9c837aebfe81f378bb91d\";i:11316;s:40:\"twitter_849ca7bf9fb9c837aebfe81f378bb91d\";i:11317;s:42:\"pinterest_849ca7bf9fb9c837aebfe81f378bb91d\";i:11318;s:41:\"linkedin_849ca7bf9fb9c837aebfe81f378bb91d\";i:11319;s:35:\"fb_e03e8971d4fe478c19d47cef04b92798\";i:11320;s:40:\"twitter_e03e8971d4fe478c19d47cef04b92798\";i:11321;s:42:\"pinterest_e03e8971d4fe478c19d47cef04b92798\";i:11322;s:41:\"linkedin_e03e8971d4fe478c19d47cef04b92798\";i:11323;s:35:\"fb_0eb65dcab52f3ce517761757e86838ad\";i:11324;s:40:\"twitter_0eb65dcab52f3ce517761757e86838ad\";i:11325;s:42:\"pinterest_0eb65dcab52f3ce517761757e86838ad\";i:11326;s:41:\"linkedin_0eb65dcab52f3ce517761757e86838ad\";i:11327;s:35:\"fb_21d2b0f70678bfc62badd54a949966bd\";i:11328;s:40:\"twitter_21d2b0f70678bfc62badd54a949966bd\";i:11329;s:42:\"pinterest_21d2b0f70678bfc62badd54a949966bd\";i:11330;s:41:\"linkedin_21d2b0f70678bfc62badd54a949966bd\";i:11331;s:35:\"fb_c1932df8291c29a59b1bd875c3612e1c\";i:11332;s:40:\"twitter_c1932df8291c29a59b1bd875c3612e1c\";i:11333;s:42:\"pinterest_c1932df8291c29a59b1bd875c3612e1c\";i:11334;s:41:\"linkedin_c1932df8291c29a59b1bd875c3612e1c\";i:11335;s:35:\"fb_35ae5278fca118f09b97b310fb3f267f\";i:11336;s:40:\"twitter_35ae5278fca118f09b97b310fb3f267f\";i:11337;s:42:\"pinterest_35ae5278fca118f09b97b310fb3f267f\";i:11338;s:41:\"linkedin_35ae5278fca118f09b97b310fb3f267f\";i:11339;s:35:\"fb_27f75024efba040f14ba075fefb523f8\";i:11340;s:40:\"twitter_27f75024efba040f14ba075fefb523f8\";i:11341;s:42:\"pinterest_27f75024efba040f14ba075fefb523f8\";i:11342;s:41:\"linkedin_27f75024efba040f14ba075fefb523f8\";i:11343;s:35:\"fb_54da8967d709e88568d928de04e7a5ee\";i:11344;s:40:\"twitter_54da8967d709e88568d928de04e7a5ee\";i:11345;s:42:\"pinterest_54da8967d709e88568d928de04e7a5ee\";i:11346;s:41:\"linkedin_54da8967d709e88568d928de04e7a5ee\";i:11347;s:41:\"linkedin_e764b2250b7e3bc6d5f21559d57e7ea2\";i:11348;s:35:\"fb_d490325f7ea82add9b3973fc73bfb5c7\";i:11349;s:40:\"twitter_d490325f7ea82add9b3973fc73bfb5c7\";i:11350;s:42:\"pinterest_d490325f7ea82add9b3973fc73bfb5c7\";i:11351;s:41:\"linkedin_d490325f7ea82add9b3973fc73bfb5c7\";i:11352;s:35:\"fb_201c18e69edf49de92f275640149803b\";i:11353;s:40:\"twitter_201c18e69edf49de92f275640149803b\";i:11354;s:42:\"pinterest_201c18e69edf49de92f275640149803b\";i:11355;s:41:\"linkedin_201c18e69edf49de92f275640149803b\";i:11356;s:35:\"fb_8cb907f47b96dfa8b7e703ee8ff92cce\";i:11357;s:40:\"twitter_8cb907f47b96dfa8b7e703ee8ff92cce\";i:11358;s:42:\"pinterest_8cb907f47b96dfa8b7e703ee8ff92cce\";i:11359;s:41:\"linkedin_8cb907f47b96dfa8b7e703ee8ff92cce\";i:11360;s:35:\"fb_bd1752a17acd4cc99dd65467bfce8711\";i:11361;s:40:\"twitter_bd1752a17acd4cc99dd65467bfce8711\";i:11362;s:42:\"pinterest_bd1752a17acd4cc99dd65467bfce8711\";i:11363;s:41:\"linkedin_bd1752a17acd4cc99dd65467bfce8711\";i:11364;s:35:\"fb_2841a197ce72a3eab0929f2102218de6\";i:11365;s:40:\"twitter_2841a197ce72a3eab0929f2102218de6\";i:11366;s:42:\"pinterest_2841a197ce72a3eab0929f2102218de6\";i:11367;s:41:\"linkedin_2841a197ce72a3eab0929f2102218de6\";i:11368;s:35:\"fb_3ad3931880fb6ba54023c6e8df5ac836\";i:11369;s:40:\"twitter_3ad3931880fb6ba54023c6e8df5ac836\";i:11370;s:42:\"pinterest_3ad3931880fb6ba54023c6e8df5ac836\";i:11371;s:41:\"linkedin_3ad3931880fb6ba54023c6e8df5ac836\";i:11372;s:35:\"fb_dad52d0b191cbc231ce7703e166e6df5\";i:11373;s:40:\"twitter_dad52d0b191cbc231ce7703e166e6df5\";i:11374;s:42:\"pinterest_dad52d0b191cbc231ce7703e166e6df5\";i:11375;s:41:\"linkedin_dad52d0b191cbc231ce7703e166e6df5\";i:11376;s:35:\"fb_8314804007f5a86d6eef4375b3073c0e\";i:11377;s:40:\"twitter_8314804007f5a86d6eef4375b3073c0e\";i:11378;s:42:\"pinterest_8314804007f5a86d6eef4375b3073c0e\";i:11379;s:41:\"linkedin_8314804007f5a86d6eef4375b3073c0e\";i:11380;s:35:\"fb_2780750b8bd3e8a8c7400b3311de07fe\";i:11381;s:40:\"twitter_2780750b8bd3e8a8c7400b3311de07fe\";i:11382;s:42:\"pinterest_2780750b8bd3e8a8c7400b3311de07fe\";i:11383;s:41:\"linkedin_2780750b8bd3e8a8c7400b3311de07fe\";i:11384;s:35:\"fb_689003f4142077e0825fa7045dd17b97\";i:11385;s:42:\"pinterest_689003f4142077e0825fa7045dd17b97\";i:11386;s:41:\"linkedin_689003f4142077e0825fa7045dd17b97\";i:11387;s:35:\"fb_40d64bcc6b072c961a676ede631a4ca3\";i:11388;s:40:\"twitter_40d64bcc6b072c961a676ede631a4ca3\";i:11389;s:42:\"pinterest_40d64bcc6b072c961a676ede631a4ca3\";i:11390;s:41:\"linkedin_40d64bcc6b072c961a676ede631a4ca3\";i:11391;s:35:\"fb_abfb58ccc287fa7bef89ccfe48869db8\";i:11392;s:40:\"twitter_abfb58ccc287fa7bef89ccfe48869db8\";i:11393;s:42:\"pinterest_abfb58ccc287fa7bef89ccfe48869db8\";i:11394;s:41:\"linkedin_abfb58ccc287fa7bef89ccfe48869db8\";i:11395;s:35:\"fb_a9b840e31b85187885c44d936f5f4d27\";i:11396;s:40:\"twitter_a9b840e31b85187885c44d936f5f4d27\";i:11397;s:42:\"pinterest_a9b840e31b85187885c44d936f5f4d27\";i:11398;s:41:\"linkedin_a9b840e31b85187885c44d936f5f4d27\";i:11399;s:35:\"fb_f5ec5e0eea9b722b746f7080938f3da8\";i:11400;s:40:\"twitter_f5ec5e0eea9b722b746f7080938f3da8\";i:11401;s:42:\"pinterest_f5ec5e0eea9b722b746f7080938f3da8\";i:11402;s:41:\"linkedin_f5ec5e0eea9b722b746f7080938f3da8\";i:11403;s:35:\"fb_f3ca92ae70419f58014a8430eb237528\";i:11404;s:40:\"twitter_f3ca92ae70419f58014a8430eb237528\";i:11405;s:42:\"pinterest_f3ca92ae70419f58014a8430eb237528\";i:11406;s:41:\"linkedin_f3ca92ae70419f58014a8430eb237528\";i:11407;s:35:\"fb_20997411b070ffdd430b1b8ebbb62a9d\";i:11408;s:40:\"twitter_20997411b070ffdd430b1b8ebbb62a9d\";i:11409;s:42:\"pinterest_20997411b070ffdd430b1b8ebbb62a9d\";i:11410;s:41:\"linkedin_20997411b070ffdd430b1b8ebbb62a9d\";i:11411;s:35:\"fb_2ff29f5f9c64edb8b827724dc3542f7f\";i:11412;s:40:\"twitter_2ff29f5f9c64edb8b827724dc3542f7f\";i:11413;s:42:\"pinterest_2ff29f5f9c64edb8b827724dc3542f7f\";i:11414;s:41:\"linkedin_2ff29f5f9c64edb8b827724dc3542f7f\";i:11415;s:35:\"fb_00b801d426bd11d4b50ebdc30e7d6770\";i:11416;s:40:\"twitter_00b801d426bd11d4b50ebdc30e7d6770\";i:11417;s:42:\"pinterest_00b801d426bd11d4b50ebdc30e7d6770\";i:11418;s:41:\"linkedin_00b801d426bd11d4b50ebdc30e7d6770\";i:11419;s:35:\"fb_da7e1ef065abb0cec007817b793ec466\";i:11420;s:40:\"twitter_da7e1ef065abb0cec007817b793ec466\";i:11421;s:42:\"pinterest_da7e1ef065abb0cec007817b793ec466\";i:11422;s:41:\"linkedin_da7e1ef065abb0cec007817b793ec466\";i:11423;s:35:\"fb_680602e7d660348bdc1198a7f0e78252\";i:11424;s:40:\"twitter_680602e7d660348bdc1198a7f0e78252\";i:11425;s:42:\"pinterest_680602e7d660348bdc1198a7f0e78252\";i:11426;s:41:\"linkedin_680602e7d660348bdc1198a7f0e78252\";i:11427;s:35:\"fb_37ddf5c72f3a1878492f233ac925ec5c\";i:11428;s:40:\"twitter_37ddf5c72f3a1878492f233ac925ec5c\";i:11429;s:42:\"pinterest_37ddf5c72f3a1878492f233ac925ec5c\";i:11430;s:41:\"linkedin_37ddf5c72f3a1878492f233ac925ec5c\";i:11431;s:35:\"fb_124b155534f006ae1384a034ac56f9e6\";i:11432;s:40:\"twitter_124b155534f006ae1384a034ac56f9e6\";i:11433;s:42:\"pinterest_124b155534f006ae1384a034ac56f9e6\";i:11434;s:41:\"linkedin_124b155534f006ae1384a034ac56f9e6\";i:11435;s:35:\"fb_88227ef0d4c02897a2c20e789fda0f43\";i:11436;s:40:\"twitter_88227ef0d4c02897a2c20e789fda0f43\";i:11437;s:42:\"pinterest_88227ef0d4c02897a2c20e789fda0f43\";i:11438;s:41:\"linkedin_88227ef0d4c02897a2c20e789fda0f43\";i:11439;s:35:\"fb_2820daf1aacda2758d1b19e3de116c55\";i:11440;s:40:\"twitter_2820daf1aacda2758d1b19e3de116c55\";i:11441;s:42:\"pinterest_2820daf1aacda2758d1b19e3de116c55\";i:11442;s:41:\"linkedin_2820daf1aacda2758d1b19e3de116c55\";i:11443;s:35:\"fb_af808abc3e12e6492e827cda54a14d24\";i:11444;s:40:\"twitter_af808abc3e12e6492e827cda54a14d24\";i:11445;s:42:\"pinterest_af808abc3e12e6492e827cda54a14d24\";i:11446;s:41:\"linkedin_af808abc3e12e6492e827cda54a14d24\";i:11447;s:35:\"fb_824852995eb180ea4432fc61b79c1c9a\";i:11448;s:40:\"twitter_824852995eb180ea4432fc61b79c1c9a\";i:11449;s:42:\"pinterest_824852995eb180ea4432fc61b79c1c9a\";i:11450;s:41:\"linkedin_824852995eb180ea4432fc61b79c1c9a\";i:11451;s:35:\"fb_639676aa4a2f29624f00440b3f9dec09\";i:11452;s:40:\"twitter_639676aa4a2f29624f00440b3f9dec09\";i:11453;s:42:\"pinterest_639676aa4a2f29624f00440b3f9dec09\";i:11454;s:35:\"fb_6685bd7efea6acac1f47b9df4154e0ad\";i:11455;s:40:\"twitter_6685bd7efea6acac1f47b9df4154e0ad\";i:11456;s:42:\"pinterest_6685bd7efea6acac1f47b9df4154e0ad\";i:11457;s:41:\"linkedin_6685bd7efea6acac1f47b9df4154e0ad\";i:11458;s:35:\"fb_5ed8e35db5c76a031920ba146dbd3c85\";i:11459;s:40:\"twitter_5ed8e35db5c76a031920ba146dbd3c85\";i:11460;s:42:\"pinterest_5ed8e35db5c76a031920ba146dbd3c85\";i:11461;s:41:\"linkedin_5ed8e35db5c76a031920ba146dbd3c85\";i:11462;s:35:\"fb_91b858046c08f15d66a1c28bfd27eb50\";i:11463;s:40:\"twitter_91b858046c08f15d66a1c28bfd27eb50\";i:11464;s:42:\"pinterest_91b858046c08f15d66a1c28bfd27eb50\";i:11465;s:41:\"linkedin_91b858046c08f15d66a1c28bfd27eb50\";i:11466;s:35:\"fb_af9c71900c64ecdee38731619252e047\";i:11467;s:40:\"twitter_af9c71900c64ecdee38731619252e047\";i:11468;s:42:\"pinterest_af9c71900c64ecdee38731619252e047\";i:11469;s:41:\"linkedin_af9c71900c64ecdee38731619252e047\";i:11470;s:35:\"fb_db1e01ba6ea2fa2d6464a0d334dc9406\";i:11471;s:40:\"twitter_db1e01ba6ea2fa2d6464a0d334dc9406\";i:11472;s:42:\"pinterest_db1e01ba6ea2fa2d6464a0d334dc9406\";i:11473;s:41:\"linkedin_db1e01ba6ea2fa2d6464a0d334dc9406\";i:11474;s:35:\"fb_f712e911e3b32fda621c6885dadb6a37\";i:11475;s:40:\"twitter_f712e911e3b32fda621c6885dadb6a37\";i:11476;s:42:\"pinterest_f712e911e3b32fda621c6885dadb6a37\";i:11477;s:41:\"linkedin_f712e911e3b32fda621c6885dadb6a37\";i:11478;s:35:\"fb_ed7bb9bd9cb9dbe5ebc42df788fd407b\";i:11479;s:40:\"twitter_ed7bb9bd9cb9dbe5ebc42df788fd407b\";i:11480;s:42:\"pinterest_ed7bb9bd9cb9dbe5ebc42df788fd407b\";i:11481;s:41:\"linkedin_ed7bb9bd9cb9dbe5ebc42df788fd407b\";i:11482;s:35:\"fb_3711f5243c29e862fc9a2d3ae4f60a48\";i:11483;s:40:\"twitter_3711f5243c29e862fc9a2d3ae4f60a48\";i:11484;s:42:\"pinterest_3711f5243c29e862fc9a2d3ae4f60a48\";i:11485;s:41:\"linkedin_3711f5243c29e862fc9a2d3ae4f60a48\";i:11486;s:35:\"fb_1b020dd51303dfe4c19c367af86c16aa\";i:11487;s:40:\"twitter_1b020dd51303dfe4c19c367af86c16aa\";i:11488;s:42:\"pinterest_1b020dd51303dfe4c19c367af86c16aa\";i:11489;s:41:\"linkedin_1b020dd51303dfe4c19c367af86c16aa\";i:11490;s:35:\"fb_7adece52aad4f749390ef29897c4ab5d\";i:11491;s:40:\"twitter_7adece52aad4f749390ef29897c4ab5d\";i:11492;s:42:\"pinterest_7adece52aad4f749390ef29897c4ab5d\";i:11493;s:41:\"linkedin_7adece52aad4f749390ef29897c4ab5d\";i:11494;s:35:\"fb_cb809467bf402645c777e29b5796aaba\";i:11495;s:40:\"twitter_cb809467bf402645c777e29b5796aaba\";i:11496;s:42:\"pinterest_cb809467bf402645c777e29b5796aaba\";i:11497;s:41:\"linkedin_cb809467bf402645c777e29b5796aaba\";i:11498;s:35:\"fb_9bd10b44bccfdcf4c0e1648466638f46\";i:11499;s:40:\"twitter_9bd10b44bccfdcf4c0e1648466638f46\";i:11500;s:42:\"pinterest_9bd10b44bccfdcf4c0e1648466638f46\";i:11501;s:41:\"linkedin_9bd10b44bccfdcf4c0e1648466638f46\";i:11502;s:35:\"fb_f1bee0dc3c24a4896ccde597f46376a4\";i:11503;s:40:\"twitter_f1bee0dc3c24a4896ccde597f46376a4\";i:11504;s:42:\"pinterest_f1bee0dc3c24a4896ccde597f46376a4\";i:11505;s:41:\"linkedin_f1bee0dc3c24a4896ccde597f46376a4\";i:11506;s:35:\"fb_19bf65fa2ad0221255b00d13ccbee6e2\";i:11507;s:40:\"twitter_19bf65fa2ad0221255b00d13ccbee6e2\";i:11508;s:42:\"pinterest_19bf65fa2ad0221255b00d13ccbee6e2\";i:11509;s:41:\"linkedin_19bf65fa2ad0221255b00d13ccbee6e2\";i:11510;s:35:\"fb_d6ad7087b44559ee9a97425aa7c75c5d\";i:11511;s:40:\"twitter_d6ad7087b44559ee9a97425aa7c75c5d\";i:11512;s:42:\"pinterest_d6ad7087b44559ee9a97425aa7c75c5d\";i:11513;s:41:\"linkedin_d6ad7087b44559ee9a97425aa7c75c5d\";i:11514;s:35:\"fb_e67115847013337a04c7ff30e856b293\";i:11515;s:40:\"twitter_e67115847013337a04c7ff30e856b293\";i:11516;s:42:\"pinterest_e67115847013337a04c7ff30e856b293\";i:11517;s:41:\"linkedin_e67115847013337a04c7ff30e856b293\";i:11518;s:35:\"fb_606461b019819f27949298571086e320\";i:11519;s:41:\"linkedin_606461b019819f27949298571086e320\";i:11520;s:35:\"fb_d6fbfd10aa858d6ee057ff3034cdb2e0\";i:11521;s:40:\"twitter_d6fbfd10aa858d6ee057ff3034cdb2e0\";i:11522;s:42:\"pinterest_d6fbfd10aa858d6ee057ff3034cdb2e0\";i:11523;s:41:\"linkedin_d6fbfd10aa858d6ee057ff3034cdb2e0\";i:11524;s:35:\"fb_5ba16ad1c9d9cbba27bd323db87a3113\";i:11525;s:40:\"twitter_5ba16ad1c9d9cbba27bd323db87a3113\";i:11526;s:42:\"pinterest_5ba16ad1c9d9cbba27bd323db87a3113\";i:11527;s:41:\"linkedin_5ba16ad1c9d9cbba27bd323db87a3113\";i:11528;s:35:\"fb_fb74dfa086780944992da9fa3f4e7fc8\";i:11529;s:40:\"twitter_fb74dfa086780944992da9fa3f4e7fc8\";i:11530;s:42:\"pinterest_fb74dfa086780944992da9fa3f4e7fc8\";i:11531;s:41:\"linkedin_fb74dfa086780944992da9fa3f4e7fc8\";i:11532;s:35:\"fb_b34ff473a8686ae49f9d45be370a70d2\";i:11533;s:40:\"twitter_b34ff473a8686ae49f9d45be370a70d2\";i:11534;s:42:\"pinterest_b34ff473a8686ae49f9d45be370a70d2\";i:11535;s:41:\"linkedin_b34ff473a8686ae49f9d45be370a70d2\";i:11536;s:35:\"fb_2cdc919ab05b2f2189daded86eb316e0\";i:11537;s:40:\"twitter_2cdc919ab05b2f2189daded86eb316e0\";i:11538;s:42:\"pinterest_2cdc919ab05b2f2189daded86eb316e0\";i:11539;s:41:\"linkedin_2cdc919ab05b2f2189daded86eb316e0\";i:11540;s:35:\"fb_d8742c7922dfb88ae683eba5d752162f\";i:11541;s:40:\"twitter_d8742c7922dfb88ae683eba5d752162f\";i:11542;s:42:\"pinterest_d8742c7922dfb88ae683eba5d752162f\";i:11543;s:41:\"linkedin_d8742c7922dfb88ae683eba5d752162f\";i:11544;s:35:\"fb_4c918c59a74e1c152715370ed4ef0b58\";i:11545;s:40:\"twitter_4c918c59a74e1c152715370ed4ef0b58\";i:11546;s:42:\"pinterest_4c918c59a74e1c152715370ed4ef0b58\";i:11547;s:41:\"linkedin_4c918c59a74e1c152715370ed4ef0b58\";i:11548;s:35:\"fb_474302cc1501935b75d9343d9cce7363\";i:11549;s:40:\"twitter_474302cc1501935b75d9343d9cce7363\";i:11550;s:42:\"pinterest_474302cc1501935b75d9343d9cce7363\";i:11551;s:41:\"linkedin_474302cc1501935b75d9343d9cce7363\";i:11552;s:35:\"fb_c645c4935e0dcc92b3291e00e47e8183\";i:11553;s:40:\"twitter_c645c4935e0dcc92b3291e00e47e8183\";i:11554;s:42:\"pinterest_c645c4935e0dcc92b3291e00e47e8183\";i:11555;s:41:\"linkedin_c645c4935e0dcc92b3291e00e47e8183\";i:11556;s:35:\"fb_50b394e60add753e3e4179fe333dcd52\";i:11557;s:40:\"twitter_50b394e60add753e3e4179fe333dcd52\";i:11558;s:42:\"pinterest_50b394e60add753e3e4179fe333dcd52\";i:11559;s:41:\"linkedin_50b394e60add753e3e4179fe333dcd52\";i:11560;s:35:\"fb_ec0feaa87792e5b513e5b9732a8fa388\";i:11561;s:40:\"twitter_ec0feaa87792e5b513e5b9732a8fa388\";i:11562;s:42:\"pinterest_ec0feaa87792e5b513e5b9732a8fa388\";i:11563;s:41:\"linkedin_ec0feaa87792e5b513e5b9732a8fa388\";i:11564;s:35:\"fb_02461f66bd34fe65932b162404536c96\";i:11565;s:40:\"twitter_02461f66bd34fe65932b162404536c96\";i:11566;s:42:\"pinterest_02461f66bd34fe65932b162404536c96\";i:11567;s:41:\"linkedin_02461f66bd34fe65932b162404536c96\";i:11568;s:35:\"fb_aa2a978db769a593cd39cf3324ca8c8d\";i:11569;s:40:\"twitter_aa2a978db769a593cd39cf3324ca8c8d\";i:11570;s:42:\"pinterest_aa2a978db769a593cd39cf3324ca8c8d\";i:11571;s:41:\"linkedin_aa2a978db769a593cd39cf3324ca8c8d\";i:11572;s:35:\"fb_6adf0389ac2a5053deec131c03e0b261\";i:11573;s:40:\"twitter_6adf0389ac2a5053deec131c03e0b261\";i:11574;s:42:\"pinterest_6adf0389ac2a5053deec131c03e0b261\";i:11575;s:41:\"linkedin_6adf0389ac2a5053deec131c03e0b261\";i:11576;s:35:\"fb_40b854f6b571095df78eeae5b953d350\";i:11577;s:40:\"twitter_40b854f6b571095df78eeae5b953d350\";i:11578;s:42:\"pinterest_40b854f6b571095df78eeae5b953d350\";i:11579;s:41:\"linkedin_40b854f6b571095df78eeae5b953d350\";i:11580;s:35:\"fb_ac7f85ab266b30b1e325aa1b303b8660\";i:11581;s:40:\"twitter_ac7f85ab266b30b1e325aa1b303b8660\";i:11582;s:42:\"pinterest_ac7f85ab266b30b1e325aa1b303b8660\";i:11583;s:41:\"linkedin_ac7f85ab266b30b1e325aa1b303b8660\";i:11584;s:35:\"fb_59774ea7f17d75c6bd2d0f32869a8615\";i:11585;s:40:\"twitter_59774ea7f17d75c6bd2d0f32869a8615\";i:11586;s:42:\"pinterest_59774ea7f17d75c6bd2d0f32869a8615\";i:11587;s:41:\"linkedin_59774ea7f17d75c6bd2d0f32869a8615\";i:11588;s:35:\"fb_2d1c75702b2b74f1d82f8e8a6677d03e\";i:11589;s:40:\"twitter_2d1c75702b2b74f1d82f8e8a6677d03e\";i:11590;s:42:\"pinterest_2d1c75702b2b74f1d82f8e8a6677d03e\";i:11591;s:41:\"linkedin_2d1c75702b2b74f1d82f8e8a6677d03e\";i:11592;s:35:\"fb_7aec72033e446d76e7d48b0ddcfa1fe7\";i:11593;s:40:\"twitter_7aec72033e446d76e7d48b0ddcfa1fe7\";i:11594;s:42:\"pinterest_7aec72033e446d76e7d48b0ddcfa1fe7\";i:11595;s:41:\"linkedin_7aec72033e446d76e7d48b0ddcfa1fe7\";i:11596;s:35:\"fb_7799bf0b9ecbd16b060032733cdf38d0\";i:11597;s:40:\"twitter_7799bf0b9ecbd16b060032733cdf38d0\";i:11598;s:42:\"pinterest_7799bf0b9ecbd16b060032733cdf38d0\";i:11599;s:41:\"linkedin_7799bf0b9ecbd16b060032733cdf38d0\";i:11600;s:35:\"fb_c54ad281b07c2e3833c4a06e2e384ad1\";i:11601;s:40:\"twitter_c54ad281b07c2e3833c4a06e2e384ad1\";i:11602;s:42:\"pinterest_c54ad281b07c2e3833c4a06e2e384ad1\";i:11603;s:41:\"linkedin_c54ad281b07c2e3833c4a06e2e384ad1\";i:11604;s:35:\"fb_199f1421a245fb7b7cf52ef42a89a7e2\";i:11605;s:40:\"twitter_199f1421a245fb7b7cf52ef42a89a7e2\";i:11606;s:42:\"pinterest_199f1421a245fb7b7cf52ef42a89a7e2\";i:11607;s:41:\"linkedin_199f1421a245fb7b7cf52ef42a89a7e2\";i:11608;s:35:\"fb_c0a2e069fe9809cb4a717c9ba9a328f6\";i:11609;s:40:\"twitter_c0a2e069fe9809cb4a717c9ba9a328f6\";i:11610;s:42:\"pinterest_c0a2e069fe9809cb4a717c9ba9a328f6\";i:11611;s:41:\"linkedin_c0a2e069fe9809cb4a717c9ba9a328f6\";i:11612;s:35:\"fb_4f0729ca608c090c4fcf450adf5fef20\";i:11613;s:40:\"twitter_4f0729ca608c090c4fcf450adf5fef20\";i:11614;s:42:\"pinterest_4f0729ca608c090c4fcf450adf5fef20\";i:11615;s:41:\"linkedin_4f0729ca608c090c4fcf450adf5fef20\";i:11616;s:35:\"fb_92f8cf82746eb8b642d2a385509e2bf0\";i:11617;s:40:\"twitter_92f8cf82746eb8b642d2a385509e2bf0\";i:11618;s:42:\"pinterest_92f8cf82746eb8b642d2a385509e2bf0\";i:11619;s:41:\"linkedin_92f8cf82746eb8b642d2a385509e2bf0\";i:11620;s:35:\"fb_dab42bca084136bee4ff90c7059aef9c\";i:11621;s:40:\"twitter_dab42bca084136bee4ff90c7059aef9c\";i:11622;s:42:\"pinterest_dab42bca084136bee4ff90c7059aef9c\";i:11623;s:41:\"linkedin_dab42bca084136bee4ff90c7059aef9c\";i:11624;s:35:\"fb_f153cc95019e197f35661098c6c4ed27\";i:11625;s:40:\"twitter_f153cc95019e197f35661098c6c4ed27\";i:11626;s:42:\"pinterest_f153cc95019e197f35661098c6c4ed27\";i:11627;s:41:\"linkedin_f153cc95019e197f35661098c6c4ed27\";i:11628;s:35:\"fb_9a2b30400ae1e55a6ef5156040c77a23\";i:11629;s:40:\"twitter_9a2b30400ae1e55a6ef5156040c77a23\";i:11630;s:42:\"pinterest_9a2b30400ae1e55a6ef5156040c77a23\";i:11631;s:41:\"linkedin_9a2b30400ae1e55a6ef5156040c77a23\";i:11632;s:35:\"fb_86ab80bc8d73dfa0aeb35ae060fa0c1a\";i:11633;s:40:\"twitter_86ab80bc8d73dfa0aeb35ae060fa0c1a\";i:11634;s:42:\"pinterest_86ab80bc8d73dfa0aeb35ae060fa0c1a\";i:11635;s:41:\"linkedin_86ab80bc8d73dfa0aeb35ae060fa0c1a\";i:11636;s:35:\"fb_a4b95b83dbba97070dcd0e2e1a152559\";i:11637;s:40:\"twitter_a4b95b83dbba97070dcd0e2e1a152559\";i:11638;s:42:\"pinterest_a4b95b83dbba97070dcd0e2e1a152559\";i:11639;s:41:\"linkedin_a4b95b83dbba97070dcd0e2e1a152559\";i:11640;s:35:\"fb_c1c41fe8cd3d12e3f993a5e320ff152f\";i:11641;s:40:\"twitter_c1c41fe8cd3d12e3f993a5e320ff152f\";i:11642;s:42:\"pinterest_c1c41fe8cd3d12e3f993a5e320ff152f\";i:11643;s:41:\"linkedin_c1c41fe8cd3d12e3f993a5e320ff152f\";i:11644;s:35:\"fb_ba02231359010ea1435f7bb1fd85ddec\";i:11645;s:40:\"twitter_ba02231359010ea1435f7bb1fd85ddec\";i:11646;s:42:\"pinterest_ba02231359010ea1435f7bb1fd85ddec\";i:11647;s:41:\"linkedin_ba02231359010ea1435f7bb1fd85ddec\";i:11648;s:35:\"fb_728b0088647f7253a9e12baccf547263\";i:11649;s:40:\"twitter_728b0088647f7253a9e12baccf547263\";i:11650;s:42:\"pinterest_728b0088647f7253a9e12baccf547263\";i:11651;s:41:\"linkedin_728b0088647f7253a9e12baccf547263\";i:11652;s:35:\"fb_c679fec8f2cb9b9515ca2639f1e5879d\";i:11653;s:40:\"twitter_c679fec8f2cb9b9515ca2639f1e5879d\";i:11654;s:42:\"pinterest_c679fec8f2cb9b9515ca2639f1e5879d\";i:11655;s:41:\"linkedin_c679fec8f2cb9b9515ca2639f1e5879d\";i:11656;s:35:\"fb_44f618a14f129b6d144ca739e4bc80fb\";i:11657;s:40:\"twitter_44f618a14f129b6d144ca739e4bc80fb\";i:11658;s:42:\"pinterest_44f618a14f129b6d144ca739e4bc80fb\";i:11659;s:41:\"linkedin_44f618a14f129b6d144ca739e4bc80fb\";i:11660;s:35:\"fb_310f80619bf5713556c37dd92e0ac1d9\";i:11661;s:40:\"twitter_310f80619bf5713556c37dd92e0ac1d9\";i:11662;s:42:\"pinterest_310f80619bf5713556c37dd92e0ac1d9\";i:11663;s:41:\"linkedin_310f80619bf5713556c37dd92e0ac1d9\";i:11664;s:35:\"fb_2a8fc0ebcbe4ec95d74af228a6d4bb73\";i:11665;s:40:\"twitter_2a8fc0ebcbe4ec95d74af228a6d4bb73\";i:11666;s:42:\"pinterest_2a8fc0ebcbe4ec95d74af228a6d4bb73\";i:11667;s:41:\"linkedin_2a8fc0ebcbe4ec95d74af228a6d4bb73\";i:11668;s:35:\"fb_03af5396fce0a355a578586f26814c33\";i:11669;s:40:\"twitter_03af5396fce0a355a578586f26814c33\";i:11670;s:42:\"pinterest_03af5396fce0a355a578586f26814c33\";i:11671;s:41:\"linkedin_03af5396fce0a355a578586f26814c33\";i:11672;s:35:\"fb_7dd13406958ba13d541b9c07d330c794\";i:11673;s:40:\"twitter_7dd13406958ba13d541b9c07d330c794\";i:11674;s:42:\"pinterest_7dd13406958ba13d541b9c07d330c794\";i:11675;s:41:\"linkedin_7dd13406958ba13d541b9c07d330c794\";i:11676;s:35:\"fb_d37df4fb756f8371cd53783c74b27947\";i:11677;s:40:\"twitter_d37df4fb756f8371cd53783c74b27947\";i:11678;s:42:\"pinterest_d37df4fb756f8371cd53783c74b27947\";i:11679;s:41:\"linkedin_d37df4fb756f8371cd53783c74b27947\";i:11680;s:35:\"fb_b411ba8038c18fa577004380c8fa50b0\";i:11681;s:40:\"twitter_b411ba8038c18fa577004380c8fa50b0\";i:11682;s:42:\"pinterest_b411ba8038c18fa577004380c8fa50b0\";i:11683;s:41:\"linkedin_b411ba8038c18fa577004380c8fa50b0\";i:11684;s:35:\"fb_e06ac5c56ceba3c38a9035513f875cc7\";i:11685;s:40:\"twitter_e06ac5c56ceba3c38a9035513f875cc7\";i:11686;s:42:\"pinterest_e06ac5c56ceba3c38a9035513f875cc7\";i:11687;s:41:\"linkedin_e06ac5c56ceba3c38a9035513f875cc7\";i:11688;s:35:\"fb_53b5955899f73919e38a493b1f0603a4\";i:11689;s:40:\"twitter_53b5955899f73919e38a493b1f0603a4\";i:11690;s:42:\"pinterest_53b5955899f73919e38a493b1f0603a4\";i:11691;s:41:\"linkedin_53b5955899f73919e38a493b1f0603a4\";i:11692;s:35:\"fb_e71d7bdf00879c23bffc09a342f8ece3\";i:11693;s:40:\"twitter_e71d7bdf00879c23bffc09a342f8ece3\";i:11694;s:42:\"pinterest_e71d7bdf00879c23bffc09a342f8ece3\";i:11695;s:41:\"linkedin_e71d7bdf00879c23bffc09a342f8ece3\";i:11696;s:35:\"fb_164a90d9f17d0b3eab31fae554a5127f\";i:11697;s:40:\"twitter_164a90d9f17d0b3eab31fae554a5127f\";i:11698;s:42:\"pinterest_164a90d9f17d0b3eab31fae554a5127f\";i:11699;s:41:\"linkedin_164a90d9f17d0b3eab31fae554a5127f\";i:11700;s:35:\"fb_5ed04f1bad11e627bdfb9414283d999b\";i:11701;s:40:\"twitter_5ed04f1bad11e627bdfb9414283d999b\";i:11702;s:42:\"pinterest_5ed04f1bad11e627bdfb9414283d999b\";i:11703;s:41:\"linkedin_5ed04f1bad11e627bdfb9414283d999b\";i:11704;s:35:\"fb_fa6890ccd6deacf6e1620dce962b7541\";i:11705;s:40:\"twitter_fa6890ccd6deacf6e1620dce962b7541\";i:11706;s:42:\"pinterest_fa6890ccd6deacf6e1620dce962b7541\";i:11707;s:41:\"linkedin_fa6890ccd6deacf6e1620dce962b7541\";i:11708;s:35:\"fb_94c9d1d93ee61ebafa511fb8e45c3f6b\";i:11709;s:40:\"twitter_94c9d1d93ee61ebafa511fb8e45c3f6b\";i:11710;s:42:\"pinterest_94c9d1d93ee61ebafa511fb8e45c3f6b\";i:11711;s:41:\"linkedin_94c9d1d93ee61ebafa511fb8e45c3f6b\";i:11712;s:35:\"fb_0504503d609d81797ea070d57029b65d\";i:11713;s:40:\"twitter_0504503d609d81797ea070d57029b65d\";i:11714;s:42:\"pinterest_0504503d609d81797ea070d57029b65d\";i:11715;s:41:\"linkedin_0504503d609d81797ea070d57029b65d\";i:11716;s:35:\"fb_4ad36fb8f46baeb0d4a4c589f2b9c303\";i:11717;s:40:\"twitter_4ad36fb8f46baeb0d4a4c589f2b9c303\";i:11718;s:42:\"pinterest_4ad36fb8f46baeb0d4a4c589f2b9c303\";i:11719;s:41:\"linkedin_4ad36fb8f46baeb0d4a4c589f2b9c303\";i:11720;s:35:\"fb_0d60b8e80c81a14bc99f42adf340822d\";i:11721;s:40:\"twitter_0d60b8e80c81a14bc99f42adf340822d\";i:11722;s:42:\"pinterest_0d60b8e80c81a14bc99f42adf340822d\";i:11723;s:41:\"linkedin_0d60b8e80c81a14bc99f42adf340822d\";i:11724;s:35:\"fb_297bd62e3a443e3144c8b1e7f0980978\";i:11725;s:40:\"twitter_297bd62e3a443e3144c8b1e7f0980978\";i:11726;s:42:\"pinterest_297bd62e3a443e3144c8b1e7f0980978\";i:11727;s:41:\"linkedin_297bd62e3a443e3144c8b1e7f0980978\";i:11728;s:35:\"fb_0d50d40df95283b811c26dde15ca0b9d\";i:11729;s:40:\"twitter_0d50d40df95283b811c26dde15ca0b9d\";i:11730;s:42:\"pinterest_0d50d40df95283b811c26dde15ca0b9d\";i:11731;s:41:\"linkedin_0d50d40df95283b811c26dde15ca0b9d\";i:11732;s:35:\"fb_21c5e4263399431ef688a33b2cc2aa51\";i:11733;s:40:\"twitter_21c5e4263399431ef688a33b2cc2aa51\";i:11734;s:42:\"pinterest_21c5e4263399431ef688a33b2cc2aa51\";i:11735;s:41:\"linkedin_21c5e4263399431ef688a33b2cc2aa51\";i:11736;s:35:\"fb_67c92fdd01988794658b14bfb3da598a\";i:11737;s:40:\"twitter_67c92fdd01988794658b14bfb3da598a\";i:11738;s:42:\"pinterest_67c92fdd01988794658b14bfb3da598a\";i:11739;s:41:\"linkedin_67c92fdd01988794658b14bfb3da598a\";i:11740;s:35:\"fb_4a22c89a9a45fd8ca39c4fd9f2374f99\";i:11741;s:40:\"twitter_4a22c89a9a45fd8ca39c4fd9f2374f99\";i:11742;s:42:\"pinterest_4a22c89a9a45fd8ca39c4fd9f2374f99\";i:11743;s:41:\"linkedin_4a22c89a9a45fd8ca39c4fd9f2374f99\";i:11744;s:35:\"fb_e8d6f7b2e729acdc64ab769ade127dd4\";i:11745;s:40:\"twitter_e8d6f7b2e729acdc64ab769ade127dd4\";i:11746;s:42:\"pinterest_e8d6f7b2e729acdc64ab769ade127dd4\";i:11747;s:41:\"linkedin_e8d6f7b2e729acdc64ab769ade127dd4\";i:11748;s:35:\"fb_cd29fcd6055d3b2f7c353464064e4638\";i:11749;s:40:\"twitter_cd29fcd6055d3b2f7c353464064e4638\";i:11750;s:42:\"pinterest_cd29fcd6055d3b2f7c353464064e4638\";i:11751;s:41:\"linkedin_cd29fcd6055d3b2f7c353464064e4638\";i:11752;s:35:\"fb_bb12f33e03a3a651a38d3ca32273c9ba\";i:11753;s:40:\"twitter_bb12f33e03a3a651a38d3ca32273c9ba\";i:11754;s:42:\"pinterest_bb12f33e03a3a651a38d3ca32273c9ba\";i:11755;s:41:\"linkedin_bb12f33e03a3a651a38d3ca32273c9ba\";i:11756;s:35:\"fb_c1c3f99c8adb314d6e70a7f4081014fe\";i:11757;s:40:\"twitter_c1c3f99c8adb314d6e70a7f4081014fe\";i:11758;s:42:\"pinterest_c1c3f99c8adb314d6e70a7f4081014fe\";i:11759;s:41:\"linkedin_c1c3f99c8adb314d6e70a7f4081014fe\";i:11760;s:35:\"fb_22a11e75d315070f70e9258ddeae18a4\";i:11761;s:40:\"twitter_22a11e75d315070f70e9258ddeae18a4\";i:11762;s:42:\"pinterest_22a11e75d315070f70e9258ddeae18a4\";i:11763;s:41:\"linkedin_22a11e75d315070f70e9258ddeae18a4\";i:11764;s:35:\"fb_2ad6a4d0e6d058eb9102ae03699fe45c\";i:11765;s:40:\"twitter_2ad6a4d0e6d058eb9102ae03699fe45c\";i:11766;s:42:\"pinterest_2ad6a4d0e6d058eb9102ae03699fe45c\";i:11767;s:41:\"linkedin_2ad6a4d0e6d058eb9102ae03699fe45c\";i:11768;s:35:\"fb_b4d32a5c13b7aa8200cbfbfe84a987fe\";i:11769;s:40:\"twitter_b4d32a5c13b7aa8200cbfbfe84a987fe\";i:11770;s:42:\"pinterest_b4d32a5c13b7aa8200cbfbfe84a987fe\";i:11771;s:41:\"linkedin_b4d32a5c13b7aa8200cbfbfe84a987fe\";i:11772;s:35:\"fb_c1d2425415304e7e037a7783449f9aaa\";i:11773;s:40:\"twitter_c1d2425415304e7e037a7783449f9aaa\";i:11774;s:42:\"pinterest_c1d2425415304e7e037a7783449f9aaa\";i:11775;s:41:\"linkedin_c1d2425415304e7e037a7783449f9aaa\";i:11776;s:35:\"fb_b350f92b597166d1b981bdf9df2894dc\";i:11777;s:40:\"twitter_b350f92b597166d1b981bdf9df2894dc\";i:11778;s:42:\"pinterest_b350f92b597166d1b981bdf9df2894dc\";i:11779;s:41:\"linkedin_b350f92b597166d1b981bdf9df2894dc\";i:11780;s:35:\"fb_233d0621c4e55eae2fbcb675f5236b9a\";i:11781;s:40:\"twitter_233d0621c4e55eae2fbcb675f5236b9a\";i:11782;s:42:\"pinterest_233d0621c4e55eae2fbcb675f5236b9a\";i:11783;s:41:\"linkedin_233d0621c4e55eae2fbcb675f5236b9a\";i:11784;s:35:\"fb_6a791dc54949d7b5a85b712f03c1920f\";i:11785;s:40:\"twitter_6a791dc54949d7b5a85b712f03c1920f\";i:11786;s:42:\"pinterest_6a791dc54949d7b5a85b712f03c1920f\";i:11787;s:41:\"linkedin_6a791dc54949d7b5a85b712f03c1920f\";i:11788;s:35:\"fb_8814c450fb5e2ad5e22709658cb65e01\";i:11789;s:40:\"twitter_8814c450fb5e2ad5e22709658cb65e01\";i:11790;s:42:\"pinterest_8814c450fb5e2ad5e22709658cb65e01\";i:11791;s:41:\"linkedin_8814c450fb5e2ad5e22709658cb65e01\";i:11792;s:35:\"fb_dc2fce5b851fd274d9e354a0b210e586\";i:11793;s:40:\"twitter_dc2fce5b851fd274d9e354a0b210e586\";i:11794;s:42:\"pinterest_dc2fce5b851fd274d9e354a0b210e586\";i:11795;s:41:\"linkedin_dc2fce5b851fd274d9e354a0b210e586\";i:11796;s:35:\"fb_6d951a6025d35a0c2d834031e7ed53d3\";i:11797;s:40:\"twitter_6d951a6025d35a0c2d834031e7ed53d3\";i:11798;s:42:\"pinterest_6d951a6025d35a0c2d834031e7ed53d3\";i:11799;s:41:\"linkedin_6d951a6025d35a0c2d834031e7ed53d3\";i:11800;s:35:\"fb_ab88bb82bb2a9b7976d1c60f0fb2dd58\";i:11801;s:35:\"fb_09e58d9c0a2b45c1a5bc1072459b865d\";i:11802;s:40:\"twitter_09e58d9c0a2b45c1a5bc1072459b865d\";i:11803;s:42:\"pinterest_09e58d9c0a2b45c1a5bc1072459b865d\";i:11804;s:41:\"linkedin_09e58d9c0a2b45c1a5bc1072459b865d\";i:11805;s:35:\"fb_5f8c57003062cb92de500ad0bdbc21af\";i:11806;s:40:\"twitter_5f8c57003062cb92de500ad0bdbc21af\";i:11807;s:42:\"pinterest_5f8c57003062cb92de500ad0bdbc21af\";i:11808;s:41:\"linkedin_5f8c57003062cb92de500ad0bdbc21af\";i:11809;s:35:\"fb_f2133e667b7efd01afabab4ddeb7df38\";i:11810;s:40:\"twitter_f2133e667b7efd01afabab4ddeb7df38\";i:11811;s:42:\"pinterest_f2133e667b7efd01afabab4ddeb7df38\";i:11812;s:41:\"linkedin_f2133e667b7efd01afabab4ddeb7df38\";i:11813;s:35:\"fb_33aee078a8d848c687bad37c3f9c6611\";i:11814;s:40:\"twitter_33aee078a8d848c687bad37c3f9c6611\";i:11815;s:42:\"pinterest_33aee078a8d848c687bad37c3f9c6611\";i:11816;s:41:\"linkedin_33aee078a8d848c687bad37c3f9c6611\";i:11817;s:35:\"fb_84af3eb13057225c187786f8cdc023f7\";i:11818;s:40:\"twitter_84af3eb13057225c187786f8cdc023f7\";i:11819;s:42:\"pinterest_84af3eb13057225c187786f8cdc023f7\";i:11820;s:41:\"linkedin_84af3eb13057225c187786f8cdc023f7\";i:11821;s:35:\"fb_6dbab9ff0639797f2004b882f9416e5b\";i:11822;s:40:\"twitter_6dbab9ff0639797f2004b882f9416e5b\";i:11823;s:42:\"pinterest_6dbab9ff0639797f2004b882f9416e5b\";i:11824;s:41:\"linkedin_6dbab9ff0639797f2004b882f9416e5b\";i:11825;s:35:\"fb_cb0f26000b4825de2b114f7f2be0eaa9\";i:11826;s:40:\"twitter_cb0f26000b4825de2b114f7f2be0eaa9\";i:11827;s:42:\"pinterest_cb0f26000b4825de2b114f7f2be0eaa9\";i:11828;s:41:\"linkedin_cb0f26000b4825de2b114f7f2be0eaa9\";i:11829;s:35:\"fb_27a874745e71d873b42aea44c7071527\";i:11830;s:40:\"twitter_27a874745e71d873b42aea44c7071527\";i:11831;s:42:\"pinterest_27a874745e71d873b42aea44c7071527\";i:11832;s:41:\"linkedin_27a874745e71d873b42aea44c7071527\";i:11833;s:35:\"fb_56c344e8124e4eaad6e12b6befac7178\";i:11834;s:40:\"twitter_56c344e8124e4eaad6e12b6befac7178\";i:11835;s:42:\"pinterest_56c344e8124e4eaad6e12b6befac7178\";i:11836;s:41:\"linkedin_56c344e8124e4eaad6e12b6befac7178\";i:11837;s:35:\"fb_d1f6da2ac850ba5fb76b757d2c78eb87\";i:11838;s:40:\"twitter_d1f6da2ac850ba5fb76b757d2c78eb87\";i:11839;s:42:\"pinterest_d1f6da2ac850ba5fb76b757d2c78eb87\";i:11840;s:41:\"linkedin_d1f6da2ac850ba5fb76b757d2c78eb87\";i:11841;s:35:\"fb_1fb7c46df975196a4b6222510f25de09\";i:11842;s:40:\"twitter_1fb7c46df975196a4b6222510f25de09\";i:11843;s:42:\"pinterest_1fb7c46df975196a4b6222510f25de09\";i:11844;s:35:\"fb_cabdb2bd831532cbaba4ddedcbece529\";i:11845;s:40:\"twitter_cabdb2bd831532cbaba4ddedcbece529\";i:11846;s:42:\"pinterest_cabdb2bd831532cbaba4ddedcbece529\";i:11847;s:41:\"linkedin_cabdb2bd831532cbaba4ddedcbece529\";i:11848;s:35:\"fb_41441c96295778c05a3a163742da43ce\";i:11849;s:40:\"twitter_41441c96295778c05a3a163742da43ce\";i:11850;s:42:\"pinterest_41441c96295778c05a3a163742da43ce\";i:11851;s:41:\"linkedin_41441c96295778c05a3a163742da43ce\";i:11852;s:35:\"fb_962a0be9f01b857d977ba69fa57d8de9\";i:11853;s:40:\"twitter_962a0be9f01b857d977ba69fa57d8de9\";i:11854;s:42:\"pinterest_962a0be9f01b857d977ba69fa57d8de9\";i:11855;s:41:\"linkedin_962a0be9f01b857d977ba69fa57d8de9\";i:11856;s:35:\"fb_f0c66a3e1045d3f73a8e8120fd8bc769\";i:11857;s:40:\"twitter_f0c66a3e1045d3f73a8e8120fd8bc769\";i:11858;s:42:\"pinterest_f0c66a3e1045d3f73a8e8120fd8bc769\";i:11859;s:41:\"linkedin_f0c66a3e1045d3f73a8e8120fd8bc769\";i:11860;s:35:\"fb_3929446ab5531f8c43c1128785cdf59f\";i:11861;s:40:\"twitter_3929446ab5531f8c43c1128785cdf59f\";i:11862;s:42:\"pinterest_3929446ab5531f8c43c1128785cdf59f\";i:11863;s:41:\"linkedin_3929446ab5531f8c43c1128785cdf59f\";i:11864;s:35:\"fb_1284b9775fb00ca032ad8176e7866ef4\";i:11865;s:40:\"twitter_1284b9775fb00ca032ad8176e7866ef4\";i:11866;s:42:\"pinterest_1284b9775fb00ca032ad8176e7866ef4\";i:11867;s:41:\"linkedin_1284b9775fb00ca032ad8176e7866ef4\";i:11868;s:35:\"fb_193d8e19c8fce1e6eda143f4400b3d70\";i:11869;s:40:\"twitter_193d8e19c8fce1e6eda143f4400b3d70\";i:11870;s:42:\"pinterest_193d8e19c8fce1e6eda143f4400b3d70\";i:11871;s:41:\"linkedin_193d8e19c8fce1e6eda143f4400b3d70\";i:11872;s:35:\"fb_a3015eb8e27dd2e90e2e5a13db87d0e3\";i:11873;s:40:\"twitter_a3015eb8e27dd2e90e2e5a13db87d0e3\";i:11874;s:42:\"pinterest_a3015eb8e27dd2e90e2e5a13db87d0e3\";i:11875;s:41:\"linkedin_a3015eb8e27dd2e90e2e5a13db87d0e3\";i:11876;s:35:\"fb_7470d4e6f4b1e425533f3ff9f91438a5\";i:11877;s:40:\"twitter_7470d4e6f4b1e425533f3ff9f91438a5\";i:11878;s:42:\"pinterest_7470d4e6f4b1e425533f3ff9f91438a5\";i:11879;s:41:\"linkedin_7470d4e6f4b1e425533f3ff9f91438a5\";i:11880;s:35:\"fb_0bb0721a3acfc642c2a53e513af0e544\";i:11881;s:40:\"twitter_0bb0721a3acfc642c2a53e513af0e544\";i:11882;s:42:\"pinterest_0bb0721a3acfc642c2a53e513af0e544\";i:11883;s:41:\"linkedin_0bb0721a3acfc642c2a53e513af0e544\";i:11884;s:35:\"fb_1dbe653e4429269c276689f90283b439\";i:11885;s:40:\"twitter_1dbe653e4429269c276689f90283b439\";i:11886;s:42:\"pinterest_1dbe653e4429269c276689f90283b439\";i:11887;s:41:\"linkedin_1dbe653e4429269c276689f90283b439\";i:11888;s:35:\"fb_cc9011c66722d54e65d42dcae44ed0a3\";i:11889;s:40:\"twitter_cc9011c66722d54e65d42dcae44ed0a3\";i:11890;s:42:\"pinterest_cc9011c66722d54e65d42dcae44ed0a3\";i:11891;s:41:\"linkedin_cc9011c66722d54e65d42dcae44ed0a3\";i:11892;s:35:\"fb_89a548d4db26c73159e4a70844ea5e84\";i:11893;s:40:\"twitter_89a548d4db26c73159e4a70844ea5e84\";i:11894;s:42:\"pinterest_89a548d4db26c73159e4a70844ea5e84\";i:11895;s:41:\"linkedin_89a548d4db26c73159e4a70844ea5e84\";i:11896;s:35:\"fb_8c8e5feaf339ff863f0fb4169f619df7\";i:11897;s:40:\"twitter_8c8e5feaf339ff863f0fb4169f619df7\";i:11898;s:42:\"pinterest_8c8e5feaf339ff863f0fb4169f619df7\";i:11899;s:41:\"linkedin_8c8e5feaf339ff863f0fb4169f619df7\";i:11900;s:35:\"fb_711e102baf9b983614765a0c84449d94\";i:11901;s:40:\"twitter_711e102baf9b983614765a0c84449d94\";i:11902;s:42:\"pinterest_711e102baf9b983614765a0c84449d94\";i:11903;s:41:\"linkedin_711e102baf9b983614765a0c84449d94\";i:11904;s:35:\"fb_9c3994858d3ddd9833254dfaafdf9653\";i:11905;s:40:\"twitter_9c3994858d3ddd9833254dfaafdf9653\";i:11906;s:42:\"pinterest_9c3994858d3ddd9833254dfaafdf9653\";i:11907;s:41:\"linkedin_9c3994858d3ddd9833254dfaafdf9653\";i:11908;s:35:\"fb_64643879228844fb5d74361147efdbb2\";i:11909;s:40:\"twitter_64643879228844fb5d74361147efdbb2\";i:11910;s:42:\"pinterest_64643879228844fb5d74361147efdbb2\";i:11911;s:35:\"fb_af217080e70c1fce84dd3a9f754ea26a\";i:11912;s:40:\"twitter_af217080e70c1fce84dd3a9f754ea26a\";i:11913;s:42:\"pinterest_af217080e70c1fce84dd3a9f754ea26a\";i:11914;s:41:\"linkedin_af217080e70c1fce84dd3a9f754ea26a\";i:11915;s:35:\"fb_d732a792a7dcc9844065a669fdf80cd1\";i:11916;s:40:\"twitter_d732a792a7dcc9844065a669fdf80cd1\";i:11917;s:42:\"pinterest_d732a792a7dcc9844065a669fdf80cd1\";i:11918;s:41:\"linkedin_d732a792a7dcc9844065a669fdf80cd1\";i:11919;s:35:\"fb_ec2171dc578390fca1f36e741c43daa3\";i:11920;s:40:\"twitter_ec2171dc578390fca1f36e741c43daa3\";i:11921;s:42:\"pinterest_ec2171dc578390fca1f36e741c43daa3\";i:11922;s:41:\"linkedin_ec2171dc578390fca1f36e741c43daa3\";i:11923;s:35:\"fb_133855d197a413cbeaede5aedda4f8dc\";i:11924;s:40:\"twitter_133855d197a413cbeaede5aedda4f8dc\";i:11925;s:42:\"pinterest_133855d197a413cbeaede5aedda4f8dc\";i:11926;s:41:\"linkedin_133855d197a413cbeaede5aedda4f8dc\";i:11927;s:35:\"fb_9cbbdbac49c640b7c486df22b61ef5e1\";i:11928;s:40:\"twitter_9cbbdbac49c640b7c486df22b61ef5e1\";i:11929;s:42:\"pinterest_9cbbdbac49c640b7c486df22b61ef5e1\";i:11930;s:41:\"linkedin_9cbbdbac49c640b7c486df22b61ef5e1\";i:11931;s:35:\"fb_b11dc2b07e4cf2a13487b5cc7ff67521\";i:11932;s:40:\"twitter_b11dc2b07e4cf2a13487b5cc7ff67521\";i:11933;s:42:\"pinterest_b11dc2b07e4cf2a13487b5cc7ff67521\";i:11934;s:41:\"linkedin_b11dc2b07e4cf2a13487b5cc7ff67521\";i:11935;s:35:\"fb_ac64994cbbeb3b76e7450a24e3cd815c\";i:11936;s:40:\"twitter_ac64994cbbeb3b76e7450a24e3cd815c\";i:11937;s:42:\"pinterest_ac64994cbbeb3b76e7450a24e3cd815c\";i:11938;s:41:\"linkedin_ac64994cbbeb3b76e7450a24e3cd815c\";i:11939;s:35:\"fb_7855ebfe7ab0fff4e295365a86e6c4d4\";i:11940;s:40:\"twitter_7855ebfe7ab0fff4e295365a86e6c4d4\";i:11941;s:42:\"pinterest_7855ebfe7ab0fff4e295365a86e6c4d4\";i:11942;s:41:\"linkedin_7855ebfe7ab0fff4e295365a86e6c4d4\";i:11943;s:35:\"fb_41991f3a96dc0767672de0fe43573e70\";i:11944;s:40:\"twitter_41991f3a96dc0767672de0fe43573e70\";i:11945;s:42:\"pinterest_41991f3a96dc0767672de0fe43573e70\";i:11946;s:41:\"linkedin_41991f3a96dc0767672de0fe43573e70\";i:11947;s:35:\"fb_52cb0a6d07c30913f9aae618e9ef6a71\";i:11948;s:40:\"twitter_52cb0a6d07c30913f9aae618e9ef6a71\";i:11949;s:42:\"pinterest_52cb0a6d07c30913f9aae618e9ef6a71\";i:11950;s:41:\"linkedin_52cb0a6d07c30913f9aae618e9ef6a71\";i:11951;s:35:\"fb_4fe9584d619cdcbd5df57c537f678367\";i:11952;s:40:\"twitter_4fe9584d619cdcbd5df57c537f678367\";i:11953;s:42:\"pinterest_4fe9584d619cdcbd5df57c537f678367\";i:11954;s:41:\"linkedin_4fe9584d619cdcbd5df57c537f678367\";i:11955;s:35:\"fb_5c434b38bec5394d3774f89cec1824ec\";i:11956;s:40:\"twitter_5c434b38bec5394d3774f89cec1824ec\";i:11957;s:42:\"pinterest_5c434b38bec5394d3774f89cec1824ec\";i:11958;s:41:\"linkedin_5c434b38bec5394d3774f89cec1824ec\";i:11959;s:35:\"fb_7210d9115236aa4a763f19ff7cacba24\";i:11960;s:40:\"twitter_7210d9115236aa4a763f19ff7cacba24\";i:11961;s:42:\"pinterest_7210d9115236aa4a763f19ff7cacba24\";i:11962;s:41:\"linkedin_7210d9115236aa4a763f19ff7cacba24\";i:11963;s:35:\"fb_359e1269e747251bf4d487fb9127e562\";i:11964;s:40:\"twitter_359e1269e747251bf4d487fb9127e562\";i:11965;s:42:\"pinterest_359e1269e747251bf4d487fb9127e562\";i:11966;s:41:\"linkedin_359e1269e747251bf4d487fb9127e562\";i:11967;s:35:\"fb_17103b9c87b2a5a4ae709771fc9ff1d4\";i:11968;s:40:\"twitter_17103b9c87b2a5a4ae709771fc9ff1d4\";i:11969;s:42:\"pinterest_17103b9c87b2a5a4ae709771fc9ff1d4\";i:11970;s:41:\"linkedin_17103b9c87b2a5a4ae709771fc9ff1d4\";i:11971;s:35:\"fb_9c576942cf6368e4deb2e35e65f4f938\";i:11972;s:40:\"twitter_9c576942cf6368e4deb2e35e65f4f938\";i:11973;s:42:\"pinterest_9c576942cf6368e4deb2e35e65f4f938\";i:11974;s:41:\"linkedin_9c576942cf6368e4deb2e35e65f4f938\";i:11975;s:35:\"fb_fb09558dcfe5e3b166184a4d0c4f9448\";i:11976;s:40:\"twitter_fb09558dcfe5e3b166184a4d0c4f9448\";i:11977;s:42:\"pinterest_fb09558dcfe5e3b166184a4d0c4f9448\";i:11978;s:41:\"linkedin_fb09558dcfe5e3b166184a4d0c4f9448\";i:11979;s:35:\"fb_0ad31ce5ad218b4e6d24d75d8110afc4\";i:11980;s:40:\"twitter_0ad31ce5ad218b4e6d24d75d8110afc4\";i:11981;s:42:\"pinterest_0ad31ce5ad218b4e6d24d75d8110afc4\";i:11982;s:41:\"linkedin_0ad31ce5ad218b4e6d24d75d8110afc4\";i:11983;s:35:\"fb_736ec96b1d9742f347277b9742f45dca\";i:11984;s:40:\"twitter_736ec96b1d9742f347277b9742f45dca\";i:11985;s:35:\"fb_8ca34a94be818542f4913d6e7e4f1819\";i:11986;s:40:\"twitter_8ca34a94be818542f4913d6e7e4f1819\";i:11987;s:42:\"pinterest_8ca34a94be818542f4913d6e7e4f1819\";i:11988;s:41:\"linkedin_8ca34a94be818542f4913d6e7e4f1819\";i:11989;s:35:\"fb_60d4cbb1437e3b277f709887ecd02608\";i:11990;s:40:\"twitter_60d4cbb1437e3b277f709887ecd02608\";i:11991;s:42:\"pinterest_60d4cbb1437e3b277f709887ecd02608\";i:11992;s:41:\"linkedin_60d4cbb1437e3b277f709887ecd02608\";i:11993;s:35:\"fb_d7ac48a65cf7da6ad9685ed9dc3eac3f\";i:11994;s:40:\"twitter_d7ac48a65cf7da6ad9685ed9dc3eac3f\";i:11995;s:35:\"fb_a9491d839ff7f2a44353e41778170fc4\";i:11996;s:40:\"twitter_a9491d839ff7f2a44353e41778170fc4\";i:11997;s:42:\"pinterest_a9491d839ff7f2a44353e41778170fc4\";i:11998;s:41:\"linkedin_a9491d839ff7f2a44353e41778170fc4\";i:11999;s:35:\"fb_e62955eb2a4a21a0baf47f41a024f9fd\";i:12000;s:40:\"twitter_e62955eb2a4a21a0baf47f41a024f9fd\";i:12001;s:42:\"pinterest_e62955eb2a4a21a0baf47f41a024f9fd\";i:12002;s:41:\"linkedin_e62955eb2a4a21a0baf47f41a024f9fd\";i:12003;s:35:\"fb_9c8e562b52b0b16496a4acb8d8ea6300\";i:12004;s:40:\"twitter_9c8e562b52b0b16496a4acb8d8ea6300\";i:12005;s:42:\"pinterest_9c8e562b52b0b16496a4acb8d8ea6300\";i:12006;s:41:\"linkedin_9c8e562b52b0b16496a4acb8d8ea6300\";i:12007;s:35:\"fb_d24af2b4e707fb829562a1d10fc3692c\";i:12008;s:40:\"twitter_d24af2b4e707fb829562a1d10fc3692c\";i:12009;s:42:\"pinterest_d24af2b4e707fb829562a1d10fc3692c\";i:12010;s:41:\"linkedin_d24af2b4e707fb829562a1d10fc3692c\";i:12011;s:35:\"fb_ea7c4701a4ff9967a93d4b621233f0c0\";i:12012;s:40:\"twitter_ea7c4701a4ff9967a93d4b621233f0c0\";i:12013;s:42:\"pinterest_ea7c4701a4ff9967a93d4b621233f0c0\";i:12014;s:41:\"linkedin_ea7c4701a4ff9967a93d4b621233f0c0\";i:12015;s:35:\"fb_b5d20a5904cef0d1a0e5c57fff63a108\";i:12016;s:40:\"twitter_b5d20a5904cef0d1a0e5c57fff63a108\";i:12017;s:42:\"pinterest_b5d20a5904cef0d1a0e5c57fff63a108\";i:12018;s:41:\"linkedin_b5d20a5904cef0d1a0e5c57fff63a108\";i:12019;s:35:\"fb_a3b779afc80538f6736b22a3aed9f480\";i:12020;s:40:\"twitter_a3b779afc80538f6736b22a3aed9f480\";i:12021;s:42:\"pinterest_a3b779afc80538f6736b22a3aed9f480\";i:12022;s:41:\"linkedin_a3b779afc80538f6736b22a3aed9f480\";i:12023;s:35:\"fb_e4d426c1d6f20305553b442b0508faed\";i:12024;s:40:\"twitter_e4d426c1d6f20305553b442b0508faed\";i:12025;s:42:\"pinterest_e4d426c1d6f20305553b442b0508faed\";i:12026;s:41:\"linkedin_e4d426c1d6f20305553b442b0508faed\";i:12027;s:35:\"fb_4f075887ab9aa345693ac2f214013c88\";i:12028;s:40:\"twitter_4f075887ab9aa345693ac2f214013c88\";i:12029;s:42:\"pinterest_4f075887ab9aa345693ac2f214013c88\";i:12030;s:41:\"linkedin_4f075887ab9aa345693ac2f214013c88\";i:12031;s:35:\"fb_dbfafae367dbb488736b859e284a67aa\";i:12032;s:40:\"twitter_dbfafae367dbb488736b859e284a67aa\";i:12033;s:42:\"pinterest_dbfafae367dbb488736b859e284a67aa\";i:12034;s:41:\"linkedin_dbfafae367dbb488736b859e284a67aa\";i:12035;s:35:\"fb_5a80268f1c6cdc2c71041b871cb26cd4\";i:12036;s:40:\"twitter_5a80268f1c6cdc2c71041b871cb26cd4\";i:12037;s:42:\"pinterest_5a80268f1c6cdc2c71041b871cb26cd4\";i:12038;s:41:\"linkedin_5a80268f1c6cdc2c71041b871cb26cd4\";i:12039;s:35:\"fb_8ea86b374128e1088591771e04868bcd\";i:12040;s:40:\"twitter_8ea86b374128e1088591771e04868bcd\";i:12041;s:42:\"pinterest_8ea86b374128e1088591771e04868bcd\";i:12042;s:41:\"linkedin_8ea86b374128e1088591771e04868bcd\";i:12043;s:35:\"fb_6917ad813c586f4400ffb63a3dd9e720\";i:12044;s:40:\"twitter_6917ad813c586f4400ffb63a3dd9e720\";i:12045;s:42:\"pinterest_6917ad813c586f4400ffb63a3dd9e720\";i:12046;s:41:\"linkedin_6917ad813c586f4400ffb63a3dd9e720\";i:12047;s:35:\"fb_866e2953de40ce68afe3bff1889a3279\";i:12048;s:40:\"twitter_866e2953de40ce68afe3bff1889a3279\";i:12049;s:42:\"pinterest_866e2953de40ce68afe3bff1889a3279\";i:12050;s:41:\"linkedin_866e2953de40ce68afe3bff1889a3279\";i:12051;s:35:\"fb_703f4b167497c3861ca124627805be41\";i:12052;s:40:\"twitter_703f4b167497c3861ca124627805be41\";i:12053;s:42:\"pinterest_703f4b167497c3861ca124627805be41\";i:12054;s:41:\"linkedin_703f4b167497c3861ca124627805be41\";i:12055;s:35:\"fb_f5b0fc8ee4ab01834c1ef56a3661dcb2\";i:12056;s:40:\"twitter_f5b0fc8ee4ab01834c1ef56a3661dcb2\";i:12057;s:35:\"fb_a10fd74d745f425b7d6026e8980a425c\";i:12058;s:40:\"twitter_a10fd74d745f425b7d6026e8980a425c\";i:12059;s:35:\"fb_a2b2332f5ed1de3af1ce6e8f18fefd64\";i:12060;s:40:\"twitter_a2b2332f5ed1de3af1ce6e8f18fefd64\";i:12061;s:42:\"pinterest_a2b2332f5ed1de3af1ce6e8f18fefd64\";i:12062;s:41:\"linkedin_a2b2332f5ed1de3af1ce6e8f18fefd64\";i:12063;s:35:\"fb_c2ad65274649444f1436b63368b934bd\";i:12064;s:40:\"twitter_c2ad65274649444f1436b63368b934bd\";i:12065;s:42:\"pinterest_c2ad65274649444f1436b63368b934bd\";i:12066;s:41:\"linkedin_c2ad65274649444f1436b63368b934bd\";i:12067;s:35:\"fb_2631f86d72a38bc49b6b44238724b36d\";i:12068;s:40:\"twitter_2631f86d72a38bc49b6b44238724b36d\";i:12069;s:42:\"pinterest_2631f86d72a38bc49b6b44238724b36d\";i:12070;s:41:\"linkedin_2631f86d72a38bc49b6b44238724b36d\";i:12071;s:35:\"fb_3271f51d017501b64c9283b99dcc7b4c\";i:12072;s:40:\"twitter_3271f51d017501b64c9283b99dcc7b4c\";i:12073;s:42:\"pinterest_3271f51d017501b64c9283b99dcc7b4c\";i:12074;s:41:\"linkedin_3271f51d017501b64c9283b99dcc7b4c\";i:12075;s:35:\"fb_8e27f0df091c0906afc8c95c1e4dd3ed\";i:12076;s:40:\"twitter_8e27f0df091c0906afc8c95c1e4dd3ed\";i:12077;s:42:\"pinterest_8e27f0df091c0906afc8c95c1e4dd3ed\";i:12078;s:41:\"linkedin_8e27f0df091c0906afc8c95c1e4dd3ed\";i:12079;s:35:\"fb_c587ae763751fceeed41b221cb313be2\";i:12080;s:40:\"twitter_c587ae763751fceeed41b221cb313be2\";i:12081;s:42:\"pinterest_c587ae763751fceeed41b221cb313be2\";i:12082;s:41:\"linkedin_c587ae763751fceeed41b221cb313be2\";i:12083;s:35:\"fb_5715da76e288acdd0bb293b9a5aa155f\";i:12084;s:40:\"twitter_5715da76e288acdd0bb293b9a5aa155f\";i:12085;s:42:\"pinterest_5715da76e288acdd0bb293b9a5aa155f\";i:12086;s:41:\"linkedin_5715da76e288acdd0bb293b9a5aa155f\";i:12087;s:35:\"fb_0af8220c368a1bc1cded1cb4905a91da\";i:12088;s:40:\"twitter_0af8220c368a1bc1cded1cb4905a91da\";i:12089;s:42:\"pinterest_0af8220c368a1bc1cded1cb4905a91da\";i:12090;s:41:\"linkedin_0af8220c368a1bc1cded1cb4905a91da\";i:12091;s:35:\"fb_b1d75af7e00402641831619a19113524\";i:12092;s:40:\"twitter_b1d75af7e00402641831619a19113524\";i:12093;s:42:\"pinterest_b1d75af7e00402641831619a19113524\";i:12094;s:41:\"linkedin_b1d75af7e00402641831619a19113524\";i:12095;s:35:\"fb_2b2fcbd32b52b0f7172d422e30f52df1\";i:12096;s:40:\"twitter_2b2fcbd32b52b0f7172d422e30f52df1\";i:12097;s:42:\"pinterest_2b2fcbd32b52b0f7172d422e30f52df1\";i:12098;s:41:\"linkedin_2b2fcbd32b52b0f7172d422e30f52df1\";i:12099;s:35:\"fb_7c140a7299b801cf98bf3e920e451a67\";i:12100;s:40:\"twitter_7c140a7299b801cf98bf3e920e451a67\";i:12101;s:42:\"pinterest_7c140a7299b801cf98bf3e920e451a67\";i:12102;s:41:\"linkedin_7c140a7299b801cf98bf3e920e451a67\";i:12103;s:35:\"fb_6dd99de6d0874183f6a040f1a9659352\";i:12104;s:40:\"twitter_6dd99de6d0874183f6a040f1a9659352\";i:12105;s:42:\"pinterest_6dd99de6d0874183f6a040f1a9659352\";i:12106;s:41:\"linkedin_6dd99de6d0874183f6a040f1a9659352\";i:12107;s:35:\"fb_4853744a135de1c0f6fee9fc7e81a078\";i:12108;s:40:\"twitter_4853744a135de1c0f6fee9fc7e81a078\";i:12109;s:42:\"pinterest_4853744a135de1c0f6fee9fc7e81a078\";i:12110;s:41:\"linkedin_4853744a135de1c0f6fee9fc7e81a078\";i:12111;s:35:\"fb_5e546d29ed984ff980e46cad8418bd8c\";i:12112;s:40:\"twitter_5e546d29ed984ff980e46cad8418bd8c\";i:12113;s:42:\"pinterest_5e546d29ed984ff980e46cad8418bd8c\";i:12114;s:41:\"linkedin_5e546d29ed984ff980e46cad8418bd8c\";i:12115;s:35:\"fb_6018160dba526514ed1b3edf3361af6c\";i:12116;s:40:\"twitter_6018160dba526514ed1b3edf3361af6c\";i:12117;s:42:\"pinterest_6018160dba526514ed1b3edf3361af6c\";i:12118;s:41:\"linkedin_6018160dba526514ed1b3edf3361af6c\";i:12119;s:35:\"fb_838ffc8db4586e72cecd234774b7b39a\";i:12120;s:40:\"twitter_838ffc8db4586e72cecd234774b7b39a\";i:12121;s:42:\"pinterest_838ffc8db4586e72cecd234774b7b39a\";i:12122;s:35:\"fb_2d230f0470b2c078565259ef1623e222\";i:12123;s:40:\"twitter_2d230f0470b2c078565259ef1623e222\";i:12124;s:42:\"pinterest_2d230f0470b2c078565259ef1623e222\";i:12125;s:35:\"fb_d1160b318fa33865ae739f1c62a2cde6\";i:12126;s:40:\"twitter_d1160b318fa33865ae739f1c62a2cde6\";i:12127;s:42:\"pinterest_d1160b318fa33865ae739f1c62a2cde6\";i:12128;s:41:\"linkedin_d1160b318fa33865ae739f1c62a2cde6\";i:12129;s:35:\"fb_fd8a269d9bdfd003c8e11ff78ad27ca7\";i:12130;s:40:\"twitter_fd8a269d9bdfd003c8e11ff78ad27ca7\";i:12131;s:42:\"pinterest_fd8a269d9bdfd003c8e11ff78ad27ca7\";i:12132;s:41:\"linkedin_fd8a269d9bdfd003c8e11ff78ad27ca7\";i:12133;s:35:\"fb_900a4b929365ba925bced2948f57d529\";i:12134;s:40:\"twitter_900a4b929365ba925bced2948f57d529\";i:12135;s:42:\"pinterest_900a4b929365ba925bced2948f57d529\";i:12136;s:41:\"linkedin_900a4b929365ba925bced2948f57d529\";i:12137;s:35:\"fb_8559aebbcc4a5188bdfe16613cc5250a\";i:12138;s:40:\"twitter_8559aebbcc4a5188bdfe16613cc5250a\";i:12139;s:42:\"pinterest_8559aebbcc4a5188bdfe16613cc5250a\";i:12140;s:41:\"linkedin_8559aebbcc4a5188bdfe16613cc5250a\";i:12141;s:35:\"fb_0ac3aa437c25d12c9dfdc9252d525dea\";i:12142;s:40:\"twitter_0ac3aa437c25d12c9dfdc9252d525dea\";i:12143;s:42:\"pinterest_0ac3aa437c25d12c9dfdc9252d525dea\";i:12144;s:41:\"linkedin_0ac3aa437c25d12c9dfdc9252d525dea\";i:12145;s:35:\"fb_bec0b7f1fd620aa618eaf168d92ca73e\";i:12146;s:40:\"twitter_bec0b7f1fd620aa618eaf168d92ca73e\";i:12147;s:42:\"pinterest_bec0b7f1fd620aa618eaf168d92ca73e\";i:12148;s:35:\"fb_046e47d06cb27349f03ef289c0269b93\";i:12149;s:40:\"twitter_046e47d06cb27349f03ef289c0269b93\";i:12150;s:42:\"pinterest_046e47d06cb27349f03ef289c0269b93\";i:12151;s:41:\"linkedin_046e47d06cb27349f03ef289c0269b93\";i:12152;s:35:\"fb_e214a9f215ca4f5561ae40cc08f8a5e2\";i:12153;s:40:\"twitter_e214a9f215ca4f5561ae40cc08f8a5e2\";i:12154;s:42:\"pinterest_e214a9f215ca4f5561ae40cc08f8a5e2\";i:12155;s:41:\"linkedin_e214a9f215ca4f5561ae40cc08f8a5e2\";i:12156;s:35:\"fb_1301405017b6ccc792db74347ca9102a\";i:12157;s:40:\"twitter_1301405017b6ccc792db74347ca9102a\";i:12158;s:42:\"pinterest_1301405017b6ccc792db74347ca9102a\";i:12159;s:41:\"linkedin_1301405017b6ccc792db74347ca9102a\";i:12160;s:35:\"fb_18f2b9af4b5d66a77cf5717a88f4d850\";i:12161;s:40:\"twitter_18f2b9af4b5d66a77cf5717a88f4d850\";i:12162;s:42:\"pinterest_18f2b9af4b5d66a77cf5717a88f4d850\";i:12163;s:41:\"linkedin_18f2b9af4b5d66a77cf5717a88f4d850\";i:12164;s:35:\"fb_50e7572961cef12aefbb0893b4b31981\";i:12165;s:40:\"twitter_50e7572961cef12aefbb0893b4b31981\";i:12166;s:42:\"pinterest_50e7572961cef12aefbb0893b4b31981\";i:12167;s:41:\"linkedin_50e7572961cef12aefbb0893b4b31981\";i:12168;s:35:\"fb_45e23afb0f1cfc9086647f6850169c82\";i:12169;s:40:\"twitter_45e23afb0f1cfc9086647f6850169c82\";i:12170;s:42:\"pinterest_45e23afb0f1cfc9086647f6850169c82\";i:12171;s:41:\"linkedin_45e23afb0f1cfc9086647f6850169c82\";i:12172;s:35:\"fb_1e73c12003abd40f796c5b70ea128ea5\";i:12173;s:40:\"twitter_1e73c12003abd40f796c5b70ea128ea5\";i:12174;s:42:\"pinterest_1e73c12003abd40f796c5b70ea128ea5\";i:12175;s:41:\"linkedin_1e73c12003abd40f796c5b70ea128ea5\";i:12176;s:35:\"fb_266ebd1074967ff55b8e9634a738c2f2\";i:12177;s:40:\"twitter_266ebd1074967ff55b8e9634a738c2f2\";i:12178;s:42:\"pinterest_266ebd1074967ff55b8e9634a738c2f2\";i:12179;s:41:\"linkedin_266ebd1074967ff55b8e9634a738c2f2\";i:12180;s:35:\"fb_06d5bc2e2ebb1065761cccb9d5421680\";i:12181;s:40:\"twitter_06d5bc2e2ebb1065761cccb9d5421680\";i:12182;s:42:\"pinterest_06d5bc2e2ebb1065761cccb9d5421680\";i:12183;s:41:\"linkedin_06d5bc2e2ebb1065761cccb9d5421680\";i:12184;s:35:\"fb_11619fe892f7208fade3c19b5da03eac\";i:12185;s:40:\"twitter_11619fe892f7208fade3c19b5da03eac\";i:12186;s:42:\"pinterest_11619fe892f7208fade3c19b5da03eac\";i:12187;s:41:\"linkedin_11619fe892f7208fade3c19b5da03eac\";i:12188;s:35:\"fb_dd756b5ab73f8d5e9cfa37c35da8d673\";i:12189;s:40:\"twitter_dd756b5ab73f8d5e9cfa37c35da8d673\";i:12190;s:42:\"pinterest_dd756b5ab73f8d5e9cfa37c35da8d673\";i:12191;s:41:\"linkedin_dd756b5ab73f8d5e9cfa37c35da8d673\";i:12192;s:35:\"fb_f0af037279d0d36e46c89ac4b27a9065\";i:12193;s:40:\"twitter_f0af037279d0d36e46c89ac4b27a9065\";i:12194;s:35:\"fb_4c759e58949115426d504ec3e16f6c5c\";i:12195;s:40:\"twitter_4c759e58949115426d504ec3e16f6c5c\";i:12196;s:42:\"pinterest_4c759e58949115426d504ec3e16f6c5c\";i:12197;s:41:\"linkedin_4c759e58949115426d504ec3e16f6c5c\";i:12198;s:35:\"fb_448435abfcfda46788548aecadb7dbff\";i:12199;s:35:\"fb_c424faf0eb1b6f06a4bde634eeaa8de9\";i:12200;s:40:\"twitter_c424faf0eb1b6f06a4bde634eeaa8de9\";i:12201;s:42:\"pinterest_c424faf0eb1b6f06a4bde634eeaa8de9\";i:12202;s:41:\"linkedin_c424faf0eb1b6f06a4bde634eeaa8de9\";i:12203;s:35:\"fb_52b2b722066c32039a2870eea80d67e4\";i:12204;s:40:\"twitter_52b2b722066c32039a2870eea80d67e4\";i:12205;s:42:\"pinterest_52b2b722066c32039a2870eea80d67e4\";i:12206;s:41:\"linkedin_52b2b722066c32039a2870eea80d67e4\";i:12207;s:35:\"fb_52619202c13ba6b9e4b89303bf24a0f1\";i:12208;s:40:\"twitter_52619202c13ba6b9e4b89303bf24a0f1\";i:12209;s:42:\"pinterest_52619202c13ba6b9e4b89303bf24a0f1\";i:12210;s:41:\"linkedin_52619202c13ba6b9e4b89303bf24a0f1\";i:12211;s:35:\"fb_d332a213c3e9ee6a0213cfaf1792d17c\";i:12212;s:40:\"twitter_d332a213c3e9ee6a0213cfaf1792d17c\";i:12213;s:42:\"pinterest_d332a213c3e9ee6a0213cfaf1792d17c\";i:12214;s:41:\"linkedin_d332a213c3e9ee6a0213cfaf1792d17c\";i:12215;s:35:\"fb_981b91f1ef062f97240acd1293cf1601\";i:12216;s:40:\"twitter_981b91f1ef062f97240acd1293cf1601\";i:12217;s:42:\"pinterest_981b91f1ef062f97240acd1293cf1601\";i:12218;s:41:\"linkedin_981b91f1ef062f97240acd1293cf1601\";i:12219;s:35:\"fb_d93ee6212ed376a073047916bbda5e1c\";i:12220;s:40:\"twitter_d93ee6212ed376a073047916bbda5e1c\";i:12221;s:42:\"pinterest_d93ee6212ed376a073047916bbda5e1c\";i:12222;s:41:\"linkedin_d93ee6212ed376a073047916bbda5e1c\";i:12223;s:35:\"fb_f10c63446f532330965e985d37aa97af\";i:12224;s:40:\"twitter_f10c63446f532330965e985d37aa97af\";i:12225;s:42:\"pinterest_f10c63446f532330965e985d37aa97af\";i:12226;s:41:\"linkedin_f10c63446f532330965e985d37aa97af\";i:12227;s:35:\"fb_50ce32b4fe1068183a122651802846b9\";i:12228;s:40:\"twitter_50ce32b4fe1068183a122651802846b9\";i:12229;s:42:\"pinterest_50ce32b4fe1068183a122651802846b9\";i:12230;s:35:\"fb_eaf7dbba96f5386192729d8c4d069923\";i:12231;s:35:\"fb_7f3f77cd848c7832246f46440c9c6406\";i:12232;s:40:\"twitter_7f3f77cd848c7832246f46440c9c6406\";i:12233;s:42:\"pinterest_7f3f77cd848c7832246f46440c9c6406\";i:12234;s:41:\"linkedin_7f3f77cd848c7832246f46440c9c6406\";i:12235;s:35:\"fb_dbb7f5c73b0938c63fae46dceb6a888d\";i:12236;s:40:\"twitter_dbb7f5c73b0938c63fae46dceb6a888d\";i:12237;s:42:\"pinterest_dbb7f5c73b0938c63fae46dceb6a888d\";i:12238;s:41:\"linkedin_dbb7f5c73b0938c63fae46dceb6a888d\";i:12239;s:35:\"fb_3d5f8cb6483d3d6985e8ce4113ecc05b\";i:12240;s:40:\"twitter_3d5f8cb6483d3d6985e8ce4113ecc05b\";i:12241;s:42:\"pinterest_3d5f8cb6483d3d6985e8ce4113ecc05b\";i:12242;s:41:\"linkedin_3d5f8cb6483d3d6985e8ce4113ecc05b\";i:12243;s:35:\"fb_1cdb69719efd4d0c8bc01d7ff76ac96d\";i:12244;s:40:\"twitter_1cdb69719efd4d0c8bc01d7ff76ac96d\";i:12245;s:42:\"pinterest_1cdb69719efd4d0c8bc01d7ff76ac96d\";i:12246;s:41:\"linkedin_1cdb69719efd4d0c8bc01d7ff76ac96d\";i:12247;s:35:\"fb_5f737423ec4a40074a098f5be59c5d15\";i:12248;s:40:\"twitter_5f737423ec4a40074a098f5be59c5d15\";i:12249;s:42:\"pinterest_5f737423ec4a40074a098f5be59c5d15\";i:12250;s:41:\"linkedin_5f737423ec4a40074a098f5be59c5d15\";i:12251;s:35:\"fb_f5aad46bf4983bd8d6819b2b4b12a6ef\";i:12252;s:40:\"twitter_f5aad46bf4983bd8d6819b2b4b12a6ef\";i:12253;s:42:\"pinterest_f5aad46bf4983bd8d6819b2b4b12a6ef\";i:12254;s:41:\"linkedin_f5aad46bf4983bd8d6819b2b4b12a6ef\";i:12255;s:35:\"fb_fbd2c91f89ff16f11a2e128dce7c3c23\";i:12256;s:40:\"twitter_fbd2c91f89ff16f11a2e128dce7c3c23\";i:12257;s:42:\"pinterest_fbd2c91f89ff16f11a2e128dce7c3c23\";i:12258;s:41:\"linkedin_fbd2c91f89ff16f11a2e128dce7c3c23\";i:12259;s:35:\"fb_d53f66b66e643360b3565127649d391c\";i:12260;s:40:\"twitter_d53f66b66e643360b3565127649d391c\";i:12261;s:42:\"pinterest_d53f66b66e643360b3565127649d391c\";i:12262;s:41:\"linkedin_d53f66b66e643360b3565127649d391c\";i:12263;s:35:\"fb_a1ae3ca97a6469ab5046150237deed09\";i:12264;s:40:\"twitter_a1ae3ca97a6469ab5046150237deed09\";i:12265;s:42:\"pinterest_a1ae3ca97a6469ab5046150237deed09\";i:12266;s:41:\"linkedin_a1ae3ca97a6469ab5046150237deed09\";i:12267;s:35:\"fb_e54574a57c0f4c5d410dc10aeb5c9696\";i:12268;s:40:\"twitter_e54574a57c0f4c5d410dc10aeb5c9696\";i:12269;s:42:\"pinterest_e54574a57c0f4c5d410dc10aeb5c9696\";i:12270;s:41:\"linkedin_e54574a57c0f4c5d410dc10aeb5c9696\";i:12271;s:35:\"fb_11bb8d031d9cb764e83b46e9b37a2a82\";i:12272;s:40:\"twitter_11bb8d031d9cb764e83b46e9b37a2a82\";i:12273;s:42:\"pinterest_11bb8d031d9cb764e83b46e9b37a2a82\";i:12274;s:41:\"linkedin_11bb8d031d9cb764e83b46e9b37a2a82\";i:12275;s:35:\"fb_af4719cdcc15964e1e6ec776054026c3\";i:12276;s:40:\"twitter_af4719cdcc15964e1e6ec776054026c3\";i:12277;s:42:\"pinterest_af4719cdcc15964e1e6ec776054026c3\";i:12278;s:41:\"linkedin_af4719cdcc15964e1e6ec776054026c3\";i:12279;s:35:\"fb_e8125846271f2de580595746051d148c\";i:12280;s:40:\"twitter_e8125846271f2de580595746051d148c\";i:12281;s:42:\"pinterest_e8125846271f2de580595746051d148c\";i:12282;s:41:\"linkedin_e8125846271f2de580595746051d148c\";i:12283;s:35:\"fb_50342a0cad026b17469cefa8d5b65f28\";i:12284;s:40:\"twitter_50342a0cad026b17469cefa8d5b65f28\";i:12285;s:42:\"pinterest_50342a0cad026b17469cefa8d5b65f28\";i:12286;s:41:\"linkedin_50342a0cad026b17469cefa8d5b65f28\";i:12287;s:35:\"fb_57dcacad4d5fa8b38ab5fbac2663324c\";i:12288;s:40:\"twitter_57dcacad4d5fa8b38ab5fbac2663324c\";i:12289;s:42:\"pinterest_57dcacad4d5fa8b38ab5fbac2663324c\";i:12290;s:41:\"linkedin_57dcacad4d5fa8b38ab5fbac2663324c\";i:12291;s:35:\"fb_93521383118316d5970397c4b3e89151\";i:12292;s:40:\"twitter_93521383118316d5970397c4b3e89151\";i:12293;s:42:\"pinterest_93521383118316d5970397c4b3e89151\";i:12294;s:41:\"linkedin_93521383118316d5970397c4b3e89151\";i:12295;s:35:\"fb_fb51cf7b33a8d6b8b85461effba4fc1c\";i:12296;s:40:\"twitter_fb51cf7b33a8d6b8b85461effba4fc1c\";i:12297;s:42:\"pinterest_fb51cf7b33a8d6b8b85461effba4fc1c\";i:12298;s:41:\"linkedin_fb51cf7b33a8d6b8b85461effba4fc1c\";i:12299;s:35:\"fb_62de3b44810cdfce72fceac96ba9dada\";i:12300;s:40:\"twitter_62de3b44810cdfce72fceac96ba9dada\";i:12301;s:42:\"pinterest_62de3b44810cdfce72fceac96ba9dada\";i:12302;s:41:\"linkedin_62de3b44810cdfce72fceac96ba9dada\";i:12303;s:35:\"fb_172e06cfe38e8494bf602a465ff77a95\";i:12304;s:40:\"twitter_172e06cfe38e8494bf602a465ff77a95\";i:12305;s:42:\"pinterest_172e06cfe38e8494bf602a465ff77a95\";i:12306;s:41:\"linkedin_172e06cfe38e8494bf602a465ff77a95\";i:12307;s:35:\"fb_630ce671a941ab1892523927fceacfda\";i:12308;s:40:\"twitter_630ce671a941ab1892523927fceacfda\";i:12309;s:42:\"pinterest_630ce671a941ab1892523927fceacfda\";i:12310;s:41:\"linkedin_630ce671a941ab1892523927fceacfda\";i:12311;s:35:\"fb_fae8ec64b71755c11cd2f1b52897f5bd\";i:12312;s:40:\"twitter_fae8ec64b71755c11cd2f1b52897f5bd\";i:12313;s:42:\"pinterest_fae8ec64b71755c11cd2f1b52897f5bd\";i:12314;s:41:\"linkedin_fae8ec64b71755c11cd2f1b52897f5bd\";i:12315;s:35:\"fb_d4ed13ab5a00fc2520d5873890344bb5\";i:12316;s:40:\"twitter_d4ed13ab5a00fc2520d5873890344bb5\";i:12317;s:42:\"pinterest_d4ed13ab5a00fc2520d5873890344bb5\";i:12318;s:41:\"linkedin_d4ed13ab5a00fc2520d5873890344bb5\";i:12319;s:35:\"fb_dd6589ea7c0dbaf62d648f177dae5967\";i:12320;s:40:\"twitter_dd6589ea7c0dbaf62d648f177dae5967\";i:12321;s:42:\"pinterest_dd6589ea7c0dbaf62d648f177dae5967\";i:12322;s:41:\"linkedin_dd6589ea7c0dbaf62d648f177dae5967\";i:12323;s:35:\"fb_2cd53d19623ec4029734715c15e4263c\";i:12324;s:40:\"twitter_2cd53d19623ec4029734715c15e4263c\";i:12325;s:42:\"pinterest_2cd53d19623ec4029734715c15e4263c\";i:12326;s:41:\"linkedin_2cd53d19623ec4029734715c15e4263c\";i:12327;s:35:\"fb_2c1efe8b8742b47c4e6aa900db0129f8\";i:12328;s:40:\"twitter_2c1efe8b8742b47c4e6aa900db0129f8\";i:12329;s:42:\"pinterest_2c1efe8b8742b47c4e6aa900db0129f8\";i:12330;s:41:\"linkedin_2c1efe8b8742b47c4e6aa900db0129f8\";i:12331;s:35:\"fb_38250715965ee3d26382e6e165fbd693\";i:12332;s:40:\"twitter_38250715965ee3d26382e6e165fbd693\";i:12333;s:42:\"pinterest_38250715965ee3d26382e6e165fbd693\";i:12334;s:41:\"linkedin_38250715965ee3d26382e6e165fbd693\";i:12335;s:35:\"fb_502840ec401ca431c7ad3ecee07478fc\";i:12336;s:40:\"twitter_502840ec401ca431c7ad3ecee07478fc\";i:12337;s:42:\"pinterest_502840ec401ca431c7ad3ecee07478fc\";i:12338;s:41:\"linkedin_502840ec401ca431c7ad3ecee07478fc\";i:12339;s:35:\"fb_82f57eb38874af7f756c05f26746189b\";i:12340;s:40:\"twitter_82f57eb38874af7f756c05f26746189b\";i:12341;s:42:\"pinterest_82f57eb38874af7f756c05f26746189b\";i:12342;s:41:\"linkedin_82f57eb38874af7f756c05f26746189b\";i:12343;s:35:\"fb_d7ae411fef570879f7a38b7513f201fe\";i:12344;s:40:\"twitter_d7ae411fef570879f7a38b7513f201fe\";i:12345;s:42:\"pinterest_d7ae411fef570879f7a38b7513f201fe\";i:12346;s:41:\"linkedin_d7ae411fef570879f7a38b7513f201fe\";i:12347;s:35:\"fb_fbf17b0f3fd6cfc370d3cd570450d27c\";i:12348;s:40:\"twitter_fbf17b0f3fd6cfc370d3cd570450d27c\";i:12349;s:42:\"pinterest_fbf17b0f3fd6cfc370d3cd570450d27c\";i:12350;s:41:\"linkedin_fbf17b0f3fd6cfc370d3cd570450d27c\";i:12351;s:35:\"fb_0334727b4f069c697f72d023d8a6d2c0\";i:12352;s:40:\"twitter_0334727b4f069c697f72d023d8a6d2c0\";i:12353;s:42:\"pinterest_0334727b4f069c697f72d023d8a6d2c0\";i:12354;s:41:\"linkedin_0334727b4f069c697f72d023d8a6d2c0\";i:12355;s:35:\"fb_4542f8f78b0fdd570209fe6dea6cd803\";i:12356;s:40:\"twitter_4542f8f78b0fdd570209fe6dea6cd803\";i:12357;s:42:\"pinterest_4542f8f78b0fdd570209fe6dea6cd803\";i:12358;s:41:\"linkedin_4542f8f78b0fdd570209fe6dea6cd803\";i:12359;s:35:\"fb_db20d5424afbb74350665549fd0c9c54\";i:12360;s:40:\"twitter_db20d5424afbb74350665549fd0c9c54\";i:12361;s:42:\"pinterest_db20d5424afbb74350665549fd0c9c54\";i:12362;s:41:\"linkedin_db20d5424afbb74350665549fd0c9c54\";i:12363;s:35:\"fb_20350bb535f9a5bef17c0922981590b5\";i:12364;s:40:\"twitter_20350bb535f9a5bef17c0922981590b5\";i:12365;s:42:\"pinterest_20350bb535f9a5bef17c0922981590b5\";i:12366;s:41:\"linkedin_20350bb535f9a5bef17c0922981590b5\";i:12367;s:35:\"fb_a23fa6ad9f3972d4eb9ce584c2470a1e\";i:12368;s:40:\"twitter_a23fa6ad9f3972d4eb9ce584c2470a1e\";i:12369;s:42:\"pinterest_a23fa6ad9f3972d4eb9ce584c2470a1e\";i:12370;s:41:\"linkedin_a23fa6ad9f3972d4eb9ce584c2470a1e\";i:12371;s:35:\"fb_d6190431e176dc313a881e812f659ca8\";i:12372;s:40:\"twitter_d6190431e176dc313a881e812f659ca8\";i:12373;s:42:\"pinterest_d6190431e176dc313a881e812f659ca8\";i:12374;s:41:\"linkedin_d6190431e176dc313a881e812f659ca8\";i:12375;s:35:\"fb_1f35be1359b0f675d54bdcad395bf5d9\";i:12376;s:41:\"linkedin_1f35be1359b0f675d54bdcad395bf5d9\";i:12377;s:35:\"fb_a012c922adde59841e89bdbc2710c6a2\";i:12378;s:40:\"twitter_a012c922adde59841e89bdbc2710c6a2\";i:12379;s:42:\"pinterest_a012c922adde59841e89bdbc2710c6a2\";i:12380;s:41:\"linkedin_a012c922adde59841e89bdbc2710c6a2\";i:12381;s:35:\"fb_ea36516e373a14d827df2c03d0c6504b\";i:12382;s:40:\"twitter_ea36516e373a14d827df2c03d0c6504b\";i:12383;s:42:\"pinterest_ea36516e373a14d827df2c03d0c6504b\";i:12384;s:41:\"linkedin_ea36516e373a14d827df2c03d0c6504b\";i:12385;s:35:\"fb_23245b49e04e8473b68c1f35f133c772\";i:12386;s:40:\"twitter_23245b49e04e8473b68c1f35f133c772\";i:12387;s:42:\"pinterest_23245b49e04e8473b68c1f35f133c772\";i:12388;s:41:\"linkedin_23245b49e04e8473b68c1f35f133c772\";i:12389;s:35:\"fb_797f69ddecf16dc37ac8d03503cb8052\";i:12390;s:40:\"twitter_797f69ddecf16dc37ac8d03503cb8052\";i:12391;s:42:\"pinterest_797f69ddecf16dc37ac8d03503cb8052\";i:12392;s:41:\"linkedin_797f69ddecf16dc37ac8d03503cb8052\";i:12393;s:35:\"fb_07a5014c9133a032d6f57c644b05530a\";i:12394;s:40:\"twitter_07a5014c9133a032d6f57c644b05530a\";i:12395;s:42:\"pinterest_07a5014c9133a032d6f57c644b05530a\";i:12396;s:41:\"linkedin_07a5014c9133a032d6f57c644b05530a\";i:12397;s:35:\"fb_8279003a39a2bec929e46379919278b7\";i:12398;s:40:\"twitter_8279003a39a2bec929e46379919278b7\";i:12399;s:42:\"pinterest_8279003a39a2bec929e46379919278b7\";i:12400;s:41:\"linkedin_8279003a39a2bec929e46379919278b7\";i:12401;s:35:\"fb_27fc77b4a081aa8b59a094283f7cb706\";i:12402;s:40:\"twitter_27fc77b4a081aa8b59a094283f7cb706\";i:12403;s:42:\"pinterest_27fc77b4a081aa8b59a094283f7cb706\";i:12404;s:41:\"linkedin_27fc77b4a081aa8b59a094283f7cb706\";i:12405;s:35:\"fb_fc8d1635189dbf4b5c597710d23b0e8e\";i:12406;s:40:\"twitter_fc8d1635189dbf4b5c597710d23b0e8e\";i:12407;s:42:\"pinterest_fc8d1635189dbf4b5c597710d23b0e8e\";i:12408;s:41:\"linkedin_fc8d1635189dbf4b5c597710d23b0e8e\";i:12409;s:35:\"fb_38419a0a975c305c44fd45eef15ef119\";i:12410;s:40:\"twitter_38419a0a975c305c44fd45eef15ef119\";i:12411;s:42:\"pinterest_38419a0a975c305c44fd45eef15ef119\";i:12412;s:41:\"linkedin_38419a0a975c305c44fd45eef15ef119\";i:12413;s:35:\"fb_e93d4cb99684bef87bf1eabb95412c0f\";i:12414;s:40:\"twitter_e93d4cb99684bef87bf1eabb95412c0f\";i:12415;s:42:\"pinterest_e93d4cb99684bef87bf1eabb95412c0f\";i:12416;s:41:\"linkedin_e93d4cb99684bef87bf1eabb95412c0f\";i:12417;s:35:\"fb_52dbf4b3c9c4042e2fb8949d52ec2a6b\";i:12418;s:40:\"twitter_52dbf4b3c9c4042e2fb8949d52ec2a6b\";i:12419;s:42:\"pinterest_52dbf4b3c9c4042e2fb8949d52ec2a6b\";i:12420;s:41:\"linkedin_52dbf4b3c9c4042e2fb8949d52ec2a6b\";i:12421;s:35:\"fb_9a58f71ff119c967586213a74100a038\";i:12422;s:40:\"twitter_9a58f71ff119c967586213a74100a038\";i:12423;s:42:\"pinterest_9a58f71ff119c967586213a74100a038\";i:12424;s:41:\"linkedin_9a58f71ff119c967586213a74100a038\";i:12425;s:35:\"fb_07e2644b9a6470b0347a1e8c11a0ccbc\";i:12426;s:40:\"twitter_07e2644b9a6470b0347a1e8c11a0ccbc\";i:12427;s:42:\"pinterest_07e2644b9a6470b0347a1e8c11a0ccbc\";i:12428;s:41:\"linkedin_07e2644b9a6470b0347a1e8c11a0ccbc\";i:12429;s:35:\"fb_7549575ab31741ab104b30cfca2fd279\";i:12430;s:40:\"twitter_7549575ab31741ab104b30cfca2fd279\";i:12431;s:42:\"pinterest_7549575ab31741ab104b30cfca2fd279\";i:12432;s:41:\"linkedin_7549575ab31741ab104b30cfca2fd279\";i:12433;s:35:\"fb_fb8b361e2caa2859dc4370f9f4a78a6f\";i:12434;s:40:\"twitter_fb8b361e2caa2859dc4370f9f4a78a6f\";i:12435;s:42:\"pinterest_fb8b361e2caa2859dc4370f9f4a78a6f\";i:12436;s:41:\"linkedin_fb8b361e2caa2859dc4370f9f4a78a6f\";i:12437;s:35:\"fb_e459d65ac213d31b5b4c9fdbc90b6a23\";i:12438;s:40:\"twitter_e459d65ac213d31b5b4c9fdbc90b6a23\";i:12439;s:42:\"pinterest_e459d65ac213d31b5b4c9fdbc90b6a23\";i:12440;s:41:\"linkedin_e459d65ac213d31b5b4c9fdbc90b6a23\";i:12441;s:35:\"fb_ac8b58f962518e28e9485326b38f9906\";i:12442;s:40:\"twitter_ac8b58f962518e28e9485326b38f9906\";i:12443;s:42:\"pinterest_ac8b58f962518e28e9485326b38f9906\";i:12444;s:41:\"linkedin_ac8b58f962518e28e9485326b38f9906\";i:12445;s:35:\"fb_7868e02523eaac5d376c24dd5cb4b50e\";i:12446;s:40:\"twitter_7868e02523eaac5d376c24dd5cb4b50e\";i:12447;s:42:\"pinterest_7868e02523eaac5d376c24dd5cb4b50e\";i:12448;s:41:\"linkedin_7868e02523eaac5d376c24dd5cb4b50e\";i:12449;s:35:\"fb_8ab7a86b4a8fb95097c696d30b0424d3\";i:12450;s:40:\"twitter_8ab7a86b4a8fb95097c696d30b0424d3\";i:12451;s:42:\"pinterest_8ab7a86b4a8fb95097c696d30b0424d3\";i:12452;s:41:\"linkedin_8ab7a86b4a8fb95097c696d30b0424d3\";i:12453;s:35:\"fb_755a75a33e9ae4cab0e78daae9477896\";i:12454;s:40:\"twitter_755a75a33e9ae4cab0e78daae9477896\";i:12455;s:42:\"pinterest_755a75a33e9ae4cab0e78daae9477896\";i:12456;s:41:\"linkedin_755a75a33e9ae4cab0e78daae9477896\";i:12457;s:35:\"fb_93f5667e8e677d9e0d7f3ce41da02499\";i:12458;s:40:\"twitter_93f5667e8e677d9e0d7f3ce41da02499\";i:12459;s:42:\"pinterest_93f5667e8e677d9e0d7f3ce41da02499\";i:12460;s:41:\"linkedin_93f5667e8e677d9e0d7f3ce41da02499\";i:12461;s:35:\"fb_7061c6b058667f9fb5fde0ceba633453\";i:12462;s:40:\"twitter_7061c6b058667f9fb5fde0ceba633453\";i:12463;s:42:\"pinterest_7061c6b058667f9fb5fde0ceba633453\";i:12464;s:35:\"fb_57cca9758754e915887b9d77074ab5b8\";i:12465;s:40:\"twitter_57cca9758754e915887b9d77074ab5b8\";i:12466;s:42:\"pinterest_57cca9758754e915887b9d77074ab5b8\";i:12467;s:41:\"linkedin_57cca9758754e915887b9d77074ab5b8\";i:12468;s:35:\"fb_a702ed5959cf62b4068f68ae1e658518\";i:12469;s:40:\"twitter_a702ed5959cf62b4068f68ae1e658518\";i:12470;s:42:\"pinterest_a702ed5959cf62b4068f68ae1e658518\";i:12471;s:41:\"linkedin_a702ed5959cf62b4068f68ae1e658518\";i:12472;s:35:\"fb_23885fd32fa2ce2542a2f7d08e002d83\";i:12473;s:40:\"twitter_23885fd32fa2ce2542a2f7d08e002d83\";i:12474;s:42:\"pinterest_23885fd32fa2ce2542a2f7d08e002d83\";i:12475;s:41:\"linkedin_23885fd32fa2ce2542a2f7d08e002d83\";i:12476;s:35:\"fb_f0de0e51298a9d5c27d307d08bda1d6c\";i:12477;s:40:\"twitter_f0de0e51298a9d5c27d307d08bda1d6c\";i:12478;s:42:\"pinterest_f0de0e51298a9d5c27d307d08bda1d6c\";i:12479;s:35:\"fb_8220231f9d11ed9c148a80982cfa2901\";i:12480;s:40:\"twitter_8220231f9d11ed9c148a80982cfa2901\";i:12481;s:42:\"pinterest_8220231f9d11ed9c148a80982cfa2901\";i:12482;s:41:\"linkedin_8220231f9d11ed9c148a80982cfa2901\";i:12483;s:35:\"fb_7519297c838e00d7f20ba213fab7b15f\";i:12484;s:40:\"twitter_7519297c838e00d7f20ba213fab7b15f\";i:12485;s:42:\"pinterest_7519297c838e00d7f20ba213fab7b15f\";i:12486;s:35:\"fb_b3e7ada24819eb9f9e404443939c321f\";i:12487;s:40:\"twitter_b3e7ada24819eb9f9e404443939c321f\";i:12488;s:42:\"pinterest_b3e7ada24819eb9f9e404443939c321f\";i:12489;s:41:\"linkedin_b3e7ada24819eb9f9e404443939c321f\";i:12490;s:35:\"fb_94e38a6e6989697d7bf6c6ae0de35ca1\";i:12491;s:35:\"fb_48e4374edb71ca1964ff1dd338668d9c\";i:12492;s:40:\"twitter_48e4374edb71ca1964ff1dd338668d9c\";i:12493;s:35:\"fb_3c3375325b0481e0bd2028852f327d16\";i:12494;s:40:\"twitter_3c3375325b0481e0bd2028852f327d16\";i:12495;s:42:\"pinterest_3c3375325b0481e0bd2028852f327d16\";i:12496;s:41:\"linkedin_3c3375325b0481e0bd2028852f327d16\";i:12497;s:35:\"fb_204d28c5ca2e1fc6e2e1e94288903e42\";i:12498;s:40:\"twitter_204d28c5ca2e1fc6e2e1e94288903e42\";i:12499;s:42:\"pinterest_204d28c5ca2e1fc6e2e1e94288903e42\";i:12500;s:41:\"linkedin_204d28c5ca2e1fc6e2e1e94288903e42\";i:12501;s:35:\"fb_4eaac4328302b89feb1dc818ec34f10a\";i:12502;s:40:\"twitter_4eaac4328302b89feb1dc818ec34f10a\";i:12503;s:42:\"pinterest_4eaac4328302b89feb1dc818ec34f10a\";i:12504;s:41:\"linkedin_4eaac4328302b89feb1dc818ec34f10a\";i:12505;s:35:\"fb_5adc4fc4dcc08ca4c7892e84b56cad01\";i:12506;s:40:\"twitter_5adc4fc4dcc08ca4c7892e84b56cad01\";i:12507;s:42:\"pinterest_5adc4fc4dcc08ca4c7892e84b56cad01\";i:12508;s:41:\"linkedin_5adc4fc4dcc08ca4c7892e84b56cad01\";i:12509;s:35:\"fb_d704b41fd096ec6fabf52c0013954545\";i:12510;s:40:\"twitter_d704b41fd096ec6fabf52c0013954545\";i:12511;s:42:\"pinterest_d704b41fd096ec6fabf52c0013954545\";i:12512;s:41:\"linkedin_d704b41fd096ec6fabf52c0013954545\";i:12513;s:35:\"fb_34e4635c387276fee19f796be7c5b6c6\";i:12514;s:40:\"twitter_34e4635c387276fee19f796be7c5b6c6\";i:12515;s:42:\"pinterest_34e4635c387276fee19f796be7c5b6c6\";i:12516;s:41:\"linkedin_34e4635c387276fee19f796be7c5b6c6\";i:12517;s:35:\"fb_4b967c85f3183e39a50758677760f8e2\";i:12518;s:40:\"twitter_4b967c85f3183e39a50758677760f8e2\";i:12519;s:42:\"pinterest_4b967c85f3183e39a50758677760f8e2\";i:12520;s:41:\"linkedin_4b967c85f3183e39a50758677760f8e2\";i:12521;s:35:\"fb_40c1a6c6290e7cbb12f2c1ccdbf8e8c1\";i:12522;s:40:\"twitter_40c1a6c6290e7cbb12f2c1ccdbf8e8c1\";i:12523;s:42:\"pinterest_40c1a6c6290e7cbb12f2c1ccdbf8e8c1\";i:12524;s:41:\"linkedin_40c1a6c6290e7cbb12f2c1ccdbf8e8c1\";i:12525;s:35:\"fb_6d50c88ba34aeb6d5bf699e9c07c36e8\";i:12526;s:40:\"twitter_6d50c88ba34aeb6d5bf699e9c07c36e8\";i:12527;s:42:\"pinterest_6d50c88ba34aeb6d5bf699e9c07c36e8\";i:12528;s:41:\"linkedin_6d50c88ba34aeb6d5bf699e9c07c36e8\";i:12529;s:35:\"fb_08a788b148d7608dc8b6692bb12b2fbe\";i:12530;s:40:\"twitter_08a788b148d7608dc8b6692bb12b2fbe\";i:12531;s:42:\"pinterest_08a788b148d7608dc8b6692bb12b2fbe\";i:12532;s:41:\"linkedin_08a788b148d7608dc8b6692bb12b2fbe\";i:12533;s:35:\"fb_e2c0f4783d9206d5ab4542d61c7987f9\";i:12534;s:40:\"twitter_e2c0f4783d9206d5ab4542d61c7987f9\";i:12535;s:42:\"pinterest_e2c0f4783d9206d5ab4542d61c7987f9\";i:12536;s:41:\"linkedin_e2c0f4783d9206d5ab4542d61c7987f9\";i:12537;s:35:\"fb_78ae8449c9b8f9c2bb8f2935737cbc22\";i:12538;s:40:\"twitter_78ae8449c9b8f9c2bb8f2935737cbc22\";i:12539;s:42:\"pinterest_78ae8449c9b8f9c2bb8f2935737cbc22\";i:12540;s:41:\"linkedin_78ae8449c9b8f9c2bb8f2935737cbc22\";i:12541;s:35:\"fb_96c4c863ea992abd260d1692dcfb6086\";i:12542;s:40:\"twitter_96c4c863ea992abd260d1692dcfb6086\";i:12543;s:42:\"pinterest_96c4c863ea992abd260d1692dcfb6086\";i:12544;s:41:\"linkedin_96c4c863ea992abd260d1692dcfb6086\";i:12545;s:35:\"fb_be84fdac7db775ddab741bcddb8bd94c\";i:12546;s:40:\"twitter_be84fdac7db775ddab741bcddb8bd94c\";i:12547;s:42:\"pinterest_be84fdac7db775ddab741bcddb8bd94c\";i:12548;s:41:\"linkedin_be84fdac7db775ddab741bcddb8bd94c\";i:12549;s:35:\"fb_a7456ae022a40dff43f63e6239bd38f8\";i:12550;s:40:\"twitter_a7456ae022a40dff43f63e6239bd38f8\";i:12551;s:42:\"pinterest_a7456ae022a40dff43f63e6239bd38f8\";i:12552;s:41:\"linkedin_a7456ae022a40dff43f63e6239bd38f8\";i:12553;s:35:\"fb_050287cf92e20dbb3ba2307762fd5713\";i:12554;s:40:\"twitter_050287cf92e20dbb3ba2307762fd5713\";i:12555;s:42:\"pinterest_050287cf92e20dbb3ba2307762fd5713\";i:12556;s:41:\"linkedin_050287cf92e20dbb3ba2307762fd5713\";i:12557;s:35:\"fb_a228f067ad976ee5085723583f5e074f\";i:12558;s:40:\"twitter_a228f067ad976ee5085723583f5e074f\";i:12559;s:42:\"pinterest_a228f067ad976ee5085723583f5e074f\";i:12560;s:41:\"linkedin_a228f067ad976ee5085723583f5e074f\";i:12561;s:35:\"fb_f3e973527f539cb6fb5f880972bb9341\";i:12562;s:40:\"twitter_f3e973527f539cb6fb5f880972bb9341\";i:12563;s:42:\"pinterest_f3e973527f539cb6fb5f880972bb9341\";i:12564;s:41:\"linkedin_f3e973527f539cb6fb5f880972bb9341\";i:12565;s:35:\"fb_005c11098bf78fb776ffe6cc5da0d072\";i:12566;s:40:\"twitter_005c11098bf78fb776ffe6cc5da0d072\";i:12567;s:42:\"pinterest_005c11098bf78fb776ffe6cc5da0d072\";i:12568;s:41:\"linkedin_005c11098bf78fb776ffe6cc5da0d072\";i:12569;s:35:\"fb_159be28fa7c4b2a998cbd6832f72d13c\";i:12570;s:40:\"twitter_159be28fa7c4b2a998cbd6832f72d13c\";i:12571;s:42:\"pinterest_159be28fa7c4b2a998cbd6832f72d13c\";i:12572;s:41:\"linkedin_159be28fa7c4b2a998cbd6832f72d13c\";i:12573;s:35:\"fb_a64c888f161387b5e6863905f3f15281\";i:12574;s:40:\"twitter_a64c888f161387b5e6863905f3f15281\";i:12575;s:42:\"pinterest_a64c888f161387b5e6863905f3f15281\";i:12576;s:41:\"linkedin_a64c888f161387b5e6863905f3f15281\";i:12577;s:35:\"fb_355be8df7d976d8b9685a00438277a83\";i:12578;s:40:\"twitter_355be8df7d976d8b9685a00438277a83\";i:12579;s:42:\"pinterest_355be8df7d976d8b9685a00438277a83\";i:12580;s:41:\"linkedin_355be8df7d976d8b9685a00438277a83\";i:12581;s:35:\"fb_cd34b4aa834a65e6a82120d196fd6745\";i:12582;s:40:\"twitter_cd34b4aa834a65e6a82120d196fd6745\";i:12583;s:42:\"pinterest_cd34b4aa834a65e6a82120d196fd6745\";i:12584;s:41:\"linkedin_cd34b4aa834a65e6a82120d196fd6745\";i:12585;s:35:\"fb_67ead4e011a691d4d329f8ba909537c1\";i:12586;s:40:\"twitter_67ead4e011a691d4d329f8ba909537c1\";i:12587;s:35:\"fb_209ad7634d5a350da9d18620abd34485\";i:12588;s:40:\"twitter_209ad7634d5a350da9d18620abd34485\";i:12589;s:42:\"pinterest_209ad7634d5a350da9d18620abd34485\";i:12590;s:41:\"linkedin_209ad7634d5a350da9d18620abd34485\";i:12591;s:35:\"fb_83de8b43a8d5978b8f85e668a396221b\";i:12592;s:40:\"twitter_83de8b43a8d5978b8f85e668a396221b\";i:12593;s:42:\"pinterest_83de8b43a8d5978b8f85e668a396221b\";i:12594;s:41:\"linkedin_83de8b43a8d5978b8f85e668a396221b\";i:12595;s:35:\"fb_25fe467a00485d0724c6e647d5fcfb02\";i:12596;s:40:\"twitter_25fe467a00485d0724c6e647d5fcfb02\";i:12597;s:42:\"pinterest_25fe467a00485d0724c6e647d5fcfb02\";i:12598;s:41:\"linkedin_25fe467a00485d0724c6e647d5fcfb02\";i:12599;s:35:\"fb_f58e448e1d8a47175665ba26e7c56ec2\";i:12600;s:40:\"twitter_f58e448e1d8a47175665ba26e7c56ec2\";i:12601;s:42:\"pinterest_f58e448e1d8a47175665ba26e7c56ec2\";i:12602;s:41:\"linkedin_f58e448e1d8a47175665ba26e7c56ec2\";i:12603;s:35:\"fb_14fbd2ef5e4d60c2c6cd8e8cd5f1143a\";i:12604;s:40:\"twitter_14fbd2ef5e4d60c2c6cd8e8cd5f1143a\";i:12605;s:42:\"pinterest_14fbd2ef5e4d60c2c6cd8e8cd5f1143a\";i:12606;s:41:\"linkedin_14fbd2ef5e4d60c2c6cd8e8cd5f1143a\";i:12607;s:35:\"fb_f701748654dd8934f6d8fd64d879b4ab\";i:12608;s:40:\"twitter_f701748654dd8934f6d8fd64d879b4ab\";i:12609;s:42:\"pinterest_f701748654dd8934f6d8fd64d879b4ab\";i:12610;s:41:\"linkedin_f701748654dd8934f6d8fd64d879b4ab\";i:12611;s:35:\"fb_f4dfa8435ecc8f00cf426854ed8d36de\";i:12612;s:40:\"twitter_f4dfa8435ecc8f00cf426854ed8d36de\";i:12613;s:42:\"pinterest_f4dfa8435ecc8f00cf426854ed8d36de\";i:12614;s:41:\"linkedin_f4dfa8435ecc8f00cf426854ed8d36de\";i:12615;s:35:\"fb_b2f002c656048cfd4bb6546736dc9ec0\";i:12616;s:40:\"twitter_b2f002c656048cfd4bb6546736dc9ec0\";i:12617;s:42:\"pinterest_b2f002c656048cfd4bb6546736dc9ec0\";i:12618;s:41:\"linkedin_b2f002c656048cfd4bb6546736dc9ec0\";i:12619;s:35:\"fb_fb9b8b924a8a955faacd210ae4902083\";i:12620;s:40:\"twitter_fb9b8b924a8a955faacd210ae4902083\";i:12621;s:42:\"pinterest_fb9b8b924a8a955faacd210ae4902083\";i:12622;s:41:\"linkedin_fb9b8b924a8a955faacd210ae4902083\";i:12623;s:35:\"fb_95e55a68c18f0ad54b2a5b86afcf3fd2\";i:12624;s:40:\"twitter_95e55a68c18f0ad54b2a5b86afcf3fd2\";i:12625;s:42:\"pinterest_95e55a68c18f0ad54b2a5b86afcf3fd2\";i:12626;s:41:\"linkedin_95e55a68c18f0ad54b2a5b86afcf3fd2\";i:12627;s:35:\"fb_1309a8292c8180a7915b594d45b8f6ed\";i:12628;s:40:\"twitter_1309a8292c8180a7915b594d45b8f6ed\";i:12629;s:42:\"pinterest_1309a8292c8180a7915b594d45b8f6ed\";i:12630;s:41:\"linkedin_1309a8292c8180a7915b594d45b8f6ed\";i:12631;s:35:\"fb_d6e7f407553581e12d4f6feaf859819f\";i:12632;s:40:\"twitter_d6e7f407553581e12d4f6feaf859819f\";i:12633;s:42:\"pinterest_d6e7f407553581e12d4f6feaf859819f\";i:12634;s:41:\"linkedin_d6e7f407553581e12d4f6feaf859819f\";i:12635;s:35:\"fb_5060df9de4d676d8c2ea556029498ea6\";i:12636;s:40:\"twitter_5060df9de4d676d8c2ea556029498ea6\";i:12637;s:42:\"pinterest_5060df9de4d676d8c2ea556029498ea6\";i:12638;s:41:\"linkedin_5060df9de4d676d8c2ea556029498ea6\";i:12639;s:35:\"fb_71611fb07c25611f9c0bf159232072b9\";i:12640;s:40:\"twitter_71611fb07c25611f9c0bf159232072b9\";i:12641;s:42:\"pinterest_71611fb07c25611f9c0bf159232072b9\";i:12642;s:41:\"linkedin_71611fb07c25611f9c0bf159232072b9\";i:12643;s:35:\"fb_e6dbd748ca2ca26f3af4ef471187afa1\";i:12644;s:40:\"twitter_e6dbd748ca2ca26f3af4ef471187afa1\";i:12645;s:42:\"pinterest_e6dbd748ca2ca26f3af4ef471187afa1\";i:12646;s:41:\"linkedin_e6dbd748ca2ca26f3af4ef471187afa1\";i:12647;s:35:\"fb_0851ad9cc02bf5c503bbe87582788e16\";i:12648;s:40:\"twitter_0851ad9cc02bf5c503bbe87582788e16\";i:12649;s:42:\"pinterest_0851ad9cc02bf5c503bbe87582788e16\";i:12650;s:41:\"linkedin_0851ad9cc02bf5c503bbe87582788e16\";i:12651;s:35:\"fb_9dd03b726641e523325531d352ae74f5\";i:12652;s:40:\"twitter_9dd03b726641e523325531d352ae74f5\";i:12653;s:42:\"pinterest_9dd03b726641e523325531d352ae74f5\";i:12654;s:41:\"linkedin_9dd03b726641e523325531d352ae74f5\";i:12655;s:35:\"fb_aa9c8b1a6f943645c293f1e5e76069f4\";i:12656;s:40:\"twitter_aa9c8b1a6f943645c293f1e5e76069f4\";i:12657;s:42:\"pinterest_aa9c8b1a6f943645c293f1e5e76069f4\";i:12658;s:41:\"linkedin_aa9c8b1a6f943645c293f1e5e76069f4\";i:12659;s:35:\"fb_89341e627837815555ba55719120c9cf\";i:12660;s:40:\"twitter_89341e627837815555ba55719120c9cf\";i:12661;s:42:\"pinterest_89341e627837815555ba55719120c9cf\";i:12662;s:41:\"linkedin_89341e627837815555ba55719120c9cf\";i:12663;s:35:\"fb_984bf31efb182f5aa6da142a4d4baacf\";i:12664;s:40:\"twitter_984bf31efb182f5aa6da142a4d4baacf\";i:12665;s:42:\"pinterest_984bf31efb182f5aa6da142a4d4baacf\";i:12666;s:41:\"linkedin_984bf31efb182f5aa6da142a4d4baacf\";i:12667;s:35:\"fb_6787f367b17c8a996b3751af58039f35\";i:12668;s:40:\"twitter_6787f367b17c8a996b3751af58039f35\";i:12669;s:42:\"pinterest_6787f367b17c8a996b3751af58039f35\";i:12670;s:35:\"fb_5f41816164e01a946bbb01ff1312b849\";i:12671;s:40:\"twitter_5f41816164e01a946bbb01ff1312b849\";i:12672;s:42:\"pinterest_5f41816164e01a946bbb01ff1312b849\";i:12673;s:41:\"linkedin_5f41816164e01a946bbb01ff1312b849\";i:12674;s:35:\"fb_9aa61ea5c3c14b1f00452f3fada5b537\";i:12675;s:40:\"twitter_9aa61ea5c3c14b1f00452f3fada5b537\";i:12676;s:42:\"pinterest_9aa61ea5c3c14b1f00452f3fada5b537\";i:12677;s:41:\"linkedin_9aa61ea5c3c14b1f00452f3fada5b537\";i:12678;s:35:\"fb_afc12561b43eb027998716ea5867593b\";i:12679;s:40:\"twitter_afc12561b43eb027998716ea5867593b\";i:12680;s:42:\"pinterest_afc12561b43eb027998716ea5867593b\";i:12681;s:41:\"linkedin_afc12561b43eb027998716ea5867593b\";i:12682;s:35:\"fb_9f013e731ec8a5506b8fcca7d3f0ac51\";i:12683;s:40:\"twitter_9f013e731ec8a5506b8fcca7d3f0ac51\";i:12684;s:42:\"pinterest_9f013e731ec8a5506b8fcca7d3f0ac51\";i:12685;s:41:\"linkedin_9f013e731ec8a5506b8fcca7d3f0ac51\";i:12686;s:35:\"fb_84b5d6726d47fc23dac7f8ea9ad7f20b\";i:12687;s:40:\"twitter_84b5d6726d47fc23dac7f8ea9ad7f20b\";i:12688;s:42:\"pinterest_84b5d6726d47fc23dac7f8ea9ad7f20b\";i:12689;s:41:\"linkedin_84b5d6726d47fc23dac7f8ea9ad7f20b\";i:12690;s:35:\"fb_1e1d48e0828f693c49afe34c4381c10b\";i:12691;s:40:\"twitter_1e1d48e0828f693c49afe34c4381c10b\";i:12692;s:42:\"pinterest_1e1d48e0828f693c49afe34c4381c10b\";i:12693;s:41:\"linkedin_1e1d48e0828f693c49afe34c4381c10b\";i:12694;s:35:\"fb_6582d8e0e1756e61f294e2f14519e35b\";i:12695;s:40:\"twitter_6582d8e0e1756e61f294e2f14519e35b\";i:12696;s:42:\"pinterest_6582d8e0e1756e61f294e2f14519e35b\";i:12697;s:35:\"fb_5caf4e08e0855cfa555e987139530486\";i:12698;s:40:\"twitter_5caf4e08e0855cfa555e987139530486\";i:12699;s:42:\"pinterest_5caf4e08e0855cfa555e987139530486\";i:12700;s:35:\"fb_bd9daafb8375697596a19af05f17d9bc\";i:12701;s:40:\"twitter_bd9daafb8375697596a19af05f17d9bc\";i:12702;s:42:\"pinterest_bd9daafb8375697596a19af05f17d9bc\";i:12703;s:35:\"fb_ad010916f3202373783b1e51dd6a569d\";i:12704;s:40:\"twitter_ad010916f3202373783b1e51dd6a569d\";i:12705;s:42:\"pinterest_ad010916f3202373783b1e51dd6a569d\";i:12706;s:35:\"fb_6bd6a65447976c1f89f7aacd48c9080d\";i:12707;s:40:\"twitter_6bd6a65447976c1f89f7aacd48c9080d\";i:12708;s:42:\"pinterest_6bd6a65447976c1f89f7aacd48c9080d\";i:12709;s:41:\"linkedin_6bd6a65447976c1f89f7aacd48c9080d\";i:12710;s:35:\"fb_6760dd31a4eb5083bc824731fefca508\";i:12711;s:40:\"twitter_6760dd31a4eb5083bc824731fefca508\";i:12712;s:42:\"pinterest_6760dd31a4eb5083bc824731fefca508\";i:12713;s:41:\"linkedin_6760dd31a4eb5083bc824731fefca508\";i:12714;s:35:\"fb_031957e4d4db5c9bbd0dbcbded1e8ba3\";i:12715;s:40:\"twitter_031957e4d4db5c9bbd0dbcbded1e8ba3\";i:12716;s:42:\"pinterest_031957e4d4db5c9bbd0dbcbded1e8ba3\";i:12717;s:41:\"linkedin_031957e4d4db5c9bbd0dbcbded1e8ba3\";i:12718;s:35:\"fb_18102b42380ee8060a5f130a8a3bd799\";i:12719;s:40:\"twitter_18102b42380ee8060a5f130a8a3bd799\";i:12720;s:42:\"pinterest_18102b42380ee8060a5f130a8a3bd799\";i:12721;s:41:\"linkedin_18102b42380ee8060a5f130a8a3bd799\";i:12722;s:35:\"fb_0e062c5c5616753939ae11a2cc70e81f\";i:12723;s:40:\"twitter_0e062c5c5616753939ae11a2cc70e81f\";i:12724;s:42:\"pinterest_0e062c5c5616753939ae11a2cc70e81f\";i:12725;s:41:\"linkedin_0e062c5c5616753939ae11a2cc70e81f\";i:12726;s:35:\"fb_99dae5cafeebd83c0242d95b2a14ca87\";i:12727;s:40:\"twitter_99dae5cafeebd83c0242d95b2a14ca87\";i:12728;s:42:\"pinterest_99dae5cafeebd83c0242d95b2a14ca87\";i:12729;s:41:\"linkedin_99dae5cafeebd83c0242d95b2a14ca87\";i:12730;s:35:\"fb_56c6f0f68907c3289646ac7461388879\";i:12731;s:40:\"twitter_56c6f0f68907c3289646ac7461388879\";i:12732;s:42:\"pinterest_56c6f0f68907c3289646ac7461388879\";i:12733;s:41:\"linkedin_56c6f0f68907c3289646ac7461388879\";i:12734;s:35:\"fb_9b13c109969473c85e8913cd788fbdc1\";i:12735;s:40:\"twitter_9b13c109969473c85e8913cd788fbdc1\";i:12736;s:35:\"fb_1e5e2f12621ce55a4a4454ad54d30902\";i:12737;s:40:\"twitter_1e5e2f12621ce55a4a4454ad54d30902\";i:12738;s:42:\"pinterest_1e5e2f12621ce55a4a4454ad54d30902\";i:12739;s:41:\"linkedin_1e5e2f12621ce55a4a4454ad54d30902\";i:12740;s:35:\"fb_97f2b8dd7d736f146d9a915d75ba3730\";i:12741;s:40:\"twitter_97f2b8dd7d736f146d9a915d75ba3730\";i:12742;s:42:\"pinterest_97f2b8dd7d736f146d9a915d75ba3730\";i:12743;s:41:\"linkedin_97f2b8dd7d736f146d9a915d75ba3730\";i:12744;s:35:\"fb_0a032bd5ffe9d62aa1f39b1f15b1fdd6\";i:12745;s:40:\"twitter_0a032bd5ffe9d62aa1f39b1f15b1fdd6\";i:12746;s:42:\"pinterest_0a032bd5ffe9d62aa1f39b1f15b1fdd6\";i:12747;s:41:\"linkedin_0a032bd5ffe9d62aa1f39b1f15b1fdd6\";i:12748;s:35:\"fb_7505d2faf78211fca6339958b811b493\";i:12749;s:40:\"twitter_7505d2faf78211fca6339958b811b493\";i:12750;s:42:\"pinterest_7505d2faf78211fca6339958b811b493\";i:12751;s:41:\"linkedin_7505d2faf78211fca6339958b811b493\";i:12752;s:35:\"fb_2ce0b64c5a73666871db89d235718786\";i:12753;s:40:\"twitter_2ce0b64c5a73666871db89d235718786\";i:12754;s:42:\"pinterest_2ce0b64c5a73666871db89d235718786\";i:12755;s:41:\"linkedin_2ce0b64c5a73666871db89d235718786\";i:12756;s:35:\"fb_6b3d3748e74ada34b8d5869b7c70bbcb\";i:12757;s:40:\"twitter_6b3d3748e74ada34b8d5869b7c70bbcb\";i:12758;s:42:\"pinterest_6b3d3748e74ada34b8d5869b7c70bbcb\";i:12759;s:41:\"linkedin_6b3d3748e74ada34b8d5869b7c70bbcb\";i:12760;s:35:\"fb_d1fce84b09a06211b91db4ac0872d5bf\";i:12761;s:40:\"twitter_d1fce84b09a06211b91db4ac0872d5bf\";i:12762;s:42:\"pinterest_d1fce84b09a06211b91db4ac0872d5bf\";i:12763;s:41:\"linkedin_d1fce84b09a06211b91db4ac0872d5bf\";i:12764;s:35:\"fb_6c93473908d5b73335c314d5ac390b16\";i:12765;s:40:\"twitter_6c93473908d5b73335c314d5ac390b16\";i:12766;s:42:\"pinterest_6c93473908d5b73335c314d5ac390b16\";i:12767;s:41:\"linkedin_6c93473908d5b73335c314d5ac390b16\";i:12768;s:35:\"fb_d4dfa098491ba8f6be961fff4bf3f721\";i:12769;s:40:\"twitter_d4dfa098491ba8f6be961fff4bf3f721\";i:12770;s:42:\"pinterest_d4dfa098491ba8f6be961fff4bf3f721\";i:12771;s:41:\"linkedin_d4dfa098491ba8f6be961fff4bf3f721\";i:12772;s:35:\"fb_bbb2c8789d9ed2646b13bf91cbaa4170\";i:12773;s:40:\"twitter_bbb2c8789d9ed2646b13bf91cbaa4170\";i:12774;s:42:\"pinterest_bbb2c8789d9ed2646b13bf91cbaa4170\";i:12775;s:41:\"linkedin_bbb2c8789d9ed2646b13bf91cbaa4170\";i:12776;s:35:\"fb_133d8606600dacea309d7f6553d26442\";i:12777;s:40:\"twitter_133d8606600dacea309d7f6553d26442\";i:12778;s:42:\"pinterest_133d8606600dacea309d7f6553d26442\";i:12779;s:41:\"linkedin_133d8606600dacea309d7f6553d26442\";i:12780;s:35:\"fb_678a7ba801b75014610804eedfff82f7\";i:12781;s:40:\"twitter_678a7ba801b75014610804eedfff82f7\";i:12782;s:42:\"pinterest_678a7ba801b75014610804eedfff82f7\";i:12783;s:41:\"linkedin_678a7ba801b75014610804eedfff82f7\";i:12784;s:35:\"fb_df726221dd17e8e9f2ff4f07495435fb\";i:12785;s:40:\"twitter_df726221dd17e8e9f2ff4f07495435fb\";i:12786;s:42:\"pinterest_df726221dd17e8e9f2ff4f07495435fb\";i:12787;s:41:\"linkedin_df726221dd17e8e9f2ff4f07495435fb\";i:12788;s:35:\"fb_eb6517a711f63ac0b62619d9e7499b2b\";i:12789;s:40:\"twitter_eb6517a711f63ac0b62619d9e7499b2b\";i:12790;s:42:\"pinterest_eb6517a711f63ac0b62619d9e7499b2b\";i:12791;s:41:\"linkedin_eb6517a711f63ac0b62619d9e7499b2b\";i:12792;s:35:\"fb_b5e6c9e8cb3dfd5d25717e1522585bc1\";i:12793;s:40:\"twitter_b5e6c9e8cb3dfd5d25717e1522585bc1\";i:12794;s:42:\"pinterest_b5e6c9e8cb3dfd5d25717e1522585bc1\";i:12795;s:35:\"fb_49bee24f42c92c8e282921f17b1852dd\";i:12796;s:40:\"twitter_49bee24f42c92c8e282921f17b1852dd\";i:12797;s:42:\"pinterest_49bee24f42c92c8e282921f17b1852dd\";i:12798;s:41:\"linkedin_49bee24f42c92c8e282921f17b1852dd\";i:12799;s:35:\"fb_ef3d80dd1a95fa4e6d14addb8f5d0eb3\";i:12800;s:40:\"twitter_ef3d80dd1a95fa4e6d14addb8f5d0eb3\";i:12801;s:42:\"pinterest_ef3d80dd1a95fa4e6d14addb8f5d0eb3\";i:12802;s:35:\"fb_504a8ae75daaadf823cbd9ee86c22d63\";i:12803;s:40:\"twitter_504a8ae75daaadf823cbd9ee86c22d63\";i:12804;s:42:\"pinterest_504a8ae75daaadf823cbd9ee86c22d63\";i:12805;s:41:\"linkedin_504a8ae75daaadf823cbd9ee86c22d63\";i:12806;s:35:\"fb_5bd066427dc460182154ed54231131af\";i:12807;s:40:\"twitter_5bd066427dc460182154ed54231131af\";i:12808;s:42:\"pinterest_5bd066427dc460182154ed54231131af\";i:12809;s:41:\"linkedin_5bd066427dc460182154ed54231131af\";i:12810;s:35:\"fb_0350ceb24ee5164946e35e096c5c98a1\";i:12811;s:40:\"twitter_0350ceb24ee5164946e35e096c5c98a1\";i:12812;s:42:\"pinterest_0350ceb24ee5164946e35e096c5c98a1\";i:12813;s:41:\"linkedin_0350ceb24ee5164946e35e096c5c98a1\";i:12814;s:35:\"fb_d79e246f96696088664c18dfdd3cac86\";i:12815;s:40:\"twitter_d79e246f96696088664c18dfdd3cac86\";i:12816;s:42:\"pinterest_d79e246f96696088664c18dfdd3cac86\";i:12817;s:41:\"linkedin_d79e246f96696088664c18dfdd3cac86\";i:12818;s:35:\"fb_ec98358d88dc32f31b396601dc783fa6\";i:12819;s:40:\"twitter_ec98358d88dc32f31b396601dc783fa6\";i:12820;s:42:\"pinterest_ec98358d88dc32f31b396601dc783fa6\";i:12821;s:41:\"linkedin_ec98358d88dc32f31b396601dc783fa6\";i:12822;s:35:\"fb_392a027c2dedb545095289e6eee2709f\";i:12823;s:40:\"twitter_392a027c2dedb545095289e6eee2709f\";i:12824;s:42:\"pinterest_392a027c2dedb545095289e6eee2709f\";i:12825;s:41:\"linkedin_392a027c2dedb545095289e6eee2709f\";i:12826;s:35:\"fb_916700f45da4b746628671badf18c285\";i:12827;s:40:\"twitter_916700f45da4b746628671badf18c285\";i:12828;s:42:\"pinterest_916700f45da4b746628671badf18c285\";i:12829;s:41:\"linkedin_916700f45da4b746628671badf18c285\";i:12830;s:35:\"fb_a6b762190e8a64c2960f669a3de39e41\";i:12831;s:40:\"twitter_a6b762190e8a64c2960f669a3de39e41\";i:12832;s:42:\"pinterest_a6b762190e8a64c2960f669a3de39e41\";i:12833;s:41:\"linkedin_a6b762190e8a64c2960f669a3de39e41\";i:12834;s:35:\"fb_a181ae00f32ad95782aa3e56d2302369\";i:12835;s:40:\"twitter_a181ae00f32ad95782aa3e56d2302369\";i:12836;s:42:\"pinterest_a181ae00f32ad95782aa3e56d2302369\";i:12837;s:41:\"linkedin_a181ae00f32ad95782aa3e56d2302369\";i:12838;s:35:\"fb_58cef1c1abd43722f80e0c8a5b6b7d48\";i:12839;s:40:\"twitter_58cef1c1abd43722f80e0c8a5b6b7d48\";i:12840;s:42:\"pinterest_58cef1c1abd43722f80e0c8a5b6b7d48\";i:12841;s:41:\"linkedin_58cef1c1abd43722f80e0c8a5b6b7d48\";i:12842;s:35:\"fb_c5c1ddc43db5fbad155412b071719cfe\";i:12843;s:40:\"twitter_c5c1ddc43db5fbad155412b071719cfe\";i:12844;s:42:\"pinterest_c5c1ddc43db5fbad155412b071719cfe\";i:12845;s:41:\"linkedin_c5c1ddc43db5fbad155412b071719cfe\";i:12846;s:35:\"fb_3293977aba3931667b819edd5f9d8480\";i:12847;s:40:\"twitter_3293977aba3931667b819edd5f9d8480\";i:12848;s:42:\"pinterest_3293977aba3931667b819edd5f9d8480\";i:12849;s:41:\"linkedin_3293977aba3931667b819edd5f9d8480\";i:12850;s:35:\"fb_adde4292611732afc1e17b214409367c\";i:12851;s:40:\"twitter_adde4292611732afc1e17b214409367c\";i:12852;s:42:\"pinterest_adde4292611732afc1e17b214409367c\";i:12853;s:41:\"linkedin_adde4292611732afc1e17b214409367c\";i:12854;s:35:\"fb_077851436dc362dbe0aa1e39b31878a4\";i:12855;s:40:\"twitter_077851436dc362dbe0aa1e39b31878a4\";i:12856;s:42:\"pinterest_077851436dc362dbe0aa1e39b31878a4\";i:12857;s:41:\"linkedin_077851436dc362dbe0aa1e39b31878a4\";i:12858;s:35:\"fb_119688875a8b3fd32209de70abb13be8\";i:12859;s:40:\"twitter_119688875a8b3fd32209de70abb13be8\";i:12860;s:42:\"pinterest_119688875a8b3fd32209de70abb13be8\";i:12861;s:41:\"linkedin_119688875a8b3fd32209de70abb13be8\";i:12862;s:35:\"fb_53485260854cbc86da3ef7301f39a9e2\";i:12863;s:40:\"twitter_53485260854cbc86da3ef7301f39a9e2\";i:12864;s:42:\"pinterest_53485260854cbc86da3ef7301f39a9e2\";i:12865;s:41:\"linkedin_53485260854cbc86da3ef7301f39a9e2\";i:12866;s:35:\"fb_6598c3238ecaf8756806f0771d78e1ad\";i:12867;s:40:\"twitter_6598c3238ecaf8756806f0771d78e1ad\";i:12868;s:42:\"pinterest_6598c3238ecaf8756806f0771d78e1ad\";i:12869;s:41:\"linkedin_6598c3238ecaf8756806f0771d78e1ad\";i:12870;s:35:\"fb_9bfa0ee9a6c04352b3d883731a997c1c\";i:12871;s:40:\"twitter_9bfa0ee9a6c04352b3d883731a997c1c\";i:12872;s:42:\"pinterest_9bfa0ee9a6c04352b3d883731a997c1c\";i:12873;s:41:\"linkedin_9bfa0ee9a6c04352b3d883731a997c1c\";i:12874;s:35:\"fb_117d371d4d725d28a6d7991275c5687d\";i:12875;s:40:\"twitter_117d371d4d725d28a6d7991275c5687d\";i:12876;s:42:\"pinterest_117d371d4d725d28a6d7991275c5687d\";i:12877;s:41:\"linkedin_117d371d4d725d28a6d7991275c5687d\";i:12878;s:35:\"fb_e748121d42eef7b56f52f6b3b11e7cfc\";i:12879;s:40:\"twitter_e748121d42eef7b56f52f6b3b11e7cfc\";i:12880;s:42:\"pinterest_e748121d42eef7b56f52f6b3b11e7cfc\";i:12881;s:41:\"linkedin_e748121d42eef7b56f52f6b3b11e7cfc\";i:12882;s:35:\"fb_e508dfc12800ef634ebeb18b3fbea6a8\";i:12883;s:40:\"twitter_e508dfc12800ef634ebeb18b3fbea6a8\";i:12884;s:42:\"pinterest_e508dfc12800ef634ebeb18b3fbea6a8\";i:12885;s:41:\"linkedin_e508dfc12800ef634ebeb18b3fbea6a8\";i:12886;s:35:\"fb_73eacbc6e3e3547d1da5a52690d5ebbe\";i:12887;s:40:\"twitter_73eacbc6e3e3547d1da5a52690d5ebbe\";i:12888;s:42:\"pinterest_73eacbc6e3e3547d1da5a52690d5ebbe\";i:12889;s:41:\"linkedin_73eacbc6e3e3547d1da5a52690d5ebbe\";i:12890;s:35:\"fb_a440498afc43818593702bfc13c4a6a3\";i:12891;s:40:\"twitter_a440498afc43818593702bfc13c4a6a3\";i:12892;s:42:\"pinterest_a440498afc43818593702bfc13c4a6a3\";i:12893;s:41:\"linkedin_a440498afc43818593702bfc13c4a6a3\";i:12894;s:35:\"fb_522266bcf73b7fa7ef61cbb94279f39b\";i:12895;s:40:\"twitter_522266bcf73b7fa7ef61cbb94279f39b\";i:12896;s:42:\"pinterest_522266bcf73b7fa7ef61cbb94279f39b\";i:12897;s:41:\"linkedin_522266bcf73b7fa7ef61cbb94279f39b\";i:12898;s:35:\"fb_56d2f63ab1933a641127f6b37f092bd7\";i:12899;s:40:\"twitter_56d2f63ab1933a641127f6b37f092bd7\";i:12900;s:42:\"pinterest_56d2f63ab1933a641127f6b37f092bd7\";i:12901;s:35:\"fb_da7fd094d40490e16111691c80e3963e\";i:12902;s:40:\"twitter_da7fd094d40490e16111691c80e3963e\";i:12903;s:42:\"pinterest_da7fd094d40490e16111691c80e3963e\";i:12904;s:41:\"linkedin_da7fd094d40490e16111691c80e3963e\";i:12905;s:35:\"fb_5920b72feb170fa59c7049b8cf4a2ce9\";i:12906;s:40:\"twitter_5920b72feb170fa59c7049b8cf4a2ce9\";i:12907;s:42:\"pinterest_5920b72feb170fa59c7049b8cf4a2ce9\";i:12908;s:41:\"linkedin_5920b72feb170fa59c7049b8cf4a2ce9\";i:12909;s:35:\"fb_55767b8d2d1af8bd6dd4b3a9dc1dcf24\";i:12910;s:40:\"twitter_55767b8d2d1af8bd6dd4b3a9dc1dcf24\";i:12911;s:42:\"pinterest_55767b8d2d1af8bd6dd4b3a9dc1dcf24\";i:12912;s:41:\"linkedin_55767b8d2d1af8bd6dd4b3a9dc1dcf24\";i:12913;s:35:\"fb_11ffaa3cff3f03a5ffbaad32df550df3\";i:12914;s:40:\"twitter_11ffaa3cff3f03a5ffbaad32df550df3\";i:12915;s:42:\"pinterest_11ffaa3cff3f03a5ffbaad32df550df3\";i:12916;s:41:\"linkedin_11ffaa3cff3f03a5ffbaad32df550df3\";i:12917;s:35:\"fb_f9bf7c797e74367459a469f7d32780cf\";i:12918;s:40:\"twitter_f9bf7c797e74367459a469f7d32780cf\";i:12919;s:42:\"pinterest_f9bf7c797e74367459a469f7d32780cf\";i:12920;s:41:\"linkedin_f9bf7c797e74367459a469f7d32780cf\";i:12921;s:35:\"fb_0f2c10c4862a64e6d10fd846637a45cb\";i:12922;s:40:\"twitter_0f2c10c4862a64e6d10fd846637a45cb\";i:12923;s:42:\"pinterest_0f2c10c4862a64e6d10fd846637a45cb\";i:12924;s:41:\"linkedin_0f2c10c4862a64e6d10fd846637a45cb\";i:12925;s:35:\"fb_4d286a8c488dcdf5d93ff4196a1b8855\";i:12926;s:40:\"twitter_4d286a8c488dcdf5d93ff4196a1b8855\";i:12927;s:42:\"pinterest_4d286a8c488dcdf5d93ff4196a1b8855\";i:12928;s:41:\"linkedin_4d286a8c488dcdf5d93ff4196a1b8855\";i:12929;s:35:\"fb_e3f5e6876fd23c945d042b7ecdc3346d\";i:12930;s:40:\"twitter_e3f5e6876fd23c945d042b7ecdc3346d\";i:12931;s:42:\"pinterest_e3f5e6876fd23c945d042b7ecdc3346d\";i:12932;s:41:\"linkedin_e3f5e6876fd23c945d042b7ecdc3346d\";i:12933;s:35:\"fb_a035d670be8f4cfb1dfa15bae44dbd7d\";i:12934;s:40:\"twitter_a035d670be8f4cfb1dfa15bae44dbd7d\";i:12935;s:42:\"pinterest_a035d670be8f4cfb1dfa15bae44dbd7d\";i:12936;s:41:\"linkedin_a035d670be8f4cfb1dfa15bae44dbd7d\";i:12937;s:35:\"fb_2edfd55e41c1acff08d30e48549227a5\";i:12938;s:40:\"twitter_2edfd55e41c1acff08d30e48549227a5\";i:12939;s:42:\"pinterest_2edfd55e41c1acff08d30e48549227a5\";i:12940;s:41:\"linkedin_2edfd55e41c1acff08d30e48549227a5\";i:12941;s:35:\"fb_b02909f34ea04fde08054eadd0714b46\";i:12942;s:40:\"twitter_b02909f34ea04fde08054eadd0714b46\";i:12943;s:42:\"pinterest_b02909f34ea04fde08054eadd0714b46\";i:12944;s:41:\"linkedin_b02909f34ea04fde08054eadd0714b46\";i:12945;s:35:\"fb_4d46c6d4f08c52621befc0b83d9a7119\";i:12946;s:40:\"twitter_4d46c6d4f08c52621befc0b83d9a7119\";i:12947;s:42:\"pinterest_4d46c6d4f08c52621befc0b83d9a7119\";i:12948;s:41:\"linkedin_4d46c6d4f08c52621befc0b83d9a7119\";i:12949;s:35:\"fb_5b87061c4f9d3723ef68e378d7763897\";i:12950;s:40:\"twitter_5b87061c4f9d3723ef68e378d7763897\";i:12951;s:42:\"pinterest_5b87061c4f9d3723ef68e378d7763897\";i:12952;s:41:\"linkedin_5b87061c4f9d3723ef68e378d7763897\";i:12953;s:35:\"fb_42860717c85ccca4851b9a063209ec6f\";i:12954;s:40:\"twitter_42860717c85ccca4851b9a063209ec6f\";i:12955;s:42:\"pinterest_42860717c85ccca4851b9a063209ec6f\";i:12956;s:41:\"linkedin_42860717c85ccca4851b9a063209ec6f\";i:12957;s:35:\"fb_be15fd7325691bfe314429d51165dd8a\";i:12958;s:40:\"twitter_be15fd7325691bfe314429d51165dd8a\";i:12959;s:42:\"pinterest_be15fd7325691bfe314429d51165dd8a\";i:12960;s:41:\"linkedin_be15fd7325691bfe314429d51165dd8a\";i:12961;s:35:\"fb_5f7acbed013eff4d7813ea834f28d360\";i:12962;s:40:\"twitter_5f7acbed013eff4d7813ea834f28d360\";i:12963;s:42:\"pinterest_5f7acbed013eff4d7813ea834f28d360\";i:12964;s:41:\"linkedin_5f7acbed013eff4d7813ea834f28d360\";i:12965;s:35:\"fb_040bc20581af4ce385f75f0c7c2dfb72\";i:12966;s:40:\"twitter_040bc20581af4ce385f75f0c7c2dfb72\";i:12967;s:42:\"pinterest_040bc20581af4ce385f75f0c7c2dfb72\";i:12968;s:41:\"linkedin_040bc20581af4ce385f75f0c7c2dfb72\";i:12969;s:35:\"fb_ce637bfdb3f281a1b689e822ea31d3a9\";i:12970;s:40:\"twitter_ce637bfdb3f281a1b689e822ea31d3a9\";i:12971;s:42:\"pinterest_ce637bfdb3f281a1b689e822ea31d3a9\";i:12972;s:41:\"linkedin_ce637bfdb3f281a1b689e822ea31d3a9\";i:12973;s:35:\"fb_6ed28b20fc2ca0d08d94f765279e7d6c\";i:12974;s:40:\"twitter_6ed28b20fc2ca0d08d94f765279e7d6c\";i:12975;s:42:\"pinterest_6ed28b20fc2ca0d08d94f765279e7d6c\";i:12976;s:41:\"linkedin_6ed28b20fc2ca0d08d94f765279e7d6c\";i:12977;s:35:\"fb_c73b004dffe3dc32409e22ba8b8e667a\";i:12978;s:40:\"twitter_c73b004dffe3dc32409e22ba8b8e667a\";i:12979;s:42:\"pinterest_c73b004dffe3dc32409e22ba8b8e667a\";i:12980;s:41:\"linkedin_c73b004dffe3dc32409e22ba8b8e667a\";i:12981;s:35:\"fb_44327304659961ccea6f406049e1828c\";i:12982;s:40:\"twitter_44327304659961ccea6f406049e1828c\";i:12983;s:42:\"pinterest_44327304659961ccea6f406049e1828c\";i:12984;s:41:\"linkedin_44327304659961ccea6f406049e1828c\";i:12985;s:35:\"fb_c163e1cfd4ef318c5e6366fcd3bea46a\";i:12986;s:40:\"twitter_c163e1cfd4ef318c5e6366fcd3bea46a\";i:12987;s:42:\"pinterest_c163e1cfd4ef318c5e6366fcd3bea46a\";i:12988;s:41:\"linkedin_c163e1cfd4ef318c5e6366fcd3bea46a\";i:12989;s:35:\"fb_6daf445b01ffdf0f28ffd70138c55cbc\";i:12990;s:40:\"twitter_6daf445b01ffdf0f28ffd70138c55cbc\";i:12991;s:42:\"pinterest_6daf445b01ffdf0f28ffd70138c55cbc\";i:12992;s:41:\"linkedin_6daf445b01ffdf0f28ffd70138c55cbc\";i:12993;s:35:\"fb_eb04e0db48516e159135a5055c6b10c5\";i:12994;s:40:\"twitter_eb04e0db48516e159135a5055c6b10c5\";i:12995;s:42:\"pinterest_eb04e0db48516e159135a5055c6b10c5\";i:12996;s:41:\"linkedin_eb04e0db48516e159135a5055c6b10c5\";i:12997;s:35:\"fb_24aeb48e04fd9983c33e7cebbdfbb027\";i:12998;s:40:\"twitter_24aeb48e04fd9983c33e7cebbdfbb027\";i:12999;s:42:\"pinterest_24aeb48e04fd9983c33e7cebbdfbb027\";i:13000;s:41:\"linkedin_24aeb48e04fd9983c33e7cebbdfbb027\";i:13001;s:35:\"fb_50e15f11445665771e7f55af4349c347\";i:13002;s:40:\"twitter_50e15f11445665771e7f55af4349c347\";i:13003;s:42:\"pinterest_50e15f11445665771e7f55af4349c347\";i:13004;s:41:\"linkedin_50e15f11445665771e7f55af4349c347\";i:13005;s:35:\"fb_77057c701b1cd4af7368afc8cbe59204\";i:13006;s:40:\"twitter_77057c701b1cd4af7368afc8cbe59204\";i:13007;s:42:\"pinterest_77057c701b1cd4af7368afc8cbe59204\";i:13008;s:41:\"linkedin_77057c701b1cd4af7368afc8cbe59204\";i:13009;s:35:\"fb_d05753408405bb6c9fe5d948ab8dbaf7\";i:13010;s:40:\"twitter_d05753408405bb6c9fe5d948ab8dbaf7\";i:13011;s:42:\"pinterest_d05753408405bb6c9fe5d948ab8dbaf7\";i:13012;s:41:\"linkedin_d05753408405bb6c9fe5d948ab8dbaf7\";i:13013;s:35:\"fb_358f6005923bd8d97254d897efe7887f\";i:13014;s:40:\"twitter_358f6005923bd8d97254d897efe7887f\";i:13015;s:42:\"pinterest_358f6005923bd8d97254d897efe7887f\";i:13016;s:41:\"linkedin_358f6005923bd8d97254d897efe7887f\";i:13017;s:35:\"fb_922192980f6c4f41fb1a3a1136d50f2e\";i:13018;s:40:\"twitter_922192980f6c4f41fb1a3a1136d50f2e\";i:13019;s:42:\"pinterest_922192980f6c4f41fb1a3a1136d50f2e\";i:13020;s:41:\"linkedin_922192980f6c4f41fb1a3a1136d50f2e\";i:13021;s:35:\"fb_87622247a047a9650da28b608aeb8b92\";i:13022;s:40:\"twitter_87622247a047a9650da28b608aeb8b92\";i:13023;s:42:\"pinterest_87622247a047a9650da28b608aeb8b92\";i:13024;s:41:\"linkedin_87622247a047a9650da28b608aeb8b92\";i:13025;s:35:\"fb_46b84ef16a693c2b5b0de6d7b75c440b\";i:13026;s:40:\"twitter_46b84ef16a693c2b5b0de6d7b75c440b\";i:13027;s:42:\"pinterest_46b84ef16a693c2b5b0de6d7b75c440b\";i:13028;s:41:\"linkedin_46b84ef16a693c2b5b0de6d7b75c440b\";i:13029;s:35:\"fb_bda04e90d744f017ccb96800a728169b\";i:13030;s:40:\"twitter_bda04e90d744f017ccb96800a728169b\";i:13031;s:42:\"pinterest_bda04e90d744f017ccb96800a728169b\";i:13032;s:41:\"linkedin_bda04e90d744f017ccb96800a728169b\";i:13033;s:35:\"fb_2f2693a19c911dcf54ec436e4d10216e\";i:13034;s:40:\"twitter_2f2693a19c911dcf54ec436e4d10216e\";i:13035;s:42:\"pinterest_2f2693a19c911dcf54ec436e4d10216e\";i:13036;s:41:\"linkedin_2f2693a19c911dcf54ec436e4d10216e\";i:13037;s:35:\"fb_949ba3f4ea8d759d31599f493aa276d4\";i:13038;s:40:\"twitter_949ba3f4ea8d759d31599f493aa276d4\";i:13039;s:42:\"pinterest_949ba3f4ea8d759d31599f493aa276d4\";i:13040;s:41:\"linkedin_949ba3f4ea8d759d31599f493aa276d4\";i:13041;s:35:\"fb_e82f8065b9a2ba99f2528c71f679b968\";i:13042;s:40:\"twitter_e82f8065b9a2ba99f2528c71f679b968\";i:13043;s:42:\"pinterest_e82f8065b9a2ba99f2528c71f679b968\";i:13044;s:41:\"linkedin_e82f8065b9a2ba99f2528c71f679b968\";i:13045;s:35:\"fb_375ccc2aa083452ffd3f518f00118d8a\";i:13046;s:40:\"twitter_375ccc2aa083452ffd3f518f00118d8a\";i:13047;s:42:\"pinterest_375ccc2aa083452ffd3f518f00118d8a\";i:13048;s:41:\"linkedin_375ccc2aa083452ffd3f518f00118d8a\";i:13049;s:35:\"fb_0eec0f624e4730e8800aab1be6375340\";i:13050;s:40:\"twitter_0eec0f624e4730e8800aab1be6375340\";i:13051;s:42:\"pinterest_0eec0f624e4730e8800aab1be6375340\";i:13052;s:41:\"linkedin_0eec0f624e4730e8800aab1be6375340\";i:13053;s:35:\"fb_c48fa2b0923ea28707103cc174674768\";i:13054;s:40:\"twitter_c48fa2b0923ea28707103cc174674768\";i:13055;s:42:\"pinterest_c48fa2b0923ea28707103cc174674768\";i:13056;s:41:\"linkedin_c48fa2b0923ea28707103cc174674768\";i:13057;s:35:\"fb_07ed8f80526b9521f08eb7c95e62c465\";i:13058;s:40:\"twitter_07ed8f80526b9521f08eb7c95e62c465\";i:13059;s:42:\"pinterest_07ed8f80526b9521f08eb7c95e62c465\";i:13060;s:41:\"linkedin_07ed8f80526b9521f08eb7c95e62c465\";i:13061;s:35:\"fb_8bf8a54efd2663765092417195231906\";i:13062;s:40:\"twitter_8bf8a54efd2663765092417195231906\";i:13063;s:42:\"pinterest_8bf8a54efd2663765092417195231906\";i:13064;s:41:\"linkedin_8bf8a54efd2663765092417195231906\";i:13065;s:35:\"fb_16e42a77caa010ad096db26856f13712\";i:13066;s:40:\"twitter_16e42a77caa010ad096db26856f13712\";i:13067;s:42:\"pinterest_16e42a77caa010ad096db26856f13712\";i:13068;s:41:\"linkedin_16e42a77caa010ad096db26856f13712\";i:13069;s:35:\"fb_0524463553f04ce040e4481d0514bed3\";i:13070;s:40:\"twitter_0524463553f04ce040e4481d0514bed3\";i:13071;s:42:\"pinterest_0524463553f04ce040e4481d0514bed3\";i:13072;s:41:\"linkedin_0524463553f04ce040e4481d0514bed3\";i:13073;s:35:\"fb_51483e15987b67c8138ac8f04b4d66c0\";i:13074;s:40:\"twitter_51483e15987b67c8138ac8f04b4d66c0\";i:13075;s:42:\"pinterest_51483e15987b67c8138ac8f04b4d66c0\";i:13076;s:41:\"linkedin_51483e15987b67c8138ac8f04b4d66c0\";i:13077;s:35:\"fb_a5cc4b74326bc76e4d8bcfbe79031ad2\";i:13078;s:40:\"twitter_a5cc4b74326bc76e4d8bcfbe79031ad2\";i:13079;s:42:\"pinterest_a5cc4b74326bc76e4d8bcfbe79031ad2\";i:13080;s:41:\"linkedin_a5cc4b74326bc76e4d8bcfbe79031ad2\";i:13081;s:35:\"fb_b90a517dfdaf3562480b8f3ffc7cfe7d\";i:13082;s:40:\"twitter_b90a517dfdaf3562480b8f3ffc7cfe7d\";i:13083;s:42:\"pinterest_b90a517dfdaf3562480b8f3ffc7cfe7d\";i:13084;s:41:\"linkedin_b90a517dfdaf3562480b8f3ffc7cfe7d\";i:13085;s:35:\"fb_89cb384413a15512319ca6504d8b869a\";i:13086;s:40:\"twitter_89cb384413a15512319ca6504d8b869a\";i:13087;s:42:\"pinterest_89cb384413a15512319ca6504d8b869a\";i:13088;s:41:\"linkedin_89cb384413a15512319ca6504d8b869a\";i:13089;s:35:\"fb_199978c8b34a49231566fcb68fa8c917\";i:13090;s:40:\"twitter_199978c8b34a49231566fcb68fa8c917\";i:13091;s:42:\"pinterest_199978c8b34a49231566fcb68fa8c917\";i:13092;s:41:\"linkedin_199978c8b34a49231566fcb68fa8c917\";i:13093;s:35:\"fb_409fba1731e9b9d22a25ef37c8ded776\";i:13094;s:40:\"twitter_409fba1731e9b9d22a25ef37c8ded776\";i:13095;s:42:\"pinterest_409fba1731e9b9d22a25ef37c8ded776\";i:13096;s:41:\"linkedin_409fba1731e9b9d22a25ef37c8ded776\";i:13097;s:35:\"fb_bdba53c3a8a03025c2f17a2bc8512e16\";i:13098;s:40:\"twitter_bdba53c3a8a03025c2f17a2bc8512e16\";i:13099;s:42:\"pinterest_bdba53c3a8a03025c2f17a2bc8512e16\";i:13100;s:41:\"linkedin_bdba53c3a8a03025c2f17a2bc8512e16\";i:13101;s:35:\"fb_9192ecc5208ccc3d7dcb623a65c8e407\";i:13102;s:40:\"twitter_9192ecc5208ccc3d7dcb623a65c8e407\";i:13103;s:42:\"pinterest_9192ecc5208ccc3d7dcb623a65c8e407\";i:13104;s:41:\"linkedin_9192ecc5208ccc3d7dcb623a65c8e407\";i:13105;s:35:\"fb_4b825d43cbb86ce0ec4dac4178c63381\";i:13106;s:40:\"twitter_4b825d43cbb86ce0ec4dac4178c63381\";i:13107;s:42:\"pinterest_4b825d43cbb86ce0ec4dac4178c63381\";i:13108;s:41:\"linkedin_4b825d43cbb86ce0ec4dac4178c63381\";i:13109;s:35:\"fb_98e4bce2ee51a5739275664dabdaa70e\";i:13110;s:40:\"twitter_98e4bce2ee51a5739275664dabdaa70e\";i:13111;s:42:\"pinterest_98e4bce2ee51a5739275664dabdaa70e\";i:13112;s:41:\"linkedin_98e4bce2ee51a5739275664dabdaa70e\";i:13113;s:35:\"fb_b038d9b0d8d0c0247dd3b793214d7d6e\";i:13114;s:35:\"fb_74c240ce84bf13c06baa1534dde14f48\";i:13115;s:40:\"twitter_74c240ce84bf13c06baa1534dde14f48\";i:13116;s:42:\"pinterest_74c240ce84bf13c06baa1534dde14f48\";i:13117;s:41:\"linkedin_74c240ce84bf13c06baa1534dde14f48\";i:13118;s:35:\"fb_a347c5fc5f00a3d93c8623662afa2c47\";i:13119;s:40:\"twitter_a347c5fc5f00a3d93c8623662afa2c47\";i:13120;s:42:\"pinterest_a347c5fc5f00a3d93c8623662afa2c47\";i:13121;s:41:\"linkedin_a347c5fc5f00a3d93c8623662afa2c47\";i:13122;s:35:\"fb_a817f2a2be052fb148c03a988f4ee588\";i:13123;s:40:\"twitter_a817f2a2be052fb148c03a988f4ee588\";i:13124;s:42:\"pinterest_a817f2a2be052fb148c03a988f4ee588\";i:13125;s:41:\"linkedin_a817f2a2be052fb148c03a988f4ee588\";i:13126;s:35:\"fb_7701c92a95439aa1142e2efd90df2239\";i:13127;s:40:\"twitter_7701c92a95439aa1142e2efd90df2239\";i:13128;s:42:\"pinterest_7701c92a95439aa1142e2efd90df2239\";i:13129;s:41:\"linkedin_7701c92a95439aa1142e2efd90df2239\";i:13130;s:35:\"fb_93138c705ffcfe1d5c0131100c82222c\";i:13131;s:40:\"twitter_93138c705ffcfe1d5c0131100c82222c\";i:13132;s:42:\"pinterest_93138c705ffcfe1d5c0131100c82222c\";i:13133;s:41:\"linkedin_93138c705ffcfe1d5c0131100c82222c\";i:13134;s:35:\"fb_04dba8006ca26629954626548ddcf211\";i:13135;s:40:\"twitter_04dba8006ca26629954626548ddcf211\";i:13136;s:42:\"pinterest_04dba8006ca26629954626548ddcf211\";i:13137;s:41:\"linkedin_04dba8006ca26629954626548ddcf211\";i:13138;s:35:\"fb_42b53c396e269d5c38c9f74177643d39\";i:13139;s:40:\"twitter_42b53c396e269d5c38c9f74177643d39\";i:13140;s:42:\"pinterest_42b53c396e269d5c38c9f74177643d39\";i:13141;s:41:\"linkedin_42b53c396e269d5c38c9f74177643d39\";i:13142;s:35:\"fb_2cbd5832a5b38012b08ff33d0c7b3f80\";i:13143;s:40:\"twitter_2cbd5832a5b38012b08ff33d0c7b3f80\";i:13144;s:42:\"pinterest_2cbd5832a5b38012b08ff33d0c7b3f80\";i:13145;s:41:\"linkedin_2cbd5832a5b38012b08ff33d0c7b3f80\";i:13146;s:35:\"fb_c6f71e13b0456be8785c7ae56efa7242\";i:13147;s:40:\"twitter_c6f71e13b0456be8785c7ae56efa7242\";i:13148;s:42:\"pinterest_c6f71e13b0456be8785c7ae56efa7242\";i:13149;s:41:\"linkedin_c6f71e13b0456be8785c7ae56efa7242\";i:13150;s:35:\"fb_8a55b9ea53d052031e7d8e52fda9bf7e\";i:13151;s:40:\"twitter_8a55b9ea53d052031e7d8e52fda9bf7e\";i:13152;s:42:\"pinterest_8a55b9ea53d052031e7d8e52fda9bf7e\";i:13153;s:41:\"linkedin_8a55b9ea53d052031e7d8e52fda9bf7e\";i:13154;s:35:\"fb_4291058878272c74efeefc526b5242a5\";i:13155;s:35:\"fb_8299164fbed93c3fd83cbca2b1e240f4\";i:13156;s:40:\"twitter_8299164fbed93c3fd83cbca2b1e240f4\";i:13157;s:42:\"pinterest_8299164fbed93c3fd83cbca2b1e240f4\";i:13158;s:41:\"linkedin_8299164fbed93c3fd83cbca2b1e240f4\";i:13159;s:41:\"linkedin_1526c73eaf4756a8d746e9c5213ecdb5\";i:13160;s:35:\"fb_28f198241add7b2f3661e9fdcf6f7be7\";i:13161;s:40:\"twitter_28f198241add7b2f3661e9fdcf6f7be7\";i:13162;s:42:\"pinterest_28f198241add7b2f3661e9fdcf6f7be7\";i:13163;s:35:\"fb_f59c53edf260cfd5ace3c5313012ffd5\";i:13164;s:40:\"twitter_f59c53edf260cfd5ace3c5313012ffd5\";i:13165;s:42:\"pinterest_f59c53edf260cfd5ace3c5313012ffd5\";i:13166;s:41:\"linkedin_f59c53edf260cfd5ace3c5313012ffd5\";i:13167;s:35:\"fb_376667ea1c2e4803b06b508253bbd660\";i:13168;s:40:\"twitter_376667ea1c2e4803b06b508253bbd660\";i:13169;s:42:\"pinterest_376667ea1c2e4803b06b508253bbd660\";i:13170;s:41:\"linkedin_376667ea1c2e4803b06b508253bbd660\";i:13171;s:35:\"fb_5cf5e7a112ee41e21b66982525f173f2\";i:13172;s:40:\"twitter_5cf5e7a112ee41e21b66982525f173f2\";i:13173;s:42:\"pinterest_5cf5e7a112ee41e21b66982525f173f2\";i:13174;s:41:\"linkedin_5cf5e7a112ee41e21b66982525f173f2\";i:13175;s:35:\"fb_75cb27c95989c02b6251df9ba099284b\";i:13176;s:40:\"twitter_75cb27c95989c02b6251df9ba099284b\";i:13177;s:42:\"pinterest_75cb27c95989c02b6251df9ba099284b\";i:13178;s:41:\"linkedin_75cb27c95989c02b6251df9ba099284b\";i:13179;s:35:\"fb_1ae4b417425bd6eb2925ffcd61cd62ed\";i:13180;s:40:\"twitter_1ae4b417425bd6eb2925ffcd61cd62ed\";i:13181;s:42:\"pinterest_1ae4b417425bd6eb2925ffcd61cd62ed\";i:13182;s:41:\"linkedin_1ae4b417425bd6eb2925ffcd61cd62ed\";i:13183;s:35:\"fb_c867a91da7c37393a4283c5a55988b79\";i:13184;s:40:\"twitter_c867a91da7c37393a4283c5a55988b79\";i:13185;s:42:\"pinterest_c867a91da7c37393a4283c5a55988b79\";i:13186;s:41:\"linkedin_c867a91da7c37393a4283c5a55988b79\";i:13187;s:35:\"fb_32c86b1b2595c84d23418e95ec00f5b7\";i:13188;s:40:\"twitter_32c86b1b2595c84d23418e95ec00f5b7\";i:13189;s:42:\"pinterest_32c86b1b2595c84d23418e95ec00f5b7\";i:13190;s:41:\"linkedin_32c86b1b2595c84d23418e95ec00f5b7\";i:13191;s:35:\"fb_6719826d7a2937df5a4a227a08695244\";i:13192;s:40:\"twitter_6719826d7a2937df5a4a227a08695244\";i:13193;s:42:\"pinterest_6719826d7a2937df5a4a227a08695244\";i:13194;s:41:\"linkedin_6719826d7a2937df5a4a227a08695244\";i:13195;s:35:\"fb_e34d83baa3c6ab6ad30b1bb57d982023\";i:13196;s:40:\"twitter_e34d83baa3c6ab6ad30b1bb57d982023\";i:13197;s:42:\"pinterest_e34d83baa3c6ab6ad30b1bb57d982023\";i:13198;s:41:\"linkedin_e34d83baa3c6ab6ad30b1bb57d982023\";i:13199;s:35:\"fb_99a4fc7b5651cf0802e8379d63bbea27\";i:13200;s:40:\"twitter_99a4fc7b5651cf0802e8379d63bbea27\";i:13201;s:42:\"pinterest_99a4fc7b5651cf0802e8379d63bbea27\";i:13202;s:41:\"linkedin_99a4fc7b5651cf0802e8379d63bbea27\";i:13203;s:35:\"fb_88d294c055a38288597349ed7e8d2e65\";i:13204;s:40:\"twitter_88d294c055a38288597349ed7e8d2e65\";i:13205;s:42:\"pinterest_88d294c055a38288597349ed7e8d2e65\";i:13206;s:41:\"linkedin_88d294c055a38288597349ed7e8d2e65\";i:13207;s:35:\"fb_15541d30614a0d9379c961180a923bda\";i:13208;s:40:\"twitter_15541d30614a0d9379c961180a923bda\";i:13209;s:42:\"pinterest_15541d30614a0d9379c961180a923bda\";i:13210;s:41:\"linkedin_15541d30614a0d9379c961180a923bda\";i:13211;s:35:\"fb_254108fa2ad0a1b2cb84bf2c9a6d726a\";i:13212;s:40:\"twitter_254108fa2ad0a1b2cb84bf2c9a6d726a\";i:13213;s:42:\"pinterest_254108fa2ad0a1b2cb84bf2c9a6d726a\";i:13214;s:41:\"linkedin_254108fa2ad0a1b2cb84bf2c9a6d726a\";i:13215;s:35:\"fb_a88a47969b616e20e42be2b9e01190ed\";i:13216;s:40:\"twitter_a88a47969b616e20e42be2b9e01190ed\";i:13217;s:42:\"pinterest_a88a47969b616e20e42be2b9e01190ed\";i:13218;s:41:\"linkedin_a88a47969b616e20e42be2b9e01190ed\";i:13219;s:35:\"fb_1e6c49b57e81c96af9d7c533bfcb119d\";i:13220;s:40:\"twitter_1e6c49b57e81c96af9d7c533bfcb119d\";i:13221;s:42:\"pinterest_1e6c49b57e81c96af9d7c533bfcb119d\";i:13222;s:41:\"linkedin_1e6c49b57e81c96af9d7c533bfcb119d\";i:13223;s:35:\"fb_e7877203b9831fdd0366c23c5ad39957\";i:13224;s:40:\"twitter_e7877203b9831fdd0366c23c5ad39957\";i:13225;s:42:\"pinterest_e7877203b9831fdd0366c23c5ad39957\";i:13226;s:41:\"linkedin_e7877203b9831fdd0366c23c5ad39957\";i:13227;s:35:\"fb_7c58a611e4f2b0df33554d12f6cda27c\";i:13228;s:40:\"twitter_7c58a611e4f2b0df33554d12f6cda27c\";i:13229;s:42:\"pinterest_7c58a611e4f2b0df33554d12f6cda27c\";i:13230;s:41:\"linkedin_7c58a611e4f2b0df33554d12f6cda27c\";i:13231;s:35:\"fb_999fd7d5b886af82cc401cc6ad5c8236\";i:13232;s:40:\"twitter_999fd7d5b886af82cc401cc6ad5c8236\";i:13233;s:42:\"pinterest_999fd7d5b886af82cc401cc6ad5c8236\";i:13234;s:41:\"linkedin_999fd7d5b886af82cc401cc6ad5c8236\";i:13235;s:35:\"fb_409b839b025e690df7dbabbaa413f7e4\";i:13236;s:40:\"twitter_409b839b025e690df7dbabbaa413f7e4\";i:13237;s:42:\"pinterest_409b839b025e690df7dbabbaa413f7e4\";i:13238;s:41:\"linkedin_409b839b025e690df7dbabbaa413f7e4\";i:13239;s:35:\"fb_fcb0d30c690115f582b0e7446a706e98\";i:13240;s:40:\"twitter_fcb0d30c690115f582b0e7446a706e98\";i:13241;s:42:\"pinterest_fcb0d30c690115f582b0e7446a706e98\";i:13242;s:41:\"linkedin_fcb0d30c690115f582b0e7446a706e98\";i:13243;s:35:\"fb_f9e844fb3ec7a573bd70e54ff4d3c3b5\";i:13244;s:40:\"twitter_f9e844fb3ec7a573bd70e54ff4d3c3b5\";i:13245;s:42:\"pinterest_f9e844fb3ec7a573bd70e54ff4d3c3b5\";i:13246;s:41:\"linkedin_f9e844fb3ec7a573bd70e54ff4d3c3b5\";i:13247;s:35:\"fb_5b5d9a7da4bc42e2192fa1711d0ff95b\";i:13248;s:40:\"twitter_5b5d9a7da4bc42e2192fa1711d0ff95b\";i:13249;s:42:\"pinterest_5b5d9a7da4bc42e2192fa1711d0ff95b\";i:13250;s:41:\"linkedin_5b5d9a7da4bc42e2192fa1711d0ff95b\";i:13251;s:35:\"fb_269eaa45f37084ac5b3deb69aab67a5b\";i:13252;s:40:\"twitter_269eaa45f37084ac5b3deb69aab67a5b\";i:13253;s:42:\"pinterest_269eaa45f37084ac5b3deb69aab67a5b\";i:13254;s:41:\"linkedin_269eaa45f37084ac5b3deb69aab67a5b\";i:13255;s:35:\"fb_0ec5925771db282040f7f4df62cb5117\";i:13256;s:40:\"twitter_0ec5925771db282040f7f4df62cb5117\";i:13257;s:42:\"pinterest_0ec5925771db282040f7f4df62cb5117\";i:13258;s:41:\"linkedin_0ec5925771db282040f7f4df62cb5117\";i:13259;s:35:\"fb_e5b1467f1ced42c4a27d15e0103d2d0a\";i:13260;s:40:\"twitter_e5b1467f1ced42c4a27d15e0103d2d0a\";i:13261;s:42:\"pinterest_e5b1467f1ced42c4a27d15e0103d2d0a\";i:13262;s:41:\"linkedin_e5b1467f1ced42c4a27d15e0103d2d0a\";i:13263;s:35:\"fb_43609ac3168f1f8dc9ae3f116468d2b2\";i:13264;s:40:\"twitter_43609ac3168f1f8dc9ae3f116468d2b2\";i:13265;s:42:\"pinterest_43609ac3168f1f8dc9ae3f116468d2b2\";i:13266;s:41:\"linkedin_43609ac3168f1f8dc9ae3f116468d2b2\";i:13267;s:35:\"fb_ab84bcb58a2a5067fb06442ee0b4e14c\";i:13268;s:40:\"twitter_ab84bcb58a2a5067fb06442ee0b4e14c\";i:13269;s:42:\"pinterest_ab84bcb58a2a5067fb06442ee0b4e14c\";i:13270;s:41:\"linkedin_ab84bcb58a2a5067fb06442ee0b4e14c\";i:13271;s:35:\"fb_c1be69f718f3f096c3cb8e0b2e0824ea\";i:13272;s:40:\"twitter_c1be69f718f3f096c3cb8e0b2e0824ea\";i:13273;s:42:\"pinterest_c1be69f718f3f096c3cb8e0b2e0824ea\";i:13274;s:41:\"linkedin_c1be69f718f3f096c3cb8e0b2e0824ea\";i:13275;s:35:\"fb_8e167a5d5121f3a77cb44557c5f93e9d\";i:13276;s:40:\"twitter_8e167a5d5121f3a77cb44557c5f93e9d\";i:13277;s:42:\"pinterest_8e167a5d5121f3a77cb44557c5f93e9d\";i:13278;s:41:\"linkedin_8e167a5d5121f3a77cb44557c5f93e9d\";i:13279;s:35:\"fb_7a47eceb7997047eb38d22d4af06aa58\";i:13280;s:40:\"twitter_7a47eceb7997047eb38d22d4af06aa58\";i:13281;s:42:\"pinterest_7a47eceb7997047eb38d22d4af06aa58\";i:13282;s:41:\"linkedin_7a47eceb7997047eb38d22d4af06aa58\";i:13283;s:35:\"fb_1790768ac5f950726445ef70b0f55753\";i:13284;s:40:\"twitter_1790768ac5f950726445ef70b0f55753\";i:13285;s:42:\"pinterest_1790768ac5f950726445ef70b0f55753\";i:13286;s:41:\"linkedin_1790768ac5f950726445ef70b0f55753\";i:13287;s:35:\"fb_e792757564ad28c6ddf0a922e8aae3eb\";i:13288;s:40:\"twitter_e792757564ad28c6ddf0a922e8aae3eb\";i:13289;s:42:\"pinterest_e792757564ad28c6ddf0a922e8aae3eb\";i:13290;s:41:\"linkedin_e792757564ad28c6ddf0a922e8aae3eb\";i:13291;s:35:\"fb_e9799805eada0b93a6fc01f827c886c3\";i:13292;s:40:\"twitter_e9799805eada0b93a6fc01f827c886c3\";i:13293;s:42:\"pinterest_e9799805eada0b93a6fc01f827c886c3\";i:13294;s:41:\"linkedin_e9799805eada0b93a6fc01f827c886c3\";i:13295;s:35:\"fb_b1757cac9bc0254a59ad12dba322ae9d\";i:13296;s:40:\"twitter_b1757cac9bc0254a59ad12dba322ae9d\";i:13297;s:42:\"pinterest_b1757cac9bc0254a59ad12dba322ae9d\";i:13298;s:41:\"linkedin_b1757cac9bc0254a59ad12dba322ae9d\";i:13299;s:35:\"fb_f4a11143a3a03143e0b4dd74b615787a\";i:13300;s:40:\"twitter_f4a11143a3a03143e0b4dd74b615787a\";i:13301;s:42:\"pinterest_f4a11143a3a03143e0b4dd74b615787a\";i:13302;s:41:\"linkedin_f4a11143a3a03143e0b4dd74b615787a\";i:13303;s:35:\"fb_a3475a70d4ba216f59d014b1bd68b8dd\";i:13304;s:40:\"twitter_a3475a70d4ba216f59d014b1bd68b8dd\";i:13305;s:42:\"pinterest_a3475a70d4ba216f59d014b1bd68b8dd\";i:13306;s:41:\"linkedin_a3475a70d4ba216f59d014b1bd68b8dd\";i:13307;s:35:\"fb_590edde6b064438468fcae7be7c76336\";i:13308;s:40:\"twitter_590edde6b064438468fcae7be7c76336\";i:13309;s:42:\"pinterest_590edde6b064438468fcae7be7c76336\";i:13310;s:41:\"linkedin_590edde6b064438468fcae7be7c76336\";i:13311;s:35:\"fb_27ca7d71eaa856ab4609f7058fb7a5ae\";i:13312;s:40:\"twitter_27ca7d71eaa856ab4609f7058fb7a5ae\";i:13313;s:42:\"pinterest_27ca7d71eaa856ab4609f7058fb7a5ae\";i:13314;s:41:\"linkedin_27ca7d71eaa856ab4609f7058fb7a5ae\";i:13315;s:35:\"fb_16bfcbdc7a7ca88196d401bc90fb893f\";i:13316;s:40:\"twitter_16bfcbdc7a7ca88196d401bc90fb893f\";i:13317;s:42:\"pinterest_16bfcbdc7a7ca88196d401bc90fb893f\";i:13318;s:41:\"linkedin_16bfcbdc7a7ca88196d401bc90fb893f\";i:13319;s:35:\"fb_95cd413a9ae705e697e16c34795a9cfc\";i:13320;s:40:\"twitter_95cd413a9ae705e697e16c34795a9cfc\";i:13321;s:42:\"pinterest_95cd413a9ae705e697e16c34795a9cfc\";i:13322;s:41:\"linkedin_95cd413a9ae705e697e16c34795a9cfc\";i:13323;s:35:\"fb_2c336e4c02a4fd5d4a6ae1ec348f425a\";i:13324;s:40:\"twitter_2c336e4c02a4fd5d4a6ae1ec348f425a\";i:13325;s:42:\"pinterest_2c336e4c02a4fd5d4a6ae1ec348f425a\";i:13326;s:41:\"linkedin_2c336e4c02a4fd5d4a6ae1ec348f425a\";i:13327;s:35:\"fb_25bb54dd900ab5c26364bc669174ee3d\";i:13328;s:41:\"linkedin_25bb54dd900ab5c26364bc669174ee3d\";i:13329;s:35:\"fb_6b1232f7caeab56cde3f531fcddf3eaa\";i:13330;s:40:\"twitter_6b1232f7caeab56cde3f531fcddf3eaa\";i:13331;s:42:\"pinterest_6b1232f7caeab56cde3f531fcddf3eaa\";i:13332;s:41:\"linkedin_6b1232f7caeab56cde3f531fcddf3eaa\";i:13333;s:35:\"fb_46fedacd04a5514da5cc6da2a2c1185f\";i:13334;s:40:\"twitter_46fedacd04a5514da5cc6da2a2c1185f\";i:13335;s:42:\"pinterest_46fedacd04a5514da5cc6da2a2c1185f\";i:13336;s:41:\"linkedin_46fedacd04a5514da5cc6da2a2c1185f\";i:13337;s:35:\"fb_6e83e4f7b4af4285fe5c89d9c6524e5e\";i:13338;s:40:\"twitter_6e83e4f7b4af4285fe5c89d9c6524e5e\";i:13339;s:42:\"pinterest_6e83e4f7b4af4285fe5c89d9c6524e5e\";i:13340;s:41:\"linkedin_6e83e4f7b4af4285fe5c89d9c6524e5e\";i:13341;s:35:\"fb_f96d501aadb99ab51def99c9be785005\";i:13342;s:40:\"twitter_f96d501aadb99ab51def99c9be785005\";i:13343;s:42:\"pinterest_f96d501aadb99ab51def99c9be785005\";i:13344;s:41:\"linkedin_f96d501aadb99ab51def99c9be785005\";i:13345;s:35:\"fb_7510ed01fc011e70001d163c7dbaeaca\";i:13346;s:40:\"twitter_7510ed01fc011e70001d163c7dbaeaca\";i:13347;s:42:\"pinterest_7510ed01fc011e70001d163c7dbaeaca\";i:13348;s:41:\"linkedin_7510ed01fc011e70001d163c7dbaeaca\";i:13349;s:35:\"fb_9828ff7b57d269758519711c10b3bd1a\";i:13350;s:40:\"twitter_9828ff7b57d269758519711c10b3bd1a\";i:13351;s:42:\"pinterest_9828ff7b57d269758519711c10b3bd1a\";i:13352;s:41:\"linkedin_9828ff7b57d269758519711c10b3bd1a\";i:13353;s:35:\"fb_61c1a200674ad1904779c7261807f187\";i:13354;s:40:\"twitter_61c1a200674ad1904779c7261807f187\";i:13355;s:42:\"pinterest_61c1a200674ad1904779c7261807f187\";i:13356;s:41:\"linkedin_61c1a200674ad1904779c7261807f187\";i:13357;s:35:\"fb_d45e24a8e910a81e4c6dbcf566bc93cc\";i:13358;s:40:\"twitter_d45e24a8e910a81e4c6dbcf566bc93cc\";i:13359;s:42:\"pinterest_d45e24a8e910a81e4c6dbcf566bc93cc\";i:13360;s:41:\"linkedin_d45e24a8e910a81e4c6dbcf566bc93cc\";i:13361;s:35:\"fb_71173bbabc5ba92a349a0f1821afc5ac\";i:13362;s:40:\"twitter_71173bbabc5ba92a349a0f1821afc5ac\";i:13363;s:42:\"pinterest_71173bbabc5ba92a349a0f1821afc5ac\";i:13364;s:41:\"linkedin_71173bbabc5ba92a349a0f1821afc5ac\";i:13365;s:35:\"fb_e46162763d6b05f05e5e9cb0bfcd1f83\";i:13366;s:40:\"twitter_e46162763d6b05f05e5e9cb0bfcd1f83\";i:13367;s:42:\"pinterest_e46162763d6b05f05e5e9cb0bfcd1f83\";i:13368;s:41:\"linkedin_e46162763d6b05f05e5e9cb0bfcd1f83\";i:13369;s:35:\"fb_dc313e5faec12a45628f9ddbcfdfc530\";i:13370;s:40:\"twitter_dc313e5faec12a45628f9ddbcfdfc530\";i:13371;s:42:\"pinterest_dc313e5faec12a45628f9ddbcfdfc530\";i:13372;s:41:\"linkedin_dc313e5faec12a45628f9ddbcfdfc530\";i:13373;s:35:\"fb_fd7730726dd787cc266488b3ae74e7d1\";i:13374;s:40:\"twitter_fd7730726dd787cc266488b3ae74e7d1\";i:13375;s:42:\"pinterest_fd7730726dd787cc266488b3ae74e7d1\";i:13376;s:41:\"linkedin_fd7730726dd787cc266488b3ae74e7d1\";i:13377;s:35:\"fb_bfc37bc3f432f2d281d9a4da6fc4e7d6\";i:13378;s:40:\"twitter_bfc37bc3f432f2d281d9a4da6fc4e7d6\";i:13379;s:42:\"pinterest_bfc37bc3f432f2d281d9a4da6fc4e7d6\";i:13380;s:41:\"linkedin_bfc37bc3f432f2d281d9a4da6fc4e7d6\";i:13381;s:35:\"fb_ed72c0bf8416b0d546a204e8449009bf\";i:13382;s:40:\"twitter_ed72c0bf8416b0d546a204e8449009bf\";i:13383;s:42:\"pinterest_ed72c0bf8416b0d546a204e8449009bf\";i:13384;s:41:\"linkedin_ed72c0bf8416b0d546a204e8449009bf\";i:13385;s:35:\"fb_003fb6ab5b556f641775683facf23c01\";i:13386;s:40:\"twitter_003fb6ab5b556f641775683facf23c01\";i:13387;s:42:\"pinterest_003fb6ab5b556f641775683facf23c01\";i:13388;s:41:\"linkedin_003fb6ab5b556f641775683facf23c01\";i:13389;s:35:\"fb_17ff4839afc13d8dc590fd4b1a3d8c18\";i:13390;s:40:\"twitter_17ff4839afc13d8dc590fd4b1a3d8c18\";i:13391;s:42:\"pinterest_17ff4839afc13d8dc590fd4b1a3d8c18\";i:13392;s:41:\"linkedin_17ff4839afc13d8dc590fd4b1a3d8c18\";i:13393;s:35:\"fb_f3e63af76f40c4547ab0152cd24bc127\";i:13394;s:40:\"twitter_f3e63af76f40c4547ab0152cd24bc127\";i:13395;s:42:\"pinterest_f3e63af76f40c4547ab0152cd24bc127\";i:13396;s:35:\"fb_dbb9fc864c3fe2ade78eb88fff755fa3\";i:13397;s:40:\"twitter_dbb9fc864c3fe2ade78eb88fff755fa3\";i:13398;s:42:\"pinterest_dbb9fc864c3fe2ade78eb88fff755fa3\";i:13399;s:41:\"linkedin_dbb9fc864c3fe2ade78eb88fff755fa3\";i:13400;s:35:\"fb_e68bbf01ae2f36da12b750562262c2ee\";i:13401;s:40:\"twitter_e68bbf01ae2f36da12b750562262c2ee\";i:13402;s:42:\"pinterest_e68bbf01ae2f36da12b750562262c2ee\";i:13403;s:41:\"linkedin_e68bbf01ae2f36da12b750562262c2ee\";i:13404;s:35:\"fb_1a9fd363a56ffd40000421404f607013\";i:13405;s:40:\"twitter_1a9fd363a56ffd40000421404f607013\";i:13406;s:42:\"pinterest_1a9fd363a56ffd40000421404f607013\";i:13407;s:41:\"linkedin_1a9fd363a56ffd40000421404f607013\";i:13408;s:35:\"fb_82d17f73ea94c8cd762392fd8e1ed4f2\";i:13409;s:40:\"twitter_82d17f73ea94c8cd762392fd8e1ed4f2\";i:13410;s:42:\"pinterest_82d17f73ea94c8cd762392fd8e1ed4f2\";i:13411;s:41:\"linkedin_82d17f73ea94c8cd762392fd8e1ed4f2\";i:13412;s:35:\"fb_8cb9a96f45c7249e590ae638de3a3880\";i:13413;s:40:\"twitter_8cb9a96f45c7249e590ae638de3a3880\";i:13414;s:42:\"pinterest_8cb9a96f45c7249e590ae638de3a3880\";i:13415;s:41:\"linkedin_8cb9a96f45c7249e590ae638de3a3880\";i:13416;s:35:\"fb_6fe1d74c9cd1399299c0fdf72d226091\";i:13417;s:40:\"twitter_6fe1d74c9cd1399299c0fdf72d226091\";i:13418;s:42:\"pinterest_6fe1d74c9cd1399299c0fdf72d226091\";i:13419;s:41:\"linkedin_6fe1d74c9cd1399299c0fdf72d226091\";i:13420;s:35:\"fb_322698cec858f9031192d67fed31eb9b\";i:13421;s:40:\"twitter_322698cec858f9031192d67fed31eb9b\";i:13422;s:42:\"pinterest_322698cec858f9031192d67fed31eb9b\";i:13423;s:41:\"linkedin_322698cec858f9031192d67fed31eb9b\";i:13424;s:35:\"fb_f8ba7072bdb853382f0acf996b3591a4\";i:13425;s:40:\"twitter_f8ba7072bdb853382f0acf996b3591a4\";i:13426;s:42:\"pinterest_f8ba7072bdb853382f0acf996b3591a4\";i:13427;s:41:\"linkedin_f8ba7072bdb853382f0acf996b3591a4\";i:13428;s:35:\"fb_3847661226f785a92c07980ab2a83086\";i:13429;s:40:\"twitter_3847661226f785a92c07980ab2a83086\";i:13430;s:42:\"pinterest_3847661226f785a92c07980ab2a83086\";i:13431;s:41:\"linkedin_3847661226f785a92c07980ab2a83086\";i:13432;s:35:\"fb_3032d01ff20ab4f9bc53e81eef3d792f\";i:13433;s:40:\"twitter_3032d01ff20ab4f9bc53e81eef3d792f\";i:13434;s:42:\"pinterest_3032d01ff20ab4f9bc53e81eef3d792f\";i:13435;s:41:\"linkedin_3032d01ff20ab4f9bc53e81eef3d792f\";i:13436;s:35:\"fb_c4eb4e25f3b121ad96ebd6a3ca36fdee\";i:13437;s:40:\"twitter_c4eb4e25f3b121ad96ebd6a3ca36fdee\";i:13438;s:42:\"pinterest_c4eb4e25f3b121ad96ebd6a3ca36fdee\";i:13439;s:41:\"linkedin_c4eb4e25f3b121ad96ebd6a3ca36fdee\";i:13440;s:35:\"fb_8cdd9ca5075402b20f647a766decf4e7\";i:13441;s:40:\"twitter_8cdd9ca5075402b20f647a766decf4e7\";i:13442;s:42:\"pinterest_8cdd9ca5075402b20f647a766decf4e7\";i:13443;s:41:\"linkedin_8cdd9ca5075402b20f647a766decf4e7\";i:13444;s:35:\"fb_f7267dd6176f5bd73fc1c10c582e4d38\";i:13445;s:40:\"twitter_f7267dd6176f5bd73fc1c10c582e4d38\";i:13446;s:42:\"pinterest_f7267dd6176f5bd73fc1c10c582e4d38\";i:13447;s:41:\"linkedin_f7267dd6176f5bd73fc1c10c582e4d38\";i:13448;s:35:\"fb_ef2dfb097bce93c95b0fa429d8266ea3\";i:13449;s:40:\"twitter_ef2dfb097bce93c95b0fa429d8266ea3\";i:13450;s:42:\"pinterest_ef2dfb097bce93c95b0fa429d8266ea3\";i:13451;s:41:\"linkedin_ef2dfb097bce93c95b0fa429d8266ea3\";i:13452;s:35:\"fb_c579bfd40d698c6182bf5900cfcc4728\";i:13453;s:40:\"twitter_c579bfd40d698c6182bf5900cfcc4728\";i:13454;s:42:\"pinterest_c579bfd40d698c6182bf5900cfcc4728\";i:13455;s:41:\"linkedin_c579bfd40d698c6182bf5900cfcc4728\";i:13456;s:35:\"fb_79a0adbacefec56b7a67e91c5170a5b5\";i:13457;s:40:\"twitter_79a0adbacefec56b7a67e91c5170a5b5\";i:13458;s:42:\"pinterest_79a0adbacefec56b7a67e91c5170a5b5\";i:13459;s:41:\"linkedin_79a0adbacefec56b7a67e91c5170a5b5\";i:13460;s:35:\"fb_c5c6134d660d9cfd8f48ac931795fbf0\";i:13461;s:40:\"twitter_c5c6134d660d9cfd8f48ac931795fbf0\";i:13462;s:42:\"pinterest_c5c6134d660d9cfd8f48ac931795fbf0\";i:13463;s:41:\"linkedin_c5c6134d660d9cfd8f48ac931795fbf0\";i:13464;s:35:\"fb_6a05f6c34408cba31296597e91787e57\";i:13465;s:40:\"twitter_6a05f6c34408cba31296597e91787e57\";i:13466;s:42:\"pinterest_6a05f6c34408cba31296597e91787e57\";i:13467;s:41:\"linkedin_6a05f6c34408cba31296597e91787e57\";i:13468;s:35:\"fb_231ac91c6822b1bc988b5827bb06d337\";i:13469;s:40:\"twitter_231ac91c6822b1bc988b5827bb06d337\";i:13470;s:42:\"pinterest_231ac91c6822b1bc988b5827bb06d337\";i:13471;s:41:\"linkedin_231ac91c6822b1bc988b5827bb06d337\";i:13472;s:35:\"fb_00289c97e2f4cd42723ec3a249a7a6b7\";i:13473;s:40:\"twitter_00289c97e2f4cd42723ec3a249a7a6b7\";i:13474;s:42:\"pinterest_00289c97e2f4cd42723ec3a249a7a6b7\";i:13475;s:41:\"linkedin_00289c97e2f4cd42723ec3a249a7a6b7\";i:13476;s:35:\"fb_7df5c17c1004db0a090e892ed900cd02\";i:13477;s:40:\"twitter_7df5c17c1004db0a090e892ed900cd02\";i:13478;s:42:\"pinterest_7df5c17c1004db0a090e892ed900cd02\";i:13479;s:41:\"linkedin_7df5c17c1004db0a090e892ed900cd02\";i:13480;s:35:\"fb_c04332ddf80b8f9e86b6f3c40a934b2a\";i:13481;s:40:\"twitter_c04332ddf80b8f9e86b6f3c40a934b2a\";i:13482;s:42:\"pinterest_c04332ddf80b8f9e86b6f3c40a934b2a\";i:13483;s:35:\"fb_7ed22b14b4c5ee0c46dc80b41fa3e8ab\";i:13484;s:40:\"twitter_7ed22b14b4c5ee0c46dc80b41fa3e8ab\";i:13485;s:42:\"pinterest_7ed22b14b4c5ee0c46dc80b41fa3e8ab\";i:13486;s:41:\"linkedin_7ed22b14b4c5ee0c46dc80b41fa3e8ab\";i:13487;s:35:\"fb_17d229ef74dccc9ee397e157c9a022f8\";i:13488;s:40:\"twitter_17d229ef74dccc9ee397e157c9a022f8\";i:13489;s:42:\"pinterest_17d229ef74dccc9ee397e157c9a022f8\";i:13490;s:41:\"linkedin_17d229ef74dccc9ee397e157c9a022f8\";i:13491;s:35:\"fb_379c04ebb199d4207aba644c28a752ab\";i:13492;s:40:\"twitter_379c04ebb199d4207aba644c28a752ab\";i:13493;s:42:\"pinterest_379c04ebb199d4207aba644c28a752ab\";i:13494;s:41:\"linkedin_379c04ebb199d4207aba644c28a752ab\";i:13495;s:35:\"fb_417f5ee086473bd334097ad911138dfa\";i:13496;s:40:\"twitter_417f5ee086473bd334097ad911138dfa\";i:13497;s:42:\"pinterest_417f5ee086473bd334097ad911138dfa\";i:13498;s:41:\"linkedin_417f5ee086473bd334097ad911138dfa\";i:13499;s:35:\"fb_fd29c9ebc852a909ae7d2a82f0e5a4d5\";i:13500;s:40:\"twitter_fd29c9ebc852a909ae7d2a82f0e5a4d5\";i:13501;s:42:\"pinterest_fd29c9ebc852a909ae7d2a82f0e5a4d5\";i:13502;s:35:\"fb_2fe209d0b26b6c66997ad797805e3c95\";i:13503;s:40:\"twitter_2fe209d0b26b6c66997ad797805e3c95\";i:13504;s:42:\"pinterest_2fe209d0b26b6c66997ad797805e3c95\";i:13505;s:41:\"linkedin_2fe209d0b26b6c66997ad797805e3c95\";i:13506;s:35:\"fb_0a2260d1f7ebf9bd88acac3763ab4728\";i:13507;s:40:\"twitter_0a2260d1f7ebf9bd88acac3763ab4728\";i:13508;s:42:\"pinterest_0a2260d1f7ebf9bd88acac3763ab4728\";i:13509;s:41:\"linkedin_0a2260d1f7ebf9bd88acac3763ab4728\";i:13510;s:35:\"fb_153a9421d9349605e306a1cd5f12a963\";i:13511;s:40:\"twitter_153a9421d9349605e306a1cd5f12a963\";i:13512;s:42:\"pinterest_153a9421d9349605e306a1cd5f12a963\";i:13513;s:41:\"linkedin_153a9421d9349605e306a1cd5f12a963\";i:13514;s:35:\"fb_37e6a1df774494161036a64bbcde7b83\";i:13515;s:40:\"twitter_37e6a1df774494161036a64bbcde7b83\";i:13516;s:42:\"pinterest_37e6a1df774494161036a64bbcde7b83\";i:13517;s:41:\"linkedin_37e6a1df774494161036a64bbcde7b83\";i:13518;s:35:\"fb_d14d45dcc47b01727cbe6768506bffb8\";i:13519;s:40:\"twitter_d14d45dcc47b01727cbe6768506bffb8\";i:13520;s:42:\"pinterest_d14d45dcc47b01727cbe6768506bffb8\";i:13521;s:41:\"linkedin_d14d45dcc47b01727cbe6768506bffb8\";i:13522;s:35:\"fb_bcab73c062c883b21a459580730f3246\";i:13523;s:40:\"twitter_bcab73c062c883b21a459580730f3246\";i:13524;s:42:\"pinterest_bcab73c062c883b21a459580730f3246\";i:13525;s:41:\"linkedin_bcab73c062c883b21a459580730f3246\";i:13526;s:35:\"fb_ea031be25f007667214d6d3aebadaf92\";i:13527;s:40:\"twitter_ea031be25f007667214d6d3aebadaf92\";i:13528;s:42:\"pinterest_ea031be25f007667214d6d3aebadaf92\";i:13529;s:41:\"linkedin_ea031be25f007667214d6d3aebadaf92\";i:13530;s:35:\"fb_71acaeac69a17c13baf010fc1e1a5f1f\";i:13531;s:40:\"twitter_71acaeac69a17c13baf010fc1e1a5f1f\";i:13532;s:42:\"pinterest_71acaeac69a17c13baf010fc1e1a5f1f\";i:13533;s:41:\"linkedin_71acaeac69a17c13baf010fc1e1a5f1f\";i:13534;s:35:\"fb_0a61b343b1fb051e879339453b8797ff\";i:13535;s:40:\"twitter_0a61b343b1fb051e879339453b8797ff\";i:13536;s:42:\"pinterest_0a61b343b1fb051e879339453b8797ff\";i:13537;s:41:\"linkedin_0a61b343b1fb051e879339453b8797ff\";i:13538;s:35:\"fb_b38b9a968326953c2558d2221a42d2c0\";i:13539;s:40:\"twitter_b38b9a968326953c2558d2221a42d2c0\";i:13540;s:42:\"pinterest_b38b9a968326953c2558d2221a42d2c0\";i:13541;s:41:\"linkedin_b38b9a968326953c2558d2221a42d2c0\";i:13542;s:35:\"fb_4017959b787dce5d4f7136504c4ac176\";i:13543;s:40:\"twitter_4017959b787dce5d4f7136504c4ac176\";i:13544;s:42:\"pinterest_4017959b787dce5d4f7136504c4ac176\";i:13545;s:41:\"linkedin_4017959b787dce5d4f7136504c4ac176\";i:13546;s:35:\"fb_b5d9650a0f103fcb5312500790ba15a7\";i:13547;s:40:\"twitter_b5d9650a0f103fcb5312500790ba15a7\";i:13548;s:42:\"pinterest_b5d9650a0f103fcb5312500790ba15a7\";i:13549;s:41:\"linkedin_b5d9650a0f103fcb5312500790ba15a7\";i:13550;s:35:\"fb_0d6f580b4011d5080d58927c3fd27dc8\";i:13551;s:40:\"twitter_0d6f580b4011d5080d58927c3fd27dc8\";i:13552;s:42:\"pinterest_0d6f580b4011d5080d58927c3fd27dc8\";i:13553;s:41:\"linkedin_0d6f580b4011d5080d58927c3fd27dc8\";i:13554;s:35:\"fb_b7f13f2728b70b8fc563d373f38e3467\";i:13555;s:40:\"twitter_b7f13f2728b70b8fc563d373f38e3467\";i:13556;s:42:\"pinterest_b7f13f2728b70b8fc563d373f38e3467\";i:13557;s:41:\"linkedin_b7f13f2728b70b8fc563d373f38e3467\";i:13558;s:35:\"fb_3c79644842134b9bd4c6c4758e3fe815\";i:13559;s:40:\"twitter_3c79644842134b9bd4c6c4758e3fe815\";i:13560;s:42:\"pinterest_3c79644842134b9bd4c6c4758e3fe815\";i:13561;s:41:\"linkedin_3c79644842134b9bd4c6c4758e3fe815\";i:13562;s:35:\"fb_ebbfcffaa8c8533c7ef755b9dd874d1c\";i:13563;s:40:\"twitter_ebbfcffaa8c8533c7ef755b9dd874d1c\";i:13564;s:42:\"pinterest_ebbfcffaa8c8533c7ef755b9dd874d1c\";i:13565;s:41:\"linkedin_ebbfcffaa8c8533c7ef755b9dd874d1c\";i:13566;s:35:\"fb_5da6e24e236033210ed118e549ab43d4\";i:13567;s:40:\"twitter_5da6e24e236033210ed118e549ab43d4\";i:13568;s:42:\"pinterest_5da6e24e236033210ed118e549ab43d4\";i:13569;s:41:\"linkedin_5da6e24e236033210ed118e549ab43d4\";i:13570;s:35:\"fb_3f2b6f04b152c8c67777a57ca8cfd92f\";i:13571;s:40:\"twitter_3f2b6f04b152c8c67777a57ca8cfd92f\";i:13572;s:42:\"pinterest_3f2b6f04b152c8c67777a57ca8cfd92f\";i:13573;s:41:\"linkedin_3f2b6f04b152c8c67777a57ca8cfd92f\";i:13574;s:35:\"fb_b196894924ffffd0a911534d592e6928\";i:13575;s:40:\"twitter_b196894924ffffd0a911534d592e6928\";i:13576;s:42:\"pinterest_b196894924ffffd0a911534d592e6928\";i:13577;s:41:\"linkedin_b196894924ffffd0a911534d592e6928\";i:13578;s:35:\"fb_201d2290639adc9abf90993ce88194ef\";i:13579;s:40:\"twitter_201d2290639adc9abf90993ce88194ef\";i:13580;s:42:\"pinterest_201d2290639adc9abf90993ce88194ef\";i:13581;s:41:\"linkedin_201d2290639adc9abf90993ce88194ef\";i:13582;s:35:\"fb_abf328e370deb145844c9c0d599684b2\";i:13583;s:40:\"twitter_abf328e370deb145844c9c0d599684b2\";i:13584;s:42:\"pinterest_abf328e370deb145844c9c0d599684b2\";i:13585;s:41:\"linkedin_abf328e370deb145844c9c0d599684b2\";i:13586;s:35:\"fb_7ad3c84f12f3c9acd5aec3fce0a54c79\";i:13587;s:40:\"twitter_7ad3c84f12f3c9acd5aec3fce0a54c79\";i:13588;s:42:\"pinterest_7ad3c84f12f3c9acd5aec3fce0a54c79\";i:13589;s:41:\"linkedin_7ad3c84f12f3c9acd5aec3fce0a54c79\";i:13590;s:35:\"fb_c89366c634493be716259652fa8b9e18\";i:13591;s:40:\"twitter_c89366c634493be716259652fa8b9e18\";i:13592;s:42:\"pinterest_c89366c634493be716259652fa8b9e18\";i:13593;s:41:\"linkedin_c89366c634493be716259652fa8b9e18\";i:13594;s:35:\"fb_044f56ac4b0db2e4830d572a758c9cdd\";i:13595;s:40:\"twitter_044f56ac4b0db2e4830d572a758c9cdd\";i:13596;s:42:\"pinterest_044f56ac4b0db2e4830d572a758c9cdd\";i:13597;s:41:\"linkedin_044f56ac4b0db2e4830d572a758c9cdd\";i:13598;s:35:\"fb_39e6394681b91279af598bfd0bce0e4d\";i:13599;s:40:\"twitter_39e6394681b91279af598bfd0bce0e4d\";i:13600;s:42:\"pinterest_39e6394681b91279af598bfd0bce0e4d\";i:13601;s:41:\"linkedin_39e6394681b91279af598bfd0bce0e4d\";i:13602;s:35:\"fb_b8beca4357d67969bde74915cdde9da1\";i:13603;s:40:\"twitter_b8beca4357d67969bde74915cdde9da1\";i:13604;s:42:\"pinterest_b8beca4357d67969bde74915cdde9da1\";i:13605;s:41:\"linkedin_b8beca4357d67969bde74915cdde9da1\";i:13606;s:35:\"fb_ea915ed83679c409062fc94f71e3c42a\";i:13607;s:40:\"twitter_ea915ed83679c409062fc94f71e3c42a\";i:13608;s:42:\"pinterest_ea915ed83679c409062fc94f71e3c42a\";i:13609;s:41:\"linkedin_ea915ed83679c409062fc94f71e3c42a\";i:13610;s:35:\"fb_8b2737d0f423a19b9e84ba891f6ccd3c\";i:13611;s:40:\"twitter_8b2737d0f423a19b9e84ba891f6ccd3c\";i:13612;s:42:\"pinterest_8b2737d0f423a19b9e84ba891f6ccd3c\";i:13613;s:41:\"linkedin_8b2737d0f423a19b9e84ba891f6ccd3c\";i:13614;s:35:\"fb_b6e48ab913a9c3c6e60a1a53b416027b\";i:13615;s:40:\"twitter_b6e48ab913a9c3c6e60a1a53b416027b\";i:13616;s:42:\"pinterest_b6e48ab913a9c3c6e60a1a53b416027b\";i:13617;s:41:\"linkedin_b6e48ab913a9c3c6e60a1a53b416027b\";i:13618;s:35:\"fb_b415da83ccb1bed6829e9cc5b15b3078\";i:13619;s:40:\"twitter_b415da83ccb1bed6829e9cc5b15b3078\";i:13620;s:42:\"pinterest_b415da83ccb1bed6829e9cc5b15b3078\";i:13621;s:41:\"linkedin_b415da83ccb1bed6829e9cc5b15b3078\";i:13622;s:35:\"fb_ba05b5d3a82d630e59088e045715073f\";i:13623;s:40:\"twitter_ba05b5d3a82d630e59088e045715073f\";i:13624;s:42:\"pinterest_ba05b5d3a82d630e59088e045715073f\";i:13625;s:41:\"linkedin_ba05b5d3a82d630e59088e045715073f\";i:13626;s:35:\"fb_668b40a63cee76cadebaa1c96c7e8228\";i:13627;s:40:\"twitter_668b40a63cee76cadebaa1c96c7e8228\";i:13628;s:42:\"pinterest_668b40a63cee76cadebaa1c96c7e8228\";i:13629;s:41:\"linkedin_668b40a63cee76cadebaa1c96c7e8228\";i:13630;s:35:\"fb_9364eb0b6dfbdcd2c600afae49f214af\";i:13631;s:40:\"twitter_9364eb0b6dfbdcd2c600afae49f214af\";i:13632;s:42:\"pinterest_9364eb0b6dfbdcd2c600afae49f214af\";i:13633;s:41:\"linkedin_9364eb0b6dfbdcd2c600afae49f214af\";i:13634;s:35:\"fb_37c87d815afae2b773b30f0dea540c22\";i:13635;s:40:\"twitter_37c87d815afae2b773b30f0dea540c22\";i:13636;s:42:\"pinterest_37c87d815afae2b773b30f0dea540c22\";i:13637;s:41:\"linkedin_37c87d815afae2b773b30f0dea540c22\";i:13638;s:35:\"fb_f876cef2ee0533b85f0b86abadceb1eb\";i:13639;s:40:\"twitter_f876cef2ee0533b85f0b86abadceb1eb\";i:13640;s:42:\"pinterest_f876cef2ee0533b85f0b86abadceb1eb\";i:13641;s:41:\"linkedin_f876cef2ee0533b85f0b86abadceb1eb\";i:13642;s:35:\"fb_7b8d7d2369402827918c35c298f197c5\";i:13643;s:40:\"twitter_7b8d7d2369402827918c35c298f197c5\";i:13644;s:42:\"pinterest_7b8d7d2369402827918c35c298f197c5\";i:13645;s:41:\"linkedin_7b8d7d2369402827918c35c298f197c5\";i:13646;s:35:\"fb_7e4a682fd2a20b87008e946a41789c13\";i:13647;s:40:\"twitter_7e4a682fd2a20b87008e946a41789c13\";i:13648;s:42:\"pinterest_7e4a682fd2a20b87008e946a41789c13\";i:13649;s:41:\"linkedin_7e4a682fd2a20b87008e946a41789c13\";i:13650;s:35:\"fb_e1cebb422e68a1cd37fe99e70c8588e6\";i:13651;s:40:\"twitter_e1cebb422e68a1cd37fe99e70c8588e6\";i:13652;s:42:\"pinterest_e1cebb422e68a1cd37fe99e70c8588e6\";i:13653;s:41:\"linkedin_e1cebb422e68a1cd37fe99e70c8588e6\";i:13654;s:35:\"fb_ff02fa9b77516a904c6d8c8e0abadd06\";i:13655;s:40:\"twitter_ff02fa9b77516a904c6d8c8e0abadd06\";i:13656;s:42:\"pinterest_ff02fa9b77516a904c6d8c8e0abadd06\";i:13657;s:41:\"linkedin_ff02fa9b77516a904c6d8c8e0abadd06\";i:13658;s:35:\"fb_adef956f52f31daa9e42dddc06ab935f\";i:13659;s:40:\"twitter_adef956f52f31daa9e42dddc06ab935f\";i:13660;s:42:\"pinterest_adef956f52f31daa9e42dddc06ab935f\";i:13661;s:41:\"linkedin_adef956f52f31daa9e42dddc06ab935f\";i:13662;s:35:\"fb_952db185d374ac4b807ab59a74f78b29\";i:13663;s:40:\"twitter_952db185d374ac4b807ab59a74f78b29\";i:13664;s:42:\"pinterest_952db185d374ac4b807ab59a74f78b29\";i:13665;s:41:\"linkedin_952db185d374ac4b807ab59a74f78b29\";i:13666;s:35:\"fb_98df2decc843511bdd03e1c3bb1c0804\";i:13667;s:40:\"twitter_98df2decc843511bdd03e1c3bb1c0804\";i:13668;s:42:\"pinterest_98df2decc843511bdd03e1c3bb1c0804\";i:13669;s:41:\"linkedin_98df2decc843511bdd03e1c3bb1c0804\";i:13670;s:35:\"fb_9ccdb41734538b663984460d1f7b1dcf\";i:13671;s:40:\"twitter_9ccdb41734538b663984460d1f7b1dcf\";i:13672;s:42:\"pinterest_9ccdb41734538b663984460d1f7b1dcf\";i:13673;s:41:\"linkedin_9ccdb41734538b663984460d1f7b1dcf\";i:13674;s:35:\"fb_d94e5f24a2338bcf876a9e3b774b29d6\";i:13675;s:40:\"twitter_d94e5f24a2338bcf876a9e3b774b29d6\";i:13676;s:42:\"pinterest_d94e5f24a2338bcf876a9e3b774b29d6\";i:13677;s:41:\"linkedin_d94e5f24a2338bcf876a9e3b774b29d6\";i:13678;s:35:\"fb_7c9096e9c4367e61c1ddf08fbedd7724\";i:13679;s:40:\"twitter_7c9096e9c4367e61c1ddf08fbedd7724\";i:13680;s:42:\"pinterest_7c9096e9c4367e61c1ddf08fbedd7724\";i:13681;s:35:\"fb_52c8c8e765fa105b462503af4a40fa6c\";i:13682;s:40:\"twitter_52c8c8e765fa105b462503af4a40fa6c\";i:13683;s:42:\"pinterest_52c8c8e765fa105b462503af4a40fa6c\";i:13684;s:41:\"linkedin_52c8c8e765fa105b462503af4a40fa6c\";i:13685;s:35:\"fb_991c067c57eea9eb13a46986a0a7a918\";i:13686;s:40:\"twitter_991c067c57eea9eb13a46986a0a7a918\";i:13687;s:42:\"pinterest_991c067c57eea9eb13a46986a0a7a918\";i:13688;s:41:\"linkedin_991c067c57eea9eb13a46986a0a7a918\";i:13689;s:35:\"fb_5360321c3c7f6614e04a1eeb3dc681a9\";i:13690;s:40:\"twitter_5360321c3c7f6614e04a1eeb3dc681a9\";i:13691;s:42:\"pinterest_5360321c3c7f6614e04a1eeb3dc681a9\";i:13692;s:41:\"linkedin_5360321c3c7f6614e04a1eeb3dc681a9\";i:13693;s:35:\"fb_8c6f201151cb23851a7453c4636e68bc\";i:13694;s:40:\"twitter_8c6f201151cb23851a7453c4636e68bc\";i:13695;s:42:\"pinterest_8c6f201151cb23851a7453c4636e68bc\";i:13696;s:41:\"linkedin_8c6f201151cb23851a7453c4636e68bc\";i:13697;s:35:\"fb_16494f3fe7195cce9810f7c819795549\";i:13698;s:40:\"twitter_16494f3fe7195cce9810f7c819795549\";i:13699;s:42:\"pinterest_16494f3fe7195cce9810f7c819795549\";i:13700;s:41:\"linkedin_16494f3fe7195cce9810f7c819795549\";i:13701;s:35:\"fb_1e03349eef35f52a1bcc179cf88c38b4\";i:13702;s:40:\"twitter_1e03349eef35f52a1bcc179cf88c38b4\";i:13703;s:42:\"pinterest_1e03349eef35f52a1bcc179cf88c38b4\";i:13704;s:41:\"linkedin_1e03349eef35f52a1bcc179cf88c38b4\";i:13705;s:35:\"fb_17a03bdd9ebee5f38ef3cce2cf10c08f\";i:13706;s:40:\"twitter_17a03bdd9ebee5f38ef3cce2cf10c08f\";i:13707;s:42:\"pinterest_17a03bdd9ebee5f38ef3cce2cf10c08f\";i:13708;s:41:\"linkedin_17a03bdd9ebee5f38ef3cce2cf10c08f\";i:13709;s:35:\"fb_1557137e7faf4ab1a7c8f235d21eafeb\";i:13710;s:40:\"twitter_1557137e7faf4ab1a7c8f235d21eafeb\";i:13711;s:42:\"pinterest_1557137e7faf4ab1a7c8f235d21eafeb\";i:13712;s:41:\"linkedin_1557137e7faf4ab1a7c8f235d21eafeb\";i:13713;s:35:\"fb_f8fef8547a09504acdbe920eff0169a7\";i:13714;s:40:\"twitter_f8fef8547a09504acdbe920eff0169a7\";i:13715;s:42:\"pinterest_f8fef8547a09504acdbe920eff0169a7\";i:13716;s:41:\"linkedin_f8fef8547a09504acdbe920eff0169a7\";i:13717;s:35:\"fb_997436c09f04733a22d15e85003966dc\";i:13718;s:40:\"twitter_997436c09f04733a22d15e85003966dc\";i:13719;s:42:\"pinterest_997436c09f04733a22d15e85003966dc\";i:13720;s:41:\"linkedin_997436c09f04733a22d15e85003966dc\";i:13721;s:35:\"fb_ebe8a6f92897d6988ef4dcef8beccbb9\";i:13722;s:40:\"twitter_ebe8a6f92897d6988ef4dcef8beccbb9\";i:13723;s:42:\"pinterest_ebe8a6f92897d6988ef4dcef8beccbb9\";i:13724;s:41:\"linkedin_ebe8a6f92897d6988ef4dcef8beccbb9\";i:13725;s:35:\"fb_cf42aac50740331d75d208b317131f27\";i:13726;s:40:\"twitter_cf42aac50740331d75d208b317131f27\";i:13727;s:42:\"pinterest_cf42aac50740331d75d208b317131f27\";i:13728;s:41:\"linkedin_cf42aac50740331d75d208b317131f27\";i:13729;s:35:\"fb_900bb2bf7302cc67aaed10c7df961dd3\";i:13730;s:40:\"twitter_900bb2bf7302cc67aaed10c7df961dd3\";i:13731;s:42:\"pinterest_900bb2bf7302cc67aaed10c7df961dd3\";i:13732;s:41:\"linkedin_900bb2bf7302cc67aaed10c7df961dd3\";i:13733;s:35:\"fb_9dbd9b4b54f2a5a7390b4c1c4b72c2d2\";i:13734;s:40:\"twitter_9dbd9b4b54f2a5a7390b4c1c4b72c2d2\";i:13735;s:42:\"pinterest_9dbd9b4b54f2a5a7390b4c1c4b72c2d2\";i:13736;s:41:\"linkedin_9dbd9b4b54f2a5a7390b4c1c4b72c2d2\";i:13737;s:35:\"fb_1385b773c2fc52fb7653e977ee7ecba5\";i:13738;s:40:\"twitter_1385b773c2fc52fb7653e977ee7ecba5\";i:13739;s:42:\"pinterest_1385b773c2fc52fb7653e977ee7ecba5\";i:13740;s:41:\"linkedin_1385b773c2fc52fb7653e977ee7ecba5\";i:13741;s:35:\"fb_72ba418494e4370d5bb9818847a5cc88\";i:13742;s:40:\"twitter_72ba418494e4370d5bb9818847a5cc88\";i:13743;s:42:\"pinterest_72ba418494e4370d5bb9818847a5cc88\";i:13744;s:41:\"linkedin_72ba418494e4370d5bb9818847a5cc88\";i:13745;s:35:\"fb_d7f921088463e29a80f2693152ab5d55\";i:13746;s:40:\"twitter_d7f921088463e29a80f2693152ab5d55\";i:13747;s:42:\"pinterest_d7f921088463e29a80f2693152ab5d55\";i:13748;s:41:\"linkedin_d7f921088463e29a80f2693152ab5d55\";i:13749;s:35:\"fb_5c731ac04a7ff3188506a4d4bf7fce7d\";i:13750;s:40:\"twitter_5c731ac04a7ff3188506a4d4bf7fce7d\";i:13751;s:42:\"pinterest_5c731ac04a7ff3188506a4d4bf7fce7d\";i:13752;s:41:\"linkedin_5c731ac04a7ff3188506a4d4bf7fce7d\";i:13753;s:35:\"fb_81058ebda4ea12a5d2914487f1bcf482\";i:13754;s:40:\"twitter_81058ebda4ea12a5d2914487f1bcf482\";i:13755;s:42:\"pinterest_81058ebda4ea12a5d2914487f1bcf482\";i:13756;s:41:\"linkedin_81058ebda4ea12a5d2914487f1bcf482\";i:13757;s:35:\"fb_6e915d0feb62df7fbda9df52f70eaac8\";i:13758;s:40:\"twitter_6e915d0feb62df7fbda9df52f70eaac8\";i:13759;s:42:\"pinterest_6e915d0feb62df7fbda9df52f70eaac8\";i:13760;s:35:\"fb_6d08345c84dacf70a22a7960b95856dd\";i:13761;s:40:\"twitter_6d08345c84dacf70a22a7960b95856dd\";i:13762;s:42:\"pinterest_6d08345c84dacf70a22a7960b95856dd\";i:13763;s:41:\"linkedin_6d08345c84dacf70a22a7960b95856dd\";i:13764;s:35:\"fb_015a42fc5a24814fcfb11b28ad71bc30\";i:13765;s:40:\"twitter_015a42fc5a24814fcfb11b28ad71bc30\";i:13766;s:42:\"pinterest_015a42fc5a24814fcfb11b28ad71bc30\";i:13767;s:41:\"linkedin_015a42fc5a24814fcfb11b28ad71bc30\";i:13768;s:35:\"fb_eba862152dc0c0ccea00ae1397f0e67e\";i:13769;s:40:\"twitter_eba862152dc0c0ccea00ae1397f0e67e\";i:13770;s:42:\"pinterest_eba862152dc0c0ccea00ae1397f0e67e\";i:13771;s:41:\"linkedin_eba862152dc0c0ccea00ae1397f0e67e\";i:13772;s:35:\"fb_9052b327c303ec30f62aae4de51b1db6\";i:13773;s:40:\"twitter_9052b327c303ec30f62aae4de51b1db6\";i:13774;s:42:\"pinterest_9052b327c303ec30f62aae4de51b1db6\";i:13775;s:41:\"linkedin_9052b327c303ec30f62aae4de51b1db6\";i:13776;s:35:\"fb_a6f369f91040a6592e7f10f3be53aeee\";i:13777;s:40:\"twitter_a6f369f91040a6592e7f10f3be53aeee\";i:13778;s:42:\"pinterest_a6f369f91040a6592e7f10f3be53aeee\";i:13779;s:41:\"linkedin_a6f369f91040a6592e7f10f3be53aeee\";i:13780;s:35:\"fb_a0e9907c7840945926dd8521001e8efd\";i:13781;s:40:\"twitter_a0e9907c7840945926dd8521001e8efd\";i:13782;s:42:\"pinterest_a0e9907c7840945926dd8521001e8efd\";i:13783;s:41:\"linkedin_a0e9907c7840945926dd8521001e8efd\";i:13784;s:35:\"fb_c906380e639d265ea1f07fb18bfacd47\";i:13785;s:40:\"twitter_c906380e639d265ea1f07fb18bfacd47\";i:13786;s:42:\"pinterest_c906380e639d265ea1f07fb18bfacd47\";i:13787;s:41:\"linkedin_c906380e639d265ea1f07fb18bfacd47\";i:13788;s:35:\"fb_404d7c25623958329092e61593b2942b\";i:13789;s:40:\"twitter_404d7c25623958329092e61593b2942b\";i:13790;s:42:\"pinterest_404d7c25623958329092e61593b2942b\";i:13791;s:41:\"linkedin_404d7c25623958329092e61593b2942b\";i:13792;s:35:\"fb_7e34292b328729d9246bbed6d20de046\";i:13793;s:40:\"twitter_7e34292b328729d9246bbed6d20de046\";i:13794;s:42:\"pinterest_7e34292b328729d9246bbed6d20de046\";i:13795;s:41:\"linkedin_7e34292b328729d9246bbed6d20de046\";i:13796;s:35:\"fb_59331ea77d63be82f4fd9eb7356d8fd9\";i:13797;s:40:\"twitter_59331ea77d63be82f4fd9eb7356d8fd9\";i:13798;s:42:\"pinterest_59331ea77d63be82f4fd9eb7356d8fd9\";i:13799;s:41:\"linkedin_59331ea77d63be82f4fd9eb7356d8fd9\";i:13800;s:35:\"fb_fa6fd28bca68ae49e4402a4024e54ddc\";i:13801;s:40:\"twitter_fa6fd28bca68ae49e4402a4024e54ddc\";i:13802;s:42:\"pinterest_fa6fd28bca68ae49e4402a4024e54ddc\";i:13803;s:41:\"linkedin_fa6fd28bca68ae49e4402a4024e54ddc\";i:13804;s:35:\"fb_c64a78f24c2ad24bd0f779ba6165ad15\";i:13805;s:40:\"twitter_c64a78f24c2ad24bd0f779ba6165ad15\";i:13806;s:42:\"pinterest_c64a78f24c2ad24bd0f779ba6165ad15\";i:13807;s:41:\"linkedin_c64a78f24c2ad24bd0f779ba6165ad15\";i:13808;s:35:\"fb_9bdc2e39ca99bf7a629501edbd3d7688\";i:13809;s:40:\"twitter_9bdc2e39ca99bf7a629501edbd3d7688\";i:13810;s:42:\"pinterest_9bdc2e39ca99bf7a629501edbd3d7688\";i:13811;s:35:\"fb_8044512aa28ca6492685469b62d31781\";i:13812;s:40:\"twitter_8044512aa28ca6492685469b62d31781\";i:13813;s:42:\"pinterest_8044512aa28ca6492685469b62d31781\";i:13814;s:41:\"linkedin_8044512aa28ca6492685469b62d31781\";i:13815;s:35:\"fb_14f023f17b8ff16b0dbdd4390618fe4f\";i:13816;s:40:\"twitter_14f023f17b8ff16b0dbdd4390618fe4f\";i:13817;s:42:\"pinterest_14f023f17b8ff16b0dbdd4390618fe4f\";i:13818;s:41:\"linkedin_14f023f17b8ff16b0dbdd4390618fe4f\";i:13819;s:35:\"fb_bc246a1889cfe9319a32d6d0334da21a\";i:13820;s:40:\"twitter_bc246a1889cfe9319a32d6d0334da21a\";i:13821;s:42:\"pinterest_bc246a1889cfe9319a32d6d0334da21a\";i:13822;s:41:\"linkedin_bc246a1889cfe9319a32d6d0334da21a\";i:13823;s:35:\"fb_94f45cc905237989b98e0b6876853947\";i:13824;s:40:\"twitter_94f45cc905237989b98e0b6876853947\";i:13825;s:42:\"pinterest_94f45cc905237989b98e0b6876853947\";i:13826;s:41:\"linkedin_94f45cc905237989b98e0b6876853947\";i:13827;s:35:\"fb_c397ac49426953f9c777e5b5de84da23\";i:13828;s:40:\"twitter_c397ac49426953f9c777e5b5de84da23\";i:13829;s:42:\"pinterest_c397ac49426953f9c777e5b5de84da23\";i:13830;s:41:\"linkedin_c397ac49426953f9c777e5b5de84da23\";i:13831;s:35:\"fb_34dace79d986df51a53b7b8d479f3040\";i:13832;s:40:\"twitter_34dace79d986df51a53b7b8d479f3040\";i:13833;s:42:\"pinterest_34dace79d986df51a53b7b8d479f3040\";i:13834;s:41:\"linkedin_34dace79d986df51a53b7b8d479f3040\";i:13835;s:35:\"fb_ca44b32891dc922060a68f45559de6f7\";i:13836;s:40:\"twitter_ca44b32891dc922060a68f45559de6f7\";i:13837;s:42:\"pinterest_ca44b32891dc922060a68f45559de6f7\";i:13838;s:41:\"linkedin_ca44b32891dc922060a68f45559de6f7\";i:13839;s:35:\"fb_6ec1aa7dcf7027be85f24a2337980073\";i:13840;s:40:\"twitter_6ec1aa7dcf7027be85f24a2337980073\";i:13841;s:42:\"pinterest_6ec1aa7dcf7027be85f24a2337980073\";i:13842;s:41:\"linkedin_6ec1aa7dcf7027be85f24a2337980073\";i:13843;s:35:\"fb_94717772de454c5b71f369b824dd7611\";i:13844;s:40:\"twitter_94717772de454c5b71f369b824dd7611\";i:13845;s:42:\"pinterest_94717772de454c5b71f369b824dd7611\";i:13846;s:41:\"linkedin_94717772de454c5b71f369b824dd7611\";i:13847;s:35:\"fb_672419a5b48f36980a740b5fbd35a2f6\";i:13848;s:40:\"twitter_672419a5b48f36980a740b5fbd35a2f6\";i:13849;s:42:\"pinterest_672419a5b48f36980a740b5fbd35a2f6\";i:13850;s:41:\"linkedin_672419a5b48f36980a740b5fbd35a2f6\";i:13851;s:35:\"fb_805196334cbc2add22c4e6306e3e282f\";i:13852;s:40:\"twitter_805196334cbc2add22c4e6306e3e282f\";i:13853;s:42:\"pinterest_805196334cbc2add22c4e6306e3e282f\";i:13854;s:41:\"linkedin_805196334cbc2add22c4e6306e3e282f\";i:13855;s:35:\"fb_7921d65f29cda73c169445b99382c86f\";i:13856;s:40:\"twitter_7921d65f29cda73c169445b99382c86f\";i:13857;s:42:\"pinterest_7921d65f29cda73c169445b99382c86f\";i:13858;s:41:\"linkedin_7921d65f29cda73c169445b99382c86f\";i:13859;s:35:\"fb_f617c4a559967a2a0c04fa95191c6e56\";i:13860;s:40:\"twitter_f617c4a559967a2a0c04fa95191c6e56\";i:13861;s:42:\"pinterest_f617c4a559967a2a0c04fa95191c6e56\";i:13862;s:41:\"linkedin_f617c4a559967a2a0c04fa95191c6e56\";i:13863;s:35:\"fb_79209462101eef2527feb1a37193cee9\";i:13864;s:40:\"twitter_79209462101eef2527feb1a37193cee9\";i:13865;s:42:\"pinterest_79209462101eef2527feb1a37193cee9\";i:13866;s:41:\"linkedin_79209462101eef2527feb1a37193cee9\";i:13867;s:35:\"fb_81bdf86c871dfa78a0f447e54a213c75\";i:13868;s:40:\"twitter_81bdf86c871dfa78a0f447e54a213c75\";i:13869;s:42:\"pinterest_81bdf86c871dfa78a0f447e54a213c75\";i:13870;s:41:\"linkedin_81bdf86c871dfa78a0f447e54a213c75\";i:13871;s:35:\"fb_0fe6a0ac2a57f4aad221391140c77a6e\";i:13872;s:40:\"twitter_0fe6a0ac2a57f4aad221391140c77a6e\";i:13873;s:42:\"pinterest_0fe6a0ac2a57f4aad221391140c77a6e\";i:13874;s:41:\"linkedin_0fe6a0ac2a57f4aad221391140c77a6e\";i:13875;s:35:\"fb_d963c67aff22843ac384bd890f433983\";i:13876;s:40:\"twitter_d963c67aff22843ac384bd890f433983\";i:13877;s:42:\"pinterest_d963c67aff22843ac384bd890f433983\";i:13878;s:41:\"linkedin_d963c67aff22843ac384bd890f433983\";i:13879;s:35:\"fb_5ada77845273d941fc90d4267dd943fc\";i:13880;s:40:\"twitter_5ada77845273d941fc90d4267dd943fc\";i:13881;s:42:\"pinterest_5ada77845273d941fc90d4267dd943fc\";i:13882;s:41:\"linkedin_5ada77845273d941fc90d4267dd943fc\";i:13883;s:35:\"fb_7dc6a4fa5c42179434ec0cb91cc4f82f\";i:13884;s:40:\"twitter_7dc6a4fa5c42179434ec0cb91cc4f82f\";i:13885;s:42:\"pinterest_7dc6a4fa5c42179434ec0cb91cc4f82f\";i:13886;s:41:\"linkedin_7dc6a4fa5c42179434ec0cb91cc4f82f\";i:13887;s:35:\"fb_866687c66fcf6bc40d7d96dcde204c1a\";i:13888;s:40:\"twitter_866687c66fcf6bc40d7d96dcde204c1a\";i:13889;s:42:\"pinterest_866687c66fcf6bc40d7d96dcde204c1a\";i:13890;s:41:\"linkedin_866687c66fcf6bc40d7d96dcde204c1a\";i:13891;s:35:\"fb_d269b7ac9bb9edeef0ae497803545542\";i:13892;s:40:\"twitter_d269b7ac9bb9edeef0ae497803545542\";i:13893;s:42:\"pinterest_d269b7ac9bb9edeef0ae497803545542\";i:13894;s:41:\"linkedin_d269b7ac9bb9edeef0ae497803545542\";i:13895;s:35:\"fb_2fceee4d91c152c7ebee0c2e3900c2a3\";i:13896;s:40:\"twitter_2fceee4d91c152c7ebee0c2e3900c2a3\";i:13897;s:42:\"pinterest_2fceee4d91c152c7ebee0c2e3900c2a3\";i:13898;s:41:\"linkedin_2fceee4d91c152c7ebee0c2e3900c2a3\";i:13899;s:35:\"fb_d62d4f4370e81da92647d62b7d87efcf\";i:13900;s:40:\"twitter_d62d4f4370e81da92647d62b7d87efcf\";i:13901;s:42:\"pinterest_d62d4f4370e81da92647d62b7d87efcf\";i:13902;s:41:\"linkedin_d62d4f4370e81da92647d62b7d87efcf\";i:13903;s:35:\"fb_69665ef682c28c675310a059fc318d75\";i:13904;s:40:\"twitter_69665ef682c28c675310a059fc318d75\";i:13905;s:42:\"pinterest_69665ef682c28c675310a059fc318d75\";i:13906;s:41:\"linkedin_69665ef682c28c675310a059fc318d75\";i:13907;s:35:\"fb_443ccff481130751ff02ce9659dabd8b\";i:13908;s:40:\"twitter_443ccff481130751ff02ce9659dabd8b\";i:13909;s:42:\"pinterest_443ccff481130751ff02ce9659dabd8b\";i:13910;s:41:\"linkedin_443ccff481130751ff02ce9659dabd8b\";i:13911;s:35:\"fb_072d8783860859a3793d3e511f9bee3a\";i:13912;s:40:\"twitter_072d8783860859a3793d3e511f9bee3a\";i:13913;s:42:\"pinterest_072d8783860859a3793d3e511f9bee3a\";i:13914;s:41:\"linkedin_072d8783860859a3793d3e511f9bee3a\";i:13915;s:35:\"fb_3d0c8a1f144e6c0f098662ded569cb24\";i:13916;s:40:\"twitter_3d0c8a1f144e6c0f098662ded569cb24\";i:13917;s:42:\"pinterest_3d0c8a1f144e6c0f098662ded569cb24\";i:13918;s:41:\"linkedin_3d0c8a1f144e6c0f098662ded569cb24\";i:13919;s:35:\"fb_d1ec1593cb02eb88e498d822407edb84\";i:13920;s:40:\"twitter_d1ec1593cb02eb88e498d822407edb84\";i:13921;s:42:\"pinterest_d1ec1593cb02eb88e498d822407edb84\";i:13922;s:41:\"linkedin_d1ec1593cb02eb88e498d822407edb84\";i:13923;s:35:\"fb_203a041d85fa362ab68aaea3e3e3a5e9\";i:13924;s:40:\"twitter_203a041d85fa362ab68aaea3e3e3a5e9\";i:13925;s:42:\"pinterest_203a041d85fa362ab68aaea3e3e3a5e9\";i:13926;s:41:\"linkedin_203a041d85fa362ab68aaea3e3e3a5e9\";i:13927;s:35:\"fb_6c9c3de471dd5679d363cde091ccd15a\";i:13928;s:40:\"twitter_6c9c3de471dd5679d363cde091ccd15a\";i:13929;s:42:\"pinterest_6c9c3de471dd5679d363cde091ccd15a\";i:13930;s:41:\"linkedin_6c9c3de471dd5679d363cde091ccd15a\";i:13931;s:35:\"fb_cd0dcd81b9f4064e1bc056b5a50eb744\";i:13932;s:40:\"twitter_cd0dcd81b9f4064e1bc056b5a50eb744\";i:13933;s:42:\"pinterest_cd0dcd81b9f4064e1bc056b5a50eb744\";i:13934;s:41:\"linkedin_cd0dcd81b9f4064e1bc056b5a50eb744\";i:13935;s:35:\"fb_7bd2a14d574660314d5cd91b324bd73d\";i:13936;s:40:\"twitter_7bd2a14d574660314d5cd91b324bd73d\";i:13937;s:42:\"pinterest_7bd2a14d574660314d5cd91b324bd73d\";i:13938;s:41:\"linkedin_7bd2a14d574660314d5cd91b324bd73d\";i:13939;s:35:\"fb_8b954e63acc40b448670ff3f42f5dded\";i:13940;s:40:\"twitter_8b954e63acc40b448670ff3f42f5dded\";i:13941;s:42:\"pinterest_8b954e63acc40b448670ff3f42f5dded\";i:13942;s:41:\"linkedin_8b954e63acc40b448670ff3f42f5dded\";i:13943;s:35:\"fb_b9e8fc33c92f0d1abf5cf666c03266c3\";i:13944;s:40:\"twitter_b9e8fc33c92f0d1abf5cf666c03266c3\";i:13945;s:42:\"pinterest_b9e8fc33c92f0d1abf5cf666c03266c3\";i:13946;s:41:\"linkedin_b9e8fc33c92f0d1abf5cf666c03266c3\";i:13947;s:35:\"fb_fff72c60535a11ffc6bf747c1708de2b\";i:13948;s:40:\"twitter_fff72c60535a11ffc6bf747c1708de2b\";i:13949;s:42:\"pinterest_fff72c60535a11ffc6bf747c1708de2b\";i:13950;s:41:\"linkedin_fff72c60535a11ffc6bf747c1708de2b\";i:13951;s:35:\"fb_a14566196e7464b0991f06db18921d2d\";i:13952;s:40:\"twitter_a14566196e7464b0991f06db18921d2d\";i:13953;s:42:\"pinterest_a14566196e7464b0991f06db18921d2d\";i:13954;s:41:\"linkedin_a14566196e7464b0991f06db18921d2d\";i:13955;s:35:\"fb_6fda7e770a5820bde50c8b5865d49139\";i:13956;s:40:\"twitter_6fda7e770a5820bde50c8b5865d49139\";i:13957;s:42:\"pinterest_6fda7e770a5820bde50c8b5865d49139\";i:13958;s:41:\"linkedin_6fda7e770a5820bde50c8b5865d49139\";i:13959;s:35:\"fb_aef7978b229fefe38cde2875b5e9fadc\";i:13960;s:40:\"twitter_aef7978b229fefe38cde2875b5e9fadc\";i:13961;s:42:\"pinterest_aef7978b229fefe38cde2875b5e9fadc\";i:13962;s:41:\"linkedin_aef7978b229fefe38cde2875b5e9fadc\";i:13963;s:35:\"fb_8ae0a3a44a880f7c5c5b6ec29c119a57\";i:13964;s:40:\"twitter_8ae0a3a44a880f7c5c5b6ec29c119a57\";i:13965;s:42:\"pinterest_8ae0a3a44a880f7c5c5b6ec29c119a57\";i:13966;s:41:\"linkedin_8ae0a3a44a880f7c5c5b6ec29c119a57\";i:13967;s:35:\"fb_f696229d59f493eddf2c549d1ee27065\";i:13968;s:40:\"twitter_f696229d59f493eddf2c549d1ee27065\";i:13969;s:42:\"pinterest_f696229d59f493eddf2c549d1ee27065\";i:13970;s:41:\"linkedin_f696229d59f493eddf2c549d1ee27065\";i:13971;s:35:\"fb_2c75c39f81120b1ec7b90f35ec9d2955\";i:13972;s:40:\"twitter_2c75c39f81120b1ec7b90f35ec9d2955\";i:13973;s:42:\"pinterest_2c75c39f81120b1ec7b90f35ec9d2955\";i:13974;s:35:\"fb_0284f03b42778156fec203ad278d6317\";i:13975;s:40:\"twitter_0284f03b42778156fec203ad278d6317\";i:13976;s:42:\"pinterest_0284f03b42778156fec203ad278d6317\";i:13977;s:41:\"linkedin_0284f03b42778156fec203ad278d6317\";i:13978;s:35:\"fb_ad10df2c662006dde9587ebf1032be0b\";i:13979;s:40:\"twitter_ad10df2c662006dde9587ebf1032be0b\";i:13980;s:42:\"pinterest_ad10df2c662006dde9587ebf1032be0b\";i:13981;s:41:\"linkedin_ad10df2c662006dde9587ebf1032be0b\";i:13982;s:35:\"fb_26c3a463e9a79595f2ad0491e9254979\";i:13983;s:40:\"twitter_26c3a463e9a79595f2ad0491e9254979\";i:13984;s:42:\"pinterest_26c3a463e9a79595f2ad0491e9254979\";i:13985;s:41:\"linkedin_26c3a463e9a79595f2ad0491e9254979\";i:13986;s:35:\"fb_6eea7419df474402380d33efcf340ab6\";i:13987;s:40:\"twitter_6eea7419df474402380d33efcf340ab6\";i:13988;s:42:\"pinterest_6eea7419df474402380d33efcf340ab6\";i:13989;s:41:\"linkedin_6eea7419df474402380d33efcf340ab6\";i:13990;s:35:\"fb_1f7ef3b8812d0db32d3e4df844de20ec\";i:13991;s:40:\"twitter_1f7ef3b8812d0db32d3e4df844de20ec\";i:13992;s:42:\"pinterest_1f7ef3b8812d0db32d3e4df844de20ec\";i:13993;s:41:\"linkedin_1f7ef3b8812d0db32d3e4df844de20ec\";i:13994;s:35:\"fb_904aa515ea44c121dfc9dbfc4e337339\";i:13995;s:40:\"twitter_904aa515ea44c121dfc9dbfc4e337339\";i:13996;s:42:\"pinterest_904aa515ea44c121dfc9dbfc4e337339\";i:13997;s:41:\"linkedin_904aa515ea44c121dfc9dbfc4e337339\";i:13998;s:35:\"fb_c091bbc528e9f9f4a3cb3a016b3d0ccb\";i:13999;s:40:\"twitter_c091bbc528e9f9f4a3cb3a016b3d0ccb\";i:14000;s:42:\"pinterest_c091bbc528e9f9f4a3cb3a016b3d0ccb\";i:14001;s:41:\"linkedin_c091bbc528e9f9f4a3cb3a016b3d0ccb\";i:14002;s:35:\"fb_33f2ec1d6e0f946893066f746b817ace\";i:14003;s:40:\"twitter_33f2ec1d6e0f946893066f746b817ace\";i:14004;s:42:\"pinterest_33f2ec1d6e0f946893066f746b817ace\";i:14005;s:41:\"linkedin_33f2ec1d6e0f946893066f746b817ace\";i:14006;s:35:\"fb_51dfafd27b233203d1252e17dbde661e\";i:14007;s:40:\"twitter_51dfafd27b233203d1252e17dbde661e\";i:14008;s:42:\"pinterest_51dfafd27b233203d1252e17dbde661e\";i:14009;s:41:\"linkedin_51dfafd27b233203d1252e17dbde661e\";i:14010;s:35:\"fb_b8dc911adb041c9d5e644b00c992a338\";i:14011;s:40:\"twitter_b8dc911adb041c9d5e644b00c992a338\";i:14012;s:42:\"pinterest_b8dc911adb041c9d5e644b00c992a338\";i:14013;s:41:\"linkedin_b8dc911adb041c9d5e644b00c992a338\";i:14014;s:35:\"fb_295b8c30bd6ae3e8d33a3511d3cfa1c2\";i:14015;s:40:\"twitter_295b8c30bd6ae3e8d33a3511d3cfa1c2\";i:14016;s:42:\"pinterest_295b8c30bd6ae3e8d33a3511d3cfa1c2\";i:14017;s:41:\"linkedin_295b8c30bd6ae3e8d33a3511d3cfa1c2\";i:14018;s:35:\"fb_394c09acc613c8191a59b1ccce5946d2\";i:14019;s:40:\"twitter_394c09acc613c8191a59b1ccce5946d2\";i:14020;s:42:\"pinterest_394c09acc613c8191a59b1ccce5946d2\";i:14021;s:41:\"linkedin_394c09acc613c8191a59b1ccce5946d2\";i:14022;s:35:\"fb_6fb9da00bb31494a4336e15232c7fc3e\";i:14023;s:40:\"twitter_6fb9da00bb31494a4336e15232c7fc3e\";i:14024;s:42:\"pinterest_6fb9da00bb31494a4336e15232c7fc3e\";i:14025;s:41:\"linkedin_6fb9da00bb31494a4336e15232c7fc3e\";i:14026;s:35:\"fb_a6ea6012e6636ac1adac13c164debaf7\";i:14027;s:40:\"twitter_a6ea6012e6636ac1adac13c164debaf7\";i:14028;s:42:\"pinterest_a6ea6012e6636ac1adac13c164debaf7\";i:14029;s:41:\"linkedin_a6ea6012e6636ac1adac13c164debaf7\";i:14030;s:35:\"fb_87182dc5b3ace5bc73c8d6bcd857786f\";i:14031;s:40:\"twitter_87182dc5b3ace5bc73c8d6bcd857786f\";i:14032;s:35:\"fb_93a2c551cf025e1cd5f3086362ee886a\";i:14033;s:42:\"pinterest_93a2c551cf025e1cd5f3086362ee886a\";i:14034;s:41:\"linkedin_93a2c551cf025e1cd5f3086362ee886a\";i:14035;s:35:\"fb_b2083c7ceef56127d5300403bfcc4fbb\";i:14036;s:40:\"twitter_b2083c7ceef56127d5300403bfcc4fbb\";i:14037;s:42:\"pinterest_b2083c7ceef56127d5300403bfcc4fbb\";i:14038;s:41:\"linkedin_b2083c7ceef56127d5300403bfcc4fbb\";i:14039;s:35:\"fb_aa2d171d1d0986c4654b1e852dcb1323\";i:14040;s:40:\"twitter_aa2d171d1d0986c4654b1e852dcb1323\";i:14041;s:42:\"pinterest_aa2d171d1d0986c4654b1e852dcb1323\";i:14042;s:41:\"linkedin_aa2d171d1d0986c4654b1e852dcb1323\";i:14043;s:35:\"fb_efeb1e4f53680ec01e2ee3a5c6a86f24\";i:14044;s:40:\"twitter_efeb1e4f53680ec01e2ee3a5c6a86f24\";i:14045;s:42:\"pinterest_efeb1e4f53680ec01e2ee3a5c6a86f24\";i:14046;s:41:\"linkedin_efeb1e4f53680ec01e2ee3a5c6a86f24\";i:14047;s:35:\"fb_948a60850b9c12e746869197fb0c05b7\";i:14048;s:40:\"twitter_948a60850b9c12e746869197fb0c05b7\";i:14049;s:42:\"pinterest_948a60850b9c12e746869197fb0c05b7\";i:14050;s:41:\"linkedin_948a60850b9c12e746869197fb0c05b7\";i:14051;s:35:\"fb_70939d69f473b6f702a0cabd099bd2f8\";i:14052;s:40:\"twitter_70939d69f473b6f702a0cabd099bd2f8\";i:14053;s:42:\"pinterest_70939d69f473b6f702a0cabd099bd2f8\";i:14054;s:41:\"linkedin_70939d69f473b6f702a0cabd099bd2f8\";i:14055;s:35:\"fb_d78f2f6583e733c7dbfa4026efaaf7ca\";i:14056;s:40:\"twitter_d78f2f6583e733c7dbfa4026efaaf7ca\";i:14057;s:42:\"pinterest_d78f2f6583e733c7dbfa4026efaaf7ca\";i:14058;s:41:\"linkedin_d78f2f6583e733c7dbfa4026efaaf7ca\";i:14059;s:35:\"fb_d351a49bfb3cc86026bd9b94088357ae\";i:14060;s:40:\"twitter_d351a49bfb3cc86026bd9b94088357ae\";i:14061;s:42:\"pinterest_d351a49bfb3cc86026bd9b94088357ae\";i:14062;s:35:\"fb_4b8e24aef053b1bc9ee4127ac3490012\";i:14063;s:40:\"twitter_4b8e24aef053b1bc9ee4127ac3490012\";i:14064;s:42:\"pinterest_4b8e24aef053b1bc9ee4127ac3490012\";i:14065;s:41:\"linkedin_4b8e24aef053b1bc9ee4127ac3490012\";i:14066;s:35:\"fb_03829ad489e5cfabfd1cfbf8568f9bc6\";i:14067;s:40:\"twitter_03829ad489e5cfabfd1cfbf8568f9bc6\";i:14068;s:42:\"pinterest_03829ad489e5cfabfd1cfbf8568f9bc6\";i:14069;s:41:\"linkedin_03829ad489e5cfabfd1cfbf8568f9bc6\";i:14070;s:35:\"fb_c4ea166fd2a3b188f13ccc169def8af3\";i:14071;s:40:\"twitter_c4ea166fd2a3b188f13ccc169def8af3\";i:14072;s:42:\"pinterest_c4ea166fd2a3b188f13ccc169def8af3\";i:14073;s:41:\"linkedin_c4ea166fd2a3b188f13ccc169def8af3\";i:14074;s:35:\"fb_17fe7d6326f58b5e57f1b11ffedc0c57\";i:14075;s:40:\"twitter_17fe7d6326f58b5e57f1b11ffedc0c57\";i:14076;s:42:\"pinterest_17fe7d6326f58b5e57f1b11ffedc0c57\";i:14077;s:41:\"linkedin_17fe7d6326f58b5e57f1b11ffedc0c57\";i:14078;s:35:\"fb_42d951283e90586147b7b7a4b934e4c1\";i:14079;s:40:\"twitter_42d951283e90586147b7b7a4b934e4c1\";i:14080;s:42:\"pinterest_42d951283e90586147b7b7a4b934e4c1\";i:14081;s:41:\"linkedin_42d951283e90586147b7b7a4b934e4c1\";i:14082;s:35:\"fb_20930fab5e3ab5c46ae17285ca3e06c7\";i:14083;s:40:\"twitter_20930fab5e3ab5c46ae17285ca3e06c7\";i:14084;s:42:\"pinterest_20930fab5e3ab5c46ae17285ca3e06c7\";i:14085;s:35:\"fb_b18da98d592277f00b6a34fd9c98b3d6\";i:14086;s:40:\"twitter_b18da98d592277f00b6a34fd9c98b3d6\";i:14087;s:42:\"pinterest_b18da98d592277f00b6a34fd9c98b3d6\";i:14088;s:41:\"linkedin_b18da98d592277f00b6a34fd9c98b3d6\";i:14089;s:35:\"fb_f0b91d290d726e9d0e0fc883f16f6a01\";i:14090;s:40:\"twitter_f0b91d290d726e9d0e0fc883f16f6a01\";i:14091;s:42:\"pinterest_f0b91d290d726e9d0e0fc883f16f6a01\";i:14092;s:41:\"linkedin_f0b91d290d726e9d0e0fc883f16f6a01\";i:14093;s:35:\"fb_58596e49ed73984a0a36d5aeb617f9d2\";i:14094;s:40:\"twitter_58596e49ed73984a0a36d5aeb617f9d2\";i:14095;s:42:\"pinterest_58596e49ed73984a0a36d5aeb617f9d2\";i:14096;s:41:\"linkedin_58596e49ed73984a0a36d5aeb617f9d2\";i:14097;s:35:\"fb_c98abc416810769b7c94d1aa59c54edb\";i:14098;s:40:\"twitter_c98abc416810769b7c94d1aa59c54edb\";i:14099;s:42:\"pinterest_c98abc416810769b7c94d1aa59c54edb\";i:14100;s:41:\"linkedin_c98abc416810769b7c94d1aa59c54edb\";i:14101;s:35:\"fb_ea03582e4998b392b08a413e4e746de2\";i:14102;s:40:\"twitter_ea03582e4998b392b08a413e4e746de2\";i:14103;s:42:\"pinterest_ea03582e4998b392b08a413e4e746de2\";i:14104;s:41:\"linkedin_ea03582e4998b392b08a413e4e746de2\";i:14105;s:35:\"fb_d2da7ee9ea589aae6de80d28ca415cd9\";i:14106;s:40:\"twitter_d2da7ee9ea589aae6de80d28ca415cd9\";i:14107;s:42:\"pinterest_d2da7ee9ea589aae6de80d28ca415cd9\";i:14108;s:41:\"linkedin_d2da7ee9ea589aae6de80d28ca415cd9\";i:14109;s:35:\"fb_1647b541326f09b0ea28ec8497618193\";i:14110;s:40:\"twitter_1647b541326f09b0ea28ec8497618193\";i:14111;s:42:\"pinterest_1647b541326f09b0ea28ec8497618193\";i:14112;s:41:\"linkedin_1647b541326f09b0ea28ec8497618193\";i:14113;s:35:\"fb_fdb7cb979519923bf4cf0d3afdeb2b72\";i:14114;s:40:\"twitter_fdb7cb979519923bf4cf0d3afdeb2b72\";i:14115;s:42:\"pinterest_fdb7cb979519923bf4cf0d3afdeb2b72\";i:14116;s:41:\"linkedin_fdb7cb979519923bf4cf0d3afdeb2b72\";i:14117;s:35:\"fb_693254386bd9620d4caa92d300d05d98\";i:14118;s:40:\"twitter_693254386bd9620d4caa92d300d05d98\";i:14119;s:42:\"pinterest_693254386bd9620d4caa92d300d05d98\";i:14120;s:41:\"linkedin_693254386bd9620d4caa92d300d05d98\";i:14121;s:35:\"fb_1eb10b75ba2d1733f8bc88f165735a9f\";i:14122;s:40:\"twitter_1eb10b75ba2d1733f8bc88f165735a9f\";i:14123;s:42:\"pinterest_1eb10b75ba2d1733f8bc88f165735a9f\";i:14124;s:41:\"linkedin_1eb10b75ba2d1733f8bc88f165735a9f\";i:14125;s:35:\"fb_783c01cae008a263752543ce134a6952\";i:14126;s:40:\"twitter_783c01cae008a263752543ce134a6952\";i:14127;s:42:\"pinterest_783c01cae008a263752543ce134a6952\";i:14128;s:41:\"linkedin_783c01cae008a263752543ce134a6952\";i:14129;s:35:\"fb_f2bc41f7657e35232f4d97c4e0051964\";i:14130;s:40:\"twitter_f2bc41f7657e35232f4d97c4e0051964\";i:14131;s:42:\"pinterest_f2bc41f7657e35232f4d97c4e0051964\";i:14132;s:41:\"linkedin_f2bc41f7657e35232f4d97c4e0051964\";i:14133;s:35:\"fb_d0674e4b0bb43d639f3e8f3ebf94448d\";i:14134;s:40:\"twitter_d0674e4b0bb43d639f3e8f3ebf94448d\";i:14135;s:42:\"pinterest_d0674e4b0bb43d639f3e8f3ebf94448d\";i:14136;s:41:\"linkedin_d0674e4b0bb43d639f3e8f3ebf94448d\";i:14137;s:35:\"fb_6f894518f37d35f1e3c04a8bc33110f0\";i:14138;s:40:\"twitter_6f894518f37d35f1e3c04a8bc33110f0\";i:14139;s:42:\"pinterest_6f894518f37d35f1e3c04a8bc33110f0\";i:14140;s:41:\"linkedin_6f894518f37d35f1e3c04a8bc33110f0\";i:14141;s:35:\"fb_1506a25307a250f5ac194289c22de01b\";i:14142;s:40:\"twitter_1506a25307a250f5ac194289c22de01b\";i:14143;s:42:\"pinterest_1506a25307a250f5ac194289c22de01b\";i:14144;s:41:\"linkedin_1506a25307a250f5ac194289c22de01b\";i:14145;s:35:\"fb_1ef279d767351f793b816e1d001e1be7\";i:14146;s:40:\"twitter_1ef279d767351f793b816e1d001e1be7\";i:14147;s:42:\"pinterest_1ef279d767351f793b816e1d001e1be7\";i:14148;s:41:\"linkedin_1ef279d767351f793b816e1d001e1be7\";i:14149;s:35:\"fb_894ccd6157e00572ee949878fe0dfee3\";i:14150;s:40:\"twitter_894ccd6157e00572ee949878fe0dfee3\";i:14151;s:42:\"pinterest_894ccd6157e00572ee949878fe0dfee3\";i:14152;s:41:\"linkedin_894ccd6157e00572ee949878fe0dfee3\";i:14153;s:35:\"fb_a80157158aca8c4c25d279395f65e04d\";i:14154;s:40:\"twitter_a80157158aca8c4c25d279395f65e04d\";i:14155;s:42:\"pinterest_a80157158aca8c4c25d279395f65e04d\";i:14156;s:35:\"fb_3a907b5e058c1b815a6ee1f281f65ee7\";i:14157;s:40:\"twitter_3a907b5e058c1b815a6ee1f281f65ee7\";i:14158;s:42:\"pinterest_3a907b5e058c1b815a6ee1f281f65ee7\";i:14159;s:41:\"linkedin_3a907b5e058c1b815a6ee1f281f65ee7\";i:14160;s:35:\"fb_c59865139c3d8872717e635dacfcb4ad\";i:14161;s:40:\"twitter_c59865139c3d8872717e635dacfcb4ad\";i:14162;s:42:\"pinterest_c59865139c3d8872717e635dacfcb4ad\";i:14163;s:41:\"linkedin_c59865139c3d8872717e635dacfcb4ad\";i:14164;s:35:\"fb_5c785dc09f5d6151c60f23d18a84b34e\";i:14165;s:40:\"twitter_5c785dc09f5d6151c60f23d18a84b34e\";i:14166;s:42:\"pinterest_5c785dc09f5d6151c60f23d18a84b34e\";i:14167;s:41:\"linkedin_5c785dc09f5d6151c60f23d18a84b34e\";i:14168;s:35:\"fb_c03dbfad968445b28171ed03b8f53cae\";i:14169;s:40:\"twitter_c03dbfad968445b28171ed03b8f53cae\";i:14170;s:42:\"pinterest_c03dbfad968445b28171ed03b8f53cae\";i:14171;s:41:\"linkedin_c03dbfad968445b28171ed03b8f53cae\";i:14172;s:35:\"fb_4fe887e8b45356a2a04efaab452f73a0\";i:14173;s:40:\"twitter_4fe887e8b45356a2a04efaab452f73a0\";i:14174;s:42:\"pinterest_4fe887e8b45356a2a04efaab452f73a0\";i:14175;s:41:\"linkedin_4fe887e8b45356a2a04efaab452f73a0\";i:14176;s:35:\"fb_1d36a3821f95b0b1a6fce8e1612dc2fb\";i:14177;s:40:\"twitter_1d36a3821f95b0b1a6fce8e1612dc2fb\";i:14178;s:42:\"pinterest_1d36a3821f95b0b1a6fce8e1612dc2fb\";i:14179;s:41:\"linkedin_1d36a3821f95b0b1a6fce8e1612dc2fb\";i:14180;s:35:\"fb_7f69bea8f3f2af1826048a712f601d82\";i:14181;s:40:\"twitter_7f69bea8f3f2af1826048a712f601d82\";i:14182;s:42:\"pinterest_7f69bea8f3f2af1826048a712f601d82\";i:14183;s:41:\"linkedin_7f69bea8f3f2af1826048a712f601d82\";i:14184;s:35:\"fb_56c4a3e5c5014c98e4e968cd90a38573\";i:14185;s:40:\"twitter_56c4a3e5c5014c98e4e968cd90a38573\";i:14186;s:42:\"pinterest_56c4a3e5c5014c98e4e968cd90a38573\";i:14187;s:41:\"linkedin_56c4a3e5c5014c98e4e968cd90a38573\";i:14188;s:35:\"fb_07cb2e237c21d8829f7e76759114f71b\";i:14189;s:40:\"twitter_07cb2e237c21d8829f7e76759114f71b\";i:14190;s:42:\"pinterest_07cb2e237c21d8829f7e76759114f71b\";i:14191;s:41:\"linkedin_07cb2e237c21d8829f7e76759114f71b\";i:14192;s:35:\"fb_eb0842ef8b8a2ae9de156daa9139f6fc\";i:14193;s:40:\"twitter_eb0842ef8b8a2ae9de156daa9139f6fc\";i:14194;s:42:\"pinterest_eb0842ef8b8a2ae9de156daa9139f6fc\";i:14195;s:41:\"linkedin_eb0842ef8b8a2ae9de156daa9139f6fc\";i:14196;s:35:\"fb_dd7f54eaa26df35a04ddaf3e4d8ff6ac\";i:14197;s:40:\"twitter_dd7f54eaa26df35a04ddaf3e4d8ff6ac\";i:14198;s:42:\"pinterest_dd7f54eaa26df35a04ddaf3e4d8ff6ac\";i:14199;s:41:\"linkedin_dd7f54eaa26df35a04ddaf3e4d8ff6ac\";i:14200;s:35:\"fb_5898fed026f399bd4614dced8758467c\";i:14201;s:40:\"twitter_5898fed026f399bd4614dced8758467c\";i:14202;s:42:\"pinterest_5898fed026f399bd4614dced8758467c\";i:14203;s:41:\"linkedin_5898fed026f399bd4614dced8758467c\";i:14204;s:35:\"fb_c0e75c8390e62d22b3fe807cedd00915\";i:14205;s:40:\"twitter_c0e75c8390e62d22b3fe807cedd00915\";i:14206;s:42:\"pinterest_c0e75c8390e62d22b3fe807cedd00915\";i:14207;s:41:\"linkedin_c0e75c8390e62d22b3fe807cedd00915\";i:14208;s:35:\"fb_5c14a71849bed9c33a6b3c5d07766706\";i:14209;s:40:\"twitter_5c14a71849bed9c33a6b3c5d07766706\";i:14210;s:42:\"pinterest_5c14a71849bed9c33a6b3c5d07766706\";i:14211;s:41:\"linkedin_5c14a71849bed9c33a6b3c5d07766706\";i:14212;s:35:\"fb_56c436dfd2d6c49b7e0196e272de0ffc\";i:14213;s:40:\"twitter_56c436dfd2d6c49b7e0196e272de0ffc\";i:14214;s:42:\"pinterest_56c436dfd2d6c49b7e0196e272de0ffc\";i:14215;s:41:\"linkedin_56c436dfd2d6c49b7e0196e272de0ffc\";i:14216;s:35:\"fb_b413c4923f769a93bfb0adbf9170d124\";i:14217;s:40:\"twitter_b413c4923f769a93bfb0adbf9170d124\";i:14218;s:42:\"pinterest_b413c4923f769a93bfb0adbf9170d124\";i:14219;s:41:\"linkedin_b413c4923f769a93bfb0adbf9170d124\";i:14220;s:35:\"fb_24c1888b1279d8ae5ca8b0469a884d48\";i:14221;s:40:\"twitter_24c1888b1279d8ae5ca8b0469a884d48\";i:14222;s:42:\"pinterest_24c1888b1279d8ae5ca8b0469a884d48\";i:14223;s:41:\"linkedin_24c1888b1279d8ae5ca8b0469a884d48\";i:14224;s:35:\"fb_dac43674346728e61f26b14c14663b58\";i:14225;s:41:\"linkedin_dac43674346728e61f26b14c14663b58\";i:14226;s:35:\"fb_33f2e48fe49ea6206bcae85d6a66ecd1\";i:14227;s:40:\"twitter_33f2e48fe49ea6206bcae85d6a66ecd1\";i:14228;s:42:\"pinterest_33f2e48fe49ea6206bcae85d6a66ecd1\";i:14229;s:41:\"linkedin_33f2e48fe49ea6206bcae85d6a66ecd1\";i:14230;s:35:\"fb_5253ea05a2d96897f980f4b9655bf4da\";i:14231;s:40:\"twitter_5253ea05a2d96897f980f4b9655bf4da\";i:14232;s:42:\"pinterest_5253ea05a2d96897f980f4b9655bf4da\";i:14233;s:41:\"linkedin_5253ea05a2d96897f980f4b9655bf4da\";i:14234;s:35:\"fb_1e54449ed461b9d24b7e951b283df04d\";i:14235;s:40:\"twitter_1e54449ed461b9d24b7e951b283df04d\";i:14236;s:42:\"pinterest_1e54449ed461b9d24b7e951b283df04d\";i:14237;s:41:\"linkedin_1e54449ed461b9d24b7e951b283df04d\";i:14238;s:35:\"fb_1c54490290f6bae4d3bce162284b8ee9\";i:14239;s:40:\"twitter_1c54490290f6bae4d3bce162284b8ee9\";i:14240;s:42:\"pinterest_1c54490290f6bae4d3bce162284b8ee9\";i:14241;s:41:\"linkedin_1c54490290f6bae4d3bce162284b8ee9\";i:14242;s:35:\"fb_983c8b814ab111fd372dbf1d9fdbd8a2\";i:14243;s:40:\"twitter_983c8b814ab111fd372dbf1d9fdbd8a2\";i:14244;s:42:\"pinterest_983c8b814ab111fd372dbf1d9fdbd8a2\";i:14245;s:41:\"linkedin_983c8b814ab111fd372dbf1d9fdbd8a2\";i:14246;s:35:\"fb_f9d86b1f576c060d5c4c8e01ae1bfedb\";i:14247;s:40:\"twitter_f9d86b1f576c060d5c4c8e01ae1bfedb\";i:14248;s:42:\"pinterest_f9d86b1f576c060d5c4c8e01ae1bfedb\";i:14249;s:41:\"linkedin_f9d86b1f576c060d5c4c8e01ae1bfedb\";i:14250;s:35:\"fb_3ba62dc46336bfc46ee8bb4d9a2e8ca0\";i:14251;s:40:\"twitter_3ba62dc46336bfc46ee8bb4d9a2e8ca0\";i:14252;s:42:\"pinterest_3ba62dc46336bfc46ee8bb4d9a2e8ca0\";i:14253;s:41:\"linkedin_3ba62dc46336bfc46ee8bb4d9a2e8ca0\";i:14254;s:35:\"fb_fe486053bb6ccc44194583743268e8b7\";i:14255;s:40:\"twitter_fe486053bb6ccc44194583743268e8b7\";i:14256;s:42:\"pinterest_fe486053bb6ccc44194583743268e8b7\";i:14257;s:41:\"linkedin_fe486053bb6ccc44194583743268e8b7\";i:14258;s:35:\"fb_4496e2a93a640f00e0e5559ab0928309\";i:14259;s:40:\"twitter_4496e2a93a640f00e0e5559ab0928309\";i:14260;s:42:\"pinterest_4496e2a93a640f00e0e5559ab0928309\";i:14261;s:41:\"linkedin_4496e2a93a640f00e0e5559ab0928309\";i:14262;s:35:\"fb_5ab4748d7c2cfe8387bd098bb5020694\";i:14263;s:40:\"twitter_5ab4748d7c2cfe8387bd098bb5020694\";i:14264;s:42:\"pinterest_5ab4748d7c2cfe8387bd098bb5020694\";i:14265;s:41:\"linkedin_5ab4748d7c2cfe8387bd098bb5020694\";i:14266;s:35:\"fb_6db105d0153c6c3ce87796226fd48fe8\";i:14267;s:40:\"twitter_6db105d0153c6c3ce87796226fd48fe8\";i:14268;s:42:\"pinterest_6db105d0153c6c3ce87796226fd48fe8\";i:14269;s:41:\"linkedin_6db105d0153c6c3ce87796226fd48fe8\";i:14270;s:35:\"fb_ae646cf96d210d732dc2770656c8726d\";i:14271;s:40:\"twitter_ae646cf96d210d732dc2770656c8726d\";i:14272;s:42:\"pinterest_ae646cf96d210d732dc2770656c8726d\";i:14273;s:41:\"linkedin_ae646cf96d210d732dc2770656c8726d\";i:14274;s:35:\"fb_1af9adce84aed297a16ea659ce0a7406\";i:14275;s:40:\"twitter_1af9adce84aed297a16ea659ce0a7406\";i:14276;s:42:\"pinterest_1af9adce84aed297a16ea659ce0a7406\";i:14277;s:41:\"linkedin_1af9adce84aed297a16ea659ce0a7406\";i:14278;s:35:\"fb_6277f317ccd7804e637badd491193e42\";i:14279;s:40:\"twitter_6277f317ccd7804e637badd491193e42\";i:14280;s:42:\"pinterest_6277f317ccd7804e637badd491193e42\";i:14281;s:41:\"linkedin_6277f317ccd7804e637badd491193e42\";i:14282;s:35:\"fb_177c7a098bf5ad6172a7ce2205b0fd15\";i:14283;s:40:\"twitter_177c7a098bf5ad6172a7ce2205b0fd15\";i:14284;s:42:\"pinterest_177c7a098bf5ad6172a7ce2205b0fd15\";i:14285;s:41:\"linkedin_177c7a098bf5ad6172a7ce2205b0fd15\";i:14286;s:35:\"fb_8f79a02c2f6746e3dc8e9ab89da56a5b\";i:14287;s:40:\"twitter_8f79a02c2f6746e3dc8e9ab89da56a5b\";i:14288;s:42:\"pinterest_8f79a02c2f6746e3dc8e9ab89da56a5b\";i:14289;s:41:\"linkedin_8f79a02c2f6746e3dc8e9ab89da56a5b\";i:14290;s:35:\"fb_9b7cb4297f272c712621a5aaee1a2083\";i:14291;s:40:\"twitter_9b7cb4297f272c712621a5aaee1a2083\";i:14292;s:42:\"pinterest_9b7cb4297f272c712621a5aaee1a2083\";i:14293;s:41:\"linkedin_9b7cb4297f272c712621a5aaee1a2083\";i:14294;s:35:\"fb_7d4614ba7b7cef9bcd7917d832155844\";i:14295;s:40:\"twitter_7d4614ba7b7cef9bcd7917d832155844\";i:14296;s:42:\"pinterest_7d4614ba7b7cef9bcd7917d832155844\";i:14297;s:41:\"linkedin_7d4614ba7b7cef9bcd7917d832155844\";i:14298;s:35:\"fb_c6009300e89676b1baeef09650f70500\";i:14299;s:40:\"twitter_c6009300e89676b1baeef09650f70500\";i:14300;s:42:\"pinterest_c6009300e89676b1baeef09650f70500\";i:14301;s:41:\"linkedin_c6009300e89676b1baeef09650f70500\";i:14302;s:35:\"fb_e58b33ac21e941d38c02a407abb47c79\";i:14303;s:40:\"twitter_e58b33ac21e941d38c02a407abb47c79\";i:14304;s:42:\"pinterest_e58b33ac21e941d38c02a407abb47c79\";i:14305;s:41:\"linkedin_e58b33ac21e941d38c02a407abb47c79\";i:14306;s:35:\"fb_9609c5f8dd43dc28eb0a70bdd73580f2\";i:14307;s:40:\"twitter_9609c5f8dd43dc28eb0a70bdd73580f2\";i:14308;s:42:\"pinterest_9609c5f8dd43dc28eb0a70bdd73580f2\";i:14309;s:41:\"linkedin_9609c5f8dd43dc28eb0a70bdd73580f2\";i:14310;s:35:\"fb_34334946e06c8d668def2159467fab7a\";i:14311;s:40:\"twitter_34334946e06c8d668def2159467fab7a\";i:14312;s:42:\"pinterest_34334946e06c8d668def2159467fab7a\";i:14313;s:41:\"linkedin_34334946e06c8d668def2159467fab7a\";i:14314;s:35:\"fb_934d0e7ed2abc88e9ecb7308737c69f9\";i:14315;s:40:\"twitter_934d0e7ed2abc88e9ecb7308737c69f9\";i:14316;s:42:\"pinterest_934d0e7ed2abc88e9ecb7308737c69f9\";i:14317;s:41:\"linkedin_934d0e7ed2abc88e9ecb7308737c69f9\";i:14318;s:35:\"fb_d9d03d2d66bd84a12258547451ea809d\";i:14319;s:40:\"twitter_d9d03d2d66bd84a12258547451ea809d\";i:14320;s:42:\"pinterest_d9d03d2d66bd84a12258547451ea809d\";i:14321;s:41:\"linkedin_d9d03d2d66bd84a12258547451ea809d\";i:14322;s:35:\"fb_f932a5cf59113341125d1a89e8aff2aa\";i:14323;s:40:\"twitter_f932a5cf59113341125d1a89e8aff2aa\";i:14324;s:42:\"pinterest_f932a5cf59113341125d1a89e8aff2aa\";i:14325;s:41:\"linkedin_f932a5cf59113341125d1a89e8aff2aa\";i:14326;s:35:\"fb_bb8361781ddde978cb40d098704578b8\";i:14327;s:40:\"twitter_bb8361781ddde978cb40d098704578b8\";i:14328;s:42:\"pinterest_bb8361781ddde978cb40d098704578b8\";i:14329;s:41:\"linkedin_bb8361781ddde978cb40d098704578b8\";i:14330;s:35:\"fb_5809acffa81eaf6224c162295a84c613\";i:14331;s:40:\"twitter_5809acffa81eaf6224c162295a84c613\";i:14332;s:42:\"pinterest_5809acffa81eaf6224c162295a84c613\";i:14333;s:41:\"linkedin_5809acffa81eaf6224c162295a84c613\";i:14334;s:35:\"fb_a9271dd5ef48e540ba392928e6ecea07\";i:14335;s:40:\"twitter_a9271dd5ef48e540ba392928e6ecea07\";i:14336;s:42:\"pinterest_a9271dd5ef48e540ba392928e6ecea07\";i:14337;s:41:\"linkedin_a9271dd5ef48e540ba392928e6ecea07\";i:14338;s:35:\"fb_1b9863de97dafe4b83b5f37035d7ef87\";i:14339;s:40:\"twitter_1b9863de97dafe4b83b5f37035d7ef87\";i:14340;s:42:\"pinterest_1b9863de97dafe4b83b5f37035d7ef87\";i:14341;s:41:\"linkedin_1b9863de97dafe4b83b5f37035d7ef87\";i:14342;s:35:\"fb_728a8f5ba522e5701f214db6095380f1\";i:14343;s:35:\"fb_9e7e1c60295d01cd4e469a040900f47f\";i:14344;s:40:\"twitter_9e7e1c60295d01cd4e469a040900f47f\";i:14345;s:42:\"pinterest_9e7e1c60295d01cd4e469a040900f47f\";i:14346;s:41:\"linkedin_9e7e1c60295d01cd4e469a040900f47f\";i:14347;s:35:\"fb_77fdbc0d644e69ee8e7955bc7dee3c75\";i:14348;s:40:\"twitter_77fdbc0d644e69ee8e7955bc7dee3c75\";i:14349;s:42:\"pinterest_77fdbc0d644e69ee8e7955bc7dee3c75\";i:14350;s:41:\"linkedin_77fdbc0d644e69ee8e7955bc7dee3c75\";i:14351;s:35:\"fb_485380ed03e5a3ff2c003091204b2127\";i:14352;s:40:\"twitter_485380ed03e5a3ff2c003091204b2127\";i:14353;s:42:\"pinterest_485380ed03e5a3ff2c003091204b2127\";i:14354;s:41:\"linkedin_485380ed03e5a3ff2c003091204b2127\";i:14355;s:35:\"fb_66bef47105cb97169d957b6033593ead\";i:14356;s:40:\"twitter_66bef47105cb97169d957b6033593ead\";i:14357;s:42:\"pinterest_66bef47105cb97169d957b6033593ead\";i:14358;s:41:\"linkedin_66bef47105cb97169d957b6033593ead\";i:14359;s:35:\"fb_5247a555f634f10b0e294ce7fe317148\";i:14360;s:40:\"twitter_5247a555f634f10b0e294ce7fe317148\";i:14361;s:42:\"pinterest_5247a555f634f10b0e294ce7fe317148\";i:14362;s:41:\"linkedin_5247a555f634f10b0e294ce7fe317148\";i:14363;s:35:\"fb_ad901a851a6439739effac35ecf0c9d5\";i:14364;s:40:\"twitter_ad901a851a6439739effac35ecf0c9d5\";i:14365;s:42:\"pinterest_ad901a851a6439739effac35ecf0c9d5\";i:14366;s:41:\"linkedin_ad901a851a6439739effac35ecf0c9d5\";i:14367;s:35:\"fb_2046b91d0562dc9db65c227ccd18507c\";i:14368;s:40:\"twitter_2046b91d0562dc9db65c227ccd18507c\";i:14369;s:42:\"pinterest_2046b91d0562dc9db65c227ccd18507c\";i:14370;s:41:\"linkedin_2046b91d0562dc9db65c227ccd18507c\";i:14371;s:35:\"fb_8dc75ec78f33e649a58e2653da75edff\";i:14372;s:40:\"twitter_8dc75ec78f33e649a58e2653da75edff\";i:14373;s:42:\"pinterest_8dc75ec78f33e649a58e2653da75edff\";i:14374;s:35:\"fb_288d9d994000f7f839e8aa8407478064\";i:14375;s:40:\"twitter_288d9d994000f7f839e8aa8407478064\";i:14376;s:42:\"pinterest_288d9d994000f7f839e8aa8407478064\";i:14377;s:41:\"linkedin_288d9d994000f7f839e8aa8407478064\";i:14378;s:35:\"fb_242ddce48e6e063217316634ee937153\";i:14379;s:40:\"twitter_242ddce48e6e063217316634ee937153\";i:14380;s:42:\"pinterest_242ddce48e6e063217316634ee937153\";i:14381;s:41:\"linkedin_242ddce48e6e063217316634ee937153\";i:14382;s:35:\"fb_d863a26ea39027ae30dd8edcc0889662\";i:14383;s:40:\"twitter_d863a26ea39027ae30dd8edcc0889662\";i:14384;s:42:\"pinterest_d863a26ea39027ae30dd8edcc0889662\";i:14385;s:41:\"linkedin_d863a26ea39027ae30dd8edcc0889662\";i:14386;s:35:\"fb_24f984e302411c80cce1a56fa76c7508\";i:14387;s:40:\"twitter_24f984e302411c80cce1a56fa76c7508\";i:14388;s:42:\"pinterest_24f984e302411c80cce1a56fa76c7508\";i:14389;s:41:\"linkedin_24f984e302411c80cce1a56fa76c7508\";i:14390;s:35:\"fb_65650bc9c5934c9c5e99868b29716b99\";i:14391;s:40:\"twitter_65650bc9c5934c9c5e99868b29716b99\";i:14392;s:42:\"pinterest_65650bc9c5934c9c5e99868b29716b99\";i:14393;s:41:\"linkedin_65650bc9c5934c9c5e99868b29716b99\";i:14394;s:35:\"fb_a6cf148c1d1f2493fb77a8d3057537c3\";i:14395;s:40:\"twitter_a6cf148c1d1f2493fb77a8d3057537c3\";i:14396;s:42:\"pinterest_a6cf148c1d1f2493fb77a8d3057537c3\";i:14397;s:41:\"linkedin_a6cf148c1d1f2493fb77a8d3057537c3\";i:14398;s:35:\"fb_d913b5ba4ae23ff961e5de012eb14af8\";i:14399;s:40:\"twitter_d913b5ba4ae23ff961e5de012eb14af8\";i:14400;s:42:\"pinterest_d913b5ba4ae23ff961e5de012eb14af8\";i:14401;s:41:\"linkedin_d913b5ba4ae23ff961e5de012eb14af8\";i:14402;s:35:\"fb_d09057a8388edbbddc1588a50a1b2136\";i:14403;s:40:\"twitter_d09057a8388edbbddc1588a50a1b2136\";i:14404;s:42:\"pinterest_d09057a8388edbbddc1588a50a1b2136\";i:14405;s:41:\"linkedin_d09057a8388edbbddc1588a50a1b2136\";i:14406;s:35:\"fb_5754ff9b5fac2ab5c139d376aacce6e8\";i:14407;s:40:\"twitter_5754ff9b5fac2ab5c139d376aacce6e8\";i:14408;s:42:\"pinterest_5754ff9b5fac2ab5c139d376aacce6e8\";i:14409;s:41:\"linkedin_5754ff9b5fac2ab5c139d376aacce6e8\";i:14410;s:35:\"fb_50b81b6bb8509a7d0f307ade389296b5\";i:14411;s:40:\"twitter_50b81b6bb8509a7d0f307ade389296b5\";i:14412;s:42:\"pinterest_50b81b6bb8509a7d0f307ade389296b5\";i:14413;s:41:\"linkedin_50b81b6bb8509a7d0f307ade389296b5\";i:14414;s:35:\"fb_cad32d7416f3dd5d53c1c72c009d3970\";i:14415;s:40:\"twitter_cad32d7416f3dd5d53c1c72c009d3970\";i:14416;s:42:\"pinterest_cad32d7416f3dd5d53c1c72c009d3970\";i:14417;s:41:\"linkedin_cad32d7416f3dd5d53c1c72c009d3970\";i:14418;s:35:\"fb_561db631463a345e2d0e4729bde09731\";i:14419;s:40:\"twitter_561db631463a345e2d0e4729bde09731\";i:14420;s:42:\"pinterest_561db631463a345e2d0e4729bde09731\";i:14421;s:41:\"linkedin_561db631463a345e2d0e4729bde09731\";i:14422;s:35:\"fb_f61efa7a44cf58bf631bc808e2ef51da\";i:14423;s:40:\"twitter_f61efa7a44cf58bf631bc808e2ef51da\";i:14424;s:42:\"pinterest_f61efa7a44cf58bf631bc808e2ef51da\";i:14425;s:41:\"linkedin_f61efa7a44cf58bf631bc808e2ef51da\";i:14426;s:35:\"fb_bd68f7bca6f04363b0da11eb2d0ed28a\";i:14427;s:40:\"twitter_bd68f7bca6f04363b0da11eb2d0ed28a\";i:14428;s:42:\"pinterest_bd68f7bca6f04363b0da11eb2d0ed28a\";i:14429;s:41:\"linkedin_bd68f7bca6f04363b0da11eb2d0ed28a\";i:14430;s:35:\"fb_38dcec964a7c6cf77cdc3995882ae7da\";i:14431;s:40:\"twitter_38dcec964a7c6cf77cdc3995882ae7da\";i:14432;s:42:\"pinterest_38dcec964a7c6cf77cdc3995882ae7da\";i:14433;s:41:\"linkedin_38dcec964a7c6cf77cdc3995882ae7da\";i:14434;s:35:\"fb_dac6865f875658bfacb26194ede48fa4\";i:14435;s:40:\"twitter_dac6865f875658bfacb26194ede48fa4\";i:14436;s:42:\"pinterest_dac6865f875658bfacb26194ede48fa4\";i:14437;s:41:\"linkedin_dac6865f875658bfacb26194ede48fa4\";i:14438;s:35:\"fb_cc0081b0fef7023422f054274ea50a0e\";i:14439;s:40:\"twitter_cc0081b0fef7023422f054274ea50a0e\";i:14440;s:42:\"pinterest_cc0081b0fef7023422f054274ea50a0e\";i:14441;s:41:\"linkedin_cc0081b0fef7023422f054274ea50a0e\";i:14442;s:35:\"fb_ea41a870a066d5a02e58ed77c256f19c\";i:14443;s:40:\"twitter_ea41a870a066d5a02e58ed77c256f19c\";i:14444;s:42:\"pinterest_ea41a870a066d5a02e58ed77c256f19c\";i:14445;s:41:\"linkedin_ea41a870a066d5a02e58ed77c256f19c\";i:14446;s:35:\"fb_69b45e3c082d209e43877d9cbb0875de\";i:14447;s:40:\"twitter_69b45e3c082d209e43877d9cbb0875de\";i:14448;s:42:\"pinterest_69b45e3c082d209e43877d9cbb0875de\";i:14449;s:41:\"linkedin_69b45e3c082d209e43877d9cbb0875de\";i:14450;s:35:\"fb_e24715b106e93450aded6b1f164a9c25\";i:14451;s:40:\"twitter_e24715b106e93450aded6b1f164a9c25\";i:14452;s:42:\"pinterest_e24715b106e93450aded6b1f164a9c25\";i:14453;s:41:\"linkedin_e24715b106e93450aded6b1f164a9c25\";i:14454;s:35:\"fb_37aeba254a62a7a197ad043ffad0bc08\";i:14455;s:40:\"twitter_37aeba254a62a7a197ad043ffad0bc08\";i:14456;s:42:\"pinterest_37aeba254a62a7a197ad043ffad0bc08\";i:14457;s:41:\"linkedin_37aeba254a62a7a197ad043ffad0bc08\";i:14458;s:35:\"fb_bb8810eff90234f68507d4dc4cfd8ae0\";i:14459;s:40:\"twitter_bb8810eff90234f68507d4dc4cfd8ae0\";i:14460;s:42:\"pinterest_bb8810eff90234f68507d4dc4cfd8ae0\";i:14461;s:41:\"linkedin_bb8810eff90234f68507d4dc4cfd8ae0\";i:14462;s:35:\"fb_d33e9440dcd191144275ef5d902dd43f\";i:14463;s:40:\"twitter_d33e9440dcd191144275ef5d902dd43f\";i:14464;s:42:\"pinterest_d33e9440dcd191144275ef5d902dd43f\";i:14465;s:41:\"linkedin_d33e9440dcd191144275ef5d902dd43f\";i:14466;s:35:\"fb_3c268aa2f429d0fe2a6c15778a647f9d\";i:14467;s:40:\"twitter_3c268aa2f429d0fe2a6c15778a647f9d\";i:14468;s:42:\"pinterest_3c268aa2f429d0fe2a6c15778a647f9d\";i:14469;s:41:\"linkedin_3c268aa2f429d0fe2a6c15778a647f9d\";i:14470;s:35:\"fb_3f9420fdf6d424e217a90ca29f4f14b1\";i:14471;s:40:\"twitter_3f9420fdf6d424e217a90ca29f4f14b1\";i:14472;s:42:\"pinterest_3f9420fdf6d424e217a90ca29f4f14b1\";i:14473;s:41:\"linkedin_3f9420fdf6d424e217a90ca29f4f14b1\";i:14474;s:35:\"fb_bb58f09ccc57d47a3a52e8b8bb3d3c80\";i:14475;s:40:\"twitter_bb58f09ccc57d47a3a52e8b8bb3d3c80\";i:14476;s:42:\"pinterest_bb58f09ccc57d47a3a52e8b8bb3d3c80\";i:14477;s:41:\"linkedin_bb58f09ccc57d47a3a52e8b8bb3d3c80\";i:14478;s:35:\"fb_2e8b46fface8be929ae216d75efe6a2a\";i:14479;s:40:\"twitter_2e8b46fface8be929ae216d75efe6a2a\";i:14480;s:42:\"pinterest_2e8b46fface8be929ae216d75efe6a2a\";i:14481;s:41:\"linkedin_2e8b46fface8be929ae216d75efe6a2a\";i:14482;s:35:\"fb_af90d523ca9f15077d37b4755bfde008\";i:14483;s:40:\"twitter_af90d523ca9f15077d37b4755bfde008\";i:14484;s:42:\"pinterest_af90d523ca9f15077d37b4755bfde008\";i:14485;s:41:\"linkedin_af90d523ca9f15077d37b4755bfde008\";i:14486;s:35:\"fb_cb5a77182f4a72c15b464468f56c545b\";i:14487;s:40:\"twitter_cb5a77182f4a72c15b464468f56c545b\";i:14488;s:42:\"pinterest_cb5a77182f4a72c15b464468f56c545b\";i:14489;s:41:\"linkedin_cb5a77182f4a72c15b464468f56c545b\";i:14490;s:35:\"fb_6412e1e02f8360b07c982981b84b77bb\";i:14491;s:40:\"twitter_6412e1e02f8360b07c982981b84b77bb\";i:14492;s:42:\"pinterest_6412e1e02f8360b07c982981b84b77bb\";i:14493;s:41:\"linkedin_6412e1e02f8360b07c982981b84b77bb\";i:14494;s:35:\"fb_495541d3783c557215fa905a994a2eb1\";i:14495;s:40:\"twitter_495541d3783c557215fa905a994a2eb1\";i:14496;s:42:\"pinterest_495541d3783c557215fa905a994a2eb1\";i:14497;s:41:\"linkedin_495541d3783c557215fa905a994a2eb1\";i:14498;s:35:\"fb_4049c49de4c82d984caefe1859a0de09\";i:14499;s:40:\"twitter_4049c49de4c82d984caefe1859a0de09\";i:14500;s:35:\"fb_f4aee2f1a7da19dc3a9ea2b5481ca933\";i:14501;s:40:\"twitter_f4aee2f1a7da19dc3a9ea2b5481ca933\";i:14502;s:42:\"pinterest_f4aee2f1a7da19dc3a9ea2b5481ca933\";i:14503;s:41:\"linkedin_f4aee2f1a7da19dc3a9ea2b5481ca933\";i:14504;s:35:\"fb_5909aa8fafe264bb8301dc4aa9d241f5\";i:14505;s:40:\"twitter_5909aa8fafe264bb8301dc4aa9d241f5\";i:14506;s:42:\"pinterest_5909aa8fafe264bb8301dc4aa9d241f5\";i:14507;s:41:\"linkedin_5909aa8fafe264bb8301dc4aa9d241f5\";i:14508;s:35:\"fb_c5743a234eca453a8cc285b2b8e6a8dd\";i:14509;s:40:\"twitter_c5743a234eca453a8cc285b2b8e6a8dd\";i:14510;s:42:\"pinterest_c5743a234eca453a8cc285b2b8e6a8dd\";i:14511;s:41:\"linkedin_c5743a234eca453a8cc285b2b8e6a8dd\";i:14512;s:35:\"fb_50c566da0ea10418f174c3fa8ea78e40\";i:14513;s:40:\"twitter_50c566da0ea10418f174c3fa8ea78e40\";i:14514;s:42:\"pinterest_50c566da0ea10418f174c3fa8ea78e40\";i:14515;s:41:\"linkedin_50c566da0ea10418f174c3fa8ea78e40\";i:14516;s:35:\"fb_66f34faf97bb727e229232e4c1bb636d\";i:14517;s:40:\"twitter_66f34faf97bb727e229232e4c1bb636d\";i:14518;s:42:\"pinterest_66f34faf97bb727e229232e4c1bb636d\";i:14519;s:41:\"linkedin_66f34faf97bb727e229232e4c1bb636d\";i:14520;s:35:\"fb_4a3529cd39e4efd62f937d163b5087ea\";i:14521;s:40:\"twitter_4a3529cd39e4efd62f937d163b5087ea\";i:14522;s:42:\"pinterest_4a3529cd39e4efd62f937d163b5087ea\";i:14523;s:41:\"linkedin_4a3529cd39e4efd62f937d163b5087ea\";i:14524;s:35:\"fb_5ad8a9ea794f0c9d223aebe35be5b40a\";i:14525;s:40:\"twitter_5ad8a9ea794f0c9d223aebe35be5b40a\";i:14526;s:42:\"pinterest_5ad8a9ea794f0c9d223aebe35be5b40a\";i:14527;s:41:\"linkedin_5ad8a9ea794f0c9d223aebe35be5b40a\";i:14528;s:35:\"fb_8a4ed1da158086433f0dc4516e908943\";i:14529;s:40:\"twitter_8a4ed1da158086433f0dc4516e908943\";i:14530;s:42:\"pinterest_8a4ed1da158086433f0dc4516e908943\";i:14531;s:41:\"linkedin_8a4ed1da158086433f0dc4516e908943\";i:14532;s:35:\"fb_a2f539f29bd9e2f081dbc6f0bac7615e\";i:14533;s:40:\"twitter_a2f539f29bd9e2f081dbc6f0bac7615e\";i:14534;s:42:\"pinterest_a2f539f29bd9e2f081dbc6f0bac7615e\";i:14535;s:41:\"linkedin_a2f539f29bd9e2f081dbc6f0bac7615e\";i:14536;s:35:\"fb_8824e883ff3a83321cd9451826313b90\";i:14537;s:40:\"twitter_8824e883ff3a83321cd9451826313b90\";i:14538;s:42:\"pinterest_8824e883ff3a83321cd9451826313b90\";i:14539;s:41:\"linkedin_8824e883ff3a83321cd9451826313b90\";i:14540;s:35:\"fb_2530cd75626f11775759878809abd8ed\";i:14541;s:40:\"twitter_2530cd75626f11775759878809abd8ed\";i:14542;s:42:\"pinterest_2530cd75626f11775759878809abd8ed\";i:14543;s:41:\"linkedin_2530cd75626f11775759878809abd8ed\";i:14544;s:35:\"fb_363946bab1f0a5c4af988fa8d5fdc754\";i:14545;s:40:\"twitter_363946bab1f0a5c4af988fa8d5fdc754\";i:14546;s:42:\"pinterest_363946bab1f0a5c4af988fa8d5fdc754\";i:14547;s:41:\"linkedin_363946bab1f0a5c4af988fa8d5fdc754\";i:14548;s:35:\"fb_a36ac7d8e197b9f30e245642ba5ac00b\";i:14549;s:40:\"twitter_a36ac7d8e197b9f30e245642ba5ac00b\";i:14550;s:42:\"pinterest_a36ac7d8e197b9f30e245642ba5ac00b\";i:14551;s:41:\"linkedin_a36ac7d8e197b9f30e245642ba5ac00b\";i:14552;s:35:\"fb_82ce22eef67d68d28c40d61793bc15bb\";i:14553;s:40:\"twitter_82ce22eef67d68d28c40d61793bc15bb\";i:14554;s:42:\"pinterest_82ce22eef67d68d28c40d61793bc15bb\";i:14555;s:41:\"linkedin_82ce22eef67d68d28c40d61793bc15bb\";i:14556;s:35:\"fb_40bb76c45548d51f79ce61d0cb5cecb5\";i:14557;s:40:\"twitter_40bb76c45548d51f79ce61d0cb5cecb5\";i:14558;s:42:\"pinterest_40bb76c45548d51f79ce61d0cb5cecb5\";i:14559;s:35:\"fb_533c20f41d15bbe01519cfe04e66f6f9\";i:14560;s:40:\"twitter_533c20f41d15bbe01519cfe04e66f6f9\";i:14561;s:42:\"pinterest_533c20f41d15bbe01519cfe04e66f6f9\";i:14562;s:41:\"linkedin_533c20f41d15bbe01519cfe04e66f6f9\";i:14563;s:35:\"fb_02c615430597ccb565e120a5166d3933\";i:14564;s:40:\"twitter_02c615430597ccb565e120a5166d3933\";i:14565;s:42:\"pinterest_02c615430597ccb565e120a5166d3933\";i:14566;s:41:\"linkedin_02c615430597ccb565e120a5166d3933\";i:14567;s:35:\"fb_04c289603cd447568bf12d921ece8440\";i:14568;s:40:\"twitter_04c289603cd447568bf12d921ece8440\";i:14569;s:42:\"pinterest_04c289603cd447568bf12d921ece8440\";i:14570;s:41:\"linkedin_04c289603cd447568bf12d921ece8440\";i:14571;s:35:\"fb_d777961f27516c30fd7d77c64f99f079\";i:14572;s:40:\"twitter_d777961f27516c30fd7d77c64f99f079\";i:14573;s:42:\"pinterest_d777961f27516c30fd7d77c64f99f079\";i:14574;s:41:\"linkedin_d777961f27516c30fd7d77c64f99f079\";i:14575;s:35:\"fb_0863b161e5898f51f24bcf9384d4c1d1\";i:14576;s:40:\"twitter_0863b161e5898f51f24bcf9384d4c1d1\";i:14577;s:42:\"pinterest_0863b161e5898f51f24bcf9384d4c1d1\";i:14578;s:41:\"linkedin_0863b161e5898f51f24bcf9384d4c1d1\";i:14579;s:35:\"fb_6faad2113ad82bda0a2952f1a2385239\";i:14580;s:40:\"twitter_6faad2113ad82bda0a2952f1a2385239\";i:14581;s:42:\"pinterest_6faad2113ad82bda0a2952f1a2385239\";i:14582;s:41:\"linkedin_6faad2113ad82bda0a2952f1a2385239\";i:14583;s:35:\"fb_70c0e7d57b3b74b685397564668eabf7\";i:14584;s:40:\"twitter_70c0e7d57b3b74b685397564668eabf7\";i:14585;s:42:\"pinterest_70c0e7d57b3b74b685397564668eabf7\";i:14586;s:41:\"linkedin_70c0e7d57b3b74b685397564668eabf7\";i:14587;s:35:\"fb_15250bbf1daa4f8881f4637d959c1eae\";i:14588;s:40:\"twitter_15250bbf1daa4f8881f4637d959c1eae\";i:14589;s:42:\"pinterest_15250bbf1daa4f8881f4637d959c1eae\";i:14590;s:41:\"linkedin_15250bbf1daa4f8881f4637d959c1eae\";i:14591;s:35:\"fb_6b47d46b9a503aa3090dc651ddfc0e7c\";i:14592;s:40:\"twitter_6b47d46b9a503aa3090dc651ddfc0e7c\";i:14593;s:42:\"pinterest_6b47d46b9a503aa3090dc651ddfc0e7c\";i:14594;s:41:\"linkedin_6b47d46b9a503aa3090dc651ddfc0e7c\";i:14595;s:35:\"fb_52865a8a3c487d5ecb68285c81456539\";i:14596;s:40:\"twitter_52865a8a3c487d5ecb68285c81456539\";i:14597;s:42:\"pinterest_52865a8a3c487d5ecb68285c81456539\";i:14598;s:41:\"linkedin_52865a8a3c487d5ecb68285c81456539\";i:14599;s:35:\"fb_f2aac43fe74bb08413fcfd0fde32c97d\";i:14600;s:40:\"twitter_f2aac43fe74bb08413fcfd0fde32c97d\";i:14601;s:42:\"pinterest_f2aac43fe74bb08413fcfd0fde32c97d\";i:14602;s:41:\"linkedin_f2aac43fe74bb08413fcfd0fde32c97d\";i:14603;s:35:\"fb_99ce3a8680e80598718b16145a7dc286\";i:14604;s:40:\"twitter_99ce3a8680e80598718b16145a7dc286\";i:14605;s:42:\"pinterest_99ce3a8680e80598718b16145a7dc286\";i:14606;s:41:\"linkedin_99ce3a8680e80598718b16145a7dc286\";i:14607;s:35:\"fb_37169ba2d9ada70de39bc73a26eaacdc\";i:14608;s:40:\"twitter_37169ba2d9ada70de39bc73a26eaacdc\";i:14609;s:42:\"pinterest_37169ba2d9ada70de39bc73a26eaacdc\";i:14610;s:41:\"linkedin_37169ba2d9ada70de39bc73a26eaacdc\";i:14611;s:35:\"fb_10bd0777def648c7f5430207084d81a4\";i:14612;s:40:\"twitter_10bd0777def648c7f5430207084d81a4\";i:14613;s:42:\"pinterest_10bd0777def648c7f5430207084d81a4\";i:14614;s:41:\"linkedin_10bd0777def648c7f5430207084d81a4\";i:14615;s:35:\"fb_59ef12d87de874ef35ffd65dcd3f6ecc\";i:14616;s:40:\"twitter_59ef12d87de874ef35ffd65dcd3f6ecc\";i:14617;s:42:\"pinterest_59ef12d87de874ef35ffd65dcd3f6ecc\";i:14618;s:41:\"linkedin_59ef12d87de874ef35ffd65dcd3f6ecc\";i:14619;s:35:\"fb_6c1b73a28eae566cfe9a4ed7565b1f5c\";i:14620;s:40:\"twitter_6c1b73a28eae566cfe9a4ed7565b1f5c\";i:14621;s:42:\"pinterest_6c1b73a28eae566cfe9a4ed7565b1f5c\";i:14622;s:41:\"linkedin_6c1b73a28eae566cfe9a4ed7565b1f5c\";i:14623;s:35:\"fb_0f5396a8be50540660c7d9cfb277d0ae\";i:14624;s:40:\"twitter_0f5396a8be50540660c7d9cfb277d0ae\";i:14625;s:42:\"pinterest_0f5396a8be50540660c7d9cfb277d0ae\";i:14626;s:41:\"linkedin_0f5396a8be50540660c7d9cfb277d0ae\";i:14627;s:35:\"fb_ee0b5d7062cb6fdba35730a83563641d\";i:14628;s:40:\"twitter_ee0b5d7062cb6fdba35730a83563641d\";i:14629;s:42:\"pinterest_ee0b5d7062cb6fdba35730a83563641d\";i:14630;s:41:\"linkedin_ee0b5d7062cb6fdba35730a83563641d\";i:14631;s:35:\"fb_6b50dbdef85eca8968590039d381f5f0\";i:14632;s:40:\"twitter_6b50dbdef85eca8968590039d381f5f0\";i:14633;s:42:\"pinterest_6b50dbdef85eca8968590039d381f5f0\";i:14634;s:41:\"linkedin_6b50dbdef85eca8968590039d381f5f0\";i:14635;s:35:\"fb_105b721227024f5cd58913ab428475eb\";i:14636;s:40:\"twitter_105b721227024f5cd58913ab428475eb\";i:14637;s:42:\"pinterest_105b721227024f5cd58913ab428475eb\";i:14638;s:41:\"linkedin_105b721227024f5cd58913ab428475eb\";i:14639;s:35:\"fb_001ed7b66baed9fd0470bbcaf72efe01\";i:14640;s:40:\"twitter_001ed7b66baed9fd0470bbcaf72efe01\";i:14641;s:42:\"pinterest_001ed7b66baed9fd0470bbcaf72efe01\";i:14642;s:41:\"linkedin_001ed7b66baed9fd0470bbcaf72efe01\";i:14643;s:35:\"fb_9844da66b66ed8660ef0f62453ec5e4c\";i:14644;s:40:\"twitter_9844da66b66ed8660ef0f62453ec5e4c\";i:14645;s:42:\"pinterest_9844da66b66ed8660ef0f62453ec5e4c\";i:14646;s:41:\"linkedin_9844da66b66ed8660ef0f62453ec5e4c\";i:14647;s:35:\"fb_378a0dc7f4cfae844110a49ec0d7d702\";i:14648;s:40:\"twitter_378a0dc7f4cfae844110a49ec0d7d702\";i:14649;s:42:\"pinterest_378a0dc7f4cfae844110a49ec0d7d702\";i:14650;s:41:\"linkedin_378a0dc7f4cfae844110a49ec0d7d702\";i:14651;s:35:\"fb_06abb7f67766b9738a76fb72f069b571\";i:14652;s:40:\"twitter_06abb7f67766b9738a76fb72f069b571\";i:14653;s:42:\"pinterest_06abb7f67766b9738a76fb72f069b571\";i:14654;s:41:\"linkedin_06abb7f67766b9738a76fb72f069b571\";i:14655;s:35:\"fb_b061c28c315a440d58c5988b8ed15190\";i:14656;s:40:\"twitter_b061c28c315a440d58c5988b8ed15190\";i:14657;s:42:\"pinterest_b061c28c315a440d58c5988b8ed15190\";i:14658;s:41:\"linkedin_b061c28c315a440d58c5988b8ed15190\";i:14659;s:35:\"fb_6aed9a89be7542312b0818d6412dcfbf\";i:14660;s:40:\"twitter_6aed9a89be7542312b0818d6412dcfbf\";i:14661;s:42:\"pinterest_6aed9a89be7542312b0818d6412dcfbf\";i:14662;s:41:\"linkedin_6aed9a89be7542312b0818d6412dcfbf\";i:14663;s:35:\"fb_f06b651ee3187253cce202d64b1c026e\";i:14664;s:40:\"twitter_f06b651ee3187253cce202d64b1c026e\";i:14665;s:42:\"pinterest_f06b651ee3187253cce202d64b1c026e\";i:14666;s:41:\"linkedin_f06b651ee3187253cce202d64b1c026e\";i:14667;s:35:\"fb_0830d8f3c7c8aeb49c4a509927b79ec5\";i:14668;s:40:\"twitter_0830d8f3c7c8aeb49c4a509927b79ec5\";i:14669;s:42:\"pinterest_0830d8f3c7c8aeb49c4a509927b79ec5\";i:14670;s:41:\"linkedin_0830d8f3c7c8aeb49c4a509927b79ec5\";i:14671;s:35:\"fb_e9ca9b26a6d0de707b519e7e44b8395e\";i:14672;s:40:\"twitter_e9ca9b26a6d0de707b519e7e44b8395e\";i:14673;s:42:\"pinterest_e9ca9b26a6d0de707b519e7e44b8395e\";i:14674;s:41:\"linkedin_e9ca9b26a6d0de707b519e7e44b8395e\";i:14675;s:35:\"fb_63d45ee758f7dd6c8071d6d9e408a3f0\";i:14676;s:40:\"twitter_63d45ee758f7dd6c8071d6d9e408a3f0\";i:14677;s:42:\"pinterest_63d45ee758f7dd6c8071d6d9e408a3f0\";i:14678;s:41:\"linkedin_63d45ee758f7dd6c8071d6d9e408a3f0\";i:14679;s:35:\"fb_5b02098ebf3dd495735632d7b8ccd4ee\";i:14680;s:40:\"twitter_5b02098ebf3dd495735632d7b8ccd4ee\";i:14681;s:42:\"pinterest_5b02098ebf3dd495735632d7b8ccd4ee\";i:14682;s:41:\"linkedin_5b02098ebf3dd495735632d7b8ccd4ee\";i:14683;s:35:\"fb_a8c634b035471e7c721578384bf00ee2\";i:14684;s:40:\"twitter_a8c634b035471e7c721578384bf00ee2\";i:14685;s:42:\"pinterest_a8c634b035471e7c721578384bf00ee2\";i:14686;s:41:\"linkedin_a8c634b035471e7c721578384bf00ee2\";i:14687;s:35:\"fb_1d8296fc43d223d1cb4b58eab24c12fa\";i:14688;s:40:\"twitter_1d8296fc43d223d1cb4b58eab24c12fa\";i:14689;s:42:\"pinterest_1d8296fc43d223d1cb4b58eab24c12fa\";i:14690;s:41:\"linkedin_1d8296fc43d223d1cb4b58eab24c12fa\";i:14691;s:35:\"fb_cbc340f7b58c398982b79543166c8fb0\";i:14692;s:40:\"twitter_cbc340f7b58c398982b79543166c8fb0\";i:14693;s:42:\"pinterest_cbc340f7b58c398982b79543166c8fb0\";i:14694;s:41:\"linkedin_cbc340f7b58c398982b79543166c8fb0\";i:14695;s:35:\"fb_8ec4ca09881fb1aa2821d8ee2f0d0b34\";i:14696;s:40:\"twitter_8ec4ca09881fb1aa2821d8ee2f0d0b34\";i:14697;s:42:\"pinterest_8ec4ca09881fb1aa2821d8ee2f0d0b34\";i:14698;s:41:\"linkedin_8ec4ca09881fb1aa2821d8ee2f0d0b34\";i:14699;s:35:\"fb_edb8c8d3ecb6ab995c301b346b3688a4\";i:14700;s:40:\"twitter_edb8c8d3ecb6ab995c301b346b3688a4\";i:14701;s:42:\"pinterest_edb8c8d3ecb6ab995c301b346b3688a4\";i:14702;s:41:\"linkedin_edb8c8d3ecb6ab995c301b346b3688a4\";i:14703;s:35:\"fb_67faf582d894733f496ecbbbbd563de2\";i:14704;s:40:\"twitter_67faf582d894733f496ecbbbbd563de2\";i:14705;s:42:\"pinterest_67faf582d894733f496ecbbbbd563de2\";i:14706;s:41:\"linkedin_67faf582d894733f496ecbbbbd563de2\";i:14707;s:35:\"fb_851723fb3552be2cb44de91912ae3e1d\";i:14708;s:40:\"twitter_851723fb3552be2cb44de91912ae3e1d\";i:14709;s:42:\"pinterest_851723fb3552be2cb44de91912ae3e1d\";i:14710;s:41:\"linkedin_851723fb3552be2cb44de91912ae3e1d\";i:14711;s:35:\"fb_4d0da35df8865a981ca95d0bac9e0c33\";i:14712;s:40:\"twitter_4d0da35df8865a981ca95d0bac9e0c33\";i:14713;s:42:\"pinterest_4d0da35df8865a981ca95d0bac9e0c33\";i:14714;s:41:\"linkedin_4d0da35df8865a981ca95d0bac9e0c33\";i:14715;s:35:\"fb_44b0fc2548191790657c955297fd33d8\";i:14716;s:40:\"twitter_44b0fc2548191790657c955297fd33d8\";i:14717;s:42:\"pinterest_44b0fc2548191790657c955297fd33d8\";i:14718;s:41:\"linkedin_44b0fc2548191790657c955297fd33d8\";i:14719;s:35:\"fb_f749b4272f1962c256c4c19aa9033fec\";i:14720;s:40:\"twitter_f749b4272f1962c256c4c19aa9033fec\";i:14721;s:42:\"pinterest_f749b4272f1962c256c4c19aa9033fec\";i:14722;s:41:\"linkedin_f749b4272f1962c256c4c19aa9033fec\";i:14723;s:35:\"fb_fc9aadeb04b9795eae2198363821300f\";i:14724;s:40:\"twitter_fc9aadeb04b9795eae2198363821300f\";i:14725;s:42:\"pinterest_fc9aadeb04b9795eae2198363821300f\";i:14726;s:41:\"linkedin_fc9aadeb04b9795eae2198363821300f\";i:14727;s:35:\"fb_9ac355911fc28b655c0d96849153adaf\";i:14728;s:40:\"twitter_9ac355911fc28b655c0d96849153adaf\";i:14729;s:42:\"pinterest_9ac355911fc28b655c0d96849153adaf\";i:14730;s:41:\"linkedin_9ac355911fc28b655c0d96849153adaf\";i:14731;s:35:\"fb_3ca2a163bb651cccea7828743bda7c1d\";i:14732;s:40:\"twitter_3ca2a163bb651cccea7828743bda7c1d\";i:14733;s:35:\"fb_7cd6cc6c6444e08db946d4a6e9353445\";i:14734;s:40:\"twitter_7cd6cc6c6444e08db946d4a6e9353445\";i:14735;s:42:\"pinterest_7cd6cc6c6444e08db946d4a6e9353445\";i:14736;s:41:\"linkedin_7cd6cc6c6444e08db946d4a6e9353445\";i:14737;s:35:\"fb_8a75473974506d6dede6a19ca2e8e361\";i:14738;s:40:\"twitter_8a75473974506d6dede6a19ca2e8e361\";i:14739;s:42:\"pinterest_8a75473974506d6dede6a19ca2e8e361\";i:14740;s:41:\"linkedin_8a75473974506d6dede6a19ca2e8e361\";i:14741;s:35:\"fb_28e3ac56725d54233323fa203798630e\";i:14742;s:40:\"twitter_28e3ac56725d54233323fa203798630e\";i:14743;s:42:\"pinterest_28e3ac56725d54233323fa203798630e\";i:14744;s:41:\"linkedin_28e3ac56725d54233323fa203798630e\";i:14745;s:35:\"fb_ce93f2167000436b90d5c441bcf6d2d2\";i:14746;s:40:\"twitter_ce93f2167000436b90d5c441bcf6d2d2\";i:14747;s:42:\"pinterest_ce93f2167000436b90d5c441bcf6d2d2\";i:14748;s:41:\"linkedin_ce93f2167000436b90d5c441bcf6d2d2\";i:14749;s:35:\"fb_3440df11d3344f23a5fed3d803b48136\";i:14750;s:40:\"twitter_3440df11d3344f23a5fed3d803b48136\";i:14751;s:42:\"pinterest_3440df11d3344f23a5fed3d803b48136\";i:14752;s:41:\"linkedin_3440df11d3344f23a5fed3d803b48136\";i:14753;s:35:\"fb_47dae72cbfd567731d7b34f22b5f1705\";i:14754;s:40:\"twitter_47dae72cbfd567731d7b34f22b5f1705\";i:14755;s:42:\"pinterest_47dae72cbfd567731d7b34f22b5f1705\";i:14756;s:41:\"linkedin_47dae72cbfd567731d7b34f22b5f1705\";i:14757;s:35:\"fb_7fbda39a1957fc176421a5fad89e32a9\";i:14758;s:40:\"twitter_7fbda39a1957fc176421a5fad89e32a9\";i:14759;s:42:\"pinterest_7fbda39a1957fc176421a5fad89e32a9\";i:14760;s:41:\"linkedin_7fbda39a1957fc176421a5fad89e32a9\";i:14761;s:35:\"fb_a22886ad56bc250cd2404080d026aafc\";i:14762;s:40:\"twitter_a22886ad56bc250cd2404080d026aafc\";i:14763;s:42:\"pinterest_a22886ad56bc250cd2404080d026aafc\";i:14764;s:41:\"linkedin_a22886ad56bc250cd2404080d026aafc\";i:14765;s:35:\"fb_ffbcfdca5dec2822aca14a57ff7dd0a7\";i:14766;s:40:\"twitter_ffbcfdca5dec2822aca14a57ff7dd0a7\";i:14767;s:42:\"pinterest_ffbcfdca5dec2822aca14a57ff7dd0a7\";i:14768;s:41:\"linkedin_ffbcfdca5dec2822aca14a57ff7dd0a7\";i:14769;s:35:\"fb_7b53c6d6b2d48de1350f6bd440bf0074\";i:14770;s:40:\"twitter_7b53c6d6b2d48de1350f6bd440bf0074\";i:14771;s:42:\"pinterest_7b53c6d6b2d48de1350f6bd440bf0074\";i:14772;s:41:\"linkedin_7b53c6d6b2d48de1350f6bd440bf0074\";i:14773;s:35:\"fb_f80baea4a3cfe7d4bc98565b279b59fb\";i:14774;s:40:\"twitter_f80baea4a3cfe7d4bc98565b279b59fb\";i:14775;s:42:\"pinterest_f80baea4a3cfe7d4bc98565b279b59fb\";i:14776;s:41:\"linkedin_f80baea4a3cfe7d4bc98565b279b59fb\";i:14777;s:35:\"fb_6e76339a2d9b3a85dee8356e22d3755a\";i:14778;s:40:\"twitter_6e76339a2d9b3a85dee8356e22d3755a\";i:14779;s:42:\"pinterest_6e76339a2d9b3a85dee8356e22d3755a\";i:14780;s:41:\"linkedin_6e76339a2d9b3a85dee8356e22d3755a\";i:14781;s:35:\"fb_88de65b19cf5737249d635901eec1943\";i:14782;s:40:\"twitter_88de65b19cf5737249d635901eec1943\";i:14783;s:42:\"pinterest_88de65b19cf5737249d635901eec1943\";i:14784;s:41:\"linkedin_88de65b19cf5737249d635901eec1943\";i:14785;s:35:\"fb_76a375ad2aabf45d028007946dbeac50\";i:14786;s:40:\"twitter_76a375ad2aabf45d028007946dbeac50\";i:14787;s:42:\"pinterest_76a375ad2aabf45d028007946dbeac50\";i:14788;s:41:\"linkedin_76a375ad2aabf45d028007946dbeac50\";i:14789;s:35:\"fb_48b6a6d07928ff109cf3552f8e1ef22d\";i:14790;s:40:\"twitter_48b6a6d07928ff109cf3552f8e1ef22d\";i:14791;s:42:\"pinterest_48b6a6d07928ff109cf3552f8e1ef22d\";i:14792;s:41:\"linkedin_48b6a6d07928ff109cf3552f8e1ef22d\";i:14793;s:35:\"fb_47aa7c348a8f7908a38f1fa60cc1bdeb\";i:14794;s:40:\"twitter_47aa7c348a8f7908a38f1fa60cc1bdeb\";i:14795;s:42:\"pinterest_47aa7c348a8f7908a38f1fa60cc1bdeb\";i:14796;s:41:\"linkedin_47aa7c348a8f7908a38f1fa60cc1bdeb\";i:14797;s:35:\"fb_29cd0bcaea5404643e38a8ccf70cc9fa\";i:14798;s:40:\"twitter_29cd0bcaea5404643e38a8ccf70cc9fa\";i:14799;s:42:\"pinterest_29cd0bcaea5404643e38a8ccf70cc9fa\";i:14800;s:41:\"linkedin_29cd0bcaea5404643e38a8ccf70cc9fa\";i:14801;s:35:\"fb_57394970c0286fcf4d61622c87d7a6d7\";i:14802;s:40:\"twitter_57394970c0286fcf4d61622c87d7a6d7\";i:14803;s:42:\"pinterest_57394970c0286fcf4d61622c87d7a6d7\";i:14804;s:41:\"linkedin_57394970c0286fcf4d61622c87d7a6d7\";i:14805;s:35:\"fb_709f06861e2087e4918fd8eb66024938\";i:14806;s:40:\"twitter_709f06861e2087e4918fd8eb66024938\";i:14807;s:42:\"pinterest_709f06861e2087e4918fd8eb66024938\";i:14808;s:41:\"linkedin_709f06861e2087e4918fd8eb66024938\";i:14809;s:35:\"fb_5d3530b573188e412029548507f55fd8\";i:14810;s:40:\"twitter_5d3530b573188e412029548507f55fd8\";i:14811;s:42:\"pinterest_5d3530b573188e412029548507f55fd8\";i:14812;s:41:\"linkedin_5d3530b573188e412029548507f55fd8\";i:14813;s:35:\"fb_46ed8a922130ea952e4466425e183f47\";i:14814;s:40:\"twitter_46ed8a922130ea952e4466425e183f47\";i:14815;s:42:\"pinterest_46ed8a922130ea952e4466425e183f47\";i:14816;s:41:\"linkedin_46ed8a922130ea952e4466425e183f47\";i:14817;s:35:\"fb_ab2d44024c8300acc41c03707cd92a1c\";i:14818;s:40:\"twitter_ab2d44024c8300acc41c03707cd92a1c\";i:14819;s:42:\"pinterest_ab2d44024c8300acc41c03707cd92a1c\";i:14820;s:41:\"linkedin_ab2d44024c8300acc41c03707cd92a1c\";i:14821;s:35:\"fb_a768ca7c93ce3ed3ac51305d9e8786a8\";i:14822;s:40:\"twitter_a768ca7c93ce3ed3ac51305d9e8786a8\";i:14823;s:42:\"pinterest_a768ca7c93ce3ed3ac51305d9e8786a8\";i:14824;s:41:\"linkedin_a768ca7c93ce3ed3ac51305d9e8786a8\";i:14825;s:35:\"fb_ecfe98bbbb58c637f839920963a2a771\";i:14826;s:40:\"twitter_ecfe98bbbb58c637f839920963a2a771\";i:14827;s:42:\"pinterest_ecfe98bbbb58c637f839920963a2a771\";i:14828;s:41:\"linkedin_ecfe98bbbb58c637f839920963a2a771\";i:14829;s:35:\"fb_e8e9be9ee0484450b78d06ecd8e265b9\";i:14830;s:40:\"twitter_e8e9be9ee0484450b78d06ecd8e265b9\";i:14831;s:42:\"pinterest_e8e9be9ee0484450b78d06ecd8e265b9\";i:14832;s:41:\"linkedin_e8e9be9ee0484450b78d06ecd8e265b9\";i:14833;s:35:\"fb_76cb8c2b208ccf7069d1d11417300773\";i:14834;s:40:\"twitter_76cb8c2b208ccf7069d1d11417300773\";i:14835;s:42:\"pinterest_76cb8c2b208ccf7069d1d11417300773\";i:14836;s:41:\"linkedin_76cb8c2b208ccf7069d1d11417300773\";i:14837;s:35:\"fb_f2e1ce936f7fc7456930262463f2dfff\";i:14838;s:40:\"twitter_f2e1ce936f7fc7456930262463f2dfff\";i:14839;s:42:\"pinterest_f2e1ce936f7fc7456930262463f2dfff\";i:14840;s:41:\"linkedin_f2e1ce936f7fc7456930262463f2dfff\";i:14841;s:35:\"fb_eb9cebe4c76f298d6ef7492c63663554\";i:14842;s:40:\"twitter_eb9cebe4c76f298d6ef7492c63663554\";i:14843;s:42:\"pinterest_eb9cebe4c76f298d6ef7492c63663554\";i:14844;s:41:\"linkedin_eb9cebe4c76f298d6ef7492c63663554\";i:14845;s:35:\"fb_99cdef7430a3c2a05d335410966d8f58\";i:14846;s:40:\"twitter_99cdef7430a3c2a05d335410966d8f58\";i:14847;s:42:\"pinterest_99cdef7430a3c2a05d335410966d8f58\";i:14848;s:35:\"fb_ac5c409170ca93eda5ba45cb81108a4f\";i:14849;s:40:\"twitter_ac5c409170ca93eda5ba45cb81108a4f\";i:14850;s:42:\"pinterest_ac5c409170ca93eda5ba45cb81108a4f\";i:14851;s:41:\"linkedin_ac5c409170ca93eda5ba45cb81108a4f\";i:14852;s:35:\"fb_e151789a29be60bee42010f7b88122f6\";i:14853;s:40:\"twitter_e151789a29be60bee42010f7b88122f6\";i:14854;s:42:\"pinterest_e151789a29be60bee42010f7b88122f6\";i:14855;s:41:\"linkedin_e151789a29be60bee42010f7b88122f6\";i:14856;s:35:\"fb_820a5d9047001e6b7f7d40579dca53e9\";i:14857;s:40:\"twitter_820a5d9047001e6b7f7d40579dca53e9\";i:14858;s:42:\"pinterest_820a5d9047001e6b7f7d40579dca53e9\";i:14859;s:41:\"linkedin_820a5d9047001e6b7f7d40579dca53e9\";i:14860;s:35:\"fb_64e83a3de5ce81007ab7ca1da586a0d9\";i:14861;s:40:\"twitter_64e83a3de5ce81007ab7ca1da586a0d9\";i:14862;s:42:\"pinterest_64e83a3de5ce81007ab7ca1da586a0d9\";i:14863;s:41:\"linkedin_64e83a3de5ce81007ab7ca1da586a0d9\";i:14864;s:35:\"fb_955f4b3ff368a09340dd16b3459f2e10\";i:14865;s:40:\"twitter_955f4b3ff368a09340dd16b3459f2e10\";i:14866;s:42:\"pinterest_955f4b3ff368a09340dd16b3459f2e10\";i:14867;s:41:\"linkedin_955f4b3ff368a09340dd16b3459f2e10\";i:14868;s:35:\"fb_6cdf9e3673d3a3dd29089a5bcbfa6a60\";i:14869;s:40:\"twitter_6cdf9e3673d3a3dd29089a5bcbfa6a60\";i:14870;s:42:\"pinterest_6cdf9e3673d3a3dd29089a5bcbfa6a60\";i:14871;s:41:\"linkedin_6cdf9e3673d3a3dd29089a5bcbfa6a60\";i:14872;s:35:\"fb_a09ba1ca3dd9a3217df3d5cc0ca71292\";i:14873;s:40:\"twitter_a09ba1ca3dd9a3217df3d5cc0ca71292\";i:14874;s:42:\"pinterest_a09ba1ca3dd9a3217df3d5cc0ca71292\";i:14875;s:41:\"linkedin_a09ba1ca3dd9a3217df3d5cc0ca71292\";i:14876;s:35:\"fb_0d908db7613adcc46f053081c0aeddc3\";i:14877;s:40:\"twitter_0d908db7613adcc46f053081c0aeddc3\";i:14878;s:42:\"pinterest_0d908db7613adcc46f053081c0aeddc3\";i:14879;s:41:\"linkedin_0d908db7613adcc46f053081c0aeddc3\";i:14880;s:35:\"fb_6796d05c15296fbb6a7e45660a08dd32\";i:14881;s:40:\"twitter_6796d05c15296fbb6a7e45660a08dd32\";i:14882;s:42:\"pinterest_6796d05c15296fbb6a7e45660a08dd32\";i:14883;s:41:\"linkedin_6796d05c15296fbb6a7e45660a08dd32\";i:14884;s:35:\"fb_3720338e0edb4895f96887507686f78c\";i:14885;s:40:\"twitter_3720338e0edb4895f96887507686f78c\";i:14886;s:42:\"pinterest_3720338e0edb4895f96887507686f78c\";i:14887;s:41:\"linkedin_3720338e0edb4895f96887507686f78c\";i:14888;s:35:\"fb_03cbe41f9fba7ef016e3278794a3143b\";i:14889;s:40:\"twitter_03cbe41f9fba7ef016e3278794a3143b\";i:14890;s:42:\"pinterest_03cbe41f9fba7ef016e3278794a3143b\";i:14891;s:41:\"linkedin_03cbe41f9fba7ef016e3278794a3143b\";i:14892;s:35:\"fb_ff494c27aca08bb0ed52d6da6a590cd1\";i:14893;s:40:\"twitter_ff494c27aca08bb0ed52d6da6a590cd1\";i:14894;s:42:\"pinterest_ff494c27aca08bb0ed52d6da6a590cd1\";i:14895;s:41:\"linkedin_ff494c27aca08bb0ed52d6da6a590cd1\";i:14896;s:35:\"fb_2f7195052213306d61a91b63120440c1\";i:14897;s:40:\"twitter_2f7195052213306d61a91b63120440c1\";i:14898;s:42:\"pinterest_2f7195052213306d61a91b63120440c1\";i:14899;s:41:\"linkedin_2f7195052213306d61a91b63120440c1\";i:14900;s:35:\"fb_4aa6f5e8a504b6d99e3ab1a96dd0db06\";i:14901;s:40:\"twitter_4aa6f5e8a504b6d99e3ab1a96dd0db06\";i:14902;s:42:\"pinterest_4aa6f5e8a504b6d99e3ab1a96dd0db06\";i:14903;s:41:\"linkedin_4aa6f5e8a504b6d99e3ab1a96dd0db06\";i:14904;s:35:\"fb_46d594b15a71ce3a1d2abf927591dc0d\";i:14905;s:40:\"twitter_46d594b15a71ce3a1d2abf927591dc0d\";i:14906;s:42:\"pinterest_46d594b15a71ce3a1d2abf927591dc0d\";i:14907;s:41:\"linkedin_46d594b15a71ce3a1d2abf927591dc0d\";i:14908;s:35:\"fb_a43fb7d383b5d7effb8f3fceda5a6e2f\";i:14909;s:40:\"twitter_a43fb7d383b5d7effb8f3fceda5a6e2f\";i:14910;s:42:\"pinterest_a43fb7d383b5d7effb8f3fceda5a6e2f\";i:14911;s:41:\"linkedin_a43fb7d383b5d7effb8f3fceda5a6e2f\";i:14912;s:35:\"fb_9c5073a3b0f34ab498deffe751dc91cd\";i:14913;s:40:\"twitter_9c5073a3b0f34ab498deffe751dc91cd\";i:14914;s:42:\"pinterest_9c5073a3b0f34ab498deffe751dc91cd\";i:14915;s:41:\"linkedin_9c5073a3b0f34ab498deffe751dc91cd\";i:14916;s:35:\"fb_0d60965816dcc33f4c3d82fa3071a961\";i:14917;s:40:\"twitter_0d60965816dcc33f4c3d82fa3071a961\";i:14918;s:42:\"pinterest_0d60965816dcc33f4c3d82fa3071a961\";i:14919;s:41:\"linkedin_0d60965816dcc33f4c3d82fa3071a961\";i:14920;s:35:\"fb_2d7216ecdf5dba55c4f4e7e254ab0dd0\";i:14921;s:41:\"linkedin_2d7216ecdf5dba55c4f4e7e254ab0dd0\";i:14922;s:35:\"fb_6bfa7eef69eb2ef772d0a0a161295b1d\";i:14923;s:40:\"twitter_6bfa7eef69eb2ef772d0a0a161295b1d\";i:14924;s:42:\"pinterest_6bfa7eef69eb2ef772d